Pizza is the perfect party food. It's easy to prepare, you can serve up a range of different toppings to suit all your guests' tastes, and everyone can just help themselves – and you can even organize an interactive party where everyone makes the pizzas themselves.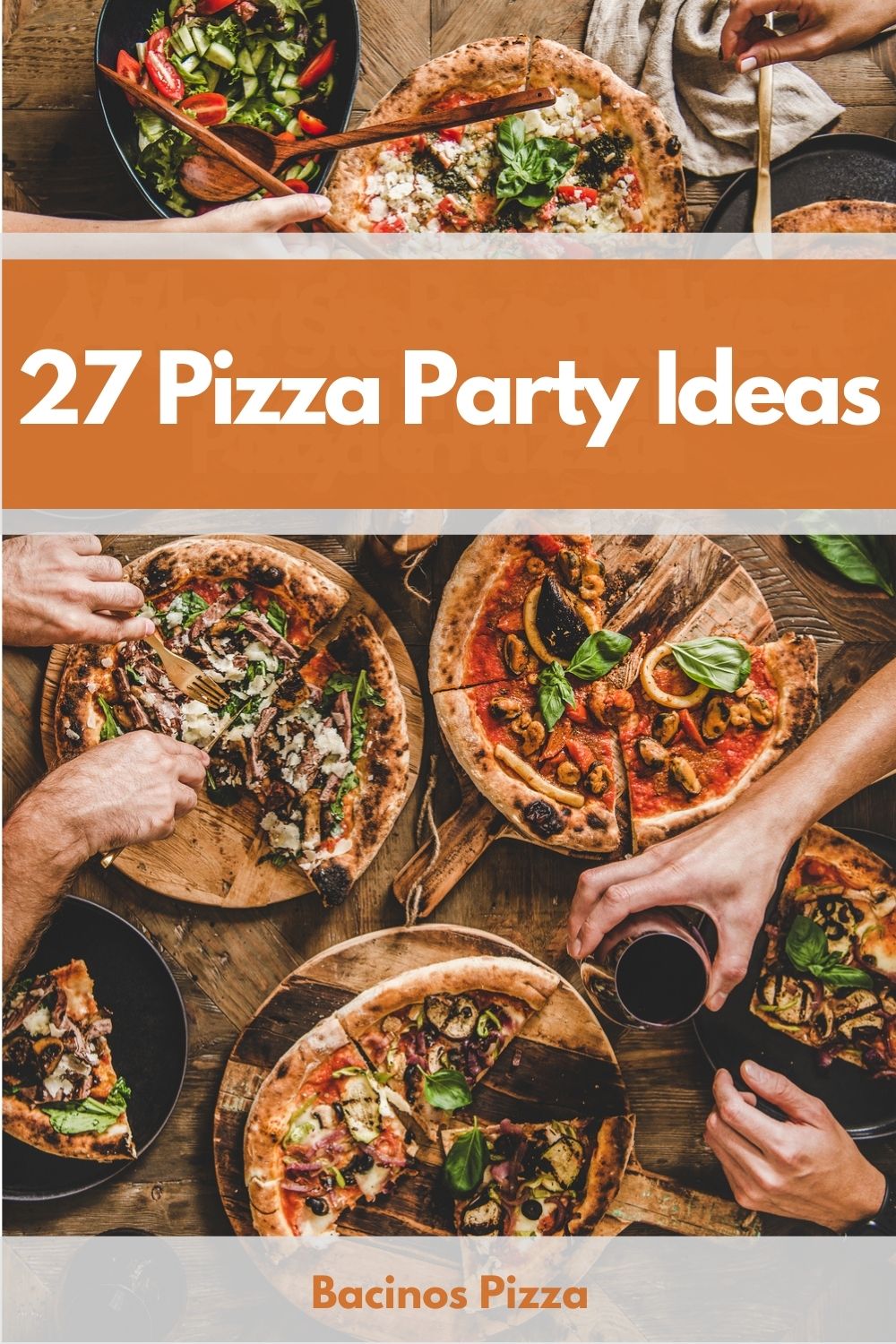 If that sounds like the kind of thing you'd like to try, you're probably looking for ideas. So to help, we've had a look online to see what other people have been trying, and as a result, here are our favorite 27 plans and recipes for a pizza party you can try at home.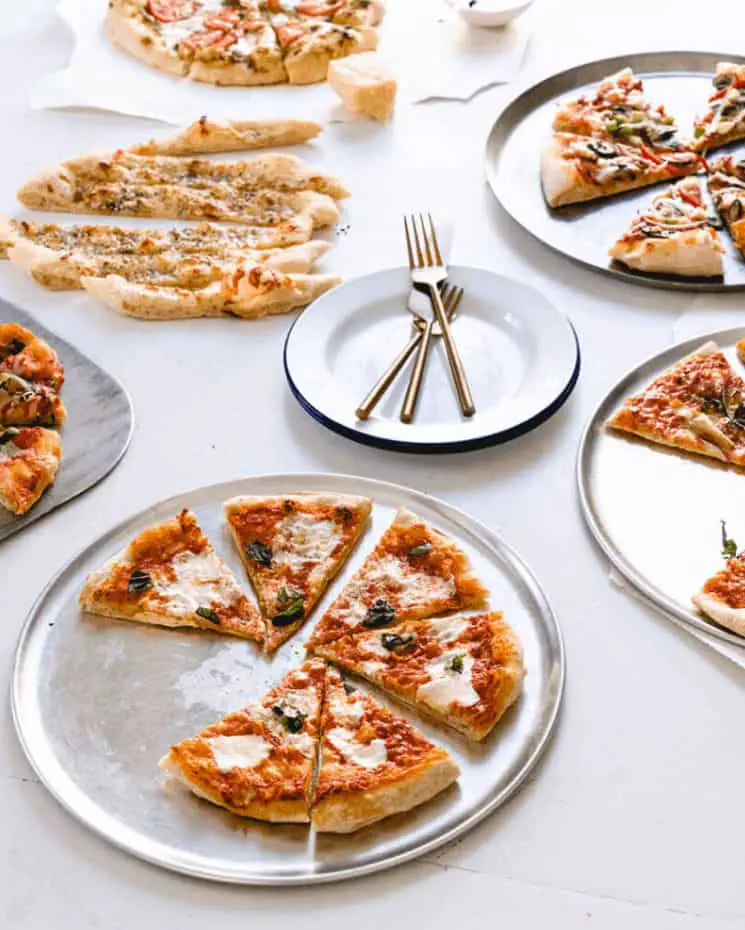 If you want to throw a pizza party, you need to start with great pizza, and if that's what you want to learn, this blog post has you covered. However, it doesn't stop there because there's a whole lot of other stuff you'll need to think about and prepare, including the different ingredients you'll need and the appetizers you'll want to serve.
No problem though because this post has info about all of this and more, ensuring your pizza party is a big success.
2. 5 Tasty Pizza Party Recipes
To make your pizza party memorable, you'll want to include a few surprises in what you serve to your guests, and this is a YouTube video that's sure to help. In it, you'll find five original ideas for delicious pizza party morsels that will leave your guests asking when the next one is planned for!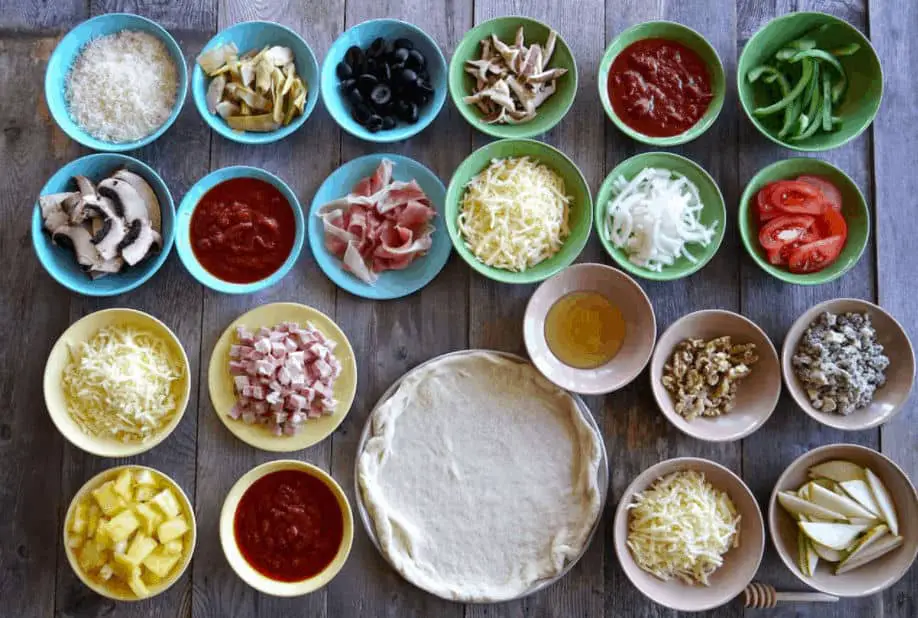 Pizza parties are such a great idea because there's less work for you to do – you just prepare the basics, and then let your guests do the rest themselves.
However, you need to have an idea of the kind of thing you're going to have available, and this blog will help you get it right. Suggestions include Hawaiian, four seasons, vegetarian and white pizza, so there's sure to be something there for everyone, ensuring nobody will go hungry!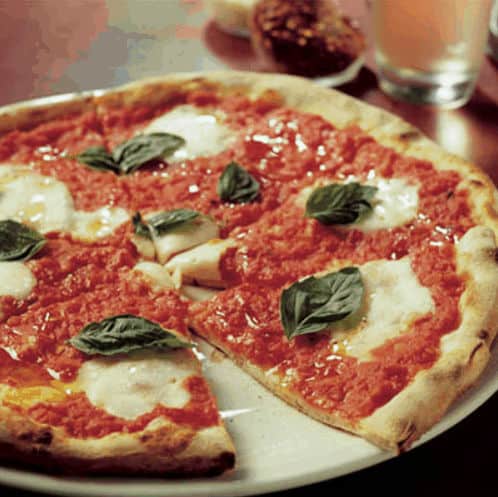 When you throw a pizza party, you can let your guests do their thing, getting as creative as they like with the ingredients you provide. However, the one thing you do need to make sure you prepare properly in advance is some good-quality pizza dough in large enough quantities.
That's where this post comes in because it teaches you how to make the perfect dough for your party. And after that, the rest is up to them!
5. Best Pizza Recipe (Party Size & Family Size)
For those who don't want an interactive pizza party but rather just want to prepare one big pizza that's large enough to feed everyone in attendance, this is a tutorial that's worth a look. In it, you'll learn how to make a huge tray-sized pizza that will ensure all your guests leave well fed.
Here's a great idea for some cute and original pizza-related treats to serve at your party. Essentially, they're a lot like cinnamon buns, but instead of giving them a sweet topping, you replace the cinnamon and sugar with classic pizza toppings instead. They're super-simple to make and are sure to be a big hit, so why not give them a go?
7. 4 Puffs for Your Next Pizza Party
Like the idea in #6, this recipe teaches you how to make some great finger food for your pizza party, this time in the form of pizza-style puffs. These things are so versatile, and you can do whatever you want with them, but by using typical pizza ingredients, you can stick to the theme of your pizza party when you serve these tasty little morsels to your guests.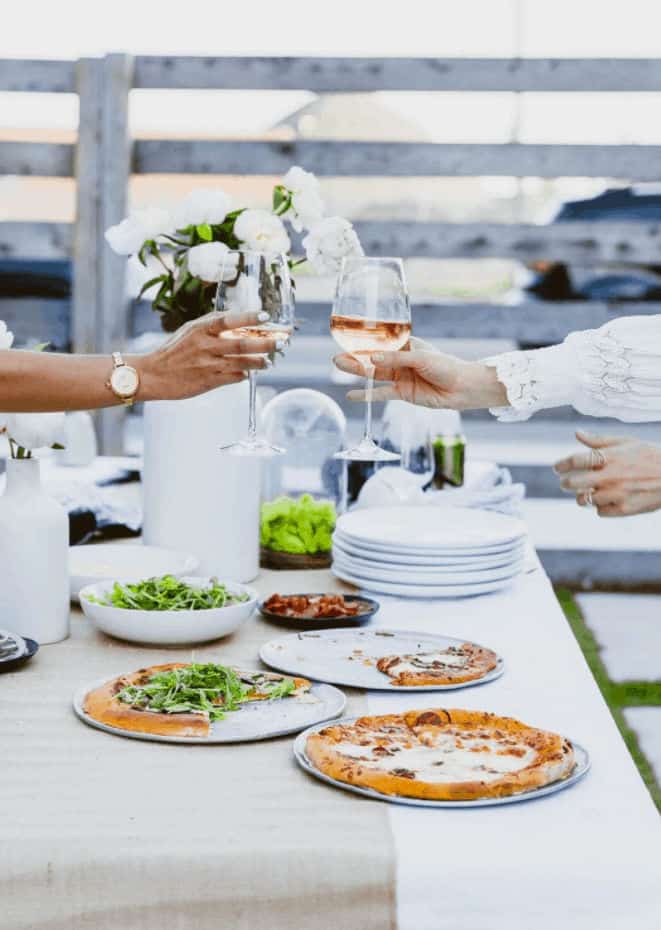 This is an interesting and useful post to read because in it, this blogger gives us a detailed account of what happened when she hosted "the most epic pizza party Detroit has ever seen". The secret is in the quality of the ingredients and the attention to detail – and you can learn about how she managed it by giving her blog a read!
9. Pepperoni Pizza Party Bread Recipe
Here's another video that will interest those who want to serve pizza-related party food rather than host an interactive pizza-making get-together. The recipe is for cheesy pepperoni pizza party bread – and it looks absolutely irresistible. As the blogger explains, this is perfect football food, so if you're hosting a event to watch a game, this is a creation that's sure to hit the spot.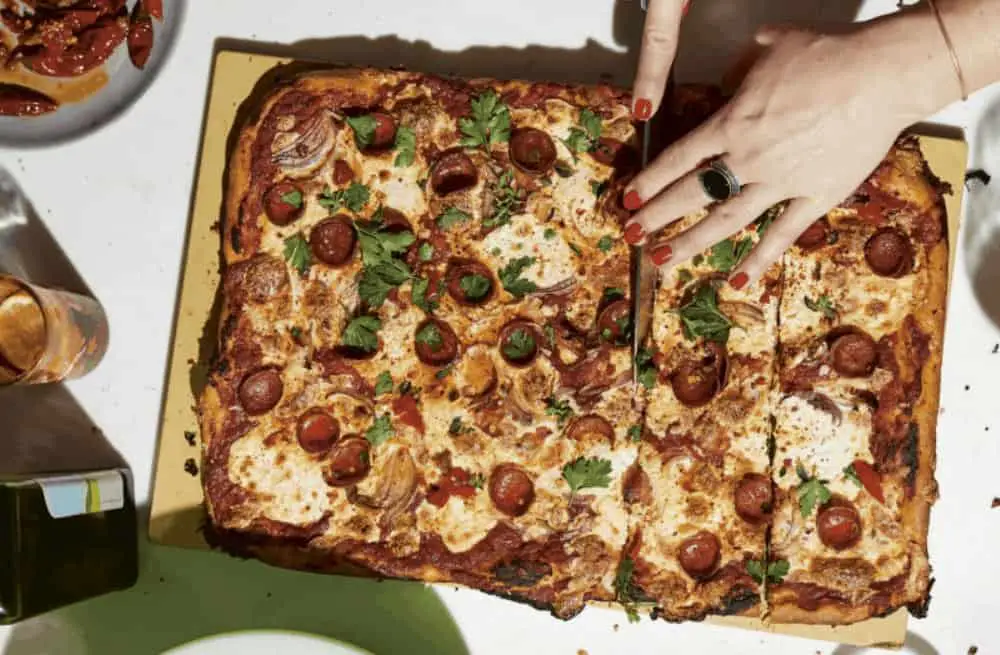 For those getting ready to host a pizza party, this post has everything. There's a recipe for fantastic pizza, tips for how to ensure the party goes off with a bang and even suggestions for burrata and spritz to start. Everything you need to know for organizing a lively pizza party is in there, so make sure you check it out before you start sending out the invites!
11. Simple Ideas to Pep Up the Average Pizza Party
At the most basic level, pizza parties are extremely easy to hold, but this is also why sometimes they can fall flat. Hosts don't give the party enough thought, and the event ends up being "just ok". However, if you want to make sure yours doesn't suffer the same fate, this video is recommended watching – because it will give you the ideas you need to take your pizza party to the next level.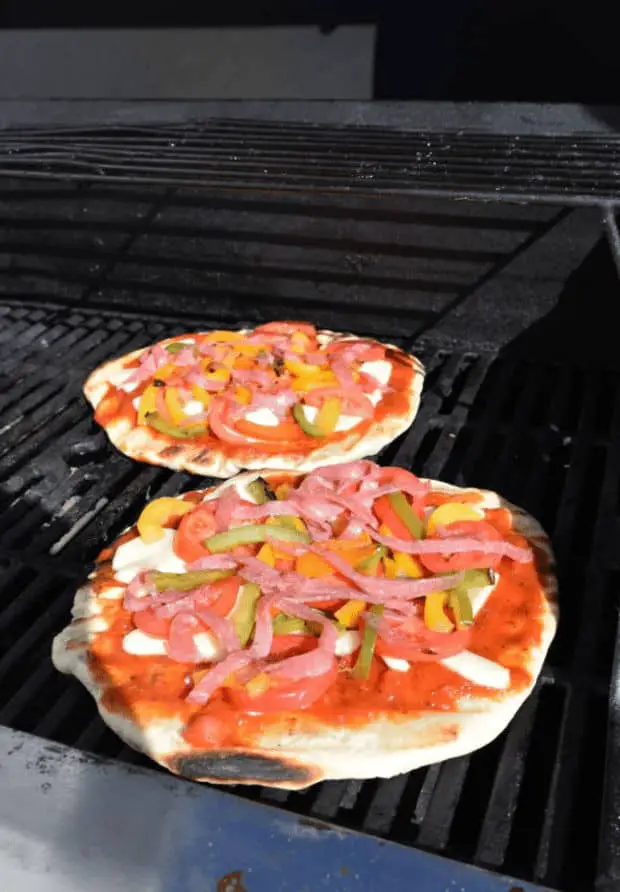 As soon as you open this post and see the photos, your first thought is likely to be, "I need to organize a pizza party now!" The food, the drinks and everything else on display look so perfect and so delicious. And if you scroll down just a little further, you'll find all the details you need to organize a chic and classy pizza party of your own.
13. "No Dough" Make Your Own Pizza Party!
Here's an original alternative to using traditional pizza dough for your party – this enterprising YouTuber replaces it with Lebanese bread. If you watch his video, you'll find out why he can no longer eat pizza dough, but he discovered that this kind of bread works well as a replacement. And if you're having a party with kids, it's also a lot easier to work with. His video has the details you need if you want to know more.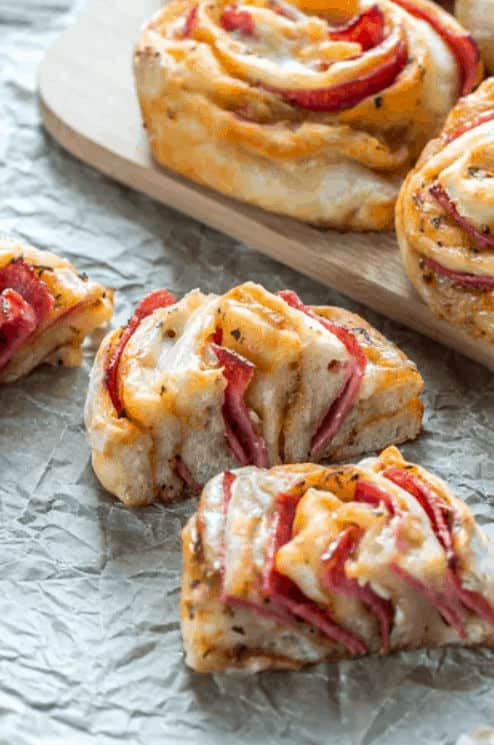 Whether you're hosting a regular party and want a pizza-related snack to serve or you're organizing a DIY pizza making session and need some appetizers for your guests, these homemade pizza rolls will be ideal. They look delicious, and they're also quick and easy to prepare, so why not have a go at making something similar?
15. How to Make Mini Party Pizza Swirls!
These pizza swirls are quite similar to the rolls in #14, but if you're looking for further inspiration, it's a video that's worth a watch. We love the idea of serving these snacks alongside a savory dip that helps give them even more flavor.
One way to make your pizza party even easier to prepare is to replace pizza dough with focaccia bread. That way, you can just concentrate on providing the toppings instead, giving you more time to enjoy the event. It's a bit of a lazy option, but there's no need to make things difficult for yourself, and if you want to know how to do it, this blog tells you everything you need to know.
17. 12 Appetizer Recipes for Pizza Lovers
Here's a great selection of 12 pizza-related recipes for appetizers you can serve at your party. That way, you can serve pizza for the starter, let everyone make pizza for the main – and then all that's left is to find a pizza-based dessert, and you've gone all-in!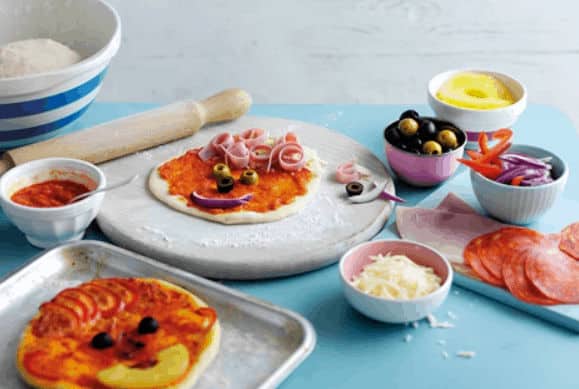 Kids love pizza, that's a fact, and serving it to them at a party is a sure way to make sure everyone goes home happy. This method shows you a quick and easy way to prepare the pizza that only takes 15 minutes – plus 25 in the oven – giving you plenty of time to worry about all the other details before the guests start arriving.
19. How to Host a Pizza Party
In this video, you'll find all the tips you need for hosting a successful pizza party. The great thing about this guide is that he goes into plenty of detail to ensure that nothing will be overlooked. That helps take all the stress out of the planning, so you know when the day of the party arrives, everything will go just as you hoped.
We loved reading this post because in it, this blogger tells us the story of how they ended up buying a wood-fired pizza oven because of a birthday request by her 12-year-old son. After it arrived, they quickly became pizza specialists, and the blog goes on to give you a whole range of hints and tips for making great pizza as well as for hosting your own pizza party. Well worth a read!
21. Pizza Party Basics
Here's something a bit different. This video was originally broadcast live on YouTube to show how to make pizza in preparation for hosting a pizza party. As she says at the beginning, the video is about teaching you how to take your pizza to the next level – and with pizza that good, your party is sure to be a huge success.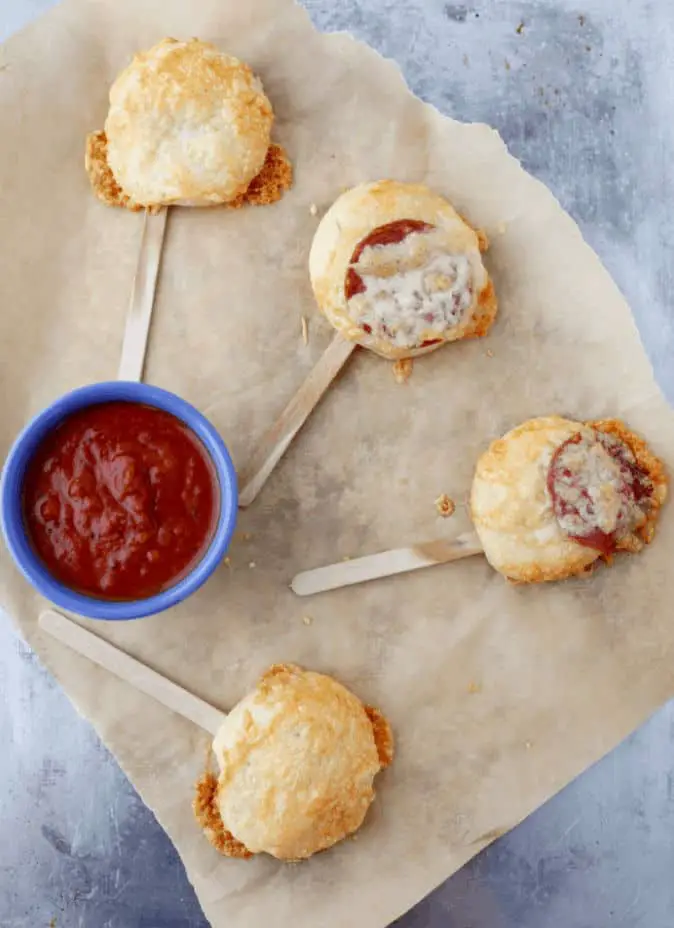 This is one of the best ideas for a pizza snack we think we've seen. They're basically mini pizzas cooked onto lollipop sticks, so as the title says, they're pizza lollipops! It's a super-creative way to serve pizza to your guests, and everyone is sure to love the idea almost as much as the taste. We applaud whoever came up with this idea, we're blown away!
23. How to Host a Make Your Own Pizza Party
Most of this video is concerned with how to make great pizza at your party, and since that's the most important part of a pizza party, it's essential viewing – especially to see how amazing the pepperoni pizza she makes turns out. She also gives you some invaluable tips for hosting your pizza party, so don't plan yours before checking it out.
24. How to Throw a Pizza-Making Party
As this YouTubing chef explains, one of the great things about pizza parties is that it takes all the pressure off the host because it's on the guests to come up with the goods when they make their pizzas. However, the host still has to take care of stuff beforehand so that everything goes as plan, and this tutorial gives you the tips you need to know to make sure that happens.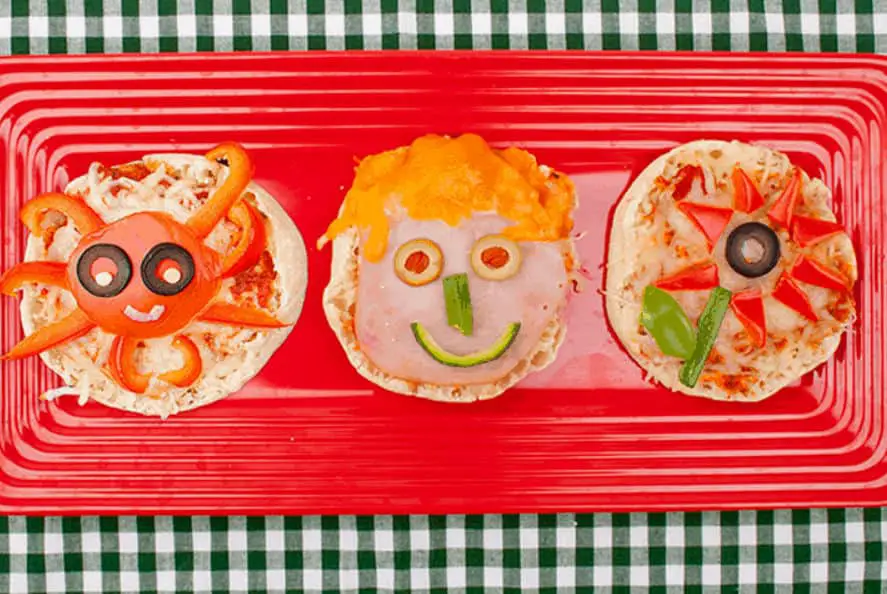 Pizza parties for adults are great fun, but they're also ideal for kids too, and if you're getting ready for a children's version, you'll be interested in learning how to make sure it's a big success. In this post, you'll learn how to make cute pizzas like a "tomato crab" and a "funky face", and with pizzas like that, how can it go wrong?
26. Epic Vegan Pizza Party
If you or your friends are vegan, there's still no reason why you can't organize a pizza party – you just need to know the right ingredients to use to make it work. And if that sounds like something you might like to try, this video will show you what to do.
27. How to Throw an Epic Pizza Party
In this video, these YouTubers share five tips for how to throw an epic pizza party to remember. It's a short video of only about a minute, but each one of their tips is a great piece of advice – so make sure you watch it before you start planning!
Loads of great ideas for fun pizza parties
As you can see, there are so many creative ideas and delicious recipes that will help you organize a pizza party your friends will be talking about long after it's over.
We've enjoyed collecting these plans and recipes for you, so we hope you've enjoyed reading and watching them too. And above all, we hope we've helped you find all the ideas you needed to organize a pizza party of your own.
27 Pizza Party Ideas
Ingredients
5 Tasty Pizza Party Recipes

Best Pizza Recipe (Party Size & Family Size)

4 Puffs For Your Next Pizza Party

Pepperoni Pizza Party Bread Recipe

Simple Ideas To Pep Up The Average Pizza Party

"No Dough" Make Your Own Pizza Party!

How To Make Mini Party Pizza Swirls!

12 Appetizer Recipes For Pizza Lovers

How To Host A Pizza Party

Pizza Party Basics

How To Host A Make Your Own Pizza Party

How To Throw A Pizza-Making Party

Epic Vegan Pizza Party

How To Throw An Epic Pizza Party
Directions
Select your favorite recipe.
Organize all the required ingredients.
Prep the recipe in 30 minutes or less!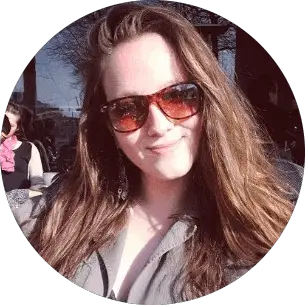 Barbara is an enthusiastic food-exploring person that goes through different culinary experiences. She got inspired by creating a pizza blog post after she tasted one of the best-selling pizzas in Toledo.