It's time to eat, but you don't want to cook. Perhaps you have friends over and need something quick and easy. Whatever the situation, pizza is the perfect solution! But where should you go to find the perfect pie?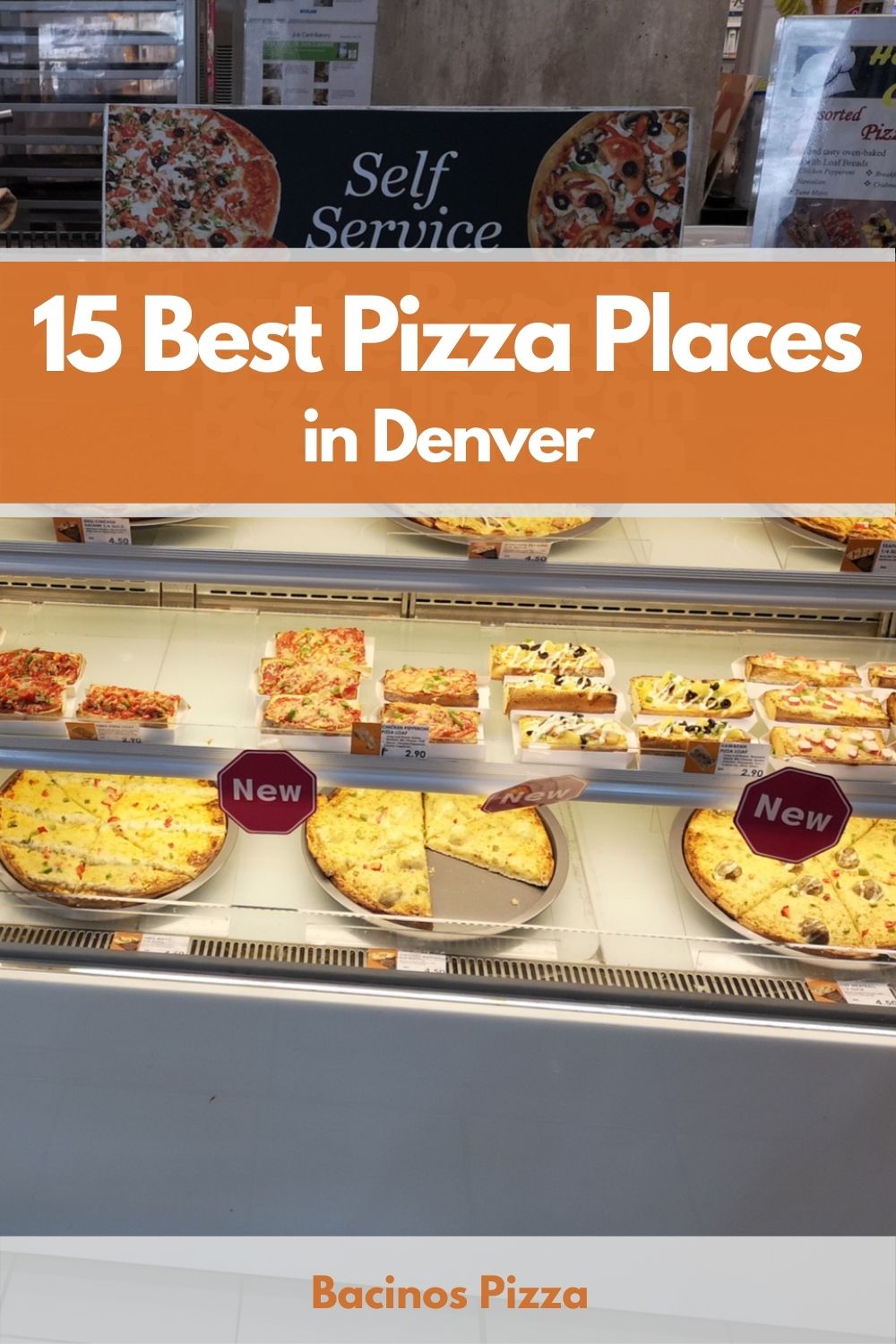 We're going to check out where to get the best pizza in Denver! We'll take a look at what's on offer, and we'll give you all the info you need to make contact.
So step this way to find out where to place your next order!
Address: 2120 S Holly St, Ste 6, Denver, Colorado 80222-5632
Tel: 303 757 3456
For many long-time denizens of Denver, Pantaleone's is the premier pizzeria on the block.
Owned and run by the Fafalios family, the crust here is made from a secret recipe that gives it something extra. It's crisp on the outside, and light and fluffy inside. And every bit of your pizza is home-made daily from scratch. That includes the pizzeria's very own Italian sausage.
Highlights are the pepperoni pizza and the meatball sandwich. As well as pizzas, you can order pasta, salads, appetizers, sandwiches, desserts and soft drinks.
There's also a catering service for events. Just note that there's no longer a dine-in service, so this is a delivery or collect option. And it's closed on Sundays and Mondays.
Address: 5302 W 25th Ave, Edgewater, Colorado 80214-1244
Tel:  303-237-3524
Just outside Denver, in the town of Edgewater, you'll find The Edgewater Inn. This family-owned business has been established for over 65 years. It's both a bar and restaurant. And it has some of the best pizza you'll find in Denver.
The standard crust here isn't deep pan, but it's thicker than those you'll get in most pizzerias. (You can choose a thin crust if you prefer.) And the sauce has a distinctive flavor that sets it apart from run-of-the-mill pies. The calzones here are particularly good.
There's parking right across the street, and you can get a cold beer alongside your pizza. And if you have a gluten intolerance, you can even make sure your drink is gluten-free!
The pizzas are made from scratch using the De Pietro family's secret dough recipe. That means you'll have to wait at least half an hour for them to be prepared – and that's outside peak hours.
They're currently open between Wednesday and Sunday for both dine-in and carryout. Check the website for up-to-date details.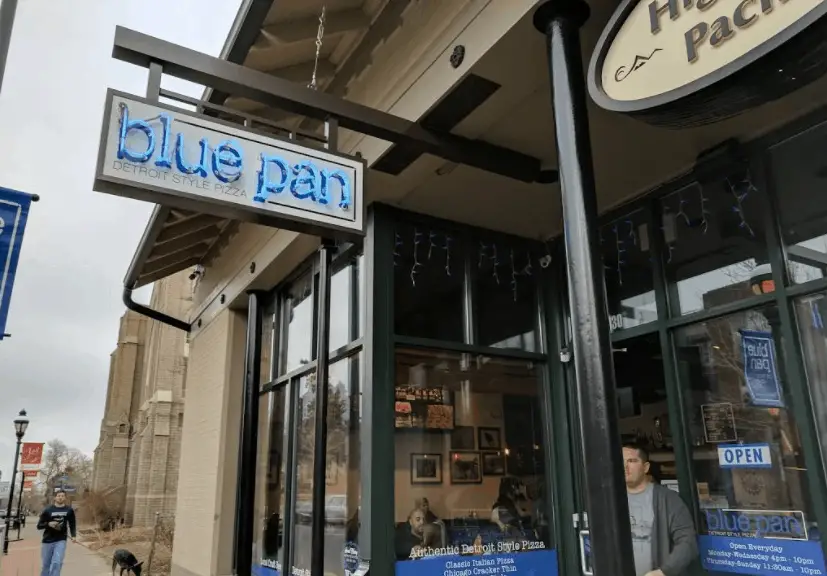 West Highlands
Address: 3930 West 32nd Ave, Denver, Colorado 80212
Tel: 720-456-7666
Congress Park
Address: 3509 E 12th Ave, Denver, Colorado 80206
Tel: 720-519-0944
Blue Pan Pizza has two locations in Denver, one in West Highlands and the other at Congress Park. The menus at the two locations differ slightly. But in both cases, you'll get pizzas with crusts baked from dough made fresh in-house every day.
You can order online or, outside pandemics, dine in at the restaurant. You'll have a choice of classic or specialty pizzas (though note that you won't be able to change toppings on the specialty pies). You can even get gluten-friendly versions. And there's a good range of appetizers, sides and salads too.
Both pizzerias are open seven days a week, and stay open later on Friday and Saturday nights.
Address: 550 Broadway Boulevard, Denver, Colorado 80203
Tel: 720-508-8828
Pizzeria Locale has four branches across Denver, and they're all good. We're focusing on the Broadway operation, but you can also find them in Highlands, Central Park and 9th and Co. They're all open every day, providing counter service from 11am to 9pm.
There's a great range of classic red and white pizzas. And there's a wide selection of toppings if you prefer to create your own.
If you need a gluten-free or vegan pizza, or if you have any other dietary needs, just ask the staff. They'll be happy to recommend an option that will suit you, or to make something bespoke.
Between 4 and 6 pm every day, it's happy hour. Buy a full-priced pizza and a beer or wine, and you'll get another beer or wine free of charge.
Address: 2210 Blake Street, #101b, Denver, Colorado 80205
Tel: 303-296-9000
If you're looking for pizza for curbside pickup or delivery, Ian's Pizza is a great choice. They're open daily from 11am to midnight.
There's a good range of red and white pizzas available in 12, 16 or 20-inch diameters. The 12-inch pie will serve one or two diners, the 16-inch between two and four, and the 20-inch between four and six.
You'll find some innovative toppings here, like Mac 'n' Cheese and Penne Alfredo. And there are a lot of vegetarian options too.
Ian's also offers a range of different bundles with various small or medium pizzas, sauces, sides and drinks. And for every bundle you buy, Ian's will donate $5 to the Colorado Restaurant Association's Angel Relief Fund. The fund supports restaurant staff affected by Covid-19.
Address: 2500 Larimer Street, Suite 100, Denver, Colorado 80205
Tel: 303-292-3553
In the heart of Denver's RiNo neighborhood, Cart-Driver is tucked into an old food shipping container. The cosy quarters mean you're likely to share your table with others. It creates a warm and convivial atmosphere, but may not be the best choice for introverts.
It's open seven days a week for lunch, dinner, community hour and late-night eats. All the ingredients are fresh and sourced as locally as possible. And the pizzas are baked in wood-fired ovens.
You can also get your hands on fresh oysters, seasonal plates, local brews, craft cocktails and prosecco on tap. This is an altogether more sophisticated take on the pizza experience.
Regis
Address: 2007 Lowell Boulevard, Denver, Colorado 80221
Tel: 303-477-0066
16th Street Mall
Address: 825 16th Street, Denver, Colorado 80202
Tel: 303-573-3779
Brooklyn's Finest Pizza has two locations in the Denver area, one in Regis, the other in the 16th Street Mall. The Regis location sits in the North West corner, near the university. Deliveries will be made within a radius of up to 4 miles.
You'll get quick and friendly service, and you can get your pizza either by the slice or as a whole pie. If you go for the latter, don't worry about eating it all in one go. It's just as tasty eaten cold the next day, with a crust that's still nice and firm.
If you're requesting delivery, note that you may have a bit of a wait – they get very busy. But their estimated delivery times are usually spot on.
Address: 2401 15th St, Denver, CO 80202
Tel: 720-855-9400
The Denver branch of Proto's opened back in 2001, and it's regularly won awards for the city's best pizza and cannoli.
It's housed in a beautiful turn-of-the-century building in the heart of the Platte Street area. You can either dine in or pick up your food with curbside collection. Note, though, that Proto's don't deliver.
As you might expect from the name, all the pizzas here are Napoletana style. The range of toppings isn't the biggest, but everything is fresh and high quality. You can also choose from delicious salads and appetizers.
The drinking experience is carefully calibrated to match the quality of the food. There's an excellent wine list, together with a good choice of cocktails, spritzers and hot and cold beverages.
Colfax
Address: 700 East Colfax Avenue, Denver, Colorado 80203
Tel: 303-993-8127
Lodo
Address: 1433 17th Street, Suite 100, Denver, Colorado 80202
Tel: 303-297-3464
Family owned SliceWorks has branches in Colfax and Lodo in Denver, as well as one in Castle Rock. The restaurants have twice won the award of "Best of Denver", taking the medal in 2013 and 2016.
You can dine in, get your food delivered, or pick it up curbside. The menu features salads, entrees, pastas, subs and desserts.
But the centerpiece here is pizza. Innovative toppings include the Bacon Cheeseburger Pizza, Pizza Alla Vodka and Baked Potato Pizza. And there's a good range of toppings to create your own pie too.
Choose a whole pizza to share, or buy it by the slice.
Address: 2907 Huron Street, Denver, Colorado 80202
Tel: 720-328-8742
Pizza Pedal'r offers its food for delivery or curbside collection. Or you can head to the restaurant for a dine-in experience in its bike themed interior.
The good range of starters continues the theme, with names like "Spokes" (garlic and parmesan pizza dough) and "Epic Barrel roll" (mozzarella, cream cheese, pepperoni and jalapenos). You can choose from a couple of salads and subs. And there's penne with a range of sauces and the choice of extra toppings.
When it comes to pizza, though, the choice is much wider. Order by the slice, or in a choice of 10, 14 or 16-inch pies. There's also a gluten-free option that's 12 inches in diameter.
The service is good, and the homemade ranch sauce is something special.
Address: 7155 E Hampden Ave, Denver, Colorado 80224
Tel: 303-758-0940
Slices Pizza is a drive-thru known for its friendly service and excellent pizza. And you can get them to cater your event too.
The menu features pizzas by the slice, huge 18-inch pies, and gluten-free 9-inch versions. The toppings are pretty standard, with some Mediterranean twists like bacon and feta. But while the choice may not be as big as some pizzerias, the flavors are excellent.
You can also get small and large Greek salads and a range of sauces. And the desserts here are a cut above what's available from your common or garden pizza parlor. Choose from chocolate cake balls, brownies or baklava. They're all delicious.
Address: 1439 South Pearl Street, Denver, Colorado 80210
Tel: 303-733-5267
At Kaos Pizzeria you'll have a choice of dining areas. Sit inside the century-old cottage, complete with chalkboards for the kids to scribble on. Or head outside to the relaxed atmosphere of the patio. You can also have your pizza delivered, or collect it curbside.
Pizzas come in 12 and 14-inch versions. For an extra $4, you can have your 12-inch pizza on a gluten-free crust.
There are some mouth-watering and original toppings too. How about spicy braised pork belly with pickled rhubarb bruschetta on a base of apple chutney? Even the Hawaiian gets a makeover, with a topping of pulled pork to go alongside the pineapple.
There are a couple of dessert options to finish up. And when it comes to quenching your thirst, there's an extensive beer and wine list too.
Address: 6115 East 22nd Avenue, Denver, Colorado 80207
Tel: 303 321 1511
Oblio's is open every day except Monday for fresh food and good service. And if you have children to entertain, be sure to visit on a Tuesday. That's Kids Night. The little ones will get free pizzas, as well as a free kids' ice-cream bar, balloon artist and face painter.
As well as eating in, Oblio's offers delivery and curbside collection. The menu features a good range of pizzas in different sizes, with the additional option of gluten-free or cauliflower crusts. There are also plenty of sides, salads and sandwiches, plus meat or vegetable lasagna.
This is a great option for those with a sweet tooth. The dessert menu here has more choices than you'll find in most other pizzerias.
Address: 2009 Larimer Street, Denver, Colorado 80205
Tel: 303-292-2829
If you're looking for a pizzeria that's as good for vegans as it is for meat eaters, check out Marquis Pizza. Located on the corner of Lorimer and 20th, all the dough and sauces here are vegan. And you can substitute vegan Daiya mozzarella for the traditional cheese too.
That allows a range of regular pizzas to be substituted for vegan alternatives. The vegan mozzarella is slightly more expensive, so you'll need to pay an extra $2 for an 18-inch pizza, or $2.50 for a 20-inch.
There are plenty of meaty options for committed carnivores too, with toppings including pepperoni, bacon, sausage and chicken.
Sides are a garden salad, dough knots or cheese bread. For dessert there's a single – but appetizing –option of apple crumble pie.
Address: 309 West 11th Avenue, Denver, Colorado 80204
Tel: 720-475-1471
Environmentally conscious pizza lovers should head to the Denver Pizza Company. This is the city's first wind-powered pizzeria, offsetting all its carbon emissions by purchasing wind power energy credits.
You'll get beer battered dough here, giving your pizza a distinctive edge. And as well as traditional pizza crusts, you can choose gluten-free options.
There's plenty to keep vegetarians happy too. Choose from the Native, East Colefax, Hot Spring and Boulder Pie. You can choose to substitute traditional mozzarella for a vegan version. And there's a wide range of toppings to create your own pie if you prefer.
Alongside the pizzas, there's a smaller range of salads, appetizers, wings, desserts and beverages.
Ready to order your pizza?
That brings us to the end of our roundup of 15 of the best pizza places in Denver. Next time your pizza craving strikes, we hope one of these will fit the bill!
Whether you're looking for an upscale restaurant experience, or just want a tasty slice at home, there are some great options to choose from.
Whichever pizzeria you choose, we hope you enjoy your next pizza!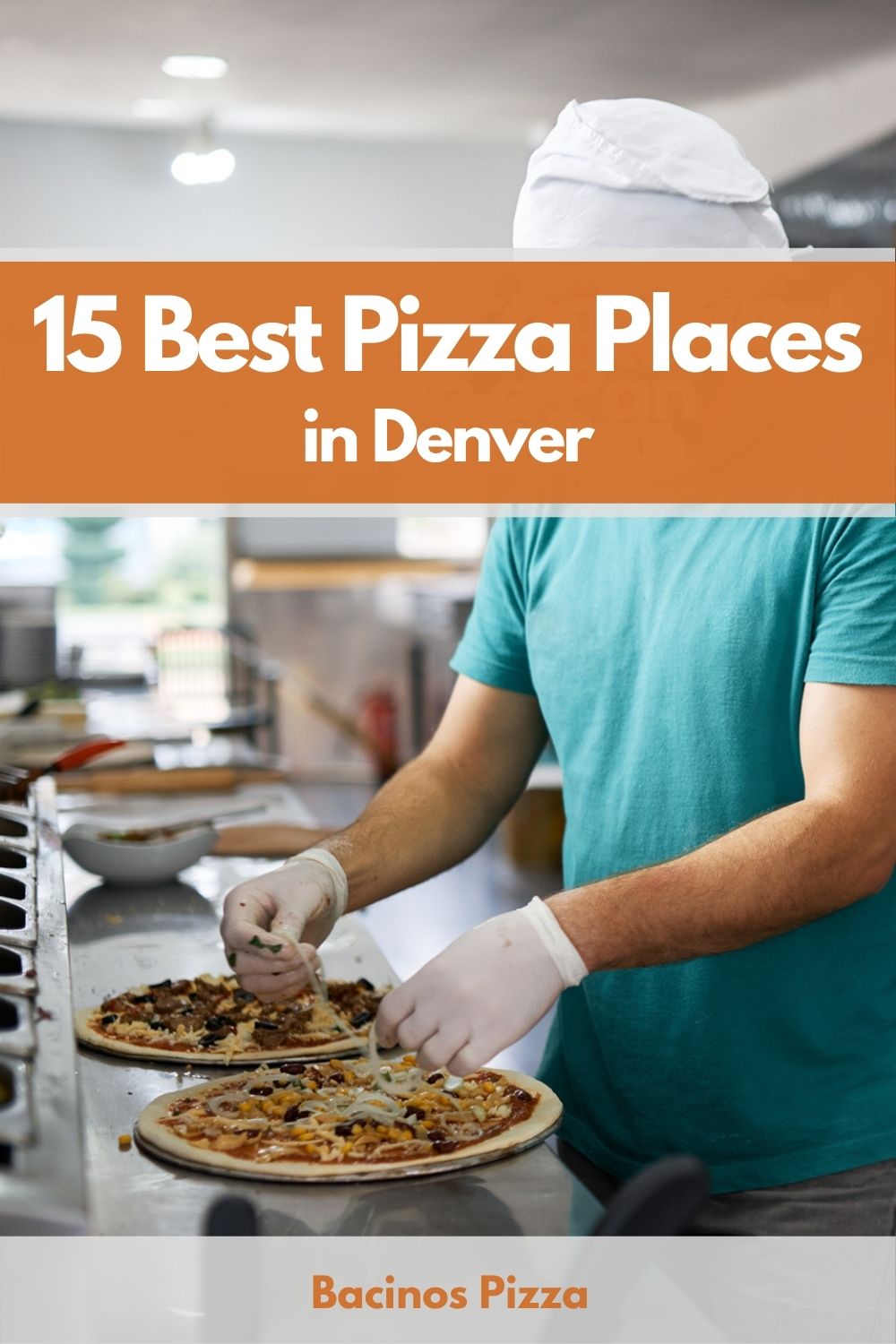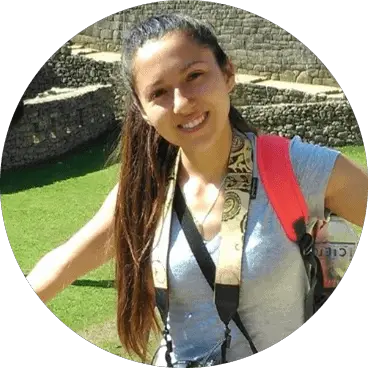 Kathryn's love for pizza started when she was still young. When she was young, she's been a picky eater–that's what her Mom used to say. The only food that she enjoyed and loved was pizza–until now! Her love for pizza turned into a passion!