If you are a pizza fan, but you also love cheeseburgers, there's a way for you to have both together in the same meal. Cheeseburger pizzas are a great way of combining two great meals in one. The best part?
There are infinite ways of preparing them, using different ingredients, toppings, and methods. So, we did some research, and found the best 30 cheeseburger pizza recipes for you to try and enjoy!
1. Pickles and Fry Sauce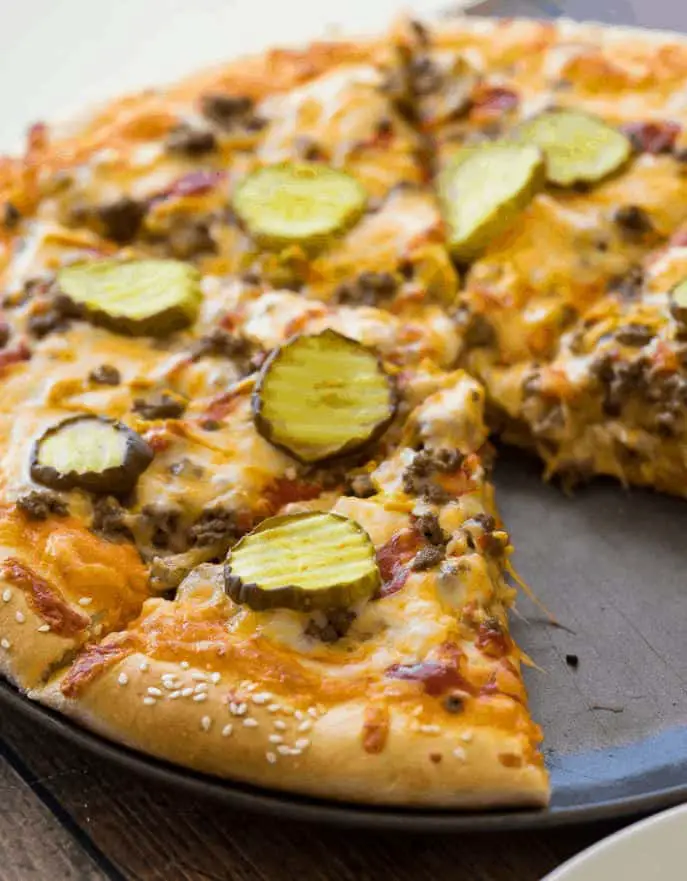 What? Pickles on a pizza? Yes, exactly! This recipe brings one of the most controversial ingredients to your cheeseburger pizza, and nails it in doing so! So, if you are one of those pickle lovers when it comes to cheeseburgers, this recipe might be the one for you. Another great secret within this recipe is its fry sauce: ketchup, mayo, and a touch of hot sauce.
2. Greg's Pizza
Some people are quite cautious when using ingredients. Others just don't care about it and love their pizzas as loaded as they can be. In this recipe, each ingredient is taken to a limit regarding quantity. The flavor blend is fantastic, and it's a great way of having both of your favorite meals combined into one.
3. Double-Cheeseburger Pizza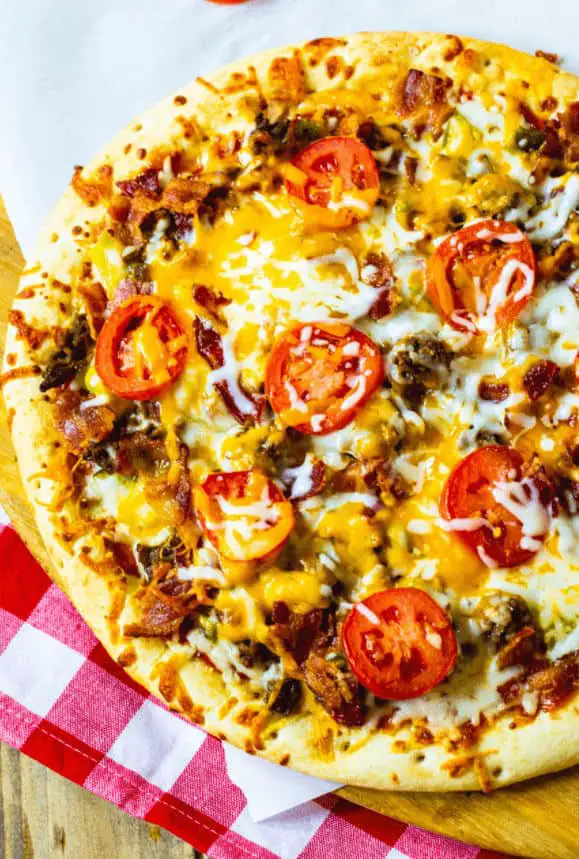 Who said cheeseburgers could not include mozzarella cheese? And what about pizza having cheddar cheese on top? With this double-cheeseburger pizza, you get both of them at the same time! Get a fantastic mix of them, and enjoy what this cheeseburger pizza has to offer to your palate!
4. Secret Pizza Hut & Domino's Recipe
If you have tried these places' famous cheeseburger pizza, we have great news for you! You can now do your own pie at home! What's best, the steps are very easy to follow, and you will have your favorite pizza ready to eat within minutes! Take a look at those whole burgers on top. Go nuts with this ideal recipe, and surprise your guests with its taste!
5. Secret Sauce Cheeseburger Pizza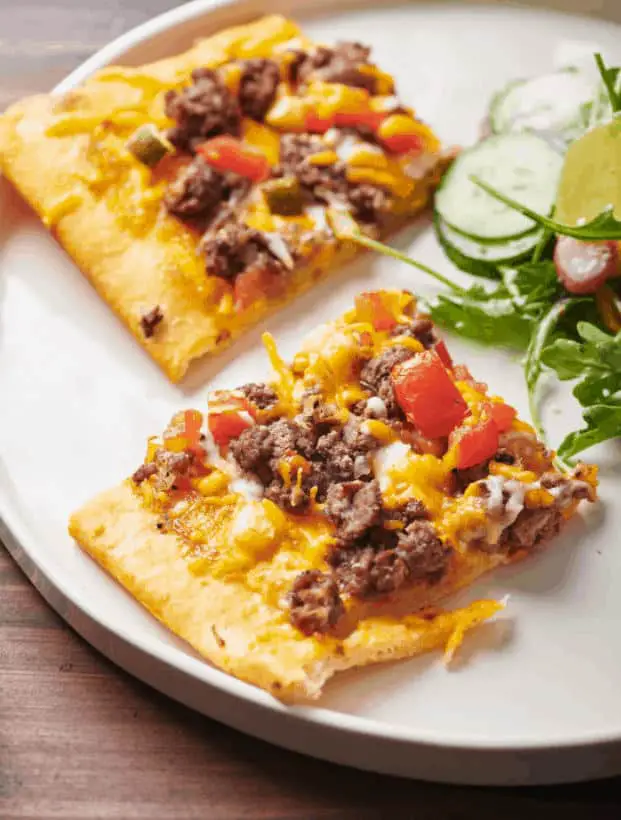 Some people claim the secret that makes any kind of pizza different from the rest is the sauce. Well, in this recipe, that belief is real. Check out their special sauce, used in many famous places, but done at home! You will love the taste and how these ingredients combine together to have a cheeseburger pizza you will never want to stop eating.
6. American Classic Cheeseburger Pizza
We know cheeseburgers are an American classic. But this recipe takes it to the limit. It includes not only the ingredients a cheeseburger must have but also its side! Yes, French fries are part of this pizza's topping. Crazy as it may sound if you think about it, it's quite logical, isn't it? Have you ever tried a cheeseburger with no side?
7. Ivy's Cheeseburger Pizza
This recipe also puts sauce as one of the most relevant factors when creating a cheeseburger pizza. However, this sauce is no secret, and you can learn about it here. A mixture of mayo and ketchup, and an oven touch before adding any other ingredient on top of it. A can't-miss cheeseburger pizza you will want your friends to know about!
8. PMQ's Cheeseburger Pizza
If you think ingredients must be taken care of as regards quantity, then this may be your perfect recipe. Each topping lets you taste everything on this pizza, and no strong taste overcomes the rest. Feel and taste the combination of ingredients at every single bite you eat. A great recipe, ready in minutes.
9. Lori's Cheeseburger Pizza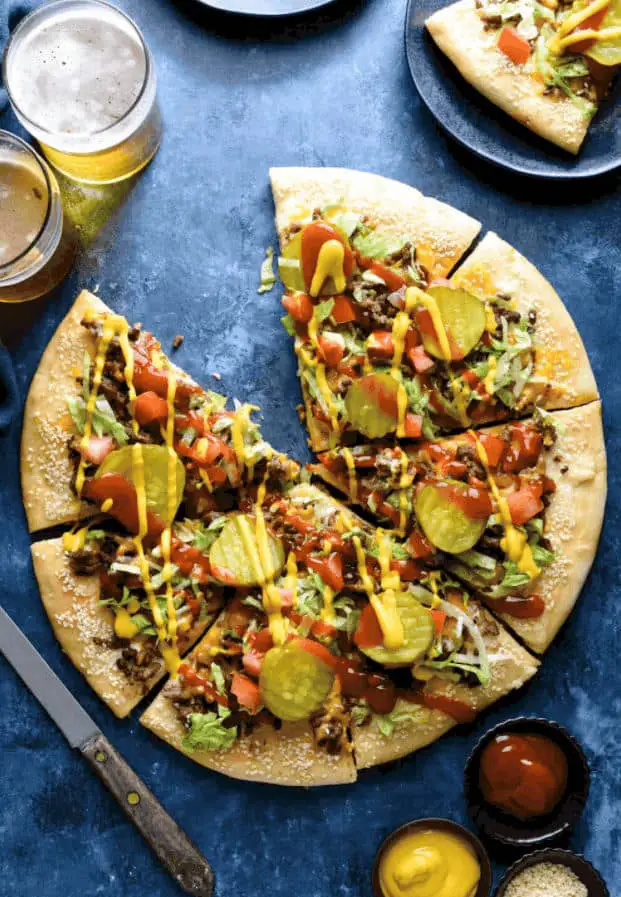 When you not only eat pizza but feel it too, you know that dough matters. This recipe gives you a secret for your cheeseburger pizza to taste spectacular. What is a cheeseburger without the secret touch? Try this fusion of two great meals and you will know what we're talking about. A must-try, indeed!
10. Giant Cheeseburger Pizza
Having many people at home, and looking for a great way of feeding them all in one sitting? Take a look at this giant cheeseburger pizza! Feed every single guest to a point where obsession overcomes satisfaction. A great size for a great meal that has a great meeting as a result. Try it out, and receive one of the biggest rounds of applause ever given.
 11. TBFS Cheeseburger Pizza
This recipe includes an easy DIY dough recipe, topping alternatives, and even a make-ahead and tips to freeze your dough to use later. Check it out, and try out the different styles of cheeseburger pizza they introduce. You will want to try all of them at once! You can follow the dough recipe, or buy it if you have little time.
12.  "It's So Good" Cheeseburger Pizza
This recipe has tips for you to prepare everything. From sauce to ingredients, going through dough preparation, it keeps it very simple and, of course, tasty! Their mozzarella and provolone cheese blend gives something to talk about, and really adds to the result. And, as if it weren't enough already, a good load of bacon to get an unforgettable meal.
13.  Trader Joe's Cheeseburger Pizza
TJ brings a recipe you will love. With an exquisite touch of olive oil to brush the crust, this cheeseburger pizza will be one of your favorites! They also use their own pizza sauce, so that every taste blends in perfectly. A must-try, no place for doubts here. Hope you are hungry for pizza because this cheeseburger pizza will rock your palate off.
14.  PoorMansGourmet Cheeseburger Pizza
You know some people believe food is first tasted with your eyes, and then inside your mouth? Well, if you follow this recipe, you will learn that is true! A magnificent creation out of a cheeseburger pizza. Something that will give your guests a topic to talk about from the very moment you place it on the table.
15.  Favorite Cheeseburger Pizza
Have you ever tried a whole-wheat crust? Well, this recipe is your great opportunity to taste it, and become a fan! Bacon, chopped onions, and lettuce (yes, lettuce, trust me!) along with Thousand Island salad dressing all over it. Great flavor, great mixture. Directly from a pizza restaurant to your dining-room table.
16.  Bacon Cheeseburger from Scratch
If you are just initiating in the kitchen industry, and you want every single step you need to be told to follow to have a good cheeseburger pizza done, this might be the one for you. Dough, sauce, and toppings are all meticulously explained in a single place. Start from the beginning, and end up having a nice pie for dinner!
 17. Taste of Home Cheeseburger Pizza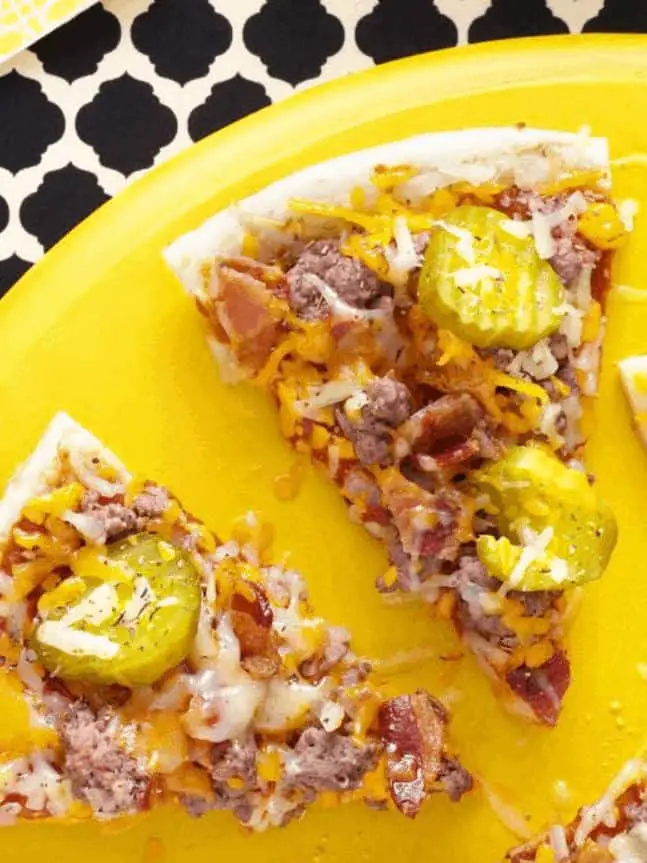 Another great-looking cheeseburger pizza. Lots of toppings, lots of ingredients, and a pie full of flavor. Get the perfect homemade blend of bacon, pickles, mozzarella, cheddar cheese, and a touch of Italian seasoning to achieve a fantastic meal. Worth being served at a restaurant, but prepared in your own kitchen.
18.  Epic Cheeseburger Pizza
If you love Dominos' pizza, you will surely fall in love with this cheeseburger pizza. Easy to make, this pizza can be prepared within minutes. A fast-food franchise right inside your kitchen. What's best, not a lot to clean afterward! Can you think of anything better than that?  I can't think of anything better!
19. Sheila's Cheeseburger Pizza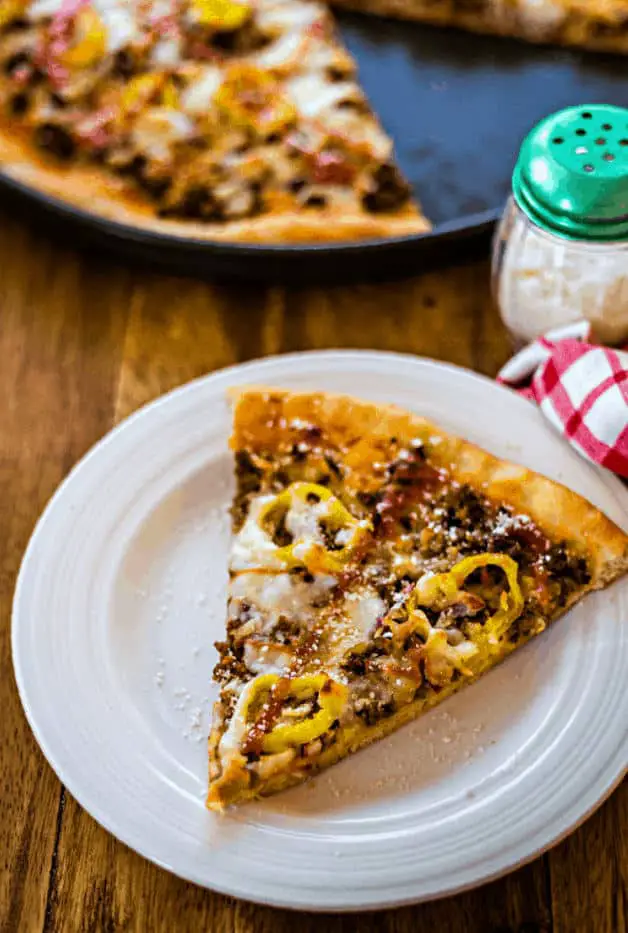 We have talked about different cheese blends, but we haven't mentioned this one yet! A great mixture of mozzarella cheese and gouda gives the touch your cheeseburger pizza needed. Seasoned ground beef, banana peppers, and a special sauce come together on top of your favorite crust to result in a great meal to share with family or friends.
20. Double Cheeseburger Pizza
This recipe takes one step further and describes how to prepare a double cheeseburger pizza. Yes, you can already imagine it. Loads of toppings, a gooey cheese blend, and a meal people will die to have the recipe. Whether you keep it a secret or not is up to you, but don't you dare miss out on this double cheeseburger pizza!
21. Christy's Cheeseburger Pizza
Your favorite toppings as ingredients, the crust of your choice, and a special sauce. That is what Christy believes is all you need to get a perfect cheeseburger pizza to share with your guests. A mixture of two of your favorite meals, resulting in a pie everybody will love. Save some for yourself!
22. BBQ Pit Boys Cheeseburger Pizza
There's something about coal or woodfire ovens that give a certain touch to your meals. And this same thing happens with this cheeseburger pizza recipe. If you happen to have one, don't miss this recipe. The best thing is that it goes right from scratch, with tips and secrets from dough to toppings!
23. Janine's Cheeseburger Pizza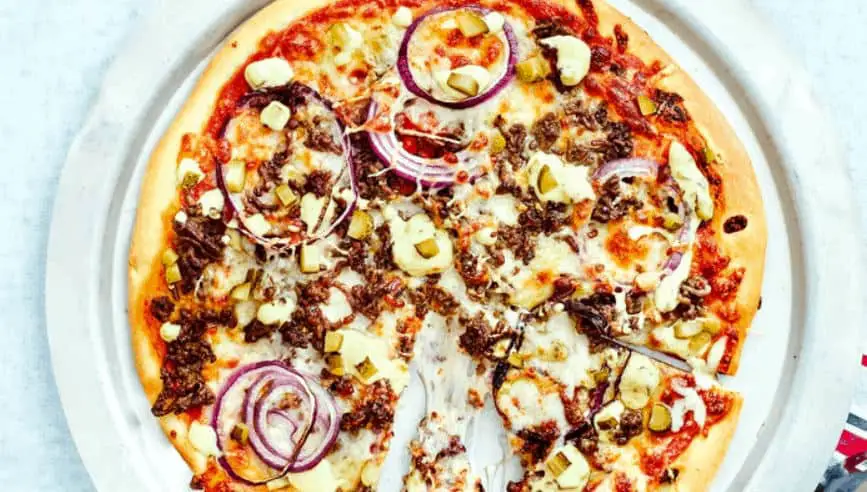 Another recipe that explains everything you need to take into account to get the best cheeseburger pizza ever made. This one includes Emmental, garlic granules, chili flakes, and an easy-to-prepare special sauce. Everything is taken into account and explained. You just need to put your hands to work and enjoy!
24.  Giant Chicago-Style Cheeseburger Pizza
Another delivery for a big party of guests, a huge family, or a month full of pizza for one! Check this enormous cheeseburger pizza, and keep it in mind for the next time you celebrate at home. Feed everyone the same pizza, and surprise all of your guests with your meal! Everybody will love it!
25. Pillsbury Cheeseburger Pizza
This recipe brings another cheese blend to your table. Moreover, the special sauce is easily made, and tastes fantastic! Loads of cheese, ground beef, onion, and pickles get together on top of your crust to result in a great-looking meal. And its looks go along with taste, of course! Certainly, a must-try for you and your guests!
26.  Vegan Cheeseburger Pizza
Of course, when we talk about cheeseburger pizza, we cannot leave our vegan friends apart! This recipe brings a whole lot of ingredients to have a vegan cheeseburger pizza prepared within minutes. Both tasty and healthy, this cheeseburger pizza will blow your mind! Get your hands to work, and have a portion of healthy food for your whole family!
27. Lord Byron's Cheeseburger Pizza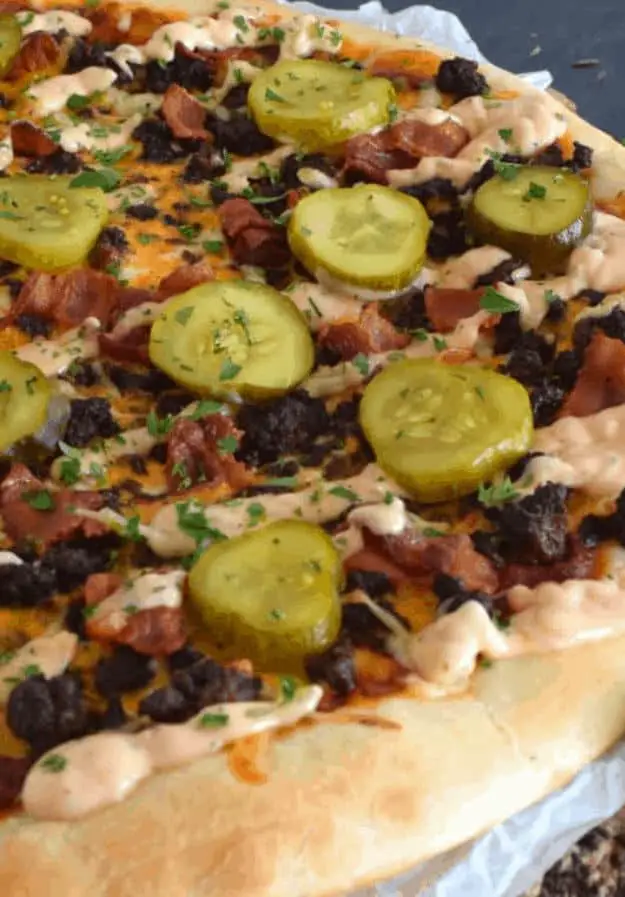 Have you ever wondered what makes it so special when you go to a pizzeria and have a really good pie? As we mentioned before, some people firmly believe that it is the sauce that makes the difference. This cheeseburger recipe has a copycat secret sauce that has the special touch you need to feel you are eating at a fancy diner in your house.
28. Personal Size Cheeseburger Pizza
If you want to try a cheeseburger pizza, but you don't want any leftovers, here's the solution to your problem. This cheeseburger pizza is actually topped on burger bread-like crust. Its individual size makes it perfect for one, and it is so easy to prepare that you will want to eat it every week! It is a great imitation of Domino's cheeseburger pizza.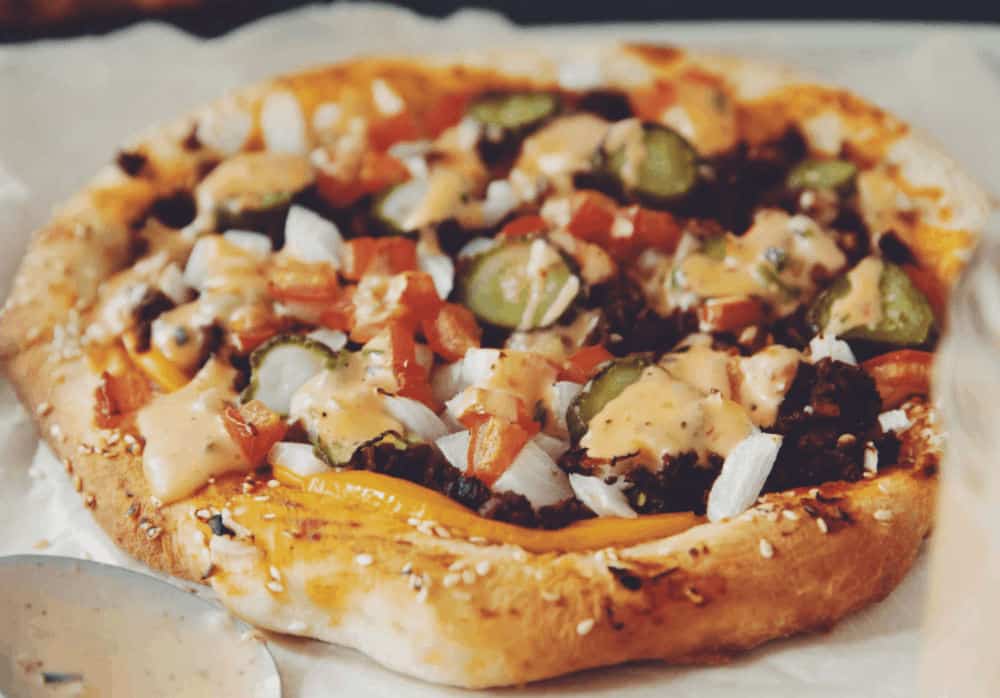 This recipe brings another vegan alternative for you to enjoy a cheeseburger pizza. Veggie ground round, vegan cheese, and pre-made dough. These ingredients, and any other topping you like on your pie, resulting in a tempting veggie cheeseburger pizza for you to enjoy! Give it a try. You will not regret it!
30. Papa Johns Cheeseburger Pizza
Papa Johns brings a cheeseburger pizza recipe you cannot miss! A mixture of your favorite ingredients, altogether with a cheese blend you will certainly love. A must-try for cheeseburger and pizza fans. The best thing, you can do it yourself in your own kitchen!
So, this is our list of different recipes for you to create your own cheeseburger pizza at home. If you liked them, or want to share any other alternative, leave a comment and share your thoughts with the community!
30 Best Cheeseburger Pizza Recipes
Ingredients
Greg's Pizza

Secret Pizza Hut & Domino's Recipe

American Classic Cheeseburger Pizza

PMQ's Cheeseburger Pizza

Giant Cheeseburger Pizza

"It's So Good" Cheeseburger Pizza

PoorMansGourmet Cheeseburger Pizza

Bacon Cheeseburger From Scratch

Epic Cheeseburger Pizza

Double Cheeseburger Pizza

BBQ Pit Boys Cheeseburger Pizza

Giant Chicago-Style Cheeseburger Pizza

Vegan Cheeseburger Pizza

Personal Size Cheeseburger Pizza

Papa Johns Cheeseburger Pizza
Directions
Select your favorite recipe.
Organize all the required ingredients.
Prep the recipe in 30 minutes or less!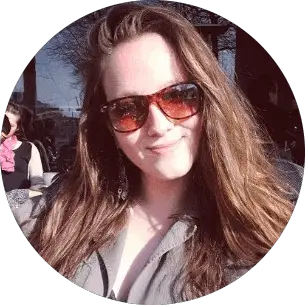 Barbara is an enthusiastic food-exploring person that goes through different culinary experiences. She got inspired by creating a pizza blog post after she tasted one of the best-selling pizzas in Toledo.