Dill pickles give you a fabulous burst of flavor, so why not use them as a pizza topping? You'll be delighted at how delicious a pickle-topped pizza can be. Below we've pulled together no less than 31 of the very best pickle pizza recipes that the internet has to offer.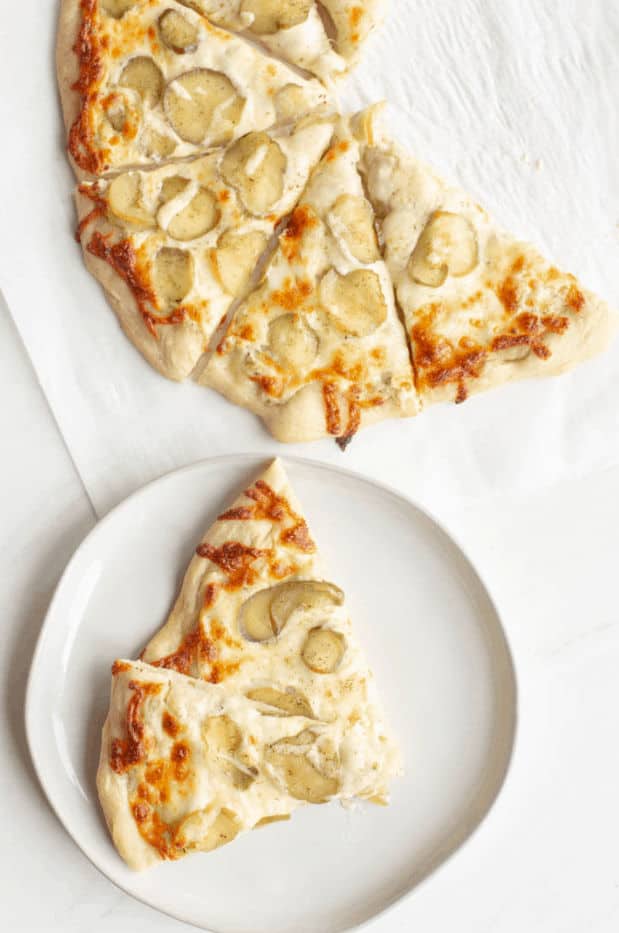 This simple and elegant pizza recipe combines the sweetness of garlic pizza sauce with the savory flavors of dill pickle in the most rewarding fashion. It's easy to make, too; just roll out store-bought pizza dough (or homemade if you prefer) and top it with garlic pizza sauce, shredded mozzarella, and pickle slices. Sprinkle fresh dill on top and bake for 10 to 15 minutes at 500°F, until nicely browned.
2. Wewalka Pickle Pizza
Here is a superfast one-minute video showing you the Wewalka version of a tomato-based pickle and red onion pizza. Quick, easy, and delicious.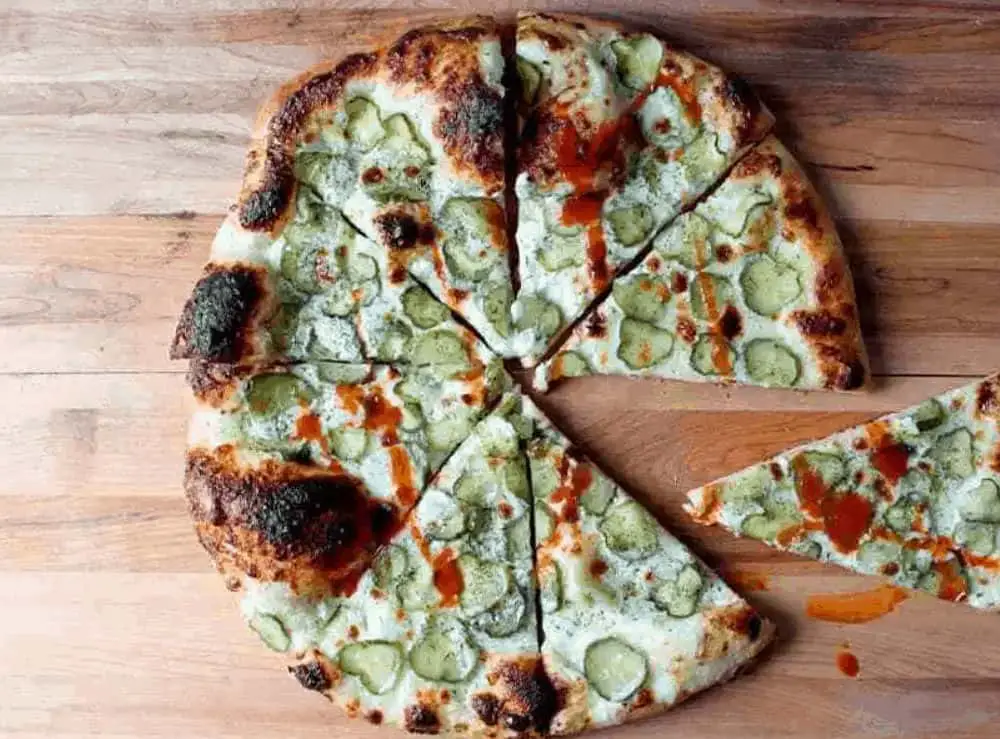 The richness and sweetness of ranch sauce is a great taste counterpoint to dill pickles. This recipe starts with a bought-in pizza dough that you roll out into a 12-inch circle. Top this evenly with ranch dressing leaving a border for the crust.
Then scatter on thinly sliced garlic close mozzarella, laying the pickles on top of this evenly. Bake in the oven at 500°F for 10 to 15 minutes until it's nicely browned and the cheese has melted.
4. Keto Pickle Pizza
This Keto take on pickle pizza uses a special fathead dough to cut down on the carbs while keeping the classic pizza flavors.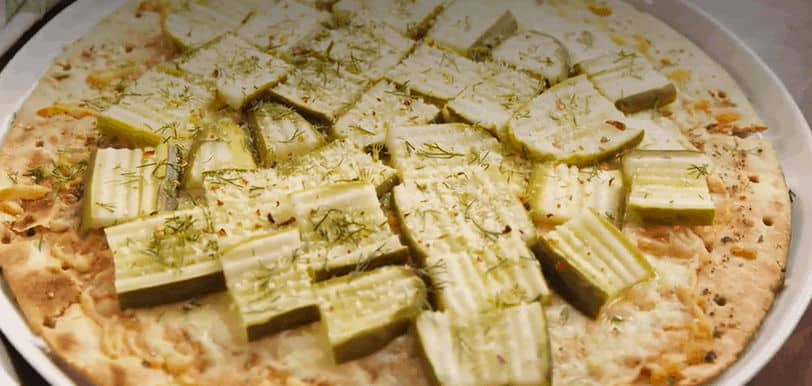 If you have half an hour to spare, you can whip up this quick, delectable pickle and bacon pizza. Preheat an oven and then brush a store-bought pizza base with an oil and herb mix. Then add mozzarella and bake for fifteen minutes. Take out, top with the pickle and bacon, and cook for another five minutes. Top with fresh dill and chili flakes and serve.
6. The Edgy Veg Vegan Dill Pickle Pizza
You'll enjoy Edgy Veg's enthusiastic delivery of this enticing and easy-to-follow vegan dill recipe.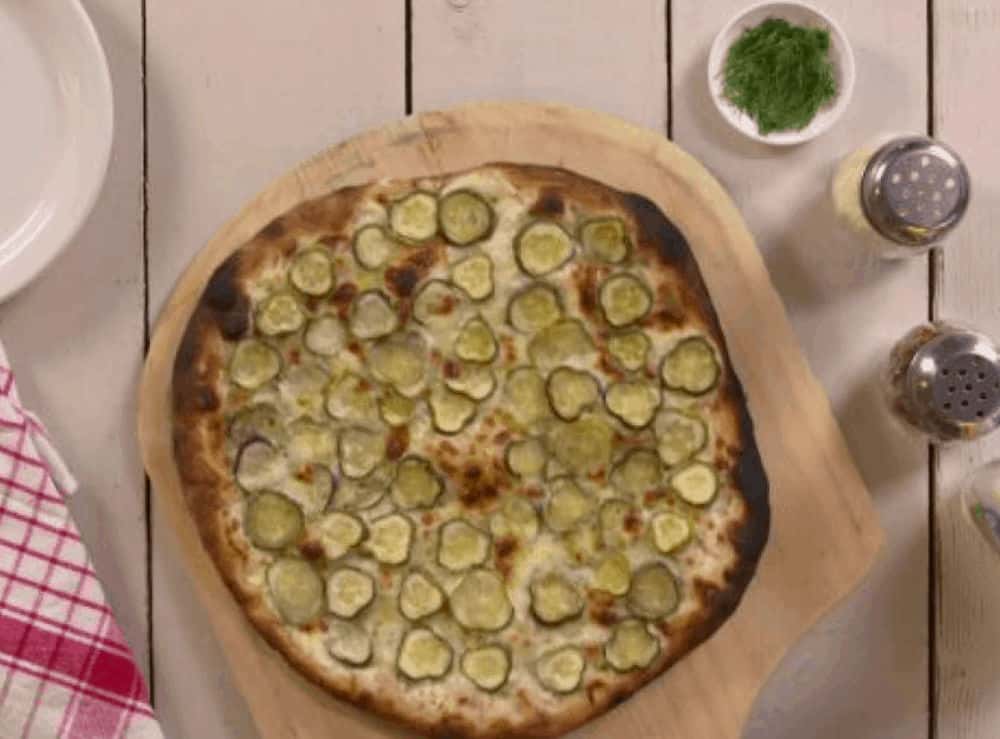 Instead of the regular tomato pizza sauce, this recipe uses a white alfredo sauce as a creamy compliment to a topping of delicious dill pickles. Just roll out pizza dough and top with Alfredo sauce. Then sprinkle on mozzarella, garlic powder, and Italian seasoning on top of the pickles. Bake in a hot oven at 450°F for 12 to 14 minutes and it's ready.
8. Vegan Dill Pickle Pizza Recipe
This vegan version of an alfredo sauce dill pizza just uses vegan cheese in place of mozzarella for an equally delicious result.
Inspire Travel Eat suggests that you'll love this pickle pizza recipe even if you don't like pickles. Why not give it a try and find out? They show you how to make a tremendous homemade pizza dough, which you cover with innovative garlic, dill, and Greek yogurt pizza sauce. Top this with sliced whole dill pickles, mozzarella cheese, and a little more pizza sauce. Then bake until nicely browned and serve.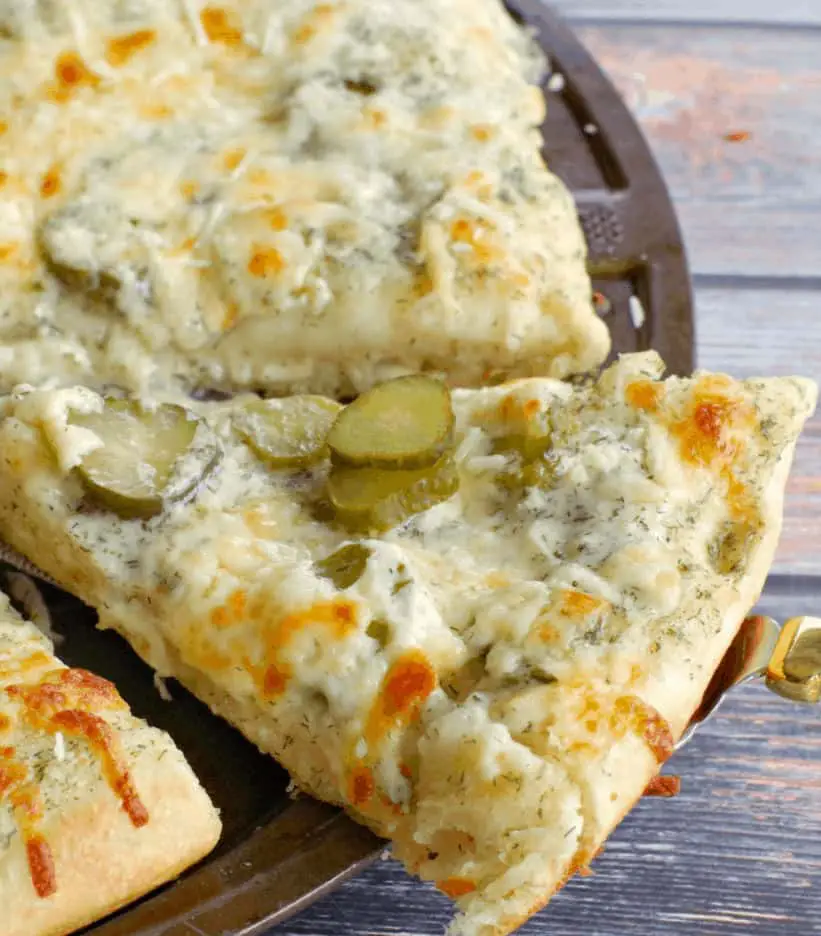 This dill pickle pizza recipe shows you how to use a Weight Watchers two-ingredient pizza dough to lighten up the calorie count. If that's not an issue for you, then just use regular pizza dough. Roll out the dough, and top with Alfredo sauce, minced garlic, fresh dill, and onion powder. Then add a layer of dill pickles and plenty of mozzarella; and oven-bake for 15 to 20 minutes, turning up to high heat for the last two or three minutes for a nicely browned top.
11. Pepperoni & Jalapeno Pizza
Both pickle lovers and chili fiends will be delighted when you make this simple pizza topped with spicy pepperoni and jalapenos.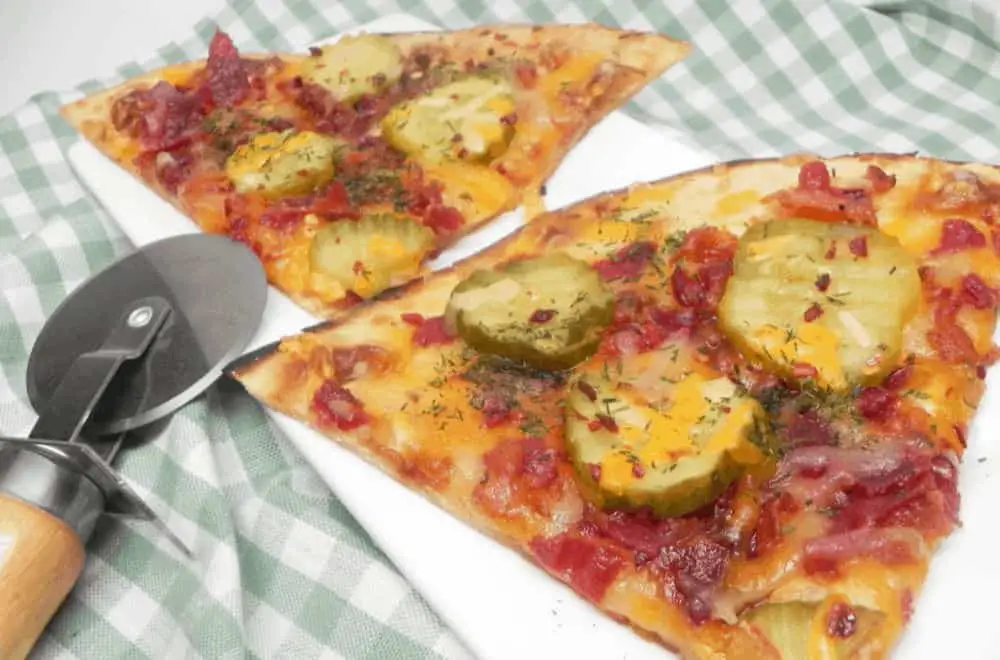 This is a great rustic pizza recipe that brings together spicy pepper jack cheese and mozzarella. Instead of the usual pizza sauce, just layer on cooked and crumbled bacon, dill pickles, and the cheeses and bake for a fresh and tasty pickle pizza.
13. Mike Fitzick makes a Jalapeño Pesto Pizza
Sometimes the simplest recipes are the best. This pizza is topped with just a spicy jalapeno pesto, with dollops of sour cream added for contrast. Frankly, it looks incredible.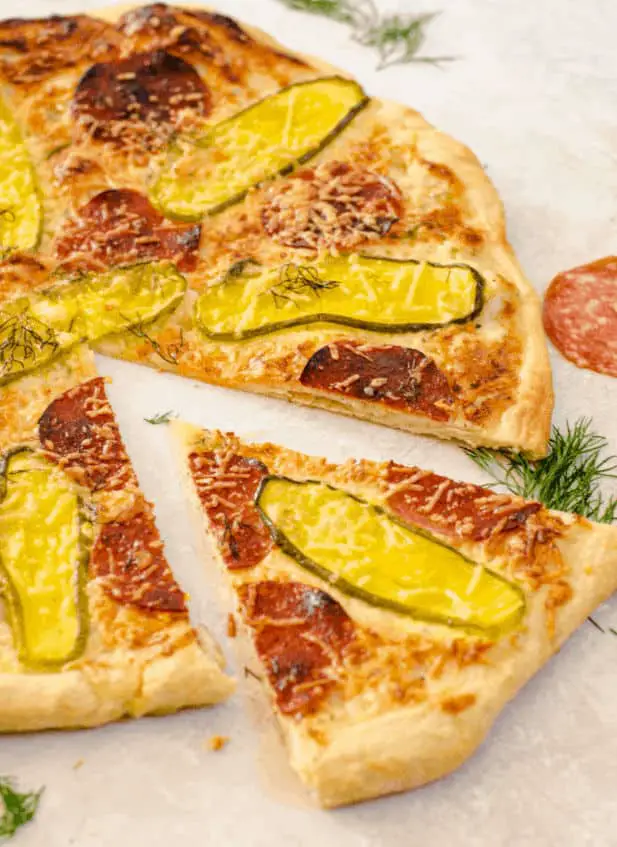 This salty take on pickle pizza is packed with attitude since it combines the fiery bite of spicy salami with the richness of ranch dressing, and of course, zesty dill pickles. Parmesan and Romano cheeses give this pizza a delightful saltiness.
15. Jalapeno Popper Pizza
If you like your pickles a bit spicier, then this quick and easy two-minute video making a jalapeno popper pizza is the one for you.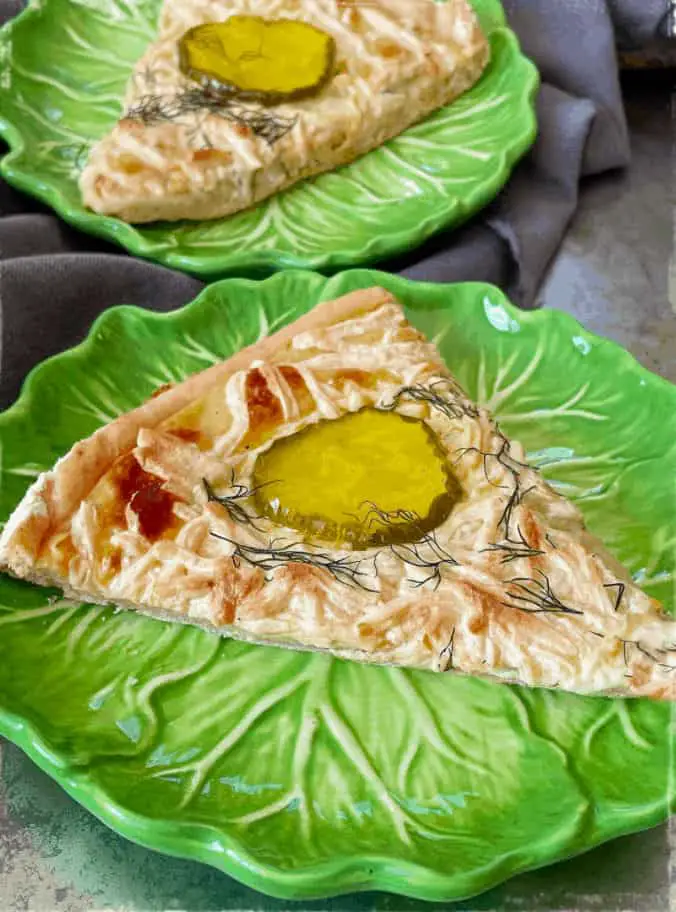 It's easy to make vegan pizza; all you need is a good pizza crust recipe, gluten-free in this case, and some vegan mozzarella shreds. Roll out your pizza dough, top it with a creamy vegan béchamel light sauce, dill pickle slices, and the mozzarella shreds.  Then bake your pizza at 500°F for 20 to 25 minutes until the cheese is melted and the crust is nicely brown.
17. Garlic And Lemon Dill Pickle Pizza
Fresh garlic and lemon replace olive oil in this recipe to impressive effect.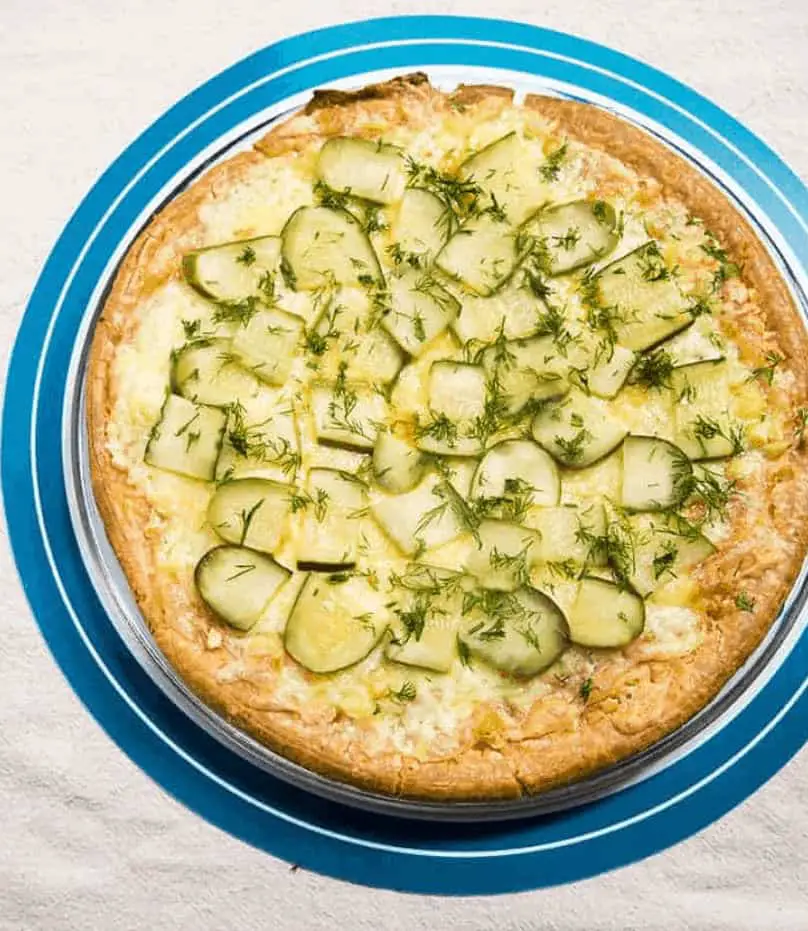 Garlic lovers will find lots to love in this garlic-packed dill pizza recipe. This pizza is gluten-free and vegetarian packs in the flavor by using 6 to 8 cloves of finely chopped garlic combined with pickle slices and mixed white cheddar, and Monterey Jack cheese, or whatever you have on hand.
19. Snapchef Culinary Dill Pickle Pizza
A rich, creamy garlic sauce is the star of this exciting dill pickle pizza recipe, offering a sweet contrast to the tartness of the pickles.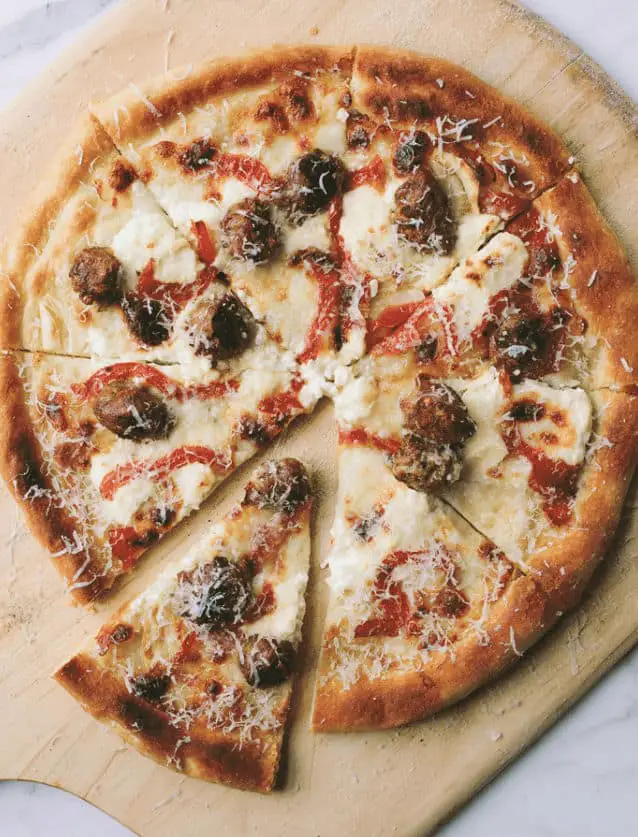 Real Simple has a different take on the pickle pizza, bringing in pickled sweet bell peppers instead of sour dill pickles. Combine these with browned and crumbled hot Italian sausages, adding creamy whole milk ricotta and mozzarella for a flavourful feast.
21. The Big Dill Pizza Copycat Recipe
This recipe shows you how to make a perfect replica of Rhino Pizza's famous Big Dill Pizza at home.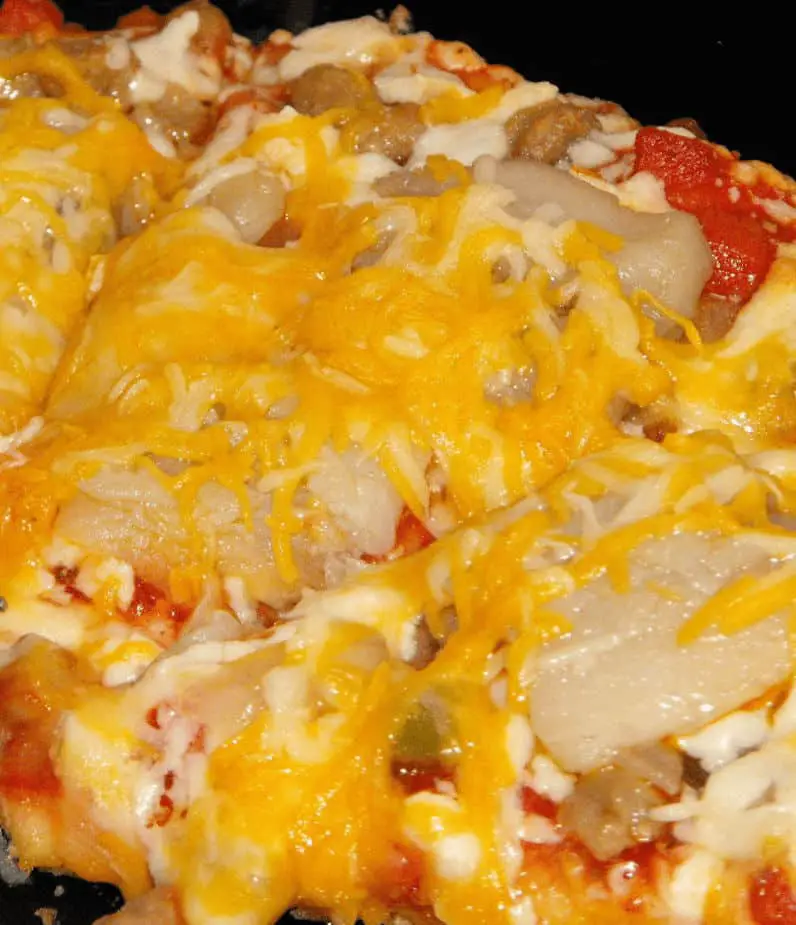 Vegetables aren't the only thing you can pickle, you know. For this quick, exciting, and slightly unhinged recipe, all you do is take a 12-inch frozen pizza of your choice and top it with some pickled herring fillets and a little more cheese. Then bake as per packet instructions.
23. Homemade Pickle Pizza
This inspired dill pickle recipe combines sliced ham and dill pickles on top of a creamy ranch sauce. All One Kitchen gives you simple instructions to make this straightforward and delicious pizza.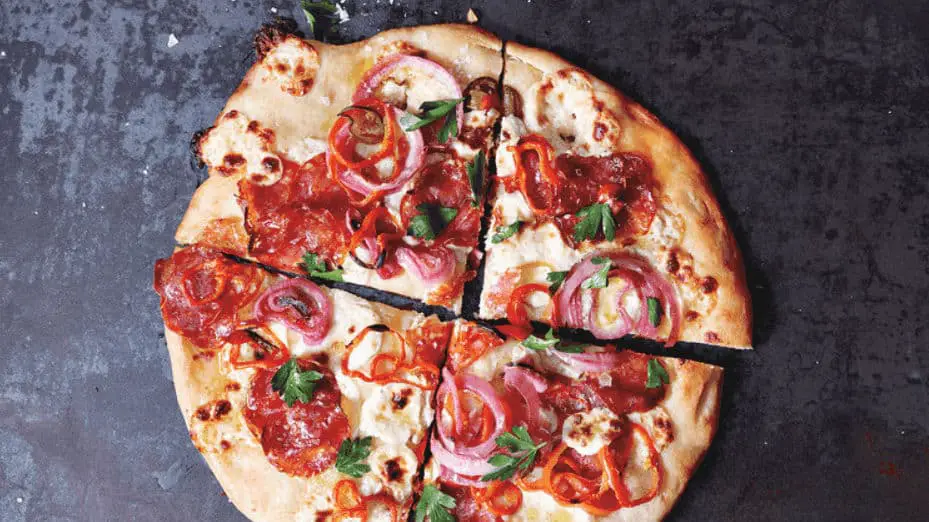 In Martha Stewart's white pizza, zesty pickled onions are added to a creamy white ricotta sauce and spread over rolled out a sheet of pizza dough. Add thinly sliced soppressata and top with Monterey Jack and Parmesan cheese. Bake until you have a golden-brown crust and bubbling cheese.
25. Dill Pickle Pizza
The charismatic Doughboy Alberto walks you through making a classic dill pickle pizza using an Alfredo sauce. He's a pro chef, and the results look amazing.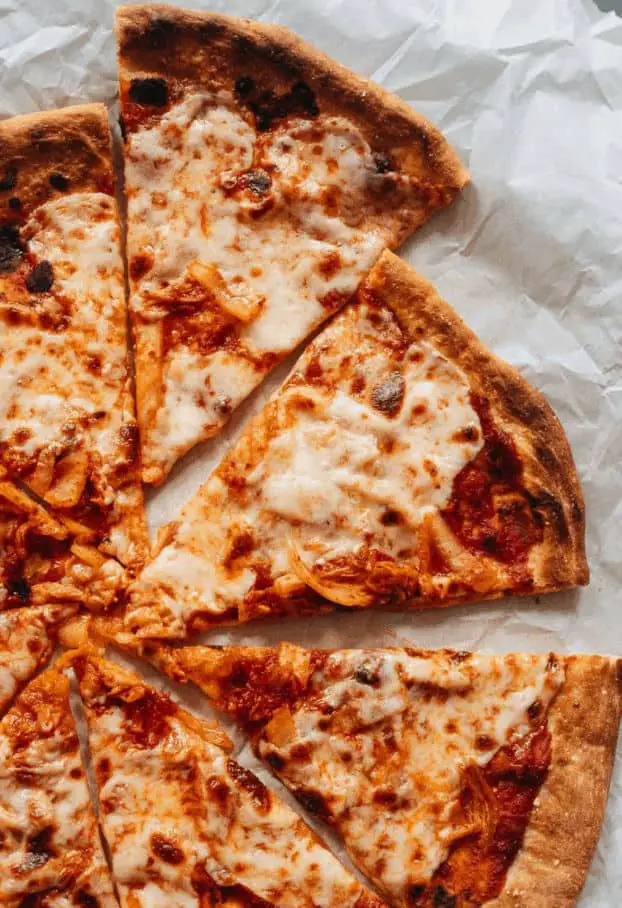 Flavor-packed Korean kimchi is a great way to add a pickle taste to your pizza.  This spicy and inventive recipe also uses Gochujang, a spicy Korean chili paste. A rolled-out sheet of pizza dough is topped with a chili tomato paste, adding fried kimchee and slices of mozzarella. Just bake on high heat until brown, and it's ready.
27. Kimchi & Squid Pizza
Okay, this pizza variation is really out there since there is no base as such. Just mix together a dough containing kimchi and sliced squid and fry in a skillet until nicely browned on both sides. Try it; you might like it!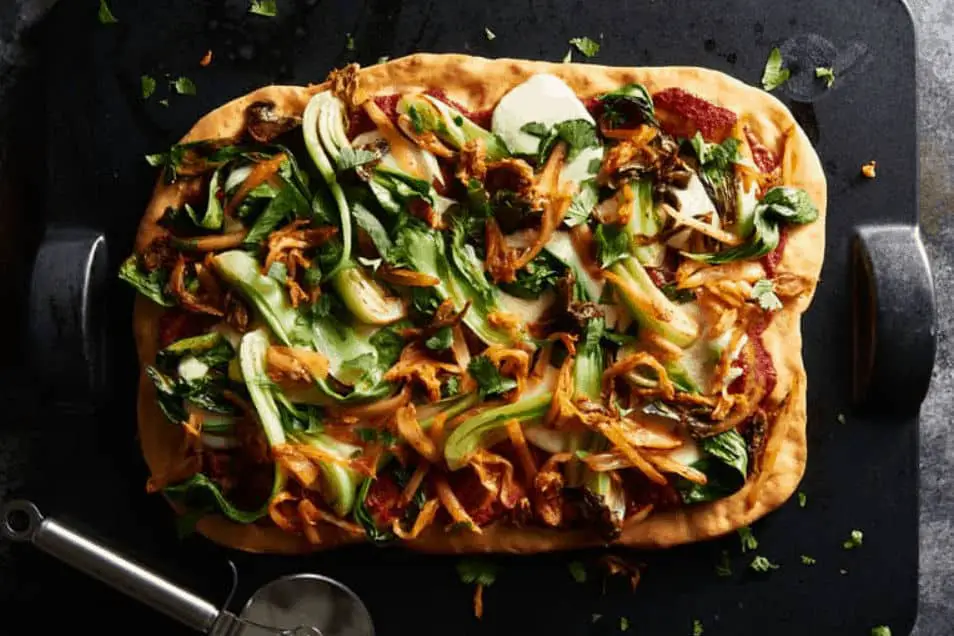 Here's another kimchi pizza recipe that packs out the vegetable goodness using baby bok choy and fresh cilantro. Just top a pizza base with spicy gochujang sauce and add sesame oil and mozzarella. Bake until brown, and then add fried bok choy and kimchee.
29. Kevin All Over The World Korean Barbecue Kimchi Pizza Recipe
This is a more involved but highly rewarding recipe for kimchi pizza using homemade dough and a kimchi sauce, adding pork belly and chili for a fantastic taste.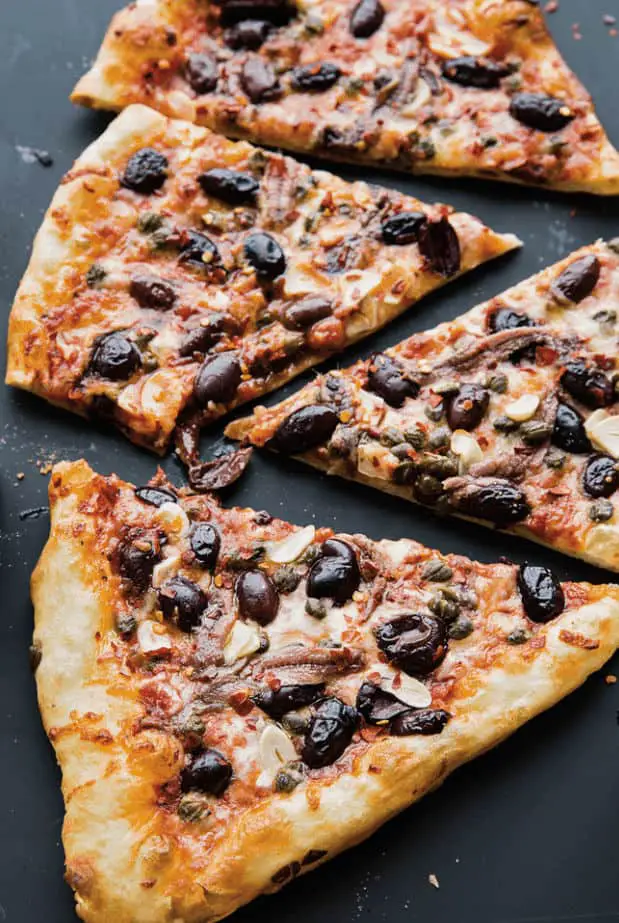 If you like puttanesca sauce, then this pizza topped with pickled olives and capers and salty anchovies will be right up your street. Make classic pizza dough from scratch and then a tomato sauce. Top your pizza with Kalamata olives, capers, basil, anchovies, and mozzarella. Bake until brown, and it's finished.
 31. Easy Kimchi Pizza!
This two-minute recipe shows you a super quick way to make kimchi topped pizza starting with a flatbread instead of a pizza base.
31 Best Pickle Pizza Recipes
Ingredients
Wewalka Pickle Pizza

Keto Pickle Pizza

The Edgy Veg Vegan Dill Pickle Pizza

Vegan Dill Pickle Pizza Recipe

Pepperoni & Jalapeno Pizza

Mike Fitzick Makes A Jalapeño Pesto Pizza

Jalapeno Popper Pizza

Garlic And Lemon Dill Pickle Pizza

Snapchef Culinary Dill Pickle Pizza

The Big Dill Pizza Copycat Recipe

Homemade Pickle Pizza

Dill Pickle Pizza

Kimchi & Squid Pizza

Kevin All Over The World Korean Barbecue Kimchi Pizza Recipe

Easy Kimchi Pizza!
Directions
Select your favorite recipe.
Organize all the required ingredients.
Prep the recipe in 30 minutes or less!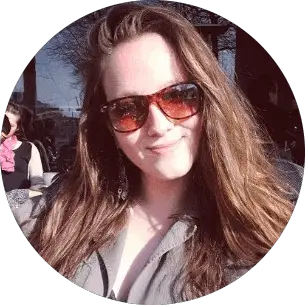 Barbara is an enthusiastic food-exploring person that goes through different culinary experiences. She got inspired by creating a pizza blog post after she tasted one of the best-selling pizzas in Toledo.