Hey, pizza lovers! I know how difficult finding a worthy pizzeria can be when traveling around the country.
And I also know that some places do not meet your standards and tend to let you down. But fear no more, because I have happily done some research job for you, and here are the results.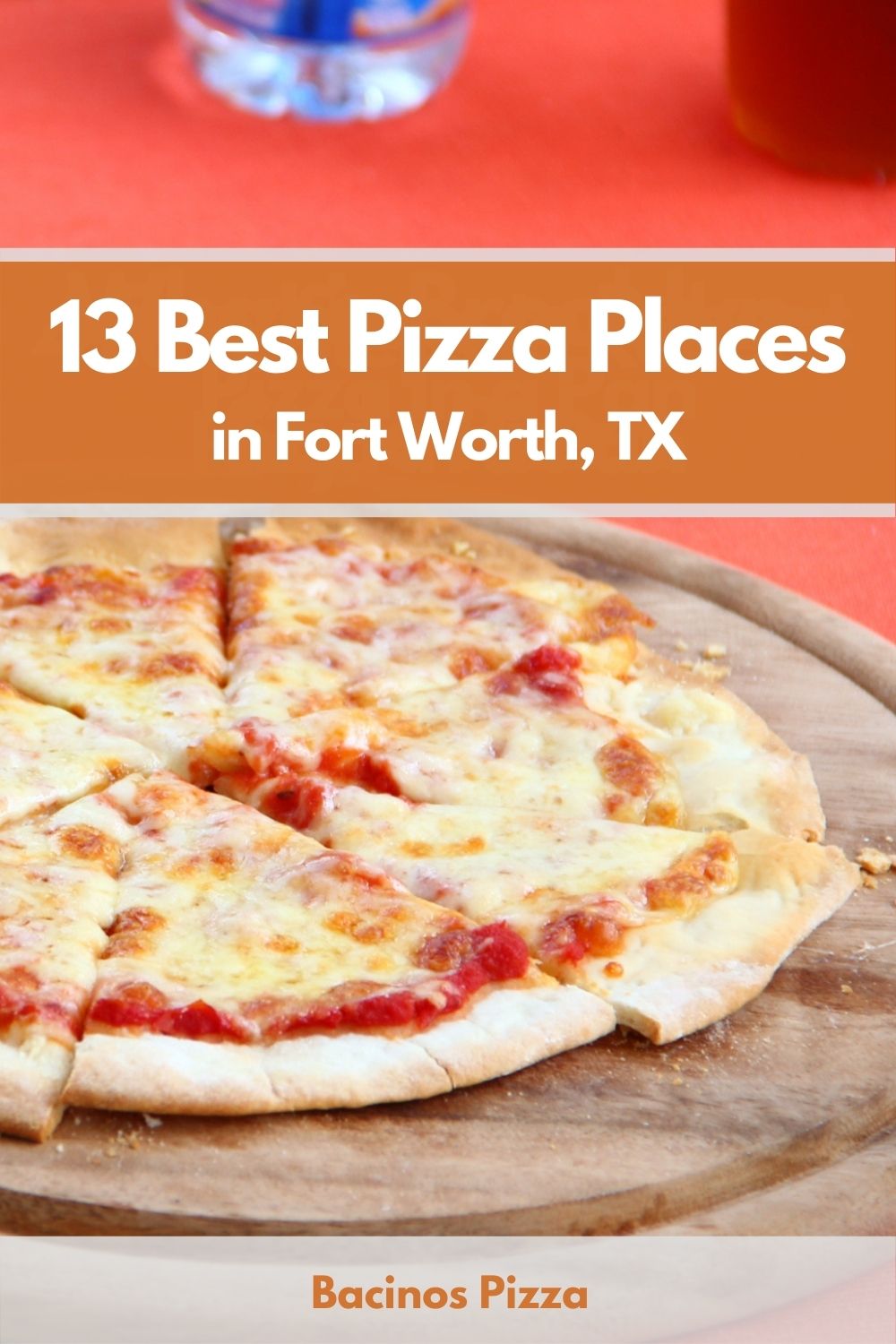 Texas is filled with gold-mine pizza places. And if you are planning on going, you will want to know the best pizzerias there.  So here is a list of the best 13 pizza places in Fort Worth, TX!
Address: 3501 Hulen St, Fort Worth, TX 76107
Phone: (817) 402-0050
Google Rating: 4.4/5
TripAdvisor Rating: 4/5
Yelp Rating: 4/5
Far from New York, and even farther from Italy, Zoli's Pizza brings both to your table, served on a plate.
The result of a collaboration between high-standard chefs and Jay Jerrier, World Pizza Champion, Zoli's introduces a non-existing culinary experience in Fort Worth.
With multiple dining options, including dine-in, online pickup, and delivery via Uber Eats, this pizzeria works on a 7-days-a-week basis. A place where you can enjoy crispy slices, zucchini fries, and garlic knots in abundance.
A must-try in Zoli's pizzeria is the CBR pizza. However, a great feature this pizza place has is that you can have a pizza created by and for yourself, with up to 4 toppings.
Address: 843 Foch St, Fort Worth, TX
Phone: (817) 780-0420
Google Rating: 3.9/5
TripAdvisor Rating: 4/5
Yelp Rating: 3.5/5
With Yelp comments that put its food in a top league, Zalat Pizza fulfills the expectations of any pizza enthusiast.
Introducing themselves as responding to a mission from the Gods, this pizzeria has a strict selection of ingredients to rank high in Fort Worth, TX. Great pizza cheese, Roma tomatoes, fresh basil, and a 100% beef pepperoni are key to creating top-of-the-notch pizzas.
If you are into spicy food, Zalat pizzeria combines Texas and Nashville in a single round pie. A mandatory dish for exquisite palates that includes Nashville Hot sauce, Sriracha, and chicken.
And, just in case you were wondering about this, yes. Zalat's pizzas taste great whatever the occasion: just served, re-heated, and even directly from the fridge! Their most unique feature is that each pizza is signed by the chef in charge, adding a personalized touch to your food.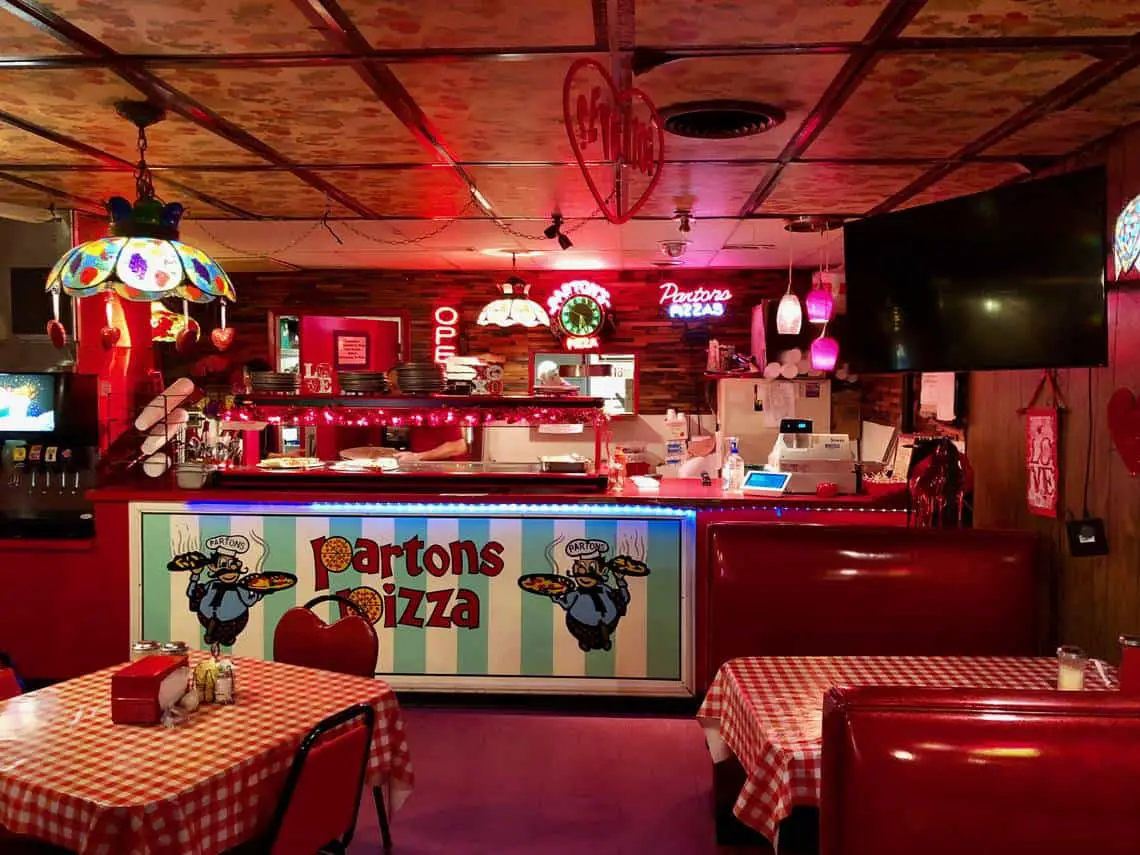 Address: 2813 Cherry Ln Fort Worth, TX
Phone: (817) 244-5152
Google Rating: 4.6/5
TripAdvisor Rating: 4.5/5
Yelp Rating: 4.5/5
Partons Pizza lets its customers become the best marketing strategy. They claim to be 'one of the oldest family-owned pizzerias in Fort Worth'. Not making any use of a website other than their Facebook page, where people show nothing but satisfaction towards them.
This pizzeria works on an all-you-can-eat buffet basis, with slices that will disappear in front of your face if you are not fast enough to get them. Each of them is crowded with a wide variety of fresh toppings.
With a flawless sense of making yourself feel home, Partons accompanies one of the best pizzas in Fort Worth with a cozy, vintage scene.
While you are there, do not miss their side tater tots, and their incredible bacon tomato variety.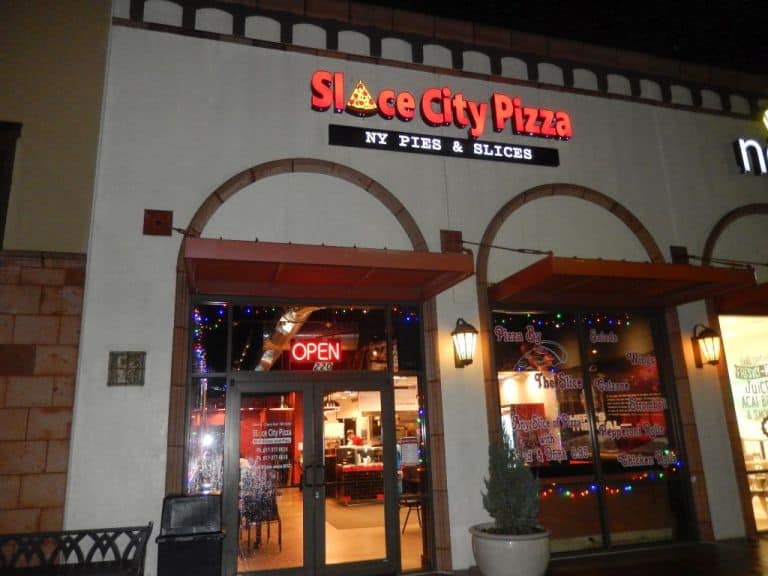 Address: 4601 West Fwy, Fort Worth, TX
Phone: (817) 377-0616
Google Rating: 4.7/5
TripAdvisor Rating: 4/5
Yelp Rating: 5/5
There is only one thing better than leaving a pizzeria with the feeling that you have tried the best pizza ever: going back and having the same sensation once again.
That is what happens every time you go to Slice City pizzeria. You can tell they know what they are doing because they can re-do it over and over again.
And while you are enjoying this NY-style pizza, you can tell the ingredients are fresh as fresh can be. Their homemade crusty dough, real pizza cheese with an imperceptible touch of oil, and always fresh toppings make this a must if you go to Fort Worth, TX.
Surprisingly, and fortunately too, Slice City Pizza place is never packed, so you will always find a place to get one of the best pizzas in Texas, plus welcoming attention.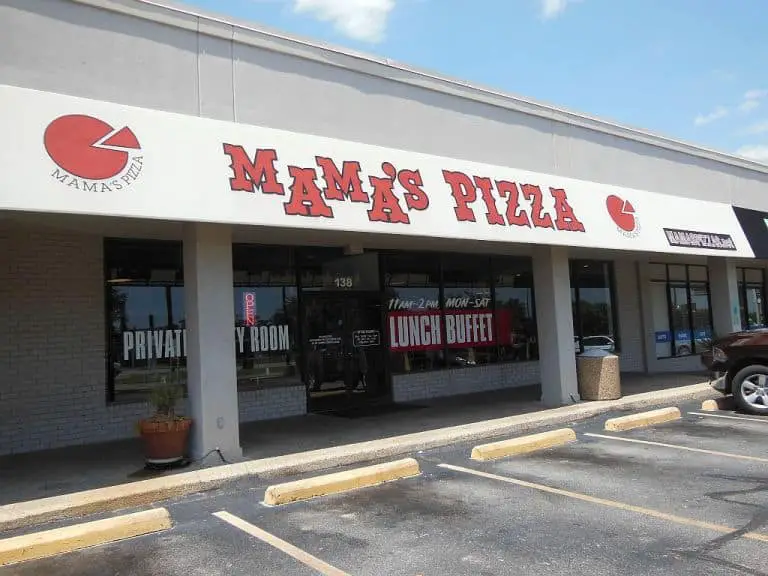 Address: 5800 Camp Bowie Blvd, Fort Worth, TX
Phone: (817) 731-6262
Google Rating: 4.5/5
TripAdvisor Rating: 3.5/5
Yelp Rating: 3.5/5
If you are looking for a genuine NY style pizzeria, Mama's Pizza is the place for you. Their gooey cheese will make you feel Madison Square Garden is a couple feet's distance.
Their wide variety of flavors will make you want to go back until you have tried them all. And you can do a monthly streak, since prices are not that high!
If you feel hungry after a long day's work, you can even ask for their special "Mama's" 20'' size pizza and eat until you cannot fit another single bite.
Their unforgettable cold beers and homemade cookies are a great plus for this place. And one of the best things, is that you can personalize your own pizza right from scratch. So you will be sure your palate will be taken care of with any pizza you order.
Address: 3651 Sycamore School Rd Ste 100, Fort Worth, TX
Phone: (817) 386-4859
Google Rating: 4.6/5
TripAdvisor Rating: N/R
Yelp Rating: 5/5
Looking for a great price/quality relation? Here is the answer to all of your problems! Eatali's Pizza offers top-of-the-notch quality at really accessible prices.
Surprisingly, and not because toppings are not the best thing, a remarkable feature of this place is their sauce. They show they know what they are doing with it, and give the importance it really deserves.
Their homemade thin dough will transform non-crust-eaters into crust fans on the first try.
But the most remarkable factor of Eatali's Pizza is their sausage. Add it to any other type of pizza, and the flavor blend will make it worth the ride, or even the delivery call.
Address: 3021 Greene Ave Fort Worth, TX
Phone: (817) 927-2209
Google Rating: 4/5
TripAdvisor Rating: 4.5/5
Yelp Rating: 3.5/5
Hundreds of restaurants and food chains use an Italian name to make themselves look, well, Italian. This is not the case of Perrotti's Pizza, since the product they offer is even more Mediterranean than the name itself!
Forget about those pizzerias that have their ingredients stuffed in a fridge for days. Perrotti's toppings, sauce and dough are daily-elaborated, and you can tell that from the first bite.
One of the best things at Perrotti's is their meat and vegetable pizza. The blend with the unforgettable crust and sauce makes it quite unique. Side breadsticks are something worth to mention, too.
Make yourself in Italy with just one takeaway. Suggestions are that you pick it up yourself so as to enjoy pizza in its best condition, although delivery through apps is also available.
Address: 3051 S University Dr, Fort Worth, TX
Phone: (817) 462-7662
Google Rating: 4.4/5
TripAdvisor Rating: 4.5/5
Yelp Rating: 4/5
When the name of a place tells you everything about it, it is because it has been well chosen. Such is the case of Pizza Snob, in Fort Worth, TX. They really take pizza to the next level.
Ingredients are not only cautiously picked, but also maintained. Fresh, still never frozen meat has an incomparable sense to your mouth. This, not to mention their smoked mozzarella cheese.
You can make your own pie, and whatever the toppings you choose, pizza will be served in front of you within minutes. Directly from the oven, fresher than anything you have ever tried before.
And if you do not know what to try, you can always opt to go with the Chef's selection. His Cuban Pizza is a must, so take note!
Address: 6150 Camp Bowie Blvd, Fort Worth, TX
Phone: (817) 916-4561
Google Rating: 4.2/5
TripAdvisor Rating: 4/5
Yelp Rating: 3/5
Although it is true Campisi's is not just a pizzeria, their pizzas deserve a spot in this review. In fact, their appetizers and entrees even improve your pizza experience in there.
Whatever the toppings, Campisi's pizza will always be an outstanding experience. No wonder why their pies have won several awards throughout time.
Toppings are divided into two price categories. The most remarkable ones are their Canadian bacon, Pepperoncini, and BBQ chicken.
And if you are also looking to make your money worth to an extreme, Campisi's has a great delivery offer. Order one large pizza, and add a small one for free. A great idea for a late night snack!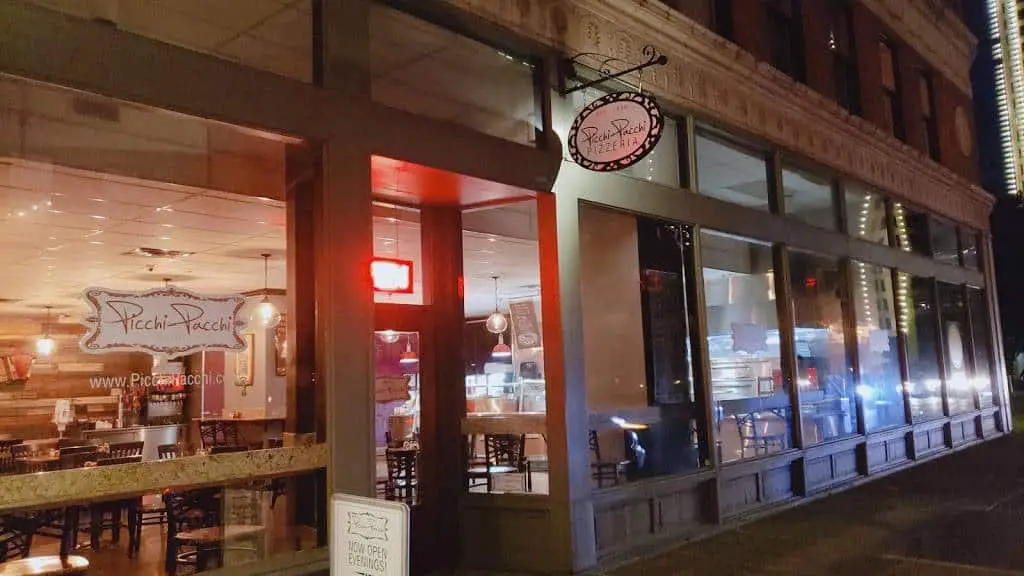 Address: 411 W 7th St #105, Fort Worth, TX
Phone: (817) 870-2222
Google Rating: 4.4/5
TripAdvisor Rating: 3.5/5
Yelp Rating: 3.5/5
Forget about doubting whether one or two slices will make it. Picchi Pacchi Pizzeria's portions are big enough for you to know they will fulfill your appetite's demands!
Hand-tossed pizzas are prepared right in front of you in no more than 15 minutes. You can be sure hunger or craving will not be delayed when recurring to Picchi Pacchi.
They have their own marinara sauce that makes any takeaway ride worth the distance. However, their delivery service is fast enough for you to get a freshly done pizza within minutes.
Picchi Pacchi offers a wide variety of pizzas, with a rotating deal of the week you cannot miss. As a plus, their mozzarella sticks are a great side for the pizza of your choice!
Address: 815 W Magnolia Ave, Fort Worth, TX
Phone: (817) 922-9222
Google Rating: 4.5/5
TripAdvisor Rating: 4/5
Yelp Rating: 4/5
Craving for a Neapolitan pizza? Cane Rosso has it! Would you like it to be wood-fired? Cane Rosso has it, too!
Cane Rosso began as a mobile pizzeria until its success made them stick to a place and have people move instead. Trust me, worth the ride.
This pizzeria honors its high rates within Texas state with great quality ingredients, handmade dough, and daily made in-house mozzarella.
Cane Rosso Pizzeria is open 7 days a week and has a make-your-own option, where you can pick up to 3 toppings under an interesting warning: 'For your own good'. There is also a rotating 'Pizza of the Month'.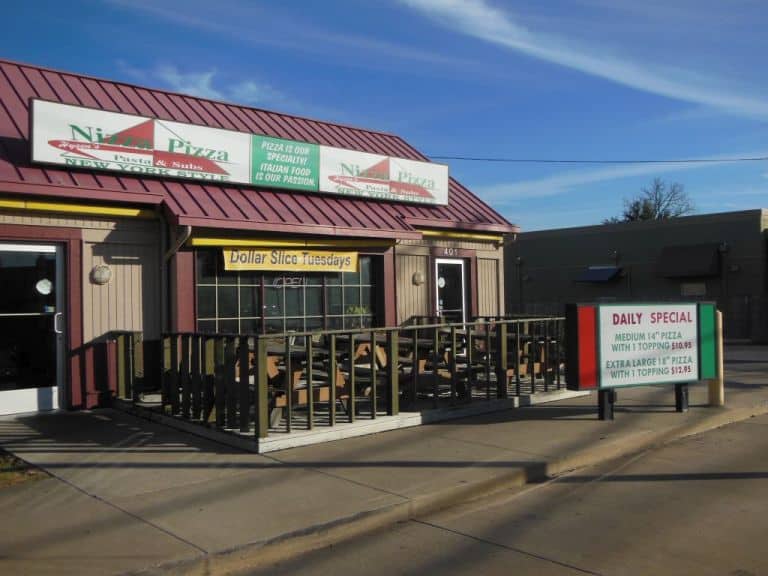 Address: 401 University Dr, Fort Worth, TX
Phone: (817) 877-3900
Google Rating: 4.4/5
TripAdvisor Rating: 4/5
Yelp Rating: 4/5
Hysen's Nizza Pizza is a handcrafted NY style pizzeria with an exclusive Italian touch. Their 30 years of experience, plus 'Best Pizza' awards are well deserved.
With an external homely style, their restaurant welcomes groups of all ages and number. Whatever the group size, they can handle it. They even have combos for you to choose from, at a very accessible price.
If you are looking for Italian pizza cuisine, and a wide variety of starters, this pizzeria might be the one. Mozzarella sticks, garlic bread, or fried calamari are just options for you to choose from before diving into a freshly topped pizza.
Go by the slice, or ask for an 18'' pizza combo. Still, you cannot leave this place without trying their stuffed pizza choice.
Address: 4910 Camp Bowie Blvd, Fort Worth, TX
Phone: (817) 439-7676
Google Rating: 4.3/5
TripAdvisor Rating: 4/5
Yelp Rating: 4/5
If you are tired of seeing ads that do not correspond to the actual product, Olivella's pizzeria will surely make you feel satisfied.
With a wide variety of well-topped pizzas, this pizzeria offers house-made mozzarella, truffle oil, soppressata and ricotta cheese as some of their topping options.
As a plus, Olivella's counts with a high-quality wine shop to go with your pizza choice. A complete combo for a complete meal.
Open from Tuesdays through Saturdays, this place has a 2×1 promotion for carryout service. A great opportunity for you to have a homemade meal at home.
Conclusion
So, to round up, Fort Worth is filled with high quality pizzerias. However, not all of them are ranked as the best ones, and that is why we decided to bring a little research for you.
There is a wide variety of highly rated pizza places in Fort Worth for your exquisite palate. So go by the slice, or ask for a 10-pizza combo. Whatever the choice, you can feel NY Italian pizza in your mouth without leaving the city.
Have you tried any other restaurant? Please, comment and share your experience with us. Be part of our pizza-fan community, and help others get the best option wherever they are!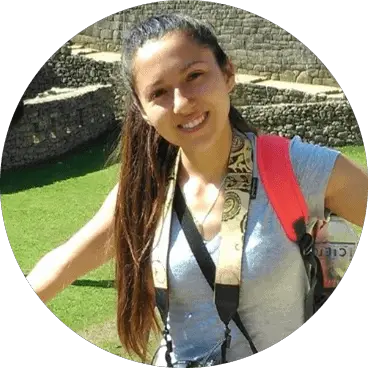 Kathryn's love for pizza started when she was still young. When she was young, she's been a picky eater–that's what her Mom used to say. The only food that she enjoyed and loved was pizza–until now! Her love for pizza turned into a passion!