From Alandco to Sheridan Oaks, Hollywood, FL, is famous for its magnificent beaches and exciting eateries. Whether you are a resident or here on vacation or business, there is no shortage of places to indulge your taste buds.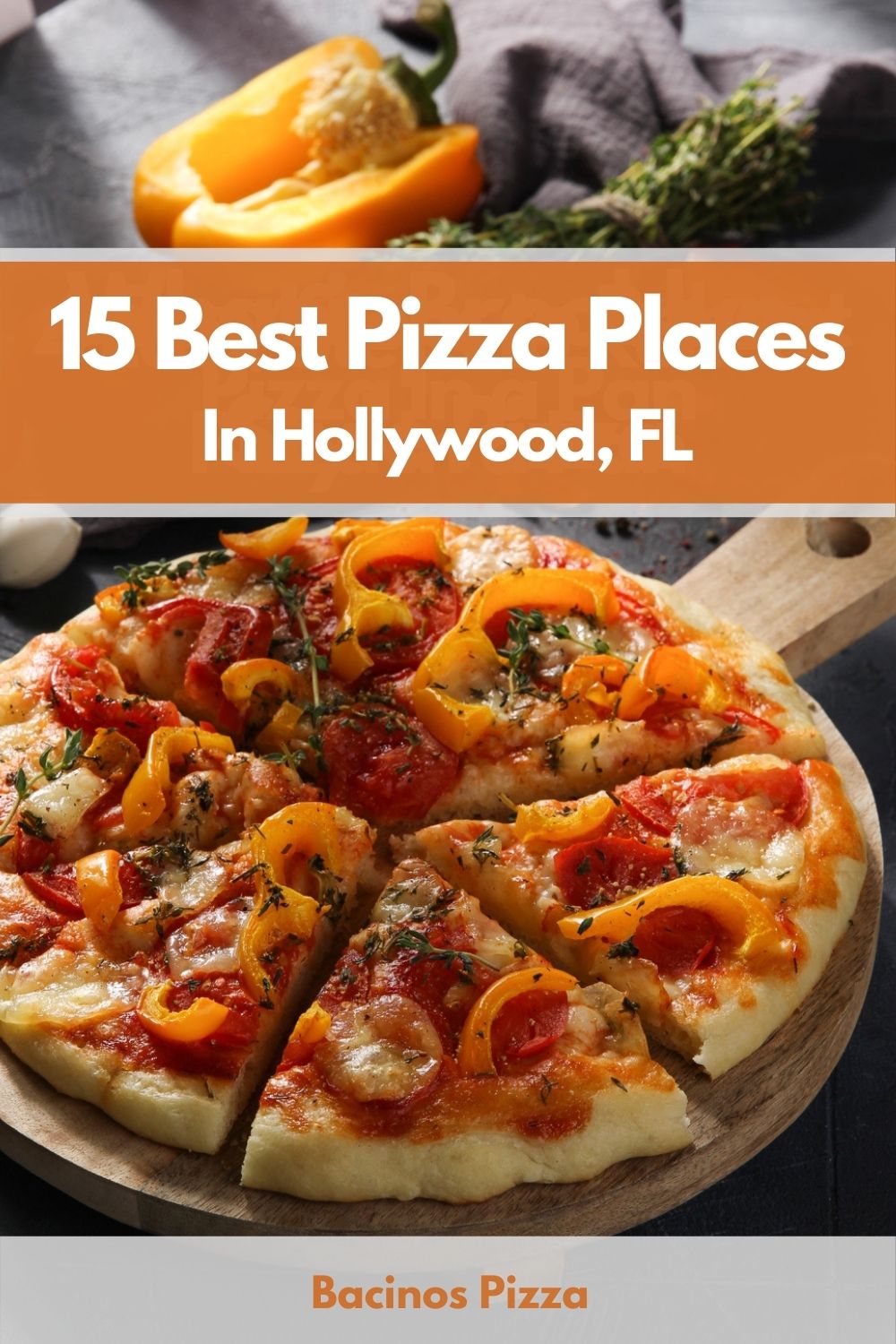 Here, we'll recommend 15 of the best pizza in Hollywood. Whether you after a classic Sicilian Margherita or New York-style vegetarian, there's a spot just for you.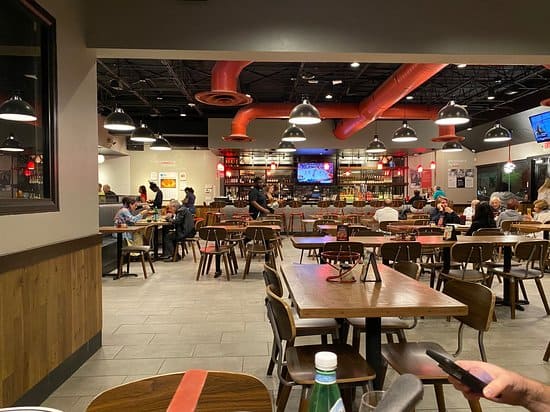 Located in the Aventura area, Anthony's is always buzzing, which says something about their food. Admittedly, the pizza here is not for everyone—it is coal-fired, so the crust is thin and slightly burnt around the edges.
If you are after that charred, smoky taste combined with fresh mozzarella and herbs, you will love Anthony's pizzas.  Traditional pizza options feature a balanced blend of Italian plum tomatoes, romano cheese, basil, olive oil, and grande mozzarella.
Alternatively, treat yourself to the specialty options such as the square Margherita, arugula, meatballs, and ricotta, or the aptly named Carnivari consisting of well-done Italian sausage, baby meatballs, thick pepperoni, and smoky bacon.
Address: 17901 Biscayne Blvd Aventura, FL 33160
Contact: (305) 830-2625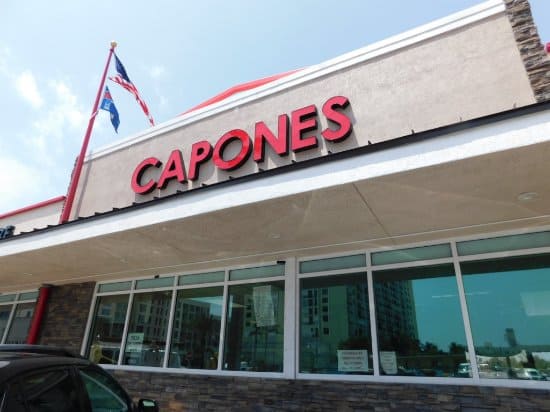 Capone's is situated in the Presidential Plaza along Hollywood Boulevard and specializes in Chicago deep-dish pizza. The restaurant is warm and homey, a place you would be happy to linger around for a few minutes after your dessert. Deep dish crusts are baked in oil, offering you that signature Chicagoan crispy, fried taste.
In addition to the meat and vegetable toppings, there is a healthy variety of gourmet toppings, including ala vodka sauce, fried eggplant, ricotta cheese, and alfredo sauce.  The service is friendly, and the owners are sometimes around to greet customers. This is a great pick for lunch or dinner with loved ones or a quick slice with beer at the sports bar.
Address: 3775 Hollywood Blvd Hollywood, FL 33021
Contact: (954) 986-9192
The Hollywood Boardwalk has plenty of restaurant options. But if you are looking for a casual, laid-back spot with great views of the ocean and reasonable prices to boot, Florio's a good pick. The setting inside is open plan, so you can order your pizza and stand around watching the chef make it in the traditional stone oven.
The stone oven gives the pizzas a wonderfully crispy crust that is a bit charred but strongly reminiscent of New York-style pizza. Pizza is sold by the slice or entire pie, and there is an impressively large variety to suit every taste.
Some great choices are the Salcissia featuring mozzarella, sausages, mushrooms, Quattro Formagi, a white pizza consisting of four types of cheeses, and Marinara, the ultimate vegetarian option. Gluten intolerant and vegan guests are welcome too and can order pizza that suits their dietary needs.
Address: 200 Garfield St Hollywood, FL 33019
Contact: (954) 925-0004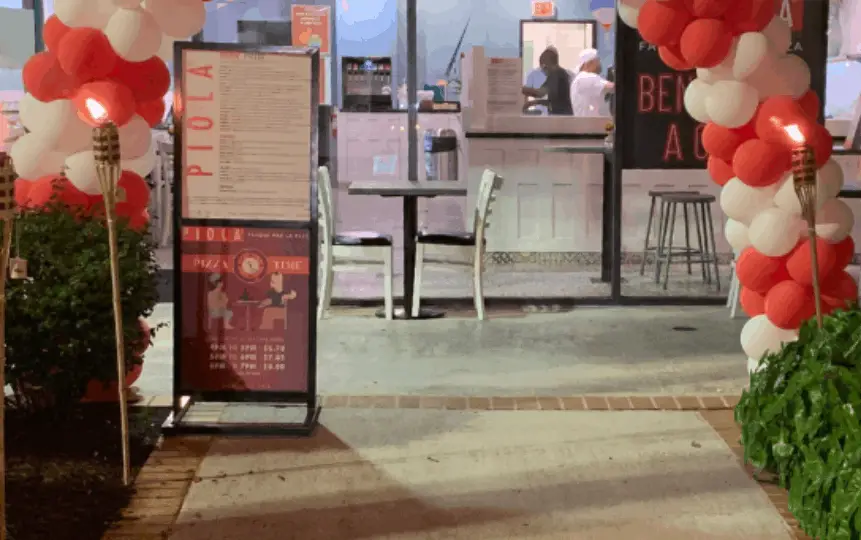 Piola is the quintessential Italian pizzeria—small, chic, cozy, and welcoming.  It is hard to tell that this is a franchise—the ambiance is a mix of casual and formal dining, a spot you'd enjoy with a party of friends or alone with a loved one.
The passion for authentic Italian pizza shows with the ample array of pizza options. Try the Rio De Janerio, which comes with baked pulled chicken, a blend of mozzarella and catupiry cheese, and a sprinkle of parsley.
The Ortomisto is a mouthwatering vegetarian option offering sweet peppers, roasted cherry tomatoes, broccoli, spinach, roasted zucchini, and mozzarella. The pizzas are made in a brick oven and come out hot, thin, and crispy with just the right amount of char. Impressively, you can request a chia flour or vegan crust and vegan cheese.
Address: 4961 Sheridan St Hollywood, FL 33021
Contact: (754) 777-7928
Chic with a beachy vibe, Sapore Di Mare is located right on the beach, making it a perfect spot for people-watching over drinks and pizza.  True to the restaurant's roots, the pizza is made Italian-style—thin, crispy, with a balanced melding of fresh herbs, seasonings, and real Italian cheeses.
You can choose between alfredo sauce and tomato sauce on the base, and there is a solid variety of vegan and non-vegan options. Popular vegan toppings include tomatoes, peppers, onions, feta, and fresh, delicious oregano.
The salmon pizza consisting of smoked salmon, rich cream sauce, tomato, onion, mozzarella, and the Gamberretti, topped with fresh tomatoes, tomato sauce, shrimp, and mozzarella, are seafood lovers' favorite. Although it can get quite busy at dinner and on the weekend, the pizza is brought out piping hot so that you can savor the blended flavors of authentic Italian cuisine.
Address: 707 N Broadwalk Hollywood, FL 33019
Contact: (954) 920-4304
Mauro's is a tiny, low-key spot with big things going in terms of their pizza offering. They have a few street-side seats where you can chill out and enjoy your slice as you people-watch. Inside, Mauro's is reminiscent of an old, traditional pizzeria with aromas of basil and mozzarella wafting in the air.
Pizza is served by the slice, and the portions are very large; the medium size pizza is the size of a large pizza in other pizzerias. Enjoy an exciting variety of toppings such as classic pepperoni, ground beef, anchovies, ham, jalapenos, and pineapples. You can request to have your slice well done or crusty.
Aside from the fresh toppings, the tangy sauce makes the pizza pop. There's a white pizza option without the sauce, and this, too, is a winner. Mauro's is more of a takeout than an eat-in spot, so you won't find a crowd in there. The service is fast and friendly, making it an excellent place to stop by for a quick grab.
Address: 1904 Hollywood Blvd Ste B Hollywood, FL 33020
Contact: (954) 929-4001
Few pizza spots in the Holywood area truly match up to Vanucchi's flavor and variety.  From the first to the last bite, you can tell that the pizzas here are made with an authentic passion for Italian cuisine. The pizzas are thin and crispy with interesting vegan options, such as the  Atlas Deli Vegan Sausage Pizza topped with vegan sausage, garlic, and a drizzle of olive oil.
Others include the Buffalo Chickpea, the Vegan Margherita, and the Vegan Bbq Chicken. Meat lovers aren't left behind either, with plenty of choices, including The Mahalo Diablo with chicken, bacon, and buffalo sauce.
The Meat Lovers pizza,  BBQ chicken pizza, and Athens Pizza are popular options too. The fresh herbs and homemade sauces bring out the real Italian flavor in the pizzas here. Vanucchi's is not a cheap pick, but their top-quality food is worth the price.
Address: 2725-A Hollywood Blvd Hollywood, FL 33020
Contact: (954) 613-4371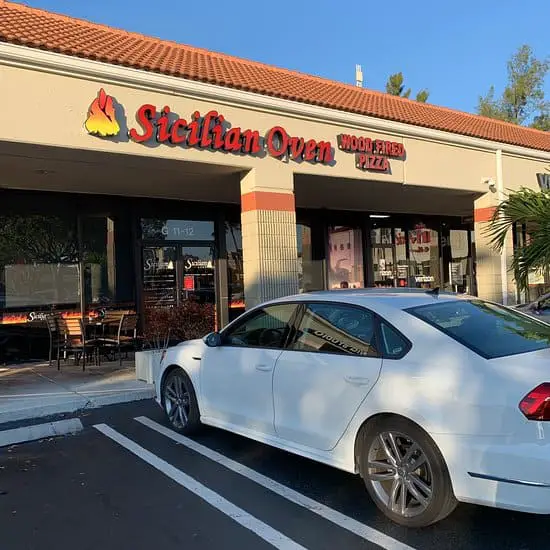 Located in the Aventura area, you can't miss the Sicilian Oven. Guests have a solid variety of coal oven hand-tossed pizzas to choose including popular options such as The Boss with mozzarella, fresh basil, and tomato sauce.
The Bianco white pizza is a hit with its blend of Italian cheeses, while the Joey D is a meat lover's dream come true, coming with generous toppings of meatballs and shaved ricotta cheese. Herbivores will love The Mona Lisa with sliced tomatoes, Kalamata olives, prosciutto, fresh basil, and of course, fresh mozzarella.
The ambiance here is light, airy, and classy, a place to enjoy a lovely dinner with friends and family. There is an option to sit out under the shaded patio or enjoy the lit-up, cozy interior.
Address: 20475 Biscayne Blvd Aventura, FL 33180,
Contact:  (305) 682-1890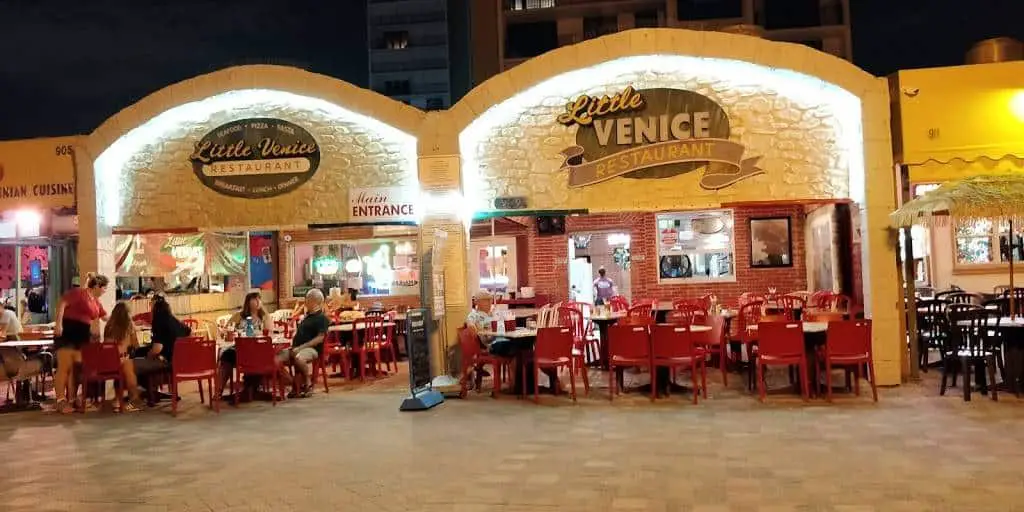 Another popular spot on the Hollywood Beach Board, Little Venice has everything you'd want in a beachside casual chill spot. The décor exudes a rustic vibe, with outside seating offering a breathtaking view of the ocean, and the music is great too.
The servers are friendly, and the owner is usually around to greet customers, which is always a much welcome gesture. Now onto the pizza…they do a really great job of keeping the crust thin and just slightly crispy, but you can request a chewier one.
There's a delectable balance between the fresh toppings and cheese. It would be great to have a gluten-free option on their pizza menu, but what they have is good quality when all is said and done. Little Venice is a bit on the pricier side, but you get value for your money when combining the view, ambiance, and food.
Address: 909 North Broadwalk Hollywood, FL 33019
Contact: (954) 923-7960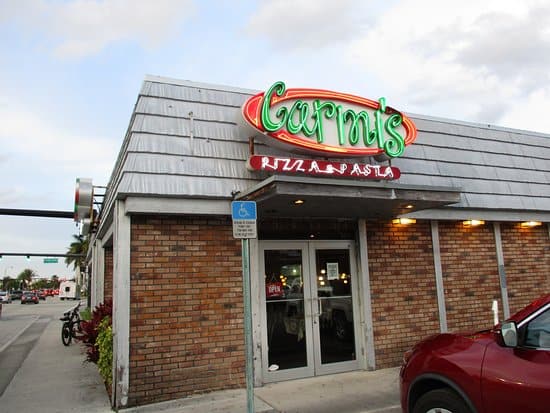 Low-key and informal, Carini's is a little gem specializing in oversized Italian and New York-style pizza, which you can order by the slice. Some popular options include the Chicken Marsala and Louisiana with shrimp, crab meat, lobster sauce, and mozzarella.
If you want a vegan taste, try the Thin Crust Vegetarian Pizza that is topped with broccoli, black olives, tomatoes, green pepper, tomato sauce, mushrooms, onions, and mozzarella cheese. There's a warm, friendly vibe here, and the owners are eager to make guests feel welcomed. Carini's is a great choice if you are looking for a less buzzy, more homey atmosphere.
Address: 814 N Federal Hwy, Hallandale Beach, FL 33009
Contact: (954) 457-4444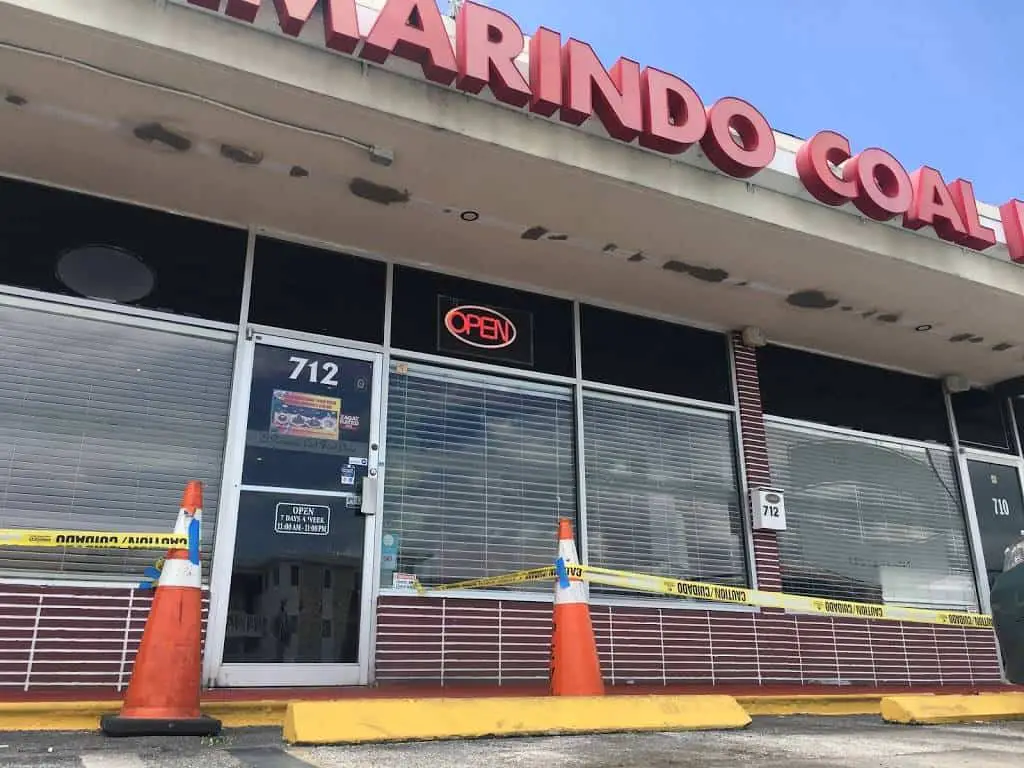 If you live for wood-fired pizza, then you will love El Tamarindo. This spot is laid back and casual, a great choice for a quick lunch, dinner, or takeout. There's a solid selection of gourmet pizzas. A personal favorite is the Primavera, which is topped with mushroom, broccoli, onions, olives, tomatoes, fresh spinach, and a good mozzarella ratio.
The coal-baked slices have just the right amount of crispiness to compliment the fresh toppings. Other popular classics include margarita pizza, meatballs pizza, all-dressed pizza, and the restaurant's specialty tamarindo pizza. The prices are fair and go hand in hand with the portion sizes, offering you good value for money and a full tummy.
Address: 712 Atlantic Shores Blvd Hallandale, FL 33009
Contact: (954) 456-4447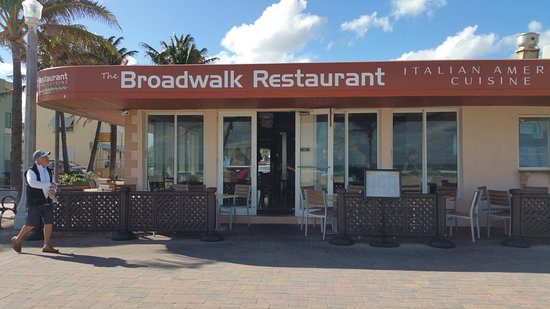 The Broadwalk Restaurant and Grill serves up great views and excellent food. The menu here is Italian-American, with a small variety of hand-tossed pizza options available. The slices come out nice, thin, and crispy reminiscent of New York style with a hint of Naples.
What stands out is the use of fresh herbs for seasoning, bringing out the authentic Italian taste of the sizeable pizza slices. For its perfect location with breathtaking views of the Atlantic ocean, the prices here are quite reasonable.
You will find indoor and outdoor sitting from where you can enjoy pizza, entrees, pasta, or an American-style breakfast. This buzzy restaurant is a go-to if you are looking for great ambiance and top-of-the-class pizza.
Address: 1400 N Surf Rd Hollywood, FL 33019
Contact: (954) 922-0322
Sal's is nested at a corner and can be a bit hard to find, but the few minutes you spend looking for the restaurant are worth it. The first thing that will captivate you is the clean and neat interior, the décor is not over the top, but it is attractive enough to make you want to linger around longer.
Every little piece is well put together, from the lighting to centerpieces on the table and art on the wall. Their pizza doesn't disappoint either.  They have a wide variety to choose from, including Sicilian-style Grandma, New York-style, Margherita, Hawaiian, and a vegetarian option.
Their slices are more fluffy and soft than crispy, but you can tell the ingredients are fresh. Sal's might seem a bit pricey, but the pizza portions are large, making it all worthwhile.
Address: 2908 Oakwood Blvd Hollywood, FL 33020
Contact: (954) 929-4727
Small and cozy, Conca D'oro Pizza serves some of the best Italian-style pizza around the Dania Beach area. Pizzas are made to order and brought out fresh in large portions. You can choose between the classic Neapolitan and Sicilian pizza containing tomato toppings, fresh tomato paste, and white pizza topped with ricotta and mozzarella.
The spot can get crowded as it is a bit tiny, but the servers are fast and friendly, and you would typically not wait too long for your slice. If you are up for it, they have fresh garlic bread, which you can order as an appetizer as you wait for your pie. The best part is that the bread is dipped in real garlic. Overall, a pleasant little place to nurse your pizza cravings when you are in South Florida.
Address: 370 E Dania Beach Blvd Dania Beach, FL 33004
Contact: (954) 920-3388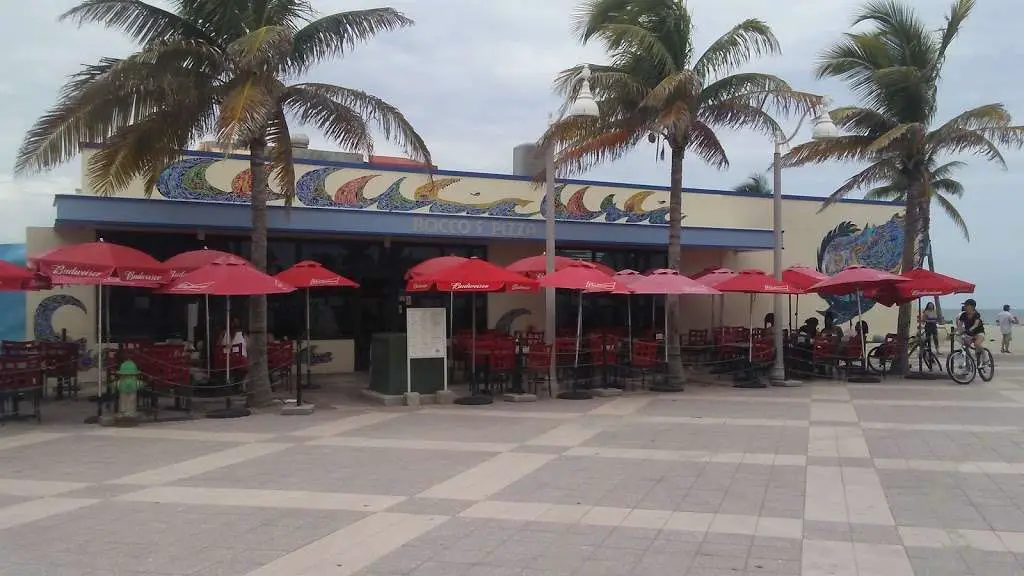 Rocco's is located right next to the famous Margaritaville Beach Hotel, and it is common for hotel guests to walk down here for pasta, pizza, and seafood. The vibe is informal and family-friendly, and the outside seating offers great views of the sea.
Few places on the Hollywood Boardwalk get New York-style pizza, as well as Rocco's does. The slices are large, with a thin crispy crust, and there's a balanced blend of fresh toppings and cheese. Some of their options include the arugula and eggplant, and spinach, peppers, onions, and mushrooms for vegetarian guests.
If you are hungry for a meaty treat, try the Meatlovers, which is topped with ham, bacon, sausage, and fresh mozzarella.
Address: 205 Johnson St Hollywood, FL 33019
Contact: (954) 926-3305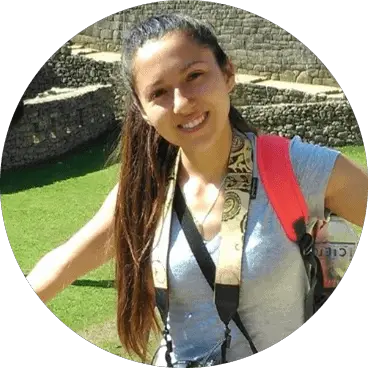 Kathryn's love for pizza started when she was still young. When she was young, she's been a picky eater–that's what her Mom used to say. The only food that she enjoyed and loved was pizza–until now! Her love for pizza turned into a passion!