Looking for Kalamazoo joints that will put you in pizza heaven? The K'zoo area houses so many pizza chains and restaurants that it's easy to get confused.
Whether you like your crust thin or thick, you'll find some favorite shops right here in this southwest city of the U.S state of Michigan.
And since it can feel overwhelming deciding where to go and what to order, some guidance will come in handy.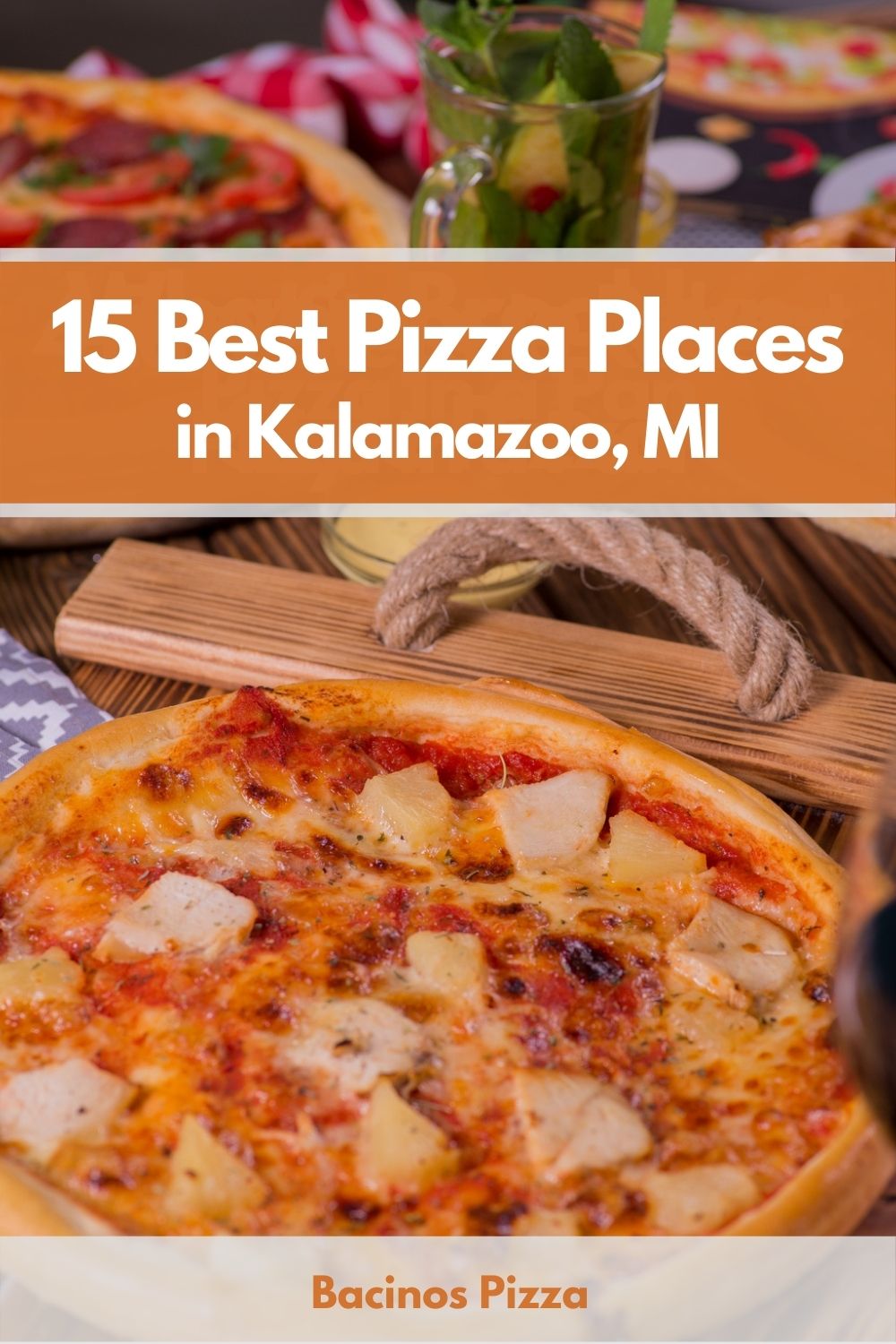 I've carefully curated a list of the 15 best local pizza places in Kalamazoo that will freeze your craving.
Note that their hours of operation may vary due to the COVID-19 pandemic. It's best to check their websites before you order your pie.
Now have a look at the best pizza in the Kalamazoo area.
Address: 6214Stadium Dr, Kalamazoo, MI 49009
Phone: + 1 269-375-0408
Erbelli's has two chains: 6214 Stadium Drive in Kalamazoo and 8342 Portage Road in Portage. It serves a slew of gourmet pizzas. Here, you can have the "Disco Q Pizza," which has a Cajun crust. The pizza also features a unique in-house cheese blend.
You can also have the "Q It Up Pizza," which comes with spicy wood-grilled smoked chicken. Or better yet, for meat lovers, the pizzeria's "Rhino Pizza" features seven types of meat, along with pepperoni, spicy capicola, meatballs, Genoa salami, sausage, and prosciutto.
Planning an event? Erbelli's caters to weddings, business meetings, company luncheons, home parties, and so much more. And the best part is, they deliver food and set it all up for you! What more can you ask for?
Address: 154 M-43, Hickory Corners, MI 49060
Phone: +1 269-671-5700
This is a family-friendly pizza place located within 1 mi (2 km) off Gull Lake and Little Long Lake. You'll find Gilmore Car Museum about 1.5 mi (2.3 km) away from this joint.
Neds specializes in pizza, sandwich, and bar. But most people mainly come in for pizza. The pizzeria insists on using only the freshest ingredients and cooking every pizza from scratch. If you're craving a flavorful pie that's cooked to order, this is the right place!
Ned's menu has got pizza for everyone. Their pizza slices range from 10 inches and 18 inches. And you can have the pie with various topping choices, including Italian sausage, jalapenos, green olives, artichokes, black olives, etc.
Address: 1528 W Michigan Ave, Kalamazoo, MI 49006
Phone: +1 269-349-3229
This old-school mom and pop pizza place is considered "a treat in Michigan smuggled out of Italy." This local joint ignites the memories of Italian pizzerias! Bruno's is a long-standing local pizza chain dispensing a variety of pies, including thin, thick, or stuffed-crust choices.
At Bruno's, specialty pizzas are Cheddar Chicken Club and Veggie Works. The former contains chicken, bacon, tomatoes, onions, and cheddar cheese, while the latter contains mushrooms, tomatoes, black olives, onions, and green peppers.
Bruno's Pizza comes in two different sizes to meet your budget. You can have a small 12-inch pizza or a large 14-inch pie. If you like sandwiches, you'll get them here. Bruno's sandwiches come with a side of French fries.
Address: 240 West Michigan Ave, Kalamazoo, MI 49007
Phone: +1 269-488-9000
If you're in the mood for some amazing oven-baked pizza, give Geno's Golden Pizza a call. This long-running pizza parlor also serves subs and pasta alongside beer and burritos. Their setting is pretty simple. But make no mistake; it's spectacular in the same breath.
Founded in 1976, Gino's Pizza & Club makes crave-worthy pizzas using organic ingredients. Chefs here take time to handcraft the dough to produce the fantastic crust that you'll love. You can also have the sumptuous and mouthwatering vegetarian options at Geno's Pizza.
Need the gluten-free crust instead? Gino's Gluten-Free Crust comes with a host of toppings. It can be topped with anchovies, pepperoni, Canadian bacon, ham, jalapenos, banana peppers, black olives, mushrooms, etc.
Address: 338 Michigan Ave, Kalamazoo, MI 49007
Phone: +1 269-349-3134
This family-friendly pizza parlor has been offering casual Italian pizza since 1959. Located in the heart of the downtown Kalamazoo area, the pizzeria's hand-made pizza is a great crust. And even though they have a small dining area, the place is neat, and the staff is attentive.
How cool is it to watch pro pizza makers in action? At Bimbo's, pizzas are made right in front of your eyes! And you have the liberty to choose your toppings.
Their medium crust is enough for two. And that's what value for money is all about. The only primary concern with Bimbo's is that they don't serve alcohol. How bad for us folks who love alcohol with pizza!
Address: 832 S Westnedge Ave, Kalamazoo, MI 49008
Phone: +1 269-388-8883
If you want pizza made from scratch with the freshest ingredients, this is the place to go. Having been around since 1988, Martini's is not a mediocre pizzeria. They have a variety of classic pizzas to help palliate your spirit.
Martini's menu may be limited, but the food here is rustic, pleasant, and straightforward. And you're allowed to sit at the bar even now during the pandemic. Guests are required to wear masks and keep social distancing at Martini's bar.
Apart from their gorgeous pizzas, Martini's also has a romantic ambiance that's a cut above the rest. What's more, this favorite joint has something for everyone, including a large selection of meatless entrees. And yeah, wine is served in this parlor.
Address: 5190 Gull Rd, Kalamazoo, MI 49048
Phone: +1 269-382-2900
Conveniently located at 5190 Gull Road, Jaspare's is Kalamazoo, Michigan's best pizza and Italian food. Actually, it offers everything, from pizza to Italian and kids' menu. Jaspare's Portage location also offers a lunch buffet.
As for their Gourmet Pizza, it's far from an ordinary run-of-the-mill pizza. Jaspare's Gourmet Pizzas include Sicilian, Sweet Memphis, Veggie Delight, Big Meat Special, and Original Primavera. Standard toppings include lightly baked fresh tomato, oregano, green peppers, Italian sausage, among others.
The best part is, Jaspare's offers competitive, family-friendly prices. So, if you'd like a culinary tour of Italy, stop in at Jaspare's Pizza. You'll be thrilled with their clean, comfortable environment, attentive staff, and a boat-load of menu choices.
Address: 1401 S Drake Rd, Kalamazoo, MI 49006
Phone: +1 269-372-7662
This is an Italian fast food restaurant that opened its doors in 1966. Their pizza is absolutely fantastic – crispy on the outside and tender on the inside. It also comes with ample amounts of gooey cheese.
Planning to throw a party? This is a go-to joint as they have great specials. Roma's 20-inch party pizza has three toppings. It's a perfect pick for a group of four. Usually, this is topped with cheese, sausage, ham, mushroom, green pepper, onion, and pepperoni.
Whether it is delivery or takeout, Roma's guarantees expeditious service. The owner is a really nice dude who has mastered the art of customer service. Try this pizza place, and it'll instantly become your favorite!
Address: 350 E Michigan Ave, Kalamazoo, MI 49007
Phone: +1 269-342-1952
Sarkozy Bakery has been proudly serving Kalamazoo since 1978. Not only will you find their famous bread and pastries, but also personal pizzas. Their crust is thin and wonderfully delicious.
After overcoming the unfortunate loss of her husband Ken, and now the COVID-19 pandemic, Judy Sarkozy continues to fire up ovens in the Sarkozy Bakery in Kalamazoo, Michigan. Customers watch the crust rise in her two special ovens. The dough is baked at 666 degrees for about 3 minutes.
Sarkozy Bakery's Apple Bar is simply alluring. It is made with dough with no yeast. Apple cinnamon filling in a laminated sour cream pastry looks and tastes incredible. I love their Savory Croissant topped with fresh tomatoes, parmesan cheese, red sauce, and basil.
Address: 6070 S 12th St, Kalamazoo, MI 49009
Phone: +1 269-372-2222
Maestro's Pizza is a family-owned business located at 6070 S. 12th Street in Kalamazoo County's Texas Township. It's been orchestrating fine Italian cuisine since 2011. In fact, its pizza was voted the top 21 pizzas in Michigan by Thrillist.com.
In addition to a wide variety of pizzas, Maestro's also offers Made-Just-For-You Calzones, Fresh-From-The-Garden Gourmet Salads, Heart-Baked Deluxe Sandwiches, and Must-Have Wings. Their fresh-from-the-oven menu items burst with a symphony of flavors.
Worth noting, Maestro's makes all their Italian and American dishes using the freshest ingredients. They neither skimp on ingredients nor portions. Bring your appetite over to the Maestro's Pizza and enjoy the best at all times.
Address: 3307 Stadium Dr, Kalamazoo, MI 49008
Phone: +1 269-382-5544
Bilbo's Pizza was founded by John Hindman and Charlie Konett in 1976. A local favorite whose JRR Tolkien theme has a cult following, Bilbo's serves delicious pizza in a great atmosphere. The pizzeria's convenient Stadium Drive location also serves pasta, sandwiches, and salads that will whet your appetite.
Bilbo's menu is designed to help slay hunger and battle with empty stomachs. Whether it is breakfast, lunch, or dinner, Bilbo's has the feast ready for you. Their famous thick-crust, pan-style pies are a favorite for many.
The pizzeria makes these pies using homemade dough and sauce as well as hand-grated cheese. You might want to try their nutty whole wheat crust and a gluten-free option if needed. And even though Bilbo's is a bit pricey, they guarantee exceptional service.
Address: 7035 W Q Ave, Kalamazoo, MI 49009
Phone: +1 269-353-3050
The Cheese Lady may be a lesser-known pizza place, but that doesn't mean they have a limited menu. Established by Natalie Fuller and her father, Terry St. Louis, in 2011, The Cheese Lady is gaining popularity with every passing day.
I love that this pizza parlor provides 100 kinds of cheese from across the world. You'll be able to sample and learn more about every cheese at The Cheese Lady's parlor. Natalie admits that she's got a passion for cheese, and that it gives her much pleasure.
Even more, The Cheese Lady is a jack of all trades. Planning a party? Need a night out? Giving a gift? The Cheese Lady's offers customized help to meet (and exceed) your demands and expectations! And guess what? Their prices don't dent your wallet.
Address: 629 Walbridge St, Kalamazoo, MI 49007
Phone: +1 269-385-9359
Founded in 1918, Louie's Trophy House is arguably the oldest bar in Kalamazoo. This pizza place is located in the heart of River's Edge District and is a favorite joint for most folks from the area.
At Louie's Trophy House, you'll enjoy scrumptious meals, great drinks, and fun entertainment throughout the week. They make their pizzas using Louie's homemade crust and fresh mozzarella. You'll love their BBQ Chicken Pizza, topped with pineapple, red onion, chicken, bacon, and Louie's homemade BBQ sauce.
The pizzeria is currently offering takeout and curbside pickup from Monday 11 AM to Friday 8 PM. On Saturday and Sunday, takeout and curbside services are available from 2 PM to 8 PM. Even better, you can now attend Louie's Trophy House live pizza party happening every Friday.
Address: 762 W Main St, Kalamazoo, MI 49006
Phone: +1 269-345-6755
Comensoli's Italian Bistro is a family-owned venue serving traditional Italian fare along with a martini menu. If you love home-style Italian cooking, Comensoli's will be your perfect pizza place. It offers various Italian dishes straight out of Nona's cookbook.
Guys at Comensoli's cook Thin-Crust Pizza, Fresh Pasta Dishes, Homemade Sausage, and Tasty Meatballs. Prefer the classic? Wake up and smell Comensoli's Chicken Marsala with wild mushrooms in a demi-glace. You can have this entrée with roasted red skin tomatoes.
Truthfully, all of Comensoli's entrees are amazing, which is why they always steal the show. Note that their dining room is currently closed due to COVID-19. As a result, they offer Carry-Out, and meals can be preordered.
Address: 232 E Michigan Ave, Kalamazoo, MI 49007
Phone: +1 269-903-2828
DiCarta is an Italian word that means paper. You'll want to know that Kalamazoo was once known as the Paper City. Even since Benny's opened its doors in 2011, it's been able to provide quality meals at a price that everyone can afford.
This venue offers fresh hot, jumbo, NY-style slices in Kalamazoo, proudly serving 28" pizza at the Great Lakes, downtown K'zoo. A whole pie is more than enough to feed two families. Benny's tends to limit their toppings and doesn't count pennies – everything stays simple!
And the best part is, Benny DiCarta's also sells their giant pizza by the slice. It may be topped with cheese, pepperoni, sausage, meat, or veggie. What's more, Benny's DiCarta's shop is clean and orderly, while their staff is always attentive. What more can you ask for?
Final Words
Hopefully, you're now accustomed to the best pizza in Kalamazoo. You can never go wrong with these shops.
All these pizza places make the good ol' pizza the way it should be. And they're definitely a cut above the average pizza in Kalamazoo.
Now, the ball's in your court. Go ahead and choose your best pizza venue in K'zoo.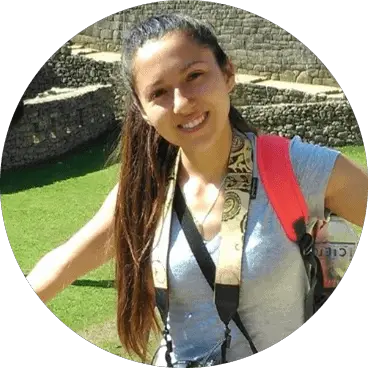 Kathryn's love for pizza started when she was still young. When she was young, she's been a picky eater–that's what her Mom used to say. The only food that she enjoyed and loved was pizza–until now! Her love for pizza turned into a passion!