Maine has no shortage of pizzerias, but not all of them guarantee you finger-licking pizza. You'd have to dig around a bit to come across authentic New York Pizza or Greek-style pies that use real ingredients.
Not to worry—We've done the job for you, so you won't have to. Here are the top fifteen spots where you can get the best pizza in Maine.
460 US Rt 1 Kittery, ME 03904
(207) 438-7036
Located in the Kittery area, this quint pizzeria serves a large selection of delicious wood-fired pizzas, wines, and appetizers. Relax on the back deck, wine bar, or screed-in patio. The Neapolitan hand-crafted pies are made to order and come out piping hot with an irresistible smoky flavor and chewy crust.
Even the hand-stretched mozzarella is made fresh every day. The wait for your pizza is typically 15 minutes tops. As you wait, pop in next door and sample their artisan loaves of bread and pastries—they will text you when your pie is ready.
Choose from pizzas with red sauce or ones without red sauce. House pies include steak pizza, grilled pineapple and capicola, meatball, mushroom, Italian spicy sausage, and four cheese.
422 Center St Bangor, ME 04401
(207) 942-2933
Tri-City in Bangor serves hearty pizzas, the ones that espouse Maine's soul and culture. This little pizzeria is family-run and has been the go-to neighborhood spot for homemade pies for over 50 years. The pizzas are made fresh for takeout so that you can enjoy every last bite in the comfort of your home.
The pan-baked pizzas have a raised, well-done edge and a chewy crust. Choose from traditional classics such as Pepperoni, Mewat Deluxe, and Hawaiian.
If you prefer to build your pizza, you can choose from the wide array of soulful toppings, including anchovies, Hamburg mushrooms, salami, sausage, bacon, green peppers, and ham.
2511 Main St Rangeley, ME 04970
(207) 864-5022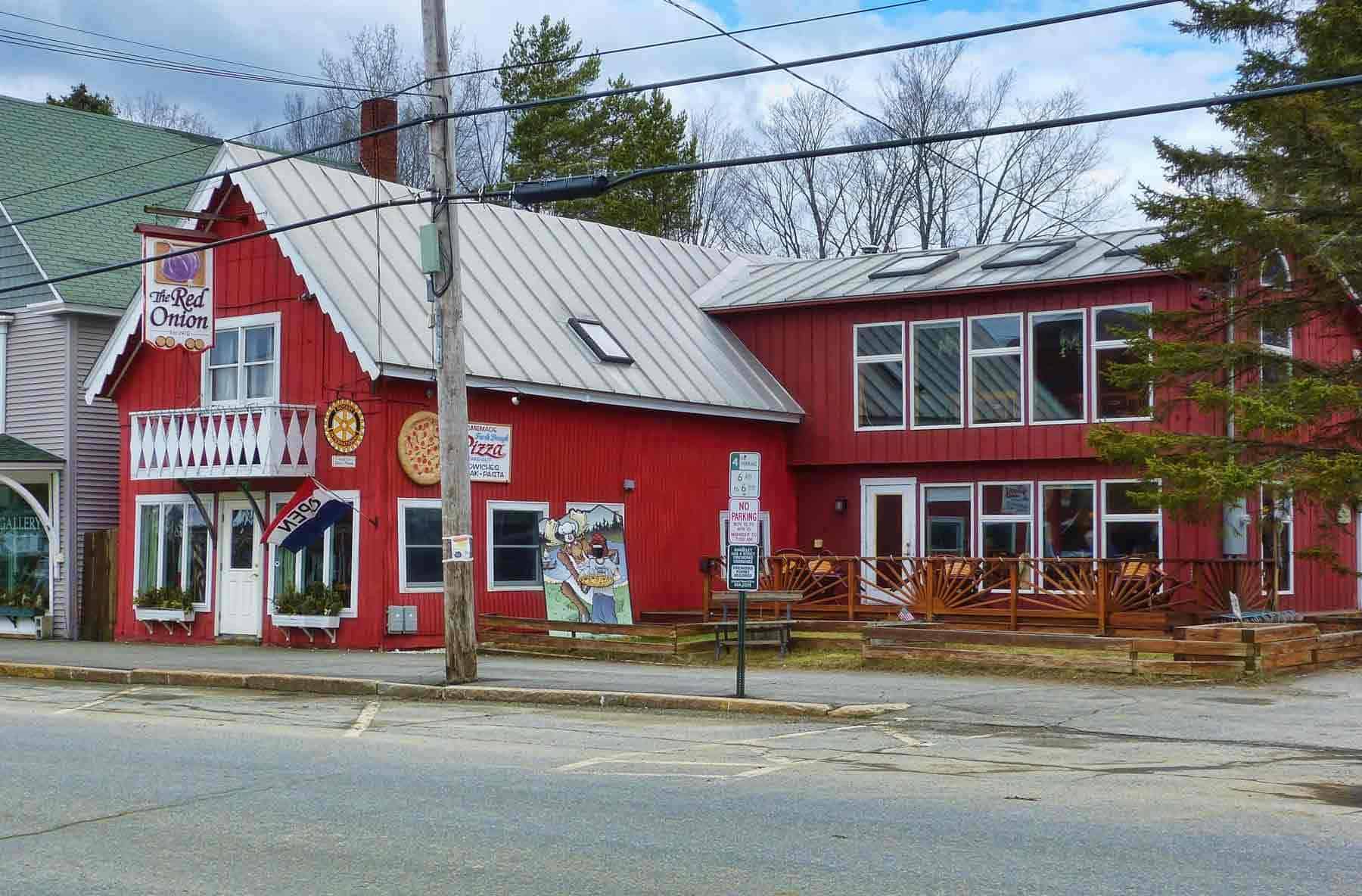 Small and homey, Red Onion is housed in one of the oldest buildings on Main Street. Dine in the cozy indoors or relax in the welcoming and shaded outdoor seating.
There is an impressive variety of freshly made house pizzas to enjoy, such as the Reuben, featuring pastrami, sauerkraut, and swiss cheese. Try the German, Greek, Italian, or Meat Lovers, or the Pesto if you feel vegan.
There is an option to make your own pizza using classics such as broccoli and pepperoni or specialties such as diced chicken and spinach and pastrami or meatballs.
Whichever you choose, be ready to dig into the chewiest, mouth-watering pizza you have had in a long time.
33 Kennebec Pl Bar Harbor, ME 04609
(207) 288-3811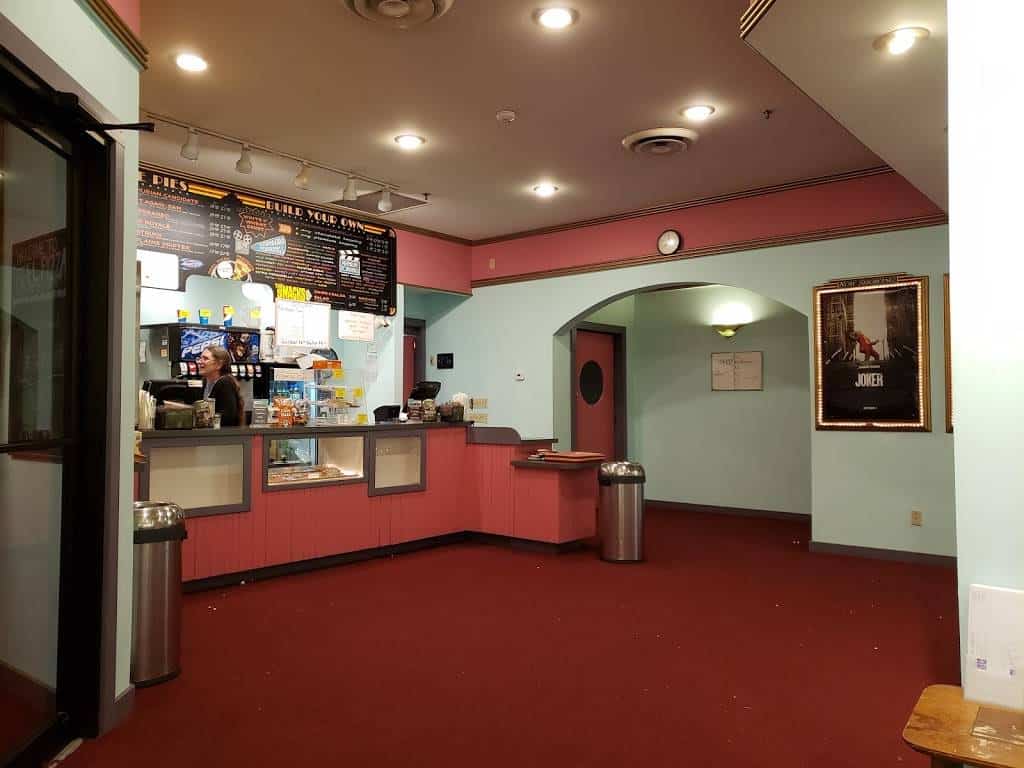 Reel Pizza Cinerama doubles as a neighborhood cinema and pizzeria, and tourists say it is the best movie theatre in the Bar Habor. If you are up for a cute little movie date over pizza and beers,  this is a perfect choice.
The owners run the theater professionally, and you can order pizza and bring it into the theater and enjoy it over an Indie movie or Hollywood blockbuster.
The pies served on paper plates are surprisingly good and are made with fresh ingredients such as fresh mushrooms, Jalapenos, salami, ham, and hand-stretched cheese. The prices are favorable, and the service is friendly.
16 Pleasant St Mechanic Falls, ME 04256
(207) 345-3353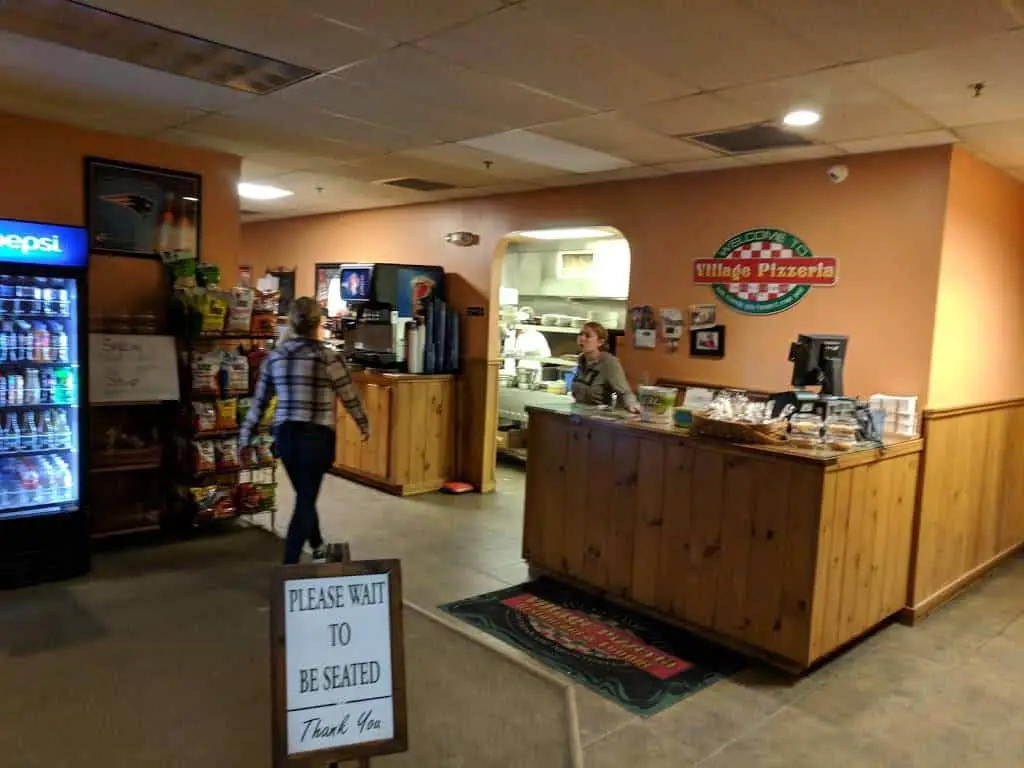 No frills and reasonably priced, the Village Pizzeria is located along Pleasant Street. This unassuming spot is known for its large offerings of pizzas, sandwiches, calzones, and sides.
Their gourmet pizza variety includes Buffalo Chicken Pizza, White Pizza, Hawaiian, Veggie, and Meatlovers Pizza.
Alternatively, you can build your own pizza with one to four toppings in addition to the classic cheese, which is a common ingredient for all their pies.
The Pizzas are American style with a thick edge and bready crust. Go over to Village Pizzeria if you are after local, freshly made soul food in our neighborhood spot.
72 Commercial St Portland, ME 04101
(207) 772-8777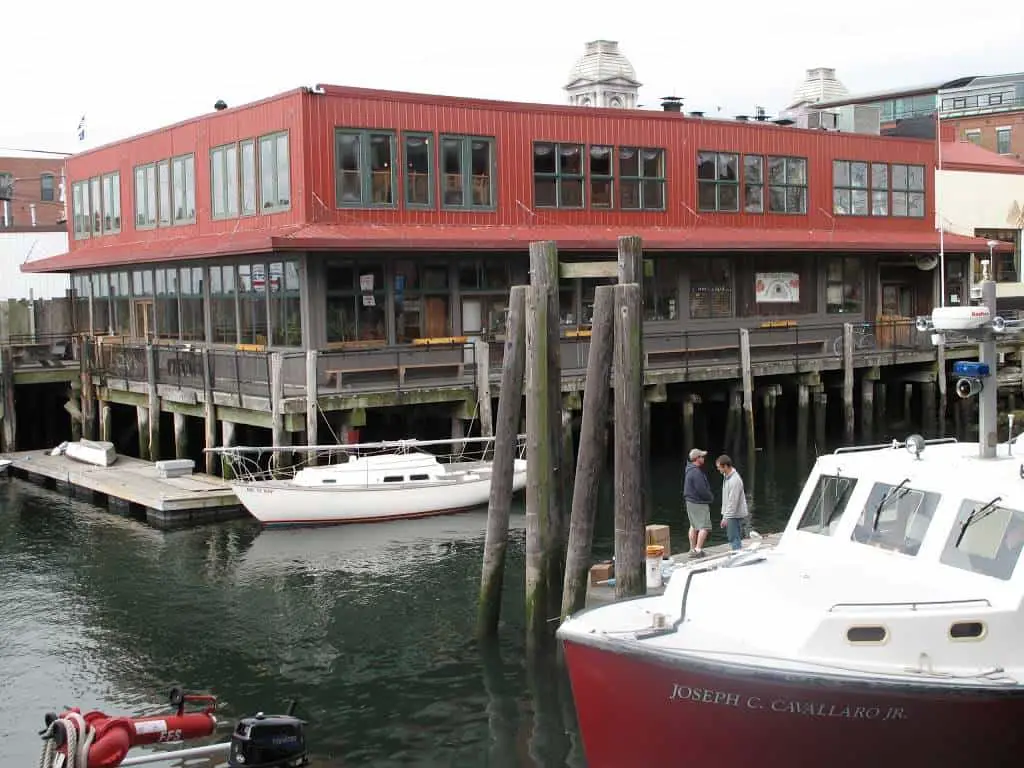 Flatbread Pizza Company offers a unique dining experience. This contemporary rustic  Portland restaurant overlooks the Casco Bay, a perfect spot to enjoy Portland's summer with friends and family ., The large traditional clay ovens inside take center stage, creating a warm, cozy atmosphere indoors.
You will find a roomy dining area that is ideal for large groups or opt for one of intimate two-person tables. When it comes to their pizza, which they aptly referred to as flatbreads, you will be spoilt for choice.
First, choose a flatbread crust, whether that's a Plain J, Jay's Heart, or a Cheese, then add a combination of your favorite toppings to custom-make your pizza.
Sample delicious veggie toppings such as Kalamata olives and organic mushrooms, cheeses such as Great Hill Dairy blue or whole milk mozzarella, or their range of organic meats, including uncured pepperoni and free-range chicken.
169 Port Rd Kennebunk, ME 04043
(207) 967-0033
When you are looking for a quiet, low-key hangout in the Kennebunk area, consider Atlantic Pizza. Here, the friendly folks serve hot wood-fired pizza in a rather homely dining area with the ovens in full view.
The aroma of oregano, olive oil, and mozzarella makes the wait for your pie worth it. The pizzas are far from over the top—basic ingredients are used sparingly to create a light yet filling pie.
Sample their white pizza with ricotta, garlic, fresh herbs, or Greek with spinach, feta, and kalamata olives. When you are longing for a  meatier option, the Loaded Pizza with a pile of hearty meats and veggies is a perfect choice.
Alexia's has been serving homemade pizza and calzones for more than 30 years. Unsurprisingly, this little, old-school, no-frills brick-clad corner spot is a local staple.
The décor inside hasn't changed much over the years, and some of it is worn out. Aesthetics aside, the pizzas here are so good, it isn't uncommon to find customers queuing outside, awaiting their turn to sit in or order takeout pizza.
You can easily tell that the dough for the thin-crusted pizzas has been freshly made at the first bite. The selection is satisfyingly large and features crowd-pleasers such as BBQ Chicken, Greek, Hawaiin, and All Meat.
Better still, make your own with toppings such as Canadian bacon, artichoke hearts, hamburger, spinach, and so much more.
93 Main St, Belfast, ME 04915
(207)338-9676
Downeast Hwy, Ellsworth, ME 04605
207-664-0230
When you are in the Ellsworth area in Downtown Maine, it is hard to miss the old mustard and red bungalow that houses Finelli Pizzeria. Complete with red and white checkered tablecloths, this gem is decidedly nostalgic.
Having been around for more than two decades, they've mastered the art of creating New York-style pizza. Sold by the slice or pie, the thin crust, fresh toppings, and a generous portion of cheese will cure your pizza cravings.
More than anything, the fresh homemade sauces really make Finelli's pizzas unforgettable. Choose from the regular tomato sauce, sweet baby rays BBQ, traditional sriracha, or Cattlemen's Gold BBQ.
Garden white pies include Garden, Bianca, and Pesto, or you choose from the red sauce options such as Carnevorus Rex, Satyricon, or the Mediterranean.
93 Alfred St Biddeford, ME 04005
(207) 283-0002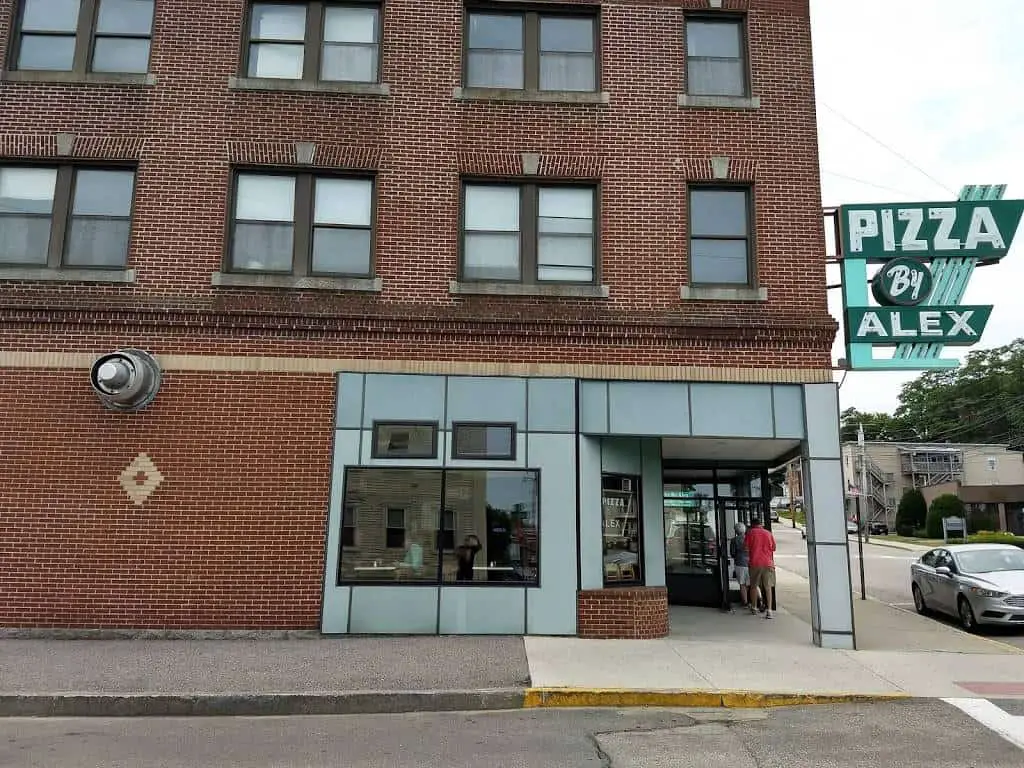 Nestled along Alfred St., Pizza by Alex has no qualms about being old school. From the décor to the cuisine and the homely staff, you could easily get used to coming here every day for your pizza cure.
This spot specializes in Greek-style pizza, which is baked in a shallow pan using loads of olive oil. The outcome is a thin and puffy crust that oozes the goodness of olive oil. The pies come in standard 10-inch size with a homemade tomato sauce and cheddar cheese.
There are about a dozen of options on the menu, but if you are in a pinch, you might want to opt for the house special that's made with a sprinkle of Greek olives, mushrooms, pepperoni, salami, green peppers, and onions.
For the adventurous pizzaiolos, the Yaya with spinach and feta is worth a try, in addition to the Anchovies and Hamburg pizzas.
497 Elm St Biddeford, ME 04005
(207) 571-4476
Colleti's is a relatively new Italian eatery in the Biddeford area. But, going with the high quality of their pies and other cuisines, you'd think they have been here for decades.
The owners of this family-run business have perfected the art of the classic Neapolitan pizza—thin, crunchy crust with a mild flavor. The pies are baked in a wood-fired oven, so they come out just a bit charred. The toppings are so fresh; you can tell they have been specifically cut for your pizza.
Try the Volcano Shaped Pizza with tomato, mozzarella, eggplant, basil, ham, ricotta, and crust on top. Or, go for the more traditional options such as the Marinara with no mozzarella, Mediterranean, and Four Cheese Pizza.
There isn't much space to sit inside or outside, and sometimes you might wait for up to an hour for your hand-crafted pie, but it is all worth it.
398 Maine Ave Farmingdale, ME 04344
(207) 582-0522
Voted Best Pizza in Maine 2020 consecutively, Cappza's are serious about their pizza without taking themselves too seriously.  This spot has a chain-restaurant feel but with a homey, neighborhood vibe that is palpable in their cuisine.
Make your own pizza from various real toppings, including minced garlic, banana peppers, meatballs, salami, and hamburger.
Or, choose from any specialty pies such as the Breakfast pizza complete with bacon, scrambled eggs, and a blend of three kinds of cheese on a thin and crispy crust.
The dough for their classic pizzas contains gluten, but you can request the honey basil gluten-free crust at an extra cost.
901 Post Rd Wells, ME 04090
(207) 646-1696
Cozy and intimate, Seacoast pizza specializes in creative Italian-style pizzas, desserts, salads, and to-go snacks. The outdoor shaded seating is easily the star of this old neighborhood pizza pit stop.
You can buy pizza by the slice or pie; either way, the portions are satisfyingly large, and left-overs are a possibility. The pizzas are well-done but tend toward the more chewy side.
The ingredients are fresh, and the owner, Samm, is closely involved in preparing each pie, so you can be sure that the quality is high.
Choose from the selection of small, standard, and large NY-style or Sicilian pizzas, or go for the specialty pies such as the Lasagna Pizza, Eggplant Rollatini, Chick Parm Pizza, or Mexican Pizza with jalapenos and ground beef.
The exciting blend of flavors in their crusts and toppings will keep you coming back every time.
768 Main St Westbrook, ME 04092
(207) 854-9122
Angelone's is arguably the oldest and earliest pizza joint in Maine. The Angelone family, which is from Italy, is credited with introducing Mainers to real Italian pizza.
Not much has changed about this tiny neighborhood spot, and that goes for their pies as well. Made the old-school way, you will find favorites such as pepperoni with extra cheese, Anchovy and Mushroom, Greek Olive, Sausage and Pineapple, and other soulful toppings.
The pies come in small, standard, and medium-size and are thin and crunchy. You can request a thicker crust at no extra cost. If you are hungry for no-frills, deeply satisfying pizza, Angelone's is the place to visit.
360 Cumberland Ave Portland, ME 04101
(207) 536-7210
Authentic New York-style pizza is not always an easy find in Maine, which makes Pizzaiolo a gem.
This small, independent pizzeria has been around for more than 20 years and specializes in real New York pizza—thin crust, large with a bit of crunch. This place is quite unassuming in and out, with only a few indoor seats from where you can wait for your pie.
The open-style kitchen is a sight on its own, giving you a peek into the artistic making of the dough as you wait. Whether you want it by the slice or the entire pie, you will be spoilt for choice.
There's an option to make your own pizza or to choose from the specialty ones such as the Buffallo-iolo Chicken, Bronx Pizza, Pulled Pork Pie, White Stone Roni, just to mention a few.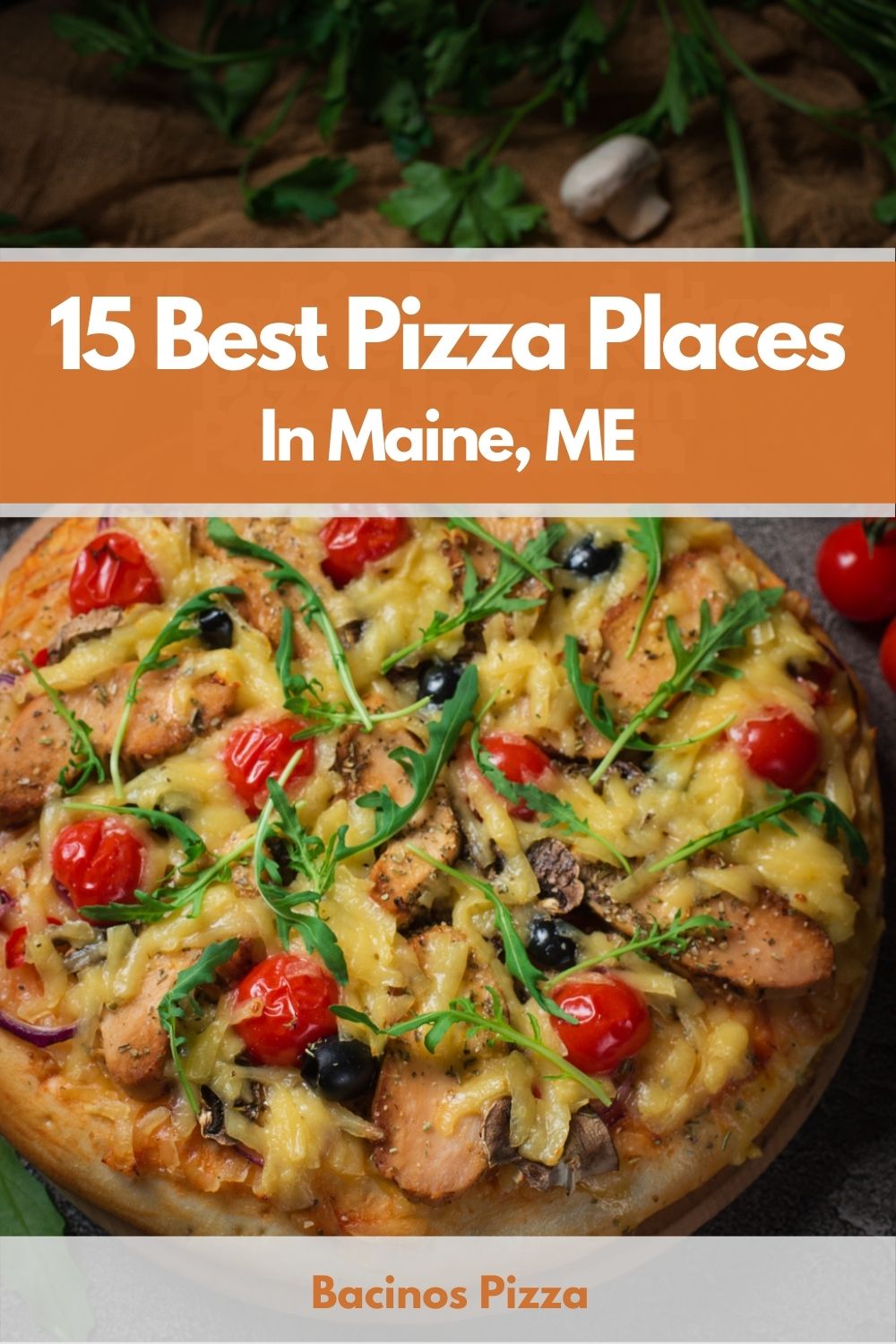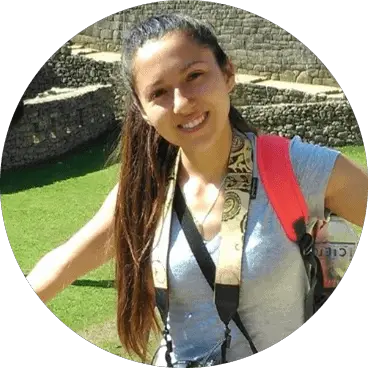 Kathryn's love for pizza started when she was still young. When she was young, she's been a picky eater–that's what her Mom used to say. The only food that she enjoyed and loved was pizza–until now! Her love for pizza turned into a passion!