Hello, there, pizza fans! Are you ready to try the best pizza in Naples, FL? There are lots of pizzerias in this city. But bear in mind that not all of them are as good as your palate requires.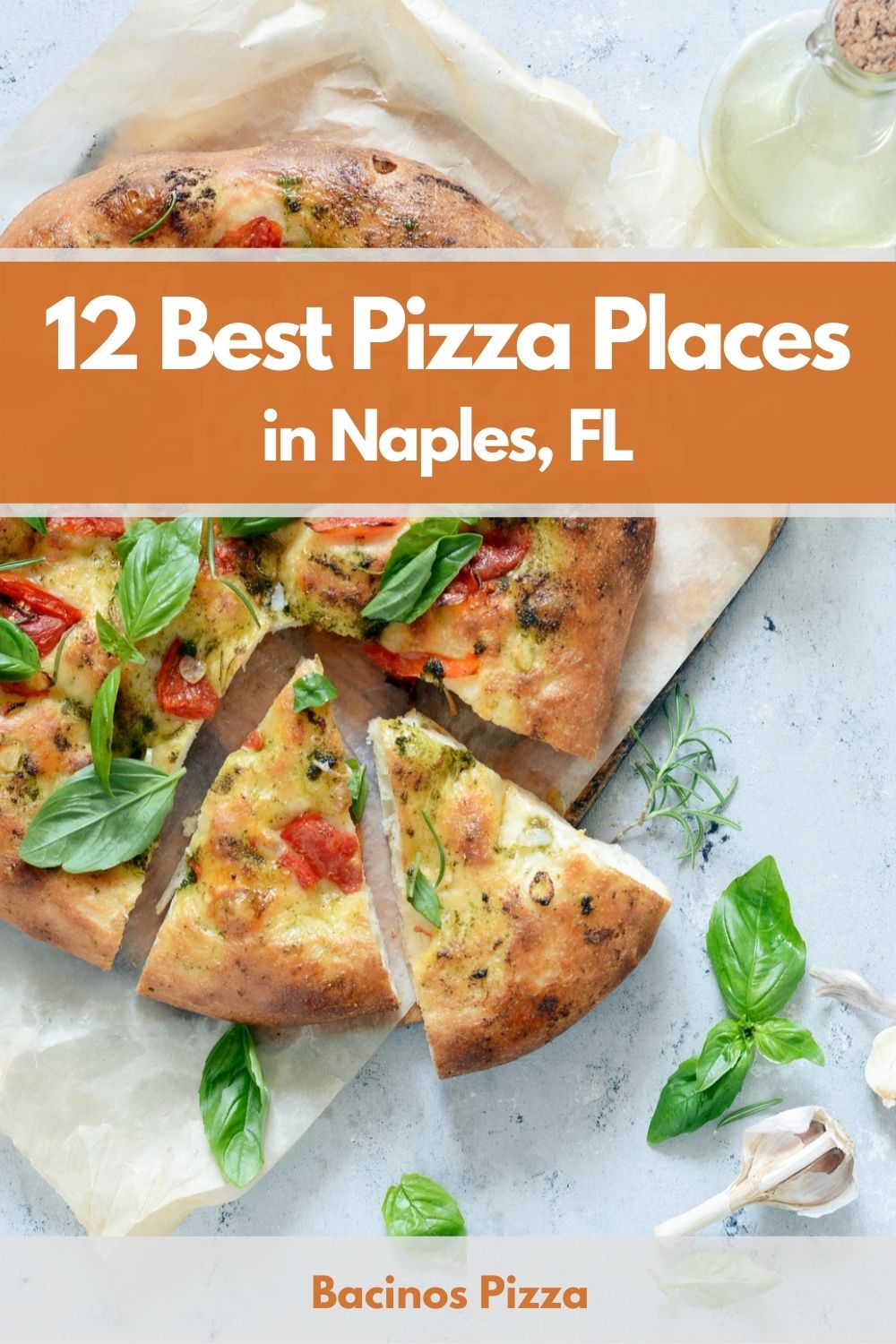 Fortunately, we have done some research and found the best pizza places for you to have at hand. So, if you ever visit this city, this article may be of great help!
So, let's go now with our selection of the best 12 pizzerias in Naples, FL.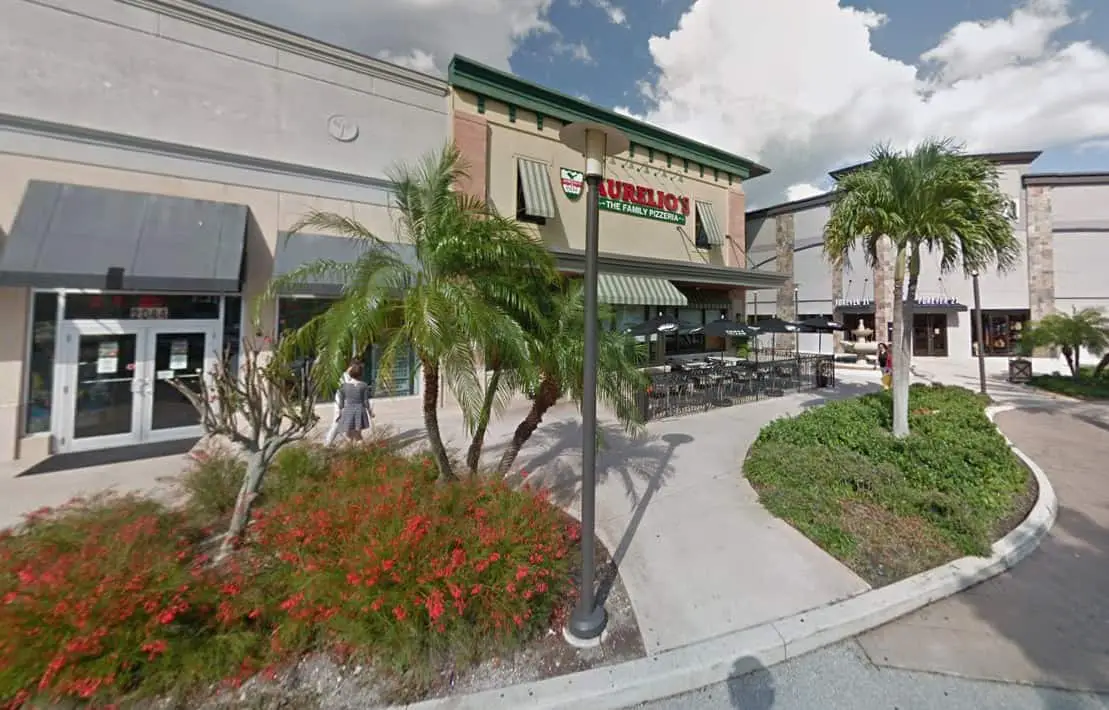 Address: Coastland Center Mall, 2048 Tamiami Trail N, Naples, FL
Phone: (239) 403-8882
Google Rating: 4.3/5
TripAdvisor Rating: 4/5
Yelp Rating: 3.5/5
If you are looking not only for good pizza but also a nice place to eat it, Aurelio's is the right pizza place for you. The people there are very nice, and there are no long waiting times.
With very accessible pricing, Aurelio's brings fresh toppings for you to choose from. A wide variety of pizzas are available so that every pizza preference is satisfied.
Thin crust lovers have their own pizza option, with the possibility of creating their own. But if you are really starving or craving for a pie, you must try their Stuffed Cheese Pizza.
Starting at 11 am, Aurelio's is open 7 days a week both for delivery and pickup. Closing times differ depending on the day of the week. But both lunch and dinner times are included.
Address: 4111 Tamiami Trail N, Naples, FL
Phone: (239) 659-0280
Google Rating: 4.4/5
TripAdvisor Rating: 4.5/5
Yelp Rating: 4/5
Some people think Italian pizza is the best worldwide. If you coincide, then Peppi's pizza place will blow your mind.
A family-owned pizzeria, Peppi's has been in the business in Naples, FL for over 20 years. This makes it a great place for you to go with family or friends, and enjoy an Italian-style meal without leaving the city.
A must-try at Peppi's is their Cadillac pizza. Mozzarella, spinach, sausage, ricotta cheese, and mushrooms. All combined to leave a taste your mouth will never forget.
Peppi's is open 7 days a week. On Sundays, they open for a late afternoon meal and dinner only. It is also closed on Sundays during the Summer.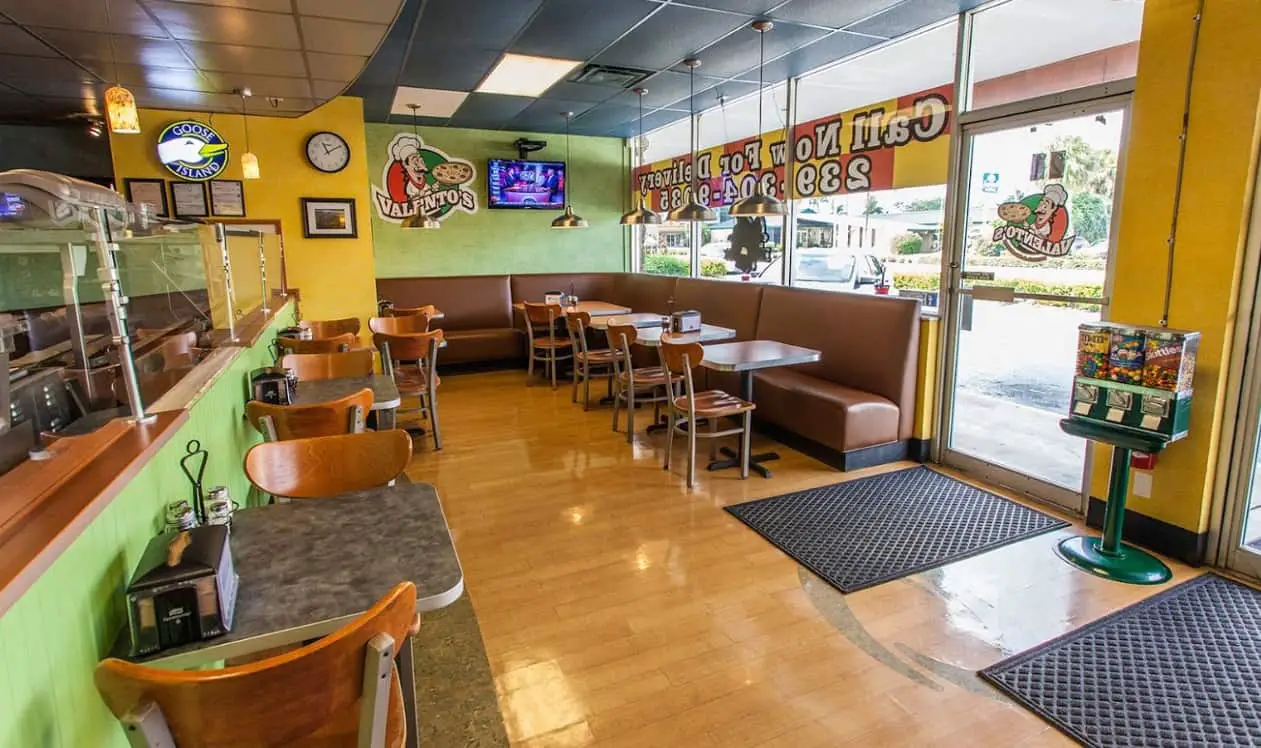 Address: 21 9th St S, Naples, FL
Phone: (239) 304-9935
Google Rating: 4.3/5
TripAdvisor Rating: 4.5/5
Yelp Rating: 4/5
Under a slogan that reads that "Valento's pizza makes sure your stomach and wallet stay full", this pizzeria is clearly a top-of-the-notch option for quality and price.
Fresh, flavorful ingredients bought from local growers ensure quality. That is one of Valento's secrets to provide high-quality meals on every order. As a plus, other ingredients, such as their meatballs or Italian sausage are homemade.
What is best, in this pizza place quality is also accompanied by quantity. Generous portions make a satisfying meal become true. You will never leave this place feeling you could have eaten a bit more.
Valento's stays closed on Tuesdays. During the weekends, late meal times and dinner are available. You can have lunch or dinner on any other weekday.
Address: 818 Neapolitan Way, Naples, FL
Phone: (239) 263-8902
Google Rating: 4.3/5
TripAdvisor Rating: 4.5/5
Yelp Rating: 4/5
Are you a Chicago-style pizza lover? Or from Chicago and are feeling a little pizza-homesick? Go to Rosati's, and let your palate melt to their special pies.
True to their roots, this pizzeria has never failed to offer the best Italian recipes with fresh ingredients during their over 50 years of service.
Choose your pizza size, select your toppings from a widely varied list, and enjoy one of the best Chicago-style pizzas in Naples, FL. Do not miss out on their double dough pie, it will give something to talk about during and after dinner.
Veggie and gluten-free pies are also available, so everybody is included during mealtime. Another great suggestion would be to try their calzones. Just make sure you bring a good appetite along!
Address: 1427 Pine Ridge Rd, Naples, FL
Phone: (239) 325-9653
Google Rating: 4.3/5
TripAdvisor Rating: 4.5/5
Yelp Rating: 4/5
There is something about Neapolitan pizza that just makes it outstanding. And at Rosedale Brick Oven pizzeria, they are fully aware of that.
This pizza place uses imported flour and mozzarella cheese from Napoli. This way, they know they can offer an authentic Italian pie, just like the ones you would taste in Italy. Even their tomatoes are brought from San Marzano!
Go New York style, create your own pie, or choose from their specialty pizzas list. Their Italiano pie with San Marzano sauce, sliced pepperoni, and Italian sausage is quite a delight!
Another thing you cannot miss out on when eating at Rosedale's is their appetizers. Please yourself and your stomach with some Calamari Fritti, breaded and quick-fried sea calamari. A great way to wait for your favorite pizza to arrive!
Address: 536 Tamiami Trail N, Naples, FL
Phone: (239) 262-8181
Google Rating: 4.5/5
TripAdvisor Rating: 4.5/5
Yelp Rating: 4/5
Cosmos Ristorante & Pizzeria brings recipes that have been successful for generations to your table. Giving the food they serve and the place itself an irresistible Italian flare on every delivery.
An easy-to-find restaurant in the heart of Naples, this pizzeria has the finest specialty pizzas inspired by nothing else but good and tasty Italian cuisine. Their secret? The freshest ingredients are ever seen.
Hand-tossed, round crust pizzas. Classic as classic maybe, their Cosmo's Famous Pizza comes in three different sizes. Create it to your own taste and preference. Sit back, and enjoy!
Their specialty pizzas include their Grandma's style. Thin pan pizza with special marinara sauce and cheese. Simple at first look, but a flavor you will never regret trying.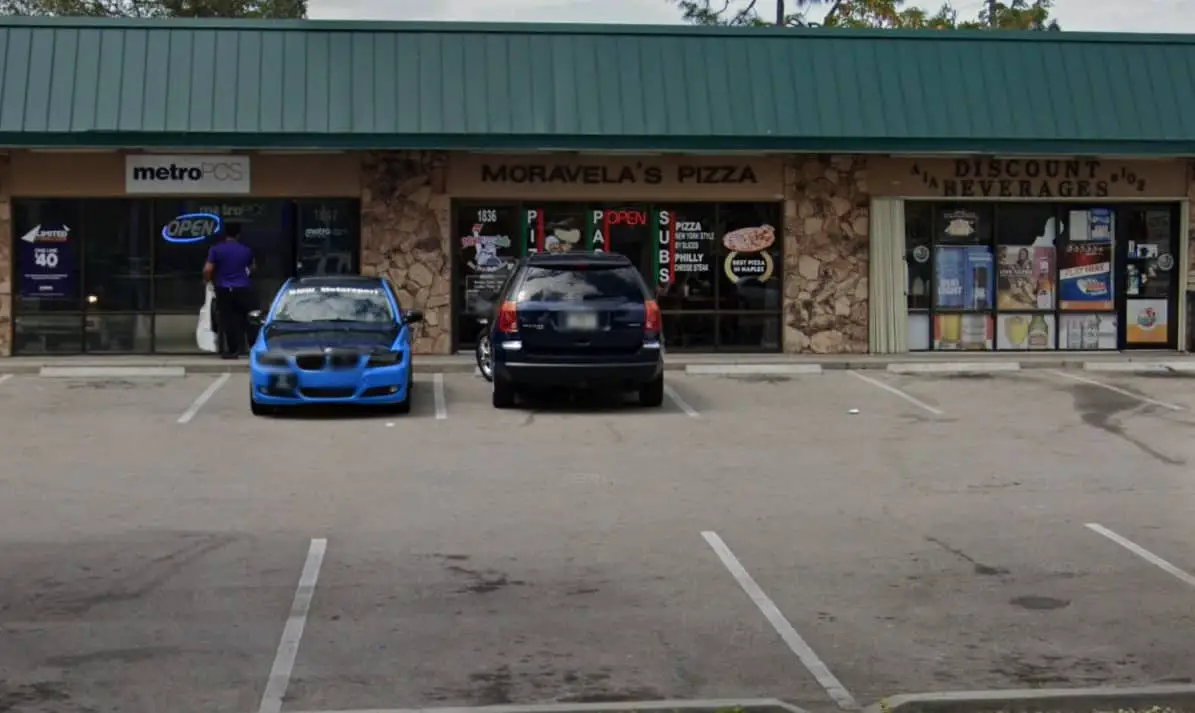 Address: 1836 Airport-Pulling Rd, Naples, FL
Phone: (239) 417-9922
Google Rating: 4.6/5
TripAdvisor Rating: 4/5
Yelp Rating: 4/5
New York style, Sicilian style. Whatever the choice, Moravela's has it for you! Order for pickup or delivery. They also have some tables for you to sit and enjoy your meal, but it is not a big place and it may be difficult to do so.
Go for their Supreme Sicilian Pizza, with pepperoni, sausage, onions, and mushrooms. Or you can also try their Bianca pizza with ricotta cheese and parsley. Whatever the choice, it will be a wise one!
If it is just for you, or you want to try different pizza flavors – because you will, trust me! You can go by the slice and combine your meal with whatever blend you prefer.
Moravela's is open seven days a week, both for lunch and dinner times. Delivery and pick-up hours are the same so that you can enjoy their great pizza whenever you want to.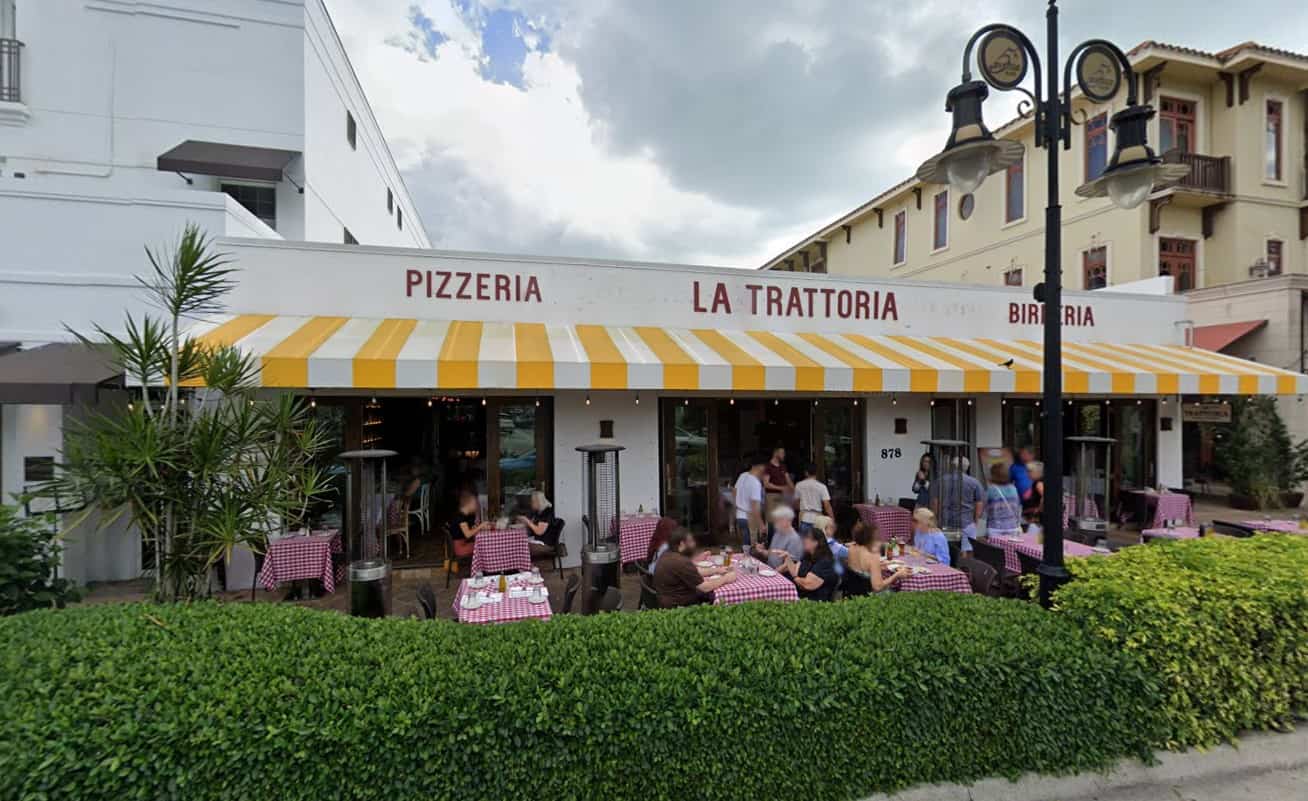 Address: 878 5th Ave S, Naples, FL
Phone: (239) 315-4571
Google Rating: 4.6/5
TripAdvisor Rating: 4.5/5
Yelp Rating: 4/5
Run by nationally voted "Traveler's Best Everyday Dining" people, La Trattoria Pizzeria combines a family-like style place with flavors brought directly from the Old World, right in the heart of Downtown Naples.
La Trattoria is an addition to Luca Di Falco's sister Restaurant. With an award-winning cocktail creator as Massimiliano Tonni, you will always have something great to drink with your selected pizza.
But it is not only cocktails and sister restaurants that make La Trattoria a great pizzeria. Their Pizza chef has also won the "Best Pizza Napoletana" award. And this is shown in every order they deliver.
With an invitation to not only step through their restaurant doors, but also to join their family, this pizzeria has a wide variety of options such as personal pizzas, Neapolitan style, and more.
Address: 820 12th Ave S, Naples, FL
Phone: (239) 649-7337
Google Rating: 4.2/5
TripAdvisor Rating: 4/5
Yelp Rating: 3.5/5
Located in the heart of Downtown Naples, Napoli On The Bay offers good quality pizza at a very accessible price.
With fresh toppings and ingredients, their pies have a unique flavor that you will enjoy for sure. As a plus, their gelatos are one-of-a-kind. A great way to end a nice Italian-style meal.
Go for their Classic Italian Pizza, with sausage, meatballs, and ricotta cheese. Or raise the stakes with their Meat Lover's pie, another great choice. Vegetarian pizza is also available.
This pizzeria is open seven days a week. Their opening times on Sundays are a bit later than the rest of the days, but still good for lunch or dinner meals. Go for delivery or pickup, and enjoy a meal and a gelato while protecting your wallet.
Address: 1290 3rd St S, Naples, FL
Phone: (239) 263-1955
Google Rating: 4.4/5
TripAdvisor Rating: 4/5
Yelp Rating: 3.5/5
Something new. Something classic. Contradictory as it may sound, Barbatella pizzeria introduces itself using those two concepts. And, believe it or not, they nail it!
Barbatella offers authentic Italian cuisine right in the heart of Old Naples. And what specialized Italian-style restaurant would not offer great pizza quality? Their wood-fired pizza oven provides a touch to their taste that will make you fall in love with their pies.
If you are not sure what to order, our favorite selection is their Rucola & Parma pizza. Simple, yet captivating, it includes tomato, mozzarella, arugula, and Parma prosciutto. The perfect blend for the perfect pizza.
Barbatella pizzeria is open 7 days a week both for lunch and dinner times. They even have a 3-hour happy hour for you to accompany your meal with a great choice from their beverage selection.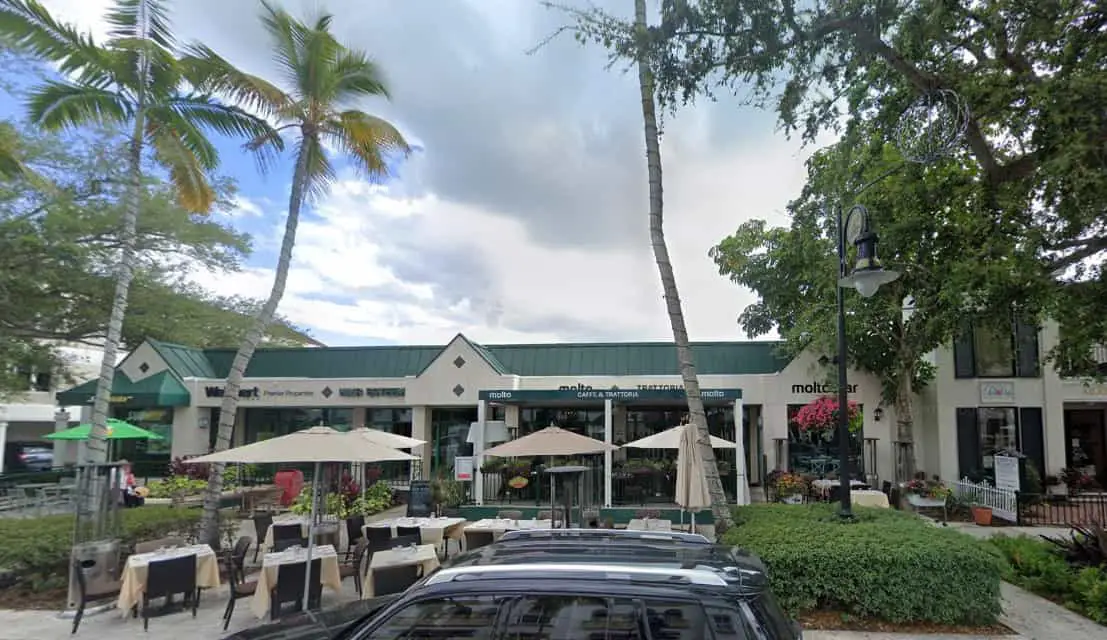 Address: 368 5th Ave S, Naples, FL
Phone: (239) 261-5853
Google Rating: 4.5/5
TripAdvisor Rating: 4.5/5
Yelp Rating: 4/5
Family recipes for homemade pies using the best quality ingredients. Combine those, and you will get something very similar to Molto Trattoria pizza place. Authentic Italian cuisine described as "simply my mom in the kitchen".
Always with optional toppings to add to your favorite pizza, this pizzeria offers gluten-free options and a wide variety of pies to choose from. Our favorite? Their Capricciosa. Mozzarella, ham, mushrooms, and artichokes.
They also have a beer selection to wash your meal down and enjoy both a good meal and a fresh drink. Something you cannot miss if you love these two together!
Molto Trattoria is open seven days a week for both lunch and dinner times. A great choice while in Naples, FL to have a pizza and beer time with friends or family!
Address: 5555 Tamiami Trail N Spc. G-16, Naples, FL
Phone: (239) 566-1900
Google Rating: 4.4/5
TripAdvisor Rating: 4/5
Yelp Rating: 3.5/5
Famous for their specialty pizzas, along with other meals they offer, California Pizza Kitchen is a great option when visiting Naples, FL.
With a wide variety of pizza flavors you have surely not seen up to this day, this pizzeria makes sure you get the best pizza experience you have ever tasted.
Go for their Avocado Super Green pizza if you are a veggie fan, or order their Carne Asada pie. You can be sure of a top-quality meal that will be delivered within minutes.
And to complete your meal, why not try one of their tasty appetizers? The perfect way to start your meal, with incredibly fresh and flavorful toppings.
Conclusion
Whether it is Chicago, New York, Sicilian or Neapolitan style, you can be sure you will find it in Naples, FL. Feel at home, or try different cuisines without leaving the city. Naples, FL is a place where you can find almost anything, and pizzerias are not excluded!
So, this is our selection of the best 12 pizzerias in Naples, FL. If you happen to try one of them, leave a comment below and share your thoughts with the community. Also, if you have any other favorite pizzeria, you can do so too!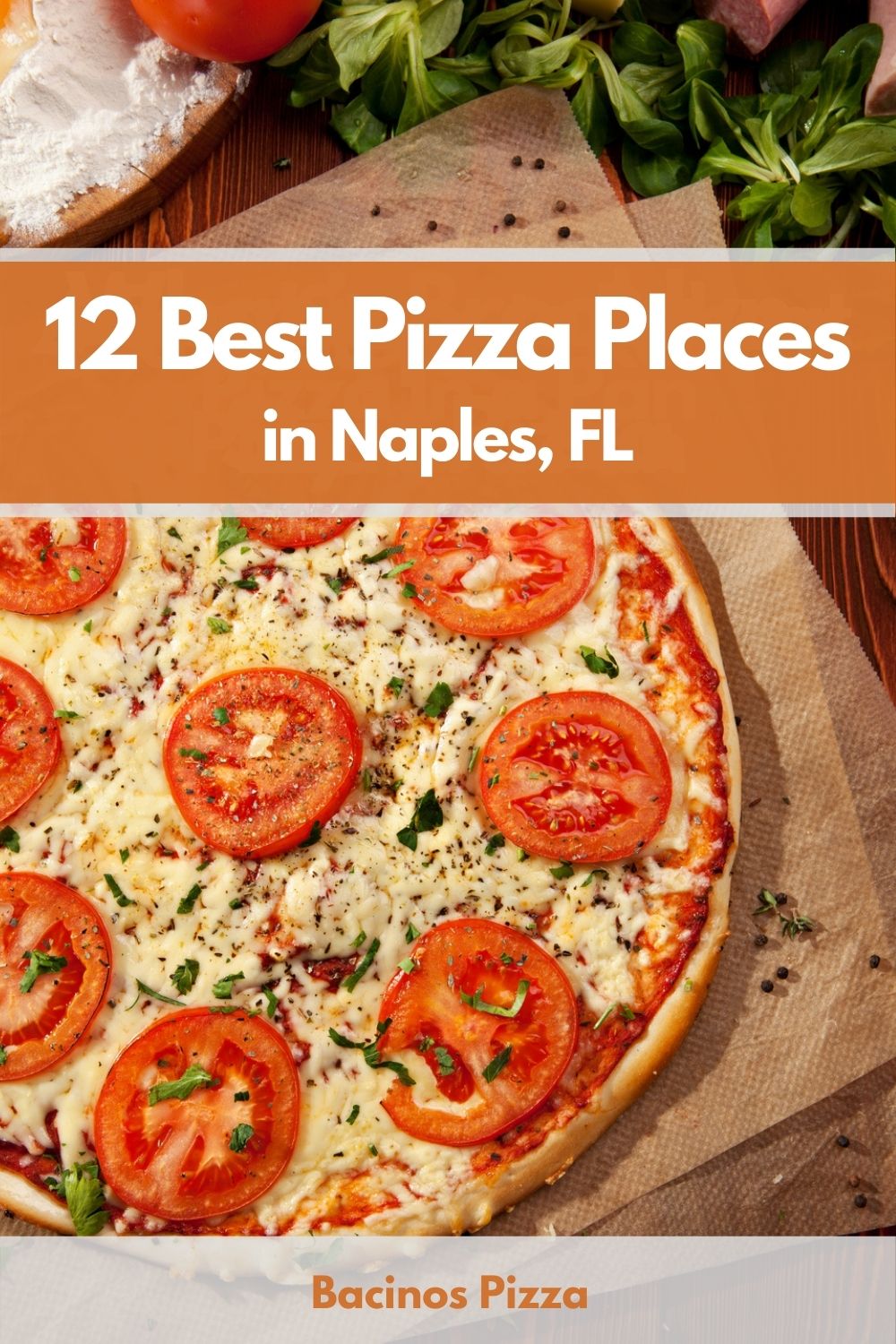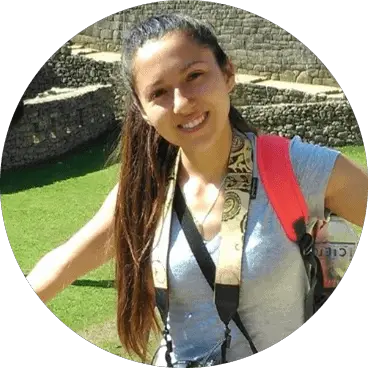 Kathryn's love for pizza started when she was still young. When she was young, she's been a picky eater–that's what her Mom used to say. The only food that she enjoyed and loved was pizza–until now! Her love for pizza turned into a passion!