Pizza is a favorite menu item for a lot of folks here in Oceanside. It is popular with kids, as it is with adults.
But, sorry, some pizza joints here do not qualify for the job. Or, at least, they should up their game and serve a better pie.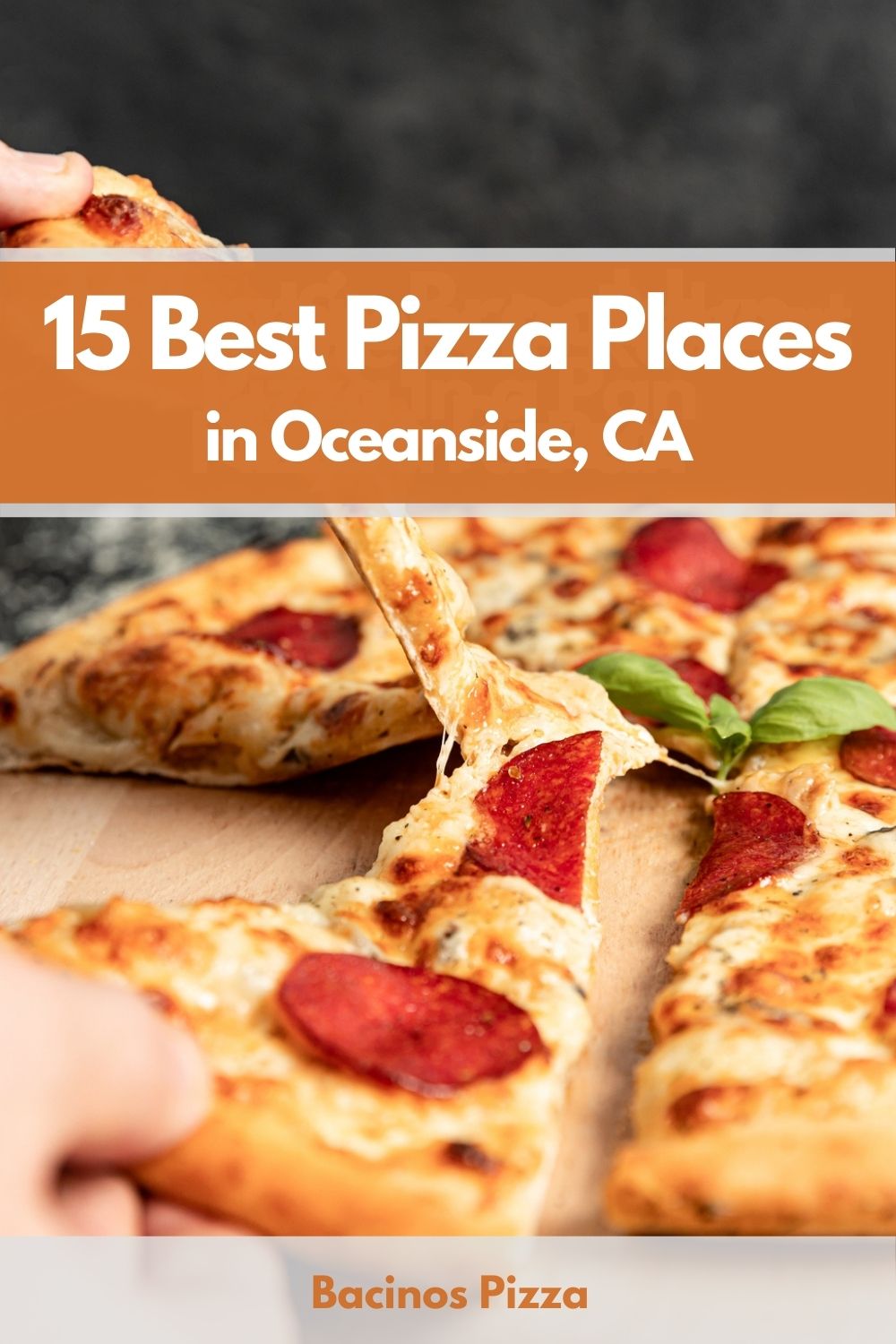 If you're new to this coastal city, be careful when selecting a pizzeria, especially if you long for the coveted "Italian" touch. I know that it's easy to bark up the wrong tree.
Consequently, the next time you're holidaying in this third-largest city in San Diego County, California, stick to some select pizzerias. Here's my list of the 15 best Pizza Places in Oceanside, CA.
Address: 401 Seagaze Dr, Oceanside, CA 92054
Phone Number: (760) 231-1456
Google Rating: 4.6/5
Yelp Rating: 4.5/5
TripAdvisor Rating: 4.5/5
Hungry for an authentic pizza Napoletana? The pie at Seagaze Drive eatery is the answer. This isn't your typical cookie-cutter pizza restaurant. Blade 1936 has earned the Associazione Verace Pizza Napoletana (AVPN) membership.
As a result, the restaurant's pizza boasts the AVPN certification to indicate it meets traditional pizza Napoletana standards.
The Oceanside's Blade 1936 prepares their pizza Napoletana in a 900-degree custom wood-fired Stefano Ferrara brick oven for 55 seconds.
Their ingredients are locally sourced and are pretty much the same as the ingredients from Italy. Blade 1936's menu also features Vegan and Gluten-Free dishes for weight watchers.
Planning a corporate, private dinner? Don't worry! Blade 1936 features two private dining rooms for your special occasions. Also available is a private wine room that seats about 60 guests.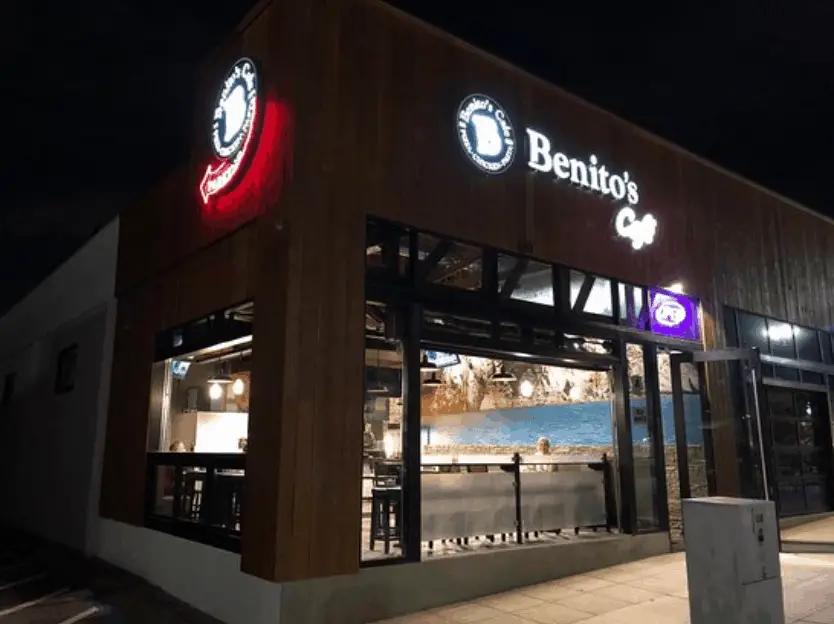 Address: 610 Mission Ave., Oceanside, CA 92054-2832
Phone Number: (760) 721-3000
Google Rating: 4.5/5
Yelp Rating: 4.5/5
TripAdvisor Rating: 5/5 
When it comes to dining in the Oceanside area, you've got plenty of options to choose from. But this modern Italian Pizzeria & Bar goes above and beyond.
Their traditional, artisan brick-oven and Detroit-style deep dish pizzas are a cut above the rest. They create their brick-oven pizzas using a Morello Forni Brick Oven imported from Italy.
The 2-foot Big Benito Pizza is the shop's signature party pizza. It features 20 foot-long slices and is a valuable option for large groups.
The restaurant also offers homemade pasta, fresh salads, calzones, oven-baked sandwiches, and more. You'll also appreciate Benito Pizza's domestic and international beer selection, including Italian wines and Americanos.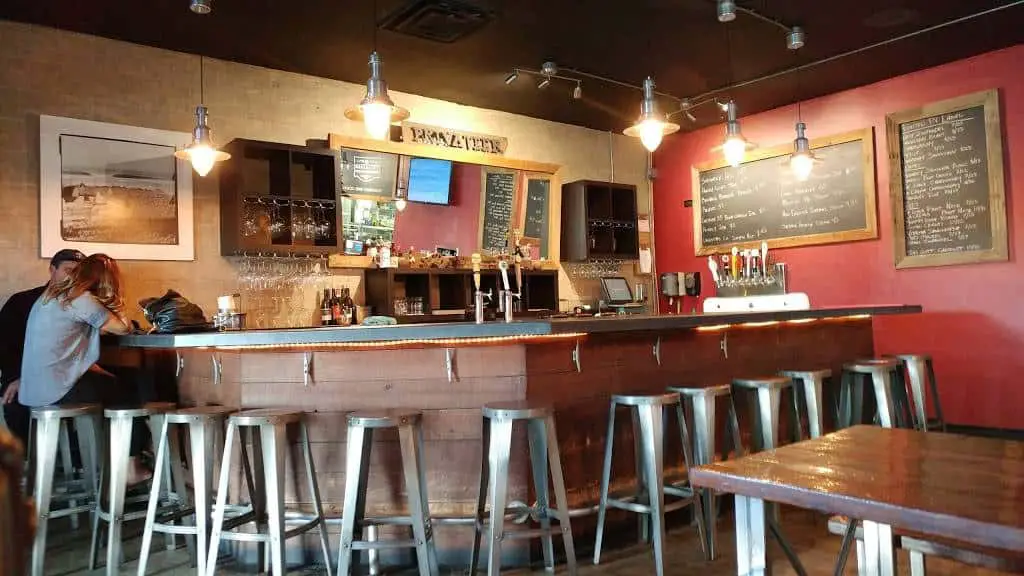 Address: 1706 S. Coast Hwy, Oceanside, CA 92054
Phone Number: (760) 453-2500
Google Rating: 4.6/5
Yelp Rating: 4/5
TripAdvisor Rating: 4.5/5
The Privateer is the ONLY gourmet pizza restaurant in Southern California using a 100% coal-fired oven and not gas. Their oven weighs 6,500 pounds and measures 7 feet in diameter.
At the Privateer, Chef Samantha and her team specialize in Neapolitan Pizza, Market Fresh Fish Tacos, ½ lb. C.A.B burgers, Sandwiches, and Vegan/Vegetarian menu items.
The pizzeria makes all dishes from scratch using the freshest and natural ingredients. The restaurant has grown organic greens, veggies, and herbs at the nearby Cyclops Farms to ensure the ingredients are ever fresh.
You might want to order the Privateer Coal Fire Pizza along with an ice-cold beer or a glass of wine. This is a surefire way to get the best gourmet pizza experience you've been dreaming of.
Address: 2508 El Camino Real, Carlsbad, CA 92010
Phone Number: (760) 720-7111
Google Rating: 4.6/5
Yelp Rating: 4.5/5
TripAdvisor Rating: 4.5/5
This pizzeria may be nestled in a strip mall, but the foods here don't disappoint. Owner Mike Spirito keeps his family recipes alive throughout the year.
Their signature pizza Napoletana, "monster" ravioli, and Roman meatballs, prepared with pine nuts and raisins, are incredibly delicious.
The pizza shop's special dishes include Spaghetti with Spirito's Original Gravy and one Meatball. The spaghetti and gravy make an absolute best companion.
On August 12th, 2013, Spirito's Italian Diner was featured on Diners, Drive-ins, and Dives with Guy Fieri. So, it's obvious this isn't your ordinary pizza shop. Order their thin crust pizza and ravioli to die for!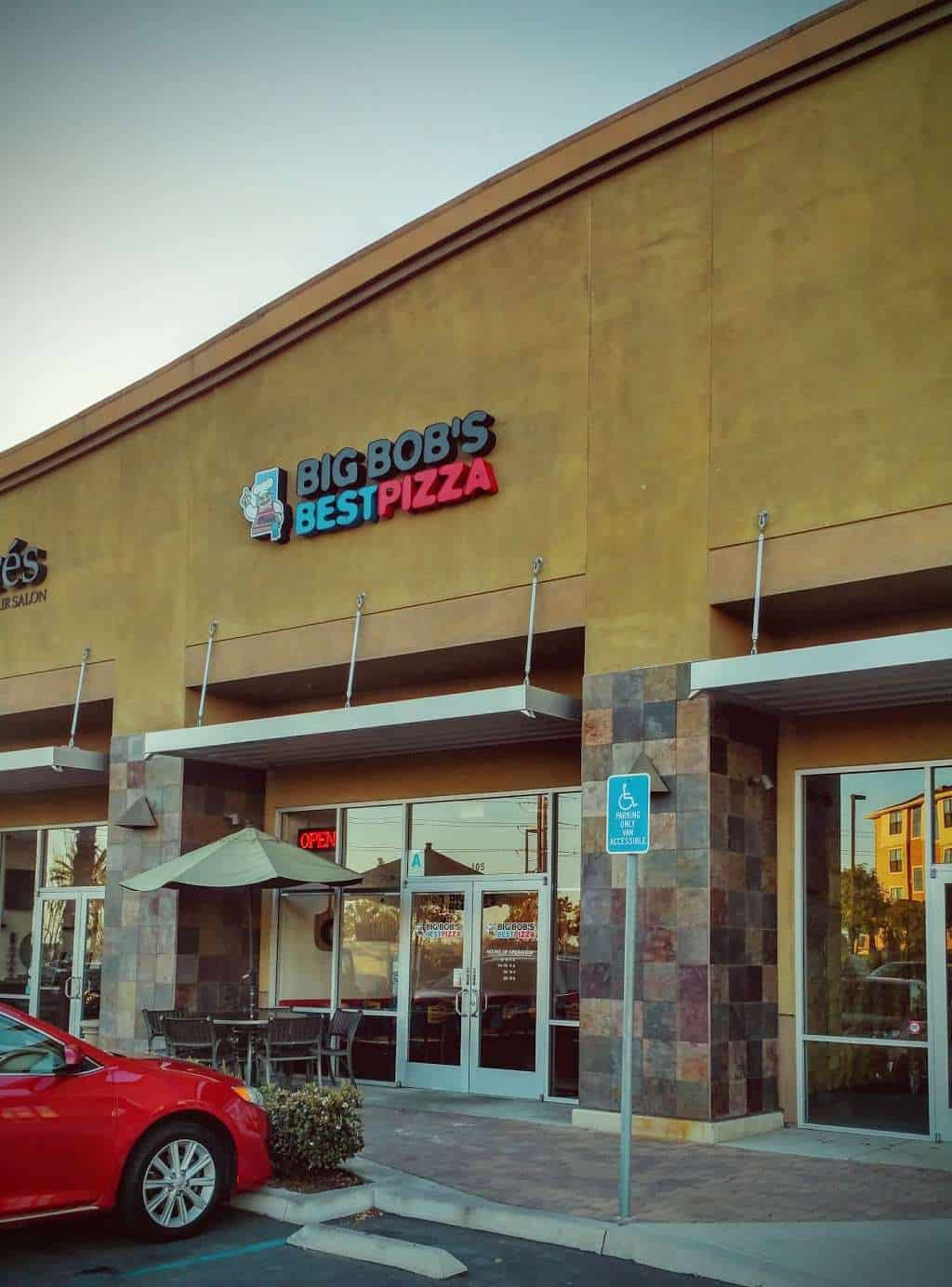 Address: 3617 Ocean Ranch Blvd., Ste. 105, Oceanside, CA 92056
Phone Number: (760) 231-5050
Google Rating: 4.5/5
Yelp Rating: 4.5/5
TripAdvisor Rating: 4/5
There's a reason why customers have been raving about Big Bob's Italian Cuisine since 2011. This joint creates traditional, "Old World-style" pizzas using the best ingredients.
Here, pizza making starts with homemade, hand-tossed dough. Then, the original Neapolitan sauce recipe follows suit. And finally, Big Bob's chefs throw in their distinctive blend of three kinds of cheese.
After everything's done, now it's your turn to say what you want. Is it spicy meats? Or is it fresh veggies and fruits? Or do you need their combination? Just mention it, and it will be created just for you!
At the moment, Big Bob's open for delivery and takeout. Remember to order your pizza with Fresh Garden Salad. This is served with balsamic vinaigrette dressing on the side. Sooo delicious!
Address: 333 N. Myers St, Oceanside, CA 92054
Phone Number: (760) 433-1555
Google Rating: 4.4/5
Yelp Rating: 3.5/5
TripAdvisor Rating: 4.5/5
Cohn Restaurant Group, Inc. manages and oversees the operations of ZIG ZAG Pizza in Oceanside, California.
I love this pizzeria because customers are allowed to design their own pizza and chop-chop salads.
Furthermore, you have the liberty to indulge in their specialty pizzas while enjoying the magnificent views of the Oceanside Pier. There are over 150 Craft Beers to accompany your pizza with.
Whether you build your own pie or go with chef-driven creations, all pies measure 11 inches in size. And the dough is made from scratch each day.
The restaurant is open Tuesday to Sunday from noon to 8 p.m. It offers outdoor dining, delivery, and takeout.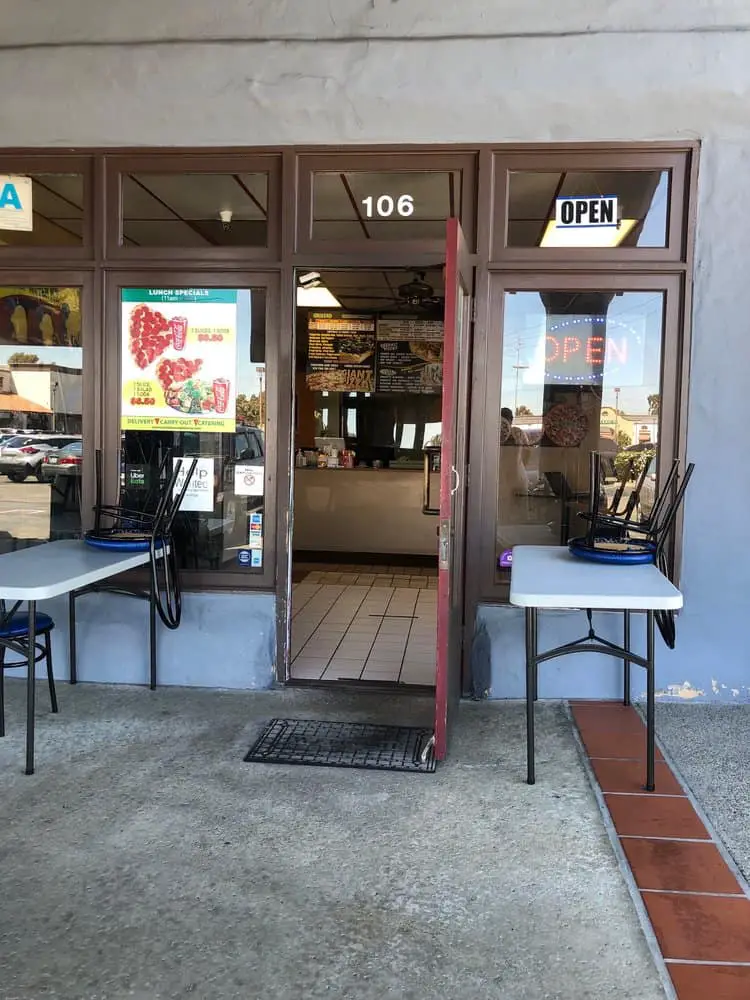 Address: 3809 Plaza Dr Multipurpose, Oceanside, CA 92056
Phone Number: (760) 292-3663
Google Rating: 4.4/5
Yelp Rating: 4/5
TripAdvisor Rating: 4.5/5
Cusimano's Pizzeria is synonymous with great pizza, great deals, and impeccable service. Whether you need pizza, pasta, or wings, this pizza shop has it all.
In addition to their wings and pasta entrees, you'll find New York-style pies and Sicilian Square Cuts. You can also build your own pizza with your favorite toppings.
At Cusimano's Pizzeria, chefs use fresh ingredients straight from the farm to guarantee the highest quality pie. And the food is delivered steaming hot right to your door!
I suggest that you try their Specialty Hawaiian Pizza as well. This is made with mozzarella, Canadian ham, and pineapple. It's amazingly luscious!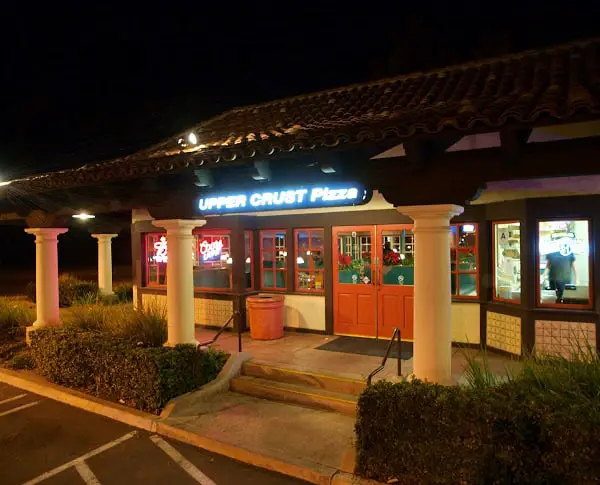 Address: 4196 Oceanside Blvd., Oceanside, CA 92056
Phone Number: (760) 630-9330
Google Rating: 4.5/5
Yelp Rating: 4/5
TripAdvisor Rating: 4.5/5
This family-owned pizza parlor in Oceanside, California, specializes in a variety of Italian favorites, including thin-crust cheese pizza, thick crust cheese pizza, and gluten-free cheese pizza.
They also prepare baked ziti along with calzones and pasta. Only premium quality and fresh ingredients are used here.
Their pizzas are so filling, and the price is unbeatable. Notably, the pizzeria offers terrific prices on lunch specials. You'll save big while enjoying the best Italian food in town.
I love that Upper Crust Pizza allows you to create your own pizza. Begin with hand-tossed crust, and then blend it with real mozzarella cheese and delicious tomato sauce.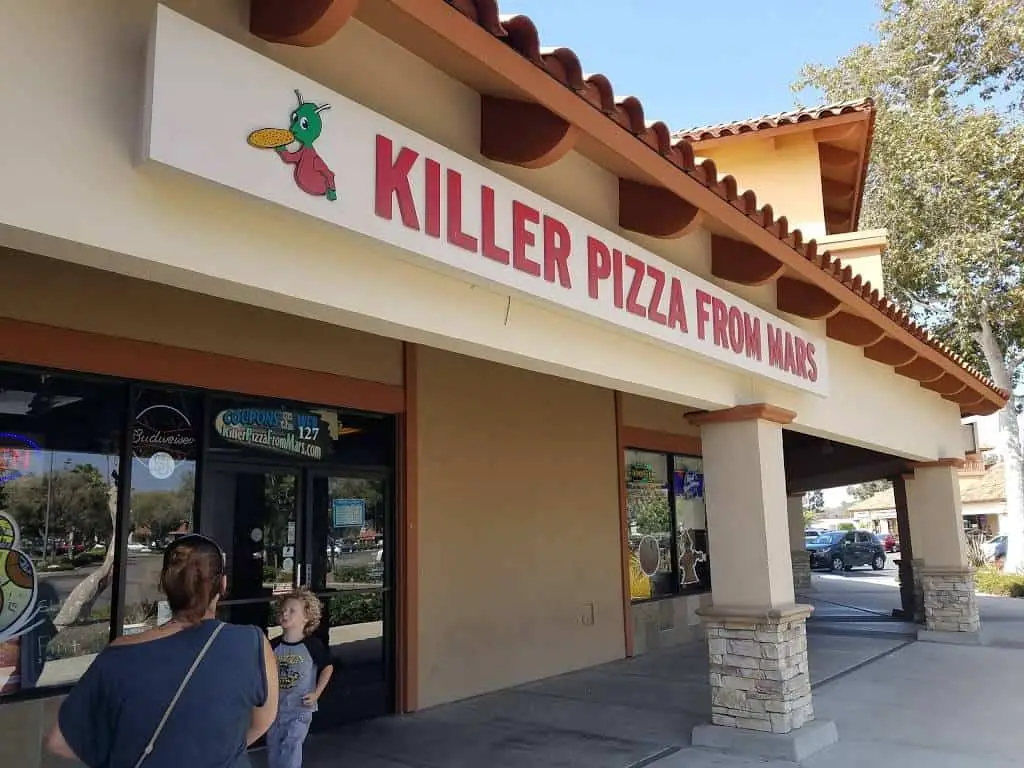 Address: 3772 Mission Ave., UNIT 127, Oceanside, CA 92058
Phone Number: (760) 722-6060
Google Rating: 4/5
Yelp Rating: 4/5
TripAdvisor Rating: 4/5
How much is too much pizza? Killer Pizza From Mars Oceanside has no limit – pepperoni, sausage, bell peppers, ground breast, ham, mushrooms, olives … you name it!
As one of the most popular pizza joints in Oceanside, their pizza is out of this world. I'm sure it will become a favorite of yours, too!
Killer Pizza From Mars makes some tasty Italian favorites that will cure your cravings in a jiffy. Things like spaghetti, meatballs, and anti-pasta salads are on their menu.
And guess what? Dining in this pizza place feels like dining in planet mars. They have a tremendous cosmic atmosphere that will seduce you from afar.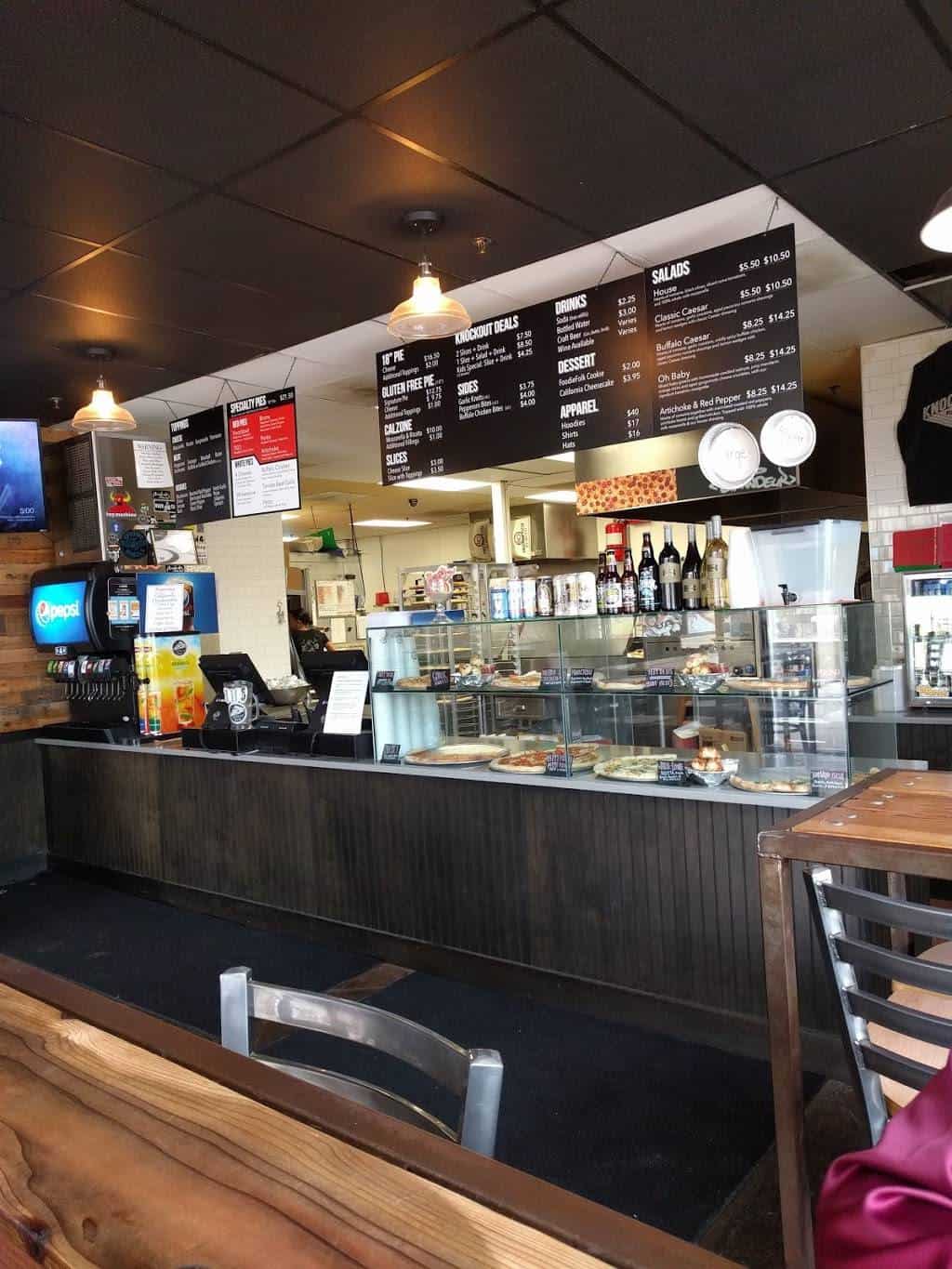 Address: 401 Mission Ave. b120, Oceanside, CA 92054
Phone Number: (760) 722-888
Google Rating: 4.4/5
Yelp Rating: 4/5
TripAdvisor Rating: 4/5
Knockout Pizza is a lifestyle entrenched in the family. They consider their customers as part of their family.
This reliable restaurant offers both thick- and thin-crust New York-style pizza. And all of their recipes are made fresh daily using top-notch ingredients.
For a true flavor of Oceanside's top dishes, it's hard to go wrong with Knockout Pizzeria. Try their Knockout Red Pizza made with 100% whole milk mozzarella cheese.
It doesn't stop there, either. This restaurant is proud to offer the Bronx Red Pizza topped with pepperoni, black olives, mushrooms, and fresh garlic. Never forget to have fun at the California Surf Museum after eating!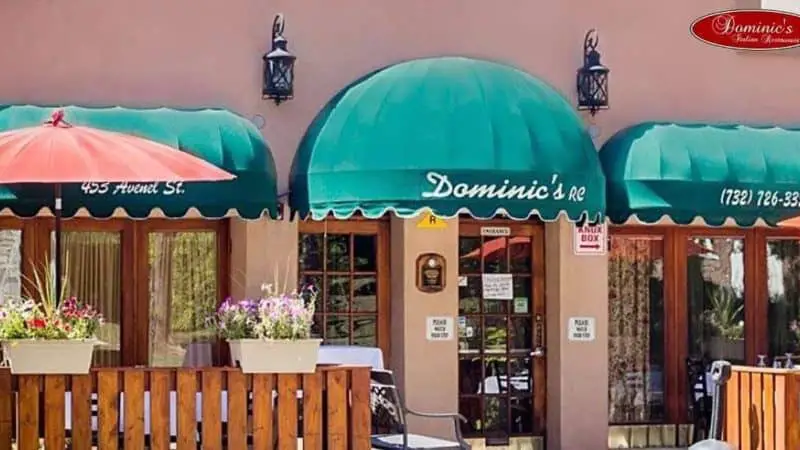 Address: 268 Harbor Dr S, Oceanside, CA 92054
Phone Number: (760) 754-1881
Google Rating: 4.4/5
Yelp Rating: 3.5/5
TripAdvisor Rating: 4/5
Dominic's was established in the harbor in 1999 as just a tiny hole-in-the-wall pizza place. It has grown over the years to become a fully-fledged Italian Restaurant.
In the 2019 Diners' Choice roundup, Dominic's was rated the third-best Italian Restaurant in Oceanside. It offers plenty of dining options in addition to a large harbor view patio.
While this pizzeria's specialty is hand-tossed pizza, their entrees are very popular. New Zealand mussels sautéed with marinara sauce are my favorite.
Dominic's is open seven days a week from 11 a.m. to 9 p.m. Visit this restaurant and enjoy the sun, the boats, and the Italian food.
Address: 119 S Coast Hwy, Oceanside, CA 92054
Phone Number: (760) 966-6888
Google Rating: 4.3/5
Yelp Rating: 4/5
TripAdvisor Rating: 4.5/5
Without a doubt, no one dares to say NO to good pizza. And Carmine's Pizza in Oceanside, California, knows that all too well. This low-key institution cooks the best quality thin-crust pies.
You may have tried a lot of pizza shops in Oceanside. Yet, you'll agree with me that this place has one of the best menus around.
Apart from pizza, Carmine's also serves Wings, Salads, Pasta, Calzones, and Paninis. And the best part is, Carmine's is located next to the Oceanside Public Library.
As a result, you can pass by this pizza place in the evening after your studies. Remember, Carmine's Pizza is closed on Sundays.
Address: 101 N Coast Hwy, Oceanside, CA 92054
Phone Number: (760) 433-6064
Google Rating: 4.3/5
Yelp Rating: 4/5
TripAdvisor Rating: 4/5
Founded in July 2008, Breakwater is situated on Pacific Coast Highway and downtown Seagaze Drive. The shop is located just a couple of blocks from the town's iconic pier.
The restaurant has been offering award-winning food and beer to locals and guests since it opened its doors. You'll enjoy fantastic pizza, bruschetta, salads, and paninis in a friendly, laid-back beachside atmosphere.
Better yet, Breakwater is located near the Regal Movie Theaters. Therefore, you can enjoy delicious foods and craft beer while watching your favorite shows.
If you're looking for a beer-focused restaurant near the beach, stop by Breakwater Brewing today. Their bartenders are professional, welcoming, and hospitable.
Address: 4760 Oceanside Blvd., Oceanside Square, CA 92056
Phone Number: (760) 758-3638
Google Rating: 4/5
Yelp Rating: 3.5/5
TripAdvisor Rating: 4.5/5
Two Brothers From Italy is a family-owned and operated shop that first opened in Hunting Beach, California, in 1972. Other outlets are found in Oceanside, E. Visa Way, San Marcos, and Shadowridge in Vista.
The business was initially established by the LoMedico brothers, Franco and Paolo, who moved to New York in 1971 from Sicily. Currently, Paolo Medico's children own and operate the business.
Two Brothers From Italy specializes in Italian Cuisine. They create Neapolitan N.Y style pizza using original family recipes.
Whether you need half topping or extra toppings and cheese, this pizza shop delivers your request. You'll also find their zesty Sicilian Square Pizza, Giant 28″ Pizza, and Gourmet Pizza to make your taste buds happy.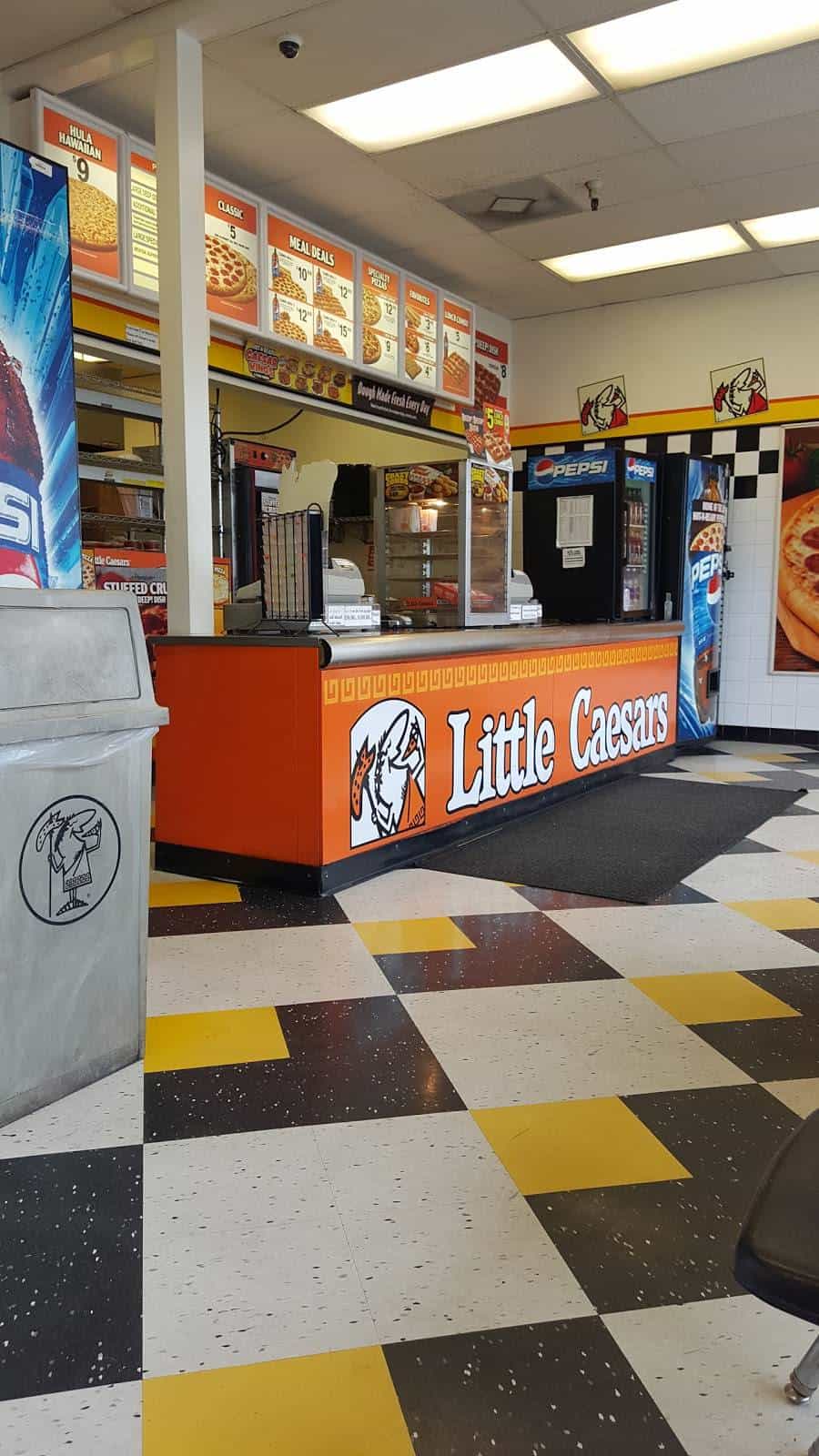 Address: 518 Oceanside Blvd., Oceanside, CA 92054
Phone Number: (760) 439-2647
Google Rating: 3.7/5
Yelp Rating: 3/5
TripAdvisor Rating: 3.1/5
Little Caesars offers various pies that won't break the bank. However, it would help if you were cautious when choosing your pies not to break your health goals.
My top pick is their ExtraMostBestest Pizzas, as they have the lowest sodium, trans fat, and calories. Little Caesar's ExtraMostBestest Vegie will be ideal if you feel like eating some vegetables.
What I love the most about this pizza shop are the ovens. They always make do with 475-degree ovens to ensure food safety. And the food is never touched after baking.
Currently, Little Caesars offers takeout and delivery options. Just call them to place your order and have it ready in minutes. Most importantly, their staff will surprise you. They're not only friendly but have a helpful attitude.
Final Thought
Generally speaking, Oceanside is home to more than 50 pizza parlors and restaurants. However, I've only rolled out those with excellent customer reviews. All of the pizza places on this list have great pizzas, superb customer service, and reasonable prices. So go ahead and order your pie now!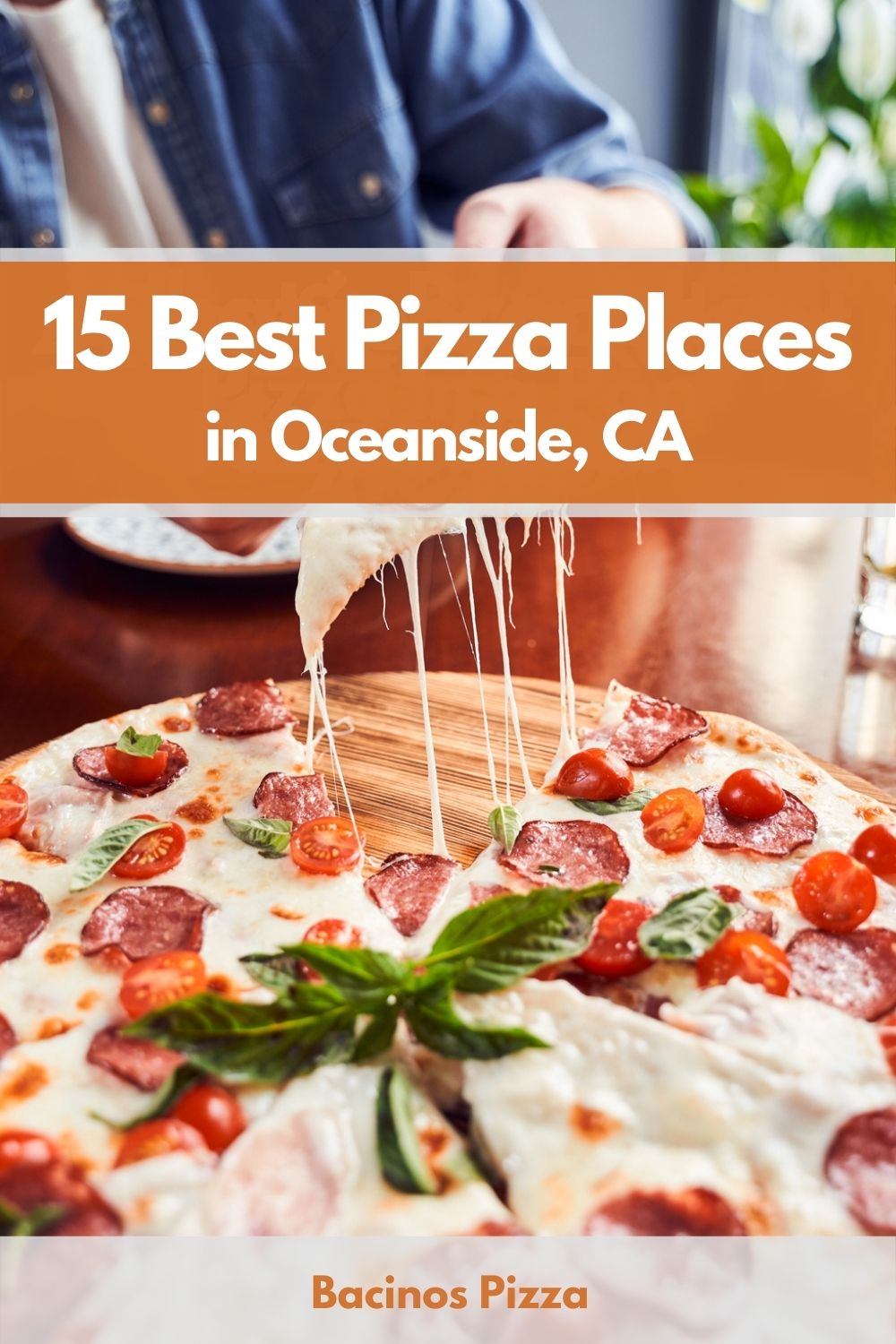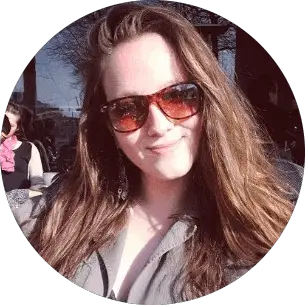 Barbara is an enthusiastic food-exploring person that goes through different culinary experiences. She got inspired by creating a pizza blog post after she tasted one of the best-selling pizzas in Toledo.