Located at the head of Niagara Falls, Buffalo, New York, has its fair share of tourist spots. Besides being the second biggest city in New York, Buffalo also has many pizzerias you can check out while enjoying the city. Here are the 19 best pizza places in Buffalo, NY, to make the job easier.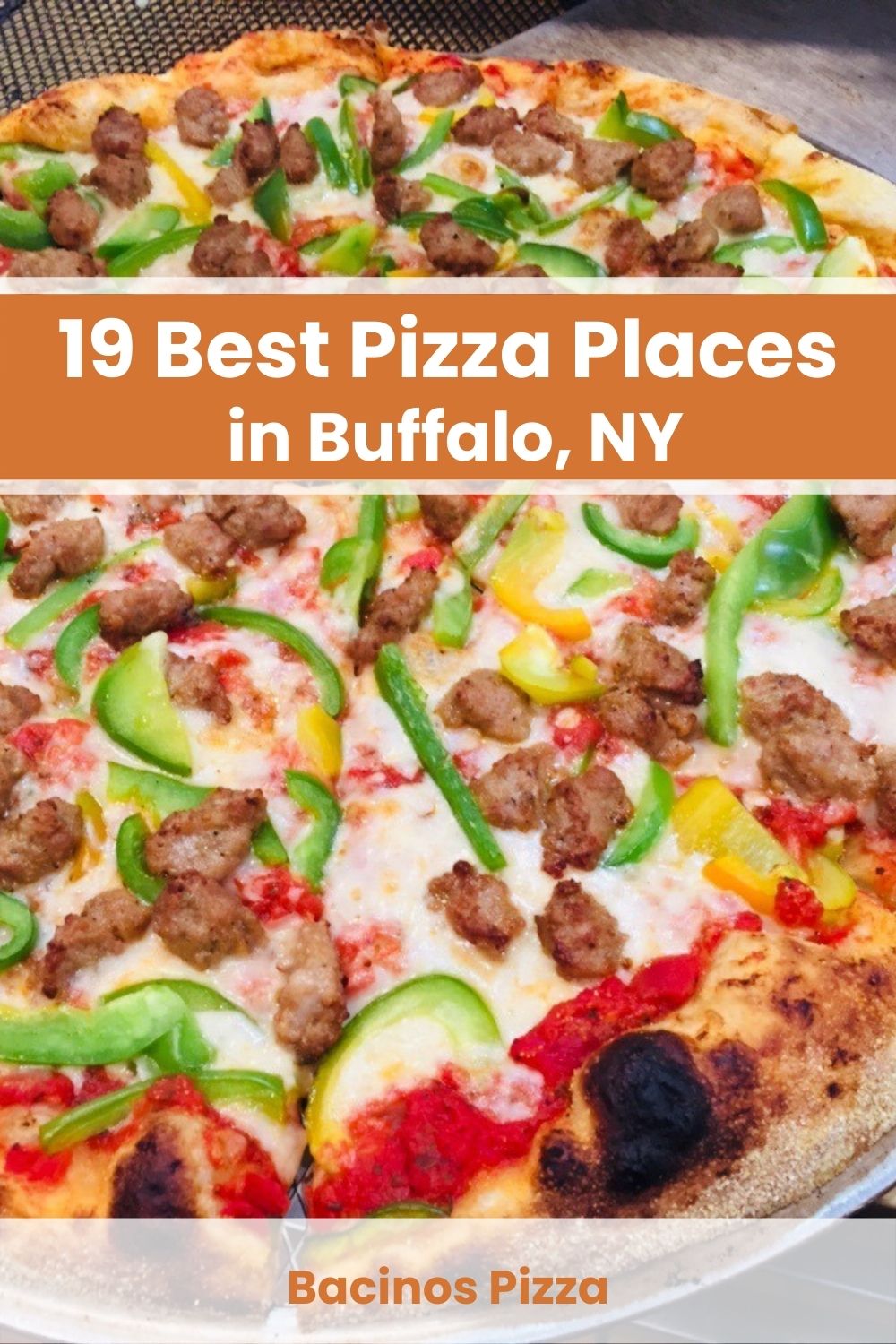 Price: $
Address: 396 Pearl St, Buffalo, NY 14202
Phone: +1 (716) 852-5555
After hanging out at Fountain Plaza, you can check out Prima Pizza Pasta for their delicious Italian food and famous lemonade. They are known for their excellent staff and quality service. You can enjoy their delightful beef or vegetarian pizza or flatbread for just below ten dollars.
The restaurant's exterior has an Italian pizzeria-style decoration on its walls and signages. The interior is nicely lit with cozy wooden walls and tiled floors.
Price: $
Phone: 400 Main St, Buffalo, NY 14202
Address: +1 (716) 856-4340
Gino and Joes are known in Buffalo for their wide range of options and low prices. For just $11, you can enjoy a cheese pizza that will surely fill you up. They have different flavorful and excellent pizzas such as taco, bbq, buffalo chicken, and many more.
One of their most famous pizzas is the Philly Steak, topped with beef strips, mozzarella, and cheddar for just a whopping $11.95. they also have a vegetarian option, perfect for those who do not want meat in theirs.
Price: $
Address: 1065 Elmwood Ave, Buffalo, NY 14222
Phone: +1 (716) 882-6500
If you want to treat yourself to delicious and greasy snacks and pizza, there is no other place than Mister Pizza. Other than their delicious pizzas, they also offer a variety of foods perfect for movie or date nights, such as tacos, chicken wings, and ice cream desserts.
Whether you want a whole pizza for the family, friends, or yourself, they have it in many options: cheese, barbeque, and steak. They also have gluten-free and vegetarian options. To go with your delectable pizza, you can order a root beer, wheat beer, Italian beer, or sodas.
Price: $
Address: 900 Main St, Buffalo, NY 14202
Phone: +1 (716) 883-2323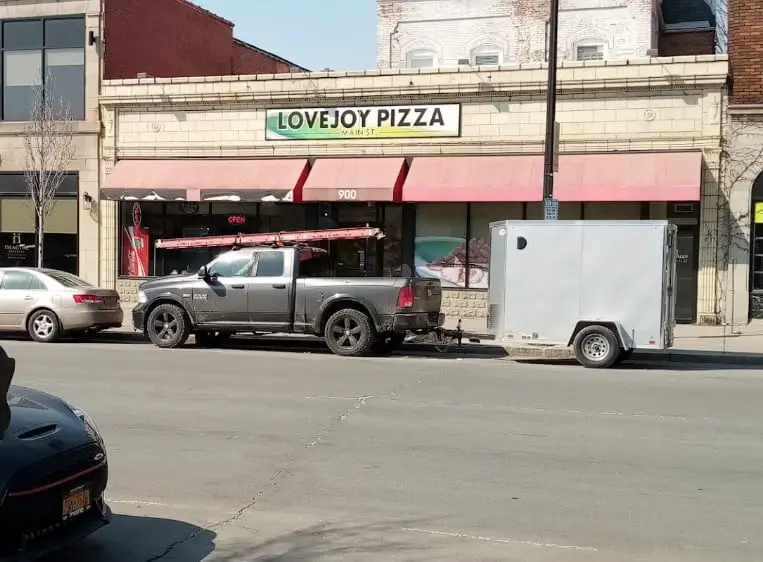 Lovejoy Pizzeria is a one-stop shop for all of the snacks you want to try out. They have pizza, wings, fries, tacos; you name it. Along with that, they also have Italian dishes such as stromboli and calzones.
They have many specialty pizzas, such as 'The Ultimate Veggie Pizza,' perfect for those who do not eat meat. You can get a single slice of pizza and partner it with wings, tacos, or subs. For such a low price, you will surely be satisfied.
Price: $
Address: 300 Elmwood Ave, Buffalo, NY 14222
Phone: +1 (716) 883-5650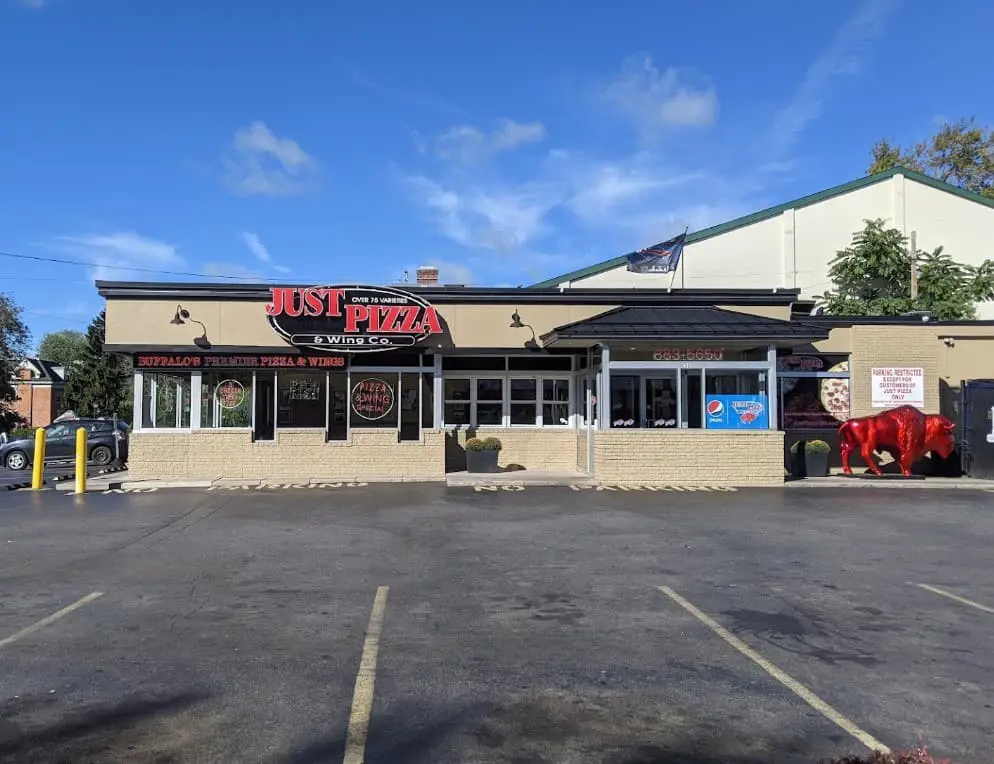 Just Pizza has been serving families and businesses with their delicious and flavorful pizza since 1992. Over the years, they accumulated a total of 75 pizza options and over 25 varieties of sauces for their famous chicken wings.
The ingredients in their kitchen are fresh and sent out daily to their various locations to ensure quality and suitable, fresh taste. They also do not use frozen pizza dough and always make it new every day.
Price: $
Address: 1153 Kenmore Ave, Buffalo, NY 14217
Phone: +1 (716) 877-2720
Franco's Pizza is known for its delicious square-shaped pizzas. They offer many pizza, salad, sub, and wings. Most of their famous pizzas are the Chicken Bacon Ranch and Philly Cheese Steak. They also offer a gluten-free pizza, perfect for those who have gluten allergies to enjoy.
They are available for online orders and fast deliveries. However, if you choose to eat at their restaurant, you will be greeted with hospitable and excellent service.
Price: $
Address: 677 Ridge Rd, Buffalo, NY 14218
Phone: +1 (716) 827-8750
If you are craving cheesy pizza, check out Broadway Bobby's Pizzeria. They are a one-stop shop for pizza, subs, chicken wings, salad, etc. This pizzeria is perfect for satisfying your craving for delicious and greasy foods.
One of their most famous pizzas is the '5 Cheese Steak Pizza', topped with steak, sweet pepper, garlic crust, and five different kinds of cheese. If this is your kind of jam, check them out. You can even combine their pizza as a whole or as a slice with their saucy chicken wings or their thirst-quenching sodas.
Price: $
Address: 1965 Seneca St, Buffalo, NY 14210
Phone: +1 (716) 826-8406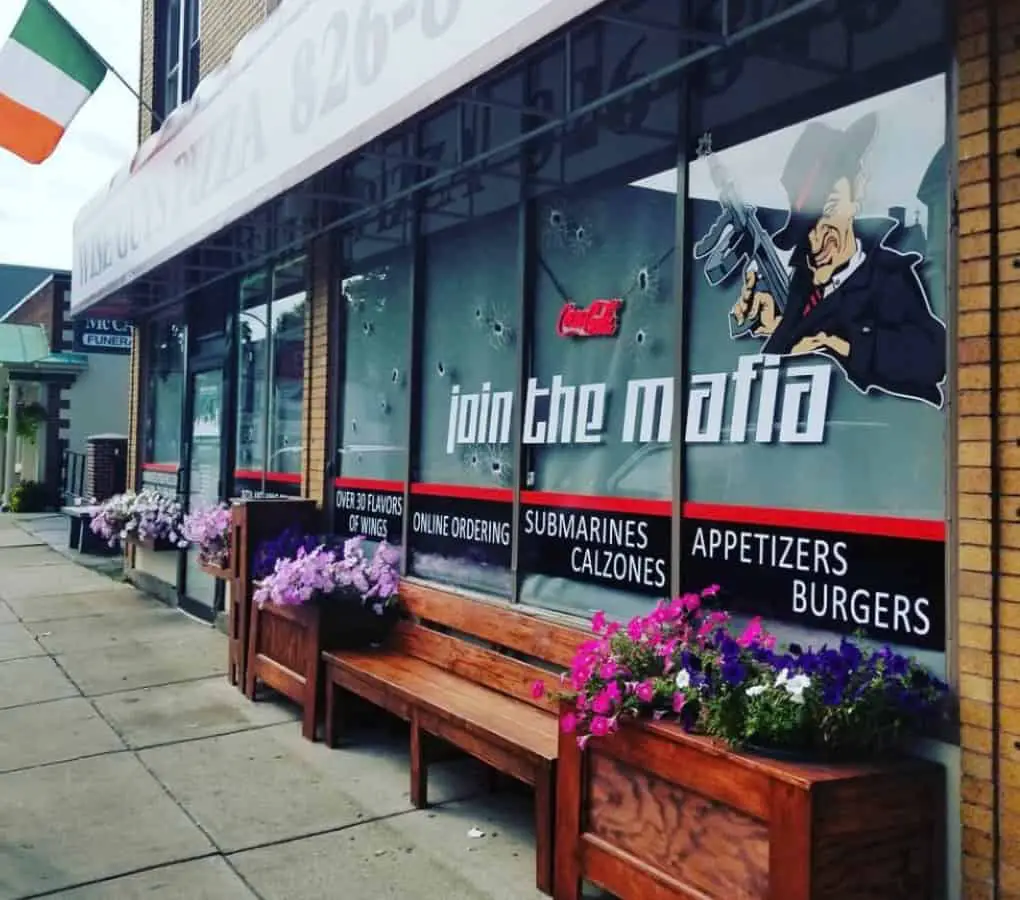 Located at the heart of South Buffalo, Wise Guys Pizza has been serving Seneca Street for twenty-five plus years. They are a family-owned restaurant that has been offering various pizzas, salads, subs, and thirty flavors of chicken wings.
To satisfy their customers fully, they have gluten-free and vegetarian options. One of their most beloved pizza is the 'Tony Soprano.' It's a beer cheese-based pizza with spicy chicken, mozzarella, provolone, sun-dried tomatoes, and a glaze of 1841 Irish Ale.
Price: $
Address: 35 North St, Buffalo, NY 14202
Phone: +1 (716) 881-2454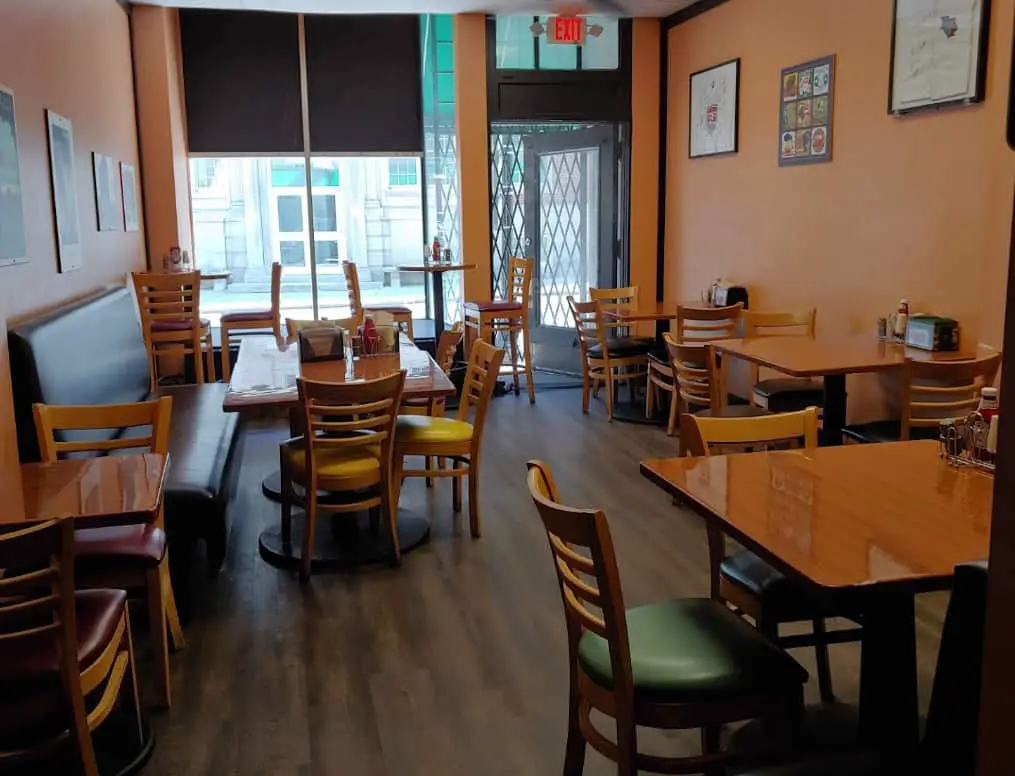 Chuck's has been serving great pizza and service since 1985. The idea came to the owner Chuck as he and his buddies played poker and looked for a great pizza to eat. For almost forty years, they have been serving various dishes such as submarines, chicken wings, and pizzas.
They have many specialty pizzas such as Beef on Weck, a pizza with kummelweck crust, and a horseradish side dish. They also have a more mainstream option such as Chicken Finger pizza, topped with blue cheese, hot sauce, and chicken fingers if that's not for you.
Price: $
Address:2154 South Park Avenue, Buffalo, NY 14220
Phone: 716-823-6228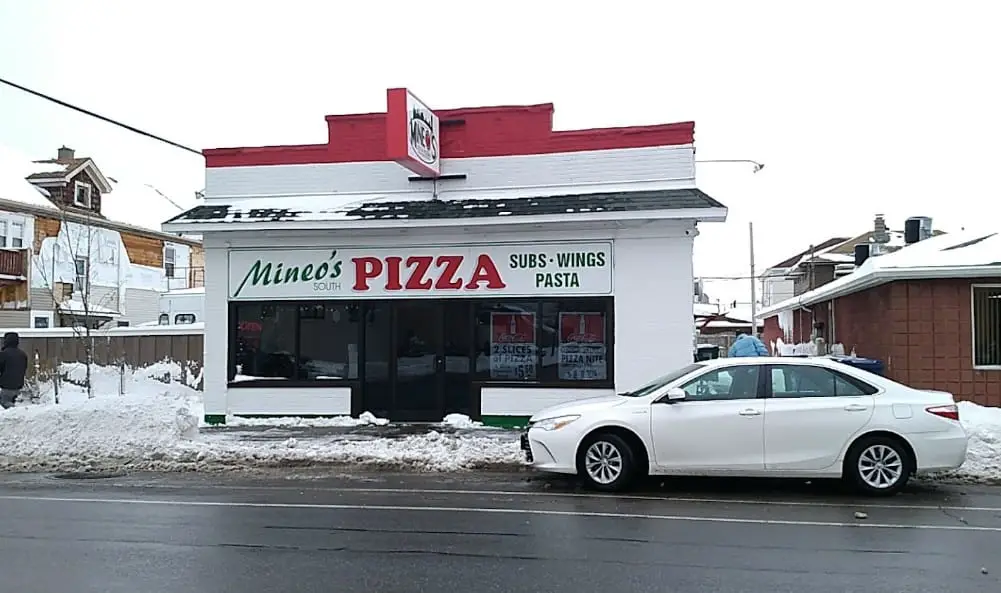 Since the 1980s, Mineo's South Pizzaria has been serving South Park Avenue with its fresh and tasty pizza. They strive to serve pizza without compromising the health and quality of their lovely customers. They handpicked and chose the right ingredients every day to ensure the freshness of their food.
They have multiple specialties, but one of their most popular ones is their 'Stinger Pizza.' With the pizza topped with olive oil mixed with spices, sirloin steak, chicken fingers, and cheese, you will surely satisfy your craving all at once.
Price: $$
Address: 345 Amherst St, Buffalo, NY 14207
Phone: +1 (716) 447-0165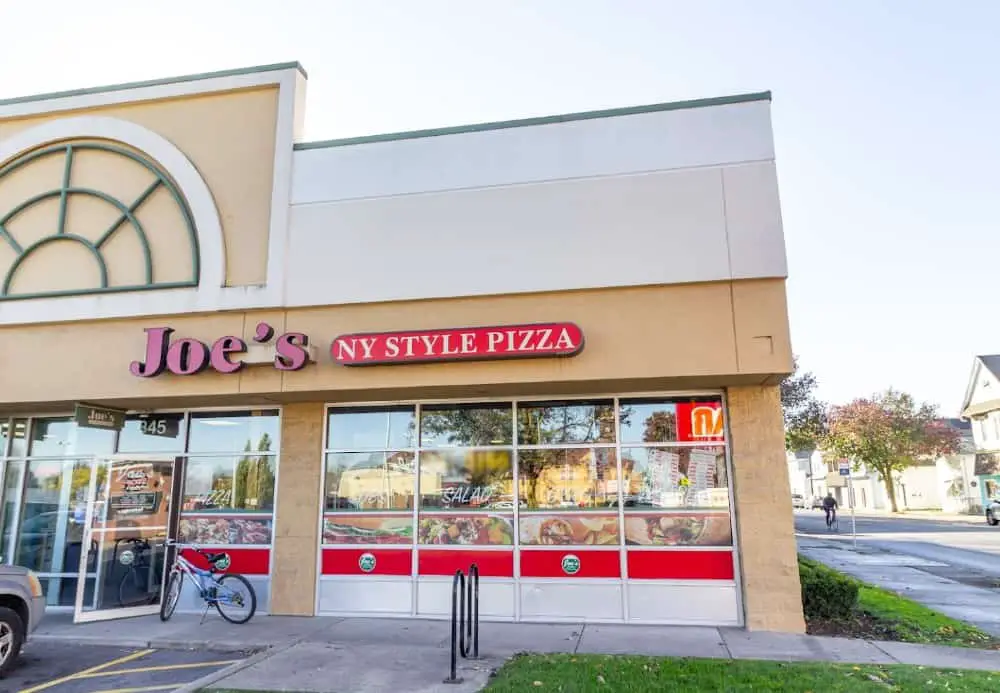 With over fifteen pizza toppings and flavors to choose from, your next favorite pizza can be at Joe's New York Style Pizza. They have many pizzas to choose from, ranging from meats, vegetables, and cheeses.
One of their famous specialty dishes is the Stuffed-Steak Pizza, stuffed with many juicy steaks, onion, sweet peppers, and two kinds of cheese. You can ensure that it's meaty, saucy, and packed with flavor, whatever option you choose.
Price: $$
Address: 307 Bryant St, Buffalo, NY 14222
Phone: +1 (716) 881-7592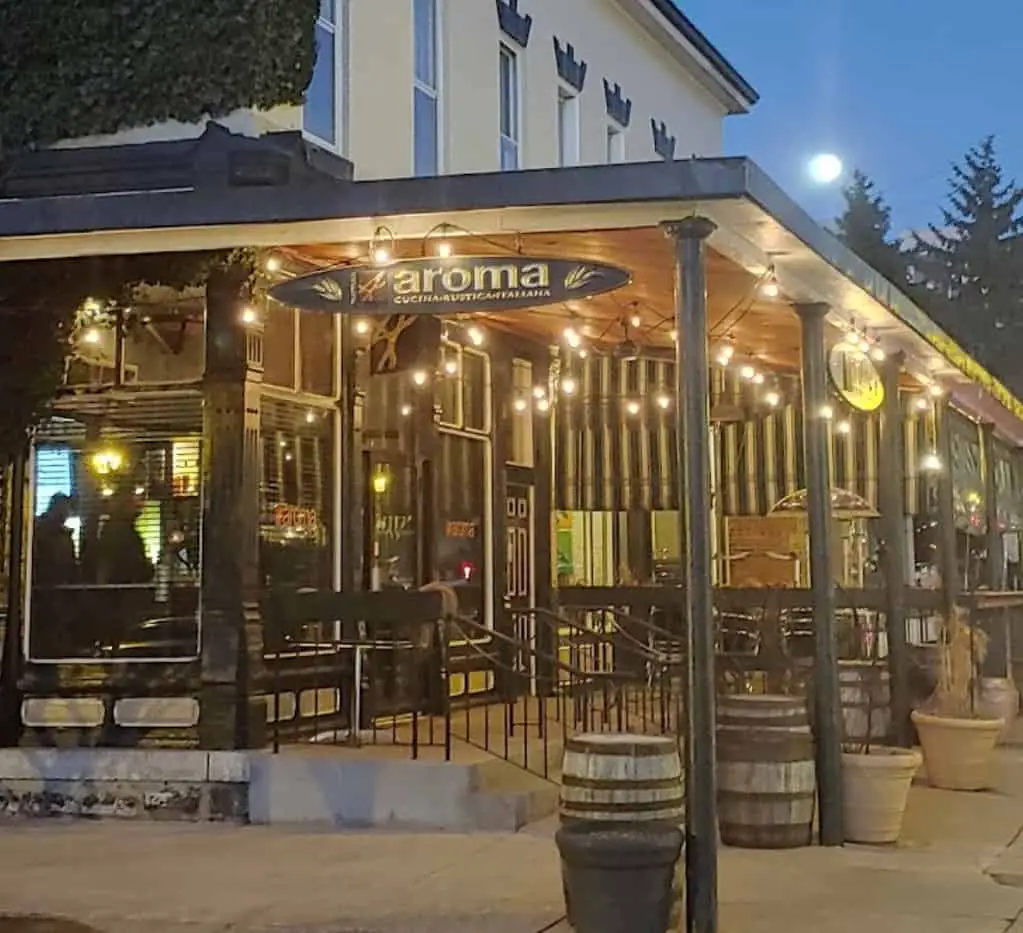 If more of an authentic and homey pizzeria is what you are looking for, you can try out the Trattoria Aroma. They offer many Italian dishes in a warm and cozy fine-dining atmosphere and presentation. Despite their bougie appearance, they have very affordable prices for their pizza.
You can taste their Funghi pizza for just twelve dollars with its pancetta crust and toppings of roasted mushrooms, sweet caramelized onions, truffle oil, and fontina. Along with their award-winning wine, you are in for a relaxing date or treat for yourself.
Price: $$
Address: 5199 Sheridan Dr, Buffalo, NY 14221
Phone: +1 (716) 839-4960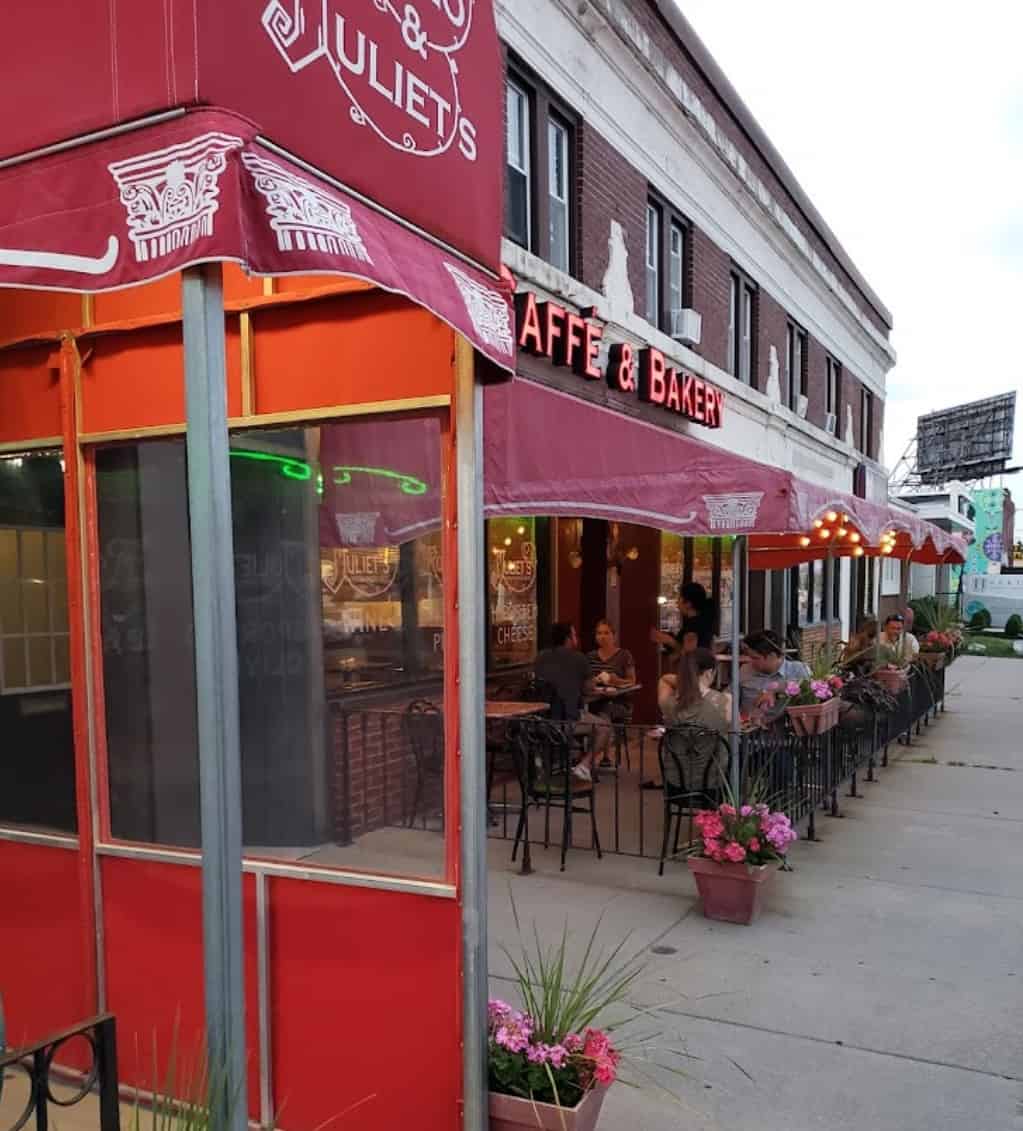 If you want a place where you can indulge yourself in your cravings for pizza and Italian cuisine, look no further than Romeo and Juliet's Café. They have ravioli, pasta, lasagna, and parmigiana other than pizza.
They have various you can choose from cheesy pizza with their Quattro Formaggi, topped with four delicious types of cheese. If cheesy is not for you, they also have a Pepperoni and Mozzarella pizza, one of their best sellers.
Price: $
Address: 904 Abbott Rd, Buffalo, NY 14220
Phone: +1 (716) 844-8496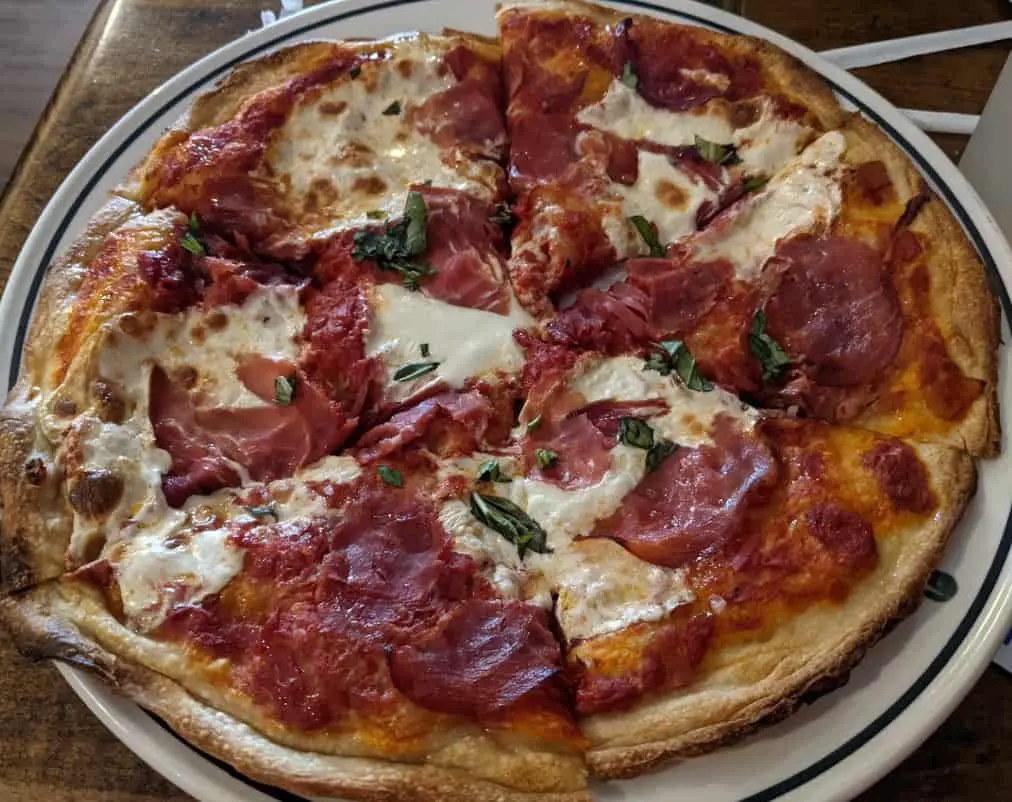 Gourmet Italian food for a low price? Well, check out Brick Oven Bistro. They have many options perfect for brunches, lunch, and dinner. But, of course, pizza is their number one best-selling item.
You can get a mushroom pizza if you prefer a no meat option. It's topped with sherry mushrooms, mozzarella, goat cheese, and a hint of garlic oil. Their meaty 'The Big Time Spark Pizza´ is also very popular with its overloading of bacon, sausage, and pepperoni.
Price: $$
Address: 1545 Hertel Ave, Buffalo, NY 14216
Phone: +1 (716) 836-5411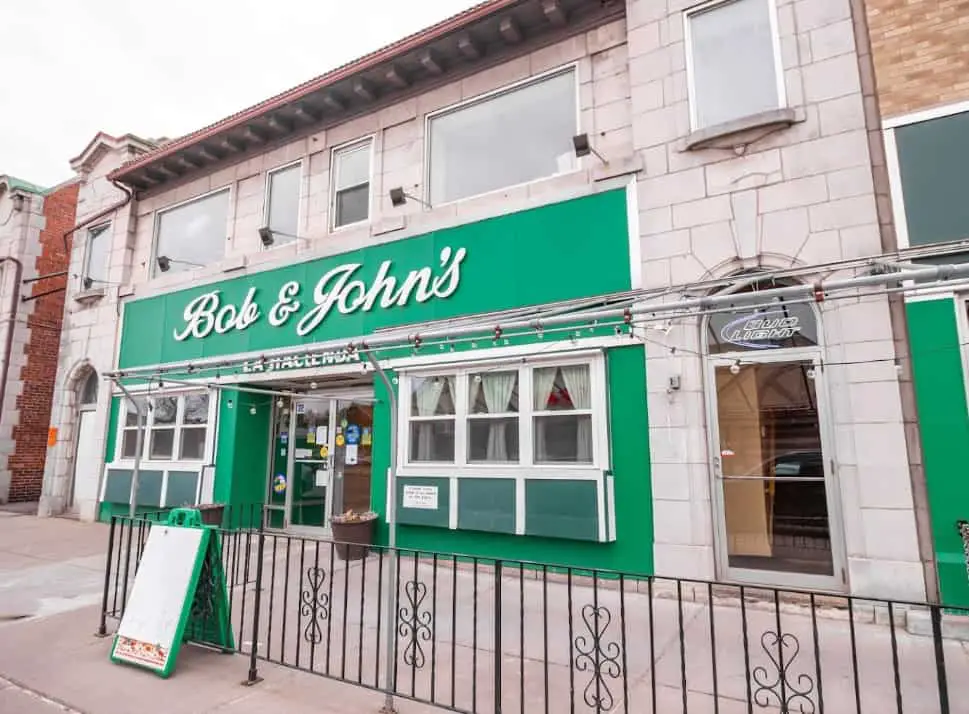 Bob and John's La Hacienda has been a staple in the Northern parts of Buffalo since 1972. For almost half a century, they have been serving Italian dishes such as pizza and stromboli. Their time in the industry has been a testament to their quality service and tasty food.
Their menu can range from the standard options such as cheese and pepperoni. However, they also have unique menu items such as their signature garlic bread pizza, Mexican pizza, and steak pizza.
Price: $$
Address: 59 Allen St, Buffalo, NY 14202
Phone: +1 (716) 834-4000
Giacobbi's Cucina Citta is looking forward to serving their old and precious family recipes as a family restaurant. They offer a dining menu filled with delicious and hearty Italian meals. Besides pizza, they also offer pasta, parm, paninis, and pastina. All of which are inspired by herbs, spices, and other ingredients commonly used in Italian cuisine.
If a fine dining experience with a wide range of appetizers, entrees, and pizzas, is what you are looking for, check out Giacobbi's.
Price: $$
Address: 1614 Hopkins Rd, Buffalo, NY 14221
Phone: 1 (716) 689-2345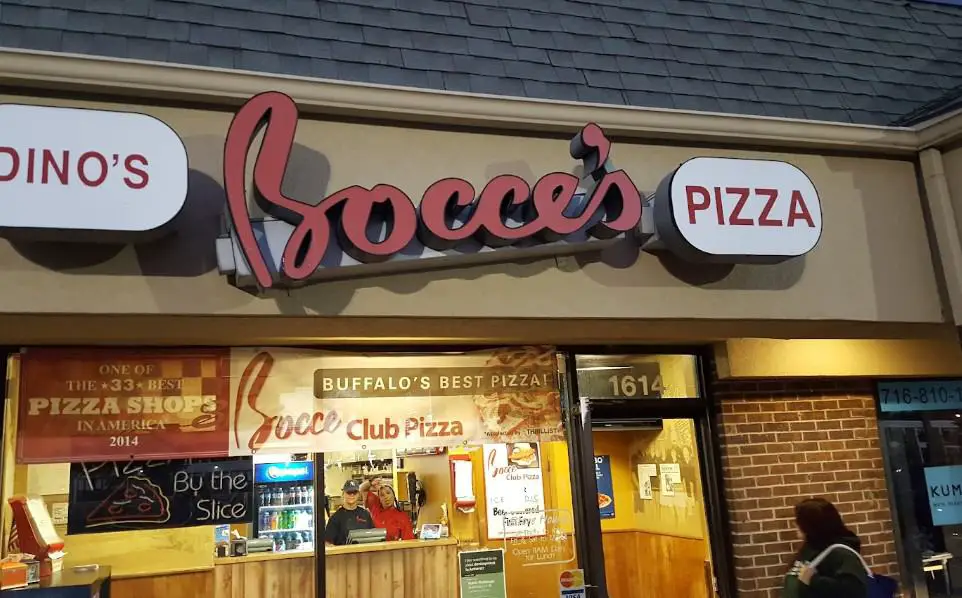 Since 1945, Bocce Club Pizza has been serving Hopkin Road. The time they spent in the food industry for almost eighty years is a testament to their great food and tasty pizzas. Their ingredients are high-quality, from their whole milk mozzarella to their hand-stretched and freshly made dough.
Their famous Bocce Deluxe pizza has been one of the cornerstones of the restaurant. The crust is perfectly cooked, with cheese, pepperonis, anchovies, and mushrooms. Most of their menu is pretty standard and sticks to the old traditional way of their resto.
Price: $$
Address: 166 Chandler St, Buffalo, NY 14207
Phone: +1 (716) 393-4353
Tappo Restaurant and Thin Man Brewery have been combining two items that are match-made in heaven: beer and pizza. Other than their delectable and flavorful pizza, Tappo's also offers freshly brewed craft beer just next door. If that's the perfect combination for you, you should try it at Chandler Street.
They have the standard cheese pizza, but they also offer many specialized ones. Most of their recognizable dish is the 'Classic Breakfast Pizza,' topped with scrambled eggs, bacon, cheddar, mushroom, and mozzarella. It's a combination of a snack and a filling breakfast all in one dish.
Price: $$
Address: 5151 Main St, Buffalo, NY 14221
Phone: +1 (716) 634-5151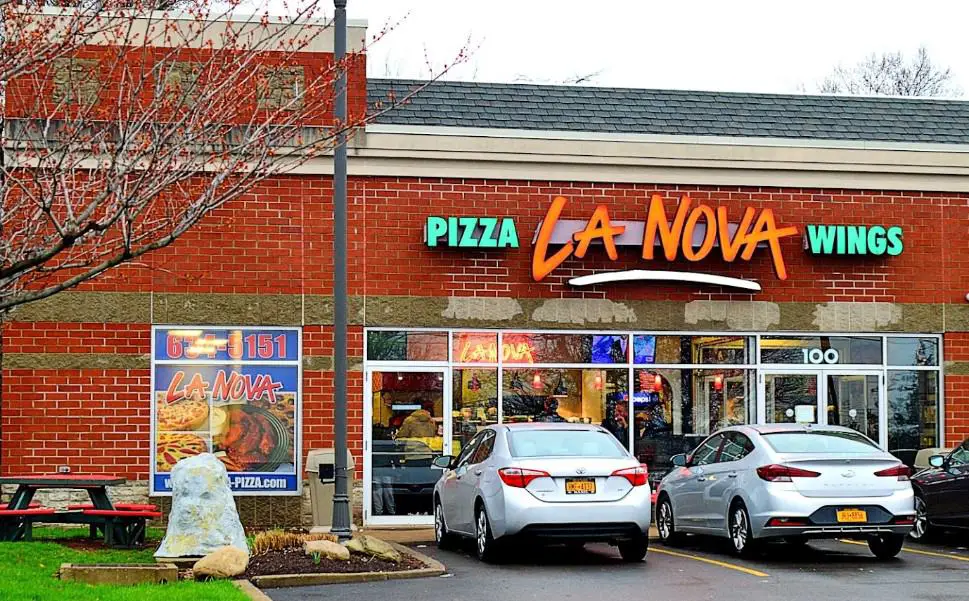 La Nova has been serving the United States for over forty years. They have been one of the biggest independent pizza chains in the country. Fortunately, you can also try their iconic signature pizzas at Buffalo, New York.
They have many options that have been cultivated over years of experience in the food industry. The 'La Nova Classic' is on their famous pizzas, topped with pure mozzarella and Italian sausage, capicola, mushroom, black olives, and banana peppers. Combining a single slice pizza with their saucy and juicy wing has been one of their most common combos for over forty years.
In Conclusion
There are many excellent pizza restaurants around Buffalo. We hope this list of the nineteen best pizza places in Buffalo, NY, serves you well in your next food endeavors.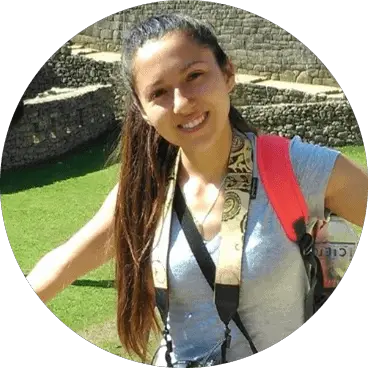 Kathryn's love for pizza started when she was still young. When she was young, she's been a picky eater–that's what her Mom used to say. The only food that she enjoyed and loved was pizza–until now! Her love for pizza turned into a passion!