Craving some pizza, yet you are done with the same old, traditional pepperoni and cheese? Let's try to switch things up. We have a list of unique and delicious easy-to-make biscuit pizza recipes.
These biscuit pizza recipes are an excellent option for those short on time yet still wanting to impress their guests with a homemade meal. It is perfect for any occasion. Your family and friends will surely love this!
This biscuit pizza recipe is a game-changer! The flaky, buttery crust of the biscuit adds a whole new pizza experience. As we use the Pillsbury buttermilk biscuits for this recipe, we have some tips to make it even better:
Keep the biscuits refrigerated until before preparing them to bake. It is easier to pull apart the layers when they are cold.
Serve this biscuit pizza recipe with either of these dipping sauces: ranch dressing, barbecue sauce, or marinara.
So, if you want an exciting way to enjoy pizza, try this flaky biscuit pizza recipe!
2. Monaco Pizza Biscuit Pizza
Let's stray away a bit from the traditional pizza sauce. Having this Monaco pizza will change your perception of pizza sauce! What makes this recipe stand out among the list is its sauce, the Monaco sauce gives a tangy and savory blend giving a unique twist to the pizza. Monaco sauce is a mix of Worcestershire sauce, ketchup, and spices.
The biscuit crackers give the pizza a flaky and crispy texture, which is the perfect base for the Monaco sauce. You can add your favorite toppings that will be a perfect blend to the tangy kick.
Have you ever had a chicken alfredo? Not in pasta, but on pizza– yep, you read it right, this recipe is a flavor explosion that will keep you coming back for more.
Creamy alfredo sauce and tender chicken are always classic on pasta; let's see how it would taste on pizza. Topping the creamy alfredo sauce and tender chicken on a flaky biscuit crust brings your pizza experience to a whole new level.
Surprise yourself with this chicken alfredo biscuit pizza recipe. [27 Best Chicken Alfredo Pizza Recipes]
4. Sausage Gravy and Biscuit Pizza
Have you had a pizza that's perfect for breakfast? Well, here you go– the sausage gravy and biscuit pizza, and it is also perfect for brunch or dinner. The sausage gravy and biscuit pizza is a must-try and easy to make.
Its biscuit dough is fluffy and tender and gives the pizza a buttery flavor. It uses savory sausage gravy and melted cheese for its toppings, which creates a perfect balance of flavors and textures that makes you want more.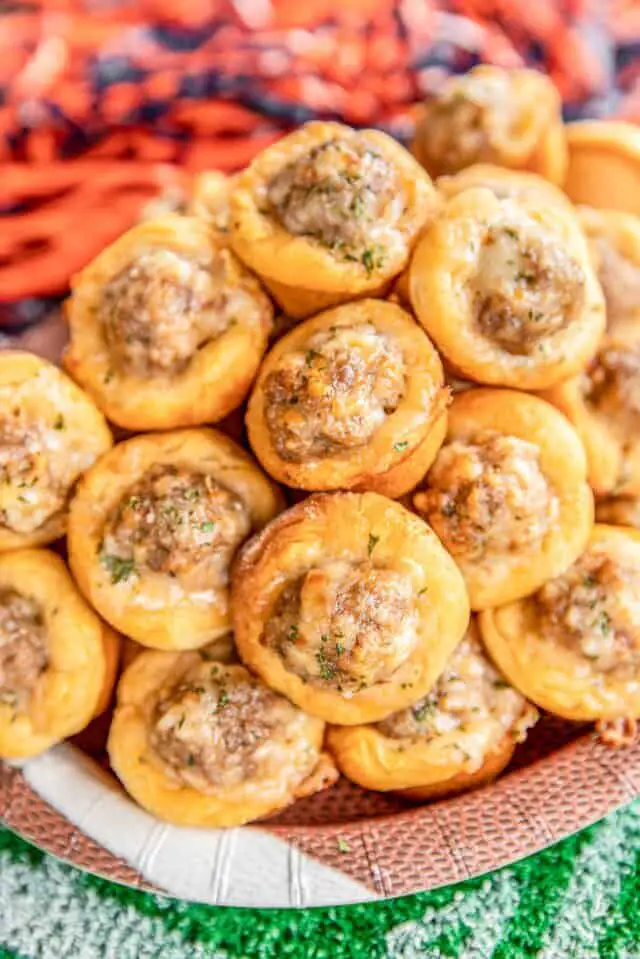 Do not miss this sausage pizza biscuit bites! If you are hosting a party or looking for a great appetizer for dinner, this pizza bite is a must-try.
All you need is the biscuit dough and your favorite pizza toppings– sausage, and some cheese. Simply roll out the biscuit dough, cut it into small circles, add your toppings, and bake to golden perfection.
What I like about this recipe is its flaky biscuit crust that makes it enjoyable to munch, and its savory sausage and melted cheese that is irresistible. When these pizza biscuit bites are on your table, surely you cannot resist!
Make sure to remember the cooking notes for this recipe: do not pre-cook the sausage. You have to use a raw one and let it bake along with the biscuits.
6. Grilled Mini Biscuit Pizza
We always had pizza from the oven, but have you tried one that is grilled? At this point, I can say pizza could be anything that we want. Grilling the biscuit dough gives these mini biscuit pizzas a smoky and charred flavor which makes it harder to resist.
The recipe introduced the classic pepperoni and basil toppings, but you can be creative with this dish. You can add the toppings of your liking, some love to add prosciutto and figs to their grilled mini biscuit pizza.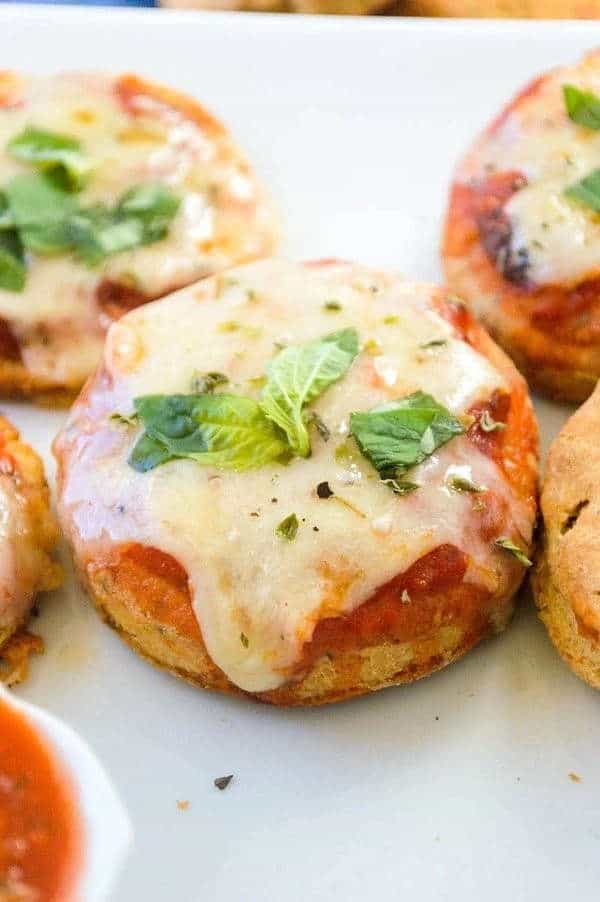 This recipe is a game-changer when it comes to pizza night. Not only are they delicious and easy to make, but they are also a healthier option since they are made with whole grain biscuit dough. The whole grain biscuit dough gives these pizza biscuits a hearty and satisfying texture that will leave you feeling full and satisfied.
The combination of whole grain biscuit dough, tomato sauce, and melty cheese is a winning combination.
8. Canned Biscuit Bubble Up Pizza
What I am excited about this biscuit pizza recipe is how the pockets of air create a bubble between the biscuit dough. How you cook the pizza in this recipe is different. Instead of placing the toppings on the dough, you will cut the biscuit dough into quarters and place them on a pan.
You have to make sure that there are spaces between the dough to allow air to make a pocket. The recipe suggests you can have the toppings of your liking. But, you might want to try the recipe owner using salsa instead of pizza sauce, and toppings of taco meat, cheddar cheese, and sliced jalapeños.
This pizza recipe will surely become your new favorite. You only have to take out an iron skillet and place the biscuit dough and ingredients on it, and viola– you have your pepperoni bubble pizza.
Make sure to cut the biscuit dough in quarters and allow a bit of room for the dough to expand. You can also place the pepperoni on top of the cheese and overlap the pepperoni at about ¼ inches to create a hearty meal.
10. Non-Fire Biscuit Pizza
This delectable biscuit pizza is the easiest to bake on this list. You do not have to preheat the oven or spend time waiting for the dough to rise. It only takes a few minutes of your time, so if you are in a rush, but loves to have a pizza, this non-fire recipe is for you.
Non-fire biscuit pizza recipe only uses canned biscuits, you only have to assemble the ingredients on top. The toppings in this recipe are somehow healthy, it uses grated carrots, oregano, and coriander.
Some love to add more flavorful toppings to this biscuit pizza recipe, such as mushrooms and artichoke hearts.
This is what we want, a pizza with a fluffy and tender crust with overflowing classic pizza toppings. What makes this pizza recipe stand out is its deep dish crust. I like how crispy it is on the outside, yet soft and creamy on the inside.
The biscuit dough gives the pizza a delicious buttery flavor making it more satisfying. You can see classic favorite toppings like pepperoni and sausage in this recipe, but if you want to be creative and bring your pizza experience to a whole new level, add your favorite ones!
And because the recipe had it on minis, you can have one or two (or three!) without feeling guilty.
Pizza, but in a casserole? This recipe preparation is somehow the same as bubble pizza. But, the biscuit dough is evenly put out on the pan. I am amazed by the toppings for this biscuit pizza recipe, as it uses a chunk of ground beef.
Plus, it is loaded with three cheeses, creating a perfect marriage of flavor.
This pizza casserole is a unique and delicious meal that you can surely enjoy with your friends and family.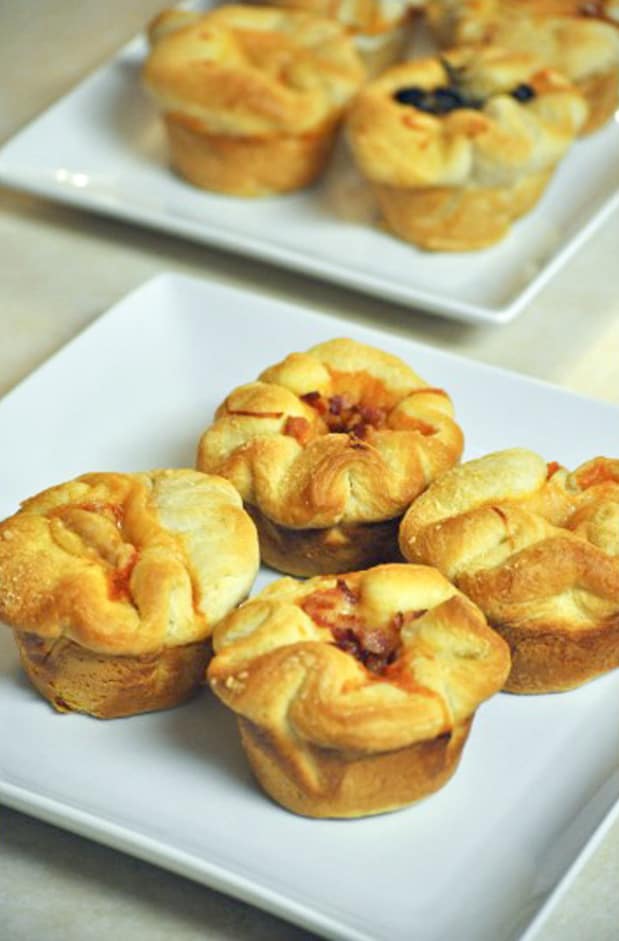 Nothing goes wrong with garlic parmesan, everyone loves it! But what would it taste like on pizza? Well, let's try it and experience the savory twist of garlic parmesan on pizza.
The pizza biscuits are fluffy and tender, a perfect base for your favorite toppings.
Besides this, let's talk about how it is presented on the table. This garlic parmesan pizza biscuit recipe is shaped into a cup-like. It makes it easier to eat and savor the toppings of the pizza in this shape.
Most pizzas we have are tangy or salty, but have you had a pizza that is sweet and creamy? Baby buttermilk biscuit dough adds a rich and creamy flavor, and soft and fluffy texture to the pizza. You would love how fluffy and tender the crust is.
You can have the classic pepperoni and cheese for the toppings, but if you want to take it to a whole new level, go for your favorite toppings. Everything blends perfectly in this recipe. So, create a savory and flavorful experience with every bite.
Final Takeaway
We finally found a way to satisfy our pizza cravings without the hassle of making homemade crusts! What makes me more amused with these biscuit pizza recipes is you can pour out your creativity, just like the chicken alfredo and garlic parmesan on the list. There are endless possibilities to make biscuit pizza recipes to another level!
14 Biscuit Pizza Recipes
Directions
Select your favorite recipe.
Organize all the required ingredients.
Prep the recipe in 30 minutes or less!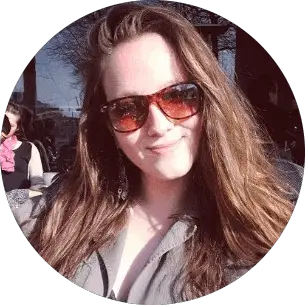 Barbara is an enthusiastic food-exploring person that goes through different culinary experiences. She got inspired by creating a pizza blog post after she tasted one of the best-selling pizzas in Toledo.