Do you love trying new food? Are you excited to cook new dishes at home? If you answered affirmatively, you've arrived at the perfect place. The following article comprehensively answers the inquiry, "What is Boston Style Pizza, and how can you make it?" You'll gain insight into its origins and discover the crucial components that contribute to its uniqueness.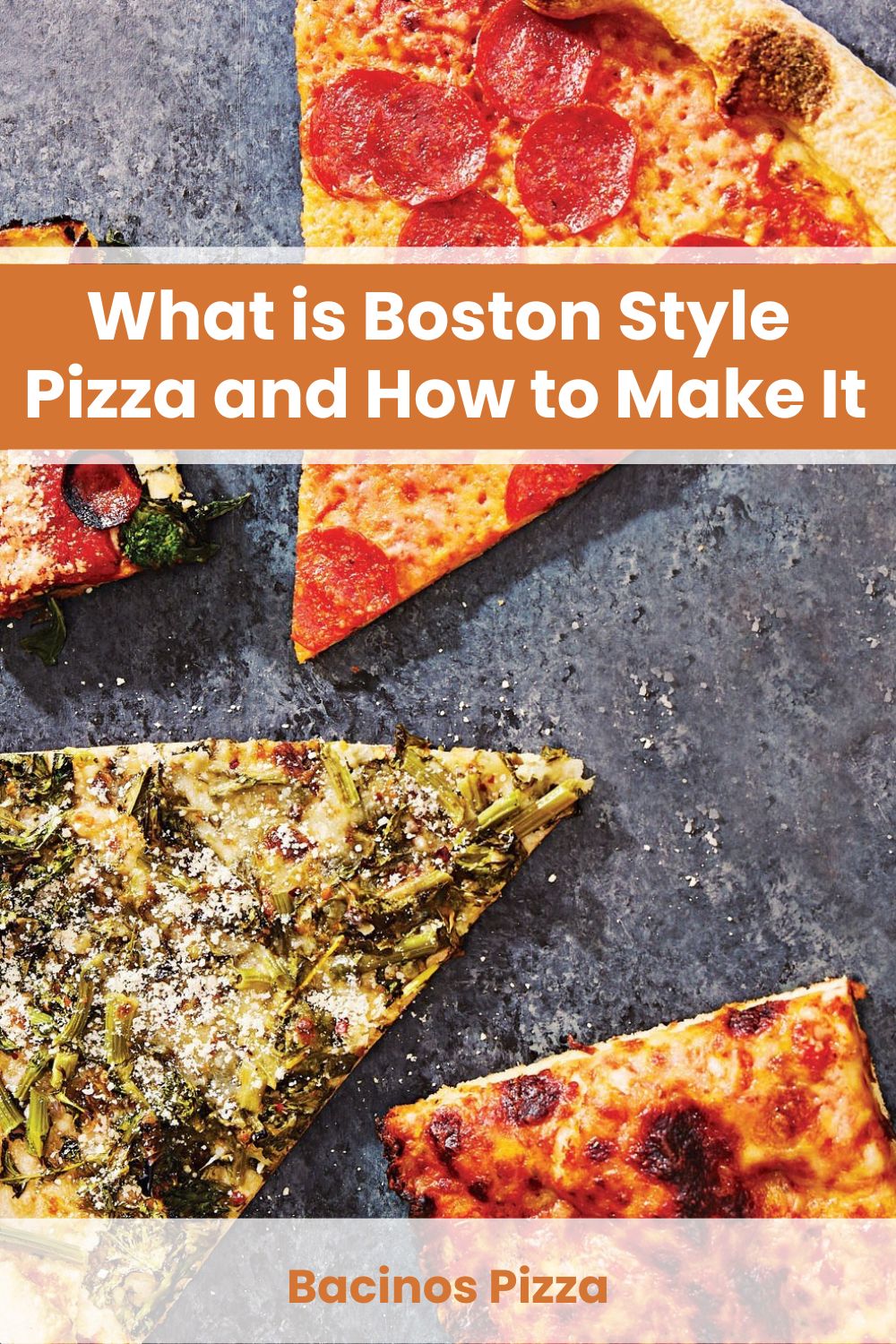 What makes a Pizza Boston Style?
Boston-style pizza has a crispy, thin crust made from high-gluten flour. Its slightly gritty texture sets it apart from other kinds of pie.
But the crust is just the beginning. This dish sticks out from the crowd because of its special flavorings. Unlike traditional Italian cuisine, Boston-style pizza sauce uses canned tomatoes, garlic, and basil. It has a unique tangy and sweet taste.
Why is it called Boston Pizza?
You can trace Boston-style pizza's roots to Greek cuisine. In the early 1900s, immigrants from Greece began opening pizza shops in the Boston area. These restaurants put their own spin on traditional Italian fare. They used unique ingredients and developed cooking techniques to create a distinctly Greek-American dish.
What makes Boston-Style Pizza special?
Pizza is a universally beloved food, but there's something truly special about the Boston-style pie. It stands out in the following ways:
Characteristics of the crust
Boston-style pizza has a thin, crispy crust that comes from combining high-gluten flour and cornmeal. This exceptional blend makes it grainy and crunchy.
Boston-native chefs usually use canned tomatoes instead of prepared ones in making the pizza sauce. This ingredient gives it a tangy and sweet flavor.
Pepperoni and sausage are often the star of the show. Creative add-ons like clams and shrimp offer a delicious ocean-inspired flavor you can't find in other pizzas.
Boston-style pizza combines mozzarella and cheddar cheese. This blend gives a uniquely rich and zesty flavor profile.
Comparing Boston Style Pizza and Chicago Style Pizzas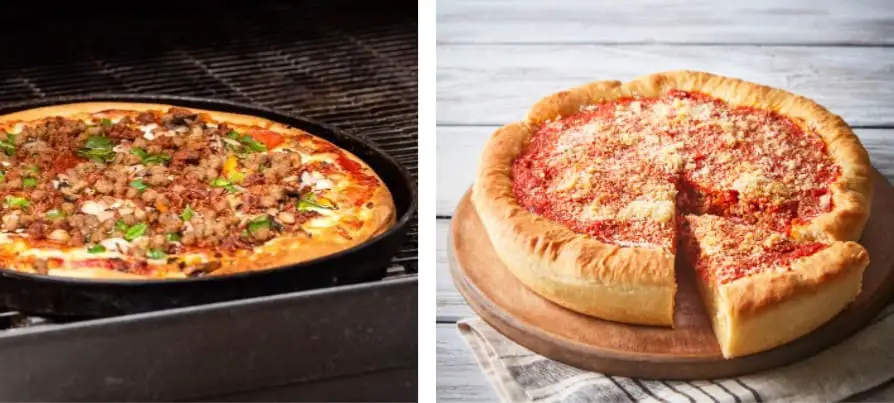 Two popular variants that often get compared are Boston and Chicago styles. Read on to know what sets one apart from the other.
Differences in Crust and Sauce
Chicago-style pizza is famous for its deep dish crust. It has a lot of butter and can be up to three inches thick. The cheese lies on the bottom while the sauce is on top. The result is a hearty, filling meal often eaten with a knife and fork.
On the other hand, Boston-style pizza has a thinner, crispier crust. The sauce comes from fresh tomatoes, making it zestier.
Toppings
Both variants offer classic add-ons like pepperoni and sausage. However, the Chicago style tends to have more hearty fillings like meatballs and Italian sausage.
Aside from the typical meat toppings, Boston-style pizza also features seafood like clams and shrimp. It also showcases Greek olives and hearty vegetable toppings like mushrooms and onions.
How to Make Boston-Style Pizza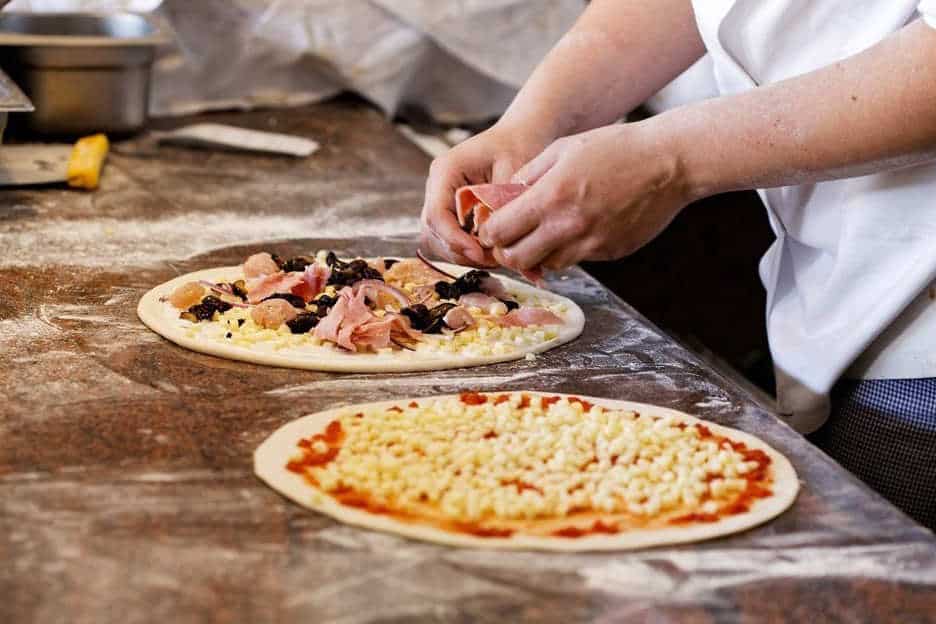 Learning about the delicious features of Boston-style pizza will definitely make your mouth water. Are you excited to try making this delicious recipe in your kitchen? Use the following instructions to guide you.
Ingredients
145 grams of thinly sliced raw mushrooms
a handful of fresh basil
65 grams of pickled hot Italian cherry peppers
1 yellow onion
1 425-gram can of whole peeled tomatoes
2 ¼ cups (540 ml) olive oil
kosher salt, to taste
freshly ground black pepper, to taste
2 balls, 350 grams each, pizza dough
175 grams of shredded mozzarella
10 slices pepperoni
semolina and all-purpose flour for dusting
Tools and Equipment
10-inch nonstick skillet
medium saucepan
measuring cups
baking sheet
food processor or blender
baking rack
oven
Procedure
Step 1: Heat the oven.
Nestle your trusty nonstick skillet inside an oven preheated to a blazing hot 500°F (260°C).
Step 2: Cook the veggie toppings.
Pour ¼ cup (60 ml) of fragrant olive oil into your chopped mushrooms and onions in a saucepan.
Heat them over medium-high until you see bubbles.
Gently ease the dial on your stovetop to reduce the heat, allowing your mixture to bubble away at a gentle simmer for a full 10 minutes.
Drain the veggies on a baking sheet lined with a paper towel.
Add salt and pepper to season them.
Step 3: Prepare the sauce.
Take those cherry peppers, basil, tomatoes, and the remaining 2 cups (480 ml) of olive oil and toss them all into your trusty blender or food processor.
Give them a whirl until the resulting blend is a perfectly smooth and velvety sauce.
Add the seasoning according to your taste and set the sauce aside.
Step 4: Process the dough.
Dust flour over each dough ball.
Knead it by pressing your fingers and shaping it into a 12-inch circle.
Lightly dust semolina flour on a sheet pan and put the dough on top.
Step 5: Dress up the pizza.
Spread 1/4 cup of sauce on each crust from the center toward the edges.
Add pepperoni, mushrooms, and onions in any order you prefer.
Sprinkle 3/4 cup of mozzarella on each pizza.
Step 6: Bake the pizza.
Take the pan from the oven and transfer the pizza onto it.
Slip your delightful creation into the oven and let it bake for 7 minutes, or until the crust has developed a firm and crispy texture and the cheese is a gooey mass of bubbling goodness.
Let the skillet cool on a baking rack for a few minutes.
Add basil leaves for garnish and serve.
Tips and Tricks for Making Boston-Style Pizza
Do you want to achieve the perfect Boston-style Pizza? We've gathered some hacks that'll make your job easier.
Buy the dough from your local pizzeria
Crafting your very own pizza crust can be challenging, especially for first-timers. To prevent any mishaps, leave it to the experts. They'd be happy making unexpected sales. Furthermore, it's an excellent means of interacting with the community. You might even get a cooking tip or two.
Preheat the oven before you start doing anything else
It might take several minutes to reach the required temperature of 500 F. It's best to turn on the oven before doing prep work. So when you're done assembling the pizza, the range is already hot.
Use the sauce straight from the can
The tomatoes will cook in the oven, so it's okay not to heat them anymore. This trick will keep your sauce tangy and tasty.
Dust the dough generously
This tip will prevent your dough from sticking to your hands and work area. It'll make kneading quicker and easier. In addition, clean-up will be a breeze since no bits and pieces of sticky flour will be left.
Test for doneness
While there's a recommended baking time, it would help if you monitor your pizza while it's cooking. You can test if it's ready by using a spatula to lift the pie's edges.
Variations of Boston-Style Pizza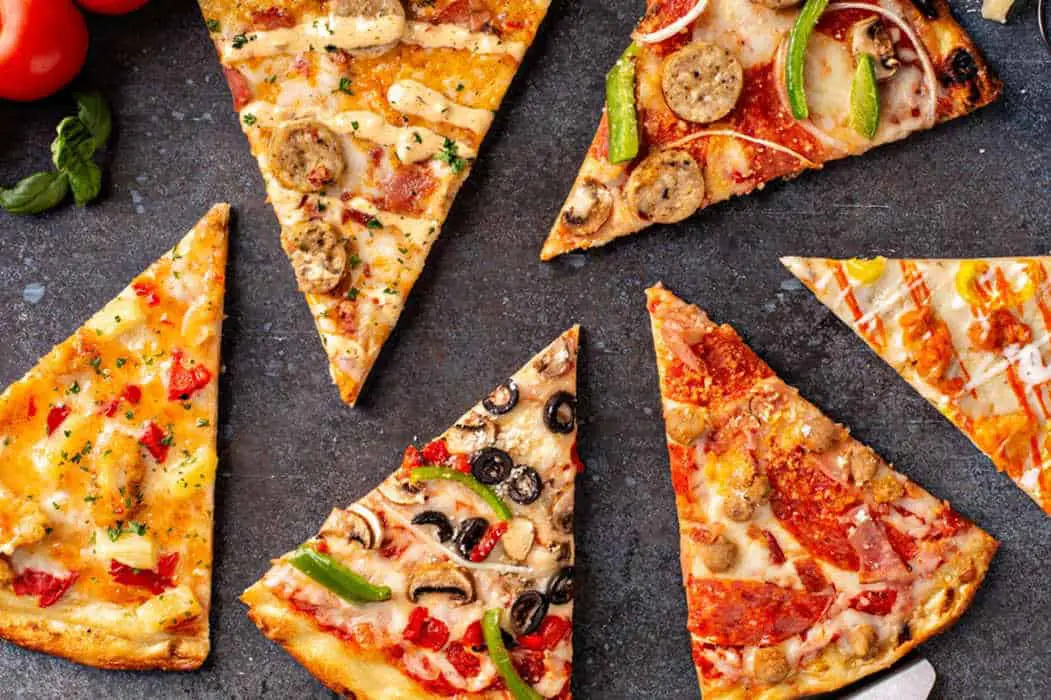 Boston-style Pizza is a versatile dish that comes in many variations. It's nice to know it has endless possibilities. Go on a culinary adventure by mixing and matching various toppings and sauces.
Here's how you can have a different pizza experience every time.
Choose various topping combinations
The key to a delicious Boston-style pizza is to balance the flavors and textures. You can do this by combining the following toppings:
shrimps, clams, and bell peppers
pepperoni and caramelized onions
bacon, ham, and mushrooms
all meat (bacon, sausage, and pepperoni)
sausage and roasted red peppers
artichoke hearts and spinach
spinach and goat cheese
Greek olives and feta cheese
all cheese ( mozzarella and cheddar)
Use alternative sauces
The sauce is essential to any pizza – especially for the Boston-style variant. While the classic tomato-based sauce is a favored option for this pizza style, numerous other mouth-watering alternatives are worth considering.
White sauce
Crafting this sauce is as simple as blending olive oil, garlic, and a selection of herbs.
It pairs well with seafood toppings like clams or shrimp and complements vegetables like spinach and mushrooms.
Pesto sauce
Gather some fresh basil, pine nuts, garlic, and Parmesan cheese to start preparing this delectable sauce. It adds a deliciously tangy and herbal flavor to the pizza. The roasted red peppers and artichoke hearts will shine when paired with pesto.
Barbecue sauce
A barbecue sauce can be a great option to add sweetness to your pizza. Mixing ketchup, brown sugar, and various spices is all it takes, and you might already have all these ingredients in your pantry. It goes well with meat toppings like chicken and bacon.
Add some spicy kick to your pizza if you're feeling adventurous. A dash of Tabasco or Sriracha can add delicious heat to your dish.
Consider vegan and vegetarian options.
Thankfully, those following a vegan or vegetarian diet can also delight in the flavors of Boston-style pizza! Use various toppings and cheese substitutes to make a dish as satisfying as any meat-based pie.
Topping options for vegans and vegetarians
mushrooms
onions
peppers
olives
spinach
artichoke hearts
roasted garlic
sun-dried tomatoes
marinated tofu
vegan sausage
Cheese substitute for vegans
cashew or almonds cheese
soy cheese
coconut milk cheese
Conclusion
The answers to "What is Boston pizza and how to make it?" serves as an inspiration to make this pie at home. It can be satisfying to recreate a restaurant-worthy meal for your loved ones. Assembling the pizza can be overwhelming at the beginning. However, following the procedures and tips to a tee, you can make your own delicious version.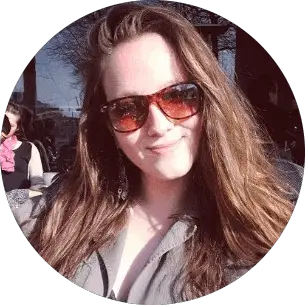 Barbara is an enthusiastic food-exploring person that goes through different culinary experiences. She got inspired by creating a pizza blog post after she tasted one of the best-selling pizzas in Toledo.