We love the salty and bright notes you get with some clam pizza recipes. Add a little garlic, light cheese, a little sauce, fresh herbs, and put it all on top of a thin, crispy crust and you have the perfect summer meal. You can load it up with clams or go heavy on the garlic, the choice is yours and it all tastes great when you bake it in a wood-fired oven.
Since we know there are hundreds of clam pizza recipes out there, we did all of the research for you. We pored over blogs, reviews, YouTube videos, YouTube shorts, looked at restaurants, and looked at different cooking methods to bring you a list of the best options. No matter if you want smoky and savory or delicate and salty, we have a pizza recipe to suit your tastes. We encourage you to dive in and find your new favorite from our list below.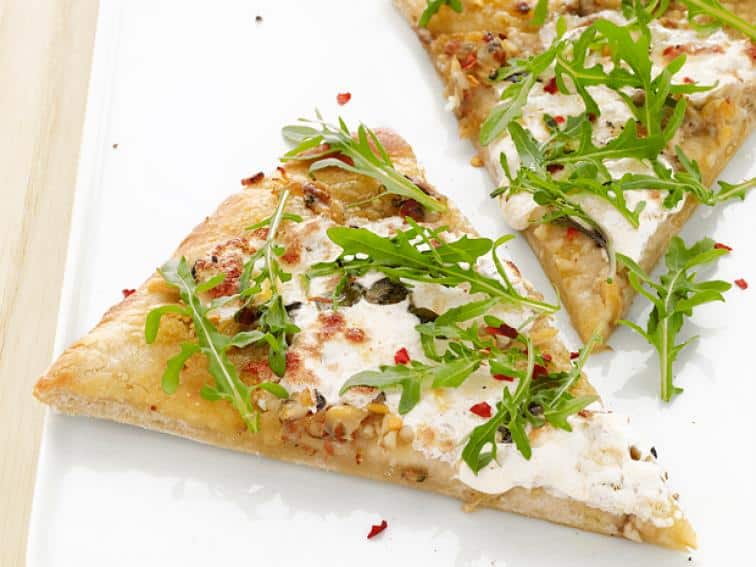 To make the first pizza, preheat the oven to 500°F, and put a pizza stone in. Mix 1/4 cup olive oil with 3 cloves of garlic and brush it over your 12-inch round dough. Scatter clams and mozzarella over the surface, and drizzle with clam juice, if desired. Sprinkle salt, parmesan, and oregano to taste and bake for 10 to 15 minutes. To finish, drizzle with lemon juice, olive oil, and arugula.
2. Garlic White Clam Pizza
You can never have enough garlic! This pizza takes that to a whole new level by mixing 5-6 cloves of chopped garlic with freshly grated parmesan. Distribute this on the pizza and top with a generous sprinkle of garlic powder, lemon juice, clams, red pepper flakes, and parsley. Pop it into your wood-fired oven and cook until the crust blisters to get a smoky flavor.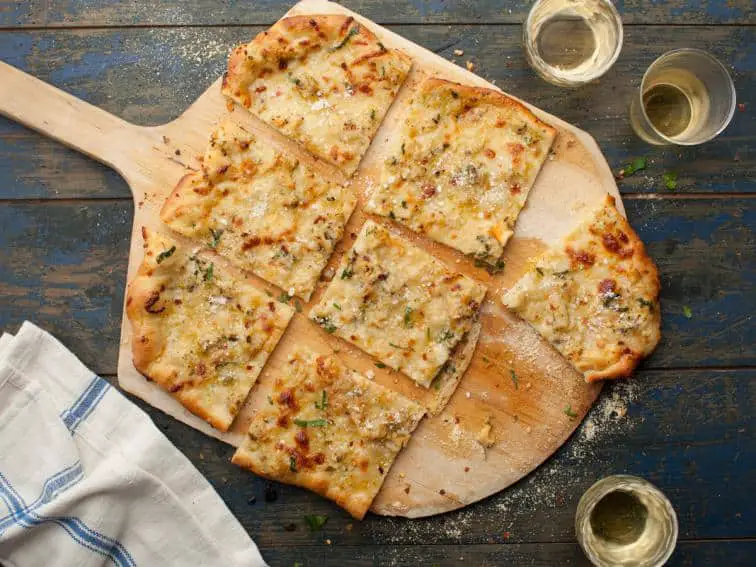 The crispy, thin crust on this pizza makes the perfect vehicle for the oregano, garlic, olive oil, clams, and cheese! Once your dough is ready, you want to stretch it really thin on a cornmeal-dusted surface to get that classic New Haven look and taste. Add the clam mixture and a light sprinkling of parmesan cheese before popping it into a 500°F oven and baking for 8-10 minutes.
4. Traditional Clam Pizza
Widely hailed as the original white clam pizza, Frank Pepe's Pizzeria's recipe features a very thinly stretched dough in an oblong shape. Then, they brush it lightly with an olive oil mixture, top generously with whole claims, and sprinkle on a light layer of pecorino cheese. To finish it off, add a glaze of olive oil and lemon juice and bake. The end result is a salty, crispy pie.
Heat up your pizza stone in a 450°F oven while mixing garlic, olive oil, and parsley in a bowl. Roll out your dough and sprinkle the parsley mixture all over it, making sure to leave a one-inch gap around the edge so it doesn't spill. Top it with your chopped clams, pecorino Romano, and red peppers. Slide it into the oven for 20 minutes to give a golden-brown and bubbly crust.
6. New England Style Clam Pizza
The broccoli rabe steals the show with this pizza. Perfectly blanched, it blends wonderfully with the clams, garlic, parsley, and thyme. You sauté them to make them fragrant, add saffron, and simmer in white wine. Pack your skillet with clams and remove the meat. The sauce is a heavy cream with clam juice. Mix until it's frothy, spread on the crust, top with clams and broccoli rabe, and bake.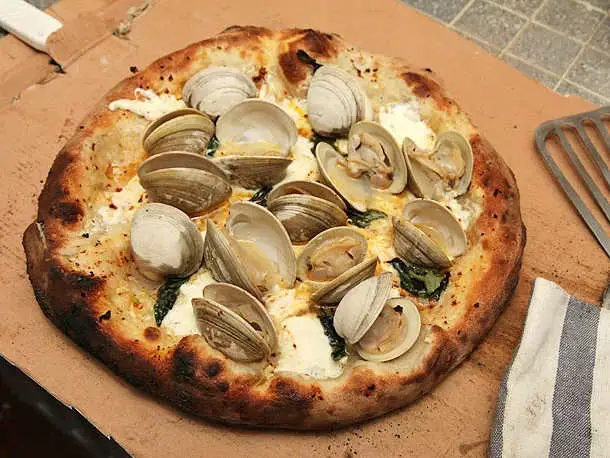 The basil enhances the clam's flavor in this pizza. It also has more cheese with a pound of fresh mozzarella and six ounces of Romano cheese. Thinly sliced garlic cloves with 12 to 15 basil leaves give this pizza a very earthy flavor. We liked to add a drizzle of lemon juice for a touch of brightness, chili flakes for a spicy kick, and olive oil to tie everything together.
8. Ree Drummond's White Clam Pizza
The Pioneer Woman's take on clam pizza is warm and nostalgic. We loved the addition of fresh herbs and cheese, and the peppers give it a wonderfully spicy kick. However, the chopped clams stole the show, especially with how generously you apply them. Make sure you stretch the crust so it's crispy and thin with small charred pockets when you bake it so it doesn't get soggy.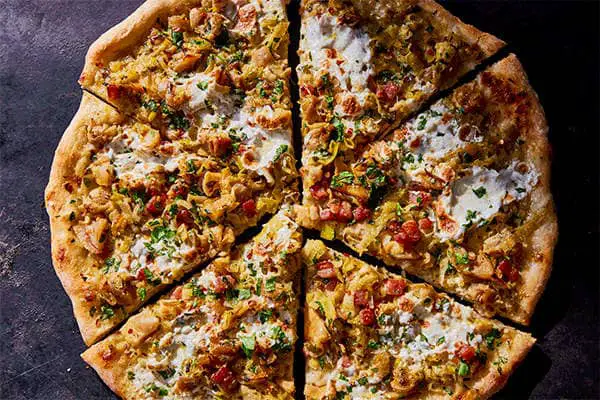 For this recipe, you combine white wine, clams, butter, bacon, leeks, garlic, parsley, heavy cream, pepper, salt, lemon, and cheese to create a filling and delicious pizza. When you get the dough stretched, top generously with the ingredients and bake. The key to this pizza is reducing the liquids to a syrup-like consistency so they don't make the crust soggy. Just make sure you don't scorch anything.
10. New Haven Clam Pie
A coating of cornmeal is the trick to getting an airy, bubbly, thin crust with this pizza recipe. They also add shredded Galbani mozzarella and freshly grated Pecorino Romano to give it a chewy texture. You want to steam the clams in white wine with onions and garlic, and save the liquid to drizzle on later to really bring out that clam flavor.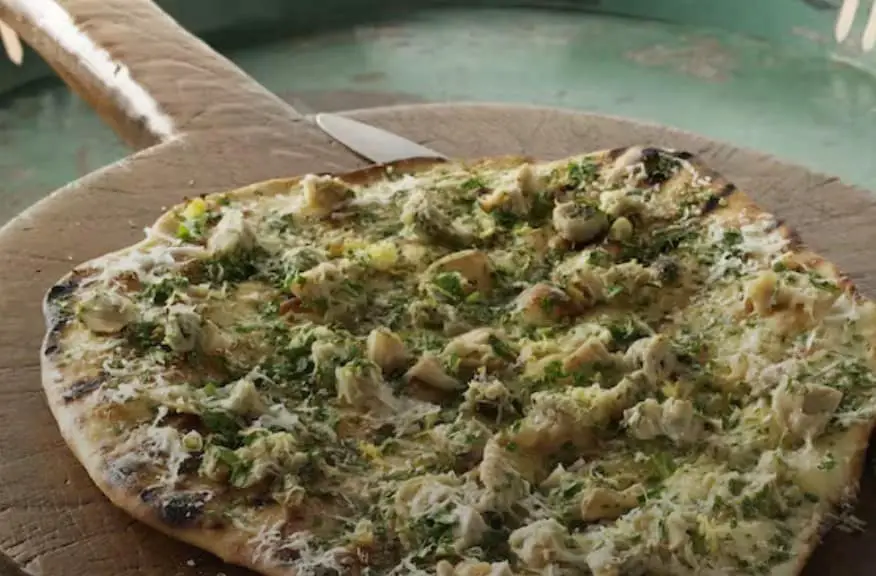 While you wait for your dough to rise, this pizza requires a mixture of clams, garlic, salt, oregano, cheese olive oil, clam juice, and lemon. You want to chop the clams down very finely and layer them on your pizza. Heat up your grill and put your pizza on the grate to give it that wood-fired taste. Slice it and serve it warm.
12. Ooni Koda 12 | Clam Pizza
When you make the crust, make it thicker so you get a chewy texture. Get a pan and caramelize your garlic and onions in butter, allowing the mixture to simmer and thicken. Drizzle it on your pizza dough, staying an inch from the edges. Next, add your clams, seasoning mix, and any cheeses you want. Put it on your preheated pizza stone and cook for 10 to 15 minutes.
Bacon goes with everything! It gives your dishes a smoky, meaty flavor with a hit of salt that can balance out lighter profiles. With this pizza, you'll make a traditional white clam recipe and add chunks of bacon you cooked to perfection. Layered with fresh mozzarella, herbs, and clams, you'll bite into the crispy crust and get an explosion of flavor.
14. Sicilian Clam Pizza
You'll make a thick, delicious red sauce as the base of this pizza instead of the traditional white with a thicker crust. Buy and mince fresh herbs, grate fresh parmesan and mozzarella, and chop up fresh clams with a sprinkle of lemon juice. Stretch your crust until you get the thickness you want, top it with your ingredients, and bake.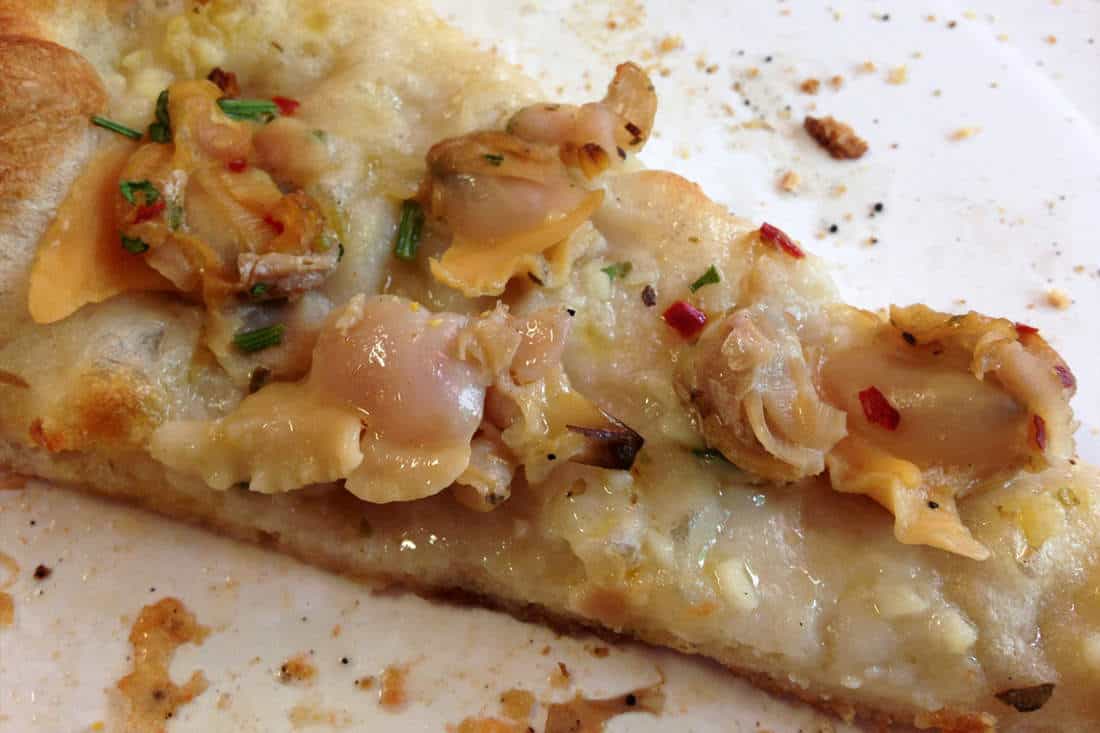 Razor clams and jalapenos make this pizza recipe stand out. We like to roughly chop the jalapenos and clams before we add them to the pizza so you get a mouthful with every bite. We also thinly slice the fresh mozzarella and stretch the dough so it's very thin because this makes it crisp up nicely. Preheating your pizza stone is another trick to get a crispy crust.
16. Flatbread Clam Pizza
Get a tortilla (we like whole wheat) and drizzle a little olive oil on it. Mince garlic to taste and put it in a bowl of olive oil. Spread this onto the tortilla, staying away from the edges. Next, add a generous amount of clams, seasonings, cheese, and spinach. Pop it in the oven for 10 minutes at 425°F to let the cheese melt.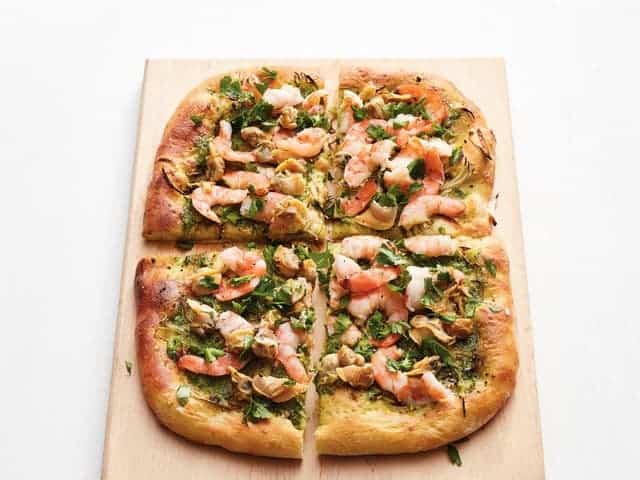 Mix a tablespoon of garlic with olive oil and bring it to a simmer in a pot before adding your fresh clams. You want to cook them until they open and then extract the meat. Allow the liquid to simmer until it reduces, chop up the clams and shrimp, pulse your parsley with olive oil in a blender, and spread it on the dough. Layer on the clams and cheese and drizzle with the garlic butter sauce.
Summary
Even if you're intimidated, our clam pizza recipes are perfect for beginners. Buy fresh ingredients, especially the clams if you can, and make your own dough. By doing so and following one of these recipes, you can create a light, slightly salty, crispy pizza that your family will ask for again and again.
19 Clam Pizza Recipes
Directions
Select your favorite recipe.
Organize all the required ingredients.
Prep the recipe in 30 minutes or less!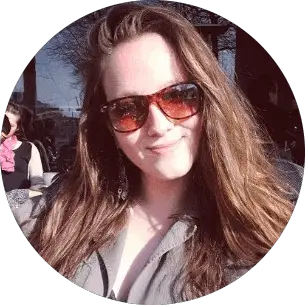 Barbara is an enthusiastic food-exploring person that goes through different culinary experiences. She got inspired by creating a pizza blog post after she tasted one of the best-selling pizzas in Toledo.