Reading the phrase 'curry pizza' might leave you scratching your head. Both curry and pizza are scrumptious on their own, but curry on a pizza?
Curry and pizza come from two very different cuisines. Curry is a mostly South Asian dish, while pizza originated in Italy.
This combination of different cuisines makes curry pizza a kind of fusion cuisine. Fusion cuisines happen when you combine dishes and ingredients from different parts of the world to create new dishes.
Many well-loved and commonplace dishes today started out as fusion cuisines. Still, fusion cuisines are sometimes a hard sell because people haven't yet warmed up to them.
Curry pizzas are extremely delicious even though they aren't yet that popular. Get ahead of the curve by following these recipes!
Classic Indian curry sauce is the foundation of this curry pizza. You can make your own from scratch or you can buy it at the store.
This recipe also incorporates chunks of chicken breast, bell peppers, shallots, mozzarella cheese and tomato sauce. The vibrant flavors of this pizza are simply unforgettable!
2. Easy Curry Pizza
Whip up this quick and easy curry pizza for an extremely delicious snack. You can make the pizza dough from scratch and still be done in no time.
It's heavily seasoned using garlic salt, coconut curry powder, basil, and generic Mrs Dash seasoning. You can substitute or leave out any of these depending on your taste.
This veggie-loaded delight is amazing! It consists of broccoli and cauliflower. You can use naan or flatbread as a base, meaning you don't have to make the pizza crust from scratch unless you want to. This makes the recipe time-saving.
The curry component comes from curry powder. Consider adding other vegetables or substitute the broccoli or cauliflower with other vegetables.
4. Curry Chicken Bacon Pizza
This lovely recipe will show you how to make a soft, thick pizza crust from scratch. It incorporates bacon and curry chicken for a hearty, delicious and meaty pizza.
The best thing about this recipe is how it makes use of a few easily available ingredients to make something really nice.
This recipe cleverly uses curry mayo to infuse curry flavors into the pizza. To make the curry mayo, mix mayonnaise with curry powder, chili sauce and white wine vinegar.
Mango is indispensable in most South Asian cuisines. Topping the pizza with mango is brilliant  because traditionally, it goes very well with curry.
6. Thai Green Curry & Shrimp Pizza
Traditional Thai shrimp curry is the inspiration behind this pizza. The key is to cook the shrimp in a Thai green curry sauce before using it as part of the topping.
Instead of pizza sauce, spread the green curry sauce over the pizza dough. Using the same green curry sauce for both the topping and the crust creates a harmonious tantalizing blend.
This original recipe is very nicely done and time-saving. It takes less than 30 minutes to get ready, including prep time and bake time.
Use pita bread as a base instead of pizza dough to save time. Make a pizza sauce using cashews, lemon juice and coconut curry mix. Top the pizza with avocado, capsicum, onions and tomatoes.
This tropical pizza is perfect for vegans and vegetarians.
8. Japanese Curry Pizza with Fried Shrimp
This Japanese-inspired curry pizza is fresh, authentic, and homemade. Make the pizza crust from scratch using all-purpose flour and bread flour.
Make a curry pizza sauce using butter, onions, golden curry mix, and water. Top the pizza with bell peppers, zucchini, grape tomatoes and chopped deli turkey breast.
Bread and fry the shrimp pieces to use them as the topping.
Even within the realm of fusion cuisines and curry pizzas, a banana curry pizza sounds frighteningly strange! Fear not, the flavors in this dish transcend the seemingly inharmoniously ingredients to work perfectly together.
That's because salt and sweet flavors often go well together. Eating banana with curry is commonplace in South Asian cuisines. The doughy taste of the pizza crust provides the perfect meeting point for the sweet and salty flavors.
10. Red Thai Curry Pizza
This lovely vegan pizza uses red Thai curry as the pizza sauce. Just like regular pizza sauce, red Thai curry sauce uses a tomato base.
Red Thai curry sauce also looks similar to regular pizza sauce. But it tastes significantly different. The notes of coconut and chili give the red Thai curry a richer, deeper and hotter taste.
Before baking, top with red bell peppers, grated carrots, white onion slices, chopped leeks and cheese.
Garnish with cashews and basil.
Sautée your ground turkey with onion, garlic, ginger, and spinach beforehand to achieve the ideal topping for this curry pizza. You may choose to substitute ground turkey for ground lamb.
Make a curry ricotta mixture using ricotta cheese, yogurt and curry powder. Use this mixture in lieu of pizza sauce. Top the pizza with the sautéed turkey and mozzarella cheese before baking.
12. Corn and Chickpea Curry Pizza
This careful recipe shows you how to make a vegan corn and chickpea curry pizza. The cook makes pizza dough, as well as everything else, from scratch.
A topping mixture skips the usual cheese to use almond yogurt, white pepper and lemon juice. Lovely red freshly-cut tomatoes and crisp green vegetables (like spinach, bell peppers, etc) brighten up the pizza.
This pizza is a combination of different rich flavors and textures. It's a detailed dish that requires time and attention.
The three main components of the dish are the curry cauliflower, swiss fondue sauce, and apricot chutney. You won't regret taking time to both prepare and enjoy this gourmet dish as you delight in the interplay between these contrasting yet harmonious flavors.
14. Kofta Chutney Pizza Ring
Kofta is an Urdu word that refers to ground meat. In this case, kofta are the meatballs that are used as topping for this pizza ring.
The small roundness of the spherical kofta works harmoniously with the roundness of the pizza ring. Apart from the kofta, other toppings include capsicum rings, onion rings and green chutney.
This pizza is cooked directly over a charcoal grill. The smokiness from the grill delightfully enhances the earthy tangy taste of the French goat cheese known as chèvre.
Garam masala, an Indian spice blend, is the cornerstone of this dish. You can buy it or you can make your own.
You can bake this pizza in a regular oven. You can also easily substitute curry powder with Garam masala.
16. Indi Tandoori Paneer Pizza
This charming delectable pizza is based on Indian cuisine. It uses Indian ingredients and preparation styles from start to finish, guaranteeing a burst of curry delight as soon as you bite into the first pizza slice.
The recipe video is shot beautifully. Follow it to learn how to prepare the pizza crust from scratch using sooji, which is Hindi for semolina flour.
This light and flavorful pizza use naan or flatbread as a pizza crust. Naan works brilliantly because it's traditionally paired with curry in South Asian cuisines.
The topping here is a spinach-filled curry which also contains caramelized onions, fennel seeds, cashews, cilantro, and garlic. The light thin naan crust beautifully envelopes these flavors and spices.
18. Pizza Mutton Curry
This recipe is extremely straightforward. Follow your usual pizza recipe to have a pizza dough crust topped with pizza sauce, shredded parmesan cheese, shredded mozzarella cheese and onion slices.
The topping will include mutton curry prepared beforehand. Top the pizza with red bell peppers as well to create a harmonious palette between the mutton curry and regular pizza ingredients.
You can tell from its name that there's a lot going on with this pizza! This eclectic pizza packs a punch through contrasting flavors that work well together.
Figs have a sweet honey-like taste and soft texture. This sweetness is highlighted by the savoriness of the peas, cauliflower, and curry.
This recipe will show you how to make a scrumptious Thai chicken curry that you will use as topping for the pizza. It's that simple!
The talented cook in the video makes everything from scratch, including the pizza dough. Follow this recipe carefully to learn some new kitchen tips!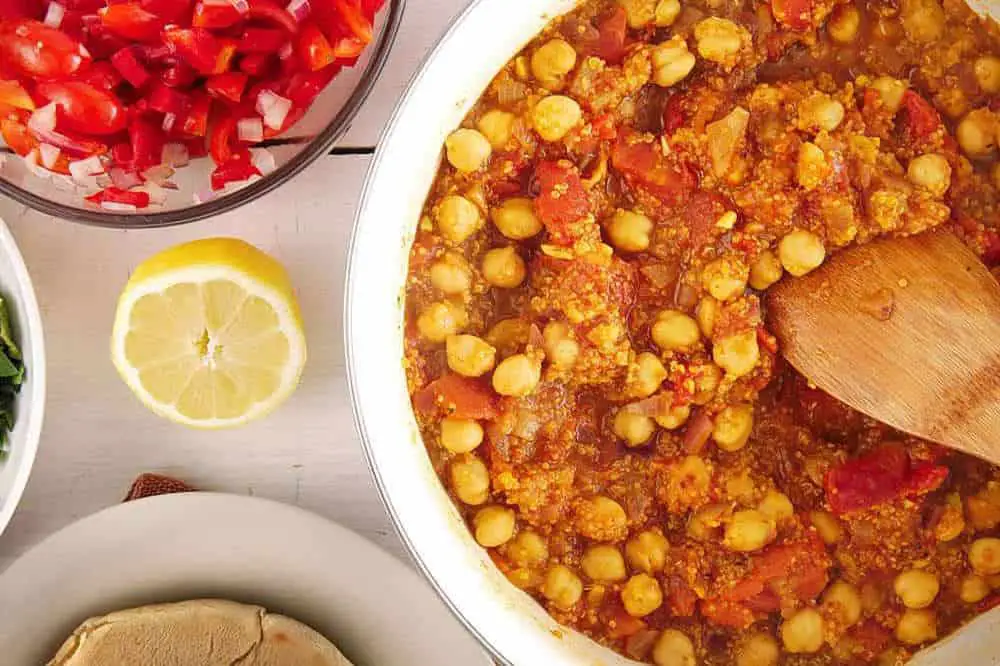 This delicious pizza is both vegan and gluten-free if you use gluten-free flatbread instead of naan. The best thing about this recipe is the organic combination of ingredients; all originate from South Asian cuisines and go well together.
It uses curried chickpeas similar to Indian chana masala. The quinoa is a nice touch!
Summary
As amazing as these recipes are, you don't have to follow them exactly. Fusion cuisines like curry pizzas allow for a breathtaking amount of culinary creativity.
You can be a scientist in the kitchen as you delightfully experiment with varying flavors, ingredients, and cuisines. Have a blast! Bon appétit.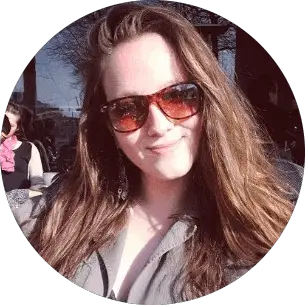 Barbara is an enthusiastic food-exploring person that goes through different culinary experiences. She got inspired by creating a pizza blog post after she tasted one of the best-selling pizzas in Toledo.