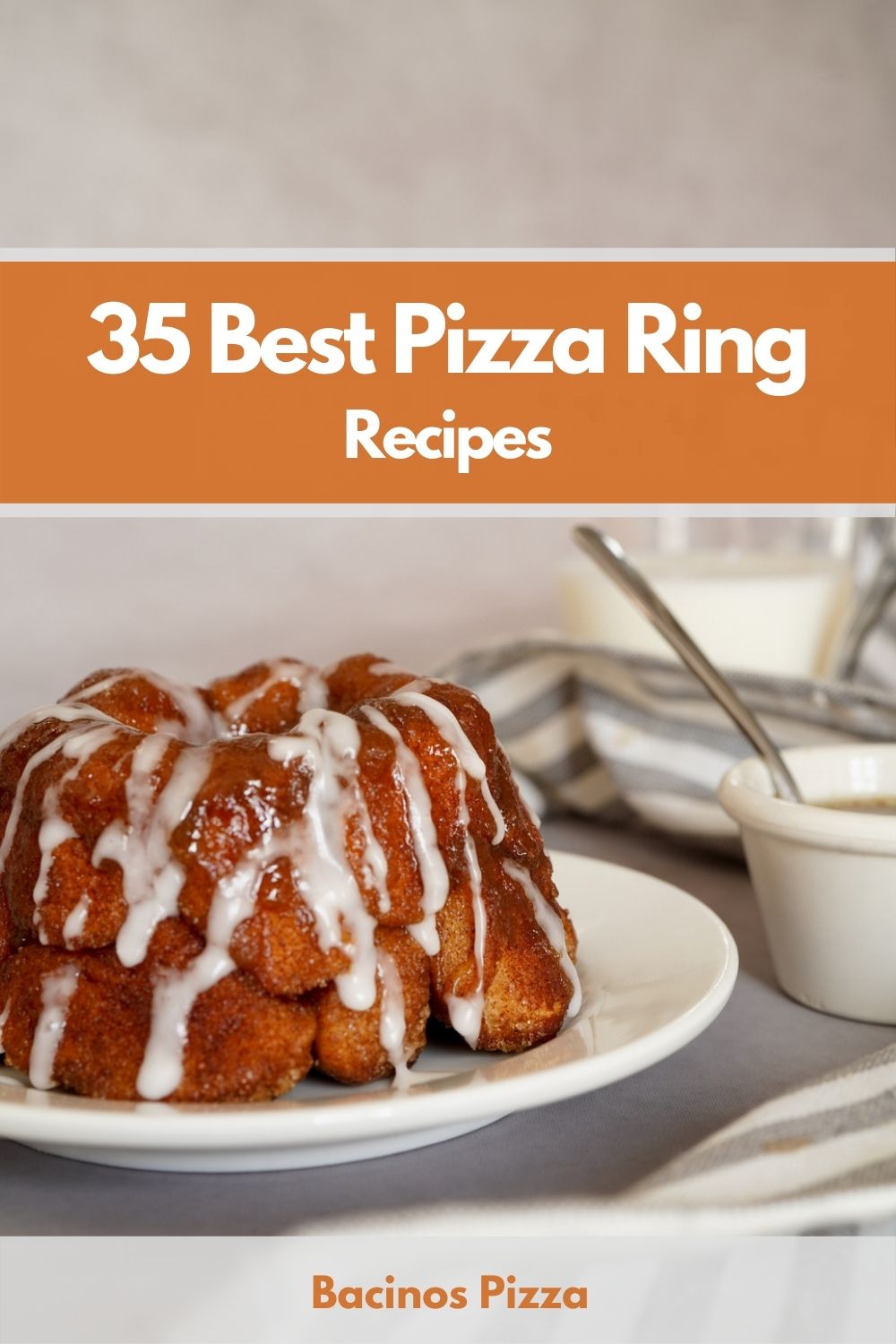 Upgrade your snack time with these mouthwatering pizza ring recipes! Be it plain, or in a ring form, or bubbly, wrapped inside delicious fluffy crusts, we love pizza in all shapes and sizes, don't we? And with all the different toppings available, the varieties are endless!
Here's a list of 35 fantastic pizza rings recipes. These pizzas are cheesy and delicious and absolutely easy to make. Let's dig in!
1. Kofta (Meatball) Chutney Pizza Ring Recipe By Food Fusion
Do you like your pizza spicy? If yes, you'll love this recipe by Food Fusion. The stars of this recipe are meatballs and coriander chutney. You can also find the recipe for meatballs in this video, and the dough ring, though it looks complex, is quite easy to make.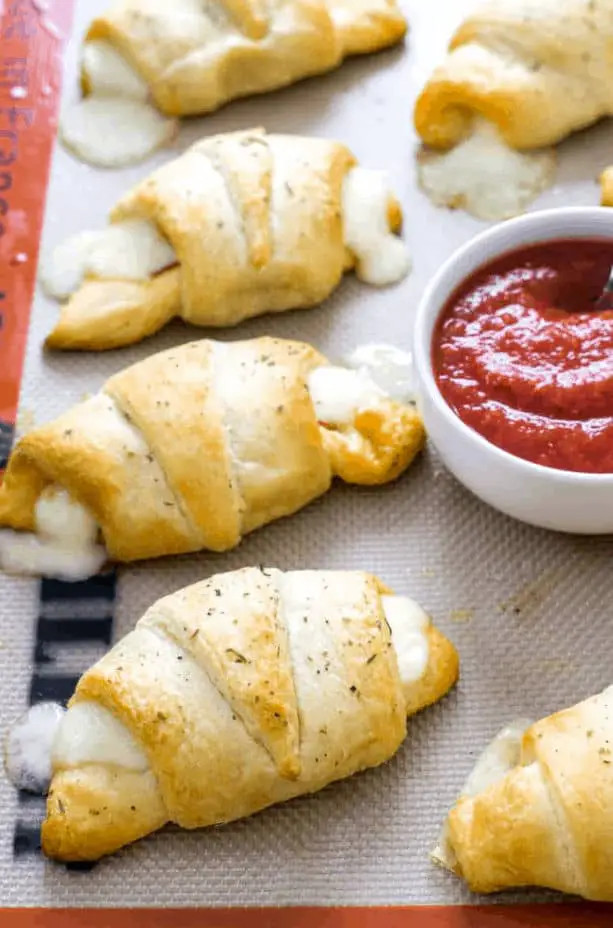 We love providing you with unique recipes! Many readers have loved this pizza stuffed crescent rolls with mozzarella and pepperoni fillings recipe. Especially if you have kids, these hand-held pizzas can surely put a smile on their faces.
3. Pizza Ring || Homemade Perfect pizza ring || Easy pizza recipe
This simple yet delicious pizza ring recipe will surely make you drool! Use boiled chicken as the filling if you want to follow the exact recipe or tweak the stuffing a little as per your taste; the choice is up to you!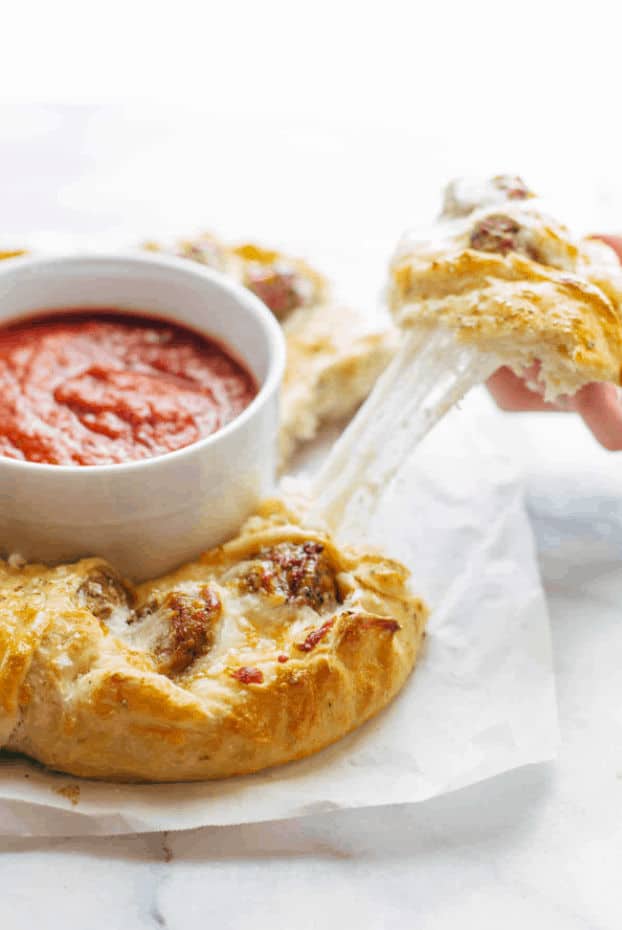 4.8 stars out of 5 on average; that's a great review, isn't it? And the comments are equally appreciative. Why wouldn't they be? This cheesy meatball pull-apart pizza ring recipe is absolutely incredible!
The blogger has also mentioned a few combos that go perfectly in place of meatballs. Make sure to check it out!
5. Puff Pastry Pizza Ring
If you're inviting guests over and want to make sure that your pizza ring is as fancy as it could ever be, this is the recipe for you! The best part is that the use of a puff pastry sheet makes this recipe crispy and more exotic.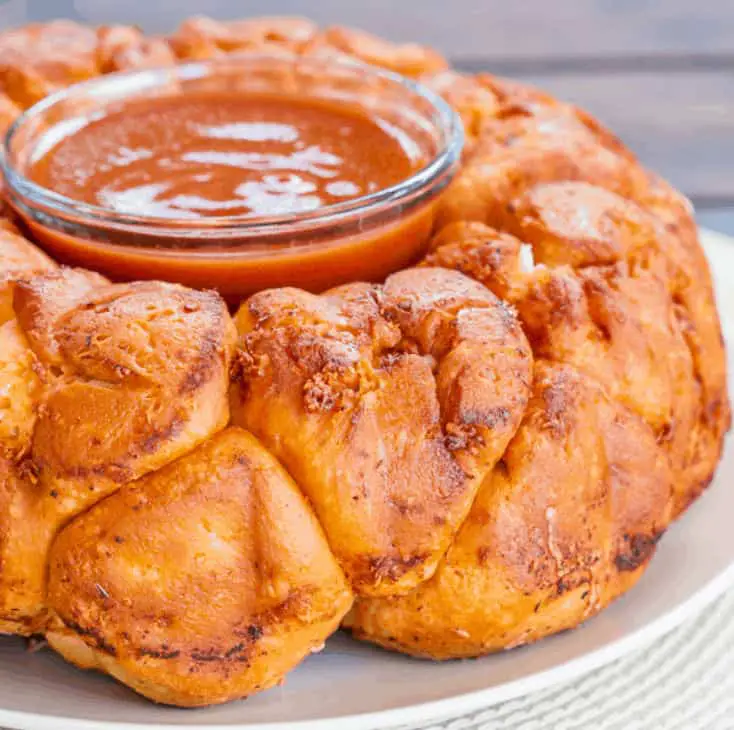 How would you like a bubble ring pizza stuffed with delicious surprises? Especially if you have kids, they're sure to go crazy for this pizza. Pillsbury canned biscuit dough is used for the bubble ring. However, you can also make this recipe a hit using homemade bread dough.
7. Broccoli, Ham & Cheese Ring
Are you looking for a quick and easy recipe for a delish pizza ring? This broccoli, ham, and cheese ring recipe is just what you're looking for. The recipe uses crescent sheets to make a ring. A homemade pizza or pastry dough will work just as beautifully.
This four-step pizza ring with ham and artichoke heart recipe will be ready in around 30-40 minutes and serves 8 people. The addition of artichoke hearts makes this recipe more nutritious as they are rich in vitamins and minerals.
9. Drone Pizza Recipe | Veg Ring Pizza Recipe | Star Pizza Bread | Pizza Design Ideas
Here's a delicious recipe for a pizza ring stuffed with spicy and cheesy tomato fillings. If you're tired of seeing same-old recipes that use ready-made pizza dough sheets, you can learn to make it yourself in this tutorial.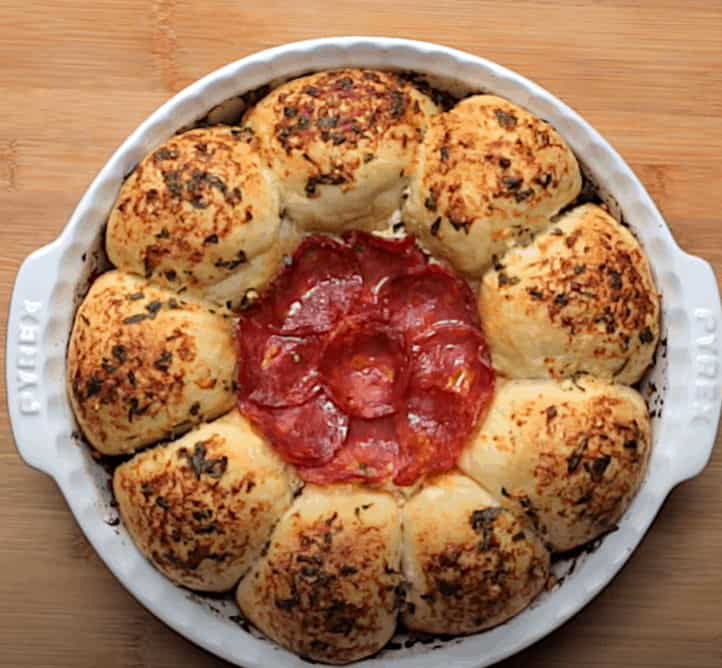 Let's try something different, shall we? Instead of filling the dough ring with tasty surprises, why not enjoy the cheesy pepperoni pizza surrounded by fluffy pizza dough balls! If following written recipes is not your cup of tea, find a video attached to the blog.
11. Bread Pizza Disc Recipe | Bread Pizza Recipe | Yummy
These bread pizza discs will make a fantastic snack for your family. Instead of worrying about dough, you'll be using bread discs for this recipe. The preparation is super easy, and it bakes within 10-12 minutes! How great is that?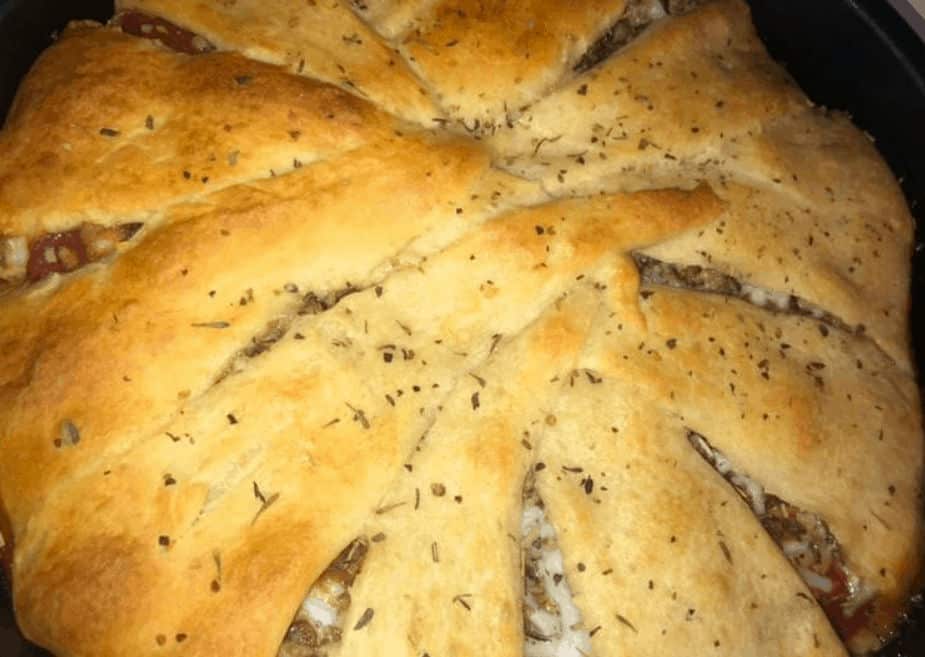 Crescent roll pizzas are certainly trending these days. Here's a recipe for the ultimate crescent roll pizza ring. Find all 9 ingredients along with their measurements as well as clear-cut direction for recipe preparation and baking on the site.
13. Puff Pizza Ring | Chicken Puff Ring Recipe | Tasty Foods
Remember the fancy puff pastry ring pizza we discussed earlier? Well, here's another recipe for the pizza. You can make your own puff pastry sheets for the recipe. Or else you can also experiment by switching pastry sheets with pizza dough for the recipe.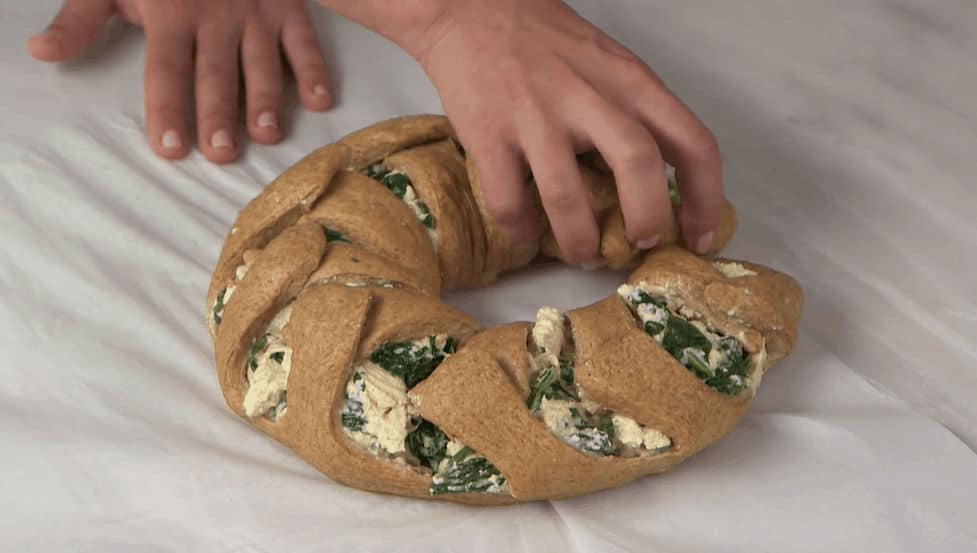 This pizza dough is healthy (only 399 calories!) and tasty yet super easy to make. The blogger effortlessly created the pizza ring, unlike any other methods that we've seen in other recipes. This recipe uses fiber-rich and nutritious whole wheat pizza base.
15. Pizza Ring | Homemade | easy recipe | how to make Puff Pizza Ring | DannysAdventure
Are you craving some chicken ring pizza? If yes, here's the recipe. The Youtuber doesn't elaborate on how she prepared the pizza dough, but the rest of the process is pretty clear. With just a few ingredients and a little bit of patience, you'll bake yourself delicious ring pizzas!
This pepperoni pizza ring recipe by 12tomatoes uses crescent rolls for the pizza base. Just add some pizza sauce, pepperoni, and of course, lots of cheese, and you're done! If you don't know how to layer the crescent rolls for the base, read the preparation section of the recipe.
17. STUFFED PIZZA CRESCENT RING RECIPE | Easy Lunch or Dinner Idea
If you've watched other crescent pizza ring recipes, you might already know how to wrap the crescent sheets into a ring, don't you? The only difference in this recipe is the filling inside – sausage and pepperoni. Be creative with the toppings; the possibilities are numerous!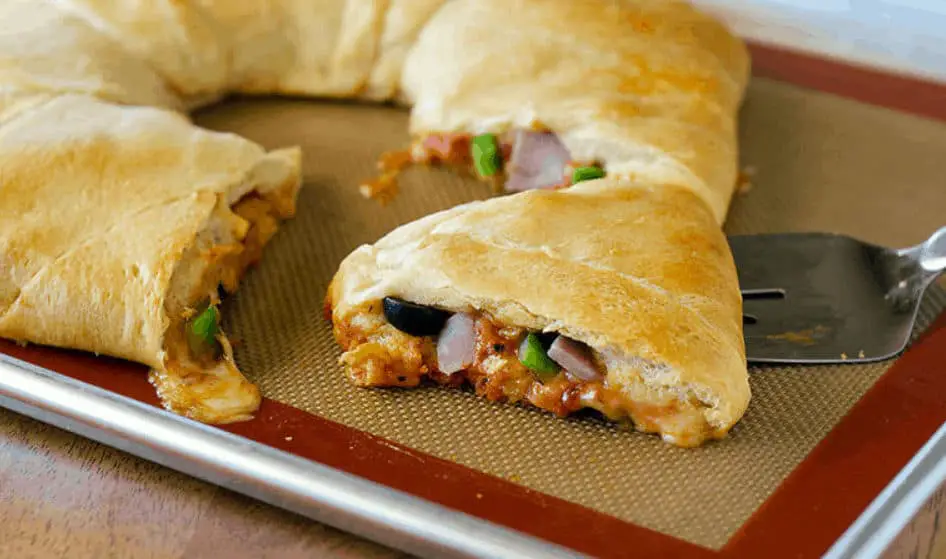 The supreme pizza crescent ring recipe by Pillsbury uses Pillsbury for the crescent base. But if you don't have any crescent dough handy, you can use pizza dough as well for the recipe. The only difference will be that instead of being crispy, your supreme pizza base will be fluffy.
19. Pizza Crescent Ring Live – FunFoods
If you've got plenty of time in your hands, why not tune into this live session by FunFoods! If you don't, spoiler alert – crescent roll base and lots of layers of pizza sauce, pepperoni and cheese! The Youtuber adds so many layers to this recipe that the end cheese-pull is insane!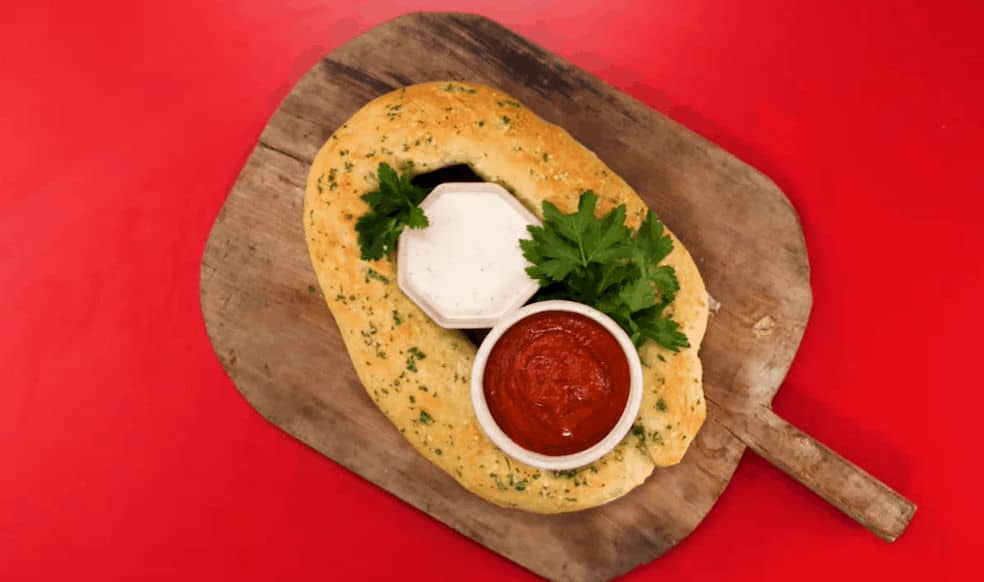 A pizza ring recipe couldn't be easier! Check out this cheesy stuffed pizza crust ring tutorial to find out how easily you can make a ring out of pizza dough.
However, this recipe is more of a 'Chizza' ring, as only cheese is used as the stuffing inside the pizza dough. So if you don't fancy cheese on its own, feel free to tweak the recipe.
How about a pizza dip surrounded by pull-apart garlic bread with an addicting cheesy dip in the middle topped with marinara sauce and pepperoni? All you need is biscuits, seasonings, olive oil, pepperoni, marinara, and lots of cheese!
22. Minced meat pizza ring with soft cheese recipe
Any meat-lovers here? This minced meat pizza ring with soft cheese recipe by Food For Dude will make their day! Using just a few ingredients; meat, cheese, seasonings, and pizza dough, you can make this delicious pizza ring. You can find the directions in the description box.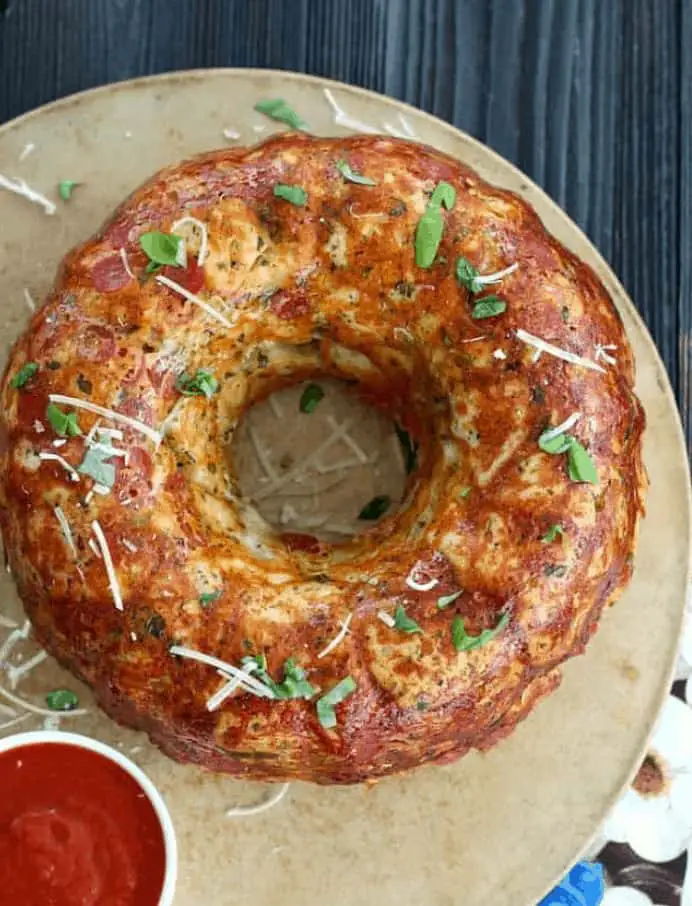 This pull-apart cheesy pizza bread is just 334 calories! You can use pizza dough or biscuits for the crust. A reader has commented that the cheesy and crunchy crust is the best part of this recipe. Change your fillings as per your taste and bake this cheesy delish for your loved ones.
24. Curry pizza ring with chicken breast and pineapple pieces recipe
If you're someone who loves the sweetness that pineapple chunks add to your pizza flavor profile, this recipe is for you! As shown in the video, cut a star in the middle to shape the pizza dough into a ring. You can find all the ingredients and instructions in the video's description.
Not only will you find the recipe for Italian sausage and pepperoni crescent roll pizza on this site, but you will also get to know a few essential tips that'll come in handy when you're following this recipe. The total time required for this recipe is 30 mins, and it serves 6 people.
26. Pizza ring stuffed with spinach & parmesan recipe
To all the veggie lovers out there, this spinach and parmesan pizza ring recipe will put a big bright smile on your faces. If you're a vegetarian, avoid using ham cubes. Since all the comments are positive and appreciative, we believe that this recipe is a sure hit.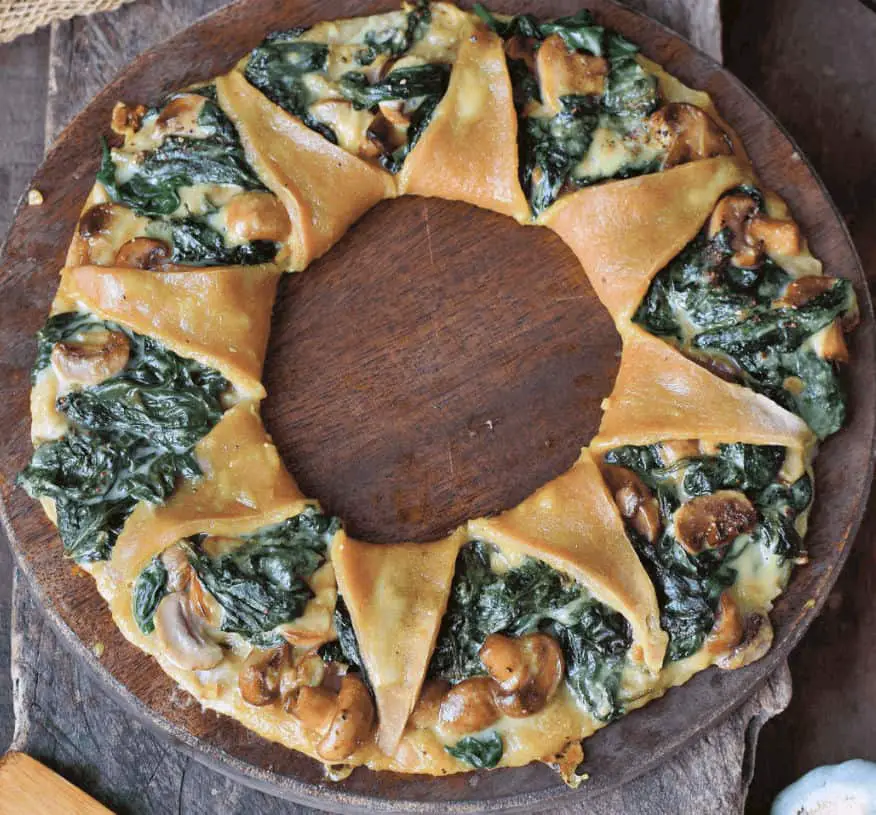 This pizza ring with spinach recipe entirely vegan and gluten-free. You have nothing to worry about, as the blogger has linked the recipes to vegan, gluten-free pizza dough and vegan cheese sauce in the ingredient section.
28. Minced meat pizza ring with mozzarella tomatoes and sivri paprika recipe
Food For Dude has varieties of pizza rings recipes, all with different exotic combinations of fillings. This recipe is for a pizza ring with minced meat, mozzarella tomatoes, and sivri paprika fillings. You can directly go to the video's description for all the information.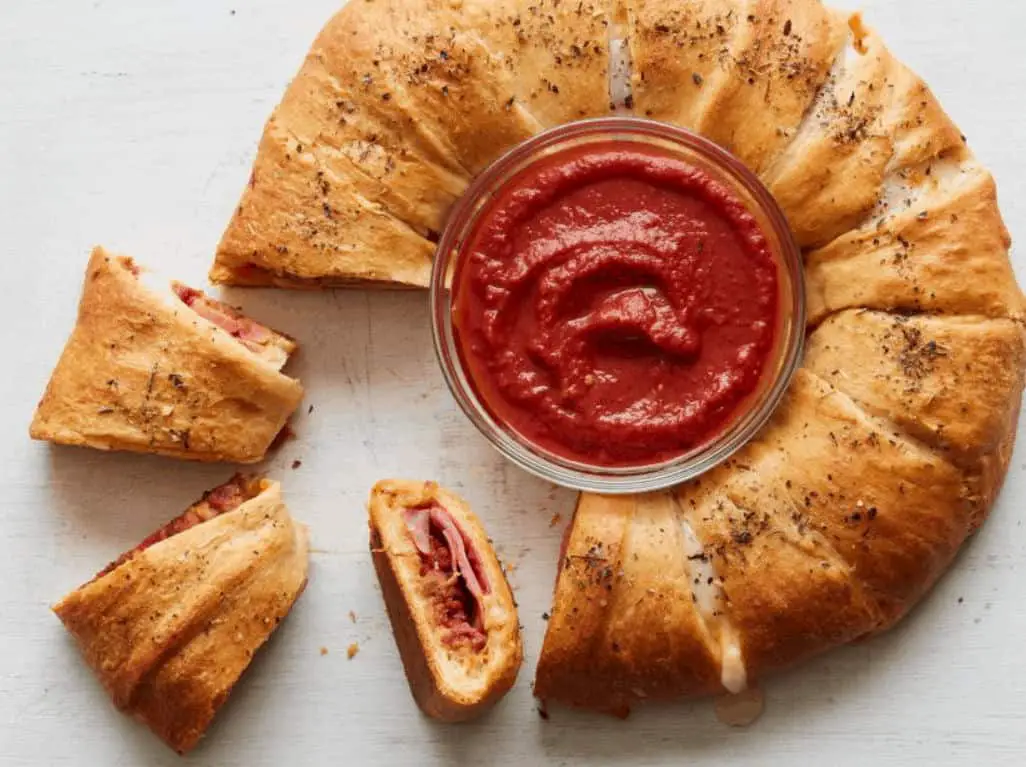 Using 16 crescent dough triangles, Italian sausage, ham slices and the regular pizza ingredients, you can bake this mouthwatering meat lover's pizza crescent ring for your family. The recipe takes around 1 and 30 minutes to complete and serves 8-10 people.
30. Star Pizza Recipe | No-yeast No-oven homemade Star Pizza| Drone Pizza| Ring Pizza| जिसे खाकर दिलखुश
The Youtuber from The Foodies Gully Kitchen has created this fantastic recipe in which you'll get to enjoy your pizza even if you don't have yeast or an oven. But for the sake of taste and fluffiness, if you have yeast, we'd certainly recommend you use it in this recipe.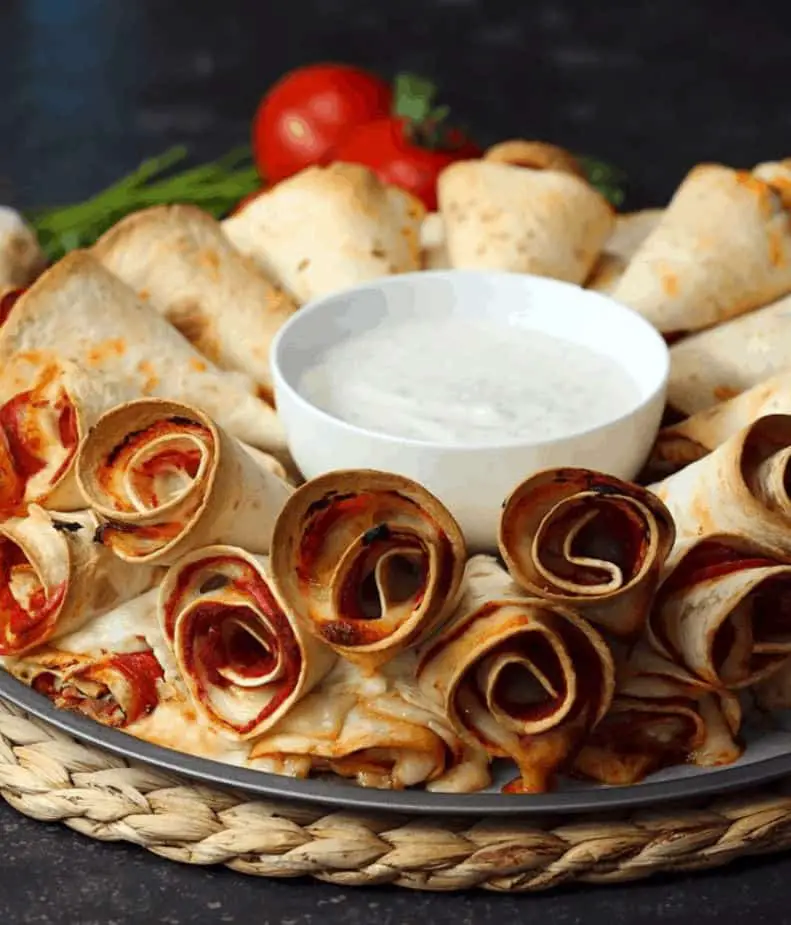 Do you want to see something breathtakingly beautiful? Yes, we're still talking about pizza! This pizza cone dip ring recipe is the one you should follow if you have invited guests over. It is easy to make, delicious, and the presentation – truly stunning!
Either you use crescent rolls for the base or pre-made pizza dough or homemade pizza dough in the recipe, the blogger has given you total flexibility in decision making. Whatever base you use for the pizza, this recipe is a 100% hit!
33. Meatball Pizza Dough Ring Recipe
Pizza dough balls filled with saucy, cheesy meatballs! And, are these hard to make? Absolutely not! Arrange the balls in a ring and serve them as an addition to your dinner table. For ingredients and directions, go straight to the description box.
This recipe calls for the classic pepperoni, mozzarella, and parmesan fillings inside crescent rolls. If you're not a fan of the crispy sweet bite of crescent rolls, you can also use homemade pizza dough for the recipe.
35. 9 Mind-Blowing Food Party Rings
Get ready to see 9 mind-blowing food party rings that include crescent pizza rolls, lasagna rolls, garlic bread rings, meatball stuffed pizza dough rings, and whatnot! Find ingredients measurement at the top left corner of the video.
Summary
These pizza rings are not only yummy but are also fun to make! These flavorful additions will definitely make your snack/meal time with your family merrier.
You can also involve kids to decorate the toppings and play with the shapes. So, which of these recipes caught your eyes the most? Let us know down below!
35 Best Pizza Ring Recipes
Ingredients
Kofta (Meatball) Chutney Pizza Ring Recipe By Food Fusion

Pizza Ring || Homemade Perfect Pizza Ring || Easy Pizza Recipe

Puff Pastry Pizza Ring

Broccoli, Ham & Cheese Ring

Drone Pizza Recipe | Veg Ring Pizza Recipe | Star Pizza Bread | Pizza Design Ideas

Bread Pizza Disc Recipe | Bread Pizza Recipe | Yummy

Puff Pizza Ring | Chicken Puff Ring Recipe | Tasty Foods

Pizza Ring | Homemade | Easy Recipe | How To Make Puff Pizza Ring | DannysAdventure

STUFFED PIZZA CRESCENT RING RECIPE | Easy Lunch Or Dinner Idea

Pizza Crescent Ring Live – FunFoods

Minced Meat Pizza Ring With Soft Cheese Recipe

Curry Pizza Ring With Chicken Breast And Pineapple Pieces Recipe

Pizza Ring Stuffed With Spinach & Parmesan Recipe

Minced Meat Pizza Ring With Mozzarella Tomatoes And Sivri Paprika Recipe

Star Pizza Recipe | No-Yeast No-Oven Homemade Star Pizza| Drone Pizza| Ring Pizza| जिसे खाकर दिलखुश

Meatball Pizza Dough Ring Recipe

9 Mind-Blowing Food Party Rings
Directions
Select your favorite recipe.
Organize all the required ingredients.
Prep the recipe in 30 minutes or less!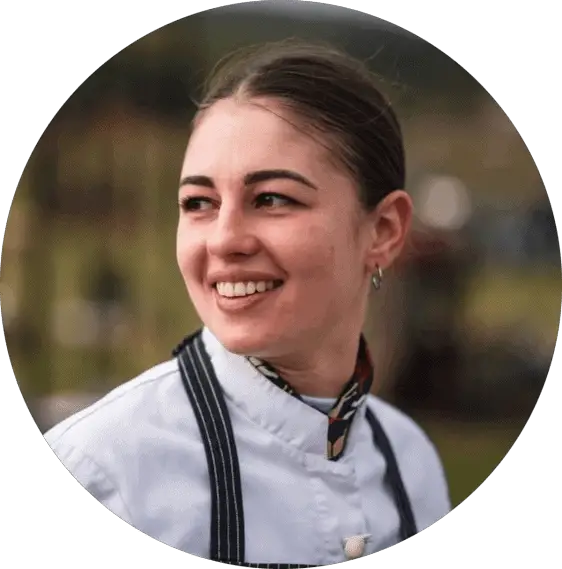 Julie has five years of experience in the restaurant industry, she decided to share her knowledge about her liking and fondness for food and pizza, of course, cooking as her love language. She's very passionate about what she's doing, making all the things she writes regarding pizza recipes, very amazing!