A dessert pizza is the ideal summer treat, weeknight pick-me-up, or sleepover dessert. This often contains sweet toppings like chocolate chips, seasonal fruits, caramels, and other sweetened cookie options.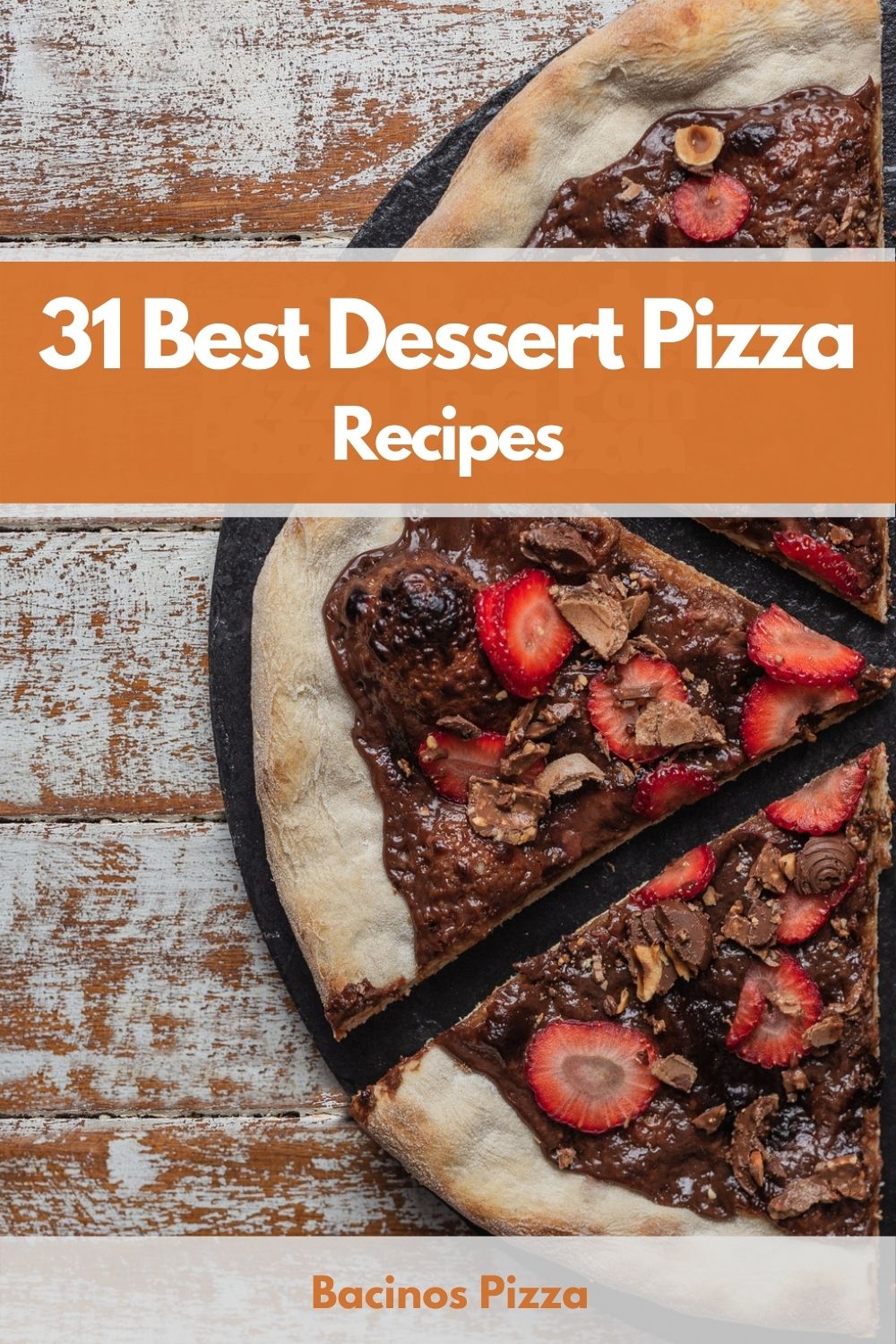 Dessert pizzas taste so good, and they are a complete game changer for anyone who'd like to get the feel of a true pizza haven. You can slice up the dessert pizza and eat it with your hands. Want to indulge in the sweet pizza serenity?
Here are the 31+ dessert pizza recipes to get you off the ground:
1. Fruity Brownie Dessert Pizza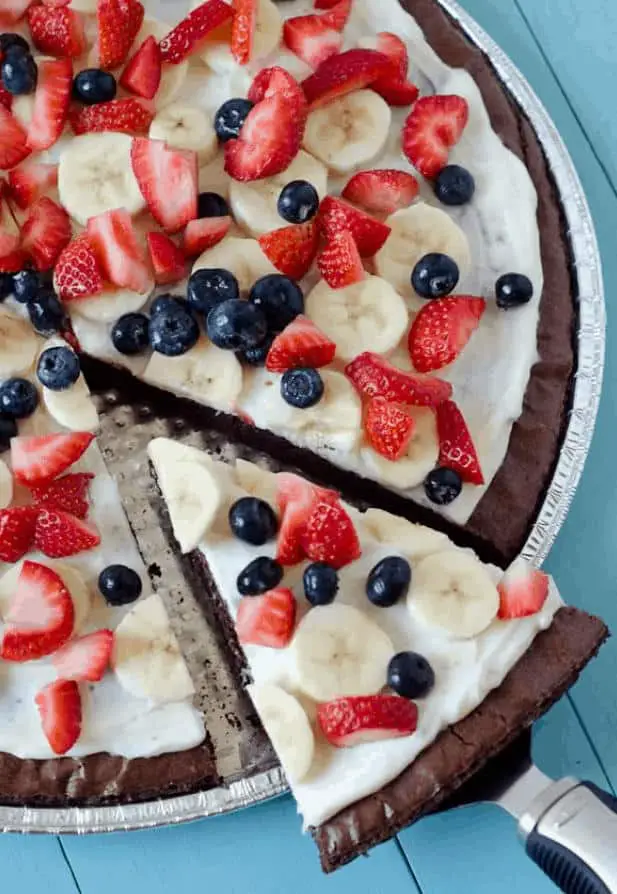 This Fruity Brownie Dessert Pizza recipe is vibrant, gorgeous and enticing. A soft, chewy homemade brownie base forms the crust. This is laced with a fluffy cream cheese frosting and plenty of fresh berries to add a beautiful design that no one can resist. The end result is a unique dessert pizza that's perfect for any special occasion.
2. Easy S'mores Dessert Pizza
The Easy S'mores Pizza is one of the amazing things I've ever tasted. Its crust is made of graham cracker crumbs with melted chocolate in between. The middle layer has a big and fluffy marshmallow. All ingredients are melted together to form a giant s'mores pizza, enough to feed a crowd in the backyard. The best part is….no campfire is needed!
3. Apple Crumble Flatbread
This buttery and flaky pie has a very enticing aroma that whelms the whole kitchen. If you put this dessert pizza together, everyone in your family will be lingering around waiting to taste.
Topped with juicy caramelized apples, sweet vanilla ice cream, rich caramel sauce, and cinnamon-sugar crumble, this pie is….thank goodness, soooo mouthwatering! Look for apple varieties that are both tart and sweet.
4. Nutella Dessert Pizza Recipe
If you can't get enough of nutella recipes, this will wow you even more! Watch this video and see how Vincenzo demonstrates how to make the Nutella Dessert Pizza. He adds so many great flavors into this treat—nutella, sliced almonds, bananas, strawberries, and powdered sugar! Do exactly as he does….add toppings after your crust is browned for best results!
5. Bananas Dessert Pizza Recipe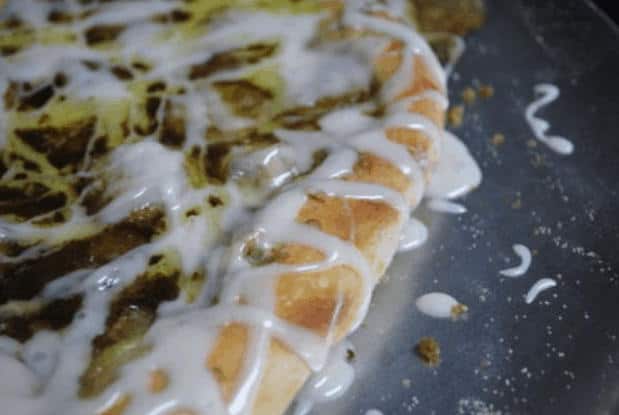 Okay, any pizza is always a crowd pleaser…but especially so when tied up with cream cheese and cookie crumbs. The Bananas Dessert Pizza is a delicious New Orleans fare that's ideal for a party or a special family dessert. You can use a pre-made crust to save time, or you can make your own pizza dough….just be sure to let it rise until it doubles!
6. Apple Streusel Dessert Pizza – Noreen's Kitchen
Sometimes it's best to think outside of the ordinary to make someone that everyone will cherish. Apple Streusel Dessert Pizza is a sweet, soft pie that offers all the delicious flavors. You don't have to limit yourself when it comes to fillings—apples, butter, brown sugar, cinnamon, etc. For a pizza with a sweet ending, sprinkle vanilla extract when the pizza is done!
7. Makeover Fruit Pizza Recipe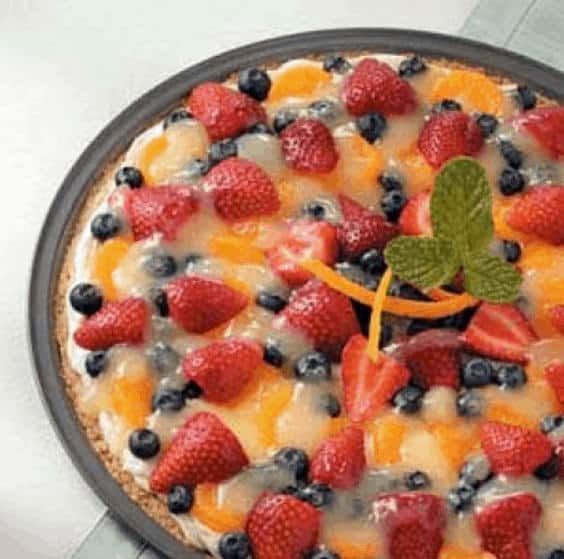 There's nothing better than a guilt-free dessert pie. Makeover Fruit Dessert Pizza is much healthier, with less than half the calories, fat and cholesterol of a traditional fruit pizza. It's versatile, too. If you're yet to master the 'cutting in butter' technique, use refrigerated sugar cookie dough instead. This will save you the hassle of combining the flour, powdered sugar and cold butter!
8. Chocolate Chip Cookie Pizza – Soft Chewy Cookie Pie
Looking for a tasty treat that doubles as a fun activity? The Chocolate Chip Cookie Pizza is perfect for dessert at a big family dinner. It's also best for kids' birthday parties. The moist and chewy chocolate chip cookie pizza is gluten-free and with lower carb. It's befitting of health-conscious folks attending the bash!
9. Cookies + Crème Dessert Pizza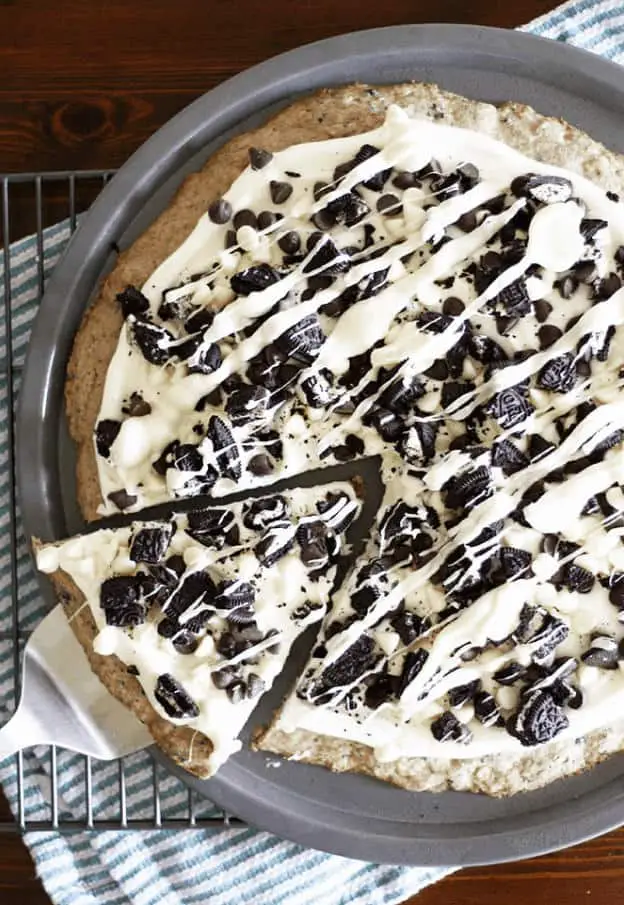 The Cookies + Crème Dessert Pizza is any cookie lover's dream come true. For an ultimate cookie-ness and crème-ness, the base is made of a Hershey's Cookies 'n' Crème cookie. The toppings are whipped cream and cream cheese frosting, crushed cream-filled chocolate sandwich cookies, and chocolate chips. The pie is finished with a white chocolate drizzle. Whew! Delicious!
10. Cinnamon Roll Pizza Recipe – Laura Vitale
Inspired by Papa Murphy's Cinnamon Wheel, this Cinnamon Roll Pizza flaunts all of the goodness of a cinnamon roll! As you can see from Laura's demonstration, it's a fast-fast, easy and healthy snack. You'll want to add the milk slowly until you get a runny glaze consistency. Then spread the glaze over the cinnamon rolls and devour!
11. Berry Patch Brownie Pizza
Say hello to a creative mishmash of fruits, almonds and chocolate! These are the key things that make this Berry Patch Brownie Pizza unique….in its own right! The cream cheese sweetens the brownie crust, while the colorful fruits lighten the chocolate bit. If you bite into this dessert pie, you'll feel like you're eating something sinfully healthy!
12. Oatmeal Chocolate Chip Cookies – Preppy Kitchen
No one can resist a good oatmeal chocolate cookie. These Oatmeal Chocolate Chip Cookies are crisp on the outside and chewy on the inside. Of course, they also please the masses with big notes of chocolate and butter. They've got just the right hit of salt, too! Plus, they're easy to store for a perfect treat whenever you want.
13. CiCi's Chocolate Dessert Pizza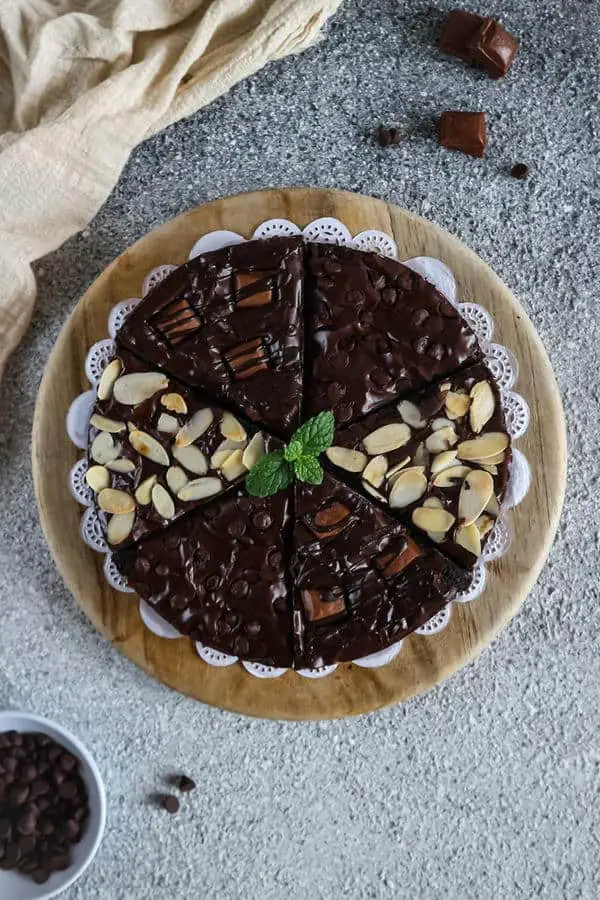 This is the classic combination of chocolate and peanut butter, presented in a new twist. While it might sound like something complicated to make, it isn't! Prep up cookie mix dough as per package directions. Pierce the dough 8 or 10 times with the fork. Refrigerate until set. And finally, bake! The crumb topping mix ranges from softened butter to brown sugar.
14. Chocolate-Hazelnut Fruit Pizza – Kids Cook Best!
Sometimes it's best to allow kids to cook their own food. And there is no better way to achieve that than through this Chocolate-Hazelnut Fruit Pizza recipe. Jamie and Clara are kids who've really mastered the art of cooking to the core! Let your kids watch this video and churn out this snack-able pizza. After all, it takes just 10 mins!
15. Oreo Fudge Brownie Pizza
If you love brownies, then this recipe shows you the best way to have them. The Oreo Fudge Brownie Pizza has a brownie crust with crushed Oreos and a creamy fudge drizzle. Sprinkle Top that all with chocolate shavings and you're all leap into the chocoholic dream heaven! Every bite is sure to have some Oreo notes!
16. Chocolate Peanut Butter Pizza – A Southern Living Magazine
This recipe is old, dating back to the 2005 edition of Southern Living Magazine. But make no mistake! This is a fun thing for the kids. Over and above, this Chocolate Peanut Butter Pizza recipe is customizable to your individual liking. There is no wrong way to make it—and Tami Dunn has vividly clarified that!
17. Pumpkin Streusel Dessert Pizza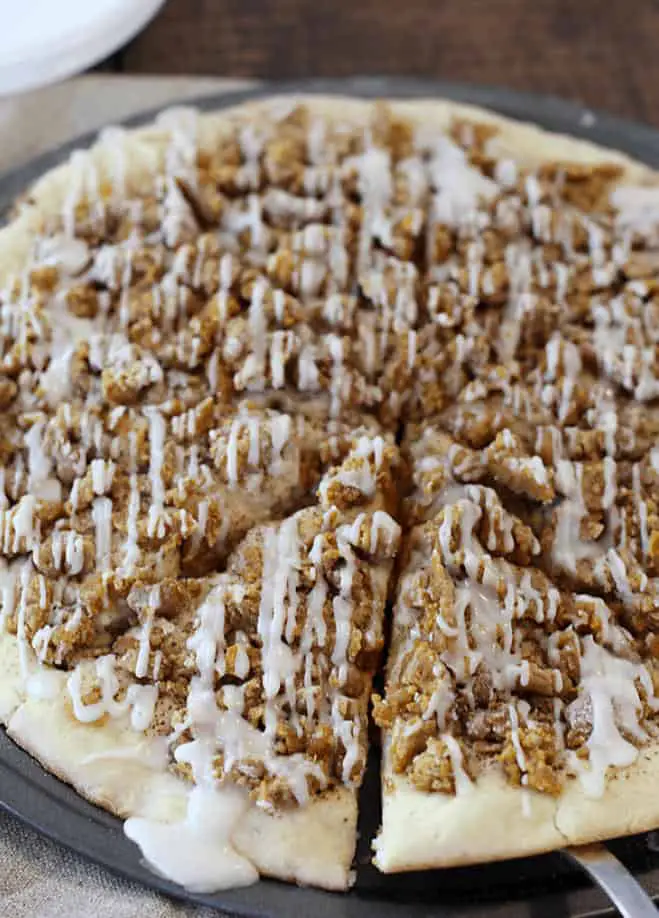 Can't get enough pumpkin spice in the fall? I understand how you feel! If you've never tasted the Pumpkin Streusel Dessert Pizza, you're missing out on the Godfather of all pumpkin spice pizzas.  This is how it stacks up: a traditional crust, streusel topping, and two types of icing. There is no better dessert to serve on pizza night than this one!
18. Sugar Cookie Fruit Pizza with Cream Cheese Frosting
The Sugar Cookie Fruit Pizza is the absolute best spring or summertime dessert. Bright. Colorful. Delicious: These are the three ways to describe this fun dessert. The best part is, it's super-easy to put it together, requiring only three main ingredients—a box of sugar cookie mix, 4-ingredient frosting, and fresh fruit! And guess what…Ta Da! It's looks sooo fancy!
19. Raspberry White Chocolate Dessert Pizza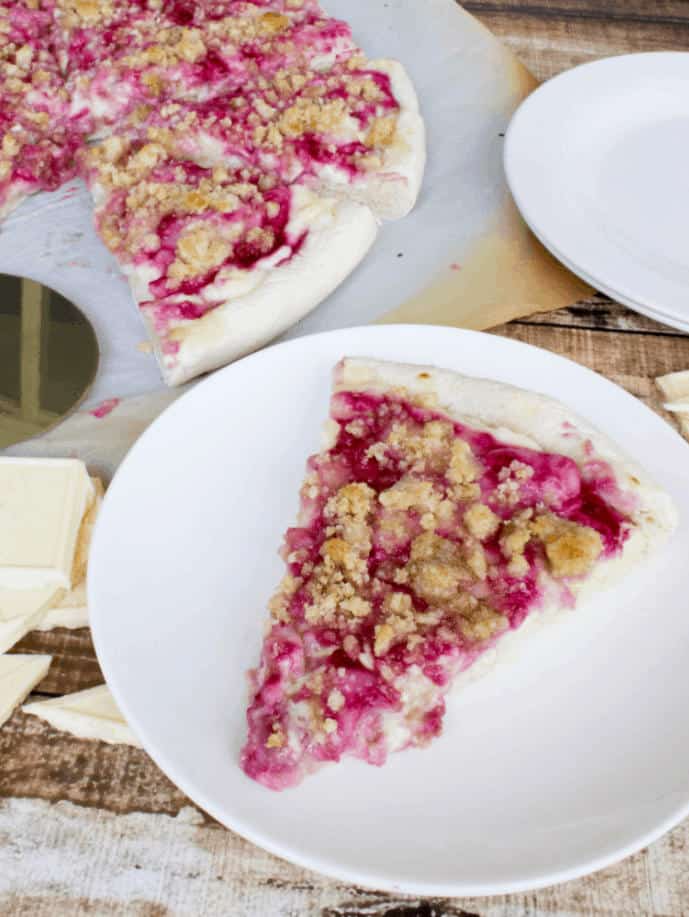 This Raspberry White Chocolate Dessert Pizza is one heck of a dessert pizza. Its based is sweetened with a cream cheese based sauce, finely chopped white chocolate and a fresh swirl of raspberry puree. A crispy-sweet streusel makes up the pie's topping. Thanks to a careful layering of awesome complementary flavors, this dessert has received so much hype!
20. Pretzel Fruit Dessert Pizza Recipe
Theirs is just something unique about a combination of pretzels, fruits and pepperonis….it's a match made in heaven! The Pretzel Fruit Pizza is the ultimate homemade recipe for the family. Want to learn how to make this dessert? Watch the Food Envy channel and implement the teachings to the letter.  Bake until the cheese is melted so it comes out real nice!
21. Rocky Road Chocolate Dessert Pizza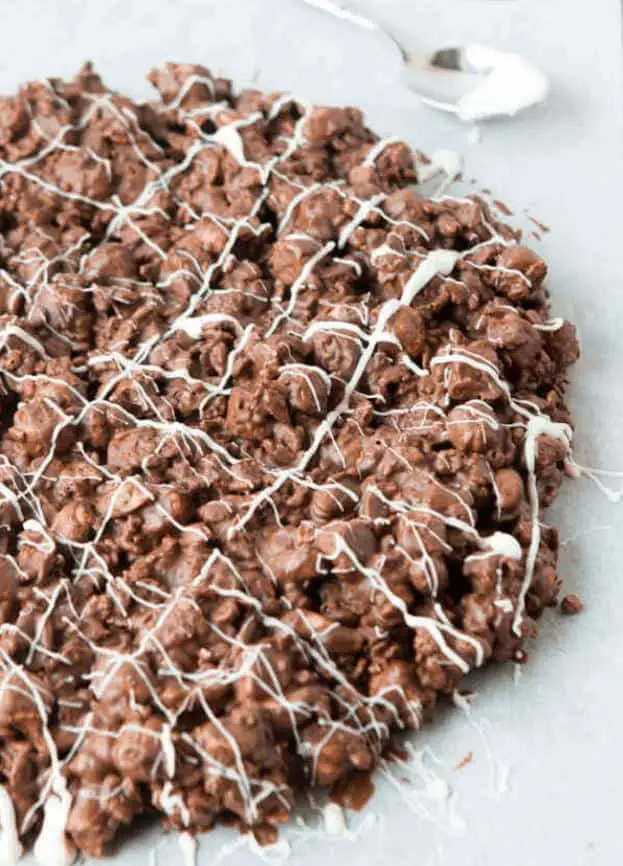 The Rocky Road Chocolate Dessert Pizza is such a great, ultra-versatile gift. It also comes in handy for the holiday candy for all families—big and small. Everyone would go gaga when you make this recipe. And it gets ready in just 10 minutes! Once you throw the rice Krispy cereal in the melted chocolate, you won't help but start snagging little nibbles!
22. Caramel Apple Crisp Pizza Recipe (Dessert Pizza)
If you love apple desserts, there is no way you're going to hate this Caramel Apple Crisp Pizza. This sinful thing is comforting and delicious, lending families the perfect way to end a heart dinner. Pair it with a side of vanilla ice cream and you have a hearty meal no one can dare resist! Oh, man, it tastes good!
23. Skor Chocolate Bar Dessert Pizza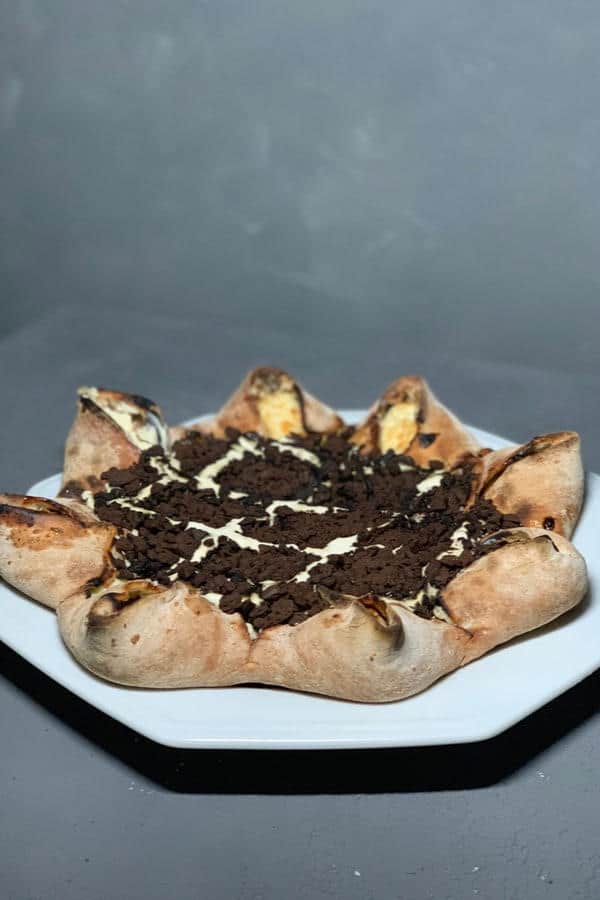 Very rich and chocolatey! Toffee lovers are going to rave about this recipe. You'll find that the strong flavors of the Oreo crumbs and cream cheese neutralize the wonderful Skor flavor. You can combine light butter with chocolate wafer crumbs, fat-free cheese and fat-free cool whip. Also, mix the chocolate pudding with fat-free milk. Talk about a fabulous dessert!
24. Chocolate-Almond Brownie Pizza – Anchor Dairy Malaysia
This is not only budget-friendly but also easy and quick to prepare. Plus, the Chocolate-Almond Brownie Pizza is so elegant. If possible, substitute oil with Anchor butter. This is to prevent the brownies from getting too dense and moist, as well as accentuate the yummy chocolate taste! Watch the video and make your own Chocolate Almond brownies.
25. Watermelon Dessert Pizza Recipe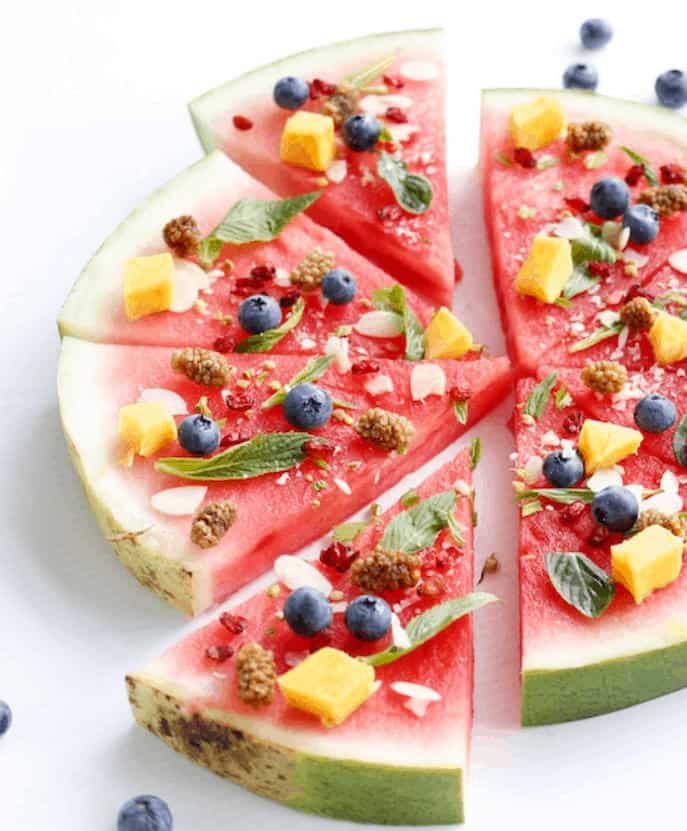 If there was ever a healthy version of pizza, that should be this fruity pizza. This Watermelon Dessert Pizza contains a fruit salad, meaning that you can eat a couple of slices and not fall sick.  Even though it's easy on melted cheese, it's amazingly delicious (I promise!). Cue the barbecues and mojitos…and then reach for anything in your fruit bowl or pantry!
26. Deep Dish Apple Pizza – Dessert
It's only natural for all of us to want to make something special and sweet. That sweet treat should have the old go-to ingredient for all recipes that everyone will die for: Apples! The Deep Dish Apple Pizza is rather sweet than savory….but not too sweet per se! The apples offer some tartness, so the pizza is a sheer delight!
27. Trick-or-Treat Dessert Pizza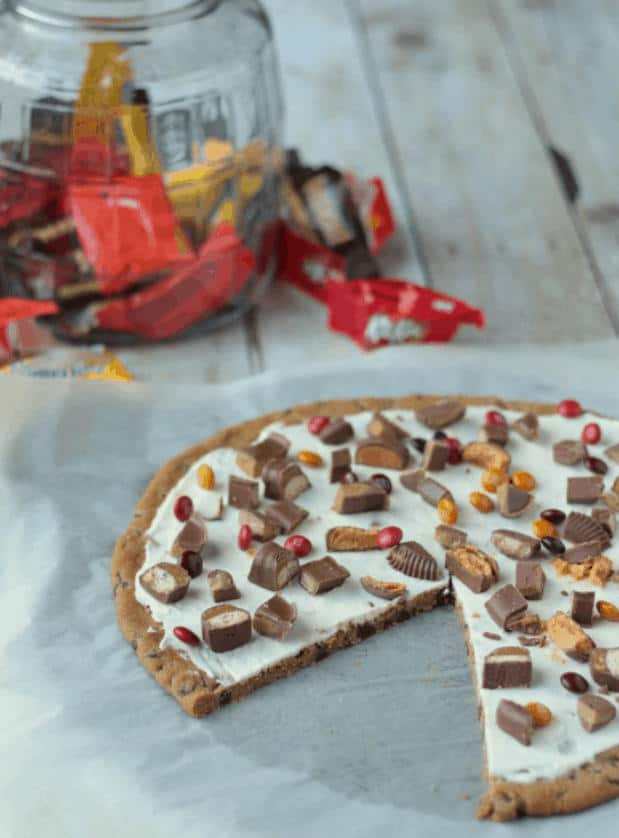 Throwing away your leftover Halloween loot is such a bad idea. This Trick-or-Treat Dessert Pizza recipe lets you make do with leftover cookie dough. Now, gather your kid's fave Halloween candies and turn them into a monster-size cookie. Both kids and adults will love this easy, fun size dessert. And it will be helpful for your next fall party!
28. Chocolate Pizza with Sweet Dough Crust
This recipe represents a perfect marriage between two of most people's favorite foods: chocolate and pizza. The Chocolate Pizza with Sweet Dough Crust doesn't use a traditional dough. Here, you use a light and fluffy Danish pastry dough. Toppings are diverse, ranging from Nutella chocolate hazelnut to milk chocolate chips and toasted marshmallows. When properly cooked, it makes a refreshing dessert during the hot summer months!
29. Peach Dessert Pizza Recipe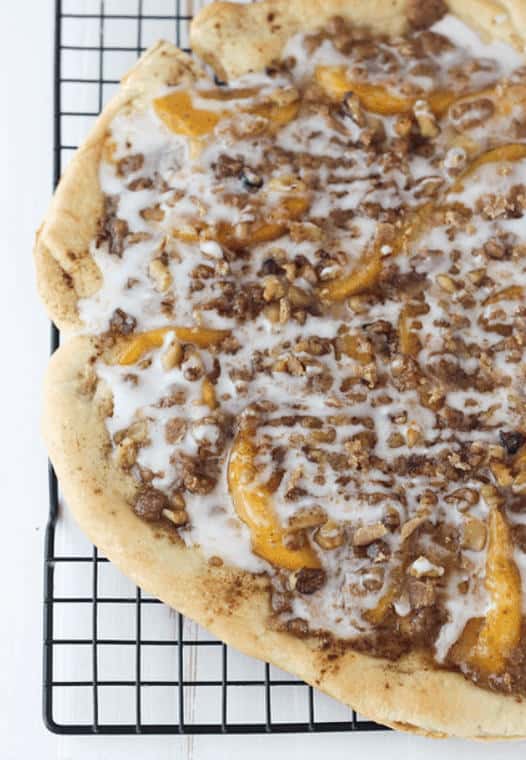 It's hard to get enough peach recipes. And not just any peaches….the tried-and-tested Alabama peaches. Simple and easy to make, the Peach Dessert Pizza satisfies your sweet tooth for last minute desserts. There's room to exercise your creativity—use cinnamon and sugar-loaded dough. Cover in peaches, walnuts and a vanilla glaze…and be ready for a delicious and fun pie!
30. Mini Dessert Pizza (Mini Fruit Pizza)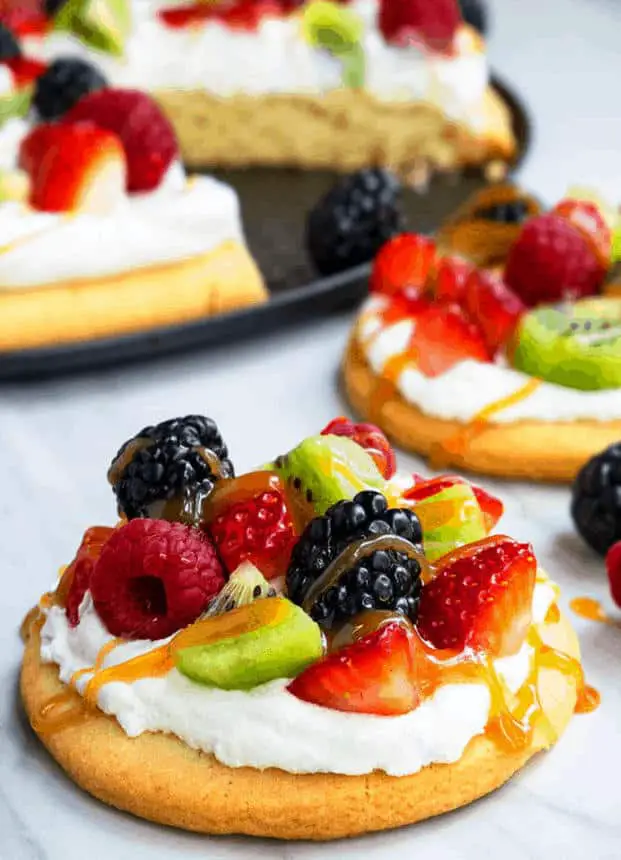 If this is not an impressive dessert that requires little effort to prepare, I don't know what is! This beautiful fruit pizza is time saving as it calls for just 30 mins from prep time to serving. It has a soft, chewy sugar cookie crust with cream cheese topping, caramel sauce and fresh fruits. Oh my….this is a favorite way to enjoy a dessert-style pizza!
31. Chocolate Lover's Pizza – Crumbs and Confetti with Diana
I doled out this recipe specifically for those who'd like their graham cracker crust topped with dark chocolate and pecans. Top the crust with Dove dark chocolate candies. Spritz chocolate over the crust and complete with pecans. You can customize the dessert with your fave chocolate and toppers. The dessert is versatile and the possibilities are just never ending!
31 Best Dessert Pizza Recipes: Sweet, Fruity, Chocolatey, and Downright Delectable
Ingredients
Easy S'mores Dessert Pizza

Nutella Dessert Pizza Recipe

Apple Streusel Dessert Pizza – Noreen's Kitchen

Chocolate Chip Cookie Pizza – Soft Chewy Cookie Pie

Cinnamon Roll Pizza Recipe – Laura Vitale

Oatmeal Chocolate Chip Cookies – Preppy Kitchen

Chocolate-Hazelnut Fruit Pizza – Kids Cook Best!

Chocolate Peanut Butter Pizza – A Southern Living Magazine

Sugar Cookie Fruit Pizza With Cream Cheese Frosting

Pretzel Fruit Dessert Pizza Recipe

Caramel Apple Crisp Pizza Recipe (Dessert Pizza)

Chocolate-Almond Brownie Pizza – Anchor Dairy Malaysia

Deep Dish Apple Pizza – Dessert

Chocolate Pizza With Sweet Dough Crust

Chocolate Lover's Pizza – Crumbs And Confetti With Diana
Directions
Select your favorite recipe.
Organize all the required ingredients.
Prep the recipe in 30 minutes or less!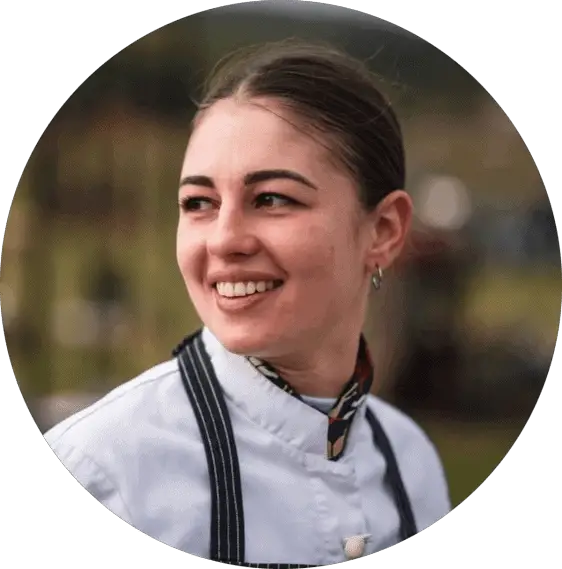 Julie has five years of experience in the restaurant industry, she decided to share her knowledge about her liking and fondness for food and pizza, of course, cooking as her love language. She's very passionate about what she's doing, making all the things she writes regarding pizza recipes, very amazing!