Do you like the enticing aroma and taste of baking pizza? Then, you have to check out and try these 21 Best Dog Pizza Recipes. From classic veggie toppings to meat and cheese delights, these pizza recipes are finger-licking delicious, even your fur best friend will love and crave it!
Each pizza recipe brings a delightful adventure where juicy sauce meets crunchy but tender toppings! Whether you're a newbie or a master in the kitchen, these recipes will elevate your cooking game to the next level! Plus, your dogs will definitely enjoy it too. Are you ready? Gather around the oven, bake up, and let the aroma of pizza fill the air!
Do you like to make your furry friend's dinner extra fancy and special? How about baking this chicken veggie pizza brought by 'Spoiled Hounds' for your lovely dog? This homemade pie features a layer of chicken, sweet potato pizza sauce, and vegetables that are 100% guaranteed puppy-friendly and healthy! Indeed, this recipe is a healthy snack alternative since it gives your pup a much-needed source of fiber and essential nutrients.
If your puppy is an avid pizza fan, get ready to meet its new obsession! This pizza video recipe takes things to a whole new level. It has 100% dog-friendly ingredients of scrambled eggs, low-moisture mozzarella cheese, ground turkey, sweet potato, and broccoli. But wait, there's more. Instead of using the traditional pizza sauce, go for pumpkin!
3. Crystle Tan's Puppy-Friendly Pizza Recipe
This homemade pizza dish blends all the best flavors of cauliflower, grated cheese, carrot sauce, and yellow pepper with the goodness of pork slices. The toppings are coated in a crispy pizza crust. It's made with dog and vegan-approved ingredients with a blend of seasonings that create a delightful crunch with each bite!
4. DIY Pizza for Dogs
Let your fur friend's taste buds take flight with this delicious DIY pizza for dogs. This pizza recipe features a fantastic blend of crisp anchovies and green pepper veggies, low-fat mozzarella cheese, oregano, chicken broth, turkey hotdogs, mashed beets, and other toppings. All the ingredients united into a blast, making your puppies crave more and more slices of pizza!
Indulge your dog in a fiesta of fantastic flavors with this homemade pizza treat recipe. It showcases organic ingredients of chicken, sweet potato, red pepper, cauliflower, spinach, eggs, and gluten-free tolled oats. For more browned and cooked pizza edges, take the time to bake it for another fifteen to twenty minutes. Serve them on a round plate, and let your furry friend savor every bite!
6. Dog-Friendly Pizza Recipe
With this puppy-friendly recipe from 'Dog Life YouTube Channel', you can make everything possible. This pizza recipe is made of chicken, turkey, beef broth, flour, oregano, and eggs. Let the homemade crust slow-baked to perfection for twenty-five minutes before tossing other toppings such as mozzarella cheese, pepperoni, and lean meat!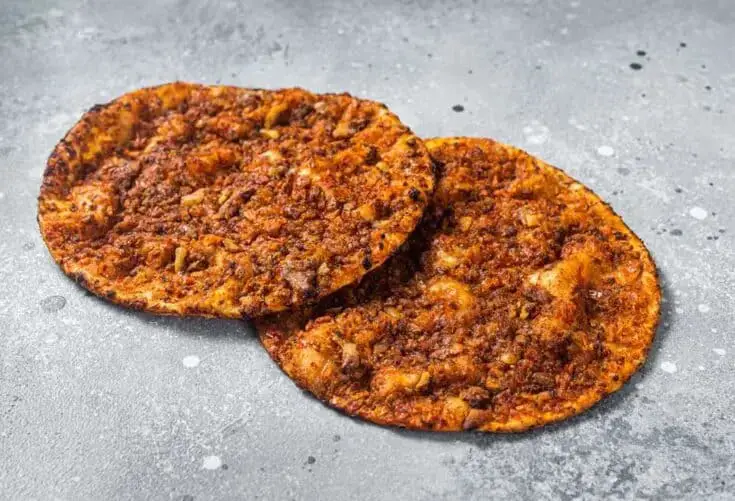 Treat your puppy to a mouthwatering feast with each bite of dog-friendly pizza recipe by Patch Puppy. The juicy and tender slice of pizza is baked into perfection in a kitchen oven until it's melting apart.
The smoky and herby flavors from basil and oregano are infused throughout the pizza crust. And the most exciting part? The pizza is coated with shredded carrots for a healthy vegetable balance with essential nutrients.
8. Simple Dog-Friendly Pizza Recipe
Let your dogs experience the ultimate finger-licking feeling with this yummy dog-friendly pizza recipe. The aroma from every slice of pizza will leave your puppies drooling before they even take a small bite.
As your pet sinks teeth, it will taste a satisfying crunch from the veggie toppings of carrots, tomatoes, chicken, and oatmeal. For the recipe's final wrap, toss in some mozzarella cheese only if your dog is not lactose intolerant.
If you like the juiciest and most delicious slices of pizza for your dogs, turn on the kitchen oven now. The secret is to bake the pizza at 450 degrees Fahrenheit for twenty-five minutes. For sure, each slice is filled with aromas and dripping with flavors. You set up and prepare the dough first and then top it with apple sauce or sweet potato mash. Finally, toss in some turkey bacon and mozzarella cheese.

10. Dog-Friendly Gourmet Pizza Recipe
When you come across a delicious meal this easy, you know you've found gold. In this gourmet pizza recipe, there are no complicated ingredients or a thousand number of complicated steps. You just need to gather and prepare red bell peppers, cauliflower, vegan cheese, pepperoni, and Italian sausage, and combine everything! And that's it, you'll have a dog-friendly pizza recipe your little fur ball cannot resist!
Here's a pizza bone treats recipe you can make for the most awaited birthday party of your fur friend. It's delicious, juicy, and surprisingly quick and convenient to make. First of all, parmesan cheese adds a burst of flavor. Add oregano, parsley, basil, and tomato paste to balance out the taste. Finally, use low-fat plain Greek yogurt and whole wheat to achieve a crisp texture.
12. Giant Veggie Pizza for Dogs
This recipe is a fantastic way to spice up your fur friends' daily meals. This giant veggie pizza recipe uses dry yeast, sugar, butter, all-purpose flour, and milk powder to make pizza dough. Then, it's topped with red and yellow bell peppers, capsicum, sweet corn, and olives for a more hearty flavor. For the pizza recipe's final touch, the mozzarella cheese topping gives way to a juicy flavor as your dog takes a bite.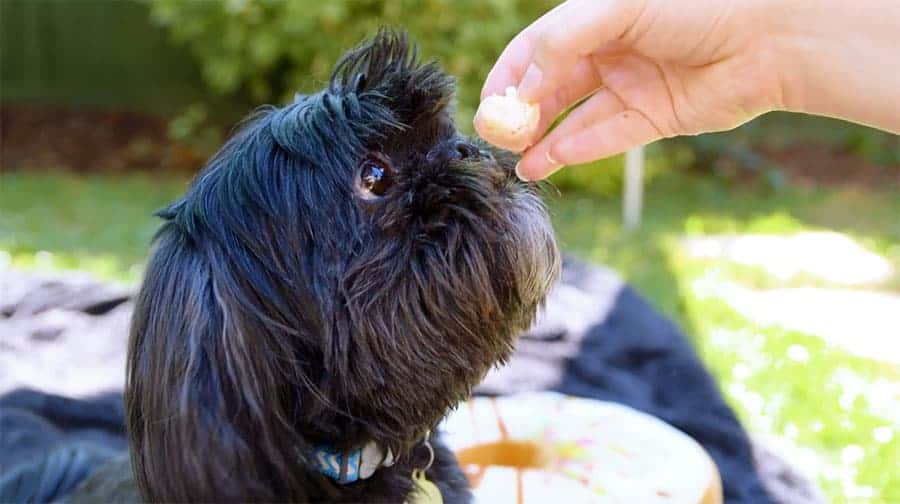 Do you want a recipe that will satisfy your dog's cravings without compromising its healthy food diet? Well, this frozen pizza treats recipe for dogs is the ultimate guilt-free snack your dogs need. It showcases layers of cheddar cheese, Philadelphia cream cheese, Passata, and tomatoes. Plus, the interesting part is the pizza recipe is quick to make, and the fridge does most of the work and magic for you.
14. Healthy Version Dog Pizza Recipe
This step-by-step recipe for a healthy version of dog-friendly pizza is filled with veggie toppings on top of yummy shredded chicken. The pizza recipe has low-fat options as well as some delightful toppings like tomato, spinach, courgette, cheddar cheese, and liver. For a well-rounded lunch that would not add to your beloved dog's waistline, this pizza recipe will surely do the trick for you!
This homemade recipe is the ultimate weeknight dinner treat for your dogs. Made with roasted chicken, honey mustard, fried bacon, cheddar cheese, and fried bacon, this savory dish is truly bursting with flavors. So, make it now, and watch it go right away before your eyes!
16. Furry Friend DIY Dog Pizza Recipe
This easy yet fantastic recipe is packed with flavors your dogs will love. It's perfect for health-conscious fur parents. There's just the right amount of vegetables, oregano, parsley, carrots, chicken, and hot dogs on top of homemade pizza dough. This pizza snack has all the tastes that will satisfy even the pickiest dog in the universe.
If you've ever liked bringing a taste of pizza store to your dog's dining table, this quick snack recipe is for you. The combination of icing, soy bacon bits, and anise seed makes for a delightful treat for your fur friend. Served over some dog treats or candies, this already-tasty meal will become a memorable dining experience that your dog will cherish for a lifetime.
18. Pan Pizza for Dogs
Here's another pizza recipe perfect for entertaining your dogs after their long day of chilling in the playground. The recipe is jampacked with pepperoni, cheese, oregano, and tomato sauce. On top of everything, it's quick and convenient to prepare. For a final wrap, serve this yummy pizza meal over dog treats or snacks, and you're good to go!
If you want a delicious dinner for your dog that won't take too much of your busy time, check out this pizza bites recipe from 'Rockstar Doggy Momma'. It blends well with the sweet flavor of honey, the sour flavor of broth and Parmesan cheese, and tomato puree. This flavor-packed pizza will have even the pickiest puppies coming back for seconds!
20. Homemade Pizza for Dogs
This meal actually tastes just as delicious as it appears. Every bite is filled with flavors of dog gravy, chicken, carrots, and broccoli your puppies can't resist. Serve the slices of pizza cold or warm, depending on what you like. If you like added crunchiness, throw in some cheese or other veggie toppings. Your little fur ball would love it.
Oh, and I might say this dog-friendly pizza recipe made of fresh spinach, parmesan cheese, and red bell pepper from 'Dalmatian DIY' is incredibly convenient to prepare and quick to make too! All you need are ingredients for the pizza crust and four toppings before rolling them and baking them in the kitchen oven! Indeed, yumminess awaits your dogs!
In Summary
Indeed, there's nothing more delightful in the universe than pizza. That being said, I think you also want your fur best friend to savor and enjoy it like you do. So, if you want nothing but your beloved puppies to have pizza as their favorite snack just as much as you like it, these 21 Best Dog Pizza Recipes are exactly what you need! So, what are you waiting for? Turn on the oven and prepare because you've got some cooking and baking to do!
21 Best Dog Pizza Recipes
Directions
Select your favorite dog pizza recipe.
Organize all the required ingredients.
Prep the recipe in 30 minutes or less!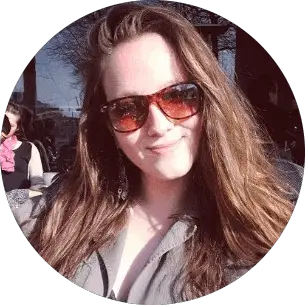 Barbara is an enthusiastic food-exploring person that goes through different culinary experiences. She got inspired by creating a pizza blog post after she tasted one of the best-selling pizzas in Toledo.