If you're wondering how to showcase your baking and cooking skills, these 20 Best Chicken Pizza Recipes are an excellent way to do it. They're excellent, impressive, and also a creative way to have fun in the kitchen. Baking a chicken pizza recipe may sound like a pretty challenging and time-consuming task. But of course, with just a little bit of know-how, it is actually quite basic and simple.
After all, chicken pizza recipes are truly versatile. Whether you're having a family dinner, hosting an event, or just wanting to impress your guests, chicken pizza is definitely the way to go. So, get ready, grab your apron, and try now these 20 Best Chicken Pizza Recipes!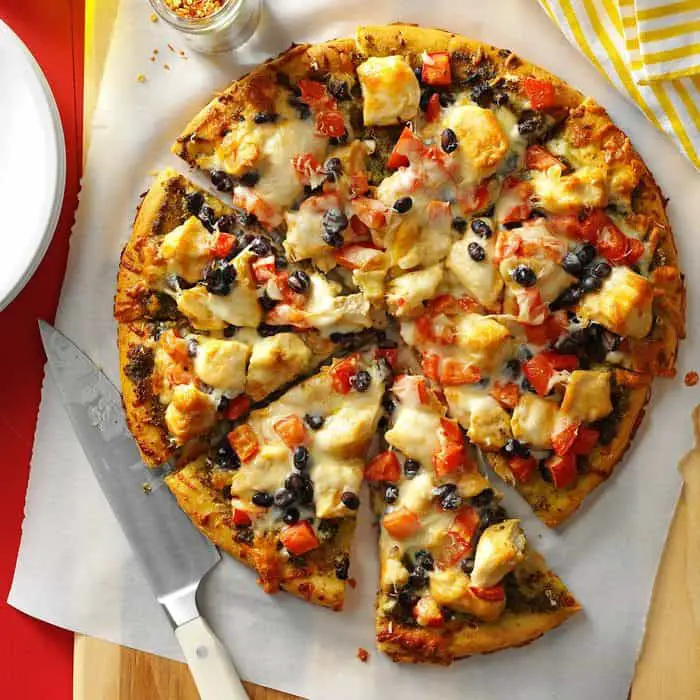 Do you like to upgrade your usual family pizza recipe to the next level? Instead of the traditional pepperoni and sausage pizza toppings, why not switch ingredients and try using juicy chicken breasts together with black beans, chopped tomatoes, and pesto sauce for a change? Or how about you mix and match chicken with extra veggies like onions or mushrooms?
Trust me, it's not about some sort of rocket science – you just stick to using simple ingredients with the right oven temperature. And yes, forget the typical hot sauce. Instead, put a drizzle of balsamic glaze for a strong kick of flavor!
2. Hira Bakes Homemade Chicken Pizza Recipe
If you have been looking since forever for the best chicken pizza experience, then give this recipe from Hira Bakes a try! The combination of juicy chicken, tomato sauce, and lemon extract produces a sweet but subtle taste.
Adding oregano, red chili flakes, and mustard gives the pizza a strong, spicy flavor that will definitely excite everyone's taste buds with each bite. On top of everything, the crispy pizza crust makes a crunchy contrast that blends all the flavors in one delicious meal.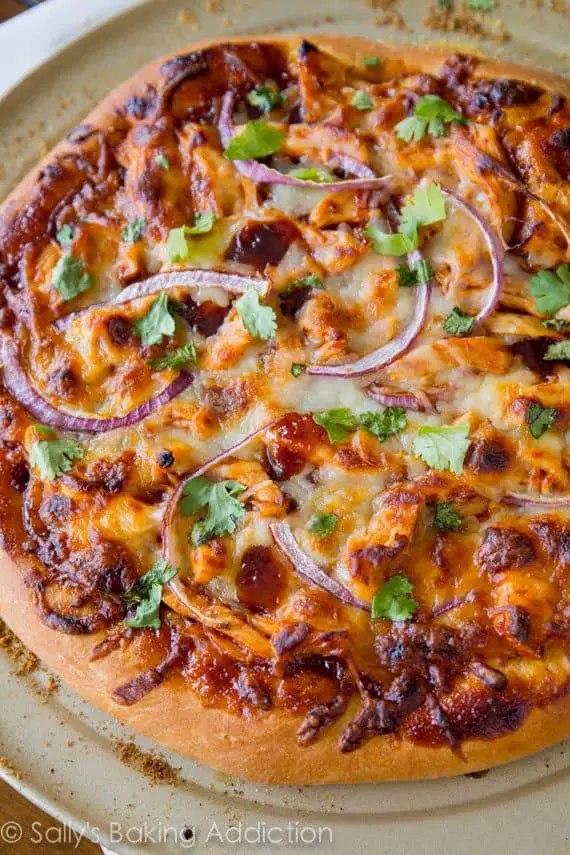 You don't need heavy toppings or extra veggies when you can freely whip up this barbeque chicken pizza. And yes, I'm talking about rotisserie chicken, mozzarella cheese, smoked gouda, and an unbeatable flavor combination of barbeque sauce, red onion, and fresh cilantro.
This homemade recipe is all about the taste, and it beats any local pizzeria in your neighborhood. So, get ready to ditch your local restaurant's delivery guy because you're having homemade barbeque chicken pizza tonight!
4. Yummy Kitchen No-Oven Chicken Pizza Recipe
With savory chicken fillet, creamy mozzarella cheese, garlic powder, paprika, oregano, and a spicy kick of jalapeno, this pizza recipe is like a little comfort for your tastebuds. But do not just take our word for it. Try this No-Oven Chicken Pizza recipe yourself and see how all the delicious ingredients and flavors combine into something truly magical and special.
This pizza recipe combines juicy and delicious chicken with shredded cheddar cheese, fresh garlic, and baby spinach leaves. It's a harmony of flavors that puts together all the typical summer vibes on the plate.
On top of everything, it's an incredibly quick and convenient dish to prepare as it would only take half an hour! All you must do is put everything in the baking sheet tray and let your kitchen oven do all the work for you!
6. Keto Chicken Garlic Pizza Recipe
Are you ready for a healthy but delightful pizza recipe? Keto Chicken Garlic Pizza is surely the way to go! It's straightforward, healthy, and brings out the incredible flavors of chicken, ground beef, and homemade Alfredo garlic sauce.
This colorful meal is filled with nutrition and makes a fantastic snack for your busy, jam-packed schedule. Just combine the grated Parmesan chicken, ground beef, and canned chicken in a large bowl, and mix well. hen, add all the spices and pop it in the oven.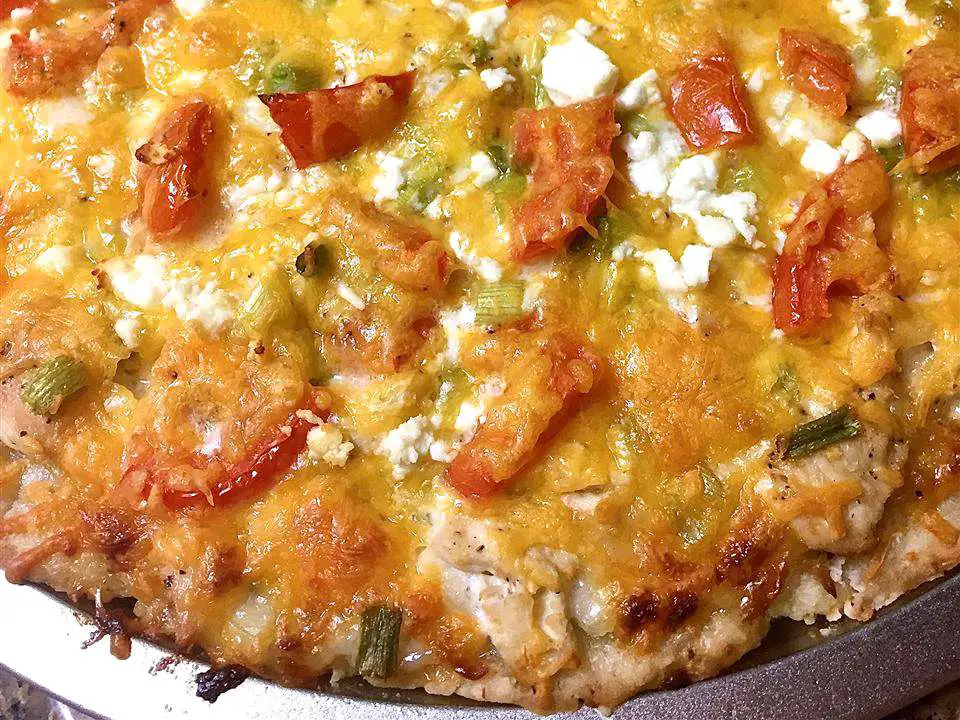 Spice up your Saturday dinner night with this lovely Gourmet Chicken Pizza Recipe. Dive into mouthwatering chicken, cheddar cheese, mozzarella cheese, tomatoes, and green onions in a juicy Ranch-style salad dressing.
This chicken pizza recipe can surely guarantee clean plates all around the dining table. Plus, as the cheese bakes and melts together with other vegetable ingredients, those juices make the chicken pizza more finger-licking good!
8. Chicken Tikka Pizza Recipe
Listen up, pizza lovers! The best thing you'll ever bake in your kitchen oven is the Chicken Tikka Pizza Recipe. The marinated chicken is so juicy, the pizza crust is crunchy and crispy, and it's so easy to make. Trust me, once you made this, it will be the new family favorite meal. It's so delicious and mouthwatering that you won't believe it came from the oven!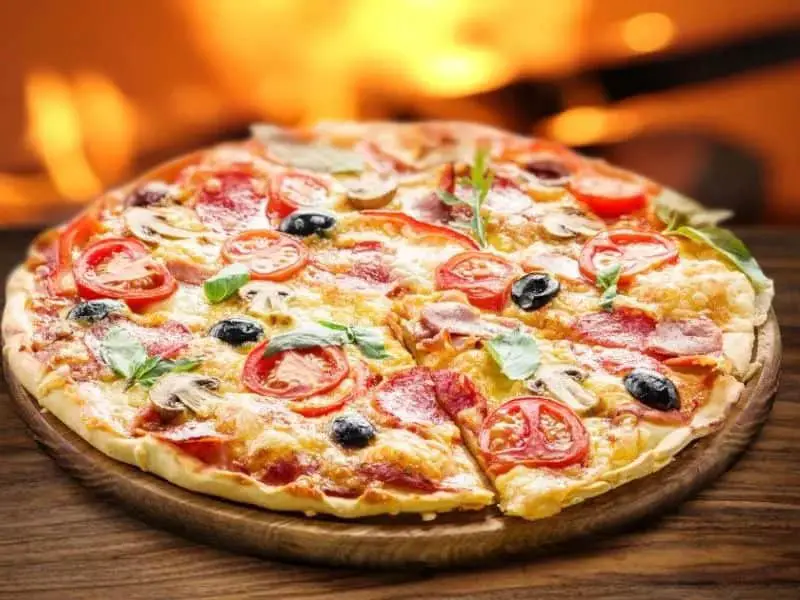 Are you looking for a foolproof pizza recipe to win over the hearts of your precious loved ones? Try this Italian-Style Chicken Pizza Recipe that is famous for being a beloved dish across the globe.
It's a simple, basic recipe that even beginners in the kitchen can cook in just the blink of an eye. With a little effort plus careful baking skills, you'll have juicy, tender Italian-style chicken pizza that everyone will love and look forward to!
10. Island Vibe Cooking Homemade Barbeque Chicken Pizza
This homemade barbeque chicken brought to us by Island Vibe Cooking YouTube Channel will surely be the star of your family's cozy holiday dinner.
The Greek Yogurt adds a special touch to the chicken and the barbeque sauce and shredded mozzarella cheese complete the meal. There's just something about juicy chicken that screams of holiday. And this homemade barbeque chicken pizza recipe is no exception. So, why not give it a try?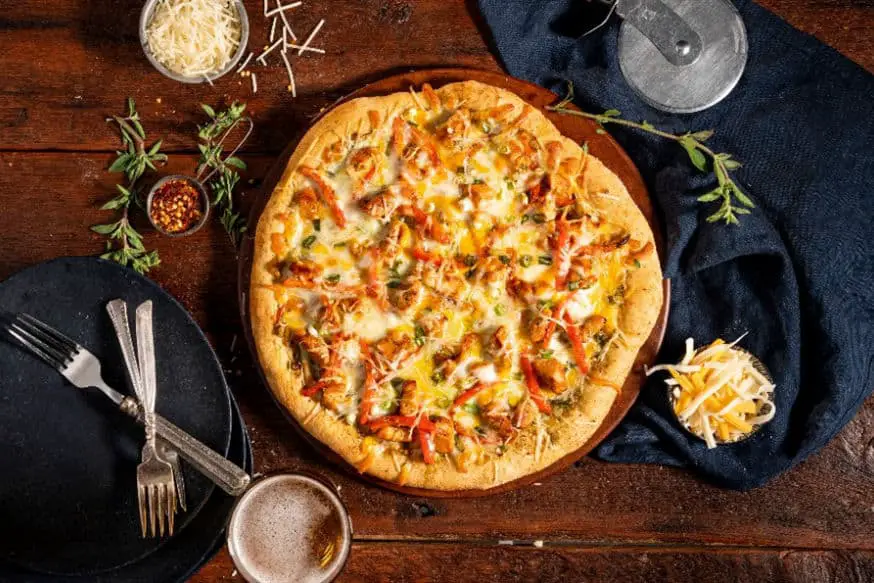 When you are craving some comfort food, it's no doubt that pizza is the number one choice. And this twist on Tuscan chicken and cheese is straight-up delicious. Instead of butter, you can stuff the chicken with herbs like pepper and rosemary for a burst of flavor.
Don't forget to add green onions, Pizza Double cheese, and Parmesan cheese to the baking sheet for extra taste. Pop everything in the oven for around twelve minutes, and voila you have an amazing pizza to enjoy!
12. Food Fusion Tawa Chicken Pizza Recipe (No Oven & Yeast)
Warm up your mind, heart, and soul with a good slice of Tawa Chicken Pizza! It's a rich, flavorful, and comforting meal that's perfect after a long, tiring day of work. Just a slice will surely chase away all the blues and warm your belly.
The Tawa Chicken Pizza is delicious, sweet, and satisfying. So, what are you waiting for? Try this recipe now and impress your loved ones with the best chicken pizza around!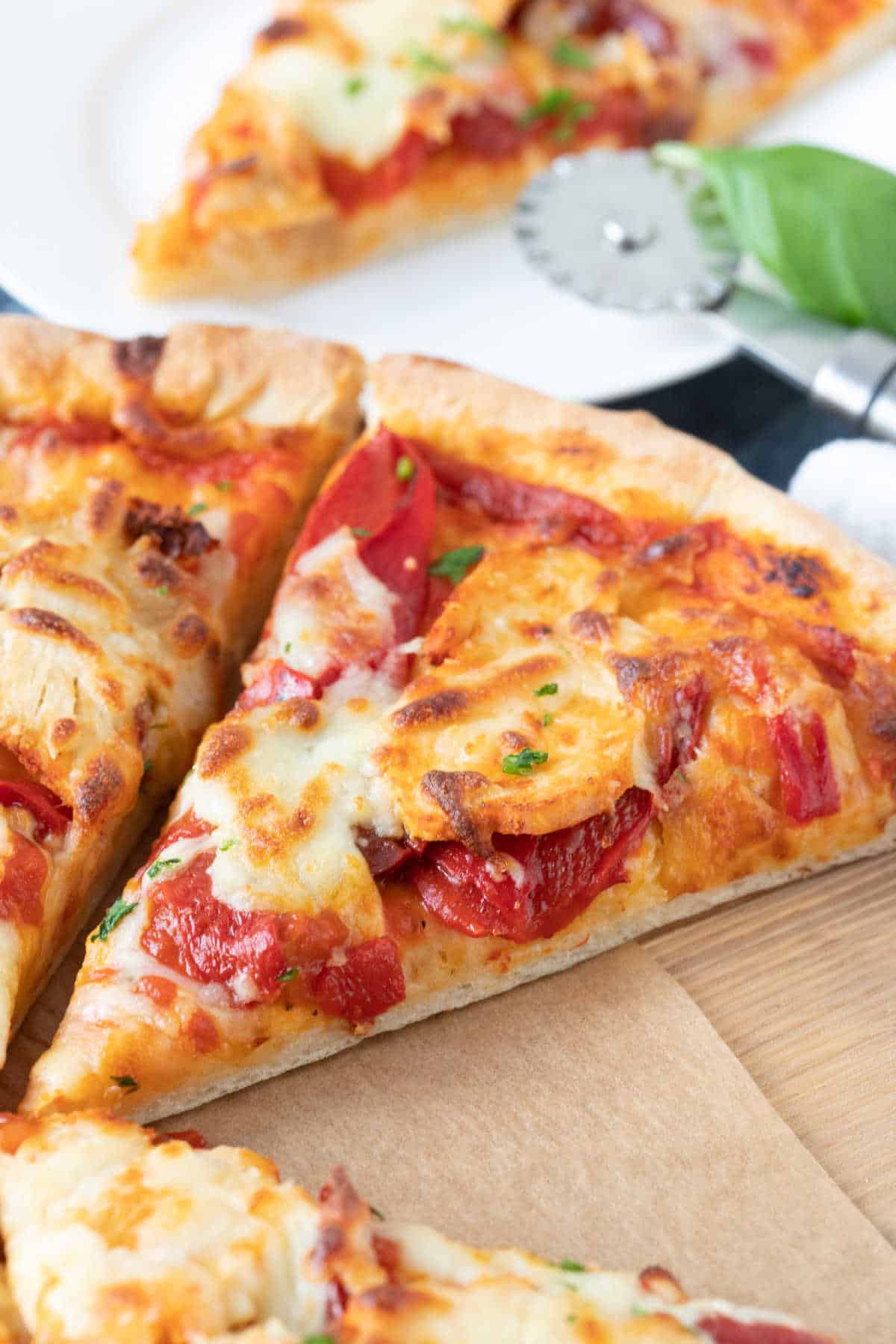 This Spicy Chicken Pizza Recipe definitely catches all the good stuff. It's a dinner meal that mixes chicken with all the all-time favorite, classic ingredients like bacon, cherry tomatoes, mozzarella cheese, baby spinach, and cornmeal.
It's healthy, easy to make, straightforward, but super-duper delicious that's perfect for summer. Bursting with hot flavors, this spicy chicken pizza is the perfect way to feel the summer vibe!
14. Chicken Fajita Pizza Recipe
Do you need a showstopper lunch party dish? Try this Chicken Fajita pizza recipe from Tasty Cuisine YouTube Channel. The key secret is in the mixture of red chili powder and garlic paste that infuses the chicken breast with a strong flavor.
Trust me, your lovely guests will beg for this Chicken Fajita Pizza Recipe. This dish is a guaranteed crowd-pleaser that will definitely make you feel like a five-star chef without all the difficult process, hassle, and hard work.
Get ready for a taste explosion with this chicken pizza recipe and the delectable barbeque sauce. Using only few ingredients, this one-pan dinner meal is cozy and fantastic for any occasion. The chicken bakes evenly in the oven, and the cheese, red onion, and fresh cilantro caramelize in the barbeque chicken juices. Definitely, this pizza recipe is worth the wait!
16. Cheetos Chicken Pizza Recipe
This Cheetos Chicken Pizza is such an easy meal but an all-time classic favorite. It's simply delicious and fuss-free pizza recipe that requires only simple ingredients. The juicy but crispy chicken has a sweet and subtle taste, making it a kid-friendly dish. Finally, serve it with your favorite side dishes such as potato salad, Italian Bruschetta Bar, spinach artichoke dip, coleslaw, and garlic cheese bread.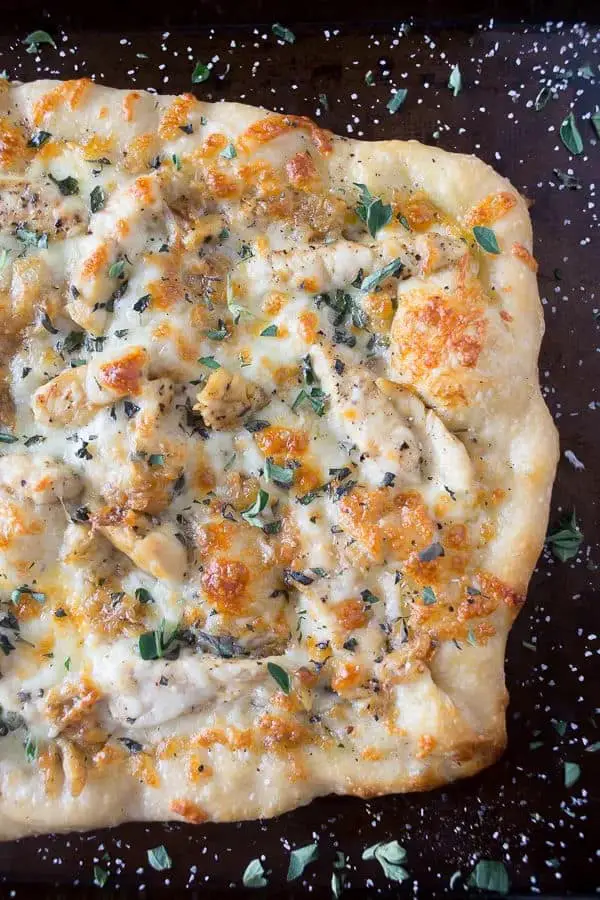 Roasted Garlic Chicken Pizza is savory, incredibly rich dish that will surely tantalize your taste buds. The combination of cheese, fresh herbs, and roasted garlic helps to produce the delicious flavor of the chicken. It also gives a spicy kick of flavor. This unique chicken pizza recipe gives a smooth punch of taste that will leave anyone wanting and craving for more!
18. Wild Cookbook Homemade Cheesy Chicken Pizza Recipe
You'll love every bite of this homemade cheesy chicken pizza. Perfect for summer, this creamy pizza is a velvety delight that's filled with mozzarella and Parmesan cheese goodness. Indeed, you can never go wrong with a warm and delightful slice of cheesy chicken pizza. It's loaded with savory and bold flavors and just the right amount of cheese that really elevates it.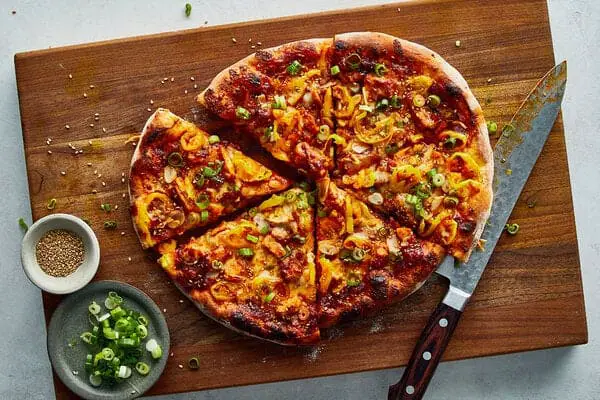 Level up your usual pizza recipe with nothing but Korean fired chicken. Inspired from South Korean style, this pizza is made of marinated chicken bathed and grilled in a sweet and spicy flavor sauce made of gochujang, soy sauce, hot chili flakes, and sweet rice syrup that's topped with browned and bubbly mozzarella cheese.
This recipe makes the tastiest, creamiest, and cheesiest chicken pizza over. Serve it with a cold beer or sparkling wine for a unique twist.
20. Chicken Mushroom & Bell Pepper Pizza Recipe
Get ready to become chicken obsessed! Whether you're an avid lover or fan of chicken or need some convincing, this chicken mushroom and bell pepper pizza recipe will definitely have you hooked.
Simply mix and add some flair of chicken stock, smoked paprika, chives, cumin, sugar, and black pepper into the boneless chicken. Crank into the oven and you'll have an amazing side dish for any meal you want or for topping with a coleslaw salad.
The Bottom Line
Indeed, chicken pizza recipes are perfect to make on any occasion, whether it be a birthday, holiday celebration, or just an intimate event. It's definitely a crowd-pleaser and can surely win over the toughest pizza skeptics. Why wait for special celebrations? Cozy up with these 20 Best Chicken Pizza Recipes at any time of day or season of the year.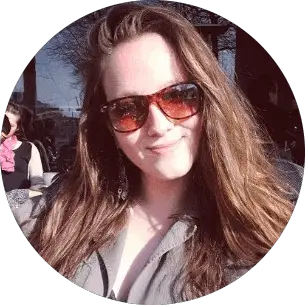 Barbara is an enthusiastic food-exploring person that goes through different culinary experiences. She got inspired by creating a pizza blog post after she tasted one of the best-selling pizzas in Toledo.