Do you love tomatoes on your pizzas? Most of us do and if you also enjoy the toasty sweet yet acidic flavor of tomato on pizza, then this post is made for you. A good tomato pizza is flavourful and simple to make. While it is easy, it is not necessarily lower in flavour and quality. Today we're talking all about tomato pizza recipes that you can try in your kitchen.
One of the most important things to master when making a tomato pizza is the all-important tomato sauce. While the tomato sauce is only the base between the dough and topping, it is still a very important part of the process. For your pizzas, try this delicious homemade tomato sauce that will give your tomato pizza the authentic flavors it needs to wow those eating it.
2. Pizza Dough Plus Tomato, pepperoni, and Ham Topping
One of the important things about pizza is the dough, and sometimes the dough alone can make or break the pizza despite the topping choices. This recipe is an easy-to-make pizza dough that is kneaded and pulled to perfection. It also features the classic toppings of pepperoni, tomatoes, ham, and cheese.
Why spend time kneading pizza dough when you can take a bit of a shortcut and use great-tasting dough without the expansive time factor. What's more, you don't even need a mixer for your dough. Just a good old bowl and spoon will do for this pizza dough preparation.
This recipe does not require rolling out the dough, instead spreading it out using your hands. The dough is the star of this pizza recipe, so you can then top it with fresh Roma tomatoes, basil, and a crack of fresh pepper before popping it into the oven.
4. Tomato Pizza (Margarita Pie) With Canned Tomatoes, Chilli Flakes, Basil, Garlic, and A Blend of Cheese
Homemade pizza is the best and you shouldn't have to buy pizza when you can make it yourself. Getting store-bought dough will make things even easier and you may even go ahead and purchase authentic pizza dough from the local pizza place.
In this recipe, canned tomatoes are used as it has less water, but you can use whatever tomatoes you like. Add garlic cloves for that blend of flavor dimension, and add basil and olive oil. Find the full recipe and give it a go yourself.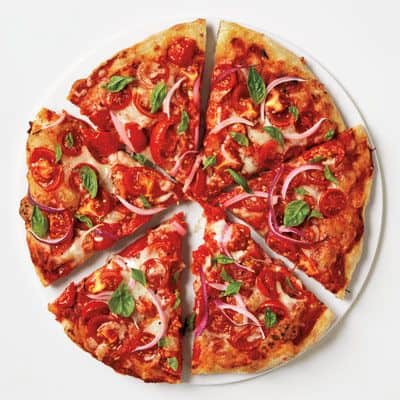 This tomato pizza recipe is the best with tomato as the star ingredient. The All-Tomato pizza features cherry tomatoes which are sweet and give the pizza a good flavour. It also adds tomato sauce and mozzarella cheese. This is a great option as a summer lunch or snack, It is a fresh pizza with hints of basil.
This tomato pizza is hot and if you're into spicy foods, then give this tomato pizza recipe a try. The secret is the fiery hot sauce used in the tomato sauce. Essentially the hot sauce is the key to the hotness of this pizza, and together with the chicken and spinach, the flavors balance nicely against the pizza crust. and this gives the ultimate kick to your tastebuds.
7. Super Easy Pizza Dough Two Ways With Tomatoes, Peppers and Olive Topping
Why spend hours making the pizza dough when you can do an easy two-ingredient method using flour and plain yogurt. The texture is great to work with, and it also makes for a quick and easy lunch or side addition to dinner. You can top your pizza dough with freshly sliced Roma tomatoes, bell peppers, olives, mozzarella or any toppings of your choice.
Pizza is a very child-friendly meal, and you can the more toppings you add that are your kid's favourites the better it goes. This olive and tomato pizza recipe features a generous blend of mozzarella and cheddar cheese. You can use store-bought dough, or make yours from scratch, but to save on time, store-bought is always best. Give this one a try and get the kids to help.
You cannot go wrong with the classic Margherita pizza, but not all are made equal. The key to a good Margherita is the perfect pizza crust, not to mention the best tomato sauce that your tastebuds won't resist.
The tomatoes used in this one include cherry tomatoes. The tomato sauce is unique as it uses roasted tomatoes, which also gives another layer of flavor; you can't go wrong with the basil and cheese medley.
10. White Chicken Pizza Topped with Roasted Cherry Tomatoes
Unlike the traditional pizza that features a tomato base before the topping is added, this white chicken pizza features a white cheesy sauce that serves as the first layer on the crust and then the chicken, cherry tomatoes and other elements are added. It will be oven baked to perfection.
Have you ever had corn on your pizza? No? Well now's the time to expand your horizons and make it with corn. This pizza variation is sweeter, with fresh tomato and basil topping to seal the flavour. Making it in a pizza oven is the perfect finish to the super-easy and tasty pizza variation. Since there's no meat, it is also suitable for vegetarians.
12. An Easy Tomato and Pepperoni Pizza
This pizza recipe is created with homemade dough, which is extra excellent if you're doing it from scratch. You can have the tomato base with mozzarella and bake it in the oven as is, or you can, as this recipe calls for, add a layer of pepperoni plus mozzarella and cheddar cheese to help complete the toppings.
The heirloom tomato and basil pizza is perfect with its rich garlic notes, fresh basil leaves, olive oil and crushed black pepper. You can use store-bought dough and stretch it a bit but not too much just to get the texture correct. You can even purchase your dough at a pizza store, which would be even better. The golden-brown crispness is your goal that says you've done it.
This classic basil and tomato pizza calls for pizza dough made from scratch. Believe us, you've earned bragging rights if you've made your pizza dough from scratch, giving it a good flavor of freshness with the topping of ingredients to add to the textures and flavors.
This pizza takes only 15 minutes to cook and 15 to prep, and if you have a hungry lot waiting at home, then this is quick, easy, and serves up to 8 helpings.
The Philadelphia Tomato Pie-style pizza is the perfect snack or light lunch served with a side. This recipe calls for a thick-like crust and, depending on how you make the crust, it can be thick and wide. In contrast to the classic pizza style, the tomato pizza pie has a thick, rich, and sweet tomato sauce compared to the Neapolitan lighter sauce variation.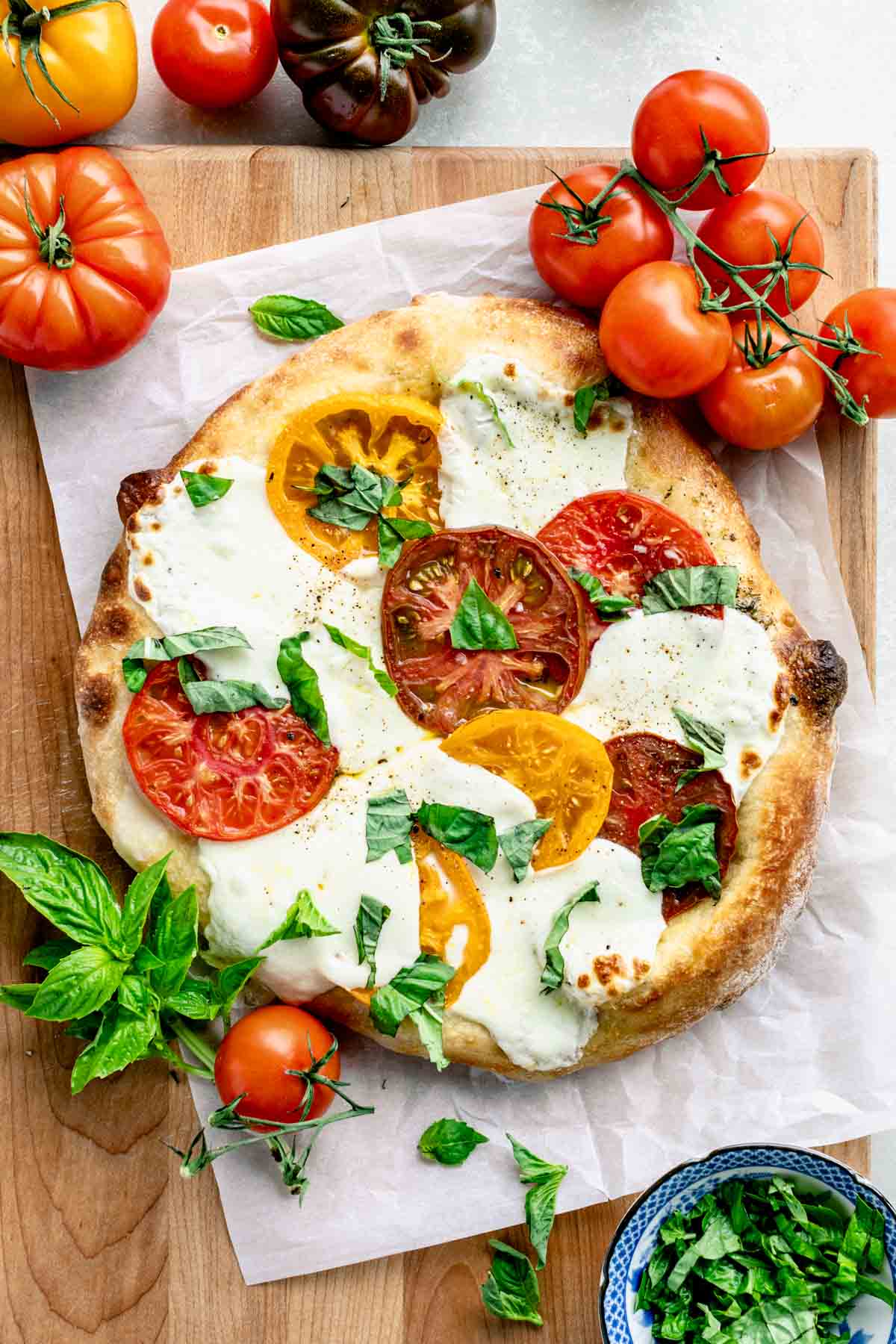 The Tomato Pizza Cypress recipe calls for fresh Mediterranean spices like Italian seasoning, EVOO (Extra virgin olive oil), and heirloom tomatoes, to name a few.
The mixture of heirloom tomatoes gives a rich color and sweet flavor to the pizza. The mozzarella gives that delicious cheesy melt flavor that pizza lovers know and love. Paired with tomatoes, it is an excellent fresh snack.
If you love meat, you'll love this three-meat and tomato pizza. It features lots of meat, and you can select whichever one you prefer. While meat may be the star of this recipe, it also calls for the tomato feature because, let's face it, pizza isn't pizza without tomatoes and cheese.
18. White Garlic and Broccoli with Fresh Tomatoes Pizza
This is a healthy and delicious tomato pizza packed with flavor thanks to the aroma flavor notes of the fresh garlic. The broccoli adds a hint of earthy notes, while the fresh tomato balances and brings the flavors together along with the cheese.
19. Tomato Pizza with Mushroom and Mozzarella
The simple yet tasty flavors of this tomato pizza featuring mushrooms and lots of mozzarella is a hearty favorite. It is super easy to make, and you can choose to make your own dough or, for ease, buy it store-bought.
Quick Tips to Make a Great Pizza
Make sure the dough rests before adding the topping. After all that stretching and kneading, the dough's ingredients will be activated, and this may not be the ideal time to handle it some more.
Basil, olive oil, and tomatoes are a beautiful combination and perfect with pizzas. Don't be afraid to add some additional olive oil to the dough once you have stretched it and are ready to add the toppings.
A golden crust is a perfect crust, even for a thicker pizza base.
Are you ready to make the perfect tomato pizza at home? Go ahead and give these recipes a try.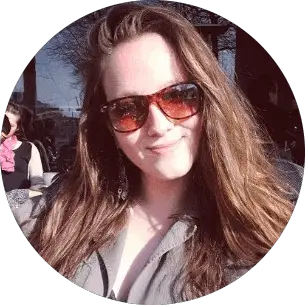 Barbara is an enthusiastic food-exploring person that goes through different culinary experiences. She got inspired by creating a pizza blog post after she tasted one of the best-selling pizzas in Toledo.