Pizza is one of the most popular foods there is, but making great pizza at home can be challenging, and mastering the art of creating your own pizza dough is no easy task.
However, an alternative is to make pizza bowls instead, so for anyone interested in trying, we've had a look online to see what other people have been cooking – and as a result, here are our favorite 27 pizza bowl recipes you might enjoy attempting at home.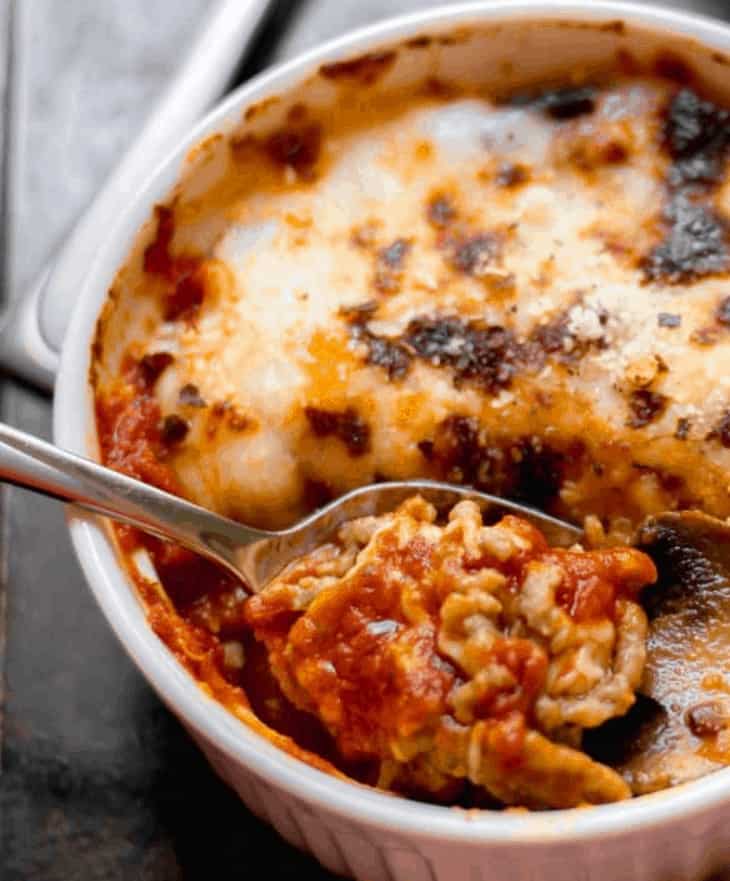 This simple recipe teaches you how to make simple crustless pizzas in bowls using your favorite pizza toppings that can be ready in no more than about five minutes. They look super-delicious, and they're easy to customize, so you can adapt them to everyone's tastes, making them a perfect option whenever you need a quick and easy meal for your family.
2. Keto Pizza Bowl from Keto with Sammy
If you're on a keto diet, one thing you might be missing is pizza – but with these keto-friendly pizza bowls, this no longer needs to be the case. They're easy to make, and you can load them up with all your favorite toppings, allowing you to satisfy your cravings for pizza while still sticking to your diet.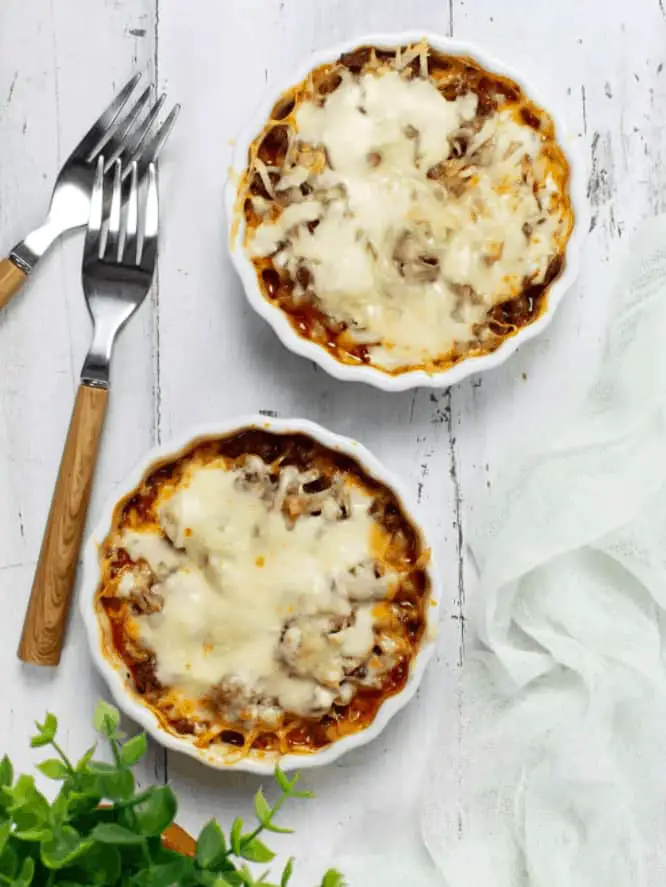 One advantage of pizza bowls is simply that you don't need to worry about making the crust. You simply cook up all your favorite ingredients and serve them in a bowl topped with delicious melted cheese and you're good to go. This recipe shows you how to make them with sausage, pepperoni, tomato sauce, cheese and Italian herbs – but once you see how it works, you can start experimenting with any other ingredients you like.
4. Homemade Easy Pizza Bowls Recipe from Cooktube
Just to prove how easy it is to make pizza bowls, this video shows you how to do it in just a minute and a half. As you can read in the introduction, they're great as a starter – but you can also serve them as a main meal if you put larger portions into bigger bowls.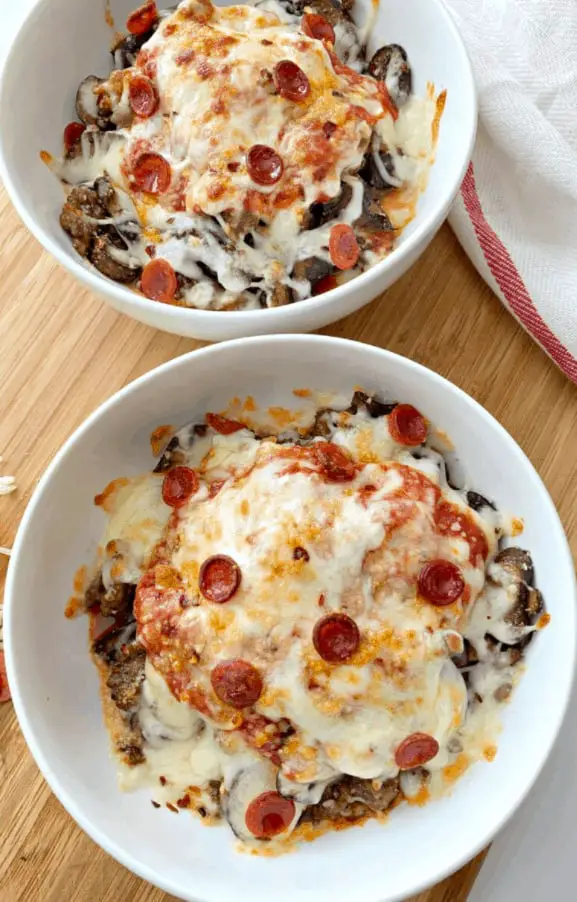 Here's another keto-friendly recipe, but judging by the photo, this is something most people will enjoy eating whether they're on a keto diet or not. As you can see, the bowl is piled high with melted cheese, pepperoni pieces, mushrooms and more, and it's making us feel hungry just thinking about it!
6. Easy Pizza Bowl from trutru77
These simple but yummy-looking pizza bowls are based on Italian sausage meat combined with tomato pizza sauce and served in bowls with a generous helping of mozzarella cheese. The bowls are then topped with pizza crust, which is then baked in the oven for ten minutes until they're done. They look so cute too, and we're sure plenty of others will agree.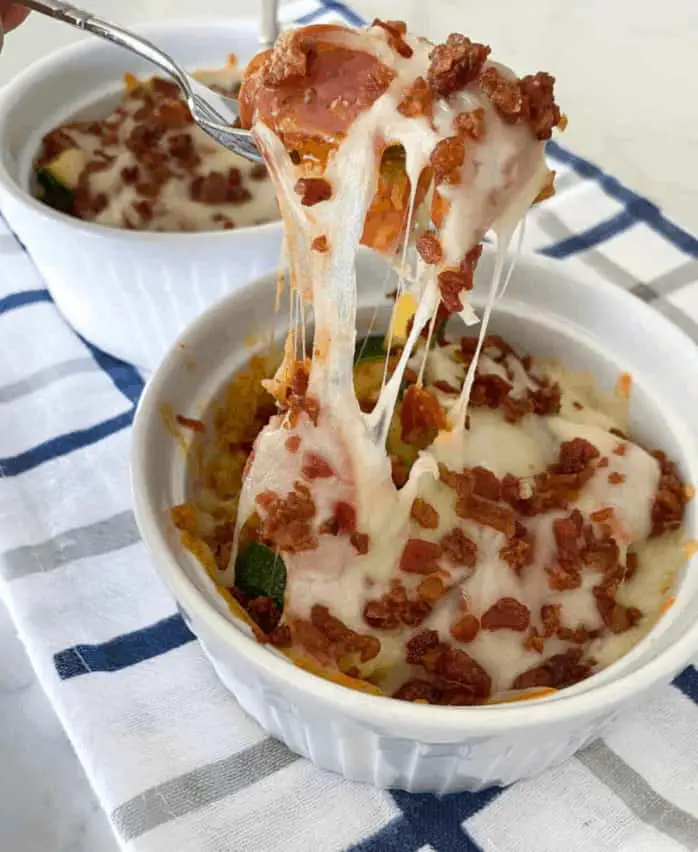 If you're avoiding carbs, traditional pizza is off the menu. However, you can still enjoy your favorite topping in a pizza bowl, and this is a recipe that shows you how. It's a healthier option than regular pizza, and it's a lot better for your line – so if you're watching what you eat but are craving a pizza, this is a recipe that might help.
8. Upside-Down Pizza Recipe
Here's a great pizza bowl idea lots of people are sure to love – it's quite different from a lot of other pizza bowl recipes because rather than just putting pizza ingredients in a bowl and skipping the crust, this version uses the crust itself as the bowl! That means it's a bit like a regular pizza, but it can hold even more topping than usual. Sound intriguing? Then give this video a watch to see how he did it!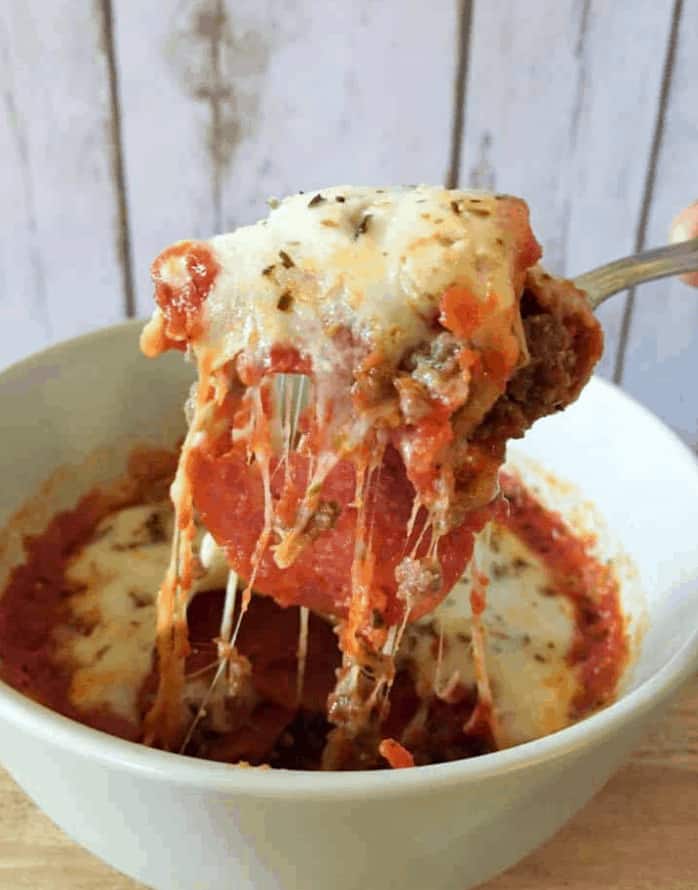 If you like things like melted cheese, pepperoni, sausage meat and tomato sauce, you'll only need to see the photo at the top of this post to be convinced that this is a recipe you need to try. There's no crust, so it's low carb too, making it ideal if you're trying to lose a few pounds.
10. 3-minute Bowl Pizza Recipe
If you need a quick snack or even a light meal but you don't have time to prepare anything more elaborate, this recipe can save you – because these microwave pizza bowls take no longer than three minutes to make. We're amazed by how tasty they look when they're ready too, with the cheese melted on top and the sauce bubbling around the sides. We're impressed!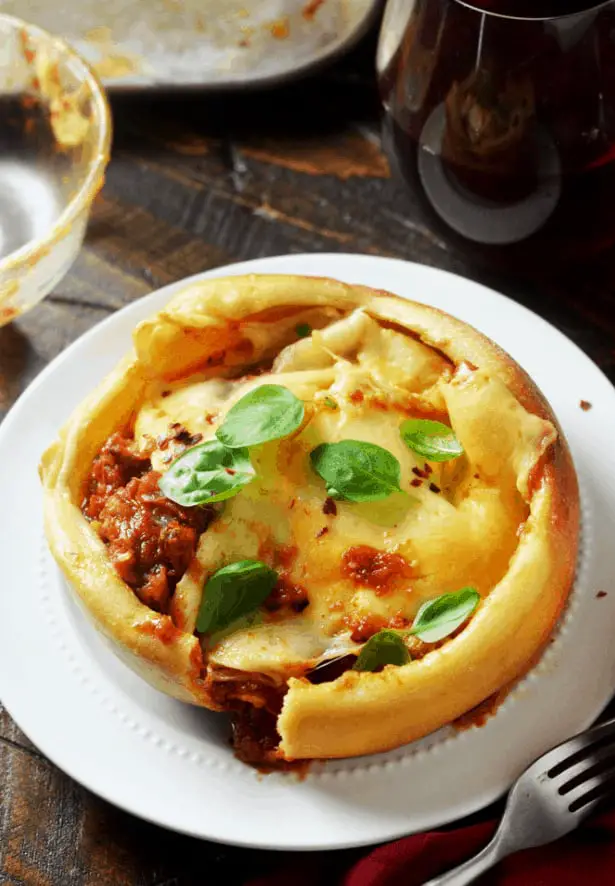 If, like this blogger from NYC, you love great pizza without being a snob about it, you might be open to trying some more innovative creations. If that's the case, this cute pizza served in a crust bowl might tempt you. And once you try them once, you might even find you're hooked, even if you know you really shouldn't be!
12. Best Pizza Bowl Recipe from Almazan Kitchen
There are so many good things about spending time in the great outdoors – but one of the biggest drawbacks is the lack of pizza. But just because you're out in the woods, it doesn't mean there's no chance of satisfying your pizza craving, and this wonderful recipe for pizza bowls will show you one way to do it.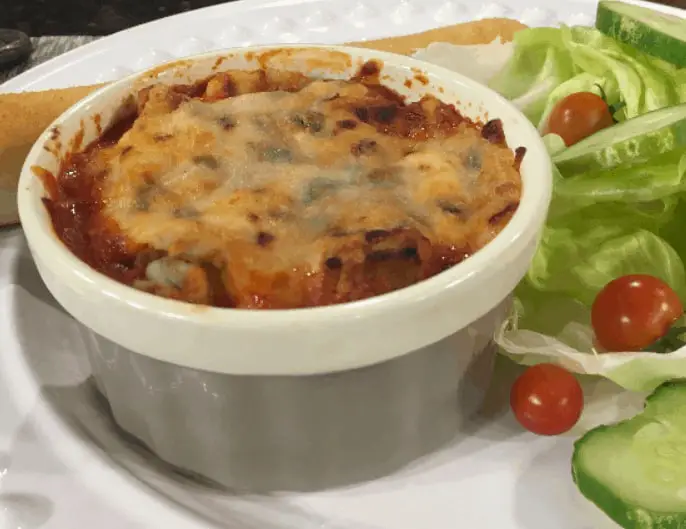 As this blogger writes, if you skip the crust and cook pizza in a bowl, it's easy to make it low-carb and gluten-free, which means that even those on restricted diets can enjoy pizza. It requires only 15 minutes of prep and takes no more than 30 minutes overall, which means once you've tried it once, this is likely to become a go-to meal whenever you don't feel like making anything more complicated.
14. Deep Dish Pizza Bowl
If you like the idea of eating pizza from an edible crust bowl, this is another recipe you should check out. This version is for a deep-dish pizza that's stuffed full of melted cheese, garlic, sausage meat and more to give you an indulgent treat you won't be able to get enough of.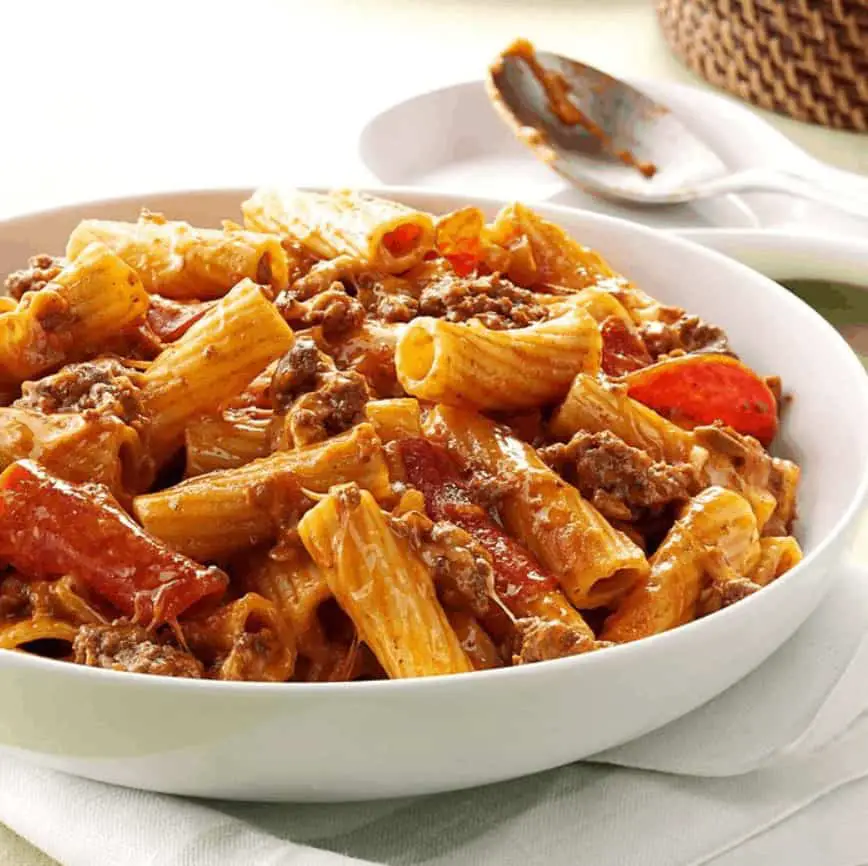 The innovation here is that for this pizza bowl, this recipe substitutes regular pizza crust for pasta. We think we're moving away from what can reasonably be termed a "pizza", but if it tastes good, who cares what we call it? And if you like the look of the dish in the photos, you shouldn't have any trouble recreating the idea at home.
16. Pepperoni Pizza Bowls
Want to learn how to make pizza bowls but don't want to waste time watching long videos about how to do it? Then watch this one instead. It's only 30 seconds long and tells you everything you need to know, leaving you free to get into the kitchen and start cooking. So what are you waiting for?
17. Keto Pizza in a Bowl
Since there's no crust, it's no wonder there are plenty of pizza bowl recipes aimed at those on a keto diet – and here's another one. This YouTuber managed to lose 120lbs cooking and eating dishes like this, and if you're wondering if you can do the same, just check out her channel to see how she did it!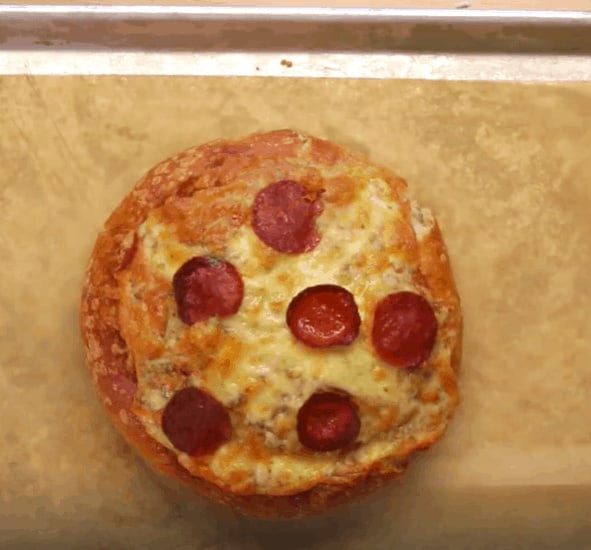 The technical name for a bowl made from the crust of a loaf of bread is a "trencher", and these edible bowls are traditionally filled with soup. However, this recipe teaches you how to make one filled with pizza topping, and although it might not be great if you're counting the calories, it most certainly looks yummy – so for anyone looking for an indulgent treat, this is an idea that's sure to be of interest.
19. How to Make Pizza in a Bowl
Here's another one for people on keto diets or who don't eat gluten – and this video gives you even better value because it teaches you how to make not just one but three versions of crustless pizza. That way, you can keep things interesting by varying what you eat. And when you've tried all these suggestions, you can even follow her ideas to make new versions of your own.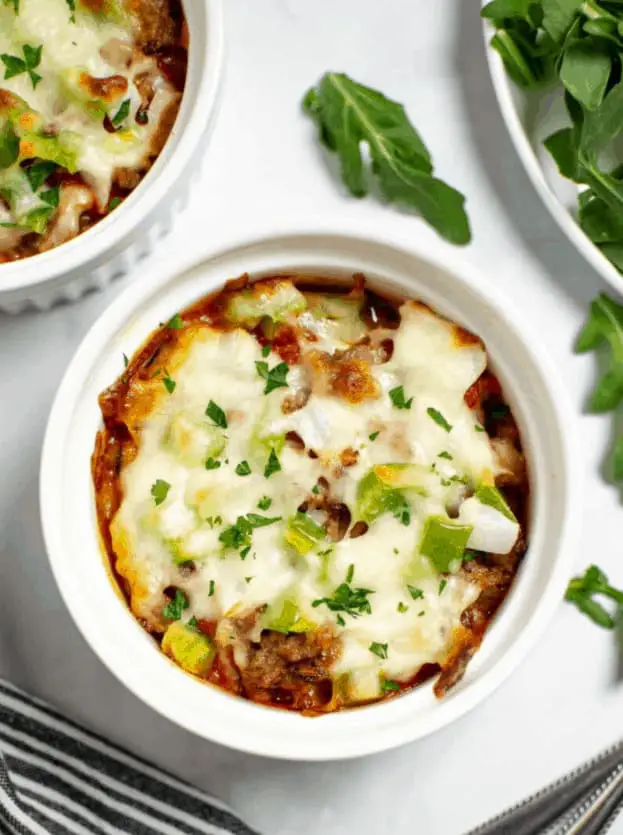 As this blogger tells us, these pizza bowls are keto-friendly, gluten-free – and can even be adapted for vegetarians or vegans, making them highly versatile as well as being quick and easy to make. That makes them a great option if you have a household of fussy eaters since you can make a different version for everyone. Give her blog a read for more details.
21. How To Make Low Carb Pizza Bowls
This YouTuber starts her video tutorial with a great tip. If someone in your family is on a low-carb diet but not everyone, you can make pizza bowls like this – and then add pasta for those who eat carbs and leave it out for those who can't. She has a great personality too, which makes her video fun to watch – check it out to see what we mean.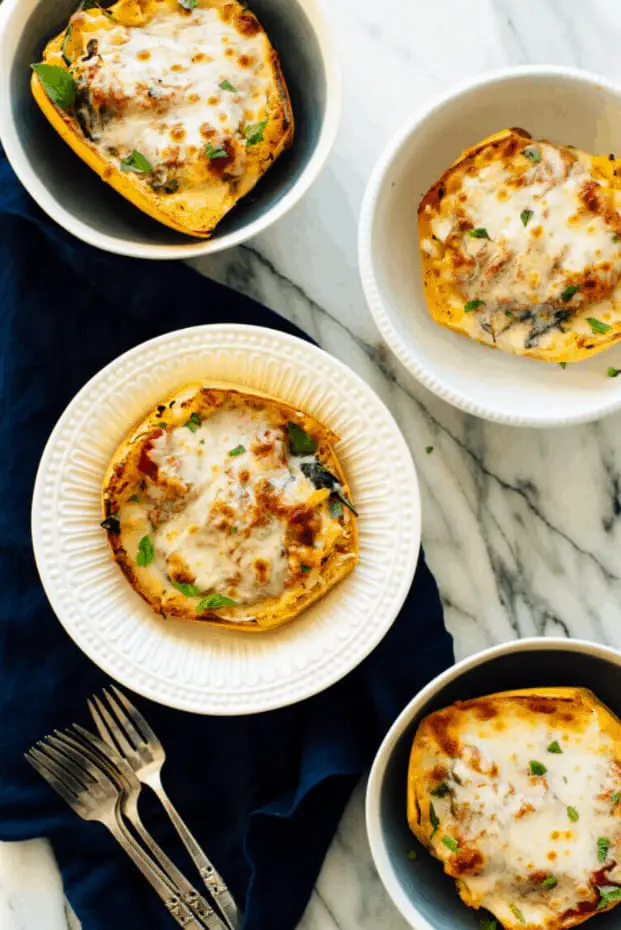 In her post, this blogger writes that she didn't quite know what to call this creation – and we're not sure what to make of it either. But whichever way you look at it, we're sure they taste wonderful, and they're probably a lot healthier than a lot of the other recipes we've seen too. Curious now? Then you'll just have to head over to her blog to find out what we're talking about!
23. Keto Chicken Pizza Bowls Made Easy
These simple keto-friendly pizza bowls use chicken instead of pepperoni, unlike many of the other recipes we've seen, and just for that reason, this video is worth a watch. They're easy to make – you can just use up leftover rotisserie chicken from another meal – and they look irresistible too, so why not see if you can copy his idea?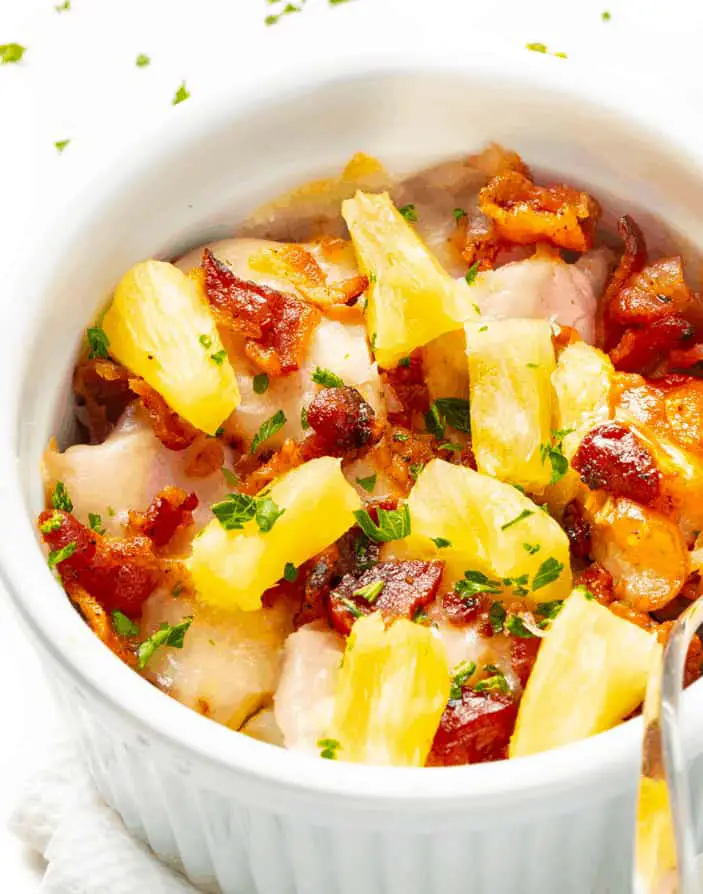 Is Hawaiian pizza the most controversial topping of them all? We think it just might be, but if you're one of those who don't turn their nose up at pineapple on pizza, this is a recipe you might enjoy – especially if you're on a keto diet since this pizza is crust-free.
25. Keto Pizza Bowl from Casually Keto
This YouTuber suggests making this keto pizza bowl as a quick snack, an easy lunch or even a great dinner. It's super-easy to do too, and his video is only a couple of minutes long – so once you've watched it, you can decide to copy his version exactly or just make up a creative recipe of your own.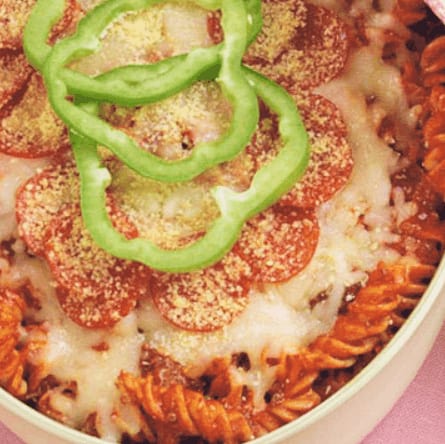 Mac and cheese is one of the great comfort foods – as is pizza. So why not combine them in one dish and make a mac and cheese pizza? There are lots of ways of doing it – some people actually use mac and cheese as a topping for regular pizza – but this recipe teaches you how to cook a pizza bowl version, and we have to say, it looks delicious.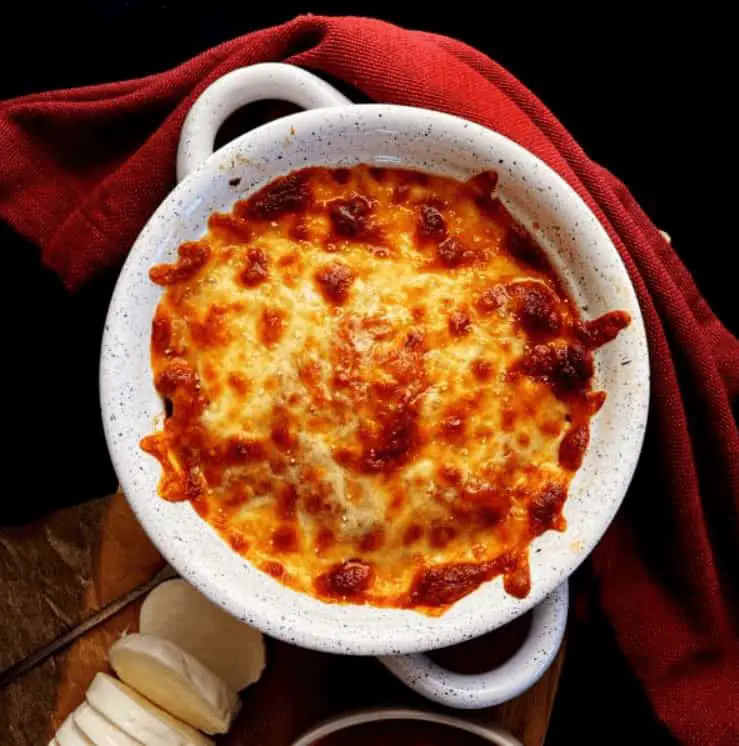 This pizza bowl is filled with creamy Italian cheese, spicy sausage, and nutritious cauliflower, making it both healthy and delicious. It could hardly be easier to make either, so if you're a newbie in the kitchen – or are just feeling a bit lazy today – it would be an ideal option to attempt.
So many great pizza bowl recipes to try
As you can see, there's no shortage of pizza bowl recipes to try making, including versions both with and without pizza crust, making them suitable for people with a whole range of dietary requirements.
We've enjoyed collecting these recipes for you, so we hope you've enjoyed reading and watching them all too. And above all, we hope we've helped you find the inspiration you needed to start cooking delicious pizza bowls of your own.
27 Best Pizza Bowl Recipes
Ingredients
Keto Pizza Bowl From Keto With Sammy

Homemade Easy Pizza Bowls Recipe From Cooktube

Easy Pizza Bowl From Trutru77

Upside-Down Pizza Recipe

3-Minute Bowl Pizza Recipe

Best Pizza Bowl Recipe From Almazan Kitchen

Deep Dish Pizza Bowl

Pepperoni Pizza Bowls

Keto Pizza In A Bowl

How To Make Pizza In A Bowl

How To Make Low Carb Pizza Bowls

Keto Chicken Pizza Bowls Made Easy

Keto Pizza Bowl From Casually Keto
Directions
Select your favorite recipe.
Organize all the required ingredients.
Prep the recipe in 30 minutes or less!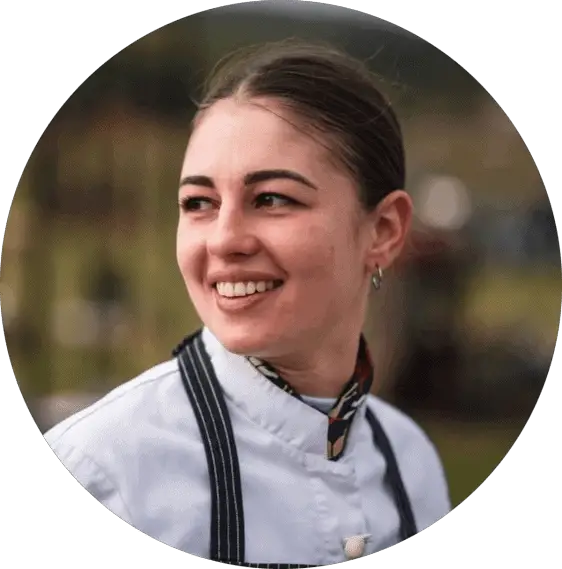 Julie has five years of experience in the restaurant industry, she decided to share her knowledge about her liking and fondness for food and pizza, of course, cooking as her love language. She's very passionate about what she's doing, making all the things she writes regarding pizza recipes, very amazing!