A crustless pizza is a delicious way to enjoy all the flavors of your favorite meal without the inconvenience of making dough or worrying about too many carbs.
If you're a pizza lover and are following the keto, gluten-free, low-fat, or low-carb diet craze, this post is for you! We share not one, not two, but thirty unique crustless pizza recipes that you can easily try at home.
These recipes are not only delicious; they also fulfill all the requirements of a healthy pie. So, let's get busy!
Are you on a keto diet? This keto-friendly pizza will get you delighting in your favorite pie without worrying about breaking your fitness goals. Not only is the recipe gluten-free; the pizza base is made of pure marinara sauce, so, it is relatively low in carbs too. Add your preferred toppings and a drizzle of mozzarella and Italian seasoning. You will love it!
2. Eggplant Pizza
While eggplant pizzas may not be as crispy as their flour cousins, this revamped version will get you so hooked you will forget you are eating a veggie. Cut a fresh eggplant in half, dip the leaves in olive oil and bake for ten minutes. Then add spiced tomato, toppings of your choice, Italian spices, salt, and mozzarella cheese. Bake again for ten minutes and that's it.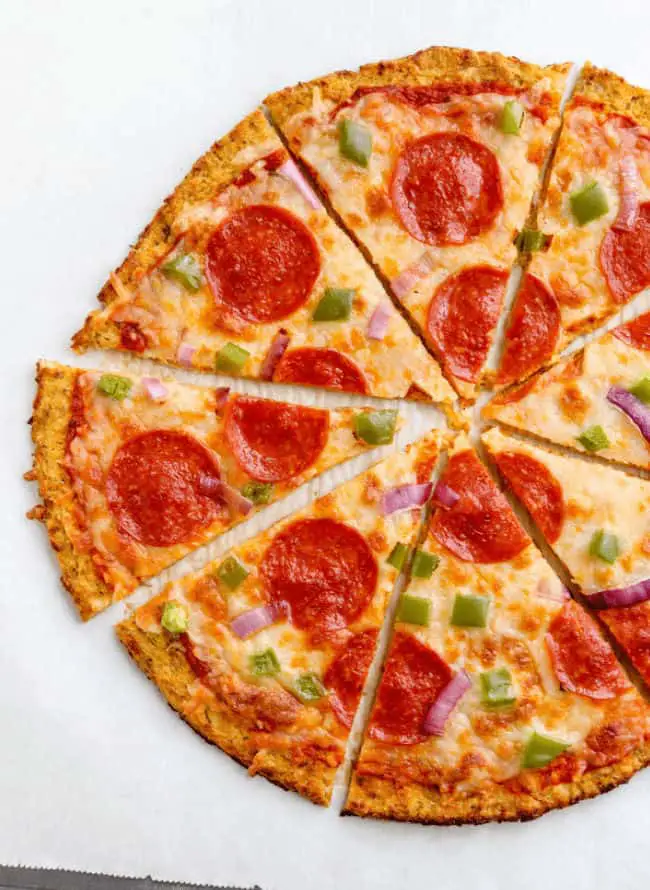 The cauliflower crust is another healthy option for people on a low-carb, low-calorie diet. Fifty minutes and a few ingredients are all you need to produce this hearty pizza base. To get started, crush cauliflower in a food processor and add parmesan, mozzarella, salt, eggs, oregano, and garlic powder. Then bake for around twenty minutes.
4. Broccoli Pizza
If you can make pizza crust out of cauliflower, why not try broccoli? Substitute a few heads of cauliflower with broccoli and you will get one of the tastiest crusts packed with vitamins, fiber, and other nutrients. Mix with low-fat mozzarella cheese, gluten-free flour, eggs, salt, pepper, and other seasonings and toppings of your choice for a yummier, more flavorful pizza.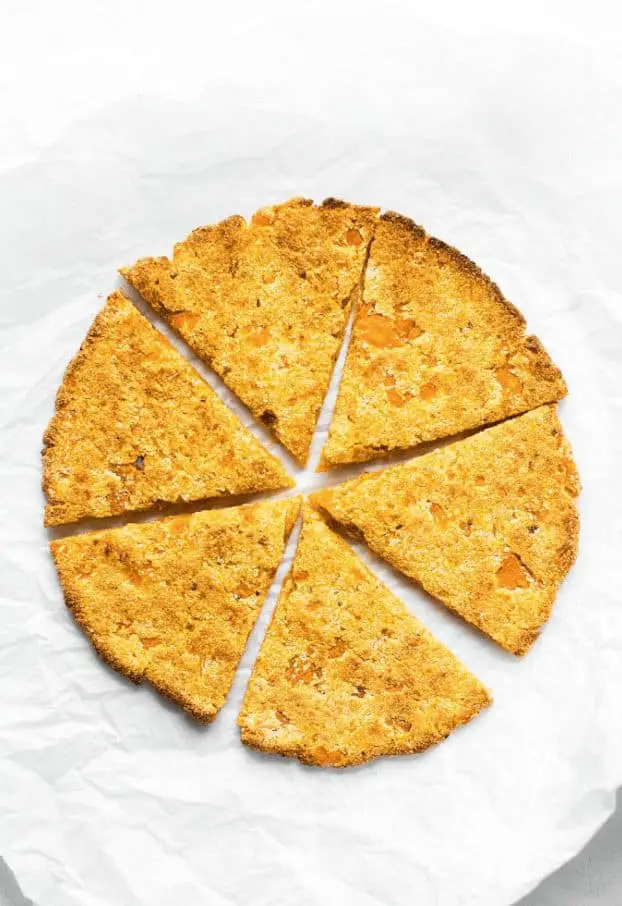 Sweet potato fans, we got something for you too; the sweet potato crust pizza. This one is vegan and gluten-free and tastes incredibly delicious. No eggs, no yeast, and no oven needed. Just mash sweet potatoes, add your toppings, and place on the stovetop. You will enjoy a firm, chewy, low-carb pie in just fifteen minutes.
6. Butternut Squash Pizza
Butternut squash is not just awesomely sweet; it also contains an abundance of vitamin A, responsible for boosting immunity. Combine it with salt, crushed red pepper, parmesan, nutmeg, egg, and olive oil, and process it into crust. Top with fresh veggies, red pesto, and cheese and you will have a pie that runs deep and strong in just a few minutes.
This chewy and crispy chickpea pizza has a bold flavor and simple dressing that you can customize in just ten minutes. Like the sweet potato crust, this one is gluten-free, contains no yeast, and cooks over the stove in minutes. All you will need is chickpeas, garlic powder, gluten-free flour, onion powder, egg, salt, and pepper, and you are good to go.
8. Potato Pizza
One bite of russet potato crust pizza and you will realize that these potatoes are unfairly criticized. Russet potatoes not only produce delicious pizza bases; they are also rich in vitamin C, vitamin B6, and potassium that boosts immunity, enhances brain function and regulates blood pressure. This recipe calls for nothing other than potatoes, cheese, eggs, vegetable oil, and black pepper.
Cut the carbs with this healthy spaghetti squash pizza crust that cooks in thirty minutes! You will need spaghetti squash, dried oregano, salt, egg, and cayenne. While the texture may not be exactly like your usual thin crust pizza, it is super healthy and super delicious. Try it this pizza night. It will only take thirty minutes to bake.
10. Pumpkin Pizza
If you love butternut crust, we are sure you will love a crust made of pumpkin too. And all you will need is pureed pumpkin, a little bit of flour, baking powder, salt, and extra virgin olive oil. Everything will bake in about thirty minutes. You can top the crust with oregano, fresh tomatoes, and cheese, but you can also go ahead and throw in any of your favorite pizza toppings.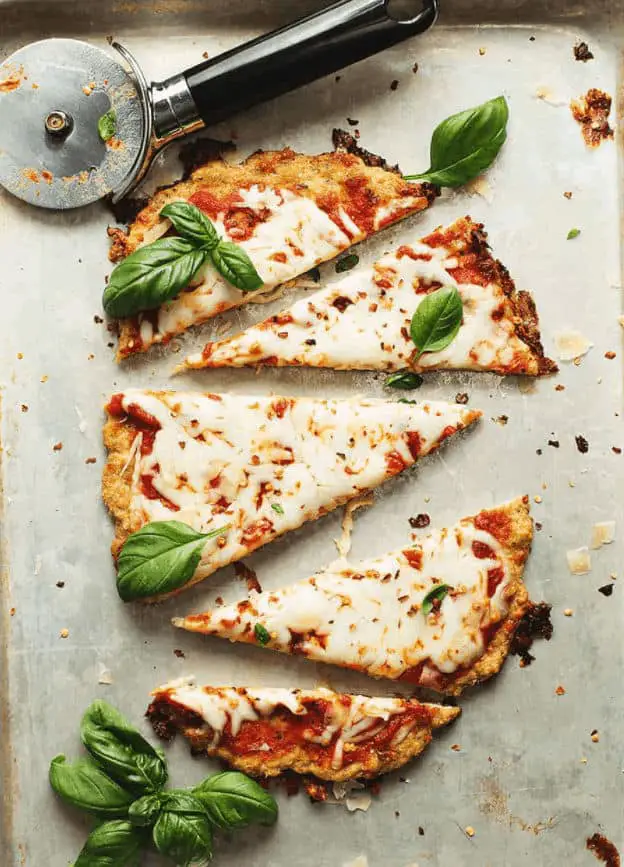 Ever used chicken for pizza crust? It's flat-out amazing! It uses only three ingredients and bakes in about thirty minutes. Grind boneless, skinless chicken pieces in a food processor and spread on a baking tray. Put in the oven for twenty minutes then add sauce and mozzarella. Bake again for ten minutes then sprinkle with parmesan, fresh basil, and red pepper. Irresistible!
12. Red Beets Pizza
Looking for some color pop? We've got you covered with this flavorful beet pizza crust. The recipe combines ground beet with yeast, Greek yogurt, gluten-free flour, and salt. See just how delicious the crust looks with zucchini, red onion, and gold flakes topping. It is quite healthy and not just that. It takes only ten minutes to bake everything. Plus you can even use store-bought beet crust.
Red beets not your style? Try these zucchini pizza boats. Simply wash a few fresh zucchinis, cut them in half along their lengths, and scrape off their soft, seedy center. Place in a baking dish and top with parmesan and mozzarella cheese. Then bake for about thirty minutes or until zucchini is soft and cheese is brown and bubbly. Easy as pie.
14. Spinach Pizza
Another green crust that is not only delicious but also loaded with vitamin A, vitamin K, and a good amount of folate. This one will be even easier to make than the cauliflower pizza. Just blend spinach, egg, and mozzarella cheese, spread on a baking sheet, and bake for about fifteen minutes. Then add sauce and toppings and bake again till the cheese has melted.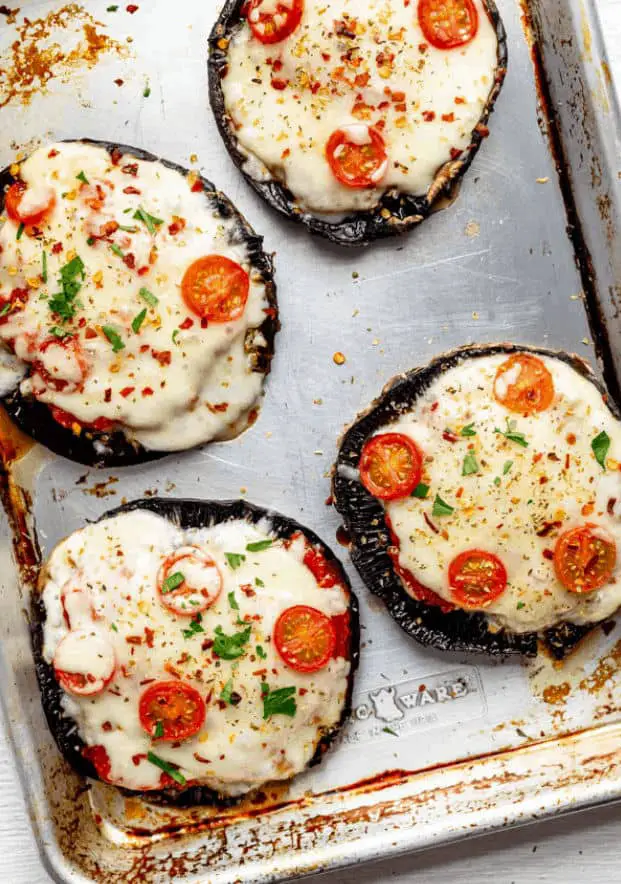 Portobello mushrooms can serve as an amazing base for pizza dressing too. This is a great low-carb side dish that incorporates mozzarella cheese and your favorite fresh veggie and meat toppings placed on flavorful roasted portobellos. It is perfect for kids, parties, or light snacks, and will not take any longer than ten minutes to cook.
16. Polenta Pizza
Made from the good old cornmeal, polenta provides our bodies with essential vitamins and is a rich source of minerals including iron, thiamin, phosphorus, and magnesium. This polenta pizza is made from polenta, dried chili flakes, rosemary, garlic, parmesan, cherry tomatoes, Italian mozzarella, and red onion. It is healthy, delicious, and bakes in only fifteen minutes.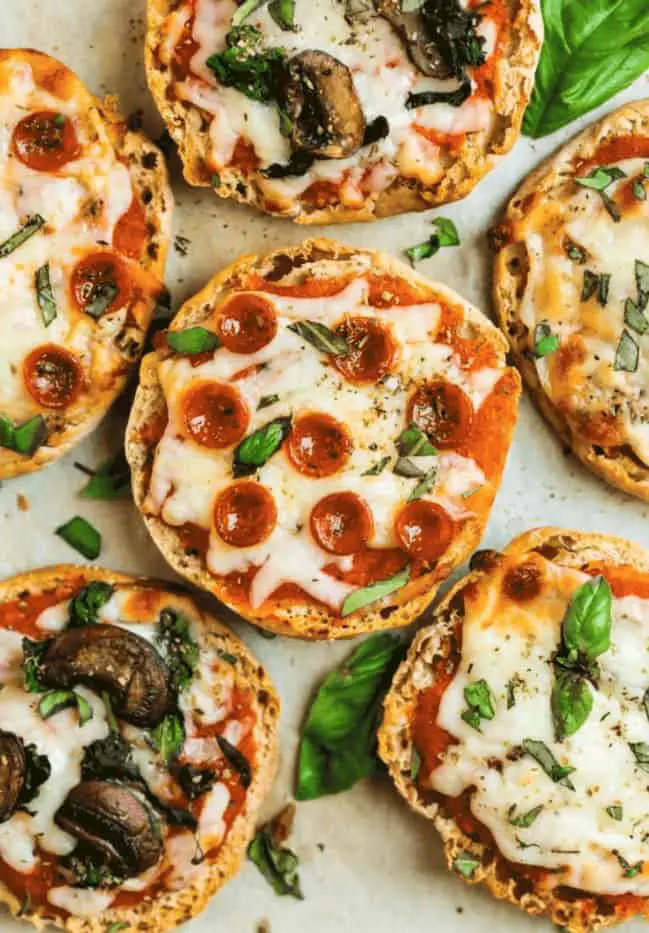 English muffins are not just for snacking on a boring afternoon; they make for an excellent pizza base too. These cute mini-pizzas are great for both kids and adults. Let kids join in and do the toppings. They can make them all and your work will be just to bake. And you will be thrilled to know that the cooking time is only ten minutes. [30 Best English Muffin Pizza Recipes]
18. Carrot Pizza
Try this utterly tasty carrot crust and you will never want your pizza base made any other way. Carrots have an abundance of vitamin A and are a great option for someone looking for traditional pizza crust alternatives. Just grate some and mix with garlic powder, black pepper, Italian seasoning, salt, eggs, and mozzarella cheese. Then add toppings and bake.
This is a cheaper alternative to the English muffin pizza. You can use leftover bagels and veggies you already have. This specific recipe tops the bagels with fresh spinach, green pepper, green onions, tomato, and hot chili pepper, but you can use a topping of your choice. To achieve an extremely thin base, cut the bagels in thirds instead of halves. Bake for ten to twelve minutes. [27 Best Pizza Bagel Recipes]
20. Kale Pizza
Just like spinach and broccoli, kale gives you one of the greenest and tastiest pizza crusts. Every bite will provide you with a healthy dose of vitamin C, vitamin K, and antioxidants, and consumed regularly, kale can help your body get rid of unwanted toxins. For this scrumptious crust, you are going to blend organic kale with eggs and cheese. Add toppings and bake for fifteen minutes.
Another simple, healthier, and lighter pizza night solution is the oatmeal pizza. You will need rolled oats, baking powder, almond milk, eggs, salt, cheddar and mozzarella cheeses, and dried basil or oregano. Prepping and cooking will take you around forty minutes. And you can use any toppings your heart desires including our all-time favorite, the Spanish ham.
22. Cabbage Pizza
Tried a cabbage pizza yet? It's incredibly delicious! To get started, slice a medium-sized cabbage and mix it with grated carrot, onion, eggs, salt, ground pepper, sesame oil, and a little bit of flour. Put everything in an oiled pan, add some sausage toppings, and cook for five minutes. You can add cheese if you like, but this pizza is still yummy as is.
A fully vegan pizza that takes about thirty minutes to bake! It is our favorite New Year's pie, probably because black-eyed peas are said to shower New Year with good luck. You will need black-eyed peas, chopped mint, oats, garlic, garam masala, dried red chili, extra virgin olive oil, and chopped collard beans. Use grape tomatoes for topping or choose your own toppings.
24. Yam Pizza
Yams are an amazing source of fiber, copper, potassium, manganese, and antioxidants. This gluten-free pizza made of ground yam crust will not only have plenty of benefits to your body; it's also easy to cook. Just grate fresh yam, cook it for twenty minutes, then add sauce, cheese, and toppings. Cook again for about ten minutes. You may garnish with fresh basil to serve.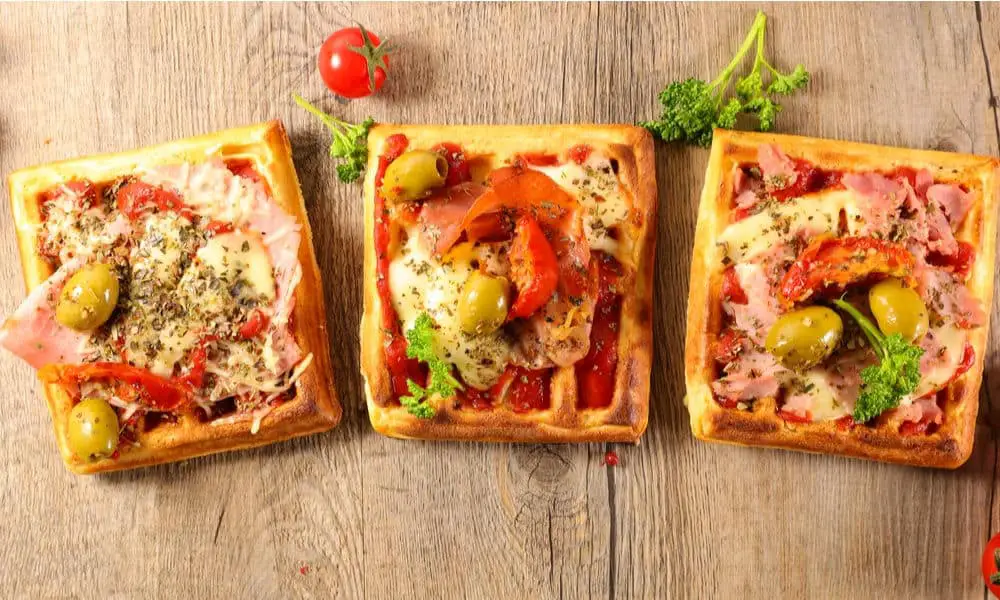 When you run out of pizza dough, do you skip pizza night? Absolutely not! You make waffles. This recipe combines sun-dried tomatoes with semolina to produce crispy and delicious waffles that can be enjoyed by both kids and adults. Choose your preferred sauce and toppings and bake. Your tasty mini-pizzas will be ready in just thirty minutes.
26. Black Bean Pizza
Whoever said beans can't make pizza was not so creative because this black bean pizza tastes amazingly delicious. With a blend of rinsed, well-drained black beans, yeast, and flax eggs, cayenne, salt, and garlic, you will have one flavorful crust for your pizza. Dress with sauteed mushroom, kale, tomato sauce, and onions, or any other topping you like.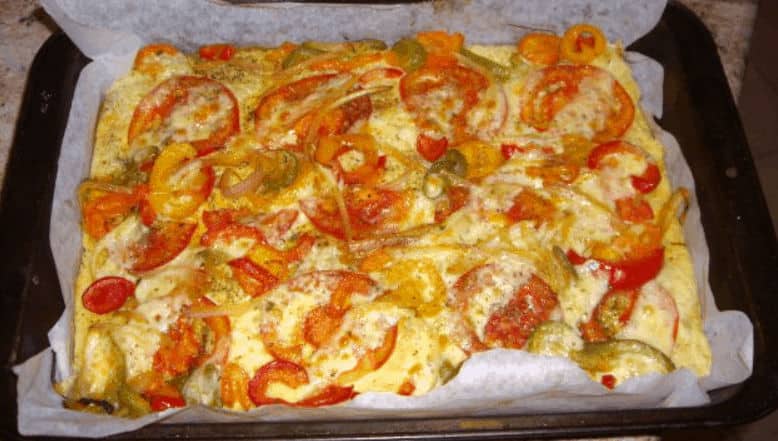 Sometimes changing a few things in the breakfast presentation can encourage poor eaters to try new delicacies. The French toast pizza is a unique and delectable treat for kids. All you will need are slices of toast bread, milk, eggs, salt, tomato, oregano, onion, and cheese. Bake for thirty minutes or until the bread starts to feel like French toast.
28. Plantain Pizza
Plantains are amazing both as a snack and as a pizza crust. If you have a sweet tooth, you should consider giving this recipe a try. Get a few near-ripe plantains, peel them off, and blend them with eggs. Pour the batter into a greased pan, spread it out, and bake for about twenty five minutes. Top with green chili pepper, bell pepper, and sausages, and put back in the oven for ten minutes.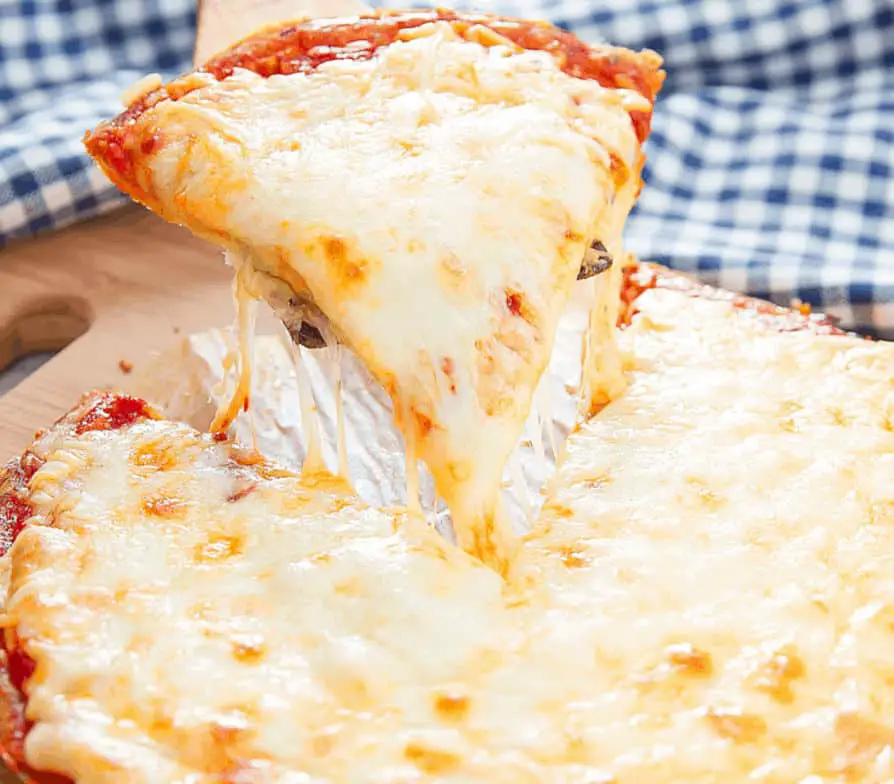 As the name suggests, the crust of this pizza is made from 100% cheese. No grain or vegetable flour, just shredded mozzarella cheese, parmesan cheese, and cheddar cheese. The recipe also adds some eggs and Italian season but you can certainly omit these if you want an all-cheese crust. Top with tomato sauce, a sprinkle of mozzarella, or any other dressing of your choice.
30. Quinoa Pizza
This recipe uses only five ingredients to produce a gluten-free, mouth-watering pizza. Simply put soaked quinoa in a blender, add water, salt, olive oil, and baking powder, and blend until smooth. Pour the mixture into a pan and bake. Then add sauce, veggies, cheese, and other toppings of your choice and bake again. Garnish with herbs and serve. Super delicious!
Do you like our crustless pizza recipe ideas? Tell us which one you prefer and why.
30 Best Crustless Pizza Recipes
Ingredients
Eggplant Pizza

Broccoli Pizza

Butternut Squash Pizza

Potato Pizza

Pumpkin Pizza

Red Beets Pizza

Spinach Pizza

Polenta Pizza

Carrot Pizza

Kale Pizza

Cabbage Pizza

Yam Pizza

Black Bean Pizza

Plantain Pizza

Quinoa Pizza
Directions
Select your favorite recipe.
Organize all the required ingredients.
Prep the recipe in 30 minutes or less!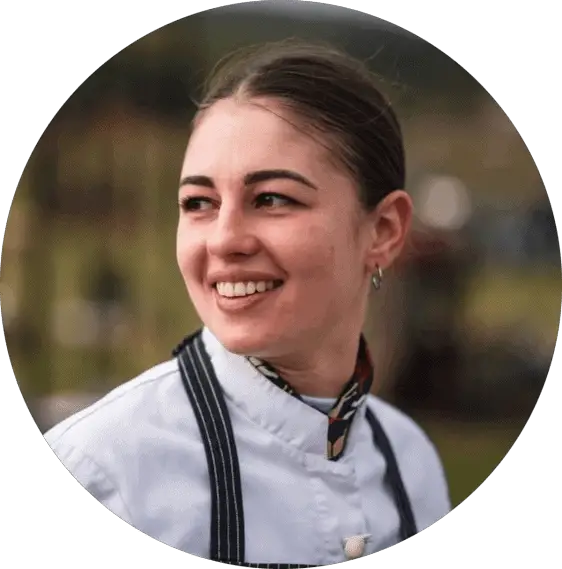 Julie has five years of experience in the restaurant industry, she decided to share her knowledge about her liking and fondness for food and pizza, of course, cooking as her love language. She's very passionate about what she's doing, making all the things she writes regarding pizza recipes, very amazing!