Ah, the joys of having pizza for a snack when in school. It was the most cherished snack made from whole-wheat flour and mozzarella, sausage (or ground beef) spread evenly across a usually rectangular base.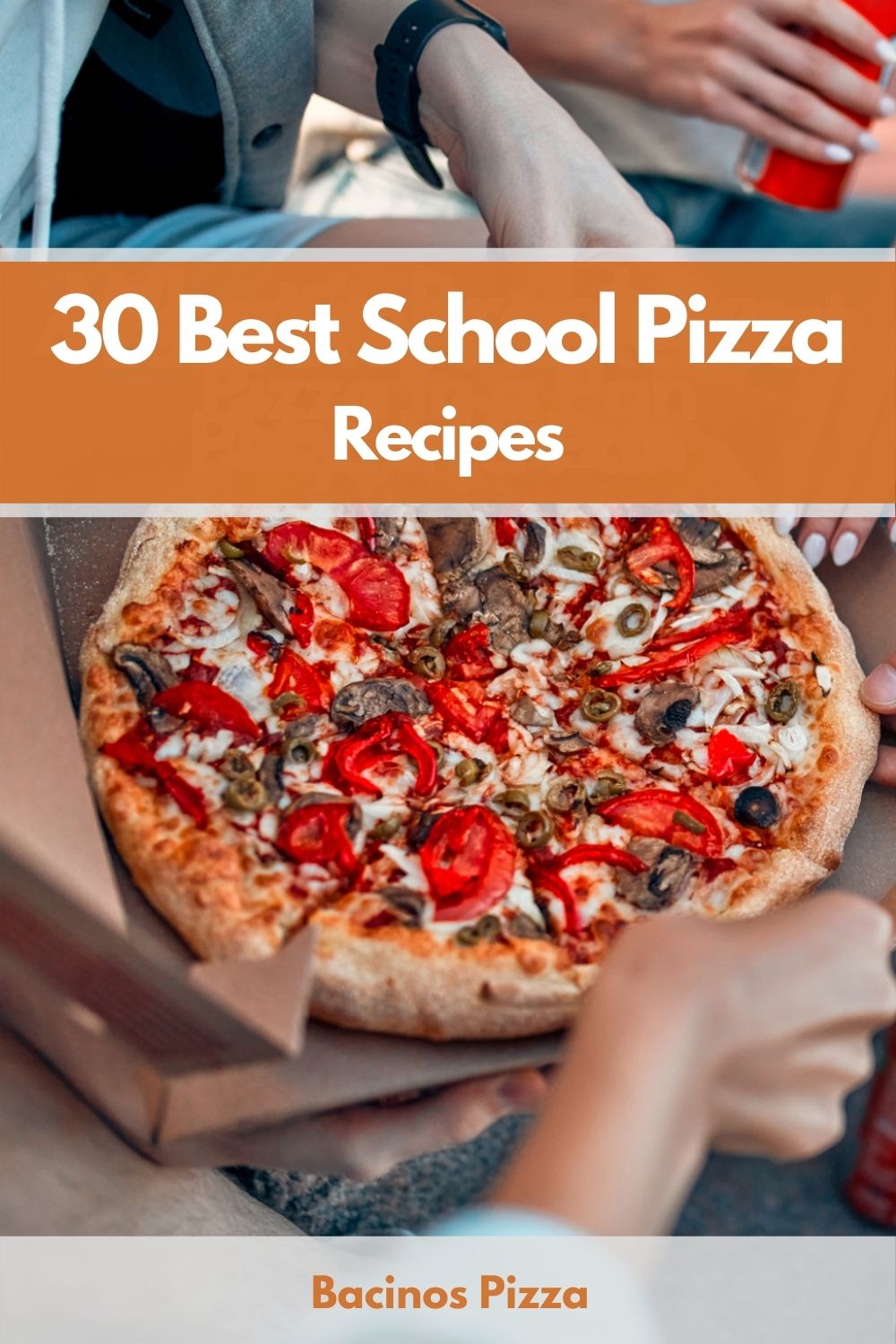 Today, school pizza is slightly different than what most of us used to have at school. Better and healthier ingredients are now used, as you'll see from the recipes included below. Check some of the best school pizza recipes to learn how to recreate the ever-popular snack.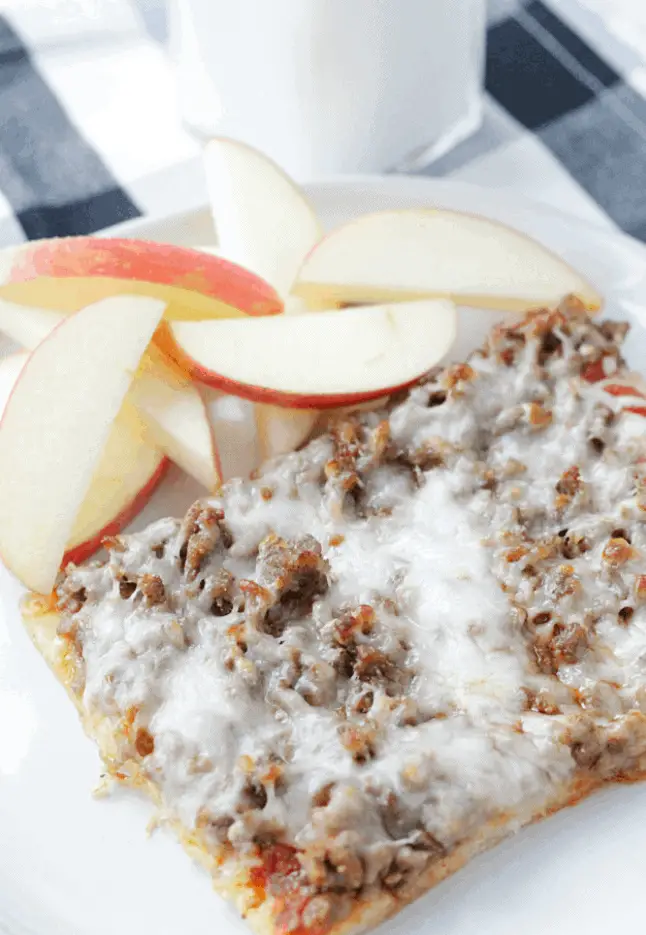 Jill's version of the retro recipe explains how to make everything from scratch. You'll need whole-wheat flour and some yeast, but don't be intimidated because it's pretty easy to make. She doesn't know for a fact the toppings used when she was in middle school, but using ground beef and Italian sausage comes pretty close. You'll also need some cheese and a few other seasonings to copy her copycat school pizza.
2. Lunchroom School Pizza with Sausage
WellDone shows how to make the original lunchroom pizza we all used to love. Nicole uses a secret ingredient that is powdered milk and some sugar to add sweetness.
It's safe to say that you can probably make this with pre-made dough, but making it from scratch makes the whole thing even more fun. The only topping she uses is ground chuck, but you can definitely play around with a few more ingredients.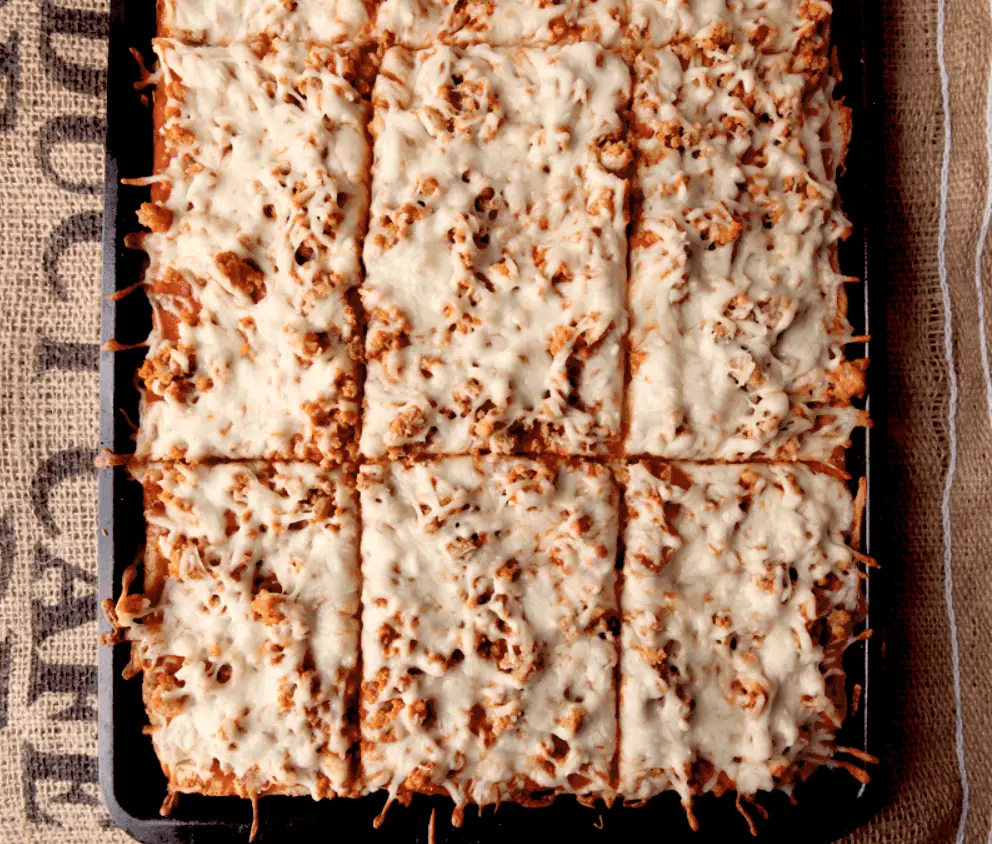 It seems that Friday was everyone's pizza day during middle school. Erin reminisces that before she goes into detail, explaining how to make this rectangular pizza. She shows how you can use pre-made dough if your local stores sell it.
If not, you can make some from scratch using flour, water, and yeast. Spread the dough on a large baking sheet, top it with tomato sauce, ground beef or sausage, chopped pepperoni, mushrooms, cheese, and bell pepper.
4. Quick and Easy Lunchroom School Pizza
If you thought pizza is pizza, you were wrong. This quick and easy recipe makes it easy to understand why this was everyone's favorite snack at school.
She uses powdered milk, flour, sugar, water, salt, and yeast for her dough. For the toppings, you'll need some pepperoni and cheese on top of the pizza sauce. And, what's great is that she also has lots of suggestions on what else you can top this one with.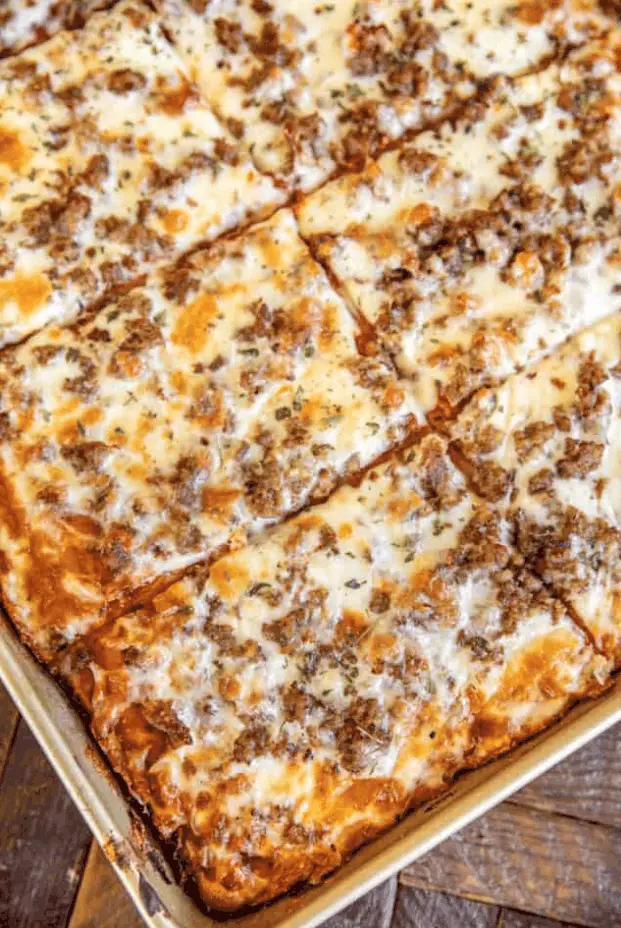 This is another excellent version of the retro meal you can make when nostalgic for careless school days. It's also ideal for kids, so whip it up and pack it the next time your kids complain about their lunch boxes.
Although the original recipe Stephanie followed was enough for 100 people, her version is meant for serving far fewer hungry mouths. You'll need about 45 minutes to make and bake everything.
6. Alex's School Lunch Pizza
Oh, nothing like the good old-school pizza with ground chuck we all thought was sausage. Many people believe this is the original recipe, so Alex recreated it step by step. He shows how to make the dough in a somewhat standard way but with powdered milk. The whole thing takes less than half an hour to whip up before you can enjoy it.
Annette also chose to make the crust from scratch, so you'll need flour, yeast, milk, and sugar if you want to copy what she did. She also made her pizza sauce which sounds delicious and doesn't take long to make. You can go for anything you like for toppings but make sure to include mozzarella and ground beef or sausage.
8. Louisiana Cajun School Pizza Recipe
Are you interested in learning a bit about the history of school pizza? If so, check out JB's video where he talks about the best years of cafeteria meals and what has changed since then. The recipe itself is extensive, requiring at least ground beef, mozzarella, different veggies, and quite a few spices like thyme, basil, and parsley.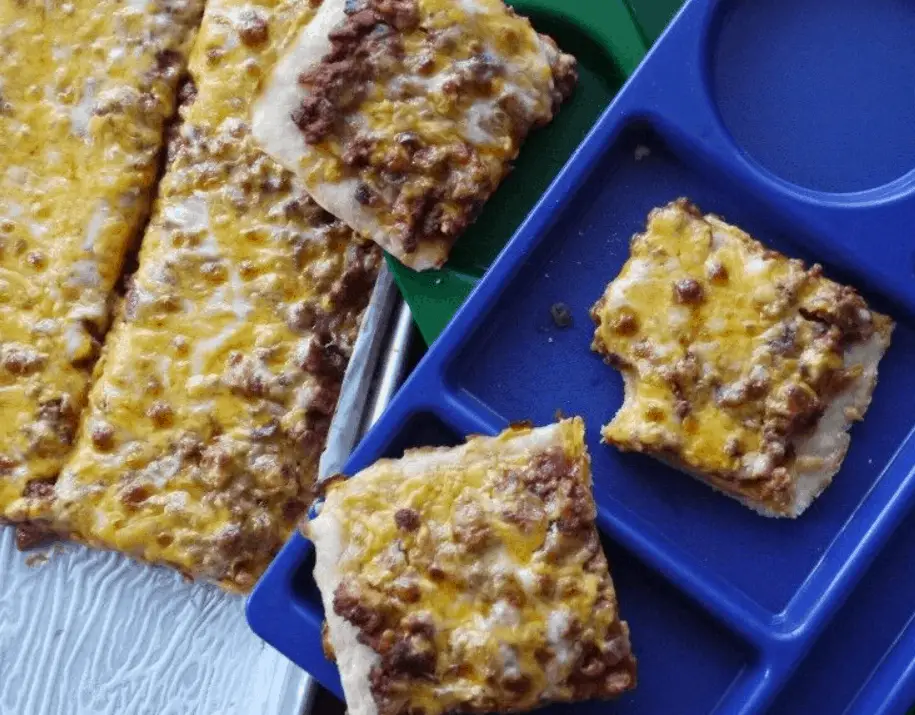 Nothing gives school pizza its unique taste and texture better than the pourable crust. Again, the original recipe she followed was enough for at least eight people, so she had to do some tinkering.
The one she shared is easy to follow and should be enough for a family of four. Also, she created a unique cheese combo using cheddar, mozzarella, and American cheese that'll give your pizza the original taste.
10. Square School Pizza (Lunch Lady Pizza)
You should check this recipe by 12 Tomatoes if you don't have the time for lengthy explanations and guidelines. Everything is explained in less than two minutes, so you can't get your hands dirty rather quickly. The sooner you begin, the sooner you'll enjoy some back-to-school pizza. It's similar to other recipes, although they used non-fat dry milk powder as a healthier version.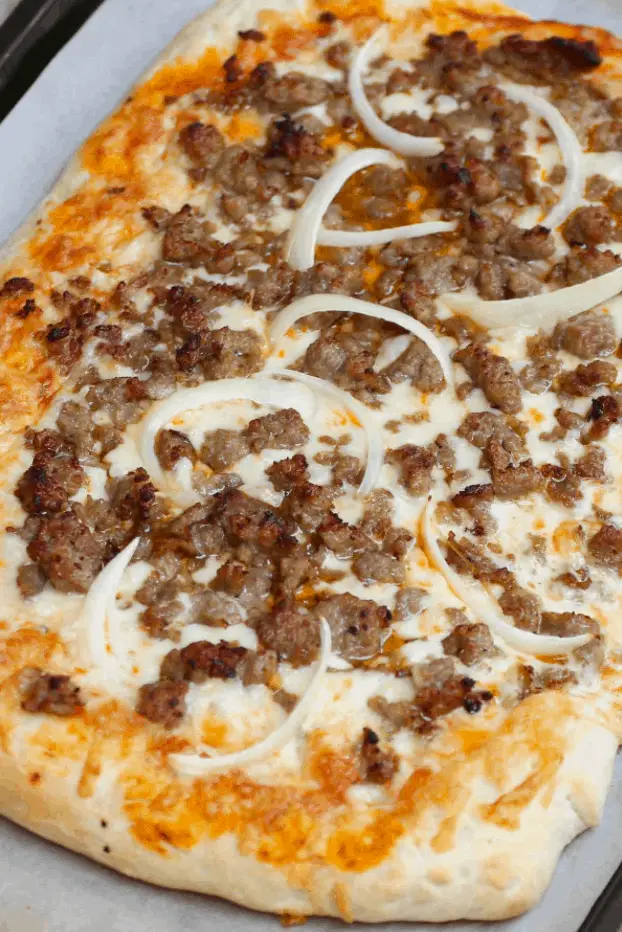 This is one of the simplest recipes for school pizza, showing everything from making the dough to the toppings you can use. The original cafeteria version had nothing but cheese, ground sausage or beef, and some onions.
You can follow that or add any other stuff you like for a slight variation. Some of the suggestions include Mexican, breakfast pizza, and pizza sticks, all made with the same dough.
12. Elementary School Breakfast Pizza
This is another quick recipe you won't need more than thirty minutes to complete. The key is in using ready ingredients like fully cooked sausage, pizza crust mix, and pre-grated cheese.
Although this might not be the healthiest option, it takes little to make, so it's ideal when you need a quick dinner idea. The recipe calls for onions and Italian seasoning, but you can add other toppings you like as well.
Holy is a southern mom who loves to make tasty snacks and wholesome meals. In her recipe, you'll see that the trick is in using the right sheet pan for the amount of dough you're making. Make sure that it's at least 11''x17'' as the one Holy is using. Make the crust following her step-to-step guide and top it with pepperoni, mozzarella, and Italian sausage.
14. Original 1990's Rectangle School Pizza
This is as tasty as it sounds, especially since it calls for both Italian sausage and ground beef. The recipe is easy to follow, and she goes in-depth, showing every ingredient and step of the process. Since this is the original 1990's recipe, it's best to follow it as it is. This is especially important for making and spreading the dough to get that well-known taste and shape.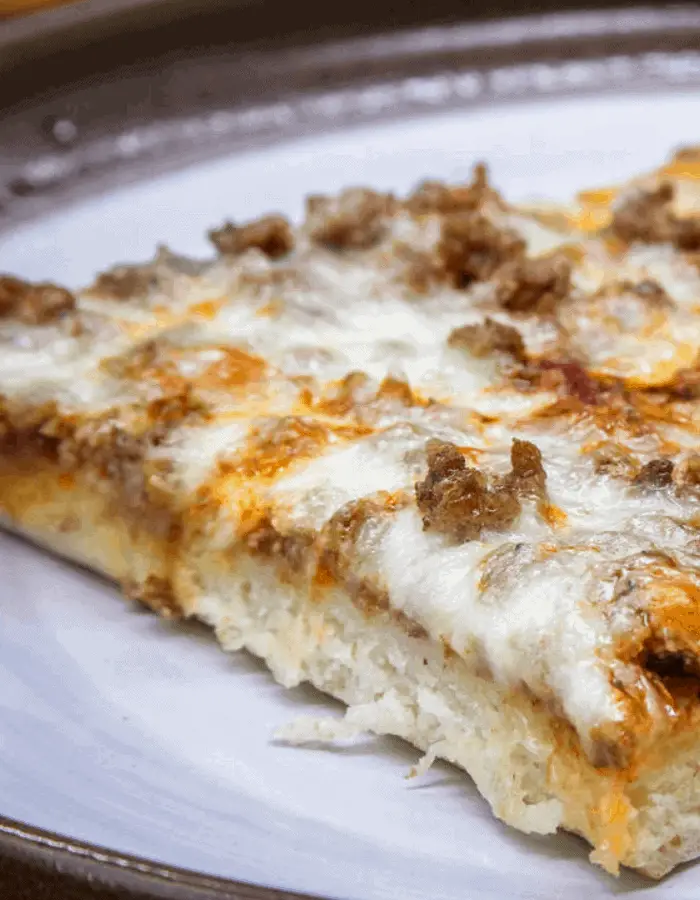 You want a slice of school pizza but with slightly better ingredients? If so, you should try using ground venison instead of beef or sausage. It takes about an hour to prepare and bake enough pizza for four to seven people. The recipe also shows how to make your pizza sauce, but you can use store-bought or even ketchup as a replacement.
16. Sammy's 4-ingredient School pizza
Are you looking for a simple way to make school pizza without going to the store? If that's the case, Sammy's recipe might be exactly what you're looking for, as it calls for no more than four ingredients. All you need is some pork sausage crumbles, pre-made pizza crust, some gravy mix, and grated mozzarella cheese. That's all!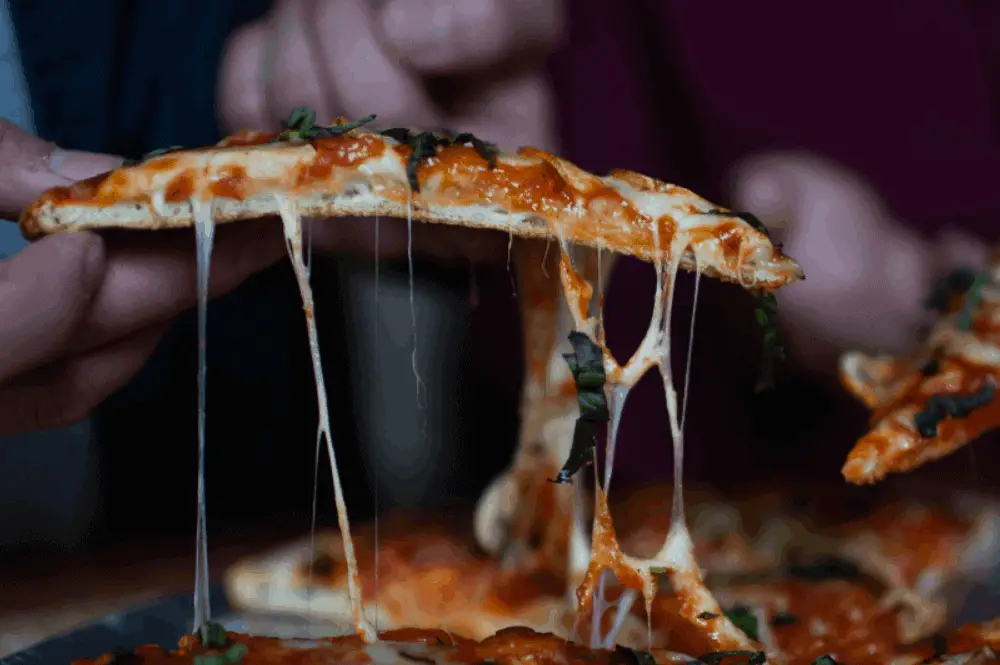 This is another unique twist on the original recipe where you'll learn how to make dough from scratch. Plus, there's also the sauce that you should prepare a day ahead. It consists of garlic, pepper, tomato paste, basil, rosemary, oregano, salt, and oil. It's quick to make, and it probably makes a huge difference if you let it sit for 24 hours before using it.
18. Special Lunch Lady School Pizza
What makes it unique? Well, it's easy to make in less than thirty minutes, so it's ideal when you're in a rush, and the kids are hungry. It calls for ground turkey (much healthier than pork or beef), gravy mix, pre-made dough, and mozzarella cheese. You can buy pre-grated mozzarella as shown in the video, but cheese in blocks is usually better quality, so don't be afraid to grate some yourself.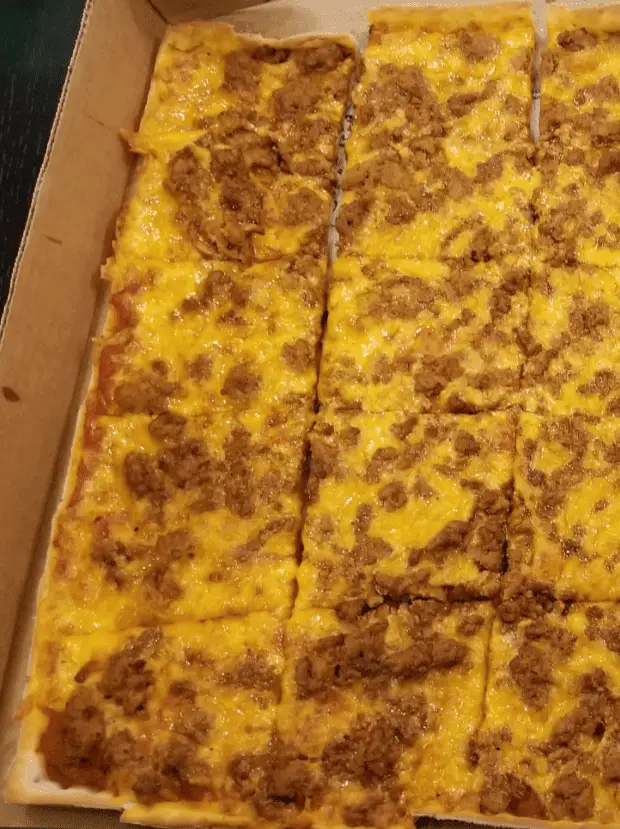 Mexican fiestada is essentially the same thing as school pizza but with a Mexican twist. This one takes about thirty minutes to make and bake enough for four people.
What's great is that you don't have to make the dough. Instead, you can use a store-bought one, which is what helps cut down the preparation time. Also, this one calls for cheddar cheese instead of the typically used mozzarella.
20. Ground beef/Pepperoni Cafeteria School Pizza
Is it your first making school pizza? If so, you're going to love this recipe, as it includes everything you should know about making both the dough and the toppings.
Also, he explains what to do and what not to do, so it's unlikely you'll get anything wrong. Do you see how he rolled the edges? Add some cheese there and have yourself a stuffed crust for a more modern version of school pizza.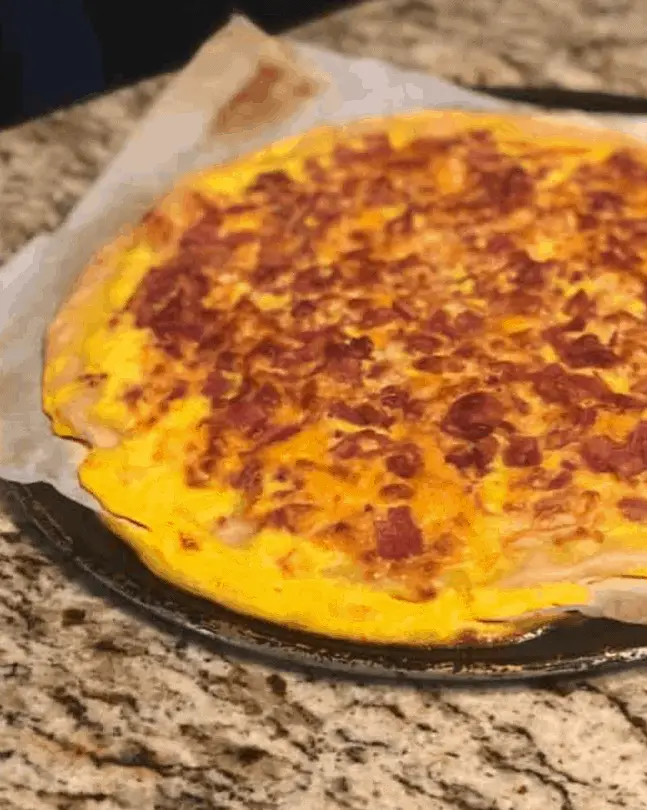 Want to make your kids excited for breakfast? What better way than to serve them pizza? This breakfast school pizza calls for regular dough you can make or buy at a store. You'll also need your preferred sauce, some bacon, cheddar and mozzarella cheese, and vegetables of your choice. The recipe includes eggs as well, making this a perfect breakfast school pizza.
22. Ari's Easy School Pizza
Ari shows the short version that calls for pre-made pizza crust. You could make your dough if you're feeling fancy and have the time. If not, roll out the pre-made crust and spread it on a sheet pan. Top it with some gravy, mozzarella cheese, and breakfast sausage. Pizza sauce (or any of your choice) would work equally as well as gravy.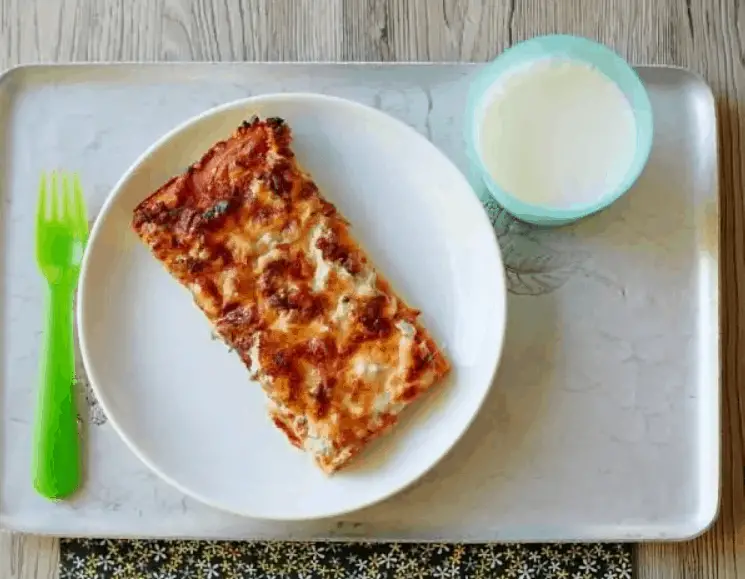 JustAPinch has plenty of valuable and easy-to-make recipes for all days of the week. But this Lunch Lady School Pizza is everyone's favorite to make on Friday.
It takes only 25 to 30 minutes to complete, even if you decide to make the dough yourself. If not, you can buy it pre-made if you have any available in your local stores. You'll also need Italian sausage, ground beef, and of course, some mozzarella.
24. DIY Lunchroom Pizza
This DIY school pizza is easy to make and tastes just like the one we had at school. Although it's round (not rectangular), the taste is there, and you can't get it wrong. He uses pizza sauce, cheese, pepperoni, and mushrooms, but you could add some veggies in there as well to make a healthier version. Bake it at the highest setting, rotating it halfway during the cooking process.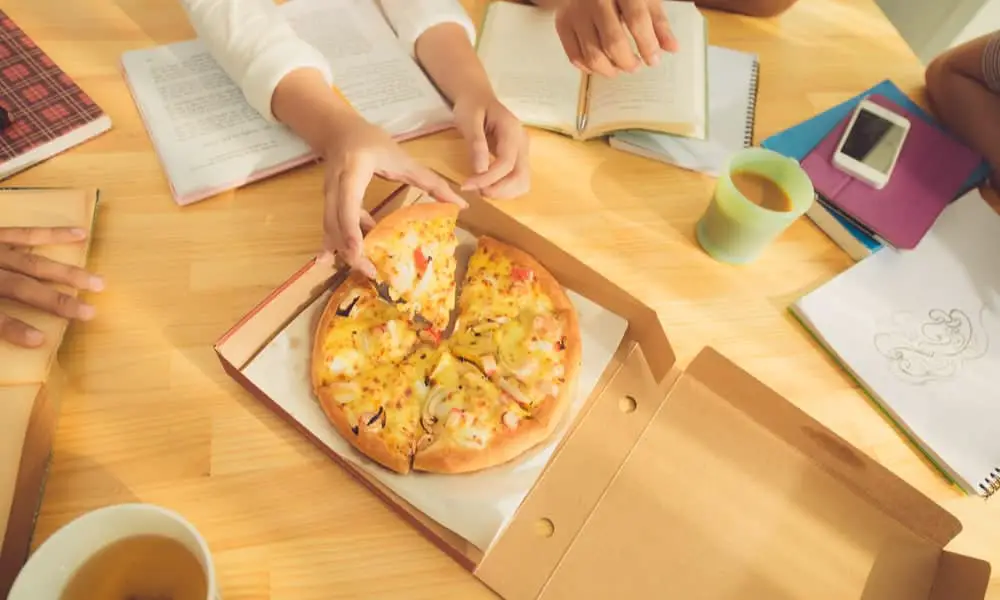 This classic version is ideal for getting your kids to eat protein and vitamins without them even knowing. You can easily sneak in some veggies, and they'll eat it right up. The recipe explains everything in detail, showing how to make the dough and sauce from scratch. It also offers a tasty topping variation, but you can add a few of your favorite ingredients as well.
26. Rick's School Pizza
Rick also used to have pizza on Fridays, so he's just as nostalgic about it as we are. He used the pre-made dough to speed up the process of making this iconic snack. The rest is history – top the dough with sauce, pepperoni, cheese of your choice (preferably mozzarella), and it's ready for baking. The whole process should take longer than half an hour, which is excellent.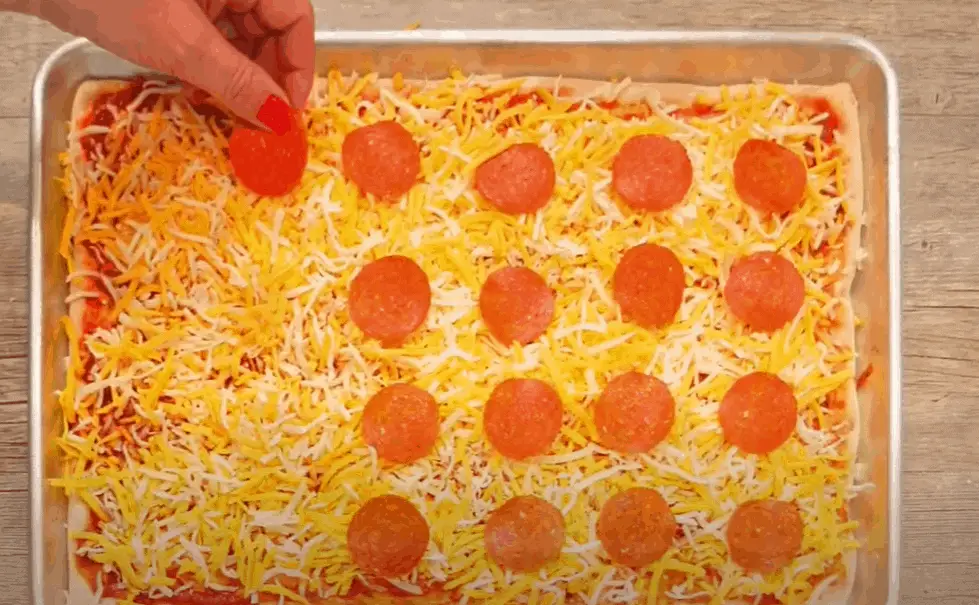 For this recipe, you'll need the original Bridgford whole-wheat sheet dough, sauce, cheddar cheese, some mozzarella for extra gooeyness, and Bridgford sliced pepperoni. Grated parmesan is optional, but it probably gives it a unique flavor when combined with the other cheeses. The ingredients are also listed in child servings.
28. Food Square Pizza
As said before, a part of what makes this so iconic is the taste and shape. Square pizza is a thing now as it was many moons ago. Howard here explains how to make some using store-bought dough. All you have to do is roll it out, top it with your favorite ingredients and bake it until crisp. Of course, make sure to cut it into squares.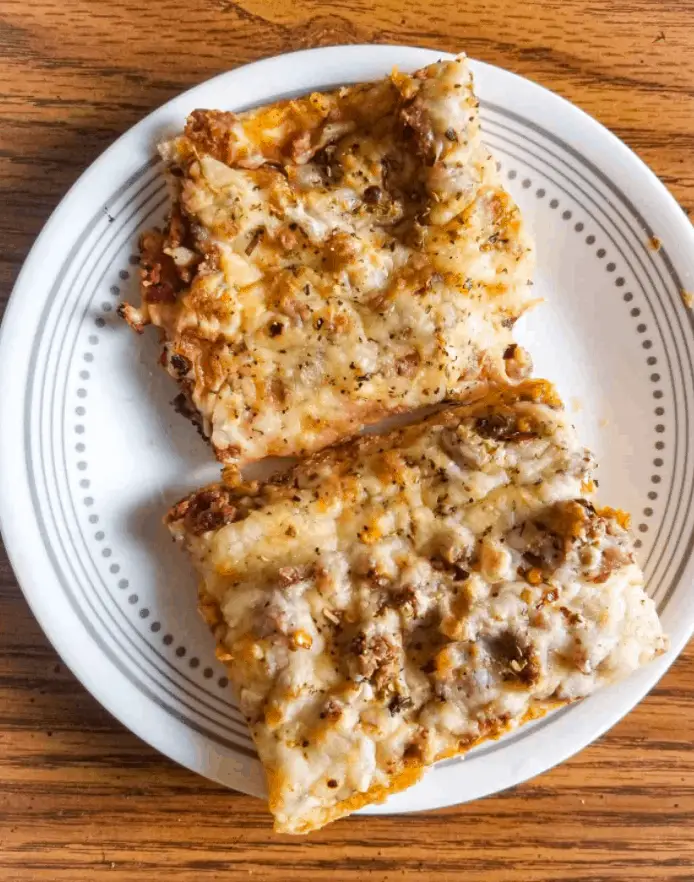 This is an easy way to make school pizza, using pre-made dough and ingredients you already have at home. She offers quite a few topping ideas to pick from, depending on what you like on your pizza. Italian sausage is the key ingredient. The rest you can combine as you want, but make sure to include mozzarella and a sauce like marinara.
30. Bacon, Egg & Cheese Breakfast Pizza
Do you want to make school pizza from scratch? Crouton Crackerjacks offers an easy-to-follow guide on making the dough from scratch, which is often what scares most people because of yeast. It's not hard, so don't be afraid to give it a try. Once you get that right, you can go ahead and top it with cheese and sausage or any other meat you like.
Doesn't this bring back the memories? Let us know which one of these recipes you tried and how it came out.
30 Best School Pizza Recipes
Ingredients
Lunchroom School Pizza With Sausage

Quick And Easy Lunchroom School Pizza

Alex's School Lunch Pizza

Louisiana Cajun School Pizza Recipe

Square School Pizza (Lunch Lady Pizza)

Elementary School Breakfast Pizza

Original 1990'S Rectangle School Pizza

Sammy's 4-Ingredient School Pizza

Special Lunch Lady School Pizza

Ground Beef/Pepperoni Cafeteria School Pizza

Ari's Easy School Pizza

DIY Lunchroom Pizza

Rick's School Pizza

Food Square Pizza

Bacon, Egg & Cheese Breakfast Pizza
Directions
Select your favorite recipe.
Organize all the required ingredients.
Prep the recipe in 30 minutes or less!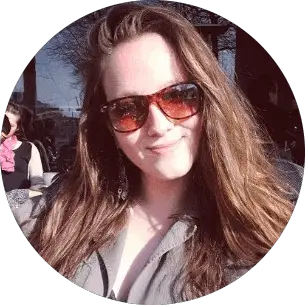 Barbara is an enthusiastic food-exploring person that goes through different culinary experiences. She got inspired by creating a pizza blog post after she tasted one of the best-selling pizzas in Toledo.