Nothing beats a wood-fired pizza recipe that sticks to its roots yet continue to surprise anyone. Traditional pizzas cooked in a brick oven give a unique taste unachievable in a regular one. That also means the fully developed flavor and charred spots, making it look appetizing.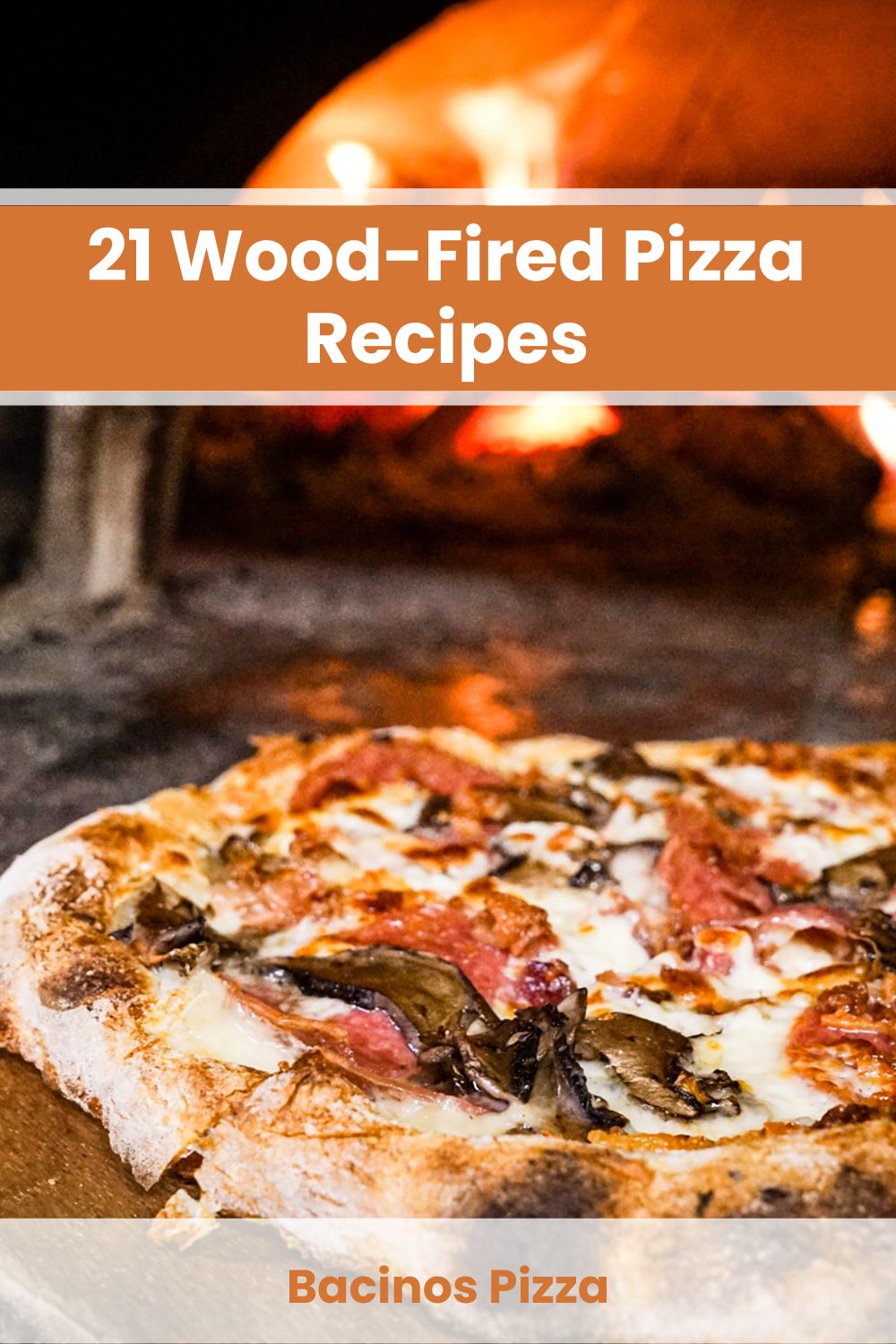 Did you install a new wood-fired oven? Or want to venture away from the usual flavors? If yes, you're on the right path! In this blog, we've curated 21 pizza recipes that range from savory to spicy and even sweet! Some you may find interesting, while others can give you excitement.
So if you're ready, let's look at the list and decide which to do first.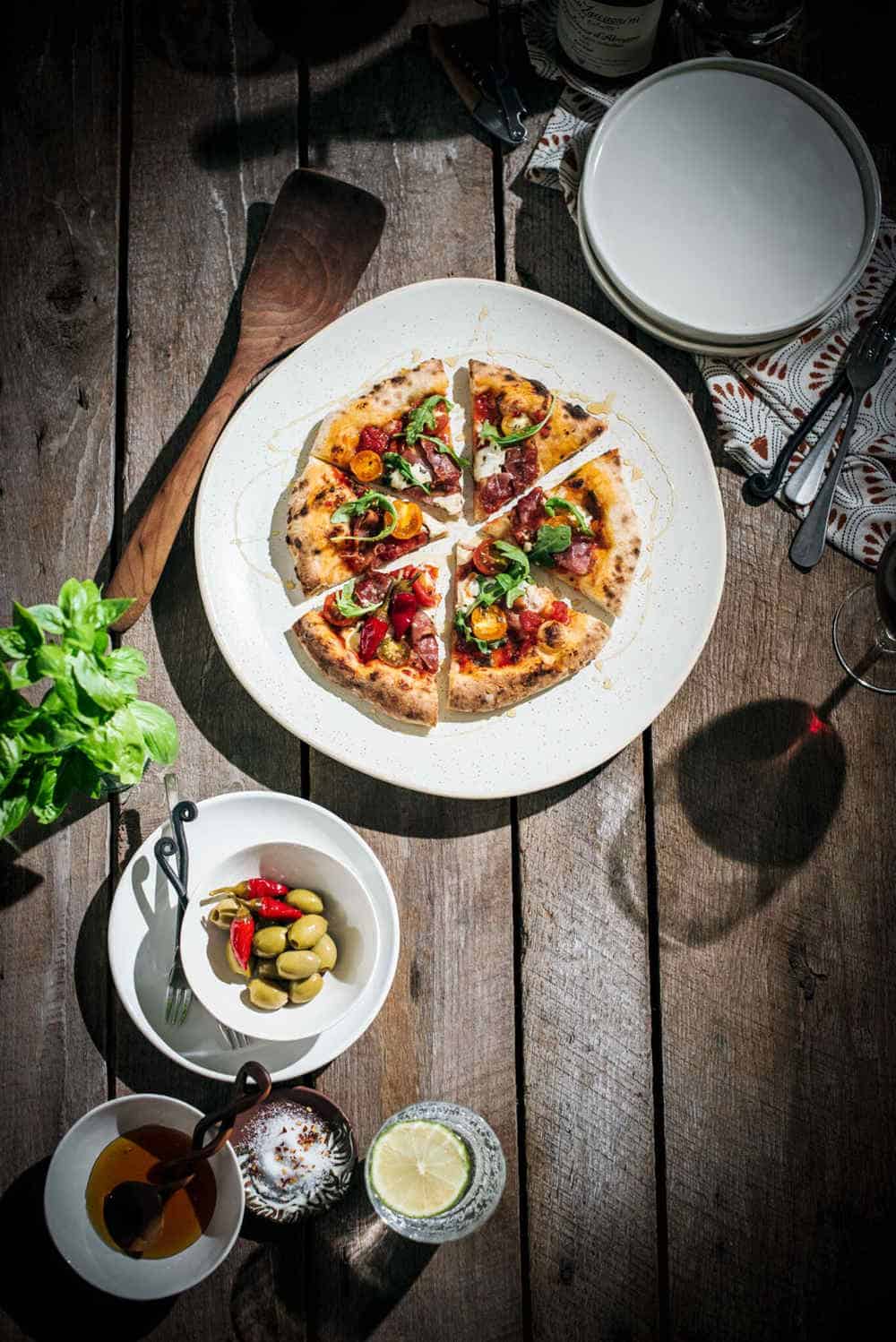 Are you looking for a posh dinner to enjoy with a glass of wine? Try prosciutto Calabrian wood-fired pizza! It has perfectly balanced smoky-sweet flavors with a hint of spiciness from the pepper-spiked sauce.
But if that's not enough to convince you, wait until you taste the pizza with freshly picked herbs and a sprinkle of burrata cheese.
2. Cajun Seafood Pizza on Peach Wood-Fire
Spice up your Sunday pizza game (literally) with this cajun seafood pizza recipe. Here, you can expect a generous amount of seasoning coating the shrimp and bay scallops.
And to make it truly a seafood feast, Dungeness crabs sit on top and are blanketed with layers of cheese and other savory ingredients.
Win the hearts of your loved ones with a homemade Naples-style pizza. It is a simple, basic dish with smooth dough and classic Neapolitan toppings.
But if you're feeling extravagant, you can add other savory ingredients like salami or frankfurter. With this, it is a guaranteed crowd-pleaser that will make you look like a pizzaiolo.
4. Smoked Salmon Pizza
Are you looking for a pizza that will satisfy your seafood cravings any time of the day? Well, this recipe might be the answer to it! With the smoky salmon and salty, savory taste profile of caper, delicious would be an understatement.
Seriously! Your taste buds will go berzerk over this citrusy dish with adequate brininess.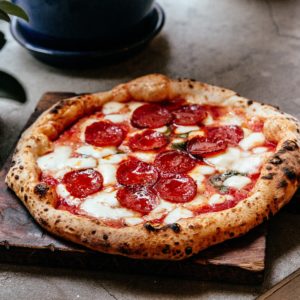 This list wouldn't be complete without honoring one of the classics in the pizza world – Pepperoni! But what makes this recipe different from the others?
The answer: a savory garlic-spiked sauce that helps bring out the flavors of the other ingredients. And also, the perfectly cooked dough with leopard spots in an Ooni wood-fired oven.
6. Veggie Pizza Topped with Arugula
Are you looking for a way to eat healthier but can't let go of pizza? Try this wood-fired veggie pizza recipe topped with arugula.
When it comes to its toppings, the options are endless. You can add proteins or fresh herbs that you think would create a great flavor profile. Also, don't forget about the cheese! A little sprinkle on top won't hurt your diet.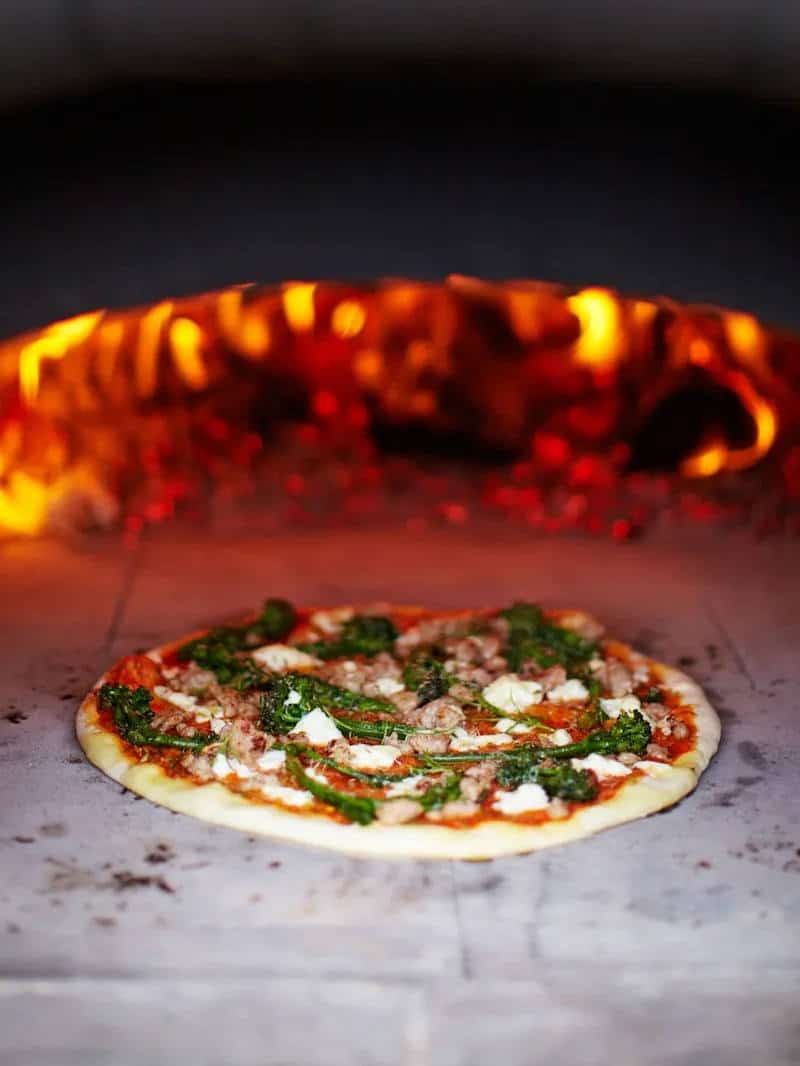 If you're up for a unique wood-fired pizza experience, you might want to try this recipe. It combines the salty taste of the sea with the savory flavor of Italian-style sausage. On its healthy side, it offers broccoli and fennel seeds.
The result? A flavorful embodiment of contrast and balance that keeps you wanting another bite.
8. Gluten-Free Meat Lover Pizza
Many pizza parlors offer their version of all-meat pizza. But we're sure this is something you haven't tried before!
Sitting on top of a thin dough are three kinds of meat: leg ham, pastrami, and hot salami. All of which are blanketed nicely under the three cheese mixes and feta. Finally, it is cooked in a wood-fired oven to create a crispy base with a hint of smoky flavor.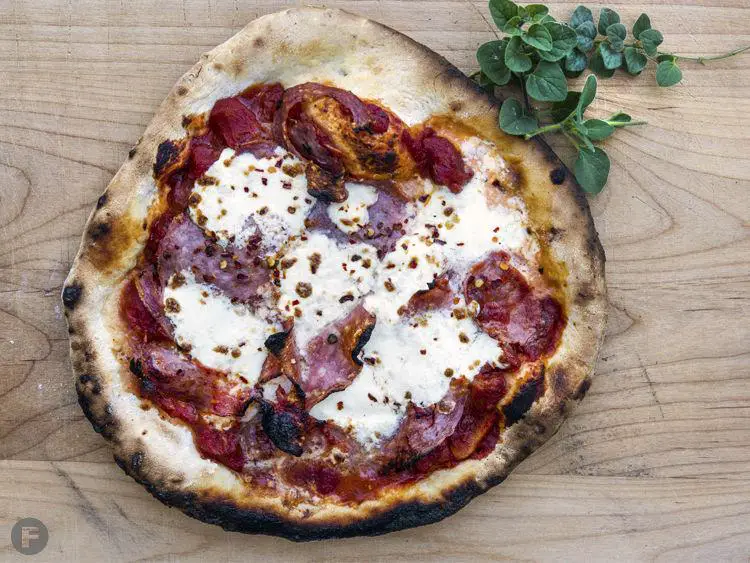 If you're all about a flavor-packed pizza, you don't want to miss this recipe. It is spicy and creamy, with notes of sweetness coming from the hot honey.
The spicy soppressata also adds a pleasant heat, creating a reminiscent flavor to a pepperoni. And lastly, a burrata cheese coats the top for a luscious texture.
10. Nutella and Mascarpone Wood-Fired Pizza
Are you up for some treat after a hearty dinner? This dessert pizza combines Nutella and mascarpone to render a superb taste and texture with the dough.
But if you're feeling fancy, you can add mini marshmallows halfway through cooking. That way, you can get a smores-like presentation with an elevated taste.
Try it out and let your kids enjoy its delightful taste.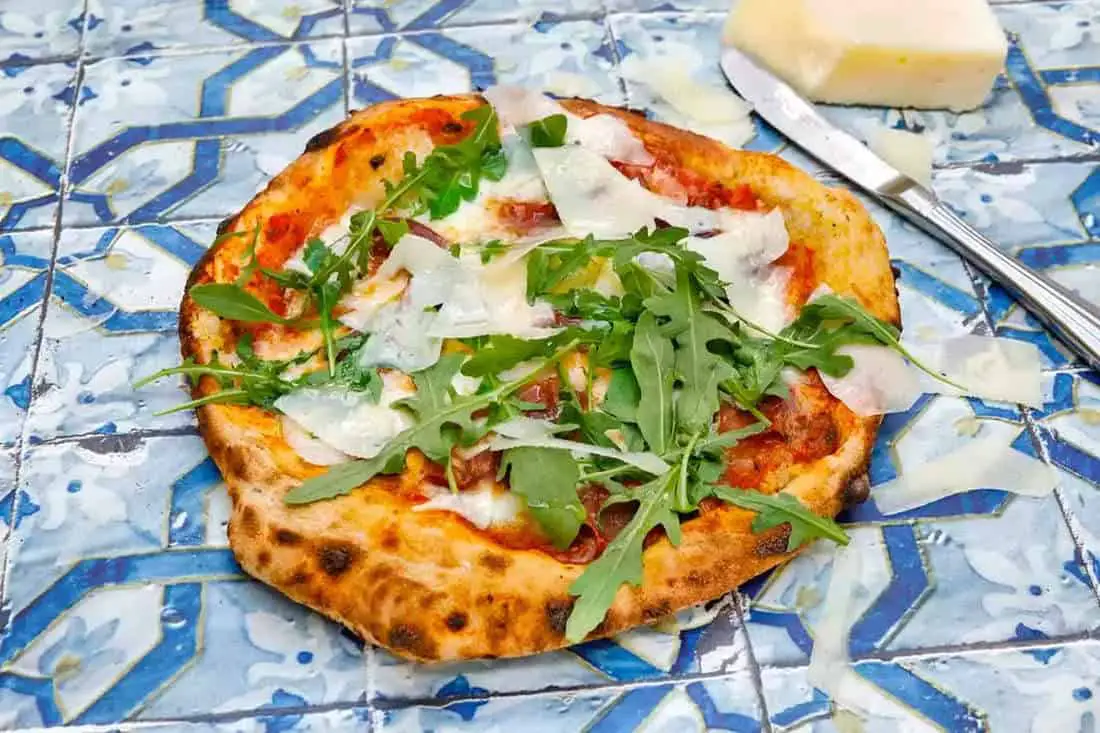 Weeknight dinners got a whole lot better with this wood-fired baked pizza. It has truffle pesto mixed with San Marzano tomatoes, crispy prosciutto, and creamy pecorino shavings. For the final touch, it uses wild rocket leaves and white truffle oil to add flavor depth.
Although brimming with goodness, this recipe may take a while to finish. But we're sure that it is worth it!
12. Wood-Fired Sourdough Pizza
Are you a fan of fluffy bread with a hint of tanginess to it? If you do, a sourdough pizza is a surefire way to fill your tummy.
This recipe shows how to create the dough from scratch, including stretching and folding. So if you feel like impressing your family and friends with an artisan-style pizza, this is the way to go.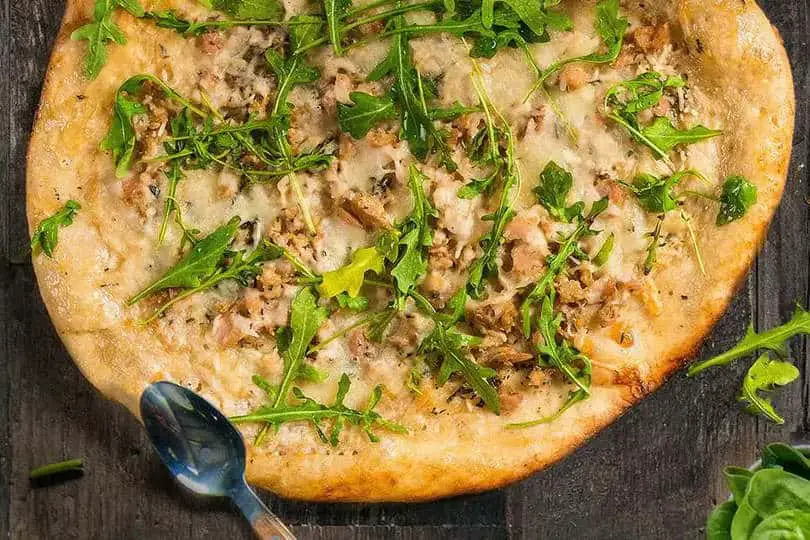 Garlic on pizza is one of the best innovations that made it loved by many. But have you thought of pairing it with seafood, specifically clams? This wood-fired clam and garlic pizza is packed with protein and brimming with goodness.
Add the creamy cheese and fresh herbs, and you have a dish worthy of any occasion.
14. Chicken Chimichurri Pizza
Give your taste buds a treat and make this delectable chicken chimichurri pizza. The spices give the chicken extra flavor right before it becomes tender.
Once it separates from the bone, the meat, and skin are finely chopped to top the pizza. Then it is cooked again in the oven until the crust is crisp and browned. Yum!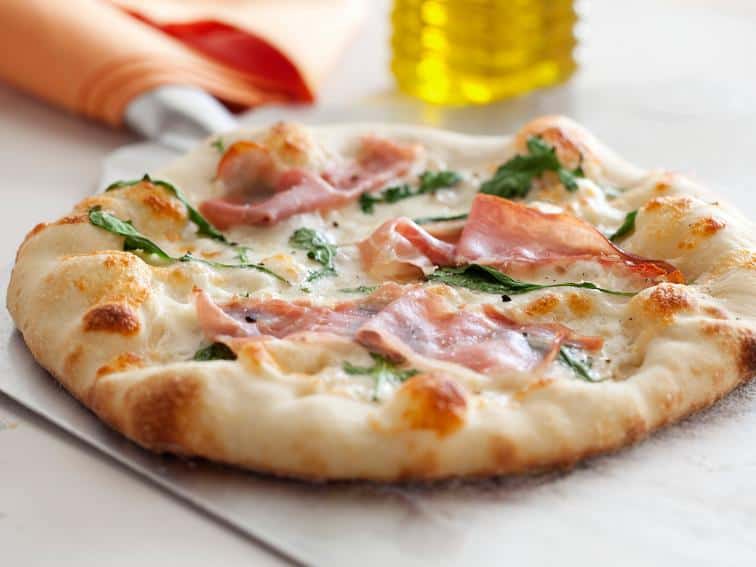 Are you on the hunt for a mouth-watering pizza that would make your guest want more? Consider it a search over with this white pizza recipe.
It is easy to make with simple ingredients but can surely surprise everyone in the room. All you need for the toppings are mozzarella, prosciutto, and a handful of arugula.
16. Detroit-Style Pizza in a Wood-Fired Oven
Detroit-style pizza always hits the spot when it comes to a hearty, savory meal. From its thick crust walls toasted perfectly to the generous amount of toppings layered in each slice.
In this video, you'll learn to make dough and homemade red sauce from scratch. And best of all, every slice is enough to make everyone feel satiated.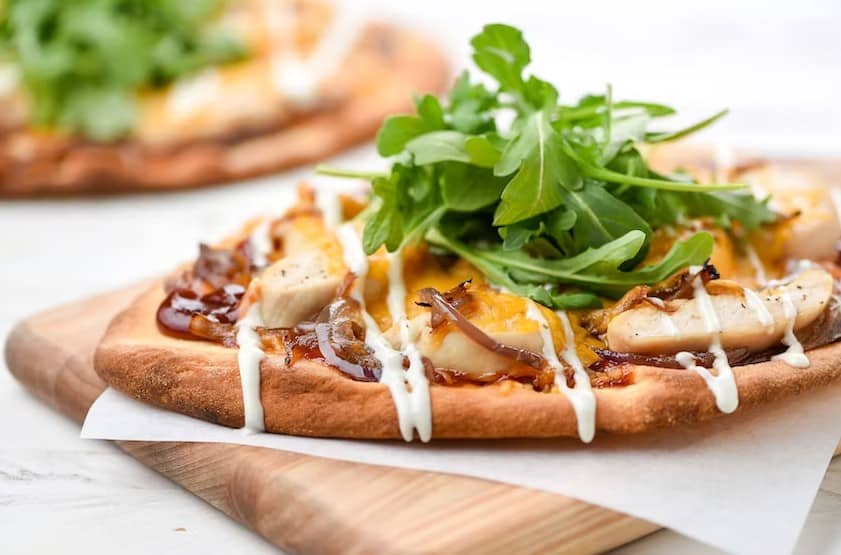 Did anyone say BBQ party? If yes, this show-stopper pizza recipe should be on your list!
From the base, you'll taste the tangy BBQ sauce coating the crust. Followed by a roasted chicken coated with melted cheese. And to cap it off, a ranch dressing is drizzled on top for an experience like no other.
18. Wood-Fired Anchovy Pizza
Have you tasted anchovies pizza before? If you'd like to venture out of the usual, why not start with this recipe? It is doable at home; even first-time pizza makers can craft this.
Also, the ingredients are not posh, so you don't have to spend extra money to taste a good pizza. All you need is a good can of anchovies, and you've got a star of the show.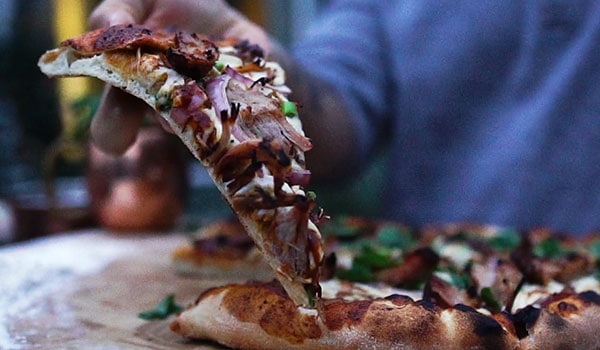 Do you have some pork butt left over from last night's party? If you do, try this recipe to transform it into a gourmet dish that would blow away anyone.
It only takes less than 30 to cook, perfect if you're tight on time. And trust us, they won't even notice it's the pork from yesterday! Just be sure to pick the best BBQ sauce in town.
20. Sweet Potato, Goat Cheese, and Pine Nut Pizza
You may have seen pizzas topped with paper-thin pieces of yellow potato. But have you considered trying sweet potatoes? If you're curious about how it tastes, this recipe should be right up your alley.
And because of its rich taste, there is only a little need for other toppings. That includes crumbles of goat cheese and pine nuts for added texture and flavor.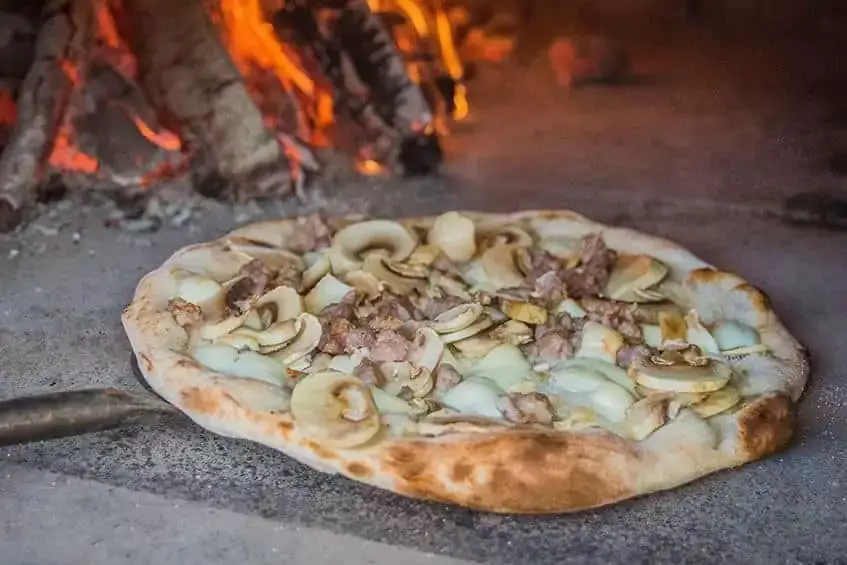 For those who appreciate a healthy pizza (aside from greens), check out this Pizza Boscaiola recipe. It requires simple ingredients like Italian sausages, mushrooms, and fresh spices for a tastier flavor.
But here's a reminder: the longer leavened dough and better quality mushrooms will give you a pie you'll surely remember.
Take Away
There you go, 21 wood-fired recipes that will leave everyone satisfied. Whether you enjoy a seafood pizza or a savory, meaty pie, we're sure you'll come back to look at this list.
Which one caught your attention? Did you find anything that your family will love? Share your thoughts in the comment section because we'd love to hear it!
21 Wood-Fired Pizza Recipes That Will Leave You Satisfied
Directions
Select your favorite recipe.
Organize all the required ingredients.
Prep the recipe in 30 minutes or less!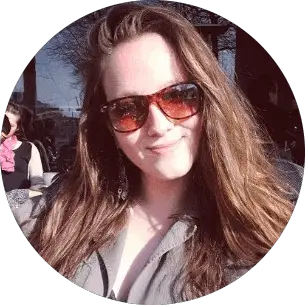 Barbara is an enthusiastic food-exploring person that goes through different culinary experiences. She got inspired by creating a pizza blog post after she tasted one of the best-selling pizzas in Toledo.