Are you a pizza and seafood lover? Check out our collection of seafood pizza toppings to enjoy the best of both worlds.
We take you on a little culinary adventure with up to 30 unique seafood pizza recipe ideas that you can try right in your kitchen. All of these are special enough for both family and guests and can be prepared quickly. Let's get started!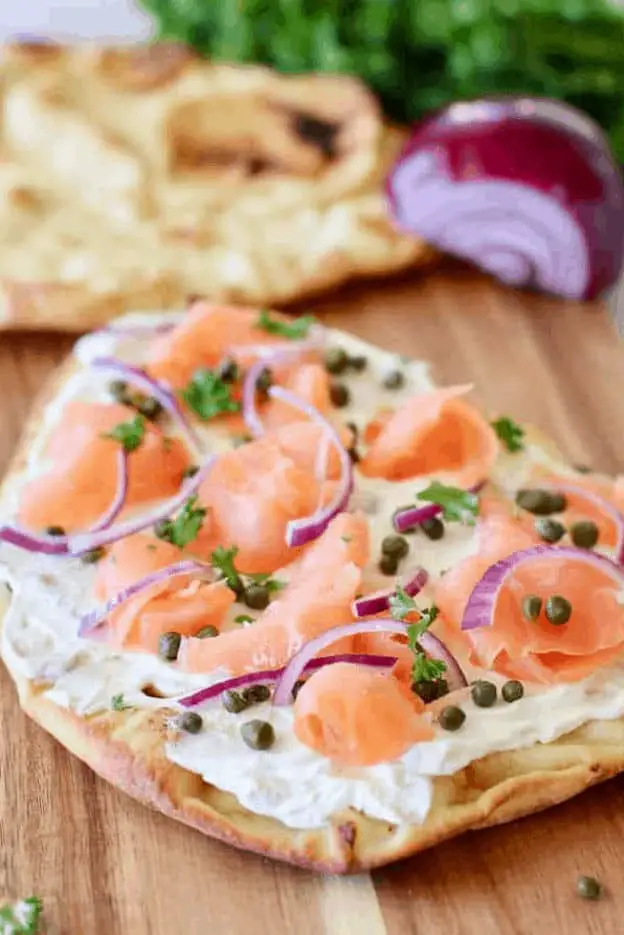 The smoked salmon pizza is great both as an appetizer or light meal. It's something that you can whip up quickly and each bite is usually pretty healthy and fulfilling. The crispy crust topped with tasty pieces of smoked salmon, creamy cheese, onion, and capers creates the most delightful flavor in your mouth. And it's perfect for breakfast, lunch, dinner, or late-night snacks.
2. Shrimp Scampi Pizza
If you are a shrimps person, this is yet another easy-to-make pizza that will be an amazing treat on a dull Friday night. Just cook some shrimp and garlic in butter and add it to your pizza crust. Then cover with cheese and bake until everything is nicely browned. To enhance your pizza, serve with freshly chopped parsley or squeeze lemon juice onto it. Oh, so good!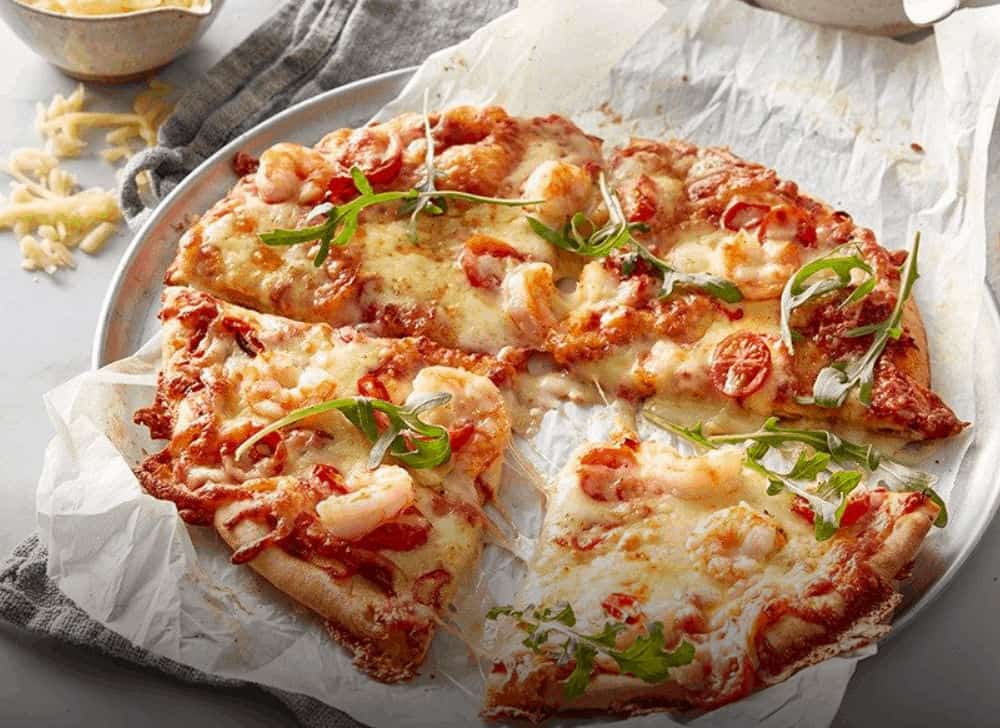 Topped with medium king prawns, tomato slices, chili, and baby rocket dipped in lemon juice and olive oil, the chili prawn pizza is a crowd teaser. Put the crust in the baking tray before adding the toppings to achieve a thin crispy base. Spice things up with garlic and throw in torn buffalo mozzarella if you fancy this kind of thing. You will not be able to resist at one bite.
4. Garlic Prawn Pizza
Try crunchy, thin-crust pizza topped with garlic and prawns and some ricotta cheese and you will have something to talk about for days to come. Cook your prawns with olive oil and garlic. You could buy ones that already have garlic flavor. Spread everything on the pizza crust, sprinkle some parsley, and bake. It will be ready in just ten minutes.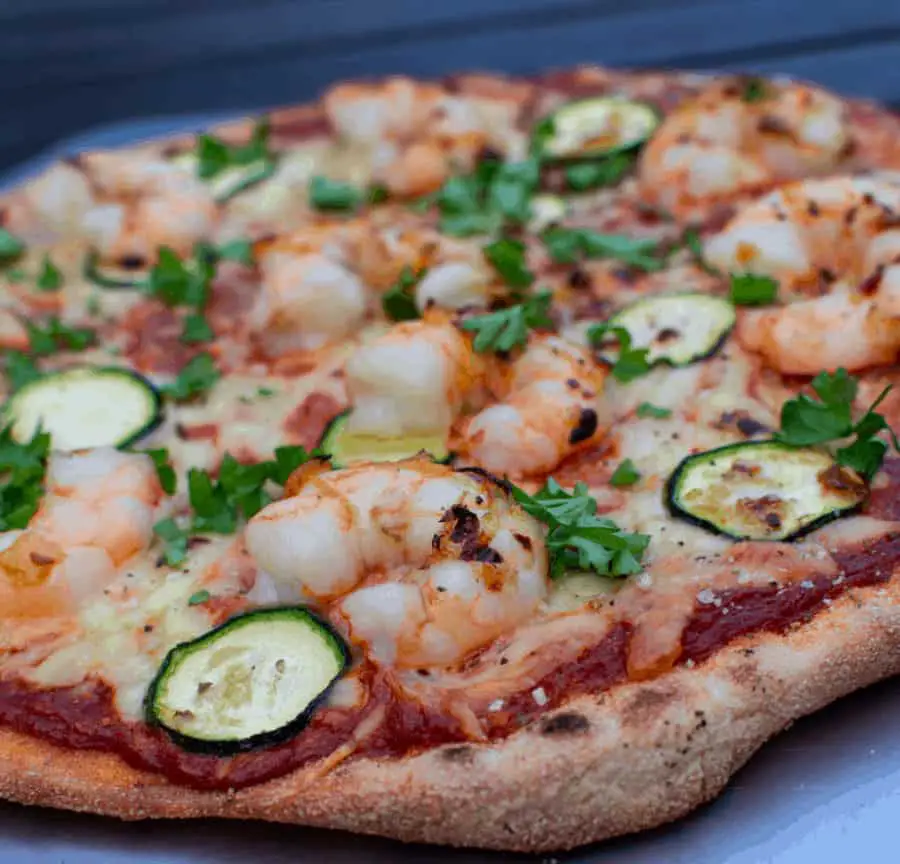 Got some friends over for barbecue? Add garlic prawn pizza to the menu. All you need is some mayo, tomato paste, paprika, garlic, mozzarella, prawn, zucchini, and olive oils. Use these to dress your crispy pizza base cooked right on top of the grill grates. For extra flavor, drizzle the prawns with tasty chili and lemon oil before grilling to perfection.
6. Anchovy Pizza
Let's cross over to Europe and try something Italian – the classic anchovy pizza. Anchovies carry savory, salty flavor, and what's more pleasant than adding salty and savory elements to a pizza? This sophisticated Italian dish is not just simple to cook but is elegantly perfect with a bite of fresh tomatoes. Serve with salad and a glass of wine.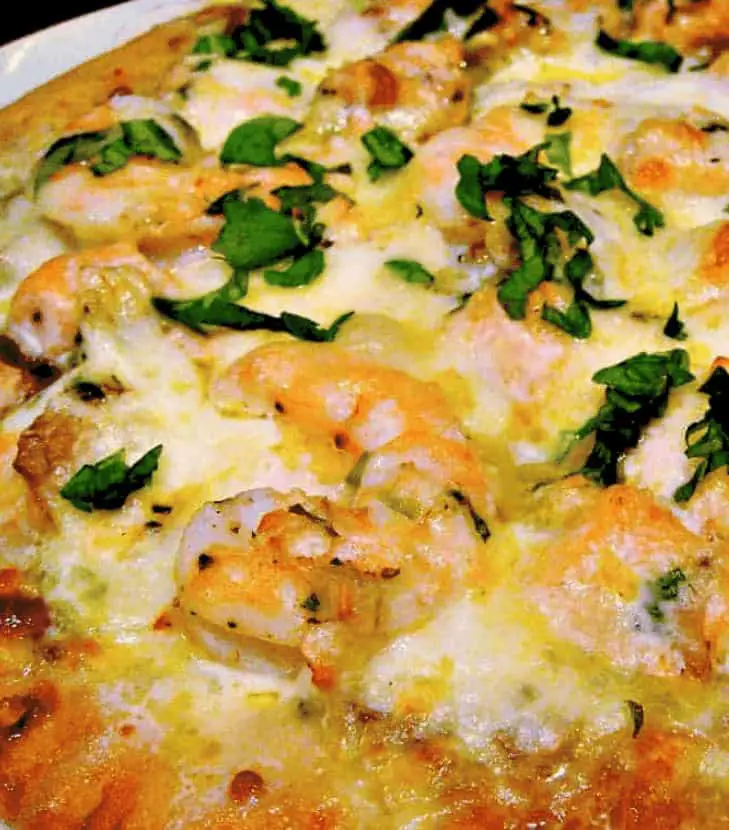 Once you start baking your own shrimp pizza and topping it with whatever you love, other pizza varieties will feel like a big joke. This recipe combines garlic, pesto, and other healthy ingredients and is just wonderful. Add a squeeze of lime or lemon before serving and you will totally add a noticeable burst of flavor. You can buy a ready-made pizza base or make your own from scratch.
8. Pizza Napoli
Another Italian traditional pizza that will keep your taste buds dancing with delight is the pizza Neapolitan, a.k.a pizza Napoli. While it is simply a crust topped with anchovy, capers, basil leaves, dry oregano, cherry tomatoes, and a drizzle of olive oil, the crunch and taste generated by the woodfire oven make all the difference. Once you have gone Neapolitan, you will never go back.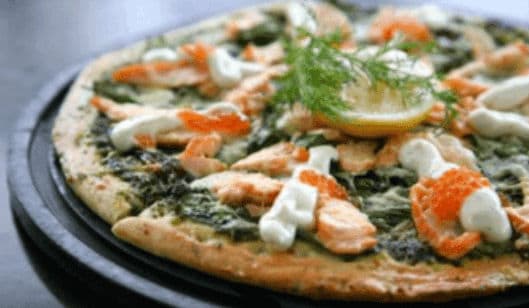 Lighten up your pizza with Italian traditional mozzarella, rose sauce, roasted red onions, caper and lemon aioli, and salmon fillet and you will enjoy one of the most delicious pies ever made. To make the pizza even yummier, infuse the dough with chopped dill and Italian parmesan. Sprinkle julienned capsicum when cooked and serve with wedged lemon on the side.
10. White Clam Pizza
The white clam pizza is an incredibly yummy dish, loaded with delicious clams and garlic. You won't use any mozzarella or tomato sauce for the topping but this New Haven-style pizza will surely give you a memorable breakfast, lunch, or dinner. Sprinkle Pecorino Romano cheese to the clams. Add oregano and plenty of garlic and you are good to go.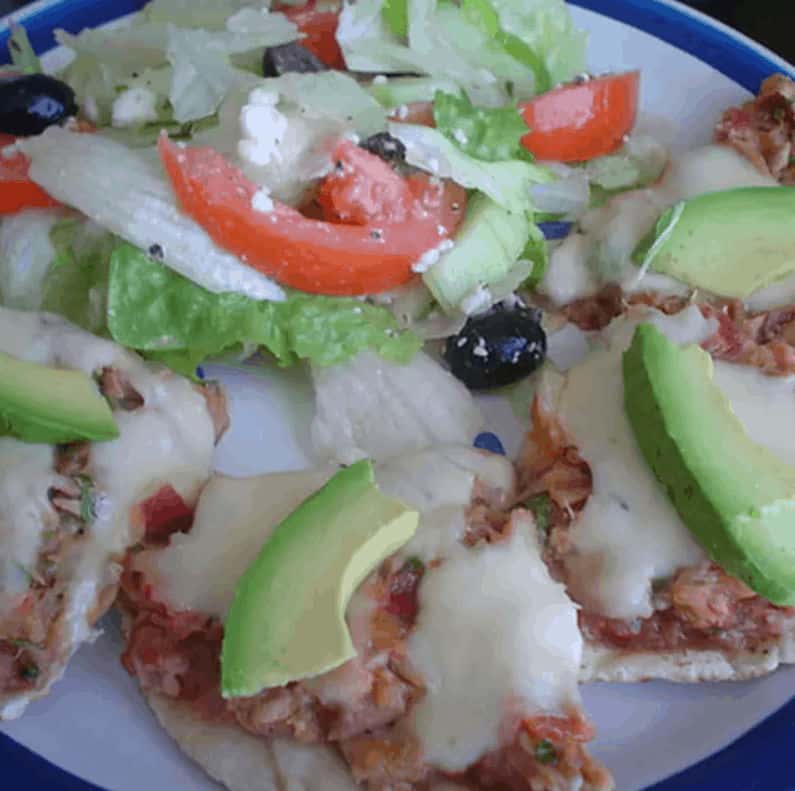 Break away from the typical cheese pizza routine and try smoked tuna pizza. Topped with mozzarella, refried beans, bacon, avocado, and minced cilantro and seasoned with pepper, green chile, garlic, and onion, this pizza is great for both at-home meals and outdoor picnics. It tastes fantastic and you can make it with smoked tuna fresh from the can.
12. Lobster Pizza
This cheesy and flavor-packed pizza is a must-try for lobster lovers. It's perfect for snacking or as main course and takes only twenty minutes to prep. With a thick layer of whipping cream, a blend of Parmesan and Italian cheese, and a drizzle of liquid shrimp and crab boil, and seasoning, the lobster pizza is a great way to add a little taste of the sea to your pizza. It is unbelievably delicious.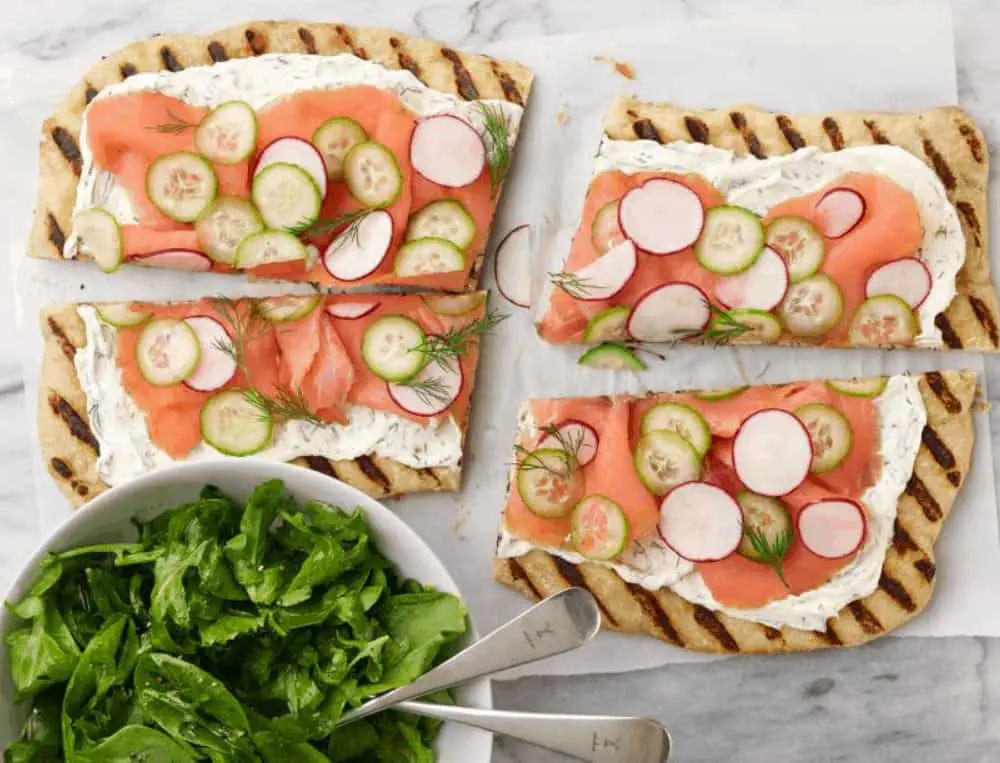 If you love grilled pizza, this is another recipe you definitely want to try. The smoked salmon pizza will give you the perfect dinner in just twenty minutes. Smear the crust with a generous amount of cheese, add smoked salmon on top, and cover with sliced cucumbers and radishes. The extra layer of cucumber and radishes will help add color and crunch. Garnish with dill fronds.
14. Shrimp and Crab Pizza on Cast Iron
A hearty pizza for shrimp and crab lovers with healthy seasonings and a delicious blend of Italian and mozzarella cheese! It is easy to make and absolutely finger-licking. Use medium-sized shrimp and crab and cook on a pan for about two minutes. You can throw in some mushrooms, peppers, onions, or broccoli for an extra layer of veggies. Bake for fifteen minutes.
Nothing says 'healthy pie' like a rye flour pizza topped with fresh tomatoes, onions, and anchovies. This pie is rich not only in fiber but also in vitamins, lycopene, and valuable omega 3 fatty acids. Throw parsley, garlic, and grated lemon into the mix topped with a layer of gremolata and you will surely kick the nutrients level of this pie a notch higher.
16. Shrimp and Scallop Pizza
What better way to enjoy shrimps and scallops than on a pizza topping? In this recipe, you will be dressing red onion and grape tomatoes with a delicious layer of shrimp and bay scallops. Your base can be a prebaked flatbread or you could make it from scratch with fresh dough. Add shredded mozzarella and sprinkle with fresh basil leaves before baking for ten minutes.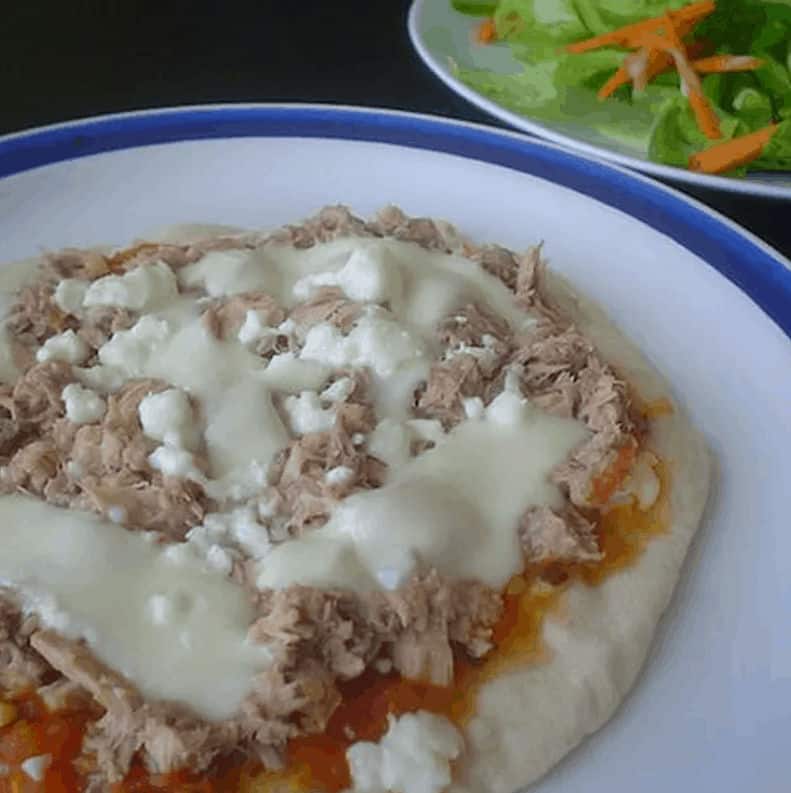 Looking for a snack that will get your kids licking their fingers after school? Try this tuna pizza that thrives in cream cheese, mozzarella cheese, goat cheese, and tomato sauce. Three cheese tuna pizza is a healthy and delicious snack that makes a great lunchtime snack too. And you only need a few ingredients and thirty minutes of your time.
18. Mussel Pizza
One bite of this appetizing pizza and you are taken to an oceanside town in Provence. Start by cleaning and inspecting the mussels one by one, making sure to get rid of any with cracked shells or has opened up. Use purple onions, green peppers, and white onions for dressing. Cover with cheese and fresh parsley and set it in the oven for twenty minutes.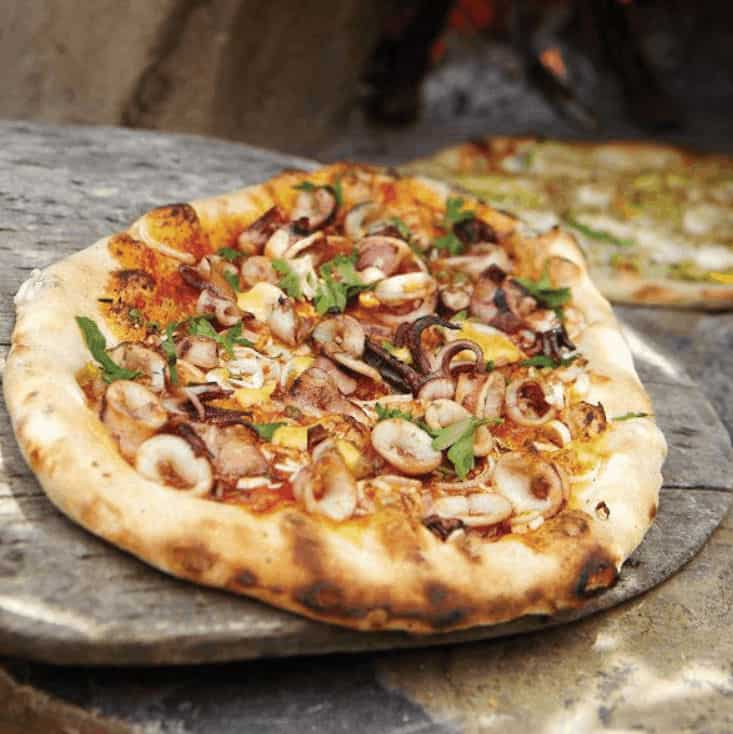 Salty, sweet roasted squid, crushed red pepper, and creamy saffron aioli are among the flavors that never go wrong with a squid pizza. If you want something that will cook quickly, then this is it, as it will only take five minutes to be ready. And don't worry if you still got some aioli left after making your pizza; you could use it as a sandwich spread or veggies dip.
20. Tuna Mayo Pizza
The tuna mayo pizza is fluffy on the inside and crispy on the outside, with loads of toppings. You will need some tuna fish, mayonnaise, soy sauce, and onion shredded mozzarella. For veggies, add some green onions. You can sprinkle with chili powder or pepper if you like. Like the garlic prawn pizza, you will have your dinner ready in only ten minutes.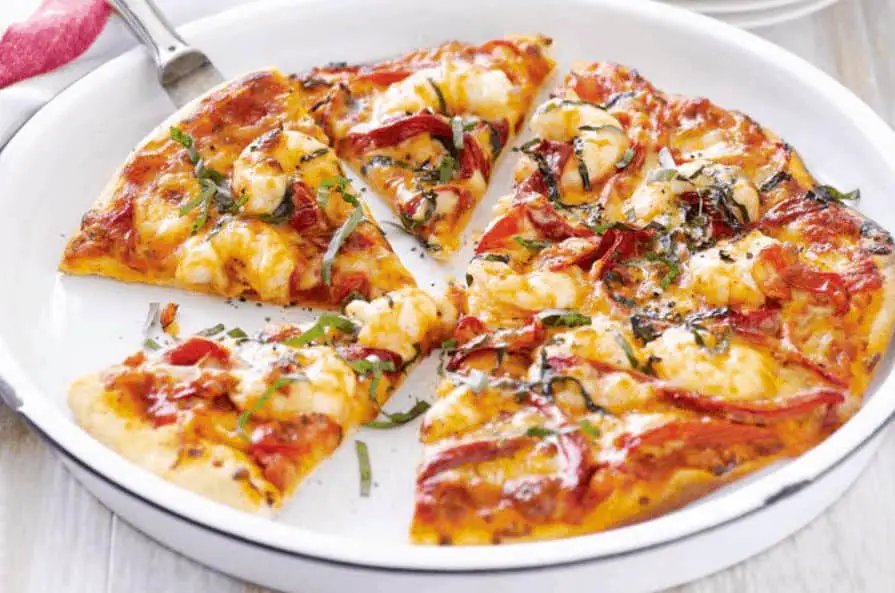 With store-bought pizza crust, tomato sauce, dried chili flakes, fresh basil, roasted red capsicum, and bay green prawns, you are less than twenty minutes away from digging into this supremely good pizza. This recipe locks ingredients into the crust to produce thin, crisp delectable pizza. Try it today and you will never want your pizza made any other way.
22. Salmon and Cheese Pizza
Topped with smoked salmon, feta cheese, and mozzarella cheese, the salmon cheese pizza will draw even the reluctant salmon eaters to the dining table. Add a new burst of flavor with thick Pomodoro sauce and drizzle with olive oil before baking for ten minutes. Garnish with fresh rocket leaves to serve. This pie is as delicious as it looks.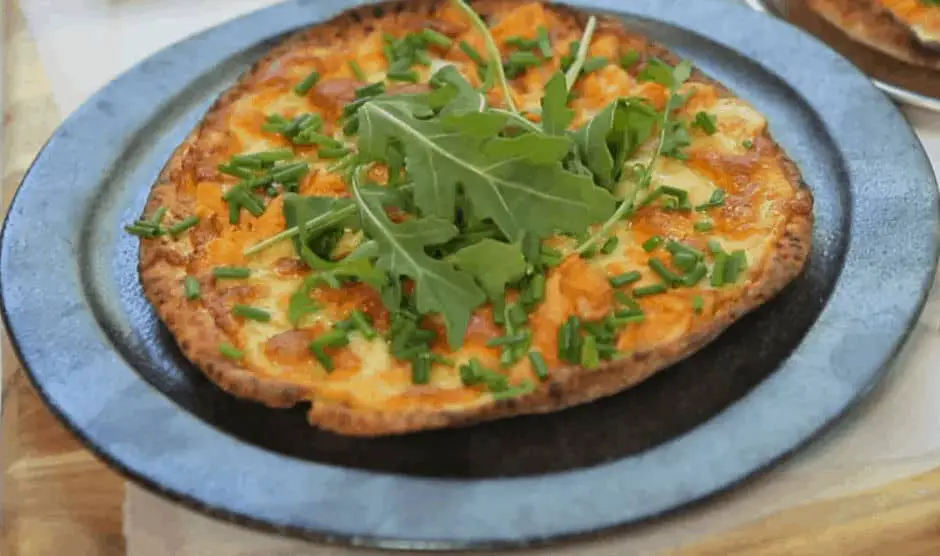 The smoked salmon chive pizza is a delicacy for anyone who loves white pizzas. To get started, brush the pitta bread with garlic and flavored olive oil. Then dress with ball mozzarella and smoked salmon and bake until golden brown. Serve with a sprinkle of chopped chives, rocket leaves, and extra virgin olive oil.
24. Seafood Alfredo Pizza
Every seafood junkie loves the alfredo pizza for one reason; it is irresistible and takes only a few minutes to cook. The sautéed shells of shrimp and crab whipped in cream make the pizza taste undeniably delicious. Season with garlic and add grated parmesan and mozzarella cheese to make it more flavorful. Bake. Everything will be ready in just twenty minutes.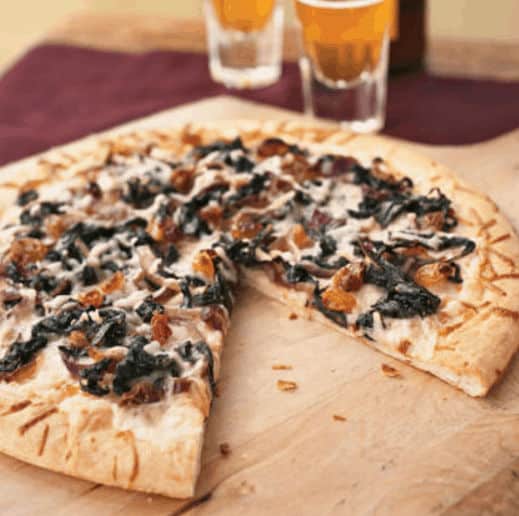 Cheese makes pizza taste amazing. But there is something about the Italian Asiago cheese that makes pizza nights even more worth longing for; it's flavorful. Shred some asiago on your anchovy pizza and top it with cold weather greens like spinach, kale, collard greens, or mustard greens and you will know why this type of pie is becoming a staple for many.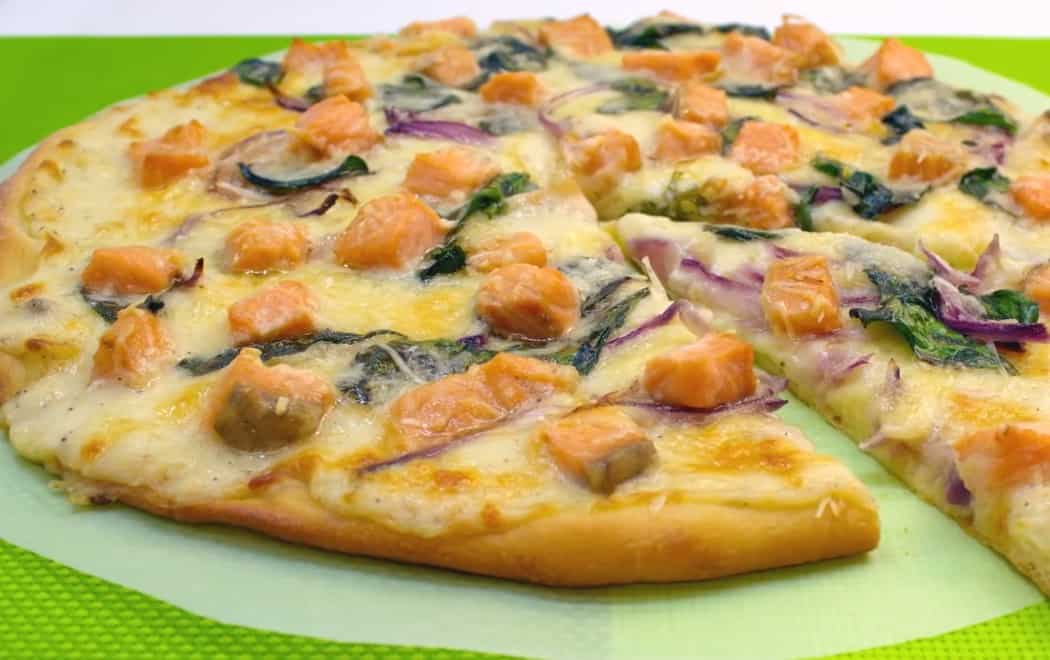 Spinach is not just great for salads. It also produces elegant pizzas. Coupled with sliced red onions, cubes of salmon fish, and a layer of cheese, fresh spinach leaves give your pizza that desirable taste you look for in a seafood-veggie pie. This fifteen-minute pizza recipe uses crust without yeast, but it will also come out great with yeast-based dough, either homemade or store-bought.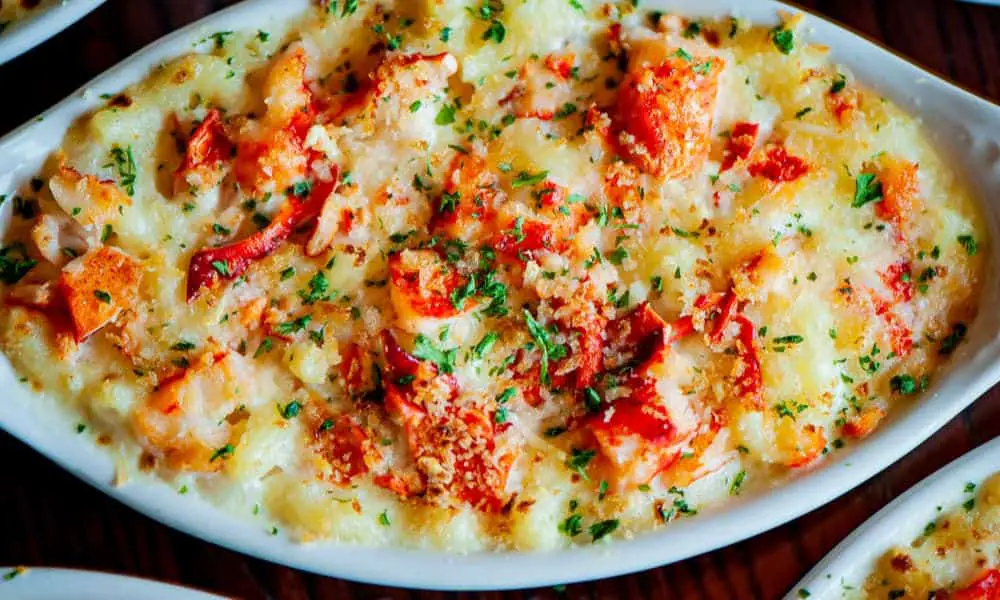 This grilled pizza is a scrumptious treat for any day, any night. To start, top your pizza base with lobster and sweet corn and grill until the crust is slightly crispy and toppings are hot. Once the pizza is out of the oven, drizzle with a mixture of tarragon and crème Fraiche. Serve as the main dish or slice it for an afternoon snack. So savory! Use off-the-shelf pizza base; it's faster.
28. Grilled Lobster, Crab, and Shrimp Pizza
Want to spice your grilled lobster pizza a little bit? Add shrimp and blue crab to the toppings and you will enjoy a heavier and more seafood-y pie. Cover with a layer of mozzarella cheese and season with paprika. Cooking this pizza will not take any longer than 20 minutes. It's the perfect meal for when you want to entice your guests with quick, seafood pies.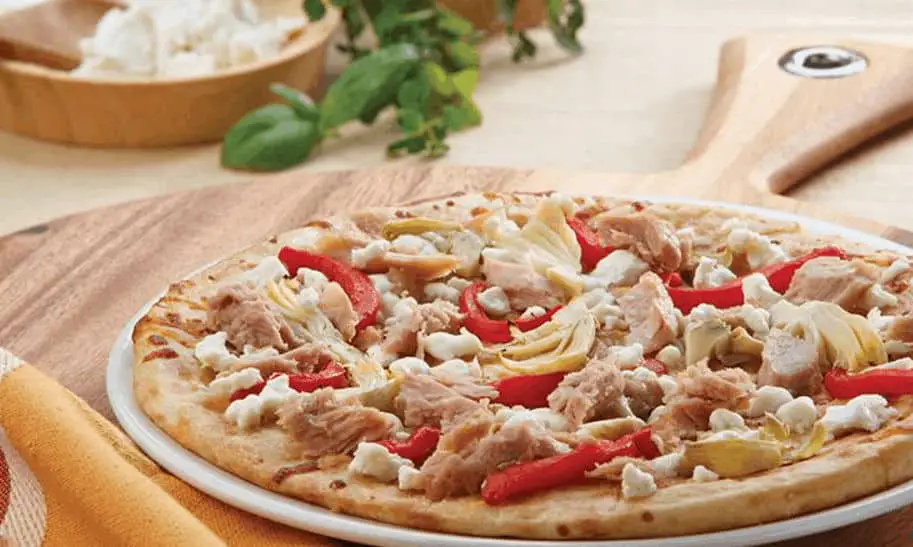 You are going to love it! The delicious Mediterranean flavors blended with tuna not only make this pizza extremely delectable but also provide it with lots of protein. Plus it takes only fifteen minutes to cook. Simply dress your pizza crust with artichokes, roasted garlic, roasted pepper, and goat cheese, and top everything up with yellowfin marinated tuna. Then bake.
30. King Crab Legs Pizza
We can't wrap things up without mentioning this four-minute king crab legs pizza recipe. This one is great for anyone who doesn't want to spend plenty of time in the kitchen (in fact, move it to number one). The delicious crab legs buried in parmesan and Italian cheese, garlic, pepper, and fresh basil is not just scrumptious; it makes you feel like you are eating straight from Red Lobster.
Have you tried any of these seafood pizza recipes? Or do you have a new recipe you would like to share? Tell us in the comment section.
30 Seafood Pizza Recipes
Ingredients
Shrimp Scampi Pizza

Garlic Prawn Pizza

Anchovy Pizza

Pizza Napoli

White Clam Pizza

Lobster Pizza

Shrimp And Crab Pizza On Cast Iron

Shrimp And Scallop Pizza

Mussel Pizza

Tuna Mayo Pizza

Salmon And Cheese Pizza

Seafood Alfredo Pizza

Salmon Pizza With Spinach

Grilled Lobster, Crab, And Shrimp Pizza

King Crab Legs Pizza
Directions
Select your favorite recipe.
Organize all the required ingredients.
Prep the recipe in 30 minutes or less!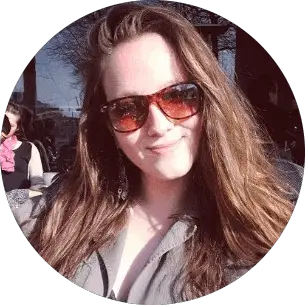 Barbara is an enthusiastic food-exploring person that goes through different culinary experiences. She got inspired by creating a pizza blog post after she tasted one of the best-selling pizzas in Toledo.