Every week, we'll be asking you to join us as we take a tour of our favorite towns and cities – and we'll show you some of the secret pizza spots we love.
Today, we're visiting New Haven to explore the city's historic pizzerias. For the sake of being honest with myself, I must admit that New Haven-style pies are better than many other pizza styles across the U.S.
New Haven-style pizza is considered a hotter, crispier, and dirtier descendant of Napoletana style pie. Essentially, what ribs are to Kansas City, crabcakes to Baltimore, and cheesesteak to Philadelphia, pizza is to New Haven.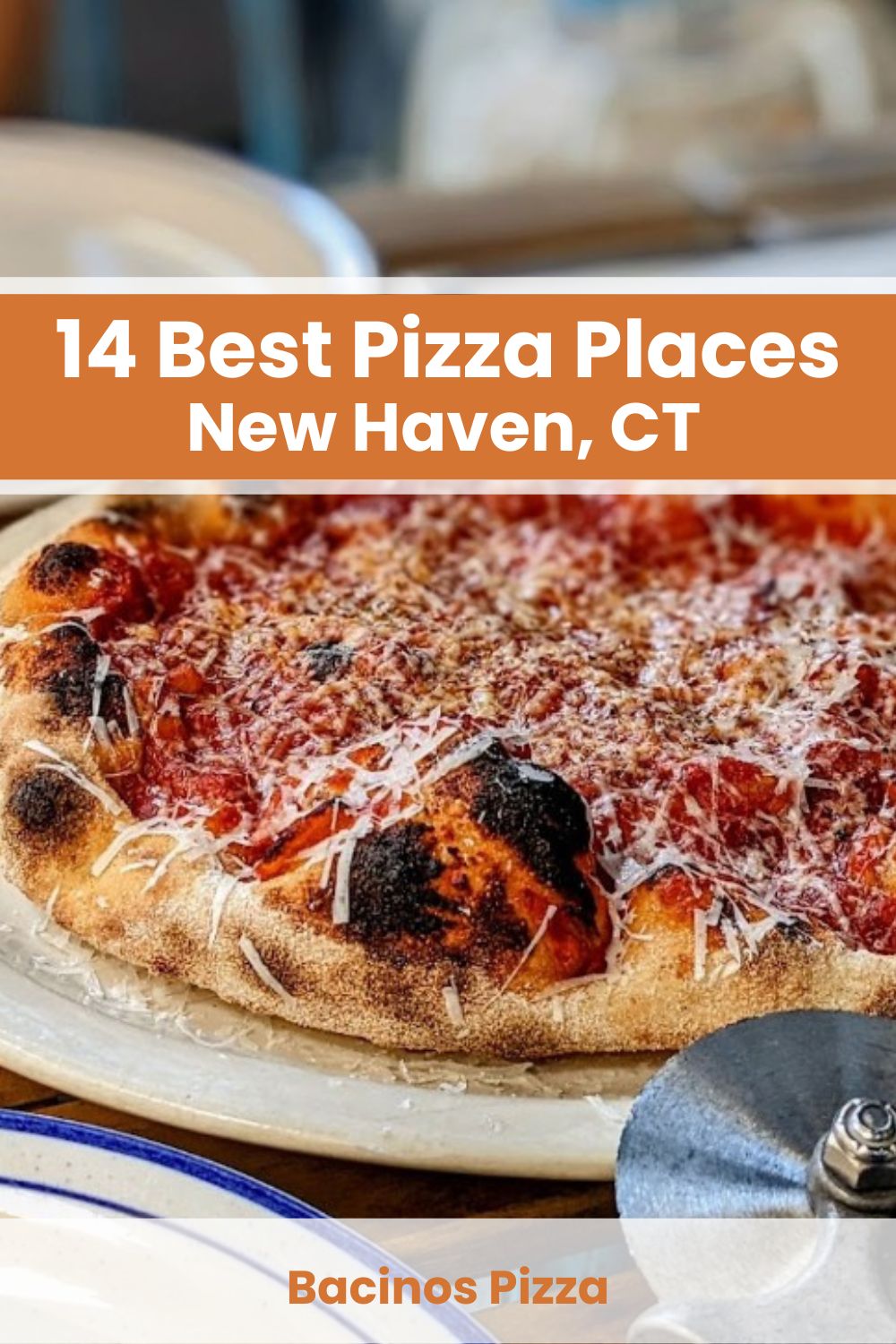 So, just what is the best pizza in New Haven?
Here are the 15 best pizza places in New Haven, Connecticut:
Address: 874 State St, New Haven, CT 06511, United States
Phone: +1 203-776-5306
Located on State Street in the East Rock neighborhood, Modern Apizza has been in operation since 1934. Surprisingly, it's been in the same spot ever since it opened its doors. It was initially known as Tony's Apizza Place.
However, by the mid-1940s, another pizza restaurant opened nearby with the same. Thus, the owner of the neighborhood pharmacy proposed the name Modern Apizza Place and it stuck.
If you ask anyone from New Haven what the most popular pizza in town is, their answer will likely be Modern Apizza. At Modern, you'll be served the original New Haven-style pizzas and a handful of Italian classics.
Unlike the Wooster Street Pizzerias that use a coal-fired brick oven, Modern uses an oil-fuelled brick oven to produce a thin crust. New Haven-style pizza often goes with Foxon Park soft drinks at Modern's.
As you'd expect, Modern also provides a slightly more modern atmosphere, with such amenities as padded seating. And the entire setting preserves a historical feel.
You gotta visit Modern Apizza and experience it firsthand – you'll probably wish to stay longer!
Address:  157 Wooster St, New Haven, CT 06511, United States
Phone: +1 203-865-5762
Frank Pepe Pizzeria Napoletana, simply known as Pepe's, opened its doors in New Haven's Wooster Square neighborhood in 1925. It is among the oldest and most popular pizzerias in the U.S.
Founded by an Italian immigrant, Frank Pepe, the pizzeria crafts the New Haven-style thin-crust pizza.
The pizza is baked in a coal-fired brick pizza oven and is closely related to Neapolitan-style Italian pie.
Pepe's also serves Foxon Park bottled sodas from East Haven, Connecticut. You'll also find beer, wine, and several varieties of pizza toppings.
Frank Pepe's locations are now open for dine-in, takeout, delivery, and curbside pickup. A family-friendly vibe makes this place hard to beat.
The service is equally excellent. Perhaps that's why President Ronald Reagan preferred Pepe's over other pizzerias. Without a doubt, this is a must-try!
Address: 237 Wooster St, New Haven, CT 06511, United States
Phone: +1 203-624-5271
This is another iconic pizzeria famous for its coal-fired, thin-crust pies, long lines and basic, no-frills dig.
Located in New Haven's Wooster Square neighborhood, Sally's Pizza has been getting a ton of hype since it was established in 1938.
Much like Modern and Frank Pepe's, Sally's Pizza offers thin-crust, coal-charred New Haven pizza. And they keep true to traditions.
In fact, their pies are handcrafted the same way Sally's Appiza patriarch Salvatore "Sally" Consiglio did.
Modern, Pepe's, and Sally's are widely regarded as New Haven's holy trinity of pizza restaurants.
Many dignitaries, stars, and athletes have dined at Sally's over the years. Pictures and memorabilia from these visits line Sally's walls.
Notable people who've dined here include Bill Clinton, Frank Sinatra, Kathleen Turner, Al Gore, and Don Rickles.
At Sally's, each pie is individually hand-made, and carefully baked in the coal-fired oven. You may have to wait a little longer to get your pie. And honestly, the wait is worth it!
Address: 687 State St, New Haven, CT 06511, United States
Phone: +1 203-891-7704
Established in 2012, Da Legna x Nolo is a New Haven hot spot that serves artisan and traditional pizzas, along with salads and homemade desserts. Actually, this place is more "restaurant and brewery" than "brewpub".
"Nolo" is an Italian word for "freight" and refers to the brew system. "Da Legna", on the other hand, means "from wood" and implies both the pizza ovens and the wood-fired grill in the kitchen.
At Da Legna x Nolo, chef Daniel Parillo demonstrates the furthest extent a kitchen can create with live wood fire cooking. And the best part is, he showcases it right in front of guests.
The pizzeria's pizza menu ranges from traditional to artisanal and vegan creations. Toppings are diverse, including anchovies, baby spinach, hot cherry peppers, etc.
The Da Legna brand is distinguished from the rest with its cozy bar. They have both domestic and Italian wines, not to mention fancy cocktail selections.
The entire space is fun to look at. Paintings by local artists pop up on walls throughout the space as you walk to the upstairs mezzanine.
Stop by Da Legna today and experience their fundamental, yet innovative creations that change almost daily. It's hands down a chill spot!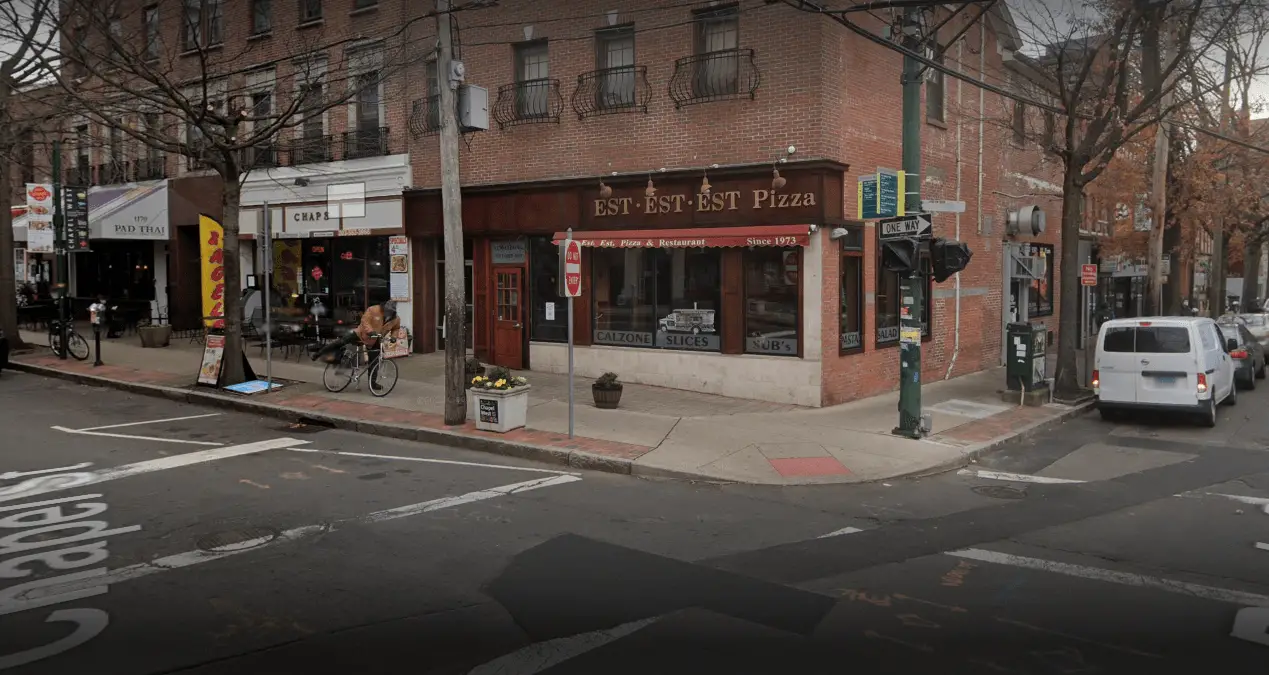 Address: 1176 Chapel St, New Haven, CT 06511, United States
Phone: +1 203-777-2059
Est Est Est Pizza has stayed in the same location in New Haven since 1973. It takes pride in being one of the top five pizzas in the city.
This restaurant and pizzeria is known for its Italian pizza and calzones. They serve their meals in a small corner space with brick walls, tall windows, and wooden furnishings.
Est Est Est in New Haven serves some of the best pies you'll ever eat. Their thin-crust pies have a perfect sauce to cheese ratio.
Their servers are really impressive – friendly and easy on the eyes. Plus, they ensure guests receive prompt and courteous service.
The entire environment is clean both inside and out. Stopping in here for a slice or two of pizza is an idea you might want to idea.
Address: 163 Foster St, New Haven, CT 06511, United States
Phone: +1 203-777-5141
One 6 Three is a family-owned and operated pizza joint that opened in February of 2016. While it's a pretty new kid on the pizza block in New Haven, it's grown into one of the nation's famous pizza joints.
This small business cranks out some of the best wood-fired artisanal pizzas, sandwiches, small plates, and more.
The small business prepares brick-oven pizzas fresh to order. And only the freshest, locally sourced ingredients are used.
Besides pizza, you can indulge in desserts like fried Oreos and pic candy…which is smoked bacon candied with in-house spiced sugar rub.
For those opting for dine-in, One 6 Three boasts a relaxed, industrial dining room and bar. You get to see right into their bustling open kitchen and watch as chefs unleash their culinary magic.
Oh, lest I forget – the restaurant is a B-Y-O-B, so be sure to bring your favorite brew when you visit. One 6 Three will take care of the rest!
Address: 175 Humphrey St, New Haven, CT 06511, United States
Phone: +1 475-234-5969
This relatively new bar and restaurant on 175 Humphrey Street is about far more than just pizza. It's a brick-and-mortar brainchild of Bodak and Coffin, famously known for the Big Green Truck Pizza.
Expanded from a mobile, wood-fired pizza truck business to a full restaurant in June of 2018, Next Door is the right place to be.
Next Door serves New Haven-style Pizza, small plates, as well as beer and other drink specials. They have three dining rooms for dine-in guests.
If you visit any night of the week, you'll see people enjoying food and socializing. Next Door is a place where communities come together to greet newcomers, exchange recommendations and read the latest local news.
The place has a warm and welcoming neighborhood feel. Along with creative pies, this establishment has a wide variety of interesting food options.
At this joint, you'll also find a bar with 32 craft beer taps as well as excellent cocktails. Visit Next Door and enjoy great food, service and drinks.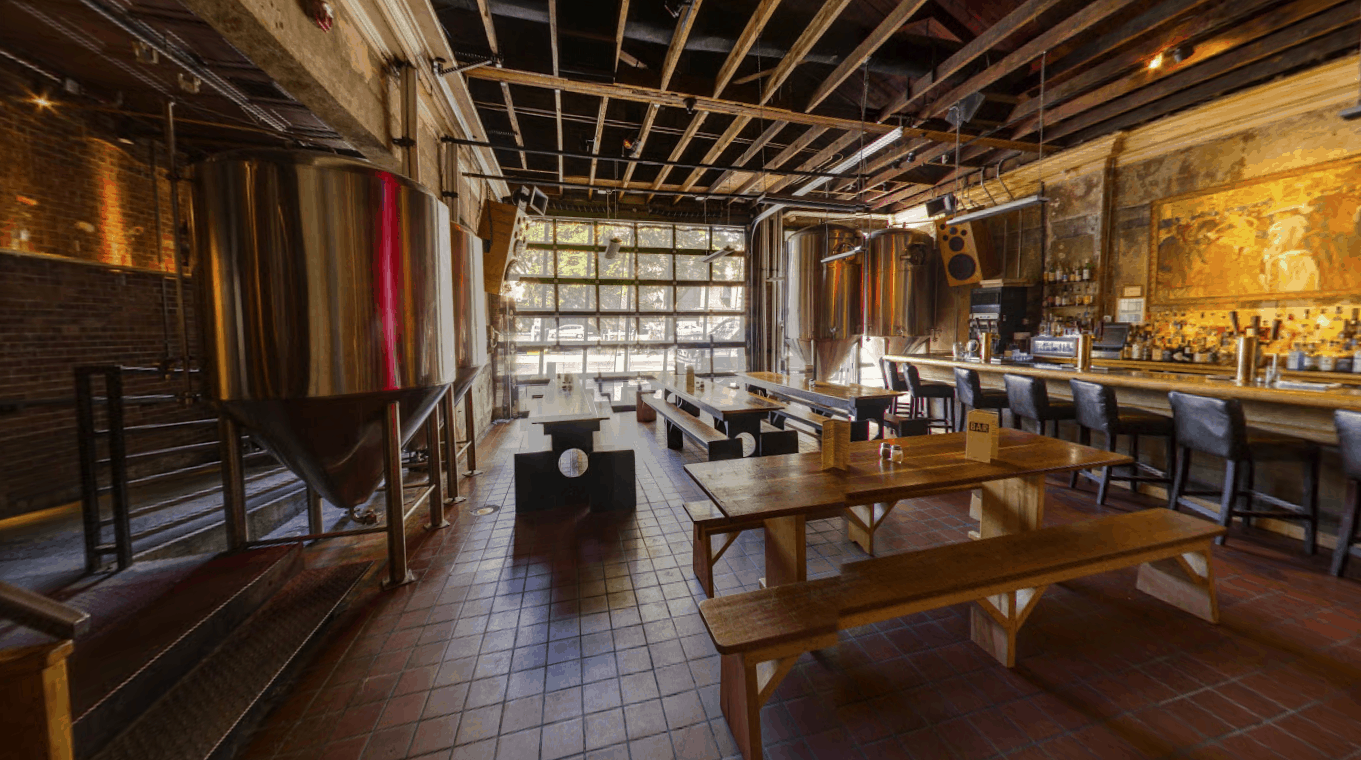 Address: 254 Crown St, New Haven, CT 06511, United States
Phone: +1 203-495-8924
Bar New Haven is known for three things: mashed potato and bacon pizza, lobster pizza, and a lot of fresh in-house beer.
They cook their bacon in the brick oven and make the potatoes, the dough and the sauce. They largely source their mozzarella from a local New Haven cheese maker.
Lobster pizza is a summer specialty at this joint. Fresh hand-picked lobster meat is piled on a white pizza with mozzarella and butter.
For the most part, Bar New Haven makes a lot of fresh cheese in the house. You can order their pies on Grubhub or make reservations for dining in.
Address: 179 Union Ave, West Haven, CT 06516
Phone: +1 203-934-1949
Zuppardi's Appiza shares pretty much the same characteristics with Modern, Sally's, and Pepe's. Founded in the 1920s, it's also one of the oldest joints in America.
This family-owned pizzeria serves authentic New Haven-style pizza and standout baby clam pies in a cozy, old-school atmosphere decorated with family photos.
They offer the finest pies at reasonable prices, coupled with quick service and affable staff. Notably, their specialty homemade sausage has won the Connecticut magazine best sausage award.
Talking of their pies, they're surprisingly tasty and made to perfection. As a pizza snob, this is the best pizza in New Haven. Period!
Address: 1279 Whalley Ave, New Haven, CT 06515, United States
Phone: +1 203-387-3362
Ernie's Pizzeria is a family-owned classic pizza parlor with a loyal clientele. It's regularly cited as the best pizza in New Haven, Connecticut.
Their pies have a chewy and crispy crust but without the sourdough taste associated with the likes of Pepe's.
You can also order gluten-free pies, which have an excellent crust and never oily. Mushrooms are tasty on top.
I suggest complementing your pies with a Foxon Park birch beer from Ernie's. Oh boy, this drink makes your pie even more delicious.
Ernie's service is a cut above the rest. Owner Pat takes time to chat with customers, and he's a nice guy.
Remember, Ernie's doesn't have an official business website. However, you can always call to book for reservations or order on Grubhub.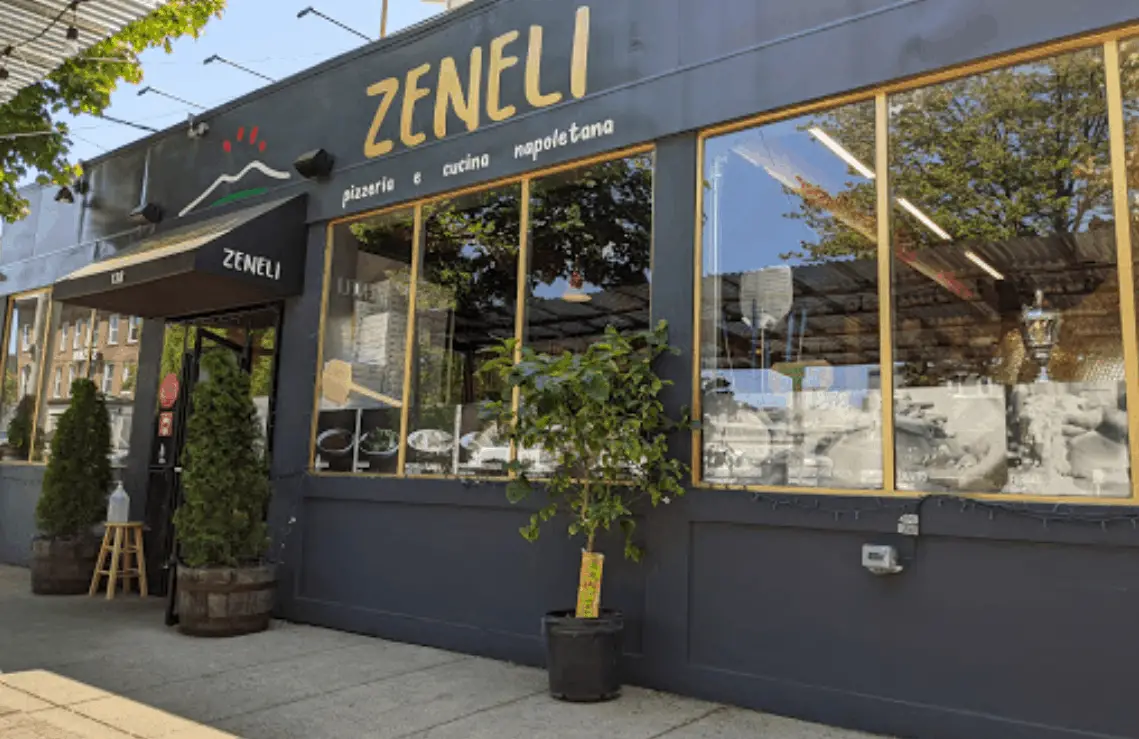 Address: 138 Wooster St, New Haven, CT 06511, Unites States
Phone: +1 203-745-4194
Zeneli Pizzeria at 138 Wooster Street specializes in true, authentic Naples-style pizza. The pies are so delicious, so delicate, and so fresh.
Pizza restaurant brothers Gazmir, Aleko, Jetmir, and Jeshar opened Zeneli in the distant 2000s. The four brothers actually came from Naples, a city rich in romantic culture and traditions.
At Zeneli's, servers usher in customers with a great wood-burning pizza, excellent salads, and a phenomenal dessert.
Their wine list is a tad limited but adequate. And the service is superb. Zeneli's menu of excellent pies, reasonable prices, and typical appetizing recipes will entice you to come time and again.
Address: 89 Howe St, New Haven, CT 06511, United States
Phone: +1 203-865-3345
Located on Howard and Chapel right in the heart of New Haven, Pizza House has been around forever and serves good ol' school Greek-style pizza.
Having been around since 1963, this is one of the best places to eat. Their plain cheese pizza is delicious and doesn't cost a fortune, too.
Pizza House has a nostalgic factor, making it a nice change-up from the Neapolitan or New Haven-style pies.
Much like many Greek places from back in the day, Pizza House's interior hasn't been updated. So don't expect a lavish dining room.
Pizza House is available for delivery on DoorDash. And the delivery cost at this time is less than five bucks!
Address: 278 Park St, New Haven, CT 06511, United States
Phone: +1 203-672-0765
Tarry Lodge is a family-friendly Italian chain serving Italian style pies, with subtle yet distinct tributes to New Haven.
Their pies are exceptional by every measure. Plus, they also serve pasta, entrees and wine in a relaxed, elegant setting.
Mario Batali, the owner of Tarry Lodge, is very welcoming and knowledgeable. And even though the menu is rather limited, all items are delicious.
Seeking private dining? Tarry Lodge can accommodate large party reservations, semi-private and private events with a personal touch.
Whether you want to enjoy a lively dinner with friends, have a bite between classes, or debrief a play at Yale Rep, Tarry Lodge got you covered.
Address: 966 Chapel St, New Haven, CT 06510, United States
Phone: +1 203-772-3002
Established in 2009, Kitchen Zinc is all about ingredients. Much like its sister restaurant, ZINC, it focuses on local, sustainable and fresh ingredients to make artisanal pizzas stand out from the rest.
Kitchen Zinc believes ingredients are meant to be savored. As a result, the business has built a rapport with local firms and vendors to source their ingredients.
Everything, from locally made sausage to goat cheese and vegetables, is sourced locally. Worth noting, this pizzeria offers unusual toppings, including gravlax, goat cheese, and lobsters.
Each of their artisanal pies boasts a wholesome flavor with impeccable quality. What's more, the owner, Donna Curran, takes pride in her excellent and attentive staff.
As for the dining environment, it's spectacular – to say the least. Kitchen Zinc has a very pleasant outdoor patio with some canopies to protect you from the sun or rain. Definitely the best pizza place to be!
Conclusion
Phew! Now you have a complete list of the 15 best pizza places in New Haven, Connecticut. If you're in need of a quick meal, don't hesitate to order your pie from one of these nice pizza joints. You can't go wrong.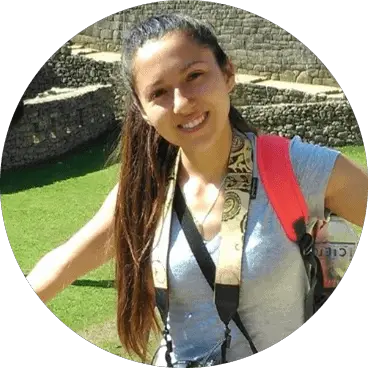 Kathryn's love for pizza started when she was still young. When she was young, she's been a picky eater–that's what her Mom used to say. The only food that she enjoyed and loved was pizza–until now! Her love for pizza turned into a passion!