Greek pizzas are a feast for the eyes as well as the palate! Treat your tastebuds with the flavors of colorful Mediterranean-inspired toppings and the Greek pizza staple – feta that blends together beautifully in your mouth.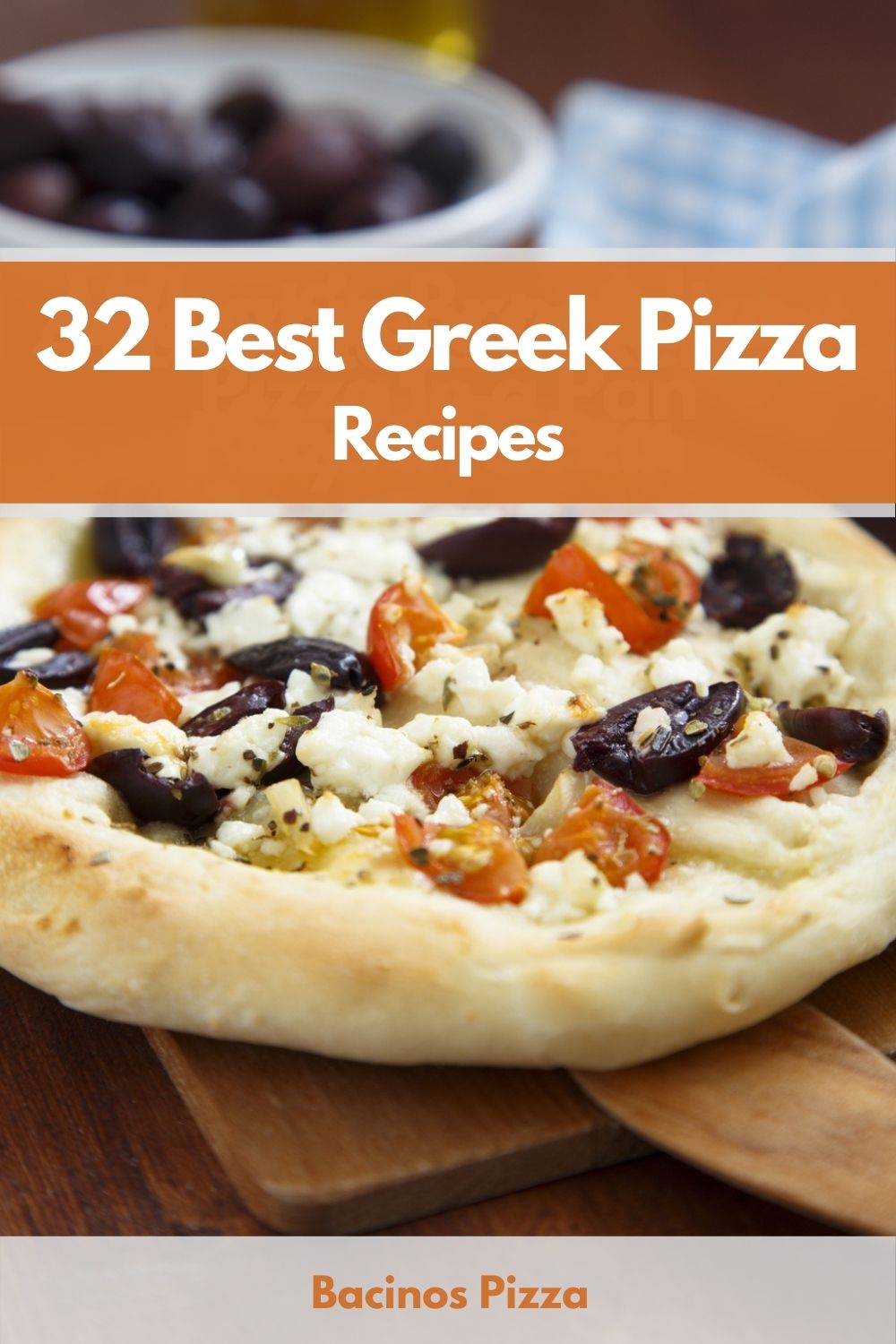 Cooked in a metal pan and drenched in olive oil, Greek pizzas are incredibly easy to make, even if you're a beginner. Here are 32 Greek pizza recipes you'll love!
1. Greek Pizza | Easy Mediterranean Feta Pizza Recipe
All the Mediterranean flavors you love in one recipe! Decorate your Greek pizza with kalamata olives, oregano, olive oil, feta cheese, and tomato. Watch this video by MOMables – Laura Fuentes to learn how to make one fabulous Mediterranean feta Greek pizza recipe!
2. GREEK PIZZA WITH FETA, SPINACH, AND OLIVES
Brush your white pizza with olive oil, and top it with feta, spinach, and olives – there you have it, your mouthwatering Mediterranean-flavored Greek pizza!
In case you need step-by-step instruction along with a list of ingredients required and the measurements, follow this written tutorial by Inquiring Chef.
3. The secret to Greek pizza is in the sauce | Savouring Surrey
The owner of a popular Surrey pizza spot, John Syskakis, believes that the secret to Greek pizza is in the sauce. And, we second that! Much of the deliciousness in a pizza comes from the sauce itself.
Although Syskakis is reticent when it comes to sharing his sauce recipe, you can learn several pizza tips in this video by CBC Vancouver.
4. Greek Pizza Recipe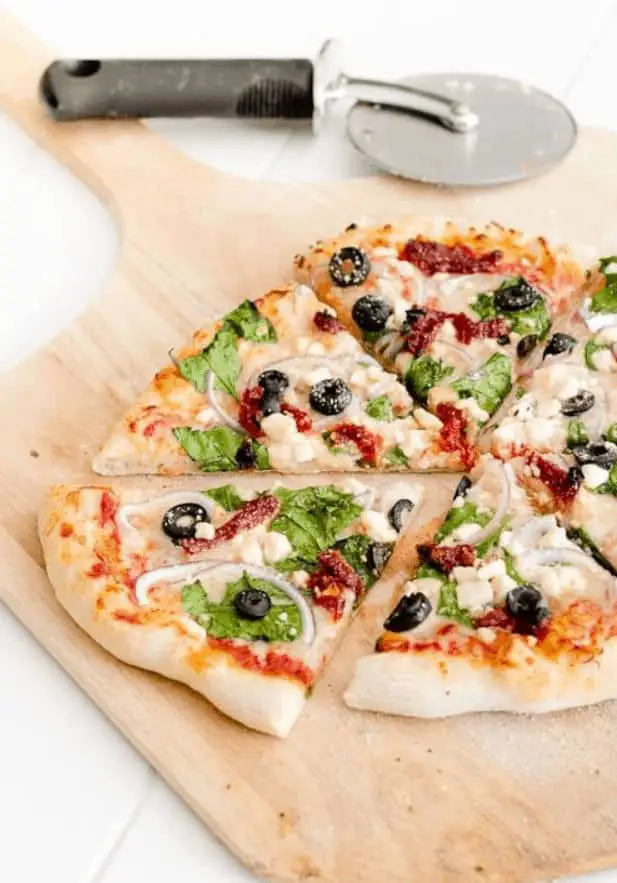 This vegetarian Greek pizza is colorful and delicious and comes together in no time. Make sure you follow a couple cooks' pizza dough and pizza sauce recipes, the links which are mentioned in the instruction section.
This recipe is vegetarian, which uses feta cheese, olives, sun-dried tomatoes, and spinach for the toppings.
5. Greek Pizza Recipe • Flavorful Mediterranean Pizza! – Episode #321
The Youtuber from clubfoody.com says, "The only place you'll find the delicious and original pizza is in your kitchen." We absolutely agree with her! If you do too, watch this video where she prepares a Mediterranean-inspired pizza and bake one delicious Greek pie for yourself!
6. Greek Pizza from Scratch in 30 Minutes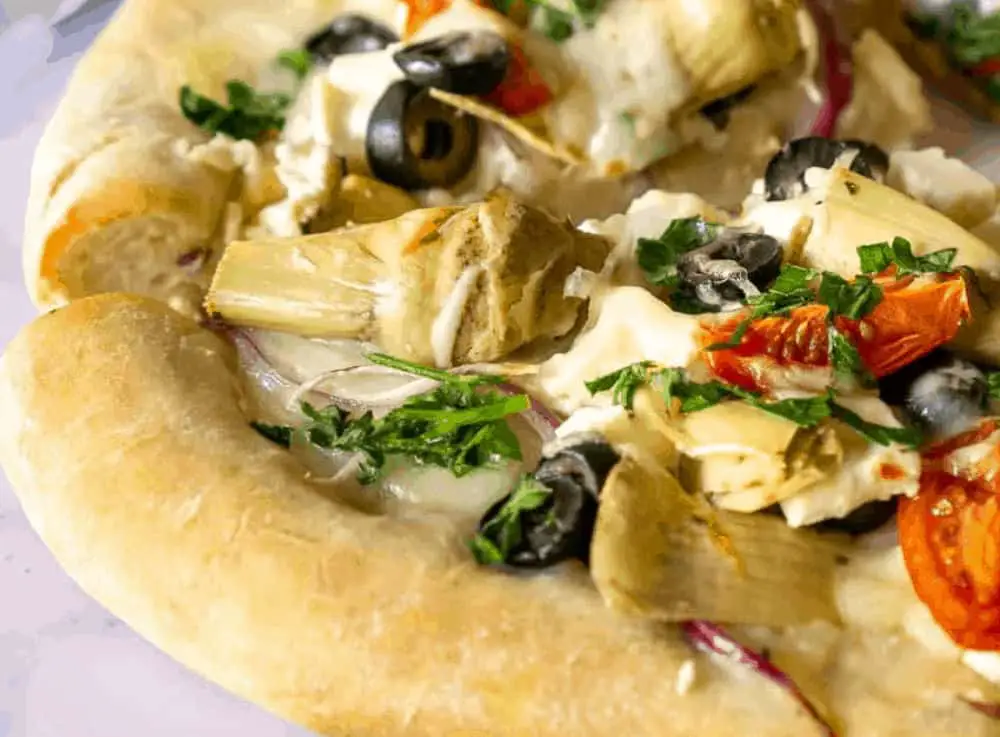 Not many Greek pizza recipes teach you how to make pizza dough. Instead, they opt for easy-to-use pre-made doughs. However, if you want to make your pizza from scratch, this tutorial is perfect for you. What's more, you can also find many Greek pizza topping ideas in this post!
7. How To Make Greek Pizza From Scratch
Make a colorful and delicious Greek pizza by following this tutorial video by Dash of Amy!
Brushed with sour cream and garlic mixture and topped with spinach, tomatoes, banana peppers, and three types of cheeses – cheddar, parmesan, and feta, this recipe will surely make your cheese-loving tastebuds dance with joy!
8. HOMEMADE FETA CHEESE PIZZA RECIPE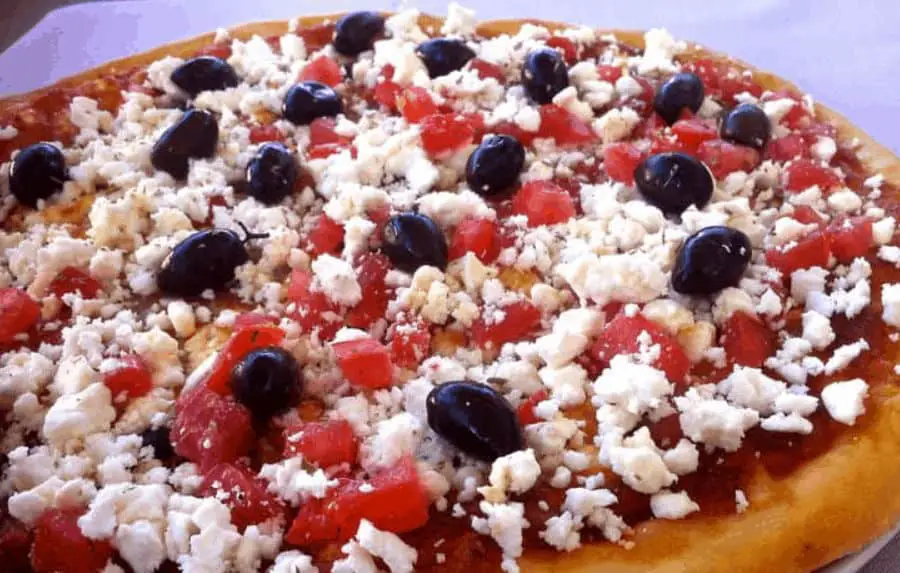 Add your Greek salad ingredients generously atop your pizza and bake a fantastic Mediterranean-inspired pizza for yourself and your loved ones.
In case you want a detailed guide, follow this recipe by MyGreekDish.com. Here, you can also find the instructions to make a pizza dough if you want to make your pizzas from scratch.
9. Greek Mediterranean Homemade Pizza
Feta cheese and olives are undoubtedly stars of a Greek pizza recipe. These two ingredients combined with other veggies give rise to a flavor that is a cut above the rest. So, if you're a fan of Greek pizzas like us, this recipe by Magic in my Food won't disappoint you.
10. GREEK PIZZA RECIPE (WITH YOGURT AND OLIVE OIL DOUGH)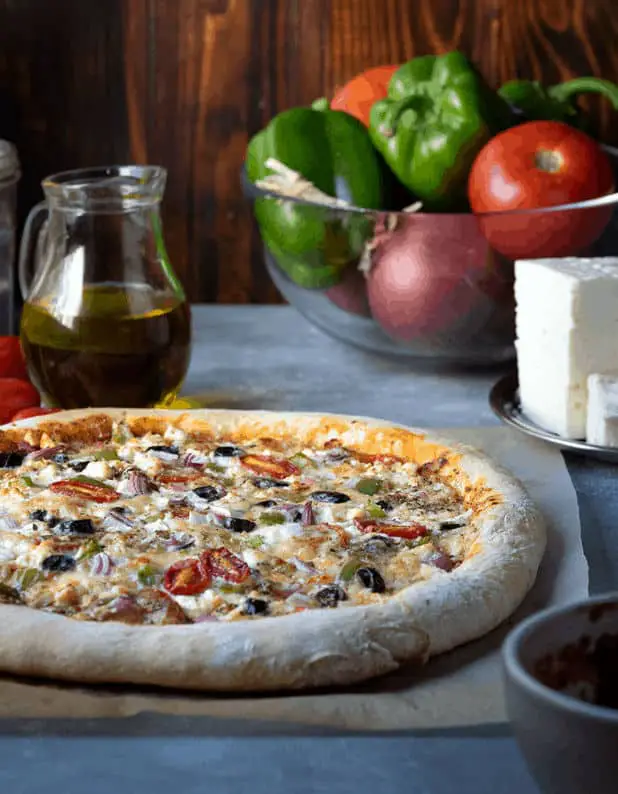 Truth be told, Italian and Greek pizzas use a lot of the same ingredients. So, to make this Greek pizza recipe a little more Greekish, the blogger from The Hungy Bites decided to add Greek feta to the toppings and Greek Yoghurt to the pizza base.
However, if you want to use a store-bought pizza base, go ahead; it works just as fine!
11. Greek Pizza – Greek Cooking by Katerina
Make the crust thick and add some Greek-special toppings to it, and your homemade Greek pizza is ready!
The Youtuber from Greek Cooking by Katerina used green bell peppers, tomato, olives, feta cheese, onion rings, Greek sausage for the toppings. She even makes the dough and the sauce herself. Check it out!
12. New England Greek Style Pizza Recipe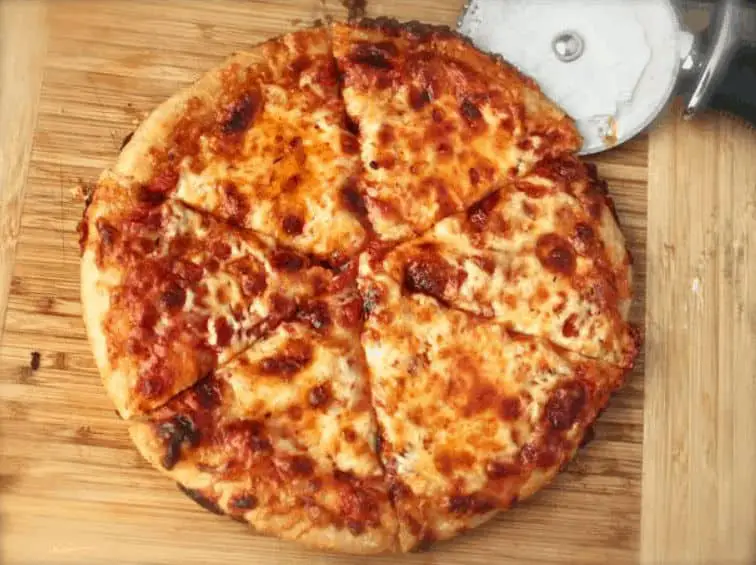 This New England Greek-style pizza recipe has about 8 hours of total cook time and serves 4 to 6 people. So, if you're looking for a recipe to bake pizzas quick and piping hot, you might want to keep looking. But if you have time and patience, this is a great recipe to follow along!
13. New England Style Greek Pan Pizza At Home
If you're a cheese fanatic, who doesn't like any veggies in their pizza, Altman Brothers Media is to your rescue!
Watch this short tutorial on making cheesy Greek pan pizzas and replicate the recipe for yourself. And, if the cheese cooks earlier before crust, feel free to cook it on a stovetop for a few minutes.
14. Greek-Style Pizza With Olives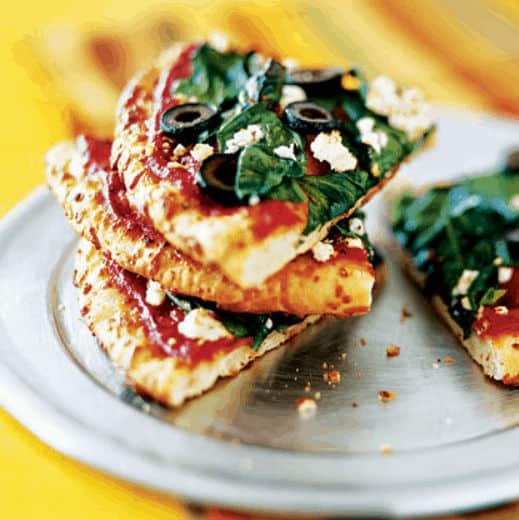 This 271 calories Greek-style pizza takes around 20 minutes to get ready, given that you have your pizza dough ready, and serves about 4 people. The ingredients, directions, and nutritional value are clearly mentioned in this blog post by my recipes.
15. Greek Style Pizza Recipe
The Youtuber from Smoky Ribs BBQ cooks mind-blowing food! In this episode, he teaches his viewers to make a Greek-style pizza. Here's how you do it – spread olive oil atop the base, followed by toppings. And, bake it to perfection!
You can finish it up by drizzling Tzatziki sauce, a cucumber, and Greek yogurt sauce, to make the recipe more Greekish.
16. Greek Pizza with Caramelized Onions, Kalamata Olives, and Feta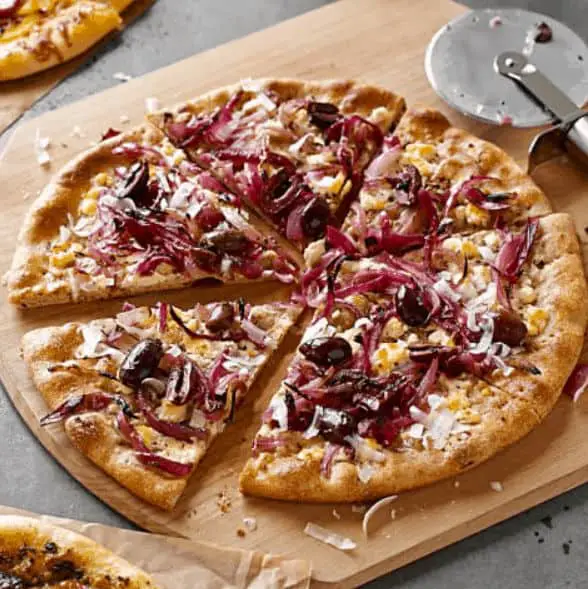 If you want to make your Greek pizza healthier, this recipe is a no-brainer! This recipe uses half a cup of whole-wheat flour to give the base a nutty flavor and one and a half cups of all-purpose for the base.
What's more, the red wine vinegar used in this recipe gives the pizza its authentic tangy Greek pizza aftertaste.
17. Reel Flavor – Greek Pizza
Although Greek pizzas are famous for feta cheese and colorful veggie toppings, it doesn't hurt to spread a few pieces of shredded chicken tenderloins! So, if you're a meat-lover, this Greek pizza recipe by Reel Flavor won't disappoint you.
18. Zorba the Greek Pizza with Odyssey® Feta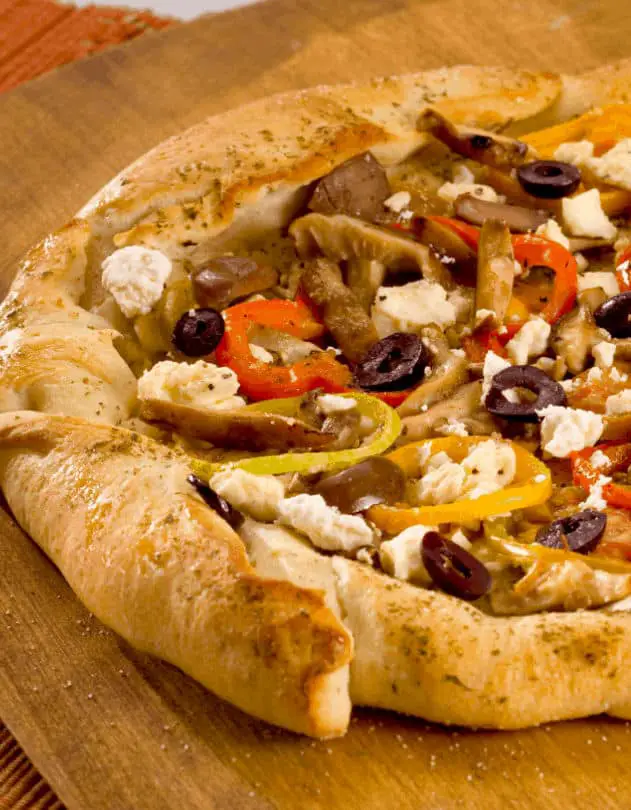 In this blog post by Odyssey, the blogger has used Odyssey®'s traditional feta cheese, Greek olives, Shiitake mushrooms, and roasted red peppers as toppings in the recipe. Follow the two-step instructions given in the post to make a finger-looking good pie for your loved ones!
19. Greek Pizza – NoRecipeRequired.com
Though olives are a staple of Greek pizzas, some of you may not like olives on your pizza. Here's a Greek pizza recipe that uses sauteed red onion, feta cheese, and spinach. And, the Youtuber makes his Greek pizza boat-shaped. How fun is that?
20. MY BIG FAT GREEK PIZZA RECIPE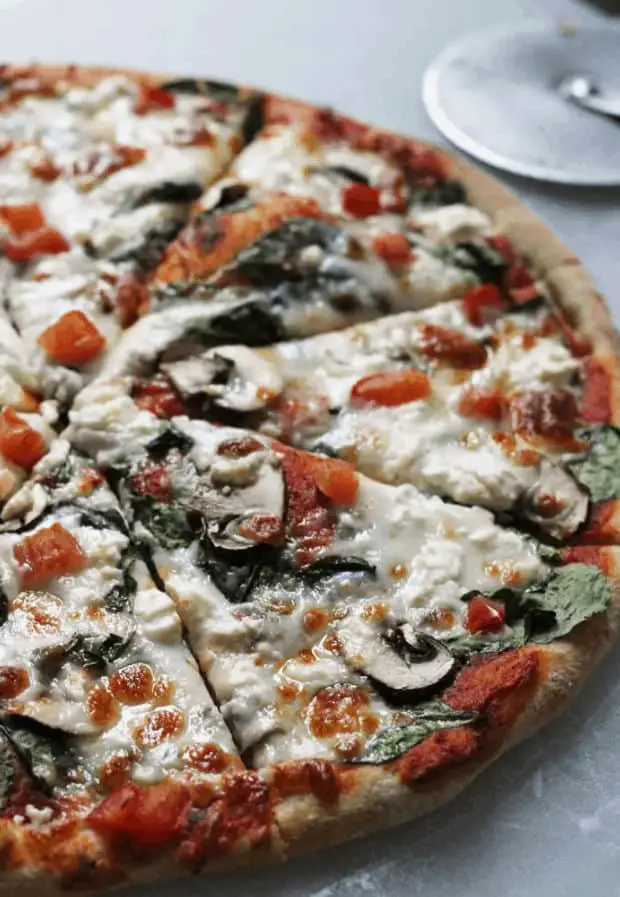 Prep your recipe for 10 minutes, cook it for the next 10 minutes, and devour your homemade big fat Greek pizza!
The total calorie count of this pizza is 117kcal/mol. Find all the ingredients and directions in this post by good cheap eats.
21. Greek Pizza
Watch this 1-minute unique Greek pizza recipe tutorial by CansGetYouCooking, where the Youtuber spreads olive oil on top of rolled pizza base followed by pesto sauce. Moreover, canned artichokes further add uniqueness to the flavor palette of this recipe. Check this recipe out!
22. Homemade Greek Pizza
Loaded with Greek-inspired toppings atop homemade dough, this recipe is perfect for your next pizza night! They added olive oil and oregano to their dough mix; as you all know, these two are the staples of a Greek pizza. Follow their recipe to bake an absolutely delicious Greek pie.
23. Greek Pizza Recipe
So, you have your pizza dough ready, but you're unsure on what to add on top of it? You can add any Greek-inspired ingredients you like. For some inspiration, watch this video by The Cashlorette. Their pizza turned out to be colorful, and we're sure that it tastes amazing too!
24. GREEK-ISH PIZZA (SPINACH OLIVE PIZZA WITH VEGAN "FETA")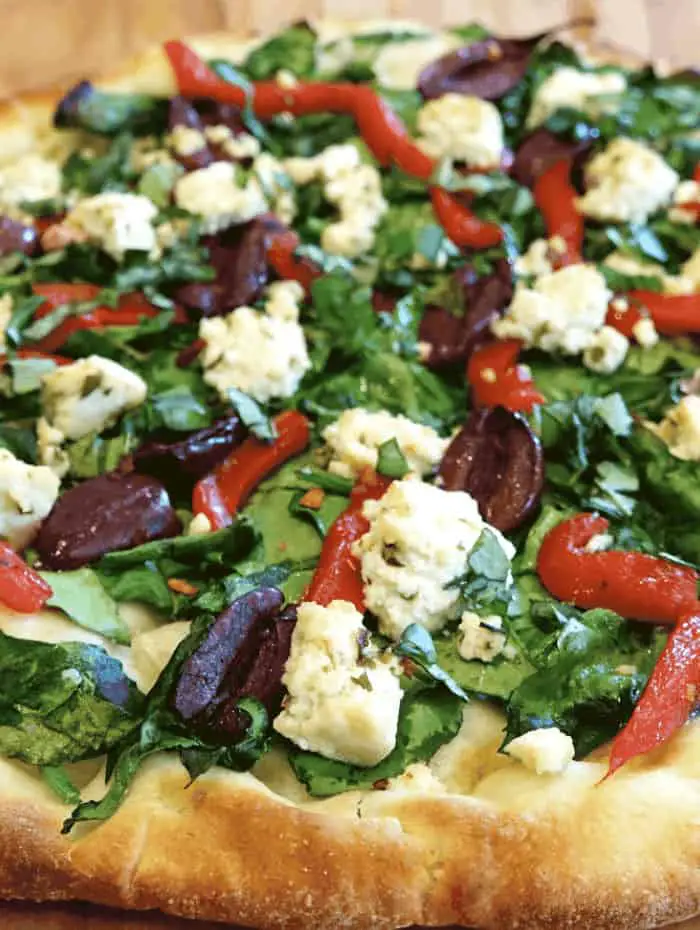 Are you a vegan? And are you craving Greek pizza? If your answers are yes to both these questions, look no further than this recipe. Prepare vegan feta cheese and use it, along with other toppings, to decorate your pizza! You can find all the instructions in this post by The Vegan Atlas.
25. The Pizza Kitchen: Greek Pizza
When making a homemade pizza, why not make it from scratch? After all, your handmade crusts will undoubtedly taste superior to store-bought ones; don't forget the 'Hardwork' and 'Satisfaction' factors.
Make a chicken and scrambled egg Greek pizza from scratch by following this recipe!
26. Authentic Greek Island Pizza-Olive Oil Pizza-Lathenia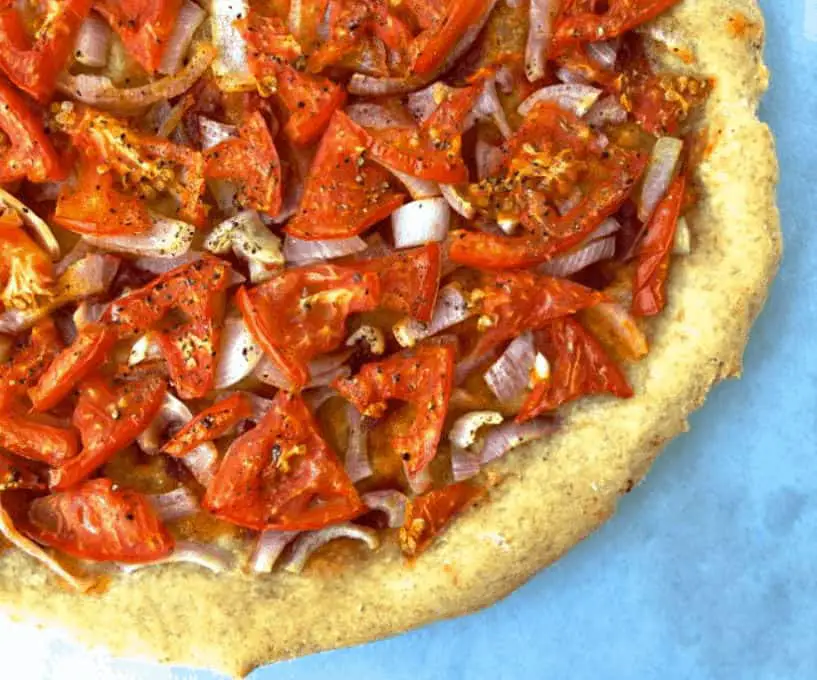 Who knew pizza without cheese would look and taste equally delicious? Yes, you read that right – a cheeseless Greek pizza!
How to make one? Olive tomato will teach you exactly how! The dough is rich in olive oil, and the only toppings used are tomatoes and onions. Basic recipe yet finger-licking good result!
27. Greek Pizza / Pizza Griega – ModaKitchen
In order to make the pizza more Greekish, many of these recipes have highlighted feta as the hero of the recipe while completely ignoring mozzarella. It doesn't have to be that way!
If your Dopamine goes gaga when you see the mozzarella cheese pull, this recipe is perfect for you. And feel free to add as much mozz as you like!
28. GREEK PIZZA WITH TZATZIKI DRIZZLE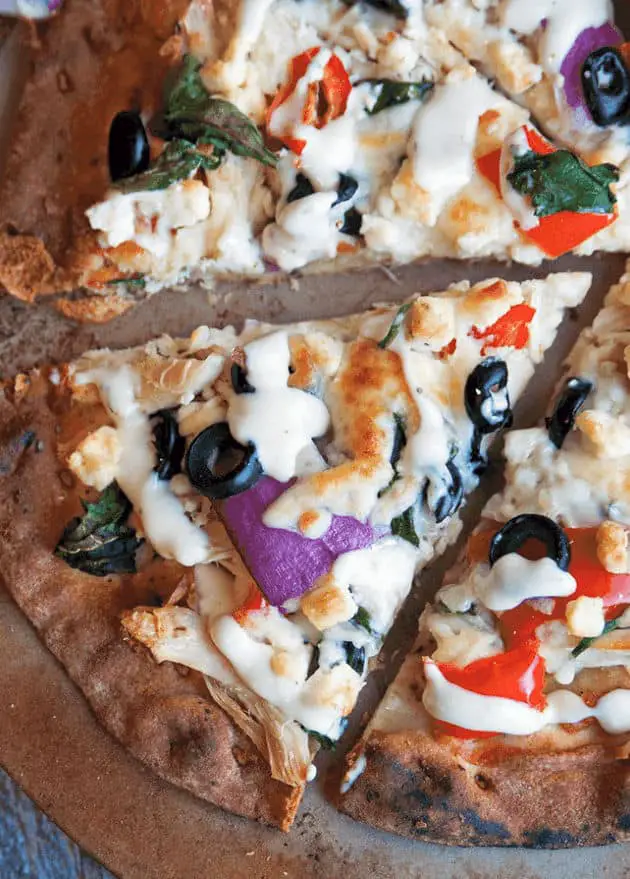 The creamy and zesty kick of the Tzatziki drizzle will take this recipe to the next level! If you don't have a store-bought bottle handy, you can make this sauce homemade as well. For the pizza, this simple, easy-to-follow recipe is more than enough.
29. Greek pizza dough
Not many bloggers and Youtubers have provided instructions on making Greek pizza dough in their recipes. They just use store-bought regular pizza doughs.
But the fact is a Greek pizza needs Greek pizza dough! Stacy Sagias is thoughtful of that. Watch her video and follow the recipe to make Greek pizza dough and decorate it with toppings you like.
30. My Big Fat Greek Pizza Recipe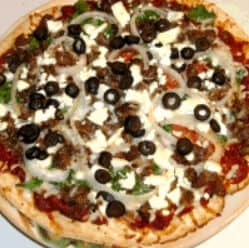 One big difference between Italian and Greek pizza is that you're left with a tangy taste after eating Greek pizza. In contrast, the Italian pies have a sweet aftertaste. The secret? It's in the sauce!
So, instead of using store-bought sauce, follow this recipe to make the sauce from scratch for that authentic Greek flavor. A quick tip from our side – use plenty of olive oil, slightly caramelize the sauce, and make it thinner!
31. Feta & Spinach Greek Pizza Recipe: Fun With Spinach
In this video by cookingguide, a European-trained executive chef guides you on how to make feta and spinach deep-dish Greek pizza.
This recipe uses mayonnaise instead of pizza sauce, and the toppings used are spinach, onions, tomatoes, feta, and mozzarella. Sounds like your kind of pizza? Bake one pie quick and hot for yourself!
32. Easy Greek Pizza Dough (Zymi gia Lathenia)
The Spruce Eats, in this post, have guided their readers on how to make Greek pizza dough. Why use pre-made dough when you can make it fresh and delicious in your own kitchen?
This recipe yields in 1 18-inch pizza. You can divide the dough into two or three smaller pizzas as well. Add your favorite toppings and bake or grill your pizza. And devour it hot and gooey!
Summary
Remember – you're the pizzaiolo in your kitchen! So, feel free to tweak the recipe and toppings combinations as you desire. Just choose any recipe that you feel matches your palate and bake a delicious pie for yourself.
A quick disclaimer – Greek pizzas are notorious for leaving people wanting for more. Don't say we didn't warn you!
32 Best Greek Pizza Recipes
Ingredients
Greek Pizza | Easy Mediterranean Feta Pizza Recipe

The Secret To Greek Pizza Is In The Sauce | Savouring Surrey

Greek Pizza Recipe • Flavorful Mediterranean Pizza! – Episode #321

How To Make Greek Pizza From Scratch

Greek Mediterranean Homemade Pizza

Greek Pizza – Greek Cooking By Katerina

New England Style Greek Pan Pizza At Home

Greek Style Pizza Recipe

Reel Flavor – Greek Pizza

Greek Pizza – NoRecipeRequired.Com

Greek Pizza

Greek Pizza Recipe

Greek Pizza..!🇬🇷 | Delicious Mediterranean Pizza | Family Mediterranean Pizza Recipe By Chrishy.

Greek Pizza / Pizza Griega – ModaKitchen

Greek Pizza Dough

Feta & Spinach Greek Pizza Recipe: Fun With Spinach
Directions
Select your favorite recipe.
Organize all the required ingredients.
Prep the recipe in 30 minutes or less!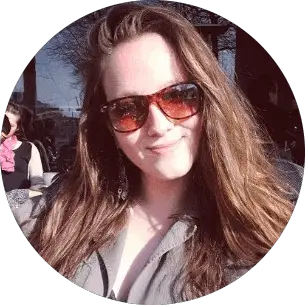 Barbara is an enthusiastic food-exploring person that goes through different culinary experiences. She got inspired by creating a pizza blog post after she tasted one of the best-selling pizzas in Toledo.