Greetings, food lovers! Are you a fan of pizza and potatoes? Then you're in for a treat because we've compiled a list of the 18 best potato pizza recipes just for you!
Potato pizza is a delicious twist on the classic Italian dish that has been gaining popularity over the years. It's a savoury and satisfying meal that's perfect for any time of the day. Whether you're looking for a quick weekday dinner or an impressive brunch option, we've got you covered.
So, get a hearty slice and indulge in some delicious and creative pizza recipes that feature one of our favorite vegetables, the humble potato.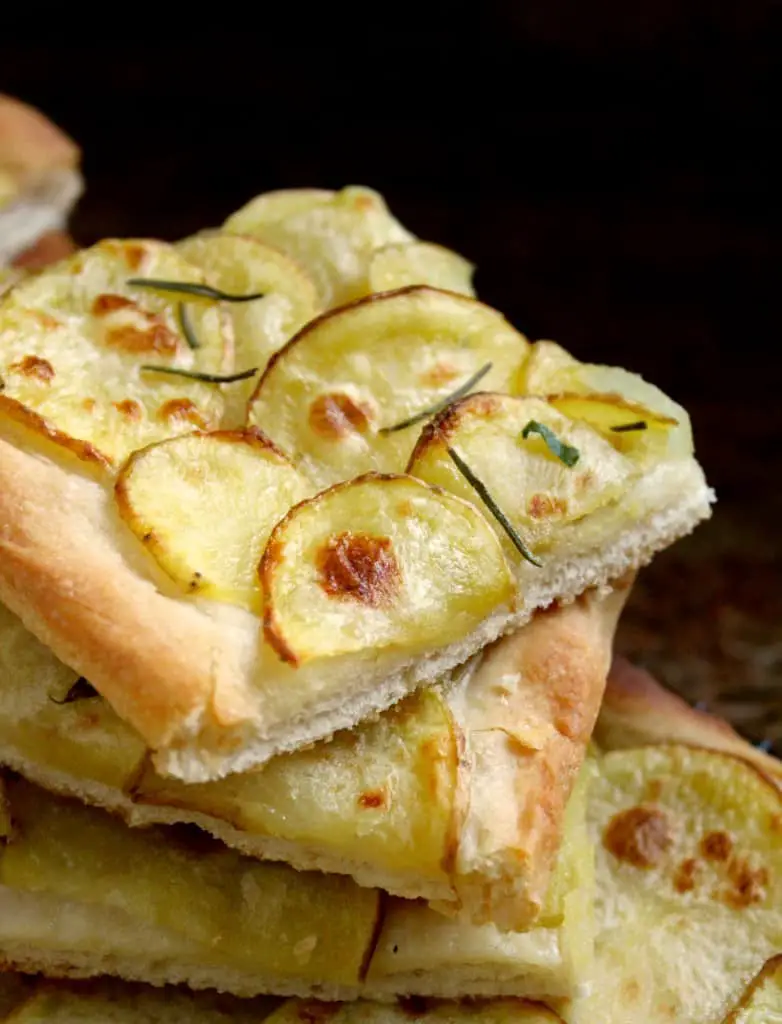 Have you ever tried potato pizza? Prepare to be amazed by the incredible flavor it brings to the table! But here's the secret: the quality of the ingredients is crucial in making it an absolute success. Splurge on the potatoes or the olive oil if you want to achieve that perfect taste. This recipe will guide you in creating the most delicious meal you can serve for brunch or dinner.
2. Gluten-Free Potato Pizza
In this cooking video, we'll share a unique and delicious pizza recipe that doesn't require an oven or traditional dough. Instead, you'll use potatoes as the base. It creates a flavourful and gluten-free crust that will impress your taste buds. Don't be skeptical about this unusual method – the result is simply incredible. As for toppings, you can get creative and use whatever you have on hand.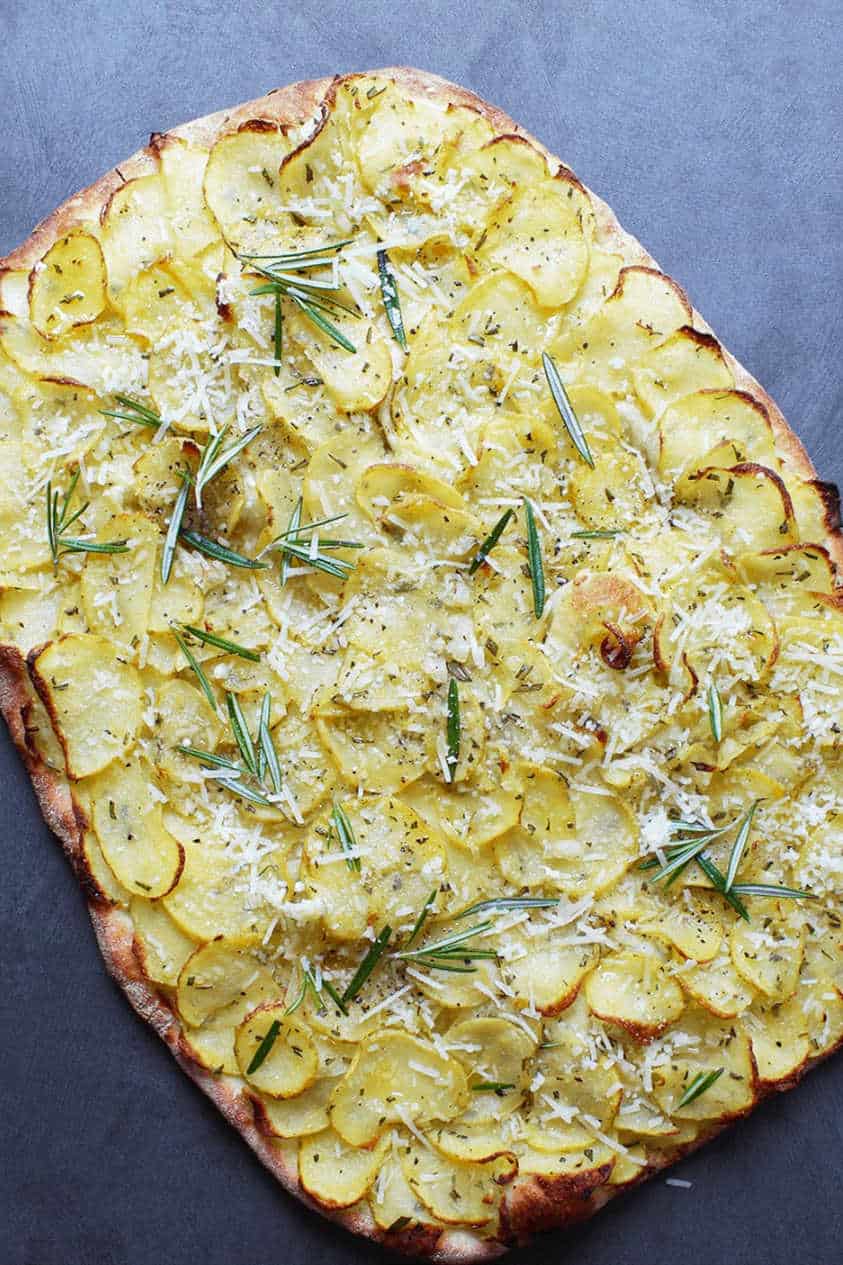 Have you ever heard of putting potatoes on pizza? It may sound unusual, especially since it seems like an overload of carbs. But did you know this unique topping is quite popular in Rome? It features a thin crust topped with sliced potatoes, rosemary, Parmigiano-Reggiano cheese, and olive oil. You can still enjoy this delicious dish by omitting the dairy if you're a vegan.
4. New Haven Style Potato Pizza Pie
Are you raring for a taste of the East Coast? This video will explore the classic New Haven Style Potato Pizza. Inspired by a local hangout, it's sure to transport you straight to the town's bustling streets. Follow along as the recipe tutorial takes you through the entire process – from dough to oven to plate. The wait is worth it since the dish is simply irresistible!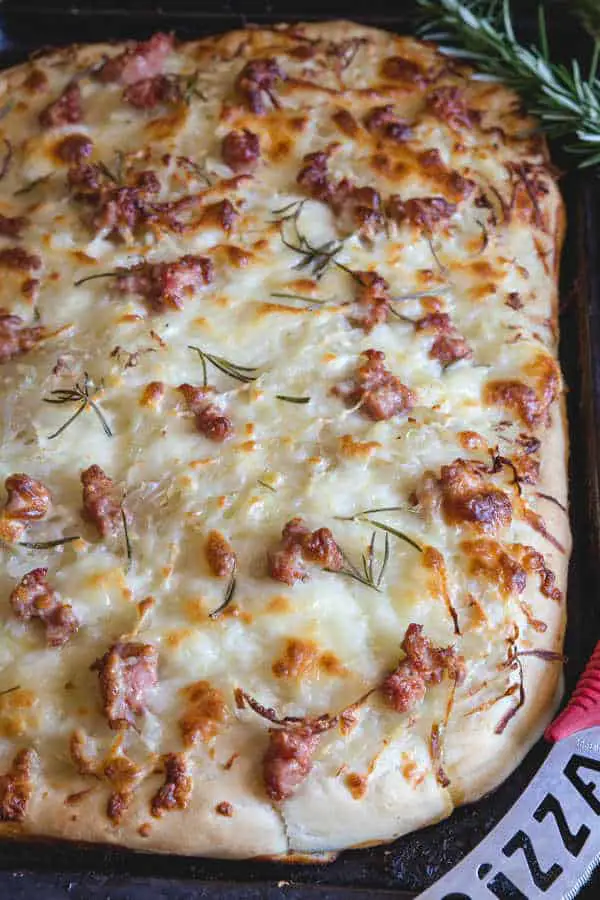 Are you ready to elevate your pizza game? Look no further! This recipe will satisfy everyone's cravings. It offers options from a classic cheesy pizza to a savory sausage pie. And why not try them both? They're a breeze to make and loaded with flavor.
They're sure to please every family member – from the pickiest eater to the most adventurous foodie. So, grab your materials and get ready to create an unforgettable dish. Everyone will come back for seconds!
6. Mini Potato Pizza
Hey there, fellow food fans! Are you looking for a fun twist on a traditional dish? Look no further! In this video, you'll make mini potato pizzas perfect for a party or snack time. They're made from smashed potatoes and topped with all your favorite toppings – from gooey cheese to zesty pepperoni. These adorable treats will surely be a hit for kids and adults alike.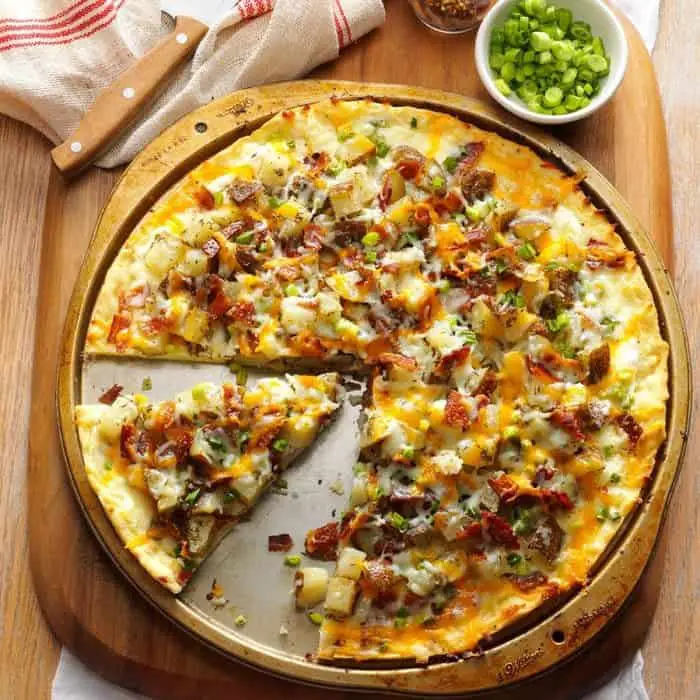 Are you planning on hosting a Super Bowl party? Are you looking for a hearty treat to serve your guests? Look no further than this loaded potato pizza recipe! With toppings like sour cream, bacon, onions, and cheese, every bite will remind you of your favorite comfort food. And the best part?
You can use store-bought pizza dough to save time and simplify the prep work. So grab some cold beers, and get ready for the ultimate tailgate experience!
8. Wood-fired Potato Pizza
Are you excited to try out a new, incredible pizza recipe? Social media star and expert chef Thomas Straker has partnered with Tom Gozney, a rising oven entrepreneur. They've created a carb-on-carb masterpiece that is sure to impress.
The dish features thinly sliced potatoes, rosemary salt, and delicious Fontina cheese that melts in your mouth. Perfect for any festive occasion, you can even take it up a notch by topping it with white truffle oil instead of EVOO for an extra burst of flavor.
Making homemade dishes doesn't have to be complicated. Sometimes the simplest food is the most delicious. This potato pizza is a prime example of that. The key is to use high-quality ingredients, like flavorful olive oil and fragrant herbs. They let the star of the show, the potatoes, shine. While some might be surprised by this root crop as a pizza topping, it's a classic choice in Rome.
10. Easy Potato Pan Pizza
This video shows how to make a delicious pizza with a twist – potato crust! That's right, instead of the traditional flour dough, you'll use potatoes to make a thin and crispy base. This recipe is not only unique and tasty, but it's also perfect for those who are going gluten-free. Top it with fresh mozzarella cheese, fragrant basil leaves, and juicy cherry tomatoes. It's perfect for any night of the week.
Who says carbs can't double the fun? We're talking about an out-of-this-world pizza perfect for satisfying your cravings. Imagine a crust that's light, fluffy, and made with potatoes. Add to that crème fraîche, caramelized onion, bacon, garlic, and kale. It's a blend of flavors that will leave your taste buds wanting more. Plus, this recipe comes with a bonus: a sprinkle of chives to finish the dish off.
12. No Oven, No Flour Potato Pizza
Are you in the mood for a fresh take on your favorite dish? Check out this tutorial on making a flourless and oven-free pizza—no need for fancy equipment. A stovetop and some potatoes are enough!
This recipe is healthy, delicious, and perfect for anyone looking to switch up their snacking game. Top it off with some classic tomato sauce, melty mozzarella cheese, and fresh basil. You can also experiment with your favorite toppings to impress your taste buds!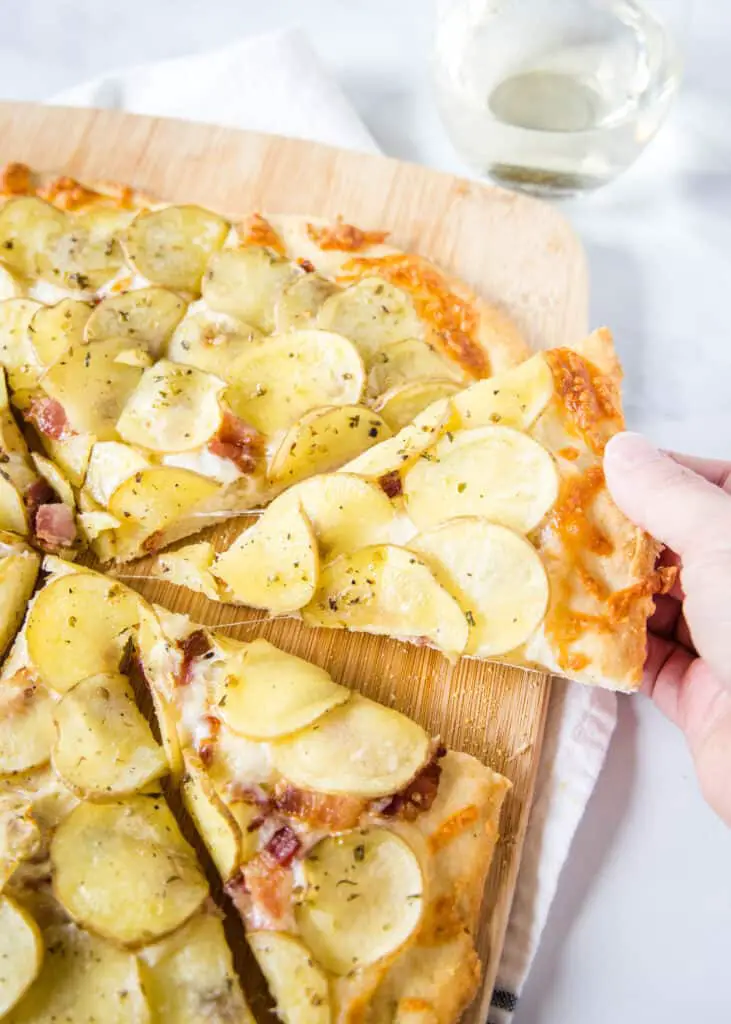 Are you feeling adventurous? Have you ever heard of putting potatoes on pizza? You might think it's a strange idea, but don't knock it until you try it! You'll be pleasantly surprised by how delicious and satisfying it is.
This veggie is an incredibly versatile ingredient. It brings a unique flavor and texture you won't find anywhere else. So go ahead, step out of your comfort zone – give it a try. Who knows, your new favorite snack is waiting for you.
14. Three-Ingredient Potato Pizza
Do you want to know why this recipe will blow your mind? It only needs three ingredients! Yep, you heard that right. Just prepare some mozzarella cheese, flour, and potatoes. It's perfect for busy nights when you have little time or energy to cook. It's quick to whip up and will make you look like a pro chef.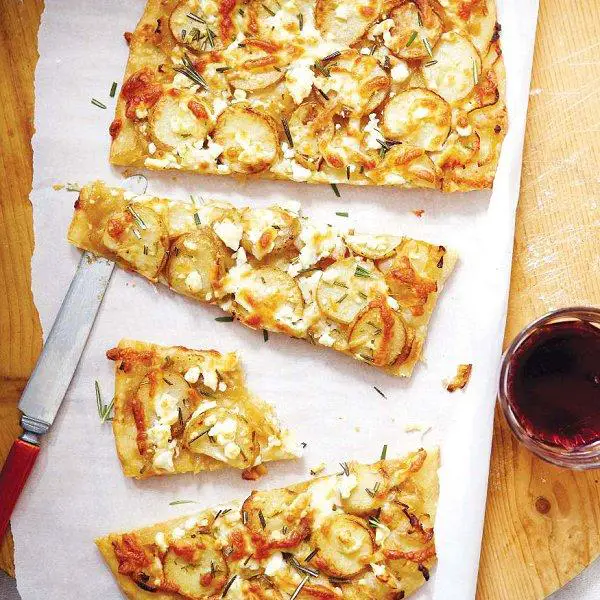 Are you raving to try something new and exciting for your next pizza night? Check out this recipe that'll make your taste buds dance with joy. It features crispy potatoes, fragrant rosemary, and crumbled feta cheese -all piled on a homemade crust.
It's a simple yet delicious combination that's perfect for any occasion. You'll love the way the caramelized onions add sweetness to the dish. Meanwhile, the herbs add a depth of flavor.
16. Roman-Style Potato Pizza
Get ready to transport your taste buds with this potato pizza recipe. You'll cook like a master chef to make it when you watch this video. Learn how to use cool kitchen gadgets to create this masterpiece. You'll slice up some thin potatoes. Then, sprinkle them with fresh rosemary and Parmesan cheese.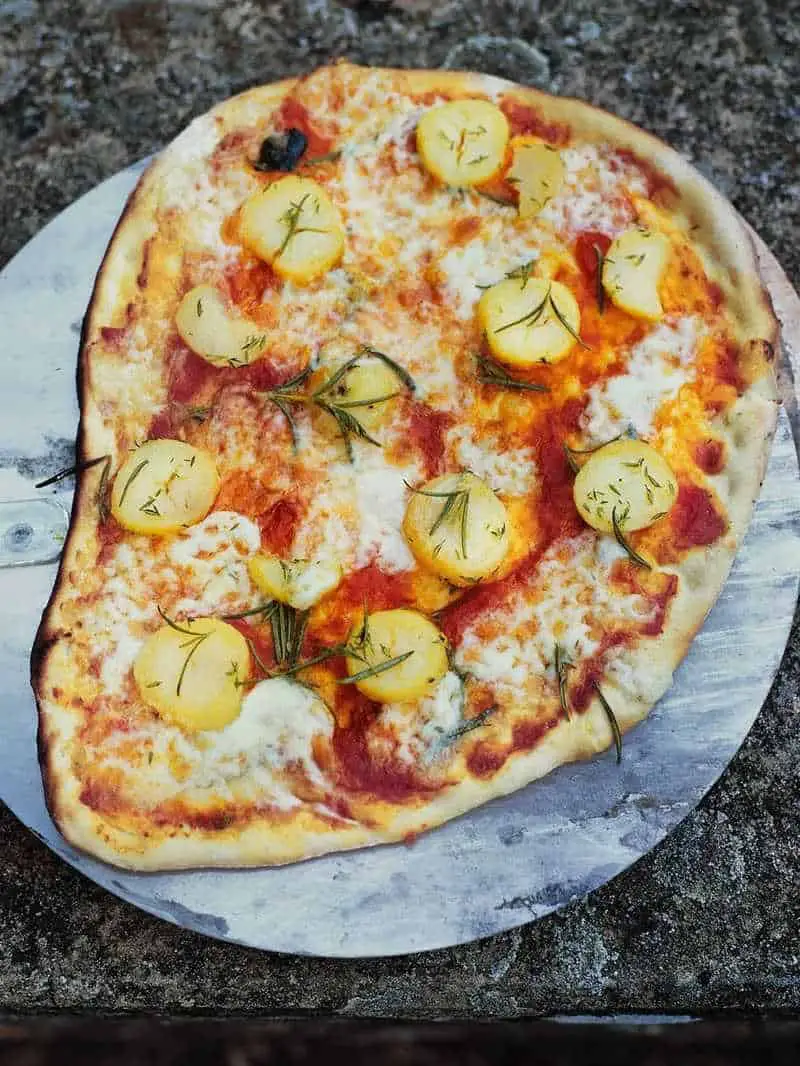 Check this out, Jamie Oliver fans! Explore the wonderful world of Italian cuisine with a classic recipe from this celebrity chef. You'll make a mouthwatering potato pizza with mozzarella cheese, fresh rosemary, thyme, and tomato sauce topping. With his guidance, you can create an authentic dish in the comfort of your own kitchen. So turn up the heat, and get cooking!
18. Gluten-Free and Vegan Potato Pizza
This is a tasty and effortless dish that'll satisfy your cravings. Do you want to know what's more amazing? It's vegan and gluten-free. Who says healthy food is bland and boring? It's so perfect for your health makeover. Moreover, it's oil-free! So you can say goodbye to the greasy snacks that can make you sick. With only four ingredients, it's super easy to make.
Conclusion
Are you ready to create and eat delicious food? Try the 18 best potato pizza recipes we gathered online. You'll witness traditional Italian ones to innovative and unique twists. Crispy crusts, gluten-free options, and savory flavor combinations are also waiting for you.
Do you want to know the best part? Potatoes are the star ingredient, making these dishes tasty and nutritious. Cheers to exploring and discovering your new favorite dish.
18 Best Potato Pizza Recipes You Need to Try
Directions
Select your favorite recipe.
Organize all the required ingredients.
Prep the recipe in 30 minutes or less!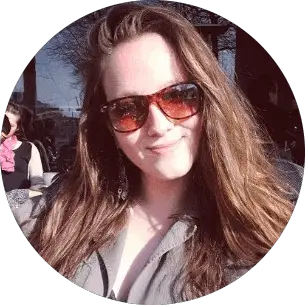 Barbara is an enthusiastic food-exploring person that goes through different culinary experiences. She got inspired by creating a pizza blog post after she tasted one of the best-selling pizzas in Toledo.