At fancy à la carte restaurants, breadsticks keep you busy as you wait for your meal. At home, they make a convenient snack for game days, movie nights, or any occasion involving dip. It's also a convenient way to repurpose leftover pizza dough. So let's explore some easy recipes.
1. Hellthy Pizza Hut Breadsticks
Sometimes, you want a specific style of snack, such as Pizza Hut's breadsticks, but you don't want to order in. This recipe shows you how to make the kind of pizza breadsticks that they sell at Pizza Hut. The secret is to add powdered milk to your pizza breadstick dough. Each breadstick is 130 calories and the recipe makes a batch of 10 breadsticks. Top the breadsticks with seasoned butter and parmesan the serve with a dip.
2. SBA's Cheesy Pizza Breadsticks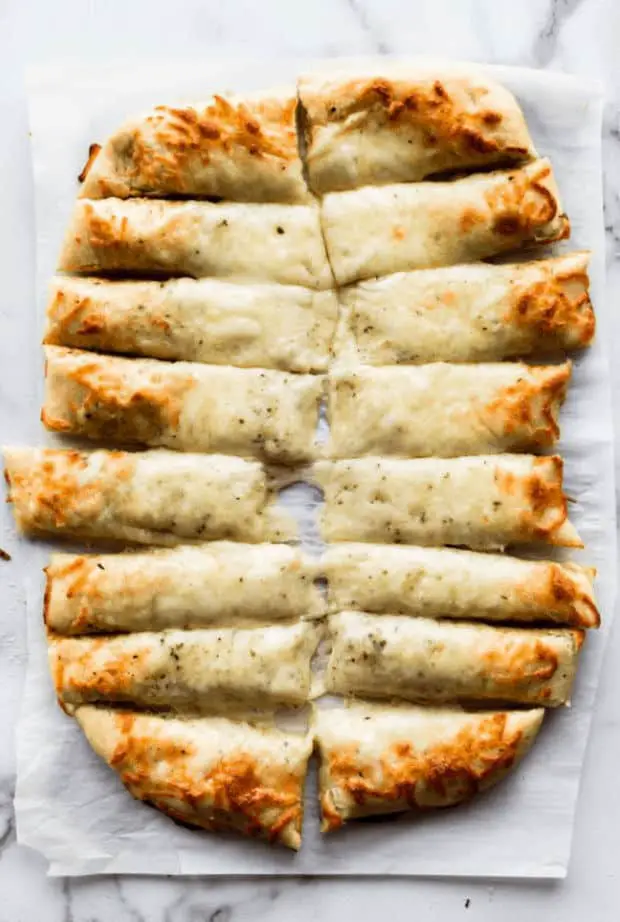 Using the pizza dough recipe from Sally's Baking Addiction, you can whip up a crunchy batch of pizza breadsticks. The beginners' pizza dough is easy to make and only has six ingredients – water, yeast, sugar, salt, olive oil, and flour. You could make tiny bite-sized breadsticks or larger 6-inch ones. You could even go foot-long. Use as much mozzarella as you want.
3. Leftover Pizza Dough Breadsticks
The two prior recipes make the breadstick dough from scratch. But if you're just looking to utilize the dough leftover from your pizza, try this recipe. Clarify your butter on low heat and skim off the foam. Roll and slice your leftover dough then brush with butter and sprinkle onion powder, garlic powder, a little parmesan, and lotsa mozzarella. Bake for 5 minutes.
4. Appetizer Addiction Pizza Dough Breadsticks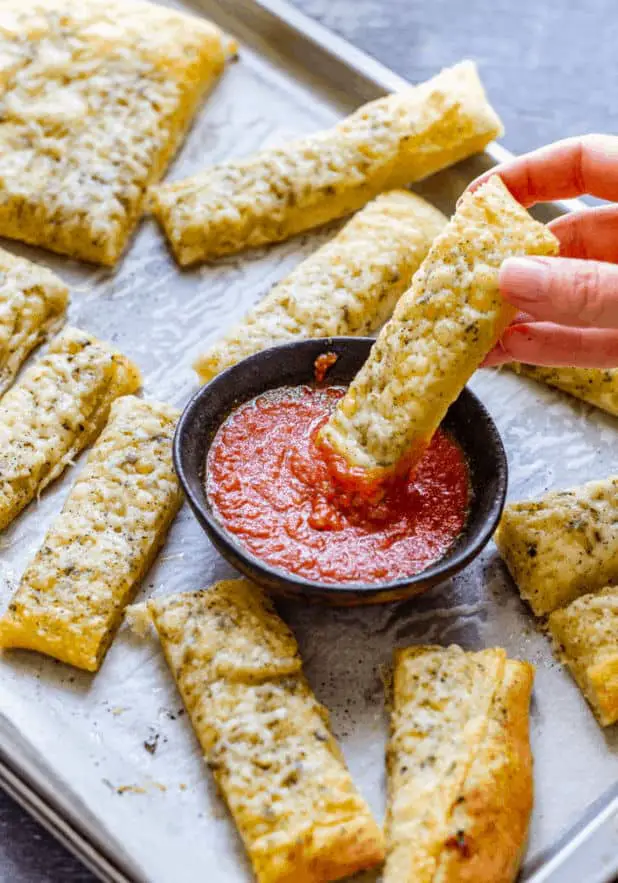 If you're using pizza breadsticks as an appetizer, cut smaller strips. The 6-inchers and 12-inchers will fill you up, leaving no room for the main course. This recipe comes out soft rather than crunchy. And it uses cheese slices. Roll out the pizza dough, brush with seasoned butter or olive oil, and layer with cheese slices. Bake the bread whole and slice after it cools.
5. Kyo's Breadsticks
Technically, these aren't pizza breadsticks. The dough is made from bread flour rather than all-purpose or whole wheat. And the breadsticks are bigger, softer, and more blocky. They taste great though, and the recipe includes a marinara dip. Yeast is often bloomed with salt but this recipe uses sugar, which ends up sweetening your breadsticks. Use a dough hook.
6. Copy Cat Pizza Hut Breadsticks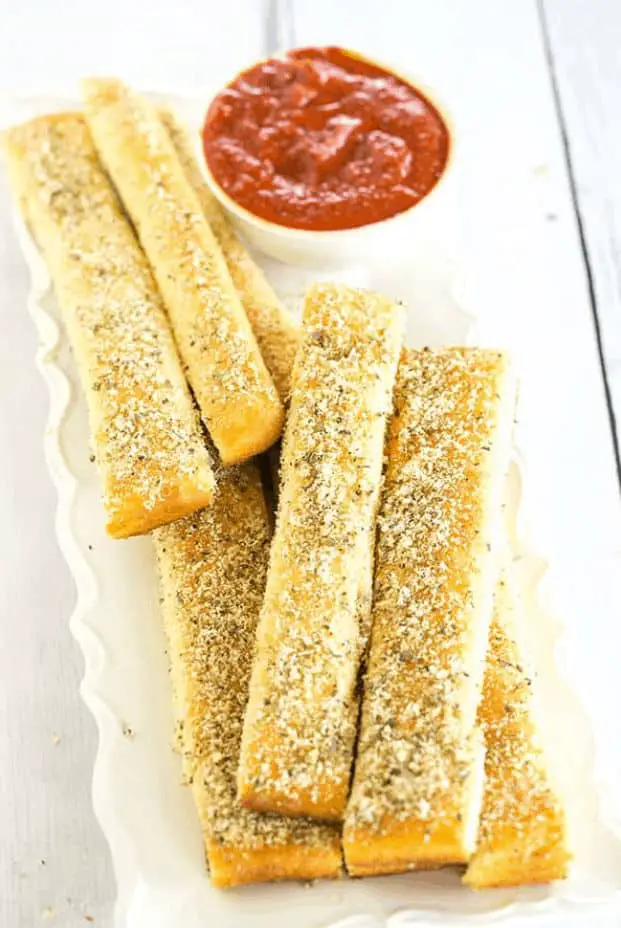 It seems The Hut has pretty popular breadsticks. We have covered several of their menu simulations so far, and they are still in our top ten list of breadstick recipes! As before, milk powder gives the bread that soft, fluffy quality. And the dipping sauce has marjoram, garlic powder, oregano, basil, and sugar. You could brush the bread with olive oil or melted butter. And always go heavy on the parmesan.
7. Ninik's Pizza Sticks
The standard approach to pizza breadstick recipes is to bake strips of pizza dough and dip them in sweet sauce. But if you want to capture all the complex pizza flavors, try this variant that's essentially elongated and streamlined pizza. It's not quite a sub – the pizza toppings are baked on open pizza rolls. Pinch the dough shut at intervals so it wraps around the cheese.
8. Bren's Pizza House Breadsticks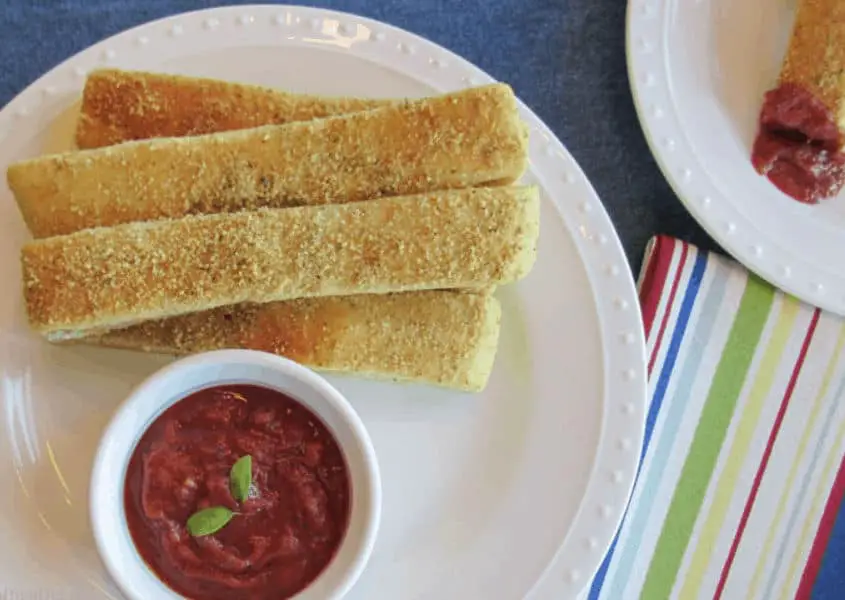 Do you like your pizza breadsticks soft or crispy? Because this recipe lingers on the lush side of the wheat aisle. And yes, it's a pun on Pizza Hut – Bren's version is lighter, fluffier, and carries fewer calories. And the pizza flavor spreads throughout the breadsticks, not just on the surface. That's because the dough has oregano, honey, and garlic salt baked into it.
9. Food Twist Cheesy Breadsticks
The line between homemade cheese sticks and pizza breadsticks is a slim one. For most of us, it's down to how much cheese you use. This recipe is heavy on mozzarella and oregano. You can serve it with a dip of pizza sauce, chili garlic sauce, or a mingled sauce of both (plus basil and seasoning). Bake until you get a crispy, deep brown, almost-burnt crust.
10. Olive-Garden-Style Breadsticks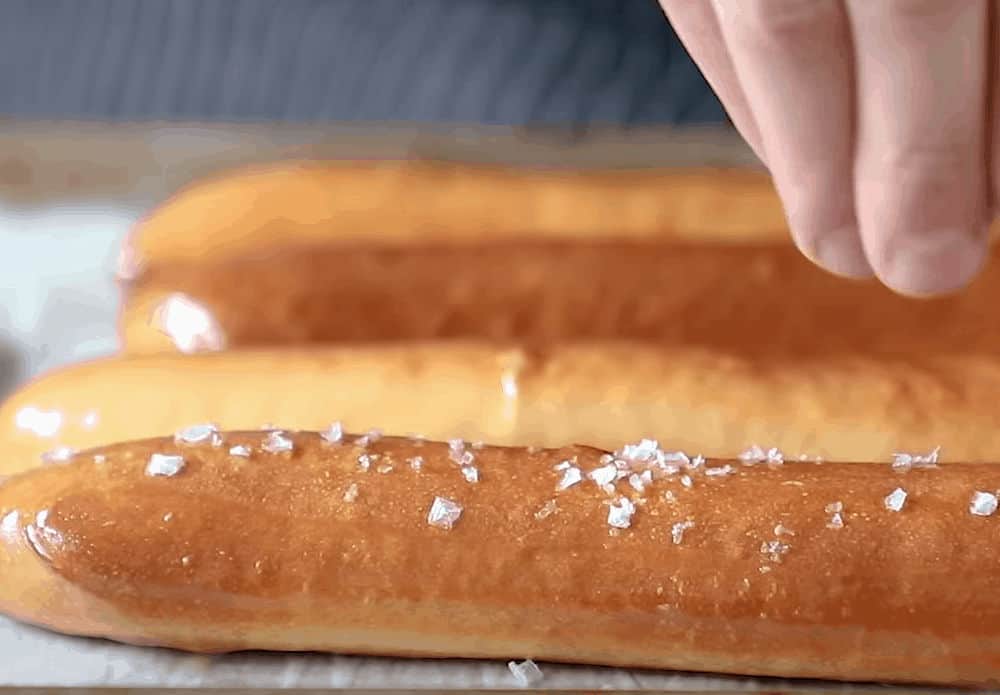 Are all breadsticks pizza breadsticks? Some say it qualifies as a pizza breadstick recipe if it has oregano, garlic, is baked from pizza dough, or is served with pizza dip. So if you're a fan of Olive Garden's bottomless breadsticks, try this recipe at home and serve it with pizza marinara. The breadsticks are brushed with butter that's seasoned with minced garlic.
11. Anti-Chef Dominos-Style Cheesy Bread
Still on the discussion of defining pizza breadsticks – does it count if they're baked at a pizzeria? In that case, this Dominos-style stuffed cheesy bread should qualify – though it's too wide. Milk powder, brown sugar, and shredded cheese are baked into the dough. A heavy sprinkling of parsley plus the parmesan-mozzarella mix guarantee that gooey goodness.
12. Spruce Garlic Breadsticks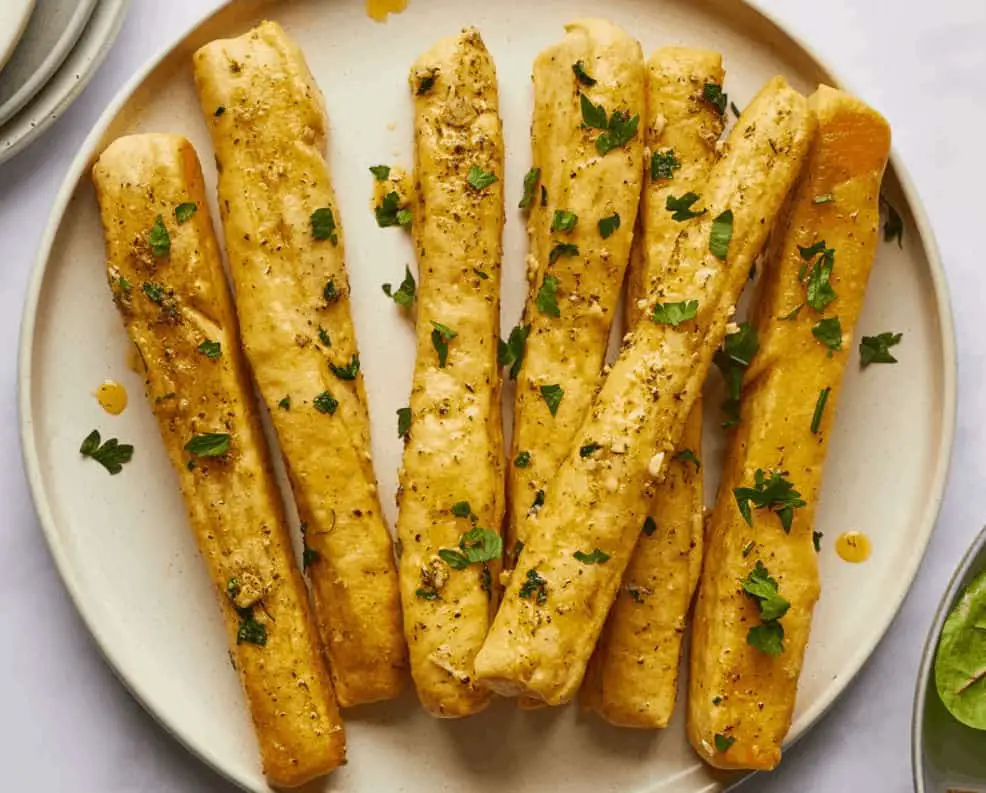 This recipe doesn't include instructions on making pizza sauce dip. But it does use pizza dough with a little sugar added. The breadsticks are sliced before baking – which isn't always the case. Also, there's no cheese in the original recipe, so you'd have to add it. Pre-shredded cheese has a cellulose top-coat to prevent clumping though, so consider shredding at home.
13. Julia's Pizza Hut Breadsticks
Julia Goolia is one half of Hellthy Junk Food (Jp Lambiase) is the other half. Here's an earlier version of their Pizza-Hut-Breadstick recipe. She uses a dough hook for this variant, so you'll need a hand mixer with the right attachments. The secret is to bake the bread whole and make indents in the raw dough (½ way down) instead of slicing all the way through.
14. Cookies and Cups Cheesy Pizza Breadsticks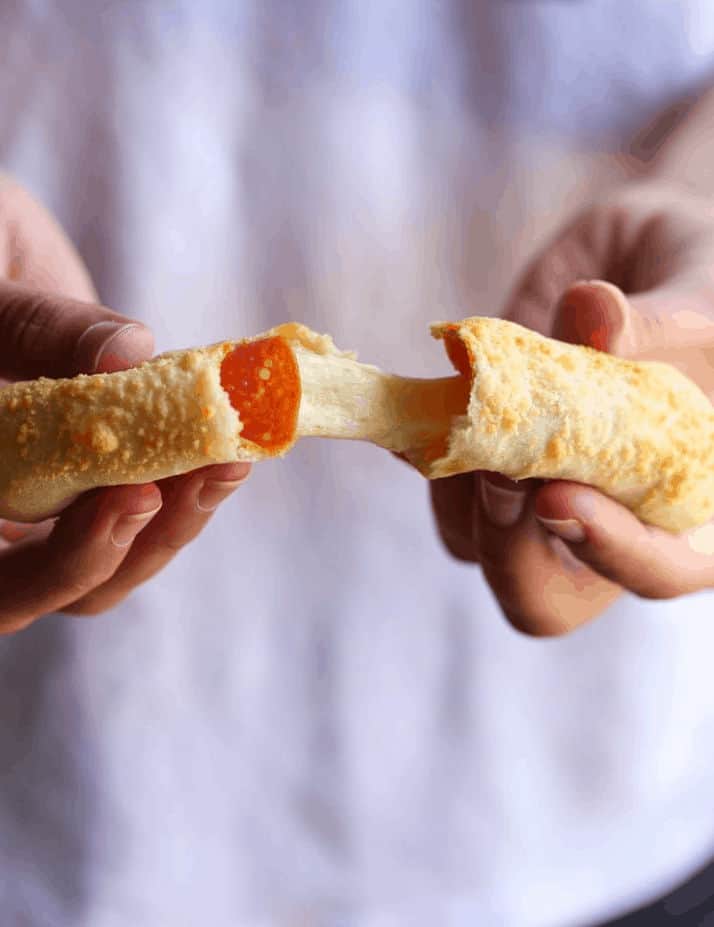 The easiest way to bake pizza breadsticks is to slice leftover pizza into strips, brush them with garlic butter, sprinkle cheese, bake, and dip. But if you want to get elaborate, try this stuffed variant. Form the breadsticks from your raw dough. Line them with pepperoni and cheese strings. Curl the dough around the toppings to seal them in. Pinch them shut and bake them.
15. Yummylicious Cheesy Garlic Bread
Not everyone wants their breadsticks in strips. Some of us prefer the whole cheesy flatbread loaf. But if you want to retain the integrity of your bread after slicing, use a dough scraper. Press it into the raw dough about 1/3rd of the way down – or halfway if the dough is thick. That makes it easier to 'pull apart' your stuffed slices of mozzarella bread once you're done.
16. Twisted Pizza Breadsticks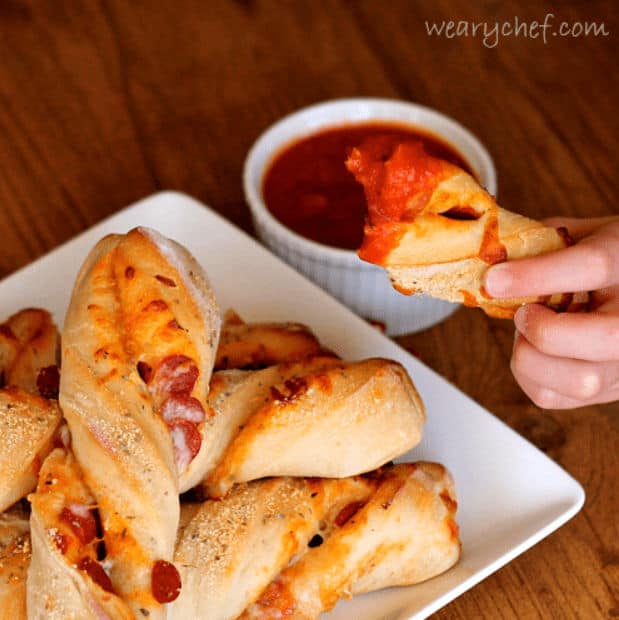 For an earlier pizza breadsticks recipe, we coiled the toppings into a narrow bread strip, forming a kind of cheesy stuffed micro-pizza roll. Here, we add an extra step. Use two flat pieces of dough with pizza sauce and toppings between them. Slice the 'pizza sandwich' into breadstick strips then twist the strips into pretty braids before brushing and baking.
17. Jenna's Homemade Cheese Sticks
As you look up pizza breadsticks recipes, double-check your terms. Some recipes say 'cheese sticks' when they mean 'string cheese'. Or sometimes they mean 'cheese fingers' (like fish fingers or chicken fingers, meaning they're coated in breadcrumbs or batter and deep-fried. Luckily, this is a teen-friendly pizza breadsticks recipe using an Italian blend of six cheeses.
18. Low Carb Keto Breadsticks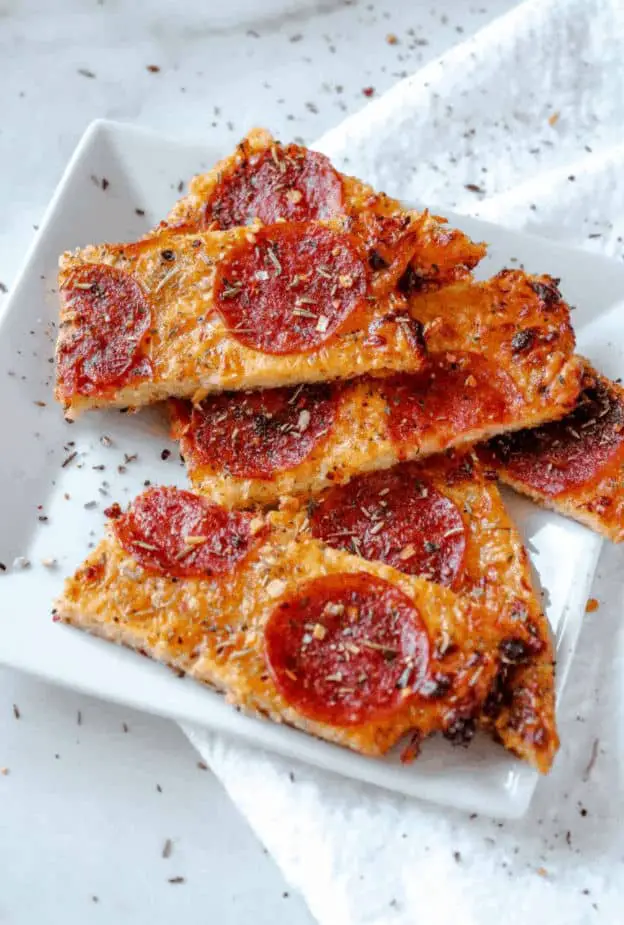 Most diets demand you ditch the bread. But just because you're cutting carbs doesn't mean you have to abandon all your pizza treats. Try this pizza breadsticks recipe from Stylish Cravings. It's your secret weapon for going keto! And it makes thin-crust snacks topped with pepperoni so it truly is a pizza breadstick. This egg-y no-flour recipe only has 5 ingredients.
19. Cheesy Pepperoni Pizza Breadsticks
Not everybody wants fun-size breadsticks. Some of us need something a little more … hefty. So if you want a girthy pizza breadsticks recipe that bakes 6 inches or longer, try this one. It's a stuffed recipe so your cheese sticks will be filled with pepperoni, red pizza sauce, and strings of mozzarella. Also lots of butter, garlic, and oregano. The recipe uses a ketchup dip.
20. Tesco's Skinny Pizza Breadsticks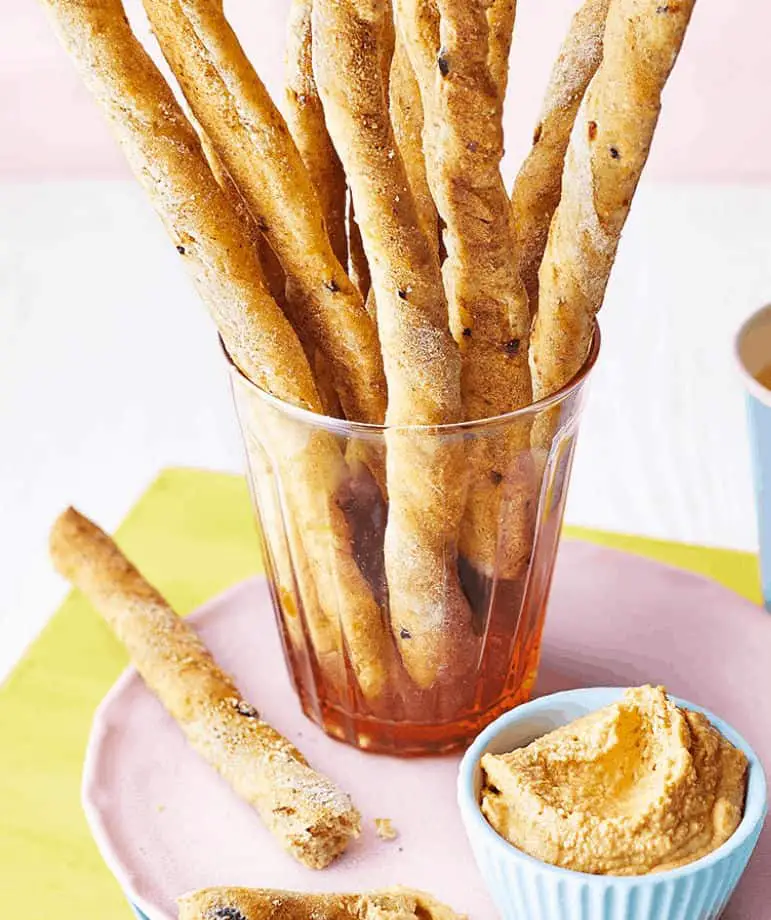 Whatever your thoughts are on Tesco, you'll love this recipe if you prefer your breadsticks slim and lanky. The recipe has authentic Italian flavors thanks to olive oil, Italian seasoning, and sun-dried tomatoes. All this plus cheese is baked into the dough and then twisted. Each stick is just 72 calories so it's diet-friendly too, though you're unlikely to stop at one …
21. Ruchi Bharani's Pizza Sticks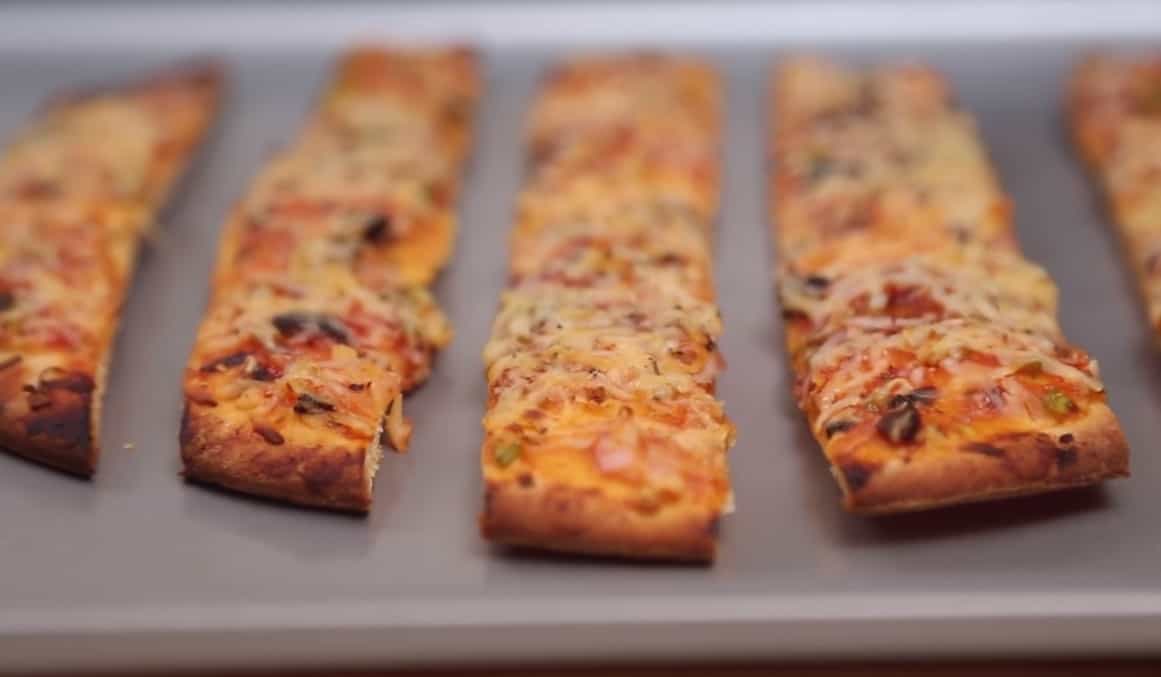 Even if you're cooking an indigenous 5-course meal, you can add some fun and flair with 'western' pizza sticks. Impress the extended family by sneaking these fast-food appetizers between your traditional family dishes. You'll essentially bake a crispy homemade pizza then slice it into strips and serve these pizza breadsticks in a mason jar or any tall serving dish.
22. Fail-Proof Pizza Dough Breadsticks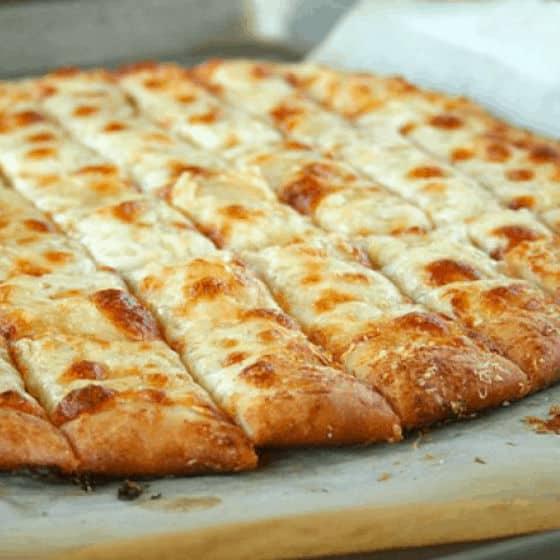 For those of us who struggle with online recipes, this fail-proof recipe is sure to take a load off. The trick is in the dough so once you perfect it, you can slice it into breadsticks or use it in circles for pizza. The dough has honey built-in (though you can use sugar if you like). And the breadsticks are topped with a mix of mozzarella and parmesan. The butter has minced garlic.
23. Pizza Cuz Breadsticks
No Italian fast-food list is complete without Rachael Ray and her bubbly cousins. This simplified version uses store-bought pizza dough. Sal dusts his dough with a mixture of flour, dried parsley, and granulated garlic powder, then cuts the dough into strips. You can add salami and roll some stuffed strips into small breadstick fingers. Top it off with parmesan.
24. Gluten-free Pizza Breadsticks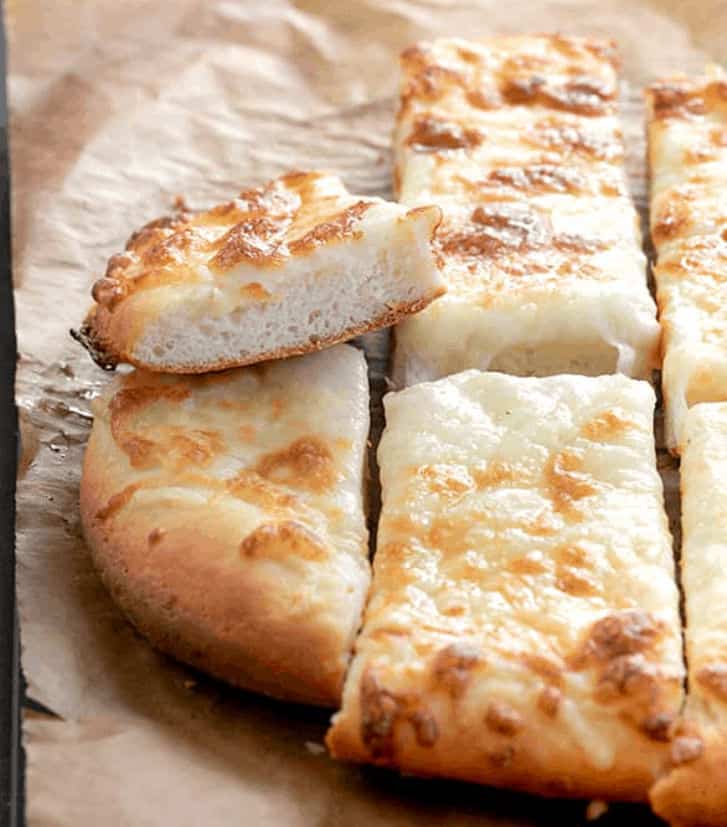 Breadsticks – despite their name – come in all shapes and sizes. We've seen flour-free keto sticks. Now let's try one for celiac diagnoses (and anyone else that weaning themselves off gluten). The recipe links to yeast-free and yeasty dough recipes, so click what you prefer. Soft and sticky dough is harder to handle … but it gives softer bread. Try chilling the dough first.
25. Giant Hellthy Breadsticks
This is the third recipe we're listing by Julia and JP. This tells us two things: one, their recipes are remarkably easy to follow. And two, they love pizza-related things as much as we do. For this version, the breadstick was so big they had to jerry-rig an extra-large baking pan. They have an easy no-cook pizza sauce recipe as well. Top with Pizza Hut's cheesy spice mix.
26. Countryside Cravings Pizza Breadsticks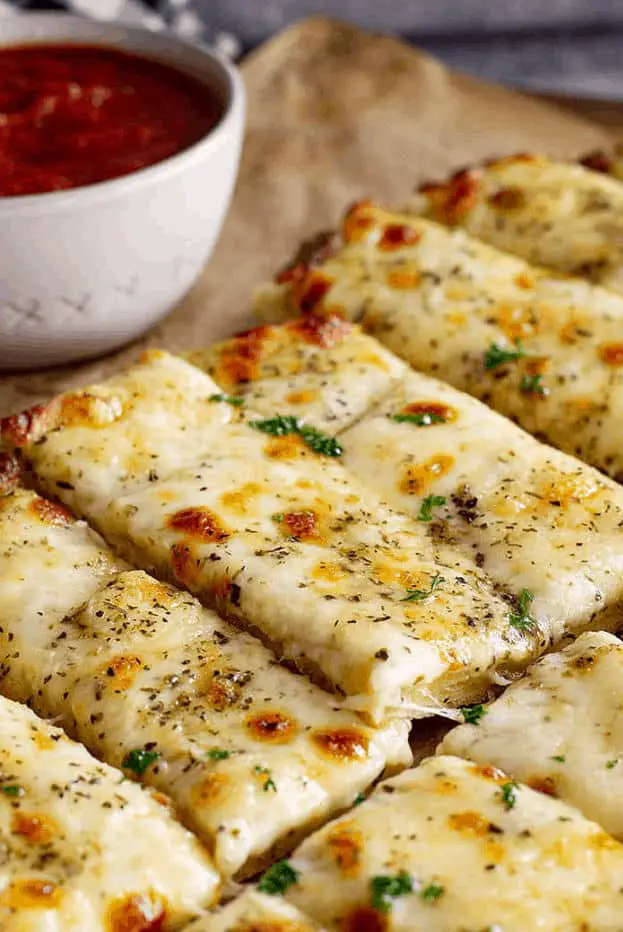 For this quick pizza breadsticks recipe, you'll bake an oblong crust using store-bought pizza dough. Let it cool for a few minutes before slicing. The simplest shortcut is to mix parmesan and mozzarella but you can get Italian cheese blends with four or even six types of cheese. Try broiling/grilling (i.e. heat source from the top) to get those brown dots of golden crust.
27. Copy-Cat Pizza Hut (Gluten-Free) Breadsticks
We've looked at several Pizza Hut simulations so far. But this extra-long video combines Pizza Hut's milky dough with gluten-free oat flour and psyllium husk and xanthan gum. The dough has an egg in it as well. For the breadstick topping, use traditional pizza herbs and spices – oregano, basil, onion powder, garlic powder, unsalted butter, and grated parmesan.
28. Easy Peasy Pizza Breadsticks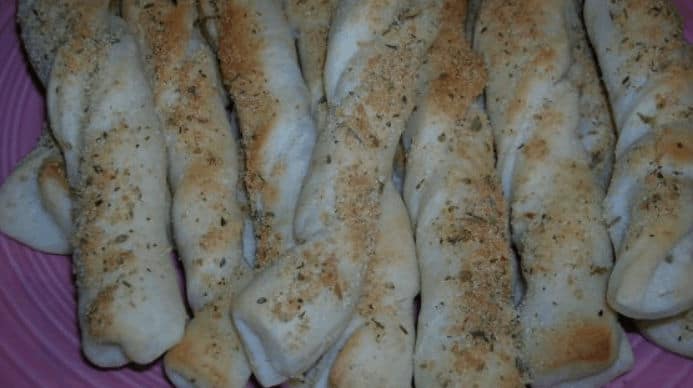 So far, we've seen that pizza breadsticks can be flat, fat, blocky, stuffed, or twisted. Most recipes brush the bread with seasoned butter before baking. This one bakes the twisted dough on a greased sheet without brushing for five or six minutes. The warm breadsticks are then brushed with oil or melted butter then coated with sprinkles of oregano and parmesan.
29. Zero Carb Cheese Bread
Let's go from low-carb to no-carb (though technically, cheese does have some carbs – they're just very few). The recipe has only 3 ingredients and clocks 125 calories per piece. Check your cheese packets for carb counts, since mozzarella, parmesan, and eggs form the no-flour crust. Add onion powder, garlic powder, and Italian seasoning for flavor. Shape and bake.
30. Thermomix Keto Breadsticks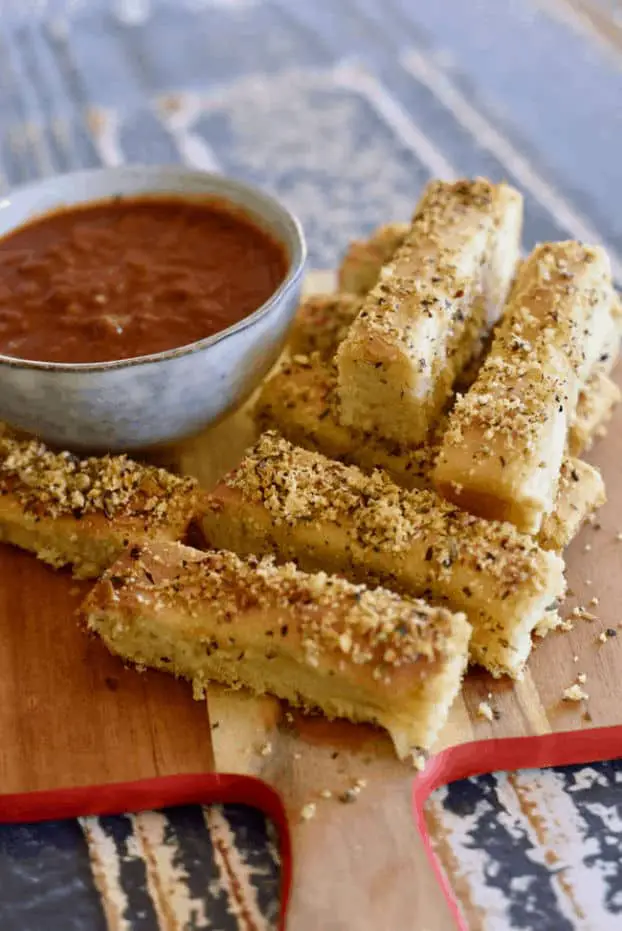 Tenina's pizza breadsticks recipe has three special touches. One, her dough uses buttermilk instead of milk powder. Two, she blooms her yeast using pink salt and castor sugar. Three, she uses a Thermomix TM6. Toppings include the usual pizza fare (cubed parmesan, basil, oregano, onion powder, garlic powder) plus chili flakes if you like heat on your breadsticks.
31. No-Oven Dominos-Style Breadsticks
We're closing our list with a pizza breadsticks recipe you can make on a skillet or stovetop. It uses regular slices of bread so it veers towards the grilled cheese side of life. But it's still a pizza breadstick because the sandwich stuffing has garlic butter, mozzarella, sweetcorn, chili, and coriander. After frying, the bread is sliced into sticks and served with a pizza sauce dip.
What's your go-to recipe for breadsticks and dip? Show us how you make it in the comments!
31 Pizza Breadsticks Recipes
Ingredients
Hellthy Pizza Hut Breadsticks

Leftover Pizza Dough Breadsticks

Kyo's Breadsticks

Ninik's Pizza Sticks

Food Twist Cheesy Breadsticks

Anti-Chef Dominos-Style Cheesy Bread

Julia's Pizza Hut Breadsticks

Yummylicious Cheesy Garlic Bread

Jenna's Homemade Cheese Sticks

Cheesy Pepperoni Pizza Breadsticks

Ruchi Bharani's Pizza Sticks

Pizza Cuz Breadsticks

Giant Hellthy Breadsticks

Copy-Cat Pizza Hut (Gluten-Free) Breadsticks

Zero Carb Cheese Bread

No-Oven Dominos-Style Breadsticks
Directions
Select your favorite recipe.
Organize all the required ingredients.
Prep the recipe in 30 minutes or less!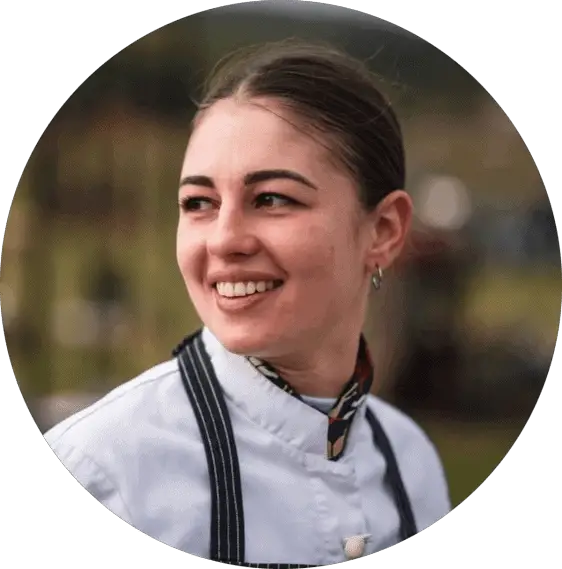 Julie has five years of experience in the restaurant industry, she decided to share her knowledge about her liking and fondness for food and pizza, of course, cooking as her love language. She's very passionate about what she's doing, making all the things she writes regarding pizza recipes, very amazing!