Pizza rolls make a perfect snack whenever you're feeling hungry, and they're also an ideal option to serve at a party or any other gathering – and while you can buy frozen ones from a store, homemade ones are a thousand times better.
For anyone who wants to try making some, we've had a look online to see what other people have been doing – and as a result, here are our top 27 homemade pizza roll recipes you can easily recreate yourself.
1. Pepperoni Pizza Rolls – Sally's Baking Addiction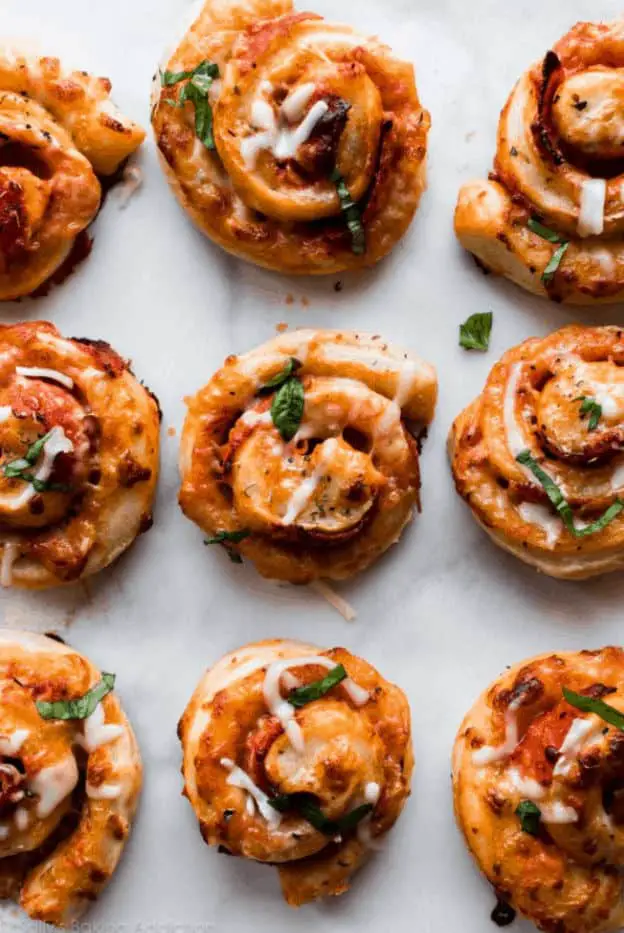 We always like to read about other people's mistakes and how they learned from them – because we can learn from them too without making the same mistakes ourselves.
That's why this post is worth a read since this blogger explains how it took her three times to nail these pizza rolls. And with that information, you can skip all the trial and error and jump straight to getting perfect results first time.
2. Pizza Rolls Recipe from The Cooking Foodie
As this YouTuber writes in the introduction, you can fill pizza rolls with olives, pepperoni or anything else you like. However, what's certain is that the version you see in the video looks irresistible – and to find out how to make pizza rolls just like them, all you need to do is keep watching!
3. Pizza Rolls Recipe – Momsdish
Pizza rolls are great for so many occasions, whether you're entertaining guests, watching a sports game or just want a tasty snack for your family. The simple technique this blogger uses is a bit different from some of the others we've seen, and the rolls come out looking vaguely reminiscent of croissants. However, it's the flavor that counts, and judging by their appearance, we think they must taste amazing!
4. Pepperoni Pizza Rolls from Bigger Bolder Baking
This blogger describes her creation as being like "savory cinnamon rolls". That's one way to think of them, but in any case, they look extremely appealing. The recipe is super simple to copy, and hers came out of the oven cooked to perfection – so why not see if you can make something similar?
5. Cheesy Pizza Rolls Recipe: How to Make Them – Taste of Home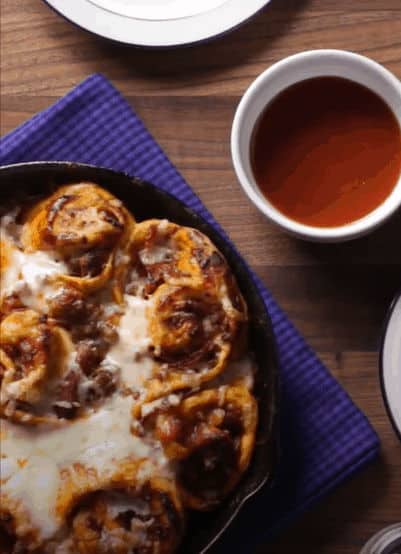 The cheesy pizza rolls this blogger teaches us how to make were cooked on a cast-iron skillet. The filling includes pepperoni, sausage meat and mozzarella, and they only need around 15 minutes of prep time, so if you want to try making something similar, what are you waiting for?
6. Pastry Chef Attempts to Make Gourmet Pizza Rolls
This video is interesting to watch because in it, this professional pastry chef tries her hand at making gourmet pizza rolls. It's always fascinating to watch the pros at work because we can learn so much from them – and it's also fun to see how the chef manages when she steps out of her comfort zone and tries something different!
7. The Best Pizza Rolls Recipe – The Girl Who Ate Everything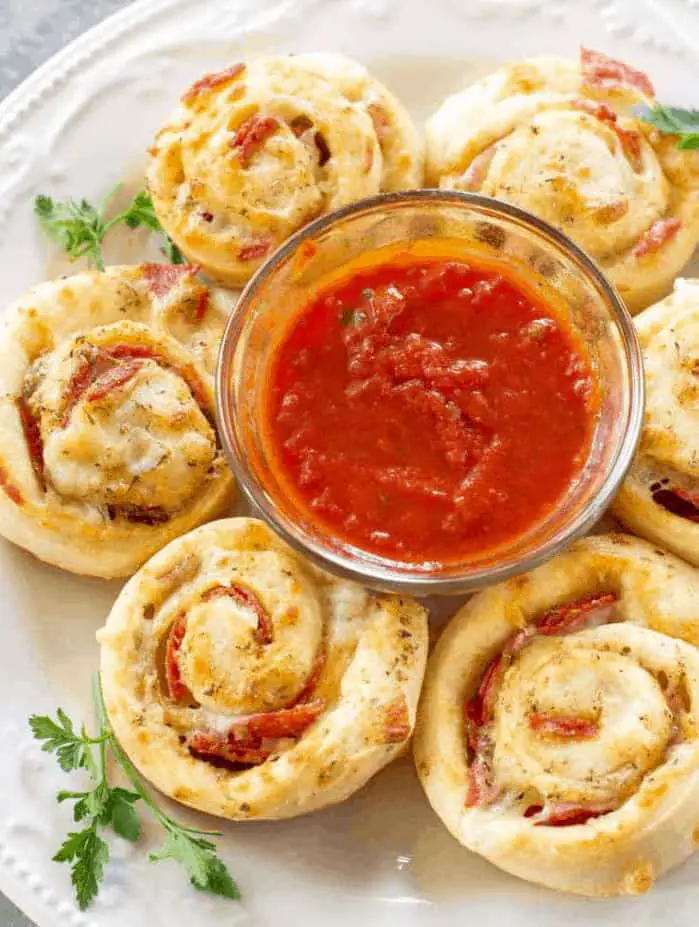 Think of mozzarella cheese and pepperoni wrapped up in a crispy pizza base and given a garlic butter glaze. Sound like the kind of thing you'd like to try? Then check out this blog post because that's exactly what it will teach you to make!
8. Pepperoni Pizza Rolls from Allthingsbbq
When they imagine pizza rolls, some people might think of those tiny frozen snacks you can buy ready-made from the supermarket. However, the pizza rolls this YouTuber shows us how to make are nothing like that since they're big, juicy and full of all your favorite delicious pizza flavors. They're easy to make too, so give his tutorial a watch if you want to know how.
9. Quick and Easy Pizza Roll Recipe – Allrecipes
If you've got young kids and you're looking for a recipe they can help out with, this idea for pizza rolls could be just the thing. As this blogger writes, they're always super-popular with her kids when they make them together, and if you have trouble getting your little guys to eat their food, perhaps they might be more inclined to try if they've lent a hand preparing it themselves!
10. Pizza Roll from Huma in the Kitchen
The pizza rolls in this recipe look so cute, so they're sure to be a big hit if you serve them at a children's party. However, they'll be just as popular with adults too, which means you don't even need an excuse to try. We love the way they look when they come out of the oven, and we're thinking we'd like to try some ourselves – and we're sure we won't be the only ones!
11. Pizza Rolls (Easy to Make) – Spend With Pennies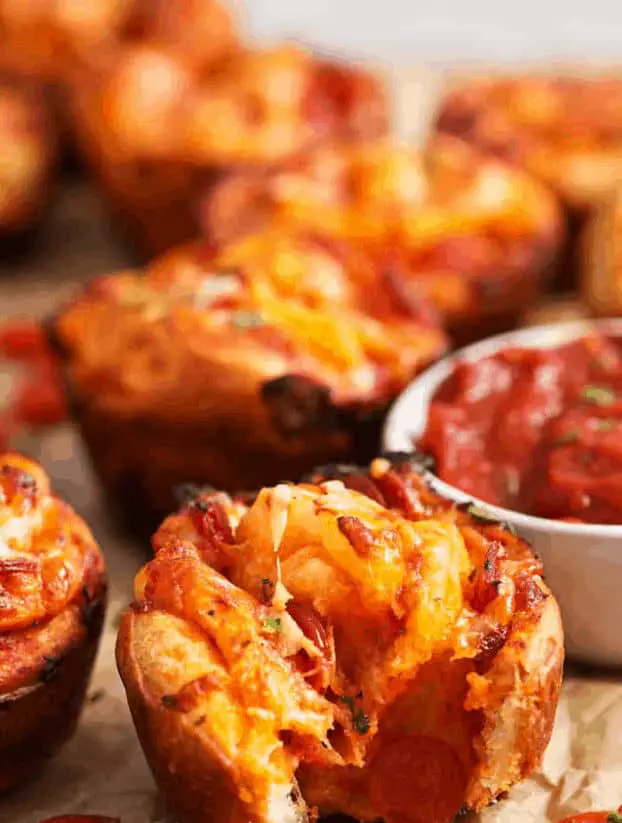 The pizza rolls in the photo at the top of this blog post look like some high-quality snacks. The blogger describes them as being baked to bubbling perfection, and when she puts it like that, it's hard to see how anybody could turn them down. Great job!
12. Easy Pizza Roll Recipe from BakeLikeAPro
According to the YouTuber who made this video, this pizza roll is "almost" Stromboli – and if you don't know what that is, we'll let you watch the video to find out. In any case, we love the way it looks, with all the melted cheese ready to start oozing out.
This is a great option to serve when your friends come over to watch a sports game – they'll be totally impressed by your culinary prowess, so just make sure you prepare enough to go round!
13. Pepperoni Pizza Rolls Recipe – Bake. Eat. Repeat.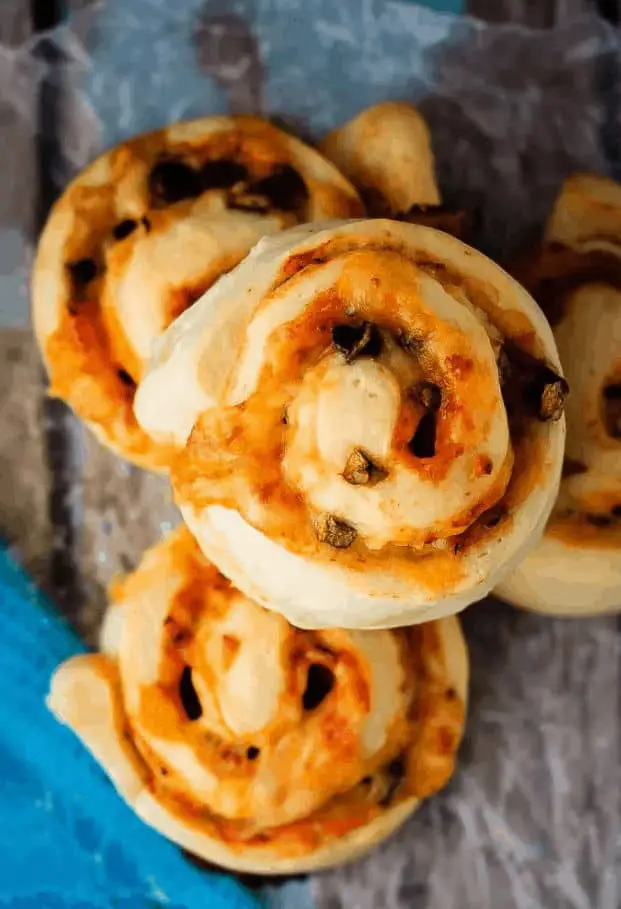 The pepperoni and cheese pizza rolls this blogger shows us how to make don't just look yummy – they also freeze well, which means if you make up a batch, you can store them in the freezer and use them for kids' packed lunches whenever you don't have time for anything else. As this blogger tells us, they're incredibly quick and easy to whip up too – so why not give her recipe a go?
14. $1 Instant Pizza Nuggets
Here's a fun video from an enthusiastic YouTuber that many people will enjoy watching. In it, she teaches us a super-simple way to make pizza nuggets from scratch with a clever technique that uses homemade yeastless dough. Are they really pizza "rolls"? We're not quite sure – but we're sure they look delicious, so they've earned their place on our list!
15. How to Make Pizza Rolls from Laura in the Kitchen
If you've ever bought frozen pizza rolls from a store, one of the things you might not like so much is that many kinds need to be fried, which is not exactly the healthiest option. However, with a recipe like this one, you can bake them, making them a much better option for your health and your line – and this YouTuber shows you everything you need to know to do it.
16. Easy Homemade Pizza Rolls – Gathering Beauty
The pizza rolls in this recipe are stuffed with gooey mozzarella and sweet tomatoes, and they're also very quick and easy to make. They're sure to be a big hit with anyone you serve them to just as they are – but you can experiment by adding different fillings too.
17. Pizza Roll in the Pan
Here's a slightly different recipe for pizza rolls since these ones are cooked in a pan. However, as you can see from the video, it's a technique that works well, because when they're done, they look fantastic. This could be a great option for anyone who doesn't have an oven – but even if you do, why not give it a go anyway?
18. Homemade Pizza Rolls – Cookingprofessionally.com
There's something about the rolls in the photo at the start of this post that makes your mouth water just looking at them. It might be the way the melted mozzarella and parmesan is just overflowing from everywhere, and the succulent slices of pepperoni poking out from the gaps must have something to do with it too. In any case, this is a recipe we can't wait to try ourselves, and we have no doubt we won't be the only ones.
19. How to Make Super-Simple Pizza Egg Rolls
For those who are looking for something a bit more original, here's a video that should be worth a look. In it, this YouTuber gives the concept an Asian twist by making pizza-style spring rolls. It's an incredible idea, and we don't know why we didn't think of it before. But now we've seen it, we're convinced this is a recipe that's going to be a hit.
20. Pizza Rolls from Definitely Not Gourmet
Here's a cooking channel we love, and as you can probably guess from the name, it's one that doesn't take itself too seriously. This YouTuber has a great sense of humor, and although their creations are not particularly sophisticated, they always look like they taste great. This one is no different, so give it a watch to see what he makes!
21. Addictive Pizza Roll Recipe – Easy & Cheesy
We love the way these pizza rolls are just overflowing with cheese like mini cheesy volcanoes. Even better, we can imagine how good these simple creations must taste when paired with some of our favorite dips, and if you're feeling it too, this post gives you the details for how to recreate them at home.
22. Recipe for Pizza Rolls from Watch and Cook
In this simple tutorial, this YouTuber explains in a very simple way how to cook a batch of delicious pizza rolls that everyone is sure to love. These ones are filled with ham, but once you've got the technique down, you can get as creative as you like. But before you reach that point, this video is a great place to start.
23. Easy Pizza Rolls – The Recipe Rebel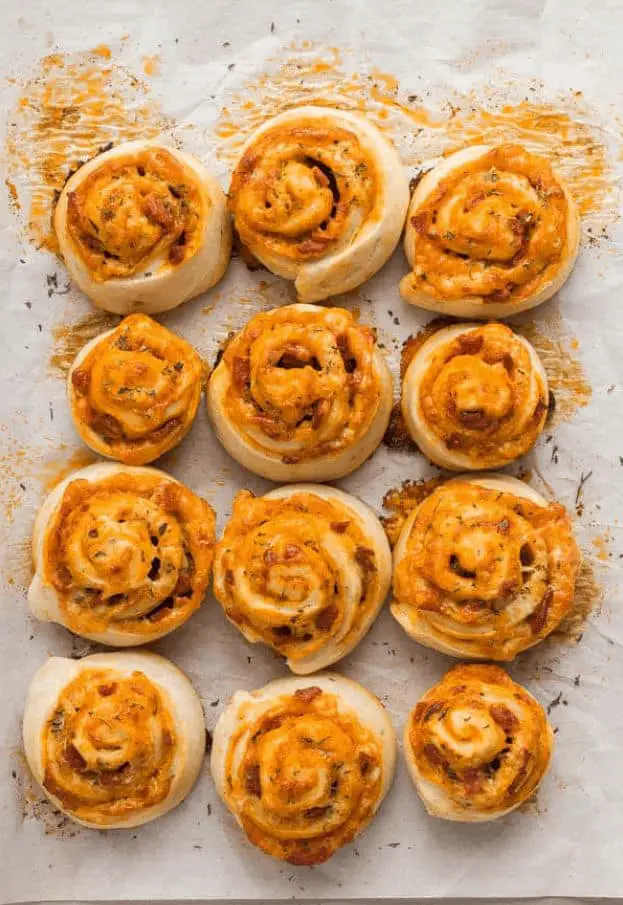 We're having trouble deciding which pizza rolls from all the photos we've seen look the best – but the ones in this post have to be up there. This recipe uses homemade dough, but you can just as easily make them with bought dough, which only makes this wonderful recipe even simpler to copy.
24. Crescent Pizza Roll-Ups from Simply Sarah Kitchen
In this video, we learn how to make pizza roll-ups using bought crescent pizza dough. What we liked about these was the way they looked a little messy before they went into the oven – but when they came out, they looked messily delicious. Does that make sense? Give the video a watch and you'll see what we mean!
25. Homemade Pepperoni Pizza Rolls Recipe – PureWow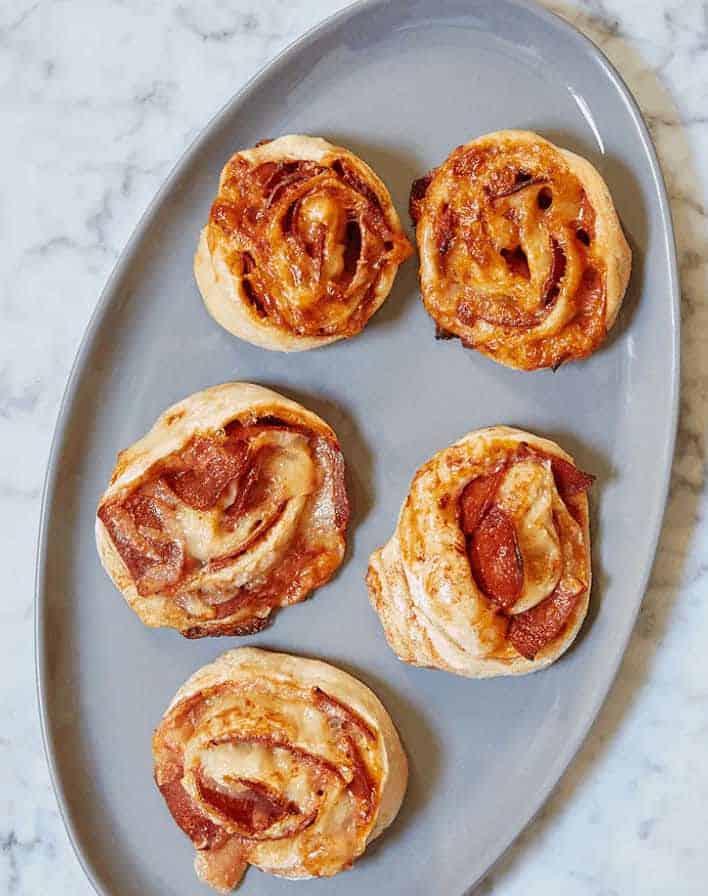 What this blogger writes about eating pizza one-handed at a party with a glass of something in the other is so true! And what's the best solution to awkward-to-eat pizza slices? Pizza rolls, of course! And if you're looking for a recipe that will teach you how to make a delectable yet easy version at home, you can halt your search now – because this is it!
26. Pizza Rolls (And How to Make Pizza Dough)
If you need to make your pizza rolls from scratch – including the pizza base itself – this is the video for you, since it takes you through the whole process. These ones come out firm enough to handle easily, making them ideal for dipping. Check it out and see if you can make some at home too!
27. Homemade Pizza Rolls – A Fun Childhood Homemade Snack
For many people, eating pizza rolls brings a sense of nostalgia, reminding them of a favorite childhood snack they haven't had for many years. If that sounds like you – and you feel like taking a trip down memory lane – this video should be of interest since it shows you how to make a special treat that will transport you right back to when you were a kid.
Loads of great recipes to try
As you can see, there are so many great recipes to try, and perhaps the biggest problem will be deciding which one to attempt first.
We've enjoyed collecting these recipes for you, so we hope you've enjoyed watching and reading them too. And above all, we hope we've helped you find the recipe you needed for making some yummy pizza rolls of your own!
27 Best Homemade Pizza Roll Recipes
Ingredients
Pizza Rolls Recipe From The Cooking Foodie

Pepperoni Pizza Rolls From Bigger Bolder Baking

Pastry Chef Attempts To Make Gourmet Pizza Rolls

Pepperoni Pizza Rolls From Allthingsbbq

Pizza Roll From Huma In The Kitchen

Easy Pizza Roll Recipe From BakeLikeAPro

wpzoom-recipe-card/block-recipe-card Instant Pizza Nuggets

How To Make Pizza Rolls From Laura In The Kitchen

Pizza Roll In The Pan

How To Make Super-Simple Pizza Egg Rolls

Pizza Rolls From Definitely Not Gourmet

Recipe For Pizza Rolls From Watch And Cook

Crescent Pizza Roll-Ups From Simply Sarah Kitchen

Pizza Rolls (And How To Make Pizza Dough)
Directions
Select your favorite recipe.
Organize all the required ingredients.
Prep the recipe in 30 minutes or less!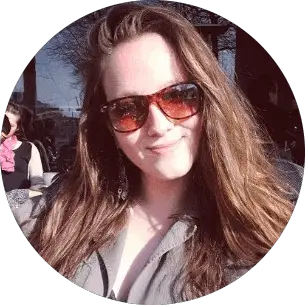 Barbara is an enthusiastic food-exploring person that goes through different culinary experiences. She got inspired by creating a pizza blog post after she tasted one of the best-selling pizzas in Toledo.