There's nothing like the kick of Flamin' Hot Cheetos. If you're a spicy food fiend, then you probably can't get enough of that explosion of heat and flavor. So, here's an idea, why not stick them on a pizza?
It's the perfect combination of crispy fieriness and stretchy cheesy goodness. Read on Discover how easy it is to make hot Cheeto pizzas and a few other spicy treats too.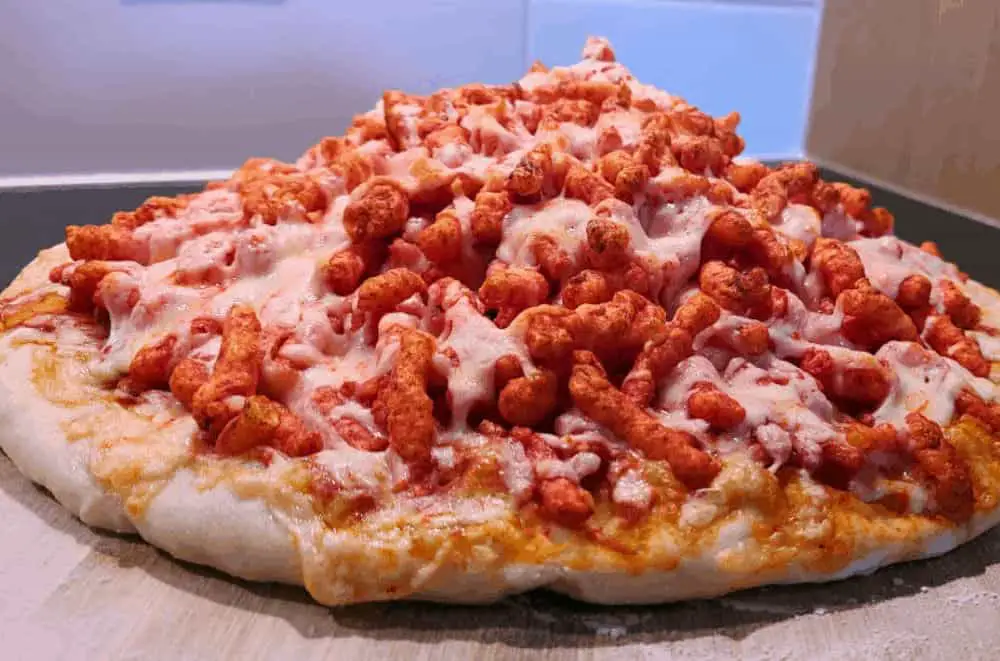 Follow this simple recipe to make your own flamin' hot Cheetos pizza from the base up. The base mixes sourdough starter, bread flour, and salt.  Just mix and leave for an hour to prove. Then roll out the dough, add tomato sauce, and 500 (yes, 500!) Flamin' Hot Cheetos layering grated mozzarella around them. Then bake in the oven at 420°F for 8 to 10 minutes.
2. Flamin' Hot Cheetos Mozzarella Sticks
Why not add hot Cheetos to mozzarella sticks if you don't have time to make pizza from scratch. This quick and easy recipe shows you how.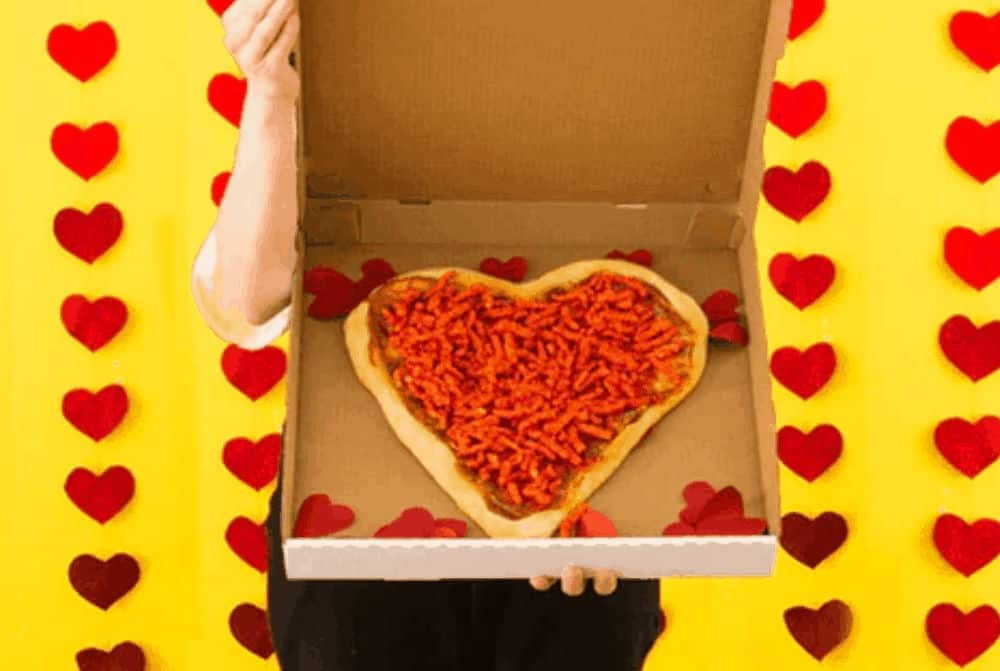 Now, be very careful here, and absolutely sure that your significant other loves Cheetos enough to appreciate this expression of fiery love. But if they do, then they are in for a treat.
Start by whizzing up a bag of flaming hot Cheetos crunchy in a  food processor to make Cheetos dust. Roll out pizza dough and pre-bake for five minutes. Then add tomato sauce, mozzarella cheese, and your crunchy, spicy Cheetos and bake 12 to 18 minutes till the cheese is melted and the base is brown.
4. Hot Cheetos Hash Browns
Hash browns are a great hack if you want another great way to enjoy spicy Cheetos. Dip them in egg, roll in powdered Cheetos, and fry. Wow!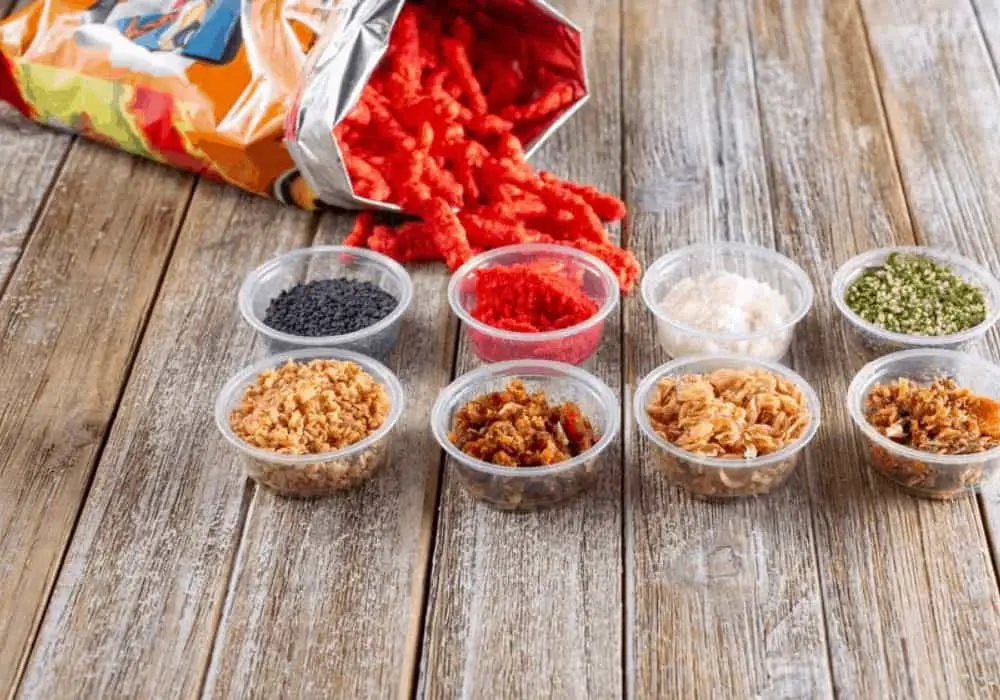 This clever recipe rustles up a spicy treat by working finely ground Cheetos crumbs into the pizza dough itself. This step kickstarts the spiciness, and after mixing with yeast, flour, oil, salt, and sugar, leave the dough to rise for an hour or two. The rest is simple, just roll out the dough, a pizza sauce, mozzarella cheese, hot Cheetos, and bake until browned. Then top with ranch dressing and serve.
6. The Solid Family's Flamin' Hot Cheeto Pizza
The Solid family shows you how easy it is to make (and eat) a thin and crispy hot Cheeto pizza.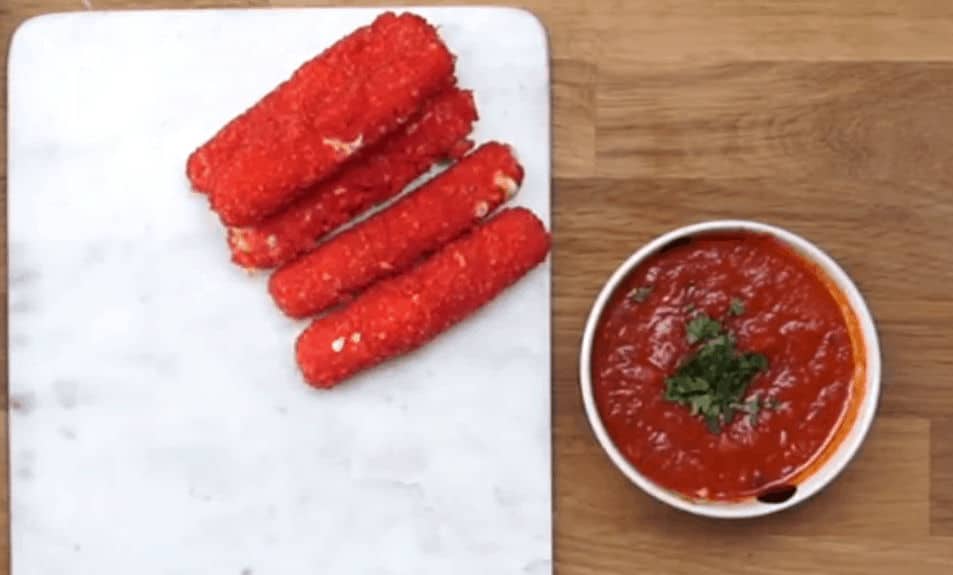 Here's a Spicy pizza-like snack using store-bought cheddar cheese sticks. Put some flamin' hot Cheetos in a food processor and crush until they're the size of breadcrumbs. Then whisk eggs and dip the cheese sticks in flour, then eggs, then the Cheetos crumbs. Do this twice until the double coated, and freeze for an hour. Finally, fry them in hot oil until crispy.
8. Diy Hot Cheetos Pizza
This thin-crust flamin' hot Cheeto's pizza is packed with spicy goodness.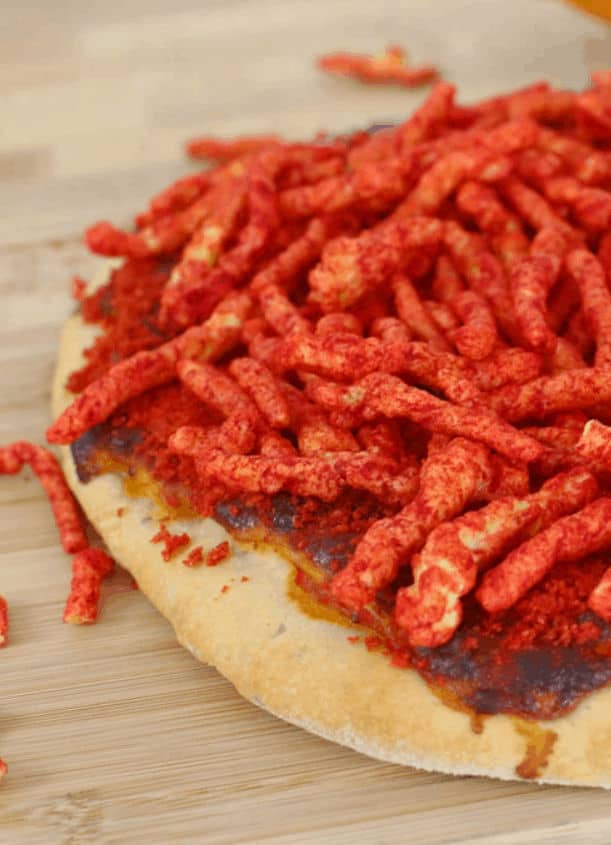 This authentic hot Cheetos pizza goes back to the home of the original version, Ameci Pizza Kitchen in LA, For its inspiration. First, make pizza dough with the usual ingredients, adding a little oregano and garlic powder for flavor. Prove it overnight in the fridge. Next, mix up a tomato sauce adding onion, herbs and spices, and a few red pepper flakes. Then roll out your pizza base, spread on the sauce, and add mozzarella. Blend a bag of flamin' hot Cheetos into dust in a food processor, sprinkle on top and bake until brown.
10. Diy Giant Hot Cheetos Pizza
Natalie Kwon's hot Cheetos pizza ticks all the spicy, cheesy, tasty boxes. She walks you through the whole recipe with clear and straightforward instructions.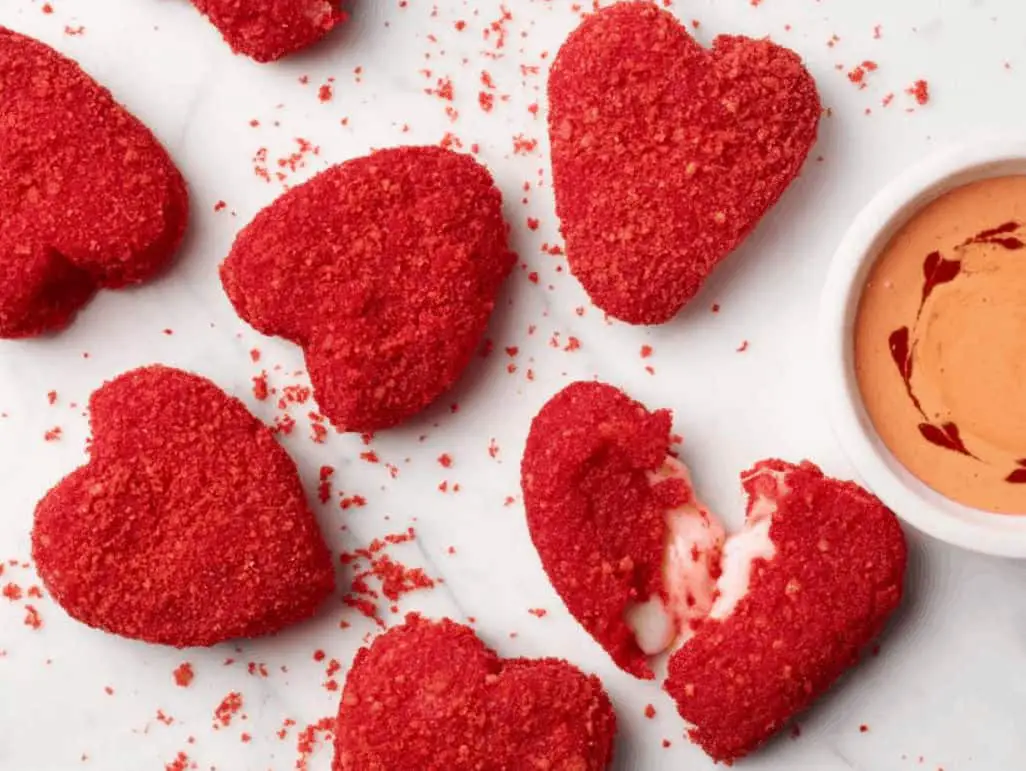 These cute-looking mozzarella hearts pack a real spicy punch. They're easy to make too. Just cut cold mozzarella into heart shapes using a cookie cutter. Then dip them in beaten egg and toss them into a spicy Cheeto dust you've made by blitzing a pack of Cheetos in a food processor. Finally, deep fry at 350°F for four minutes, and serve.
12. How To Make A Jumbo Flamin' Hot Cheetos Pizza
How big do you want your pizza? This is the perfect recipe for a party, baking up a deep-dish spicy Cheeto pizza using any kind of pizza or biscuit dough you like.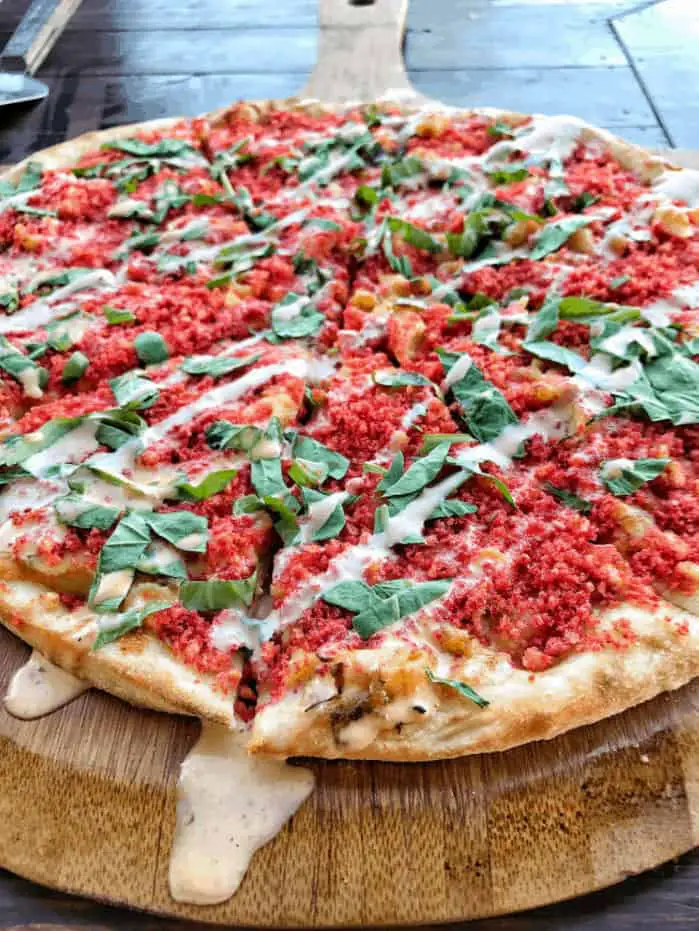 If you're a spicy food freak, then you'll be delighted by this collection of Flamin' Hot Cheeto recipe ideas that range from ice cream (really!), through burgers, to pizza.
14. How to Make Hot Cheetos Pizza
If you like quick and direct videos, watch this one-minute guide that shows you all you need to know to make homemade hot Cheeto pizza that's every bit as good as a fast-food takeaway.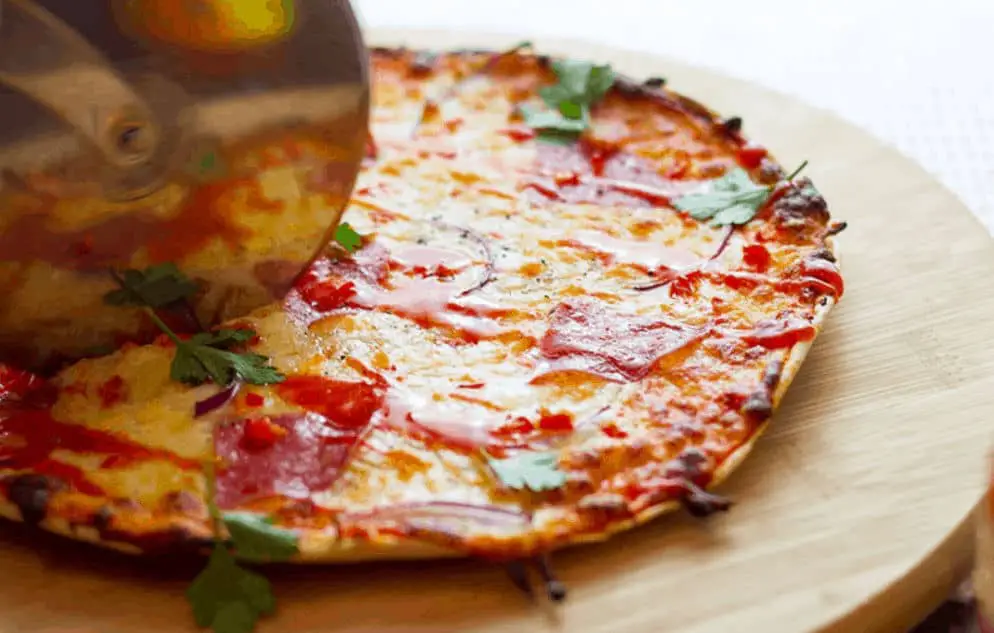 If you're watching the calories, then perhaps Cheetos aren't the way to go. Fear not, this delicious low-cal pizza gives you precisely the same chili rush. It uses Lo-Dough as a base, topped with some fiery hot sauce instead of pizza sauce. Then add mozzarella and spicy salami and a few slices of red onion. Bake at high heat until brown, and serve, with plenty of cold water.
16. Cooking With The Prince Family Hot Cheeto Pizza
The Prince family has a lively and entertaining style – and you can just tell that they love to share their technique for making this homemade hot Cheeto pizza.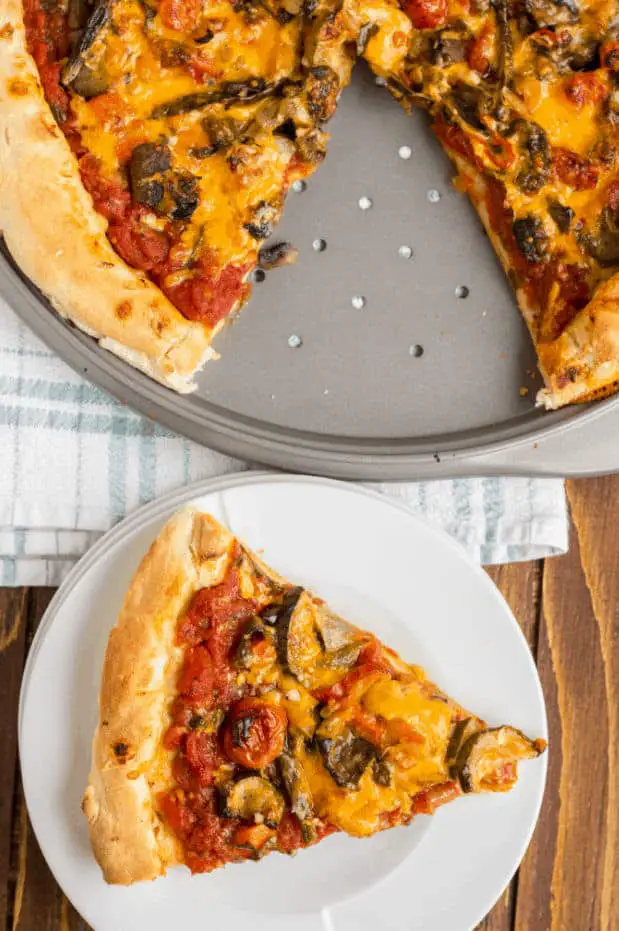 If you're a fiery food aficionado, then you will know all about ghost Peppers, some of the hottest chilis in the world. If you've never used them before, then handle them with care, wearing gloves and adding sparingly; these babies are not to be trifled with. This mixed vegetable pizza recipe uses one ghost Pepper to give it a super spiciness to go with those healthy veggies.
18. Flamin' Hot Cheetos Pizza Diy
The comedy is strong in this one, and this fiery recipe is mouthwatering too. This pizza has a stuffed cheese and Cheetos crust topped with grated Cheetos, whole Cheetos, and cheese.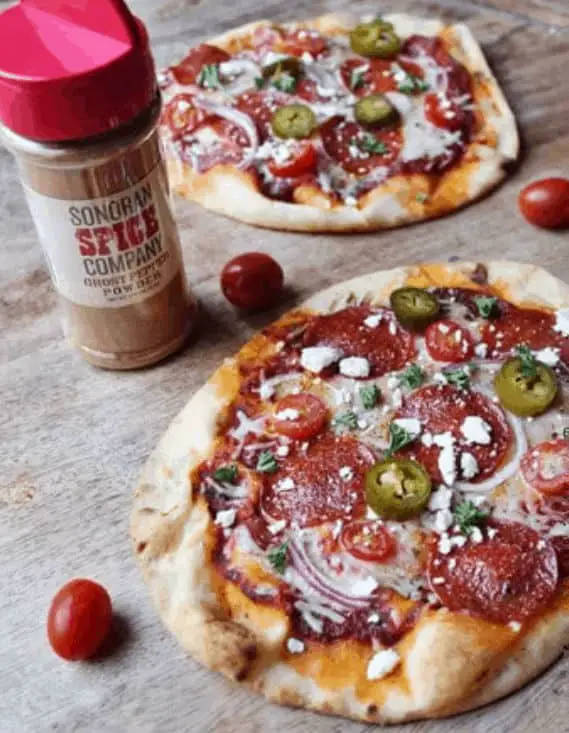 This super spicy pizza is speedy to make since using store-bought naan bread as a base is a time-saving hack. But you can use pre-bought pizza bases for the same effect. Simply top the base with marinara sauce,  carefully sprinkling ghost pepper powder on top. Then add cheese, pepperoni, tomatoes, onions, and any toppings of your choice and bake. Add crumbled feta cheese and chopped parsley to garnish.
20. Ultimate hot Cheetos pizza!!!
In this super enthusiastic recipe, ground hot Cheetos go in on at the dough stage making for a fabulous bright red base. Add pizza sauce, more Cheetos, and cheese for a colorful and ultra spicy treat.
This hearty and quick pizza tops a 14-inch dough base with spinach, mozzarella, and gruyere cheese. After a six-minute oven-bake, top with pork belly and bake for another six minutes. Then drizzle with chipotle blueberry sauce for a flavor fiesta.
22. Grilled Chipotle Pizza
Rich and tasty chipotle is used to great effect in this twenty-minute pizza. Just add chipotle chicken tinga to salsa de molcajete verde, corn, and fresh mango, over a pizza base. Then cover with mozzarella and bake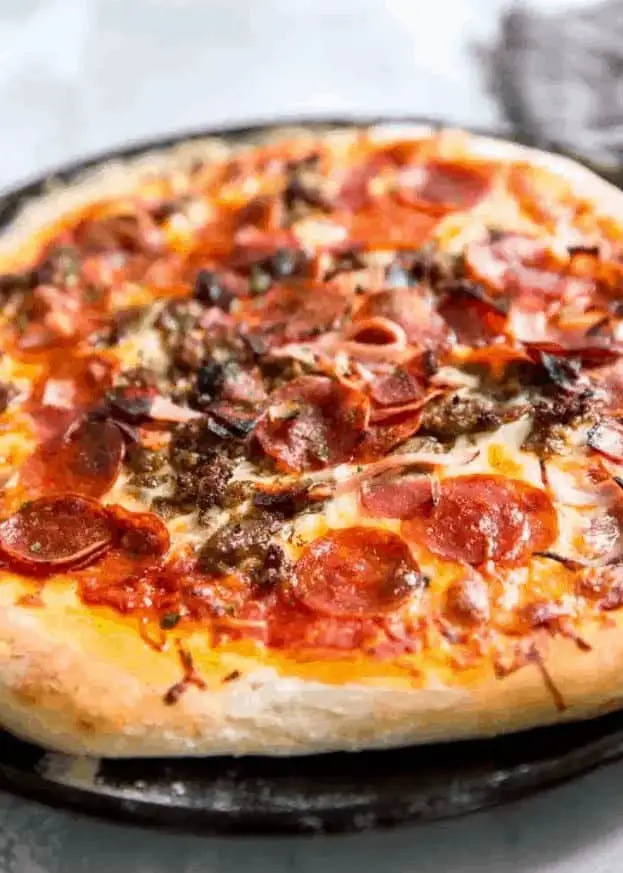 Another spicy treat is this Italian-style pizza based on a classic spicy Italian sub. It's quick to make since it uses store-bought dough and pizza sauce, topped with a meat-lovers dream combo of Italian sausage, deli ham, pepperoni, salami, and mozzarella cheese.
24. Allrecipes Jalapeno Popper Pizza
This mouthwatering recipe makes a white pizza, using a creamy cheese sauce and topping it with mozzarella, bacon, and super spicy jalapeno peppers. One of the comments says it's the best pizza they've ever eaten, and it looks like it might be.
Sweet, spicy chicken and fiery jalapeno are an excellent spicy pizza combination. This recipe calls for homemade pizza dough and a spicy chicken breast flavored with plenty of chili, garlic, onion, and salt. Add pizza sauce, mozzarella, and jalapenos, and bake until brown.
26. 1 Min Pringles Pizza Quick Snack
A 30-second video for a one-minute recipe? Look no further if you want a quick snack. Spread pizza sauce on Pringles, add chopped onion and pepper and tomato, top with mozzarella and chili flakes, then grill until brown or microwave if you can't wait.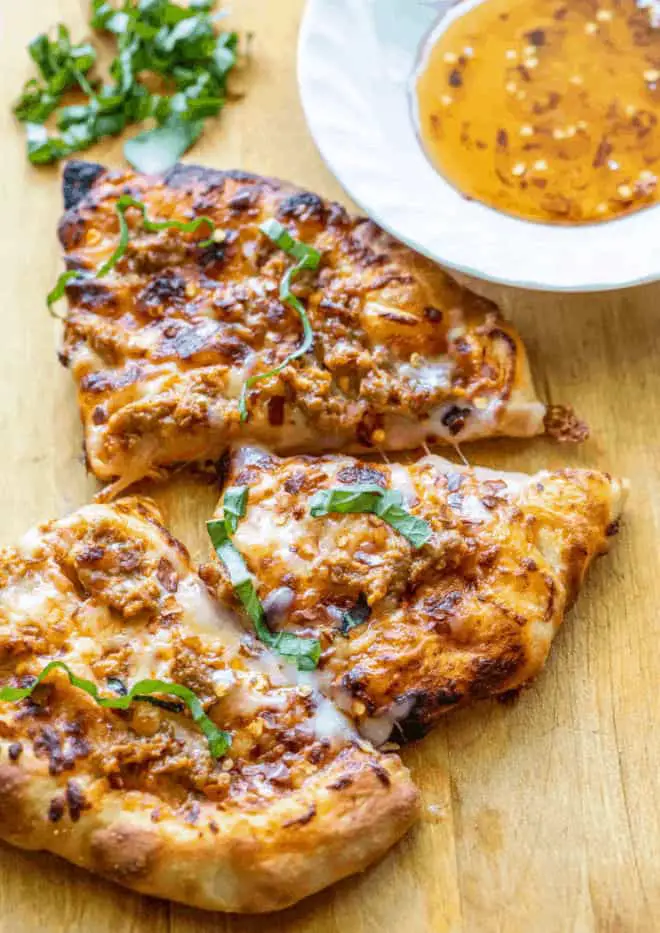 Spicy Italian sausage is another great way to get some kick into your pizza. This is a great recipe if you're in a hurry since the total prep and cook time is just fourteen minutes.
28. Pringles 'Pizza'
It's a pizza, just not as you know it. In fact, it's more about topping a layer of Pringles with delicious Melted cheese and pizza sauce for a quick crunchy snack. You can, of course, add the toppings of your choice.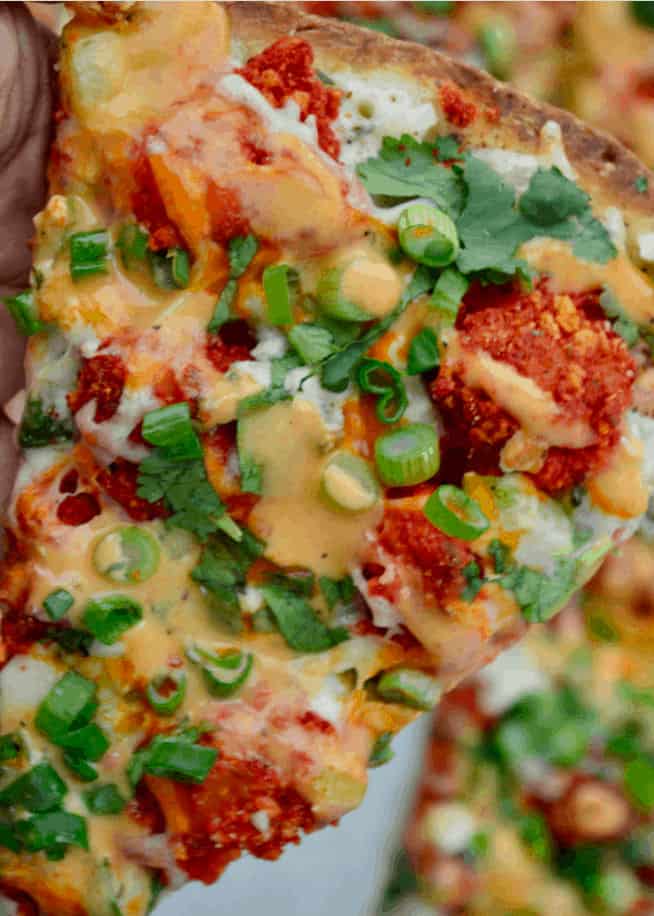 Check out this flamin' hot buffalo cauliflower pizza for a super spicy vegetarian recipe topped with hot buffalo cauliflower bites, Greek tzatziki, and melty flavorful Fontina and Gorgonzola cheeses. tearing
30. Spicy Masala Pizza For Indian Taste Buds
India is a great place for spicy food lovers, and this spicy masala pizza combines all kinds of Indian spices and flavors to make a memorable taste sensation.
31. Spicy Pizza Recipe at Home
This quick video gives you a thorough spicy pizza 101, including instructions on making delicious home pizza dough and flavorful pizza sauce.
31 Best Hot Cheeto Pizza Recipes
Ingredients
Flamin' Hot Cheetos Mozzarella Sticks

Hot Cheetos Hash Browns

The Solid Family's Flamin' Hot Cheeto Pizza

Diy Hot Cheetos Pizza

Diy Giant Hot Cheetos Pizza

How To Make A Jumbo Flamin' Hot Cheetos Pizza

How To Make Hot Cheetos Pizza

Cooking With The Prince Family Hot Cheeto Pizza

Flamin' Hot Cheetos Pizza Diy

Ultimate Hot Cheetos Pizza!!!

Grilled Chipotle Pizza

Allrecipes Jalapeno Popper Pizza

1 Min Pringles Pizza Quick Snack

Pringles 'Pizza'

Spicy Masala Pizza For Indian Taste Buds

Spicy Pizza Recipe At Home
Directions
Select your favorite recipe.
Organize all the required ingredients.
Prep the recipe in 30 minutes or less!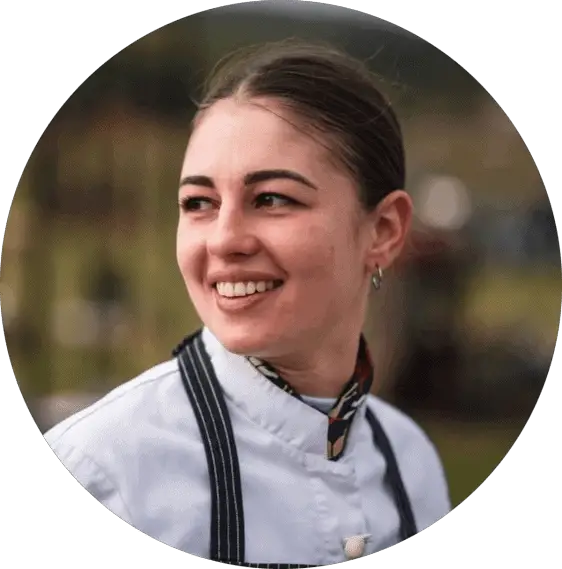 Julie has five years of experience in the restaurant industry, she decided to share her knowledge about her liking and fondness for food and pizza, of course, cooking as her love language. She's very passionate about what she's doing, making all the things she writes regarding pizza recipes, very amazing!