Are you looking for an easy way to get pizza ready on those busy weeknights? Start with store bought pizza dough. You will cut out the tedious process of whipping up and kneading dough, and the base will turn out as delicious as restaurant pizza.
I used to be apprehensive of using store bought dough. But, when I once had to make pizza fast for unexpected guests, I grabbed premade dough from our local pizzeria and ended up making the most fantastic pizza. My guests raved about it the entire night. Since then, this has been my go-to option when I get a craving or need to whip up a pizza fast.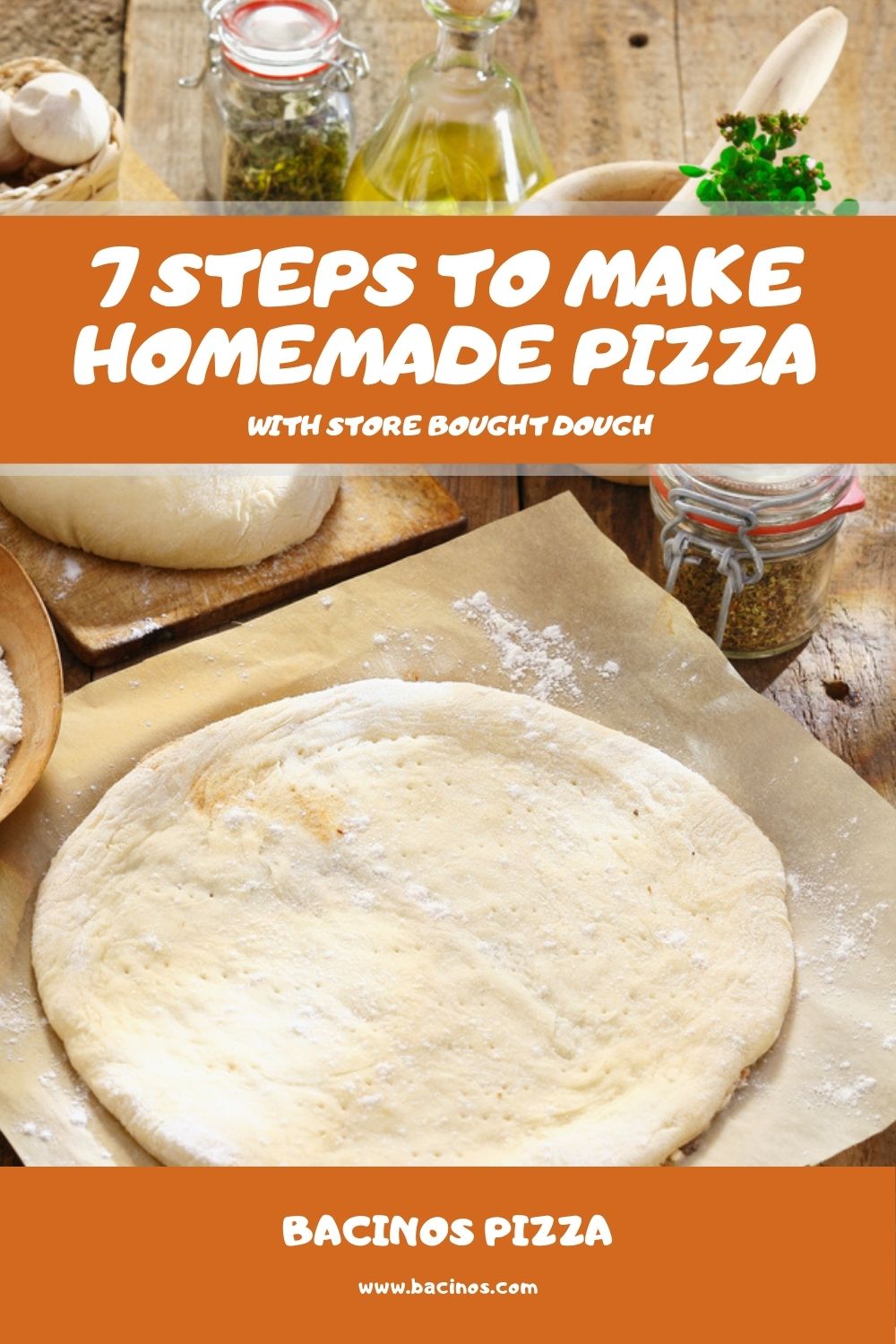 In this article, I will show you how to make homemade pizza with storebought dough. You don't need prior experience or expensive pizza pans. I am sure you will wonder why you hadn't tried this earlier. So, let's go!
Supplies You Will Need
Premade pizza dough
Kitchen towel or plastic wrap
Large glass bowl
Virgin olive oil
Pizza sauce, toppings, and cheese,
Small bowl of wheat flour
Rolling pin (optional)
Round baking sheet
Parchment paper
Step-by-Step Guide To Making Homemade Pizza With Store Bought Dough
Follow these easy steps to make the perfect homemade pizza.
Step 1: Buy good quality dough
The best, most delicious toppings will not add a thing to your pizza if the dough is of low quality in the first place.
High-quality dough is soft and stretchy and will be easy to shape. When you bake, the crust will be fluffy inside and crusty outside.
I recommend buying your dough at an Italian market if you have one in your area. You can also check with your local pizzeria; most are happy to sell you portions of premade dough. Wholefoods sell good premade pizza dough as well.
Wherever you buy your dough, it should have just a few familiar ingredients. These include flour, yeast, sugar, water, and oil.
If you buy straight from the store, you should obviously check the date when the dough was made. It is best to buy dough with a recent date of production. These tend to be on the refrigerated goods section as opposed to the frozen goods area.
Step 2: Portion the dough
Once you get the dough home, divide it into smaller portions so you can use just the amount you need and store the rest for later.
It is far much easier to work with smaller or family-sized portions of store bought pizza dough. Check out this video on how to store pizza dough to keep it fresh for longer.
Step 3: Let the dough sit out at room temperature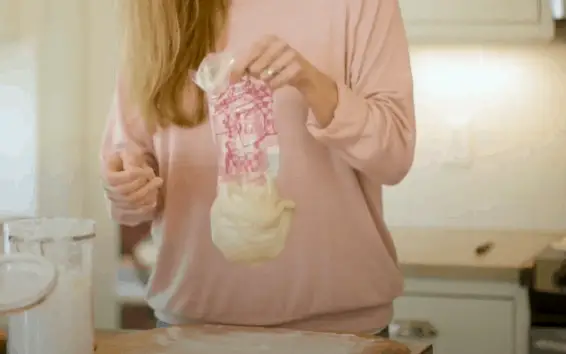 For the best pizza base, you need to give the dough enough time to rise. Remove the dough from its storage bag, wrap it using a kitchen towel, and set it at a warm corner of your kitchen countertop. Dough needs enough warmth to rise. Warm dough is also so much easier to shape.
If the dough was refrigerated, let it sit out on the countertop for 30 minutes to 1 hour. Frozen dough will need more time out on the countertop, approximately 3 hours.
Before covering the dough with a warm kitchen towel, I like to drizzle a bit of olive oil on the surface of the dough. This keeps it moist and prevents a dry film from forming on top.
Step 4: Shape the dough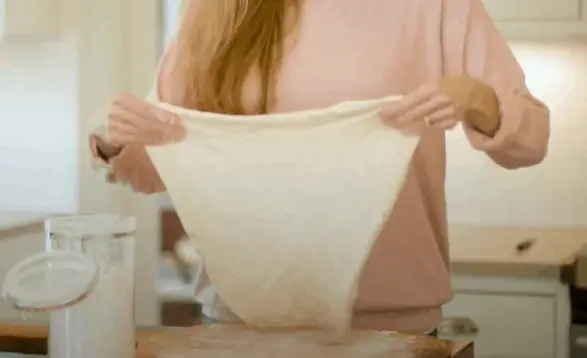 Shaping is easy as long as the pizza dough has had enough time to rise out at room temperature. To get started, sprinkle some flour on a flat surface, such as the countertop.
Lay and press the dough flat on the working surface. Press the outer edged between your fingers to make the crust.
Gradually, move to the middle of the dough, pushing it outward to make the pizza base. Flour the dough occasionally as you expand it outward. Adding a little flour makes working with the dough more manageable.
As it starts to form, pick up the dough with the center surface flat on your palm as the outer edges dangle freely. With your dough in this position, stretch it further in a circular motion using your knuckles.
Place the now circular dough back onto the working surface and keep expanding it until it gets to the size of your baking sheet. Don't be too concerned about making a perfectly circular pizza. What is more important is that the base is your desired size, and the crust is as thick or as crusty as you want it to be. Here is a video packed with helpful tips for stretching your pizza dough.
Pro Tip: As you shape the dough, preset the over to 450 degrees Fahrenheit for prebaking.
Step 5: Get the dough ready for baking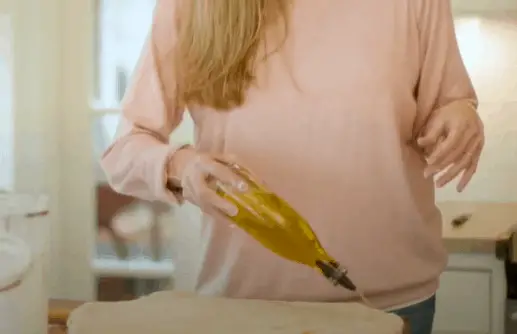 Once you are satisfied with the shape of the dough, cover your baking sheet with parchment paper. It helps to drizzle a bit of olive oil for flavor and prevent the dough from sticking to the paper.
Next, lay the dough on the baking sheet, being careful not to break or fold it. Use your fingers to push the dough toward the edges of the baking tray to shape the crust.
Pro Tip: Poke the surface of the dough with a fork. This simple trick is known as docking, and it prevents large bubbles from forming, which can be a problem with storebought dough.
Step 6: Parbake the pizza dough
Before fully baking the premade dough, it is good practice to prebake it first. This is the secret to perfectly crusty pizza.
Prebaking seals the dough, preventing the toppings from leaking through and making the pizza base soggy. You definitely don't want a soggy pizza.
By prebaking, the pizza base becomes strong enough to hold the toppings without sagging or tearing off.
Pop the baking sheet with the premade dough into the oven at 450 degrees Fahrenheit and bake for 7 minutes. Use this time to get your toppings ready if you haven't done so yet.
Step 7: Add toppings and bake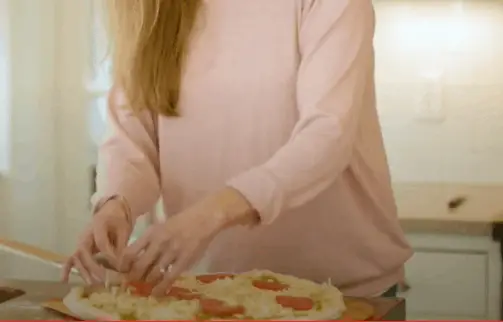 After the 7 minutes are up, remove the baking sheet from the oven and allow the dough to cool. As the dough cools, preheat the oven to 500 degrees.
Then, load the prebaked pizza base with your favorite toppings and cheese. The advantage of making homemade pizza is that there is no limit on the variety of toppings you can add.
You want to bake your pizza at high temperatures. This helps with getting the crust nice and crispy on the outside and soft on the inside.
Once you are done loading the toppings, pop the baking sheet back in the oven and bake for 7 to 10 minutes until the cheese melts and the crust is golden brown. Take the pizza out of the oven, serve and enjoy with friends and family!
That is all there is to making homemade pizza with store bought dough. Check out the extra tips below for a pizza party that will get everyone raving.
Extended Tips
For a pleasantly fermented flavor, use dough that is a few days past its sell-by date. On that same note, store bought dough can keep in the freezer for up to 3 months and in the fridge for 1 to 2 weeks.
Be moderate with pizza sauces. They pack a punch as far as flavor goes but loading up too much of it will prevent the crust from getting nice and crispy when you bake. So apply just a single layer, and that should be enough.
Fresh herbs can really up the flavor of any pizza. But, it is best to add herbs after you are done baking the pizza to keep them from wilting and losing their flavor.
There are a couple easy tricks to get the classic golden crust. After shaping the dough, brush olive oil around the edges. Baking in a rimmed pan also helps with browning the crust.
For a classic Italian pizza, consider stretching and shaping the premade dough with your hands instead of a rolling pin. If you are new to using a rolling pin, it is possible to burst the air pockets and prevent the dough from rising as needed.
Get Dinner Ready in Minutes With Store Bought Pizza Dough
Making your own dough is best if you want homemade pizza. But, if you are in a pinch and need to prepare pizza in a short time, store bought dough is an equally fantastic alternative.
The secret to restaurant-style pizza is to buy the best quality dough. Patience is also an essential ingredient as you shape and stretch your dough.
Always prebake the dough before adding the toppings. It might seem like extra work but it is the difference between a scrumptiously crispy pizza base and a soggy one.