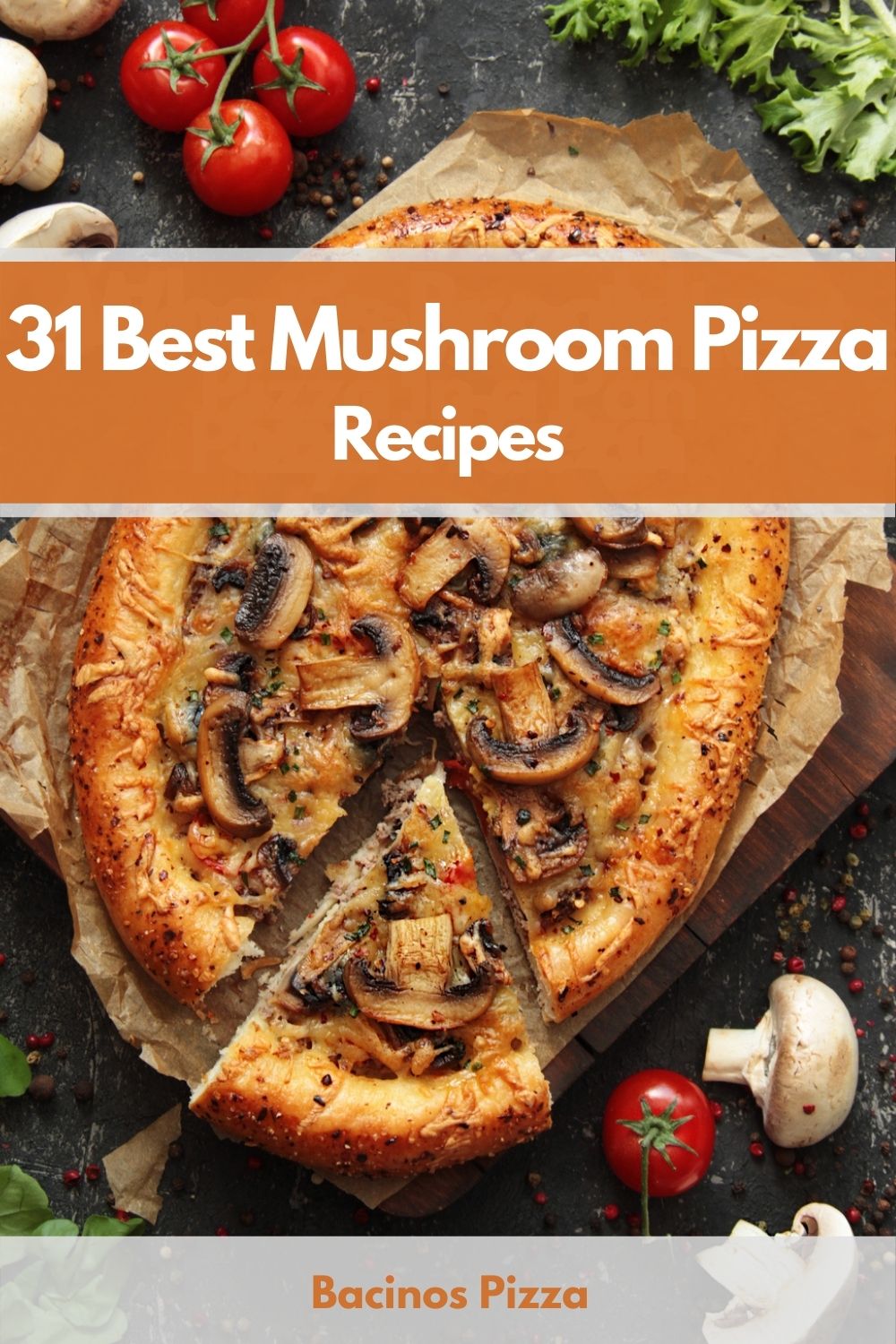 When meat-eaters discuss vegetarian (and vegan) diets, we often forget the mighty mushroom. They have a high protein content (roughly 3g for every 100g) and also contain Vitamin D and Vitamin B12. They also have a 'meaty' umami quality when used in veggie dishes. So let's explore some popular mushroom pizza recipes you can try out at home.
1. Mushroom Pepperoni Pizza
Pepperoni is America's favorite pizza. And adding mushrooms elevates its flavor, texture, and protein factor. This recipe uses dough made from scratch. The yeast isn't bloomed in the video, but it's a good idea to add that step and avoid wasting an entire batch of dough. The raw red sauce is just grated tomatoes, tomato paste, and basil. Use slim mushroom slices.
2. White Mushroom Pizza
White pizzas get their name from the white pizza sauce (as opposed to red pizza sauce). White sauce is often dairy-based, with lots of milk, cream, cheese, curds, or yogurt, but you can make veggie versions too. The white sauce here isn't cooked. Instead, the pizza base is slathered with ricotta and mozzarella before adding mushrooms sautéed in garlic butter.
3. Homemade Sausage and Mushroom Pizza
They say if you watch sausages being assembled, you'd never eat it. Because sausages are often a mishmash of 'leftover meat after slaughter'. So consider making your own sausages at home to ensure they have superior meat cuts. For this recipe, the dough and no-cook pizza sauce are made from scratch. Toppings include mushrooms, bell peppers, and mozzarella.
4. Goat Cheese Mushroom Pizza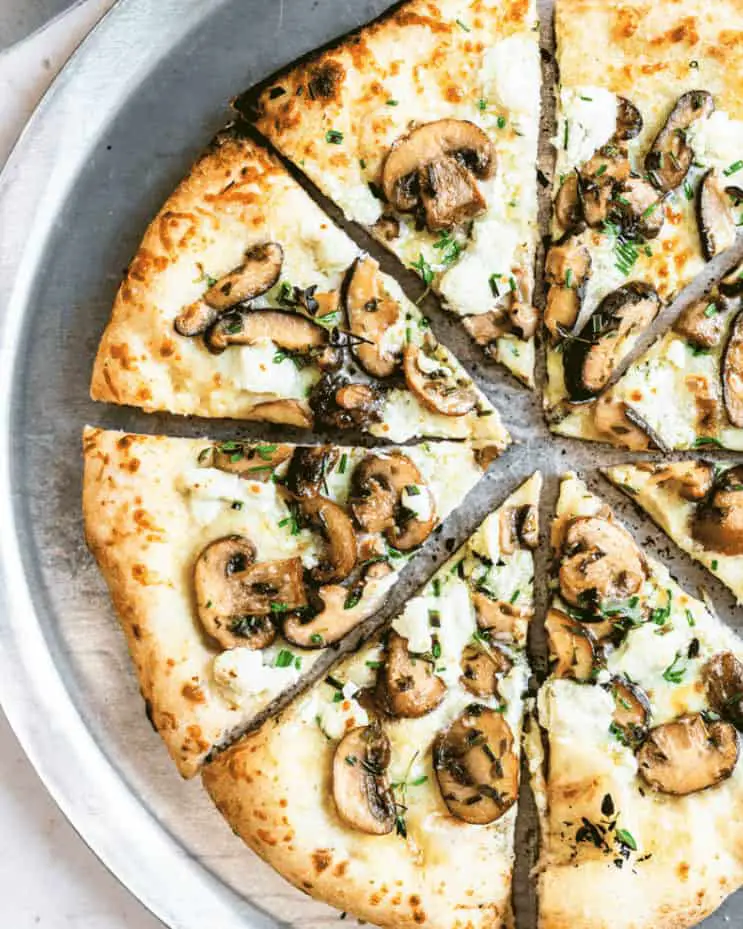 Goat cheese is sometimes referred to as chevre, which is the French word for goat. It has less lactose and more tangy tartiness than cow cheese. This mushroom pizza recipe has chevre and mozzarella so it's quite a creamy white pizza. And all that cheese means you don't necessarily need pizza sauce. The mushroom mix includes shiitake, cremini, and oyster.
5. Flavorzzz Mushroom Pizza

Making pizza dough at home lets you add unique tips and tricks. In this recipe, instead of using yogurt or curds, the dough is enriched with milk powder and an egg. Marinate the chicken in thyme, chili, and soy sauce before frying it. Press the dough into a pizza pan and top with red sauce, cheese, chicken, colored capsicum, tomato strips, and mushrooms.
6. Caramelized Onion + Mushroom Pizza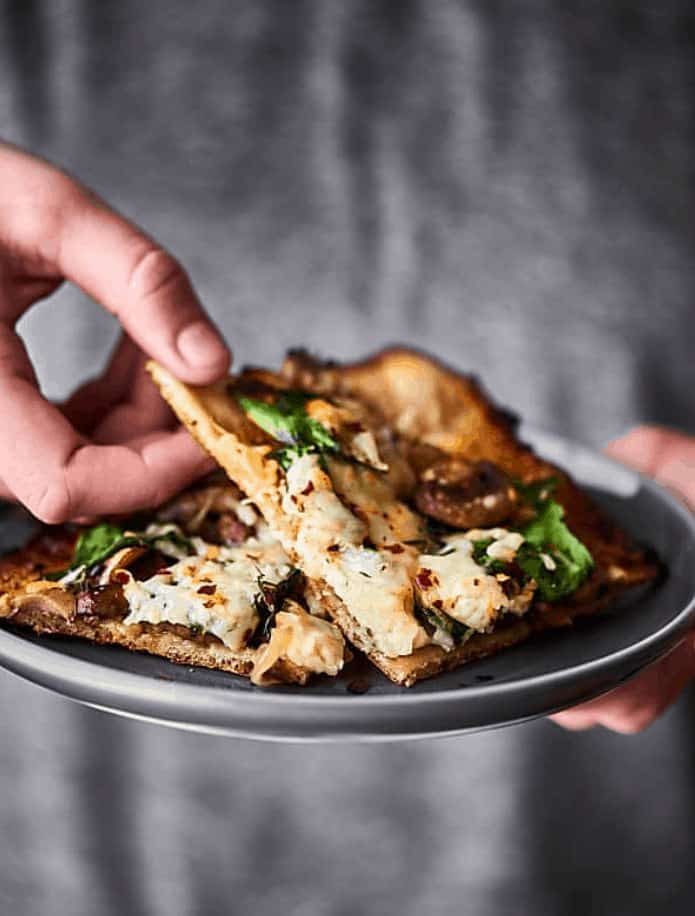 Pillsbury is the MVP of frozen pizza dough. And this time, we're whipping out their thin crust and topping it with mushrooms and caramelized onions. Well cooked, these onions get an almost jam-like consistency that comfortably replaces pizza sauce. Prebake your dough on the parchment paper it came in. Then add the onions, mushrooms, spinach, and cheese.
7. Food Talks Cheese + Mushroom Pizza
Here's another no-sauce recipe. Instead, you can use mozzarella or your chosen cheese blend. (This recipe blends four types.) It's really easy to assemble this pizza. Start with dough – either store-bought or homemade. Coat it with semolina. Roll it out or stretch it and oil the base. Then lay out the cheese and follow with mushrooms. Drizzle oil on top before baking.
8. Allie's Mushroom Pizza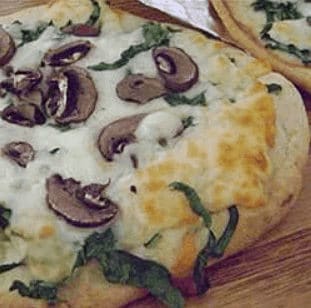 If you're baking pizza with leafy greens, you could skip the pizza sauce since the juices from the greens will keep the crust supple. But when your pizza recipe has no sauce in it, oil the crust before prebaking. This pizza is topped with spinach, mushrooms, and mozzarella. If you're not pre-cooking the mushrooms, slice them thin enough to bake evenly (and quickly).
9. Sweet Chili Chicken Mushroom Bacon Pizza
This pizza is a mouthful. In more ways than one. And it's packed with protein and flavor. The pizza dough has garlic salt and dried herbs mixed in so the spice comes from the inside flowing out. The audio is mostly English and easy to follow. And the (English) ingredients are listed in the notes. Cook the chicken and mushroom together before topping the pizza.
10. Pepperoni Portobello Pizza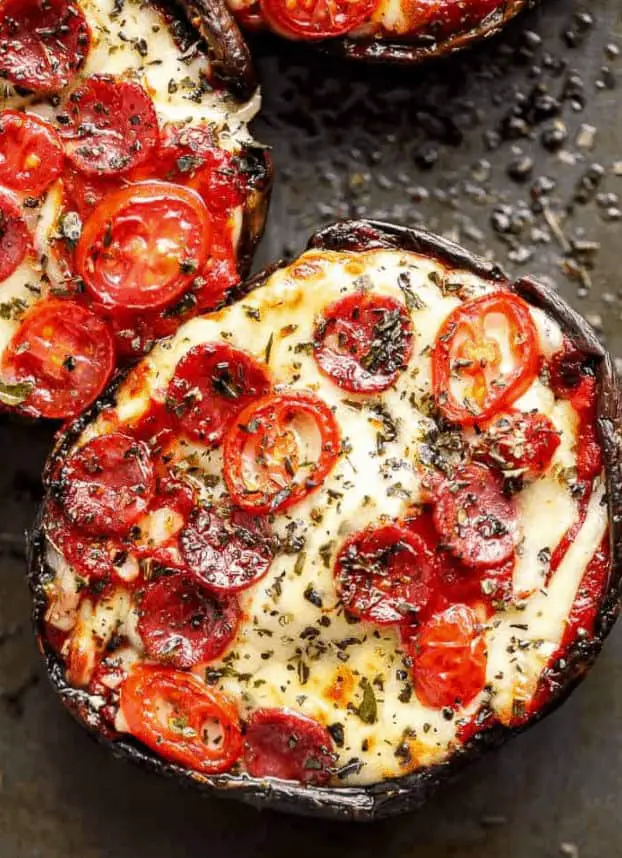 Portobello mushrooms can reach 4 to 6 inches in diameter. Meaning their caps make great bases for mini pizzas. For this stuffed mushroom pizza recipe, the caps are filled with tons of cheese, mini pepperonis, and cherry tomatoes. Remove the mushroom stems. The recipe says to wash them, but mushrooms absorb water, so just wipe with a moist paper towel.
11. Funghi Pizza Bianca
In Italy, Pizza Bianca is a plain cheese pizza, often with no other toppings. But in colloquial use, bianca just means white sauce instead of red. This mushroom pizza recipe uses a mix of mushrooms with chunks of buffalo mozzarella and no sauce. Some of the mushrooms in the medley include Portobello, shiitake, oyster, and enoki. There's some parmesan and basil too.
12. Wild Mushroom Pizza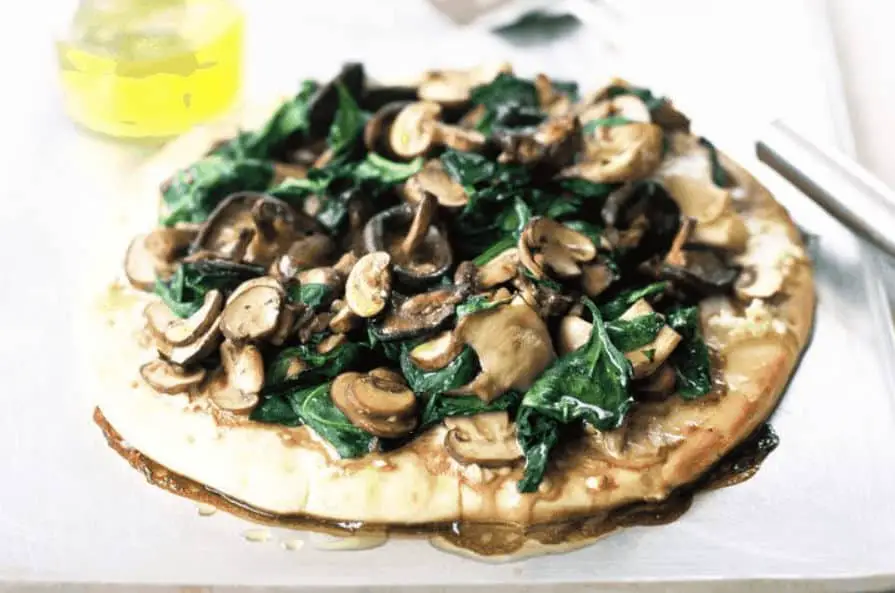 Picking mushrooms is tricky. Some are toxic. Some are hallucinogenic. So if you're topping your pizza with wild mushrooms, make sure you get a pro to help you select safer species. Or just buy a pack from a trusted brand that says 'wild mushrooms' on it. Cook the mushrooms in garlic butter. Spread goat cheese on the base and follow with mushrooms and spinach.
13. Bon Gappetit N'Oven Mushroom Pizza
Mushroom pizza recipes can still be colorful, and here's a prime example. This one uses a jar of Dr. Oetker's pizza sauce and introduces more color with red and green bell peppers, red onions, and sweetcorn. The pizza is spiced with Italian seasoning, oregano, and grated pizza cheese. Marinate the mushrooms for thirty minutes before cooking and topping.
14. Arugula Mushroom Pizza
Some call this a white pizza though its palette – pun intended – is distinctly green. You can make the dough if you like – the dough recipe is in the article. This time, you'll spread minced garlic over the pizza base then add chopped mozzarella and sliced garlic. Bake for 8 to 10 minutes then add arugula and basil generously for garnish. Don't (pre)cook the greens.
15. Etc Hotels Funghi Pizza
Here's an even simpler recipe for mushroom pizza. All you need are roasted mushrooms, sage, basil, cheese, and pizza dough. The recipe calls for burrata and pecorino cheese. The mushrooms have long stems and small caps, so roast them whole. Brush the pizza base with olive oil then add the mushrooms, herbs, and cheese, no sauce required. Use a pizza stone.
16. Epicurious Winy White Pizza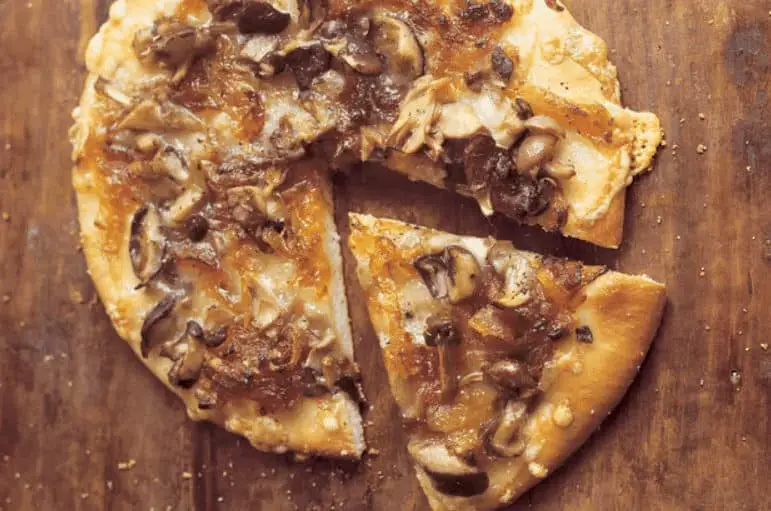 Turns out a lot of mushrooms are classed as wild (shiitake, cremini, chanterelle, oyster, etc.) So start with those, sautéed in grapeseed oil and simmered in white wine, onions, rosemary, garlic, and shallots. Brush the pizza base with oil then follow with cheese and your herbed winy mushrooms. Remember, the longer you reduce the wine, the less boozy your toppings.
17. Fresh Fungi Pizza
Usually, when we warn you about non-English audio, we don't mean European languages. This time we do. Because this is an Italian recipe. From Italy. But you can recognize the ingredients in the video even if you can't make sense of the write-up. And this fungi pizza has an uncooked red sauce of canned tomatoes spiced with oregano. That's how Italians prefer it.
18. Mini Mushroom Pizza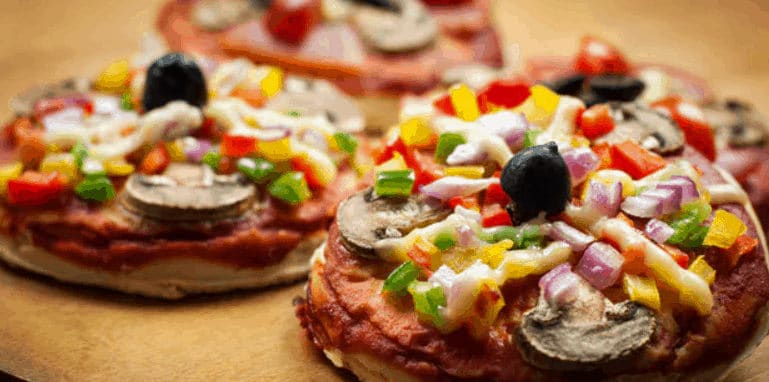 Pizza parties are a sneaky way to avoid cooking for guests. Just get a broad selection of toppings, arrange them in bowls, and offer prebaked mini pizza patties. Tortillas or mushroom caps are good. Or pre-shaped biscuit dough. The toppings options for these personal pizzas include sliced mushrooms, bell peppers, red onions, cheese, and sweetcorn.
19. Alfredo-Style Mushroom Pizza
Pizza toppings shouldn't be too wet or you'll end up with a soggy crust. Especially if you're baking Italian-style, with 'crust transparent enough to read a newspaper through it without tearing'. Reduce this creamy mushroom-spinach alfredo. Thicken it with parmesan and provolone before adding shredded chicken.  Spoon the creamy toppings directly on the base.
20. Garlic Mushroom Pizza
Eurocentric recipes often ask for 3 or 4 cloves of garlic. Italian and South Asian ones can go as high as 20. This UK blog suggests 6 and calls theirs 'the most garlicky pizza you'll ever eat' so add as much as you can stand. Mix half your garlic into oil and use it to brush the dough, since this is a sauce-free pizza. Use the rest of the garlic for the mushrooms and greens.
21. Chicken Tikka Mushroom Pizza
Chicken tikka is a spicy style of South Asian marinated chicken. Many homes have a tailored tikka masala, and you can follow the marinade recipe here to tweak your own. Apart from the chicken tikka and mushrooms, other pizza toppings include colored capsicum (red, yellow, green), spring onions, red onions, cheddar, and mozzarella. You could use a chili pizza sauce.
22. Cheesy Mushroom Pepperoni Pizza
If you like a sea of red on your mushroom pizza, you will love Aberdeen's recipe. She sautés her mushrooms in garlic and herbs before putting them on her pizza dough. The rest of her toppings involve mini pepperoni, cherry tomatoes, fresh basil leaves, and fresh oregano. The cheesiness comes from a generous sprinkling of grated parmesan, cheddar, and mozzarella.
23. Asifa's Mushroom Pizza
Enriched pizza dough is soft, fluffy, and flavourful. This one has yogurt, eggs, and milk powder. The toppings are just as rich with mushrooms, multi-colored bell peppers, two types of cheese, three kinds of chili, and a whole lot of spice. Beyond basil and oregano, this pizza also has rosemary and coriander. It has olives too, which we haven't seen on this list.
24. Nutty Blue Cheese Mushroom Pizza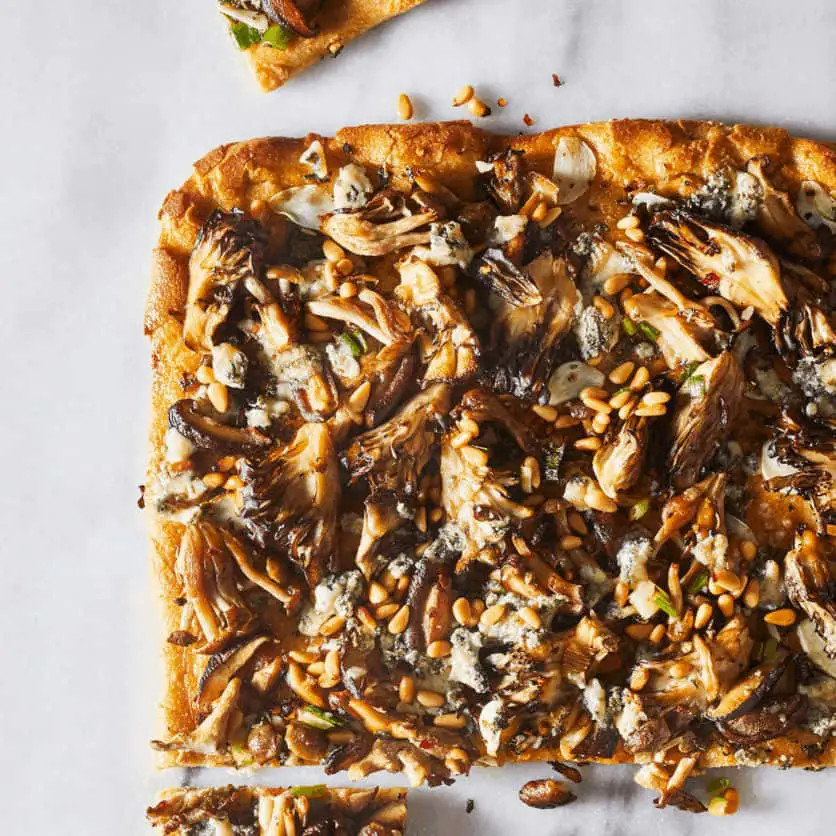 Cooking on a pizza stone vs pizza steel gives different results. Same goes for gas or electric ovens vs wood ones. So adjust your recipe to match the 'pizza plate' and 'fuel selection'. This pizza cooks on metal but tastes like an organic oven offering. Brush the dough with seasoned oil then add mushrooms, pizza herbs, and blue cheese. Finish with a sprinkling of pine nuts.
25. Hafsa's Thick-Crust Mushroom Pizza
So you have no cream, no cheese, no mayo, no oven, no take-out, and no permission to go shopping (hello lockdown cuisine!). You can still make a tasty mushroom pizza. The dough just needs water, flour, and yeast. For the white sauce, use milk, butter, garlic, flour, oregano, pepper, and chicken powder. Top the pizza with mushrooms, olives, tomatoes, and capsicum.
26. Portobello Red Pepper Pizza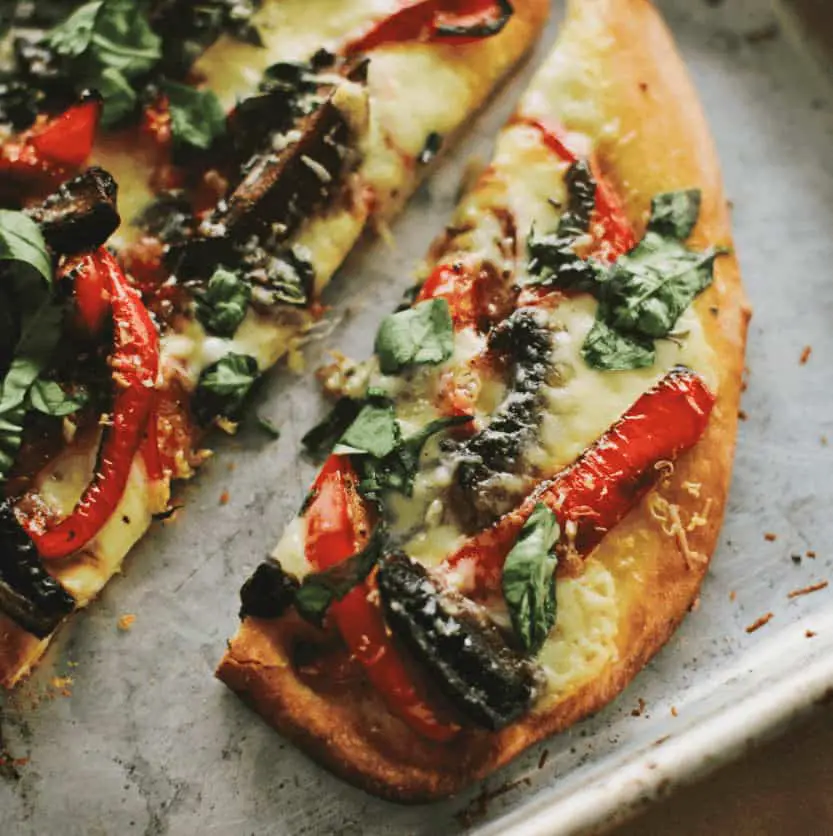 Portobello mushroom caps make amazing low-carb-free. But be careful if you're keto – white mushrooms have about as much protein as carbs (3g per 100g for both). Still, you can use portobellos as a topping. The red (bell) peppers mentioned are capsicums, not jalapenos. The pizza has no sauce so you just oil the base. But if you like, you can use pesto instead of sauce.
27. Amy's Sausage Mushroom Pizza
Amy prefers to use bread machine pizza dough in her recipes. So watch that video if you want to try it. Otherwise, any store-bought dough and canned pizza sauce will do. Also, while many recipes hate on pre-shredded cheese, the cellulose is harmless … but it does make your cheese less gooey as it melts. Clean and sauté the mushrooms and sausage before topping.
28. White Pizza with Baby Bella Mushrooms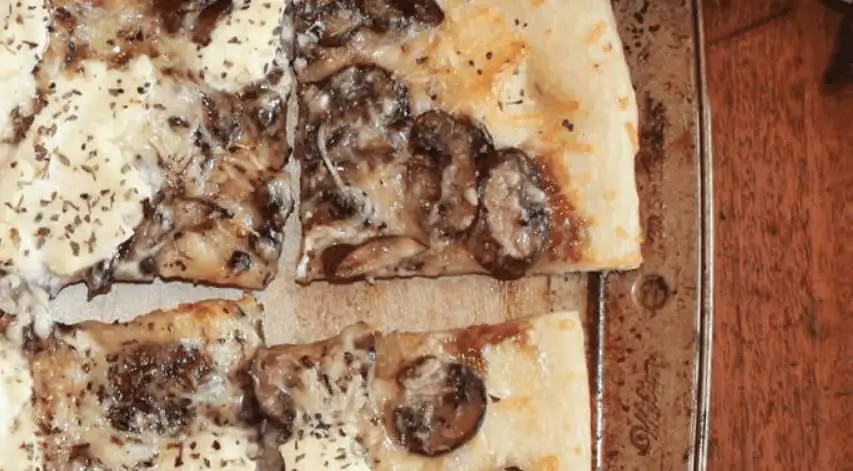 If Rachael Ray is involved, you know the dish will be greasy and taste divine. And today, she's cooking with the Kitchen Twins, Lyla and Emily. The twins' top tip is to ask your favorite pizzeria if they can sell you dough balls you can freeze. They're way better than store-bought. Also, dip the pizza dough in blue cheese before topping. No sauce needed.
29. Homemade Cheesy Mushroom Pizza
Adding mushrooms to a veggie pizza can feel a bit like cheating. Because mushrooms have such a strong umami flavor and an earthy taste that feels vaguely familiar to meat-lovers. Try this simple dough recipe or just grab a can at the store. And wipe the mushrooms instead of washing them – wet mushrooms will over-dry when you sauté or bake them as toppings.
30. Exotic Mushroom Pizza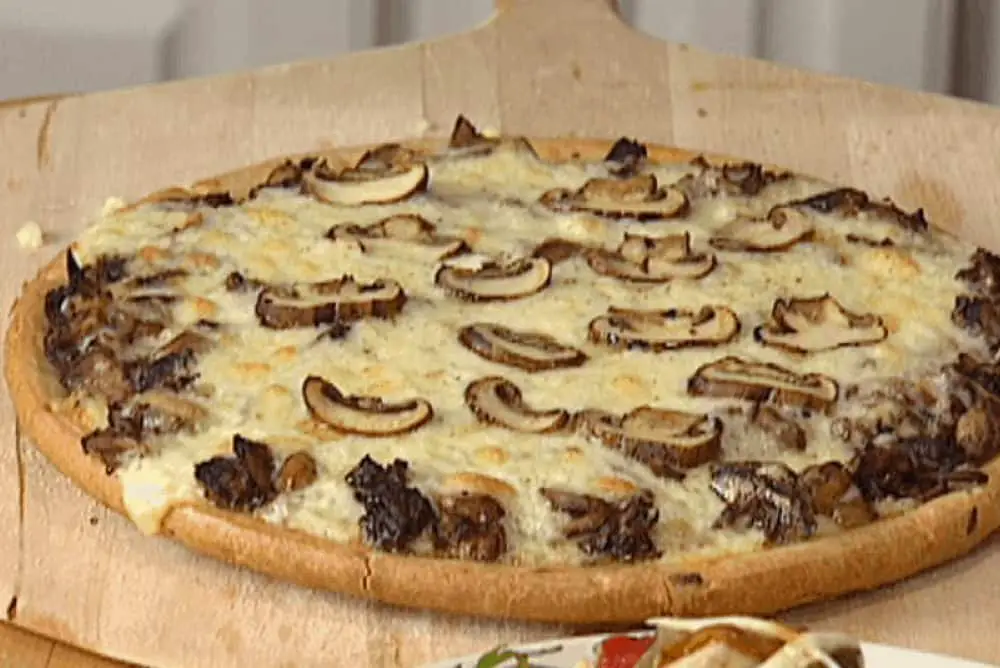 We've cooked pizza with white wine … now let's try a little red. The 'exotic' here is from imported mushrooms. Check whether your species has edible stems and slice them off if you need to. (Shiitake stems and Portobello stems are rarely eaten, just as an example.) Sauté the mushrooms in red wine until it's fully reduced. The cheese used is gorgonzola and fontina.
31. Dr. Gundry's Mushroom Pizza
For our final mushroom pizza recipe, we're following the doctor's orders. His recipe for grilled Portobello pesto mini pizza is genuinely healthy. He's using store-bought, but he has a from-scratch pesto recipe in his book. Oil the mushroom caps on both sides and brown both sides for 5 minutes. Fill the caps with pesto, buffalo mozzarella, and prosciutto, then grill.
What's your favorite mushroom pizza recipe? Show us how you make it in the comments!
31 Best Mushroom Pizza Recipes
Ingredients
Mushroom Pepperoni Pizza

Homemade Sausage And Mushroom Pizza

Flavorzzz Mushroom Pizza

Food Talks Cheese + Mushroom Pizza

Sweet Chili Chicken Mushroom Bacon Pizza

Funghi Pizza Bianca

Bon Gappetit N'Oven Mushroom Pizza

Etc Hotels Funghi Pizza

Fresh Fungi Pizza

Alfredo-Style Mushroom Pizza

Chicken Tikka Mushroom Pizza

Asifa's Mushroom Pizza

Hafsa's Thick-Crust Mushroom Pizza

Amy's Sausage Mushroom Pizza

Homemade Cheesy Mushroom Pizza

Dr. Gundry's Mushroom Pizza
Directions
Select your favorite recipe.
Organize all the required ingredients.
Prep the recipe in 30 minutes or less!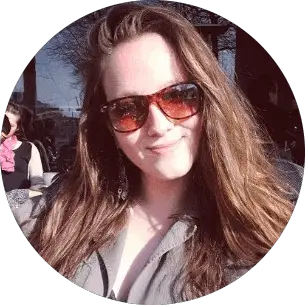 Barbara is an enthusiastic food-exploring person that goes through different culinary experiences. She got inspired by creating a pizza blog post after she tasted one of the best-selling pizzas in Toledo.