One of the great things about pizza is it's so easy to customize, so whether you're making a pizza for one or preparing individual pizzas for the whole family, it's the perfect way to ensure everyone can enjoy a meal they love.
So, we gather up some guides for you to try out. Here are 27 Personal Pizza Recipes you can make for yourself or the family! Whether you are a seasoned pizza maker or a novice in the kitchen, there is a recipe here for you!
For anyone who wants to have a go, we've had a look online to see what other people have been trying – and as a result, here are our favorite 27 personal pizza recipes you can easily recreate at home.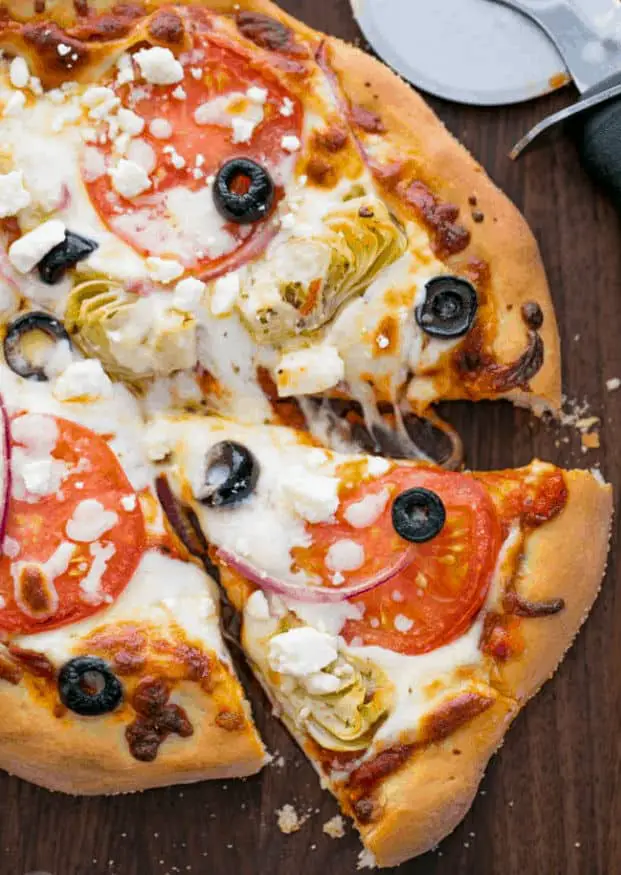 In this post, this blogger tells us how things go down when it's time for their family pizza night. Everyone gets involved, with the kids trying to outdo each other by creating the best and most appetizing pizza. If you're like her son, you'll pile up the cheese while leaving out the onions, but the best thing about personal pizza is you can just do your own thing – and if you're looking for ideas and inspiration, this post should give you plenty!
2. How to Make a Lower Calorie Personal Pizza that Still Tastes Good
Another big positive about making personal pizza, other than the ability to customize it, is the way you can also select toppings that will give you a healthier version. Pizza is notorious for being bad for your line, but with this tutorial, you'll learn how to make a lower calorie version – so if you're trying to shed a few pounds, this is a video that should be of interest.
If you want to create personal pizzas, you need to start with the base, and if you're looking for a recipe that will teach you how to make the dough, this one should be worth a look. Whether you're making an individual pizza for yourself or providing bases for everyone in your family to cover with their favorite toppings, this is a tutorial that has all the information you need.
4. How to Make Easy Personal Pizzas at Home
In this video, Grandma and Grandpa Griffiths teach us how to make individual pizza bases with a crispy bottom and a chewy crust. As they tell us, they're ideal for their family pizza nights, and if you want to try something similar, they'll be perfect for your family pizza nights too!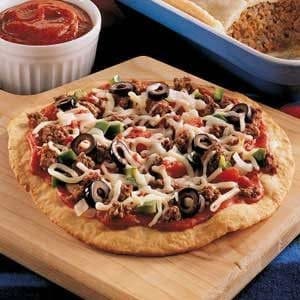 Here's a simple recipe based on bought pizza bases that will allow you to knock together a quick meal for one in no time. This blogger tells us that she practically lived on mini pizzas when she was at college, and while that's probably not a recommended diet in the long term, there's nothing wrong with falling back on it from time to time. These ones incorporate a ground beef topping with onion and olives, which we think sounds like a tasty treat to savor.
This post gives you not just one but three suggestions for making personal pizza. One uses Italian sausage, the second is a classic marguerita and the last is a pepperoni version – so no matter which is your favorite topping, you're sure to love at least one of them. And of course, you're free to adapt these recipes, adding whatever else you want to turn it into your idea of the perfect personal pizza.
7. Personalized Pepperoni Pizza from Aling Phe
There's nothing too complicated about making a personal pizza, so you don't need a long and complicated tutorial. Instead, this short video tells you everything you need to know about making a delicious personal pepperoni pizza in under four minutes – that way, you'll spend less time watching and more time cooking…and eating!
As this blog tells us, personal mini-sized pizzas are a great idea if you have kids. They're just the right size for smaller appetites, and you can also get your little guys involved in making them, which means they're more likely to eat them too. We love the photo of the kids joining in putting the toppings on the pizzas – even the youngest one. And if you think that looks like fun, this post has all the details you need for trying something similar at home.
Not everyone has the time to make pizza in the oven, no matter how mini and personal they are! Well, with this recipe from Berry & Maple, you won't have this problem anymore.
This recipe calls for pita bread and an air fryer. The result is an excellent mini-pizza snack that you can whip up in no time. Truly an excellent way to make some delicious snacks with little to no effort at all.
Pepperoni pizza is a long-established classic, but the secret to this version is the special tangy pizza sauce. It only requires 10 minutes' prep – plus another 20 in the oven – so if you're looking for a quick meal for one, this is a pizza you can have ready in a hurry. What are you waiting for?
11. Personalized Pizza with Susie Houston
Here's a recipe for a personalized pizza that's also low carb and high in fiber – so it's a healthier option too. The innovation here is that, rather than using a traditional pizza base, this YouTuber uses whole wheat pita bread instead. Let's face it, most people don't eat pizza because it's good for you, but with recipes like this, it can still be a healthier choice, allowing you to enjoy pizza more often – and without quite as much guilt!
Something we've realized is that making personal pizzas with kids is such a great idea for many reasons. It gets them involved with preparing their own food, and it can help them become more interested in cooking in general too.
It's also a fun activity and a great way for parents to spend meaningful time with their children – as well as being super-easy. Convinced already? Then check this blog out for details because this is an activity your kids are sure to love!
13. Customized Pizza from Easy Kids Cooking
For anyone interested in making personal pizza with kids, here's another fun video to watch that will give you even more ideas. As the introduction explains, all you need to do is buy individual-sized pizza crusts – and then everyone can add the toppings they love most. They look pretty tasty when they come out of the oven too, so why not see if you can produce something similar with your little guys?
Since this recipe uses pre-made refrigerated pizza dough, the difficult part is removed from the prep stage. That means all you need to do is pile up your personal pizza with your favorite ingredients and you're ready to go. This blogger suggests a mix of mozzarella, pineapple, pepperoni, bacon, black olives, red onion and parmesan – that sounds like quite a feast, but if you think you can finish it all, why not give it a go?
15. 20-Step Personalized Pizza
Here's a very detailed video tutorial that takes you through the process of making pizza from scratch in 20 steps. It's a long video, but if you're not sure about what you're doing, it's the kind of tutorial that covers everything, so even complete beginners will be able to follow it. Check out how it looks at the end too – for anyone who's a bit green in the kitchen, producing something like that is going to be highly rewarding!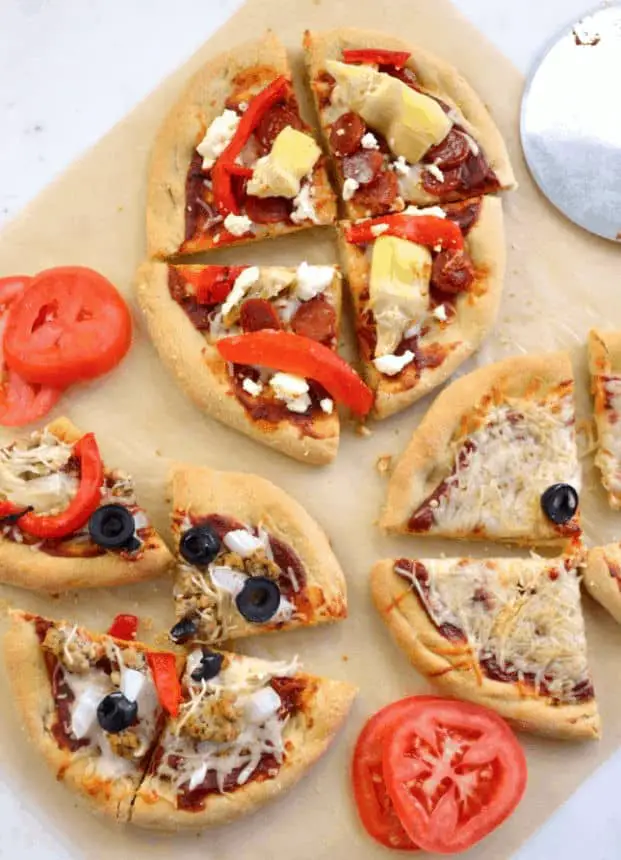 In this blog, you'll find out about a great idea that would work well for a family pizza night or movie night – or even a small party. The concept is this: everyone has their own pizza base, and you then set out all the toppings on a pizza bar so everyone can help themselves. Once their pizzas are piled high with everything they feel like eating, you put them in the oven and everyone has their own personal customized pizza. Sound like fun? Then give the blog a read for more info!
17. Personalized Homemade Pizza
This is a fun video that lots of people will be able to relate to. The name of the channel is The Rookie Cook, and as you can guess, it's aimed at those who don't have much experience in the kitchen but who are looking to develop their skills. In this episode, we learn how to make personalized homemade pizza, and if you've never tried it before, this is a great place to learn the basics.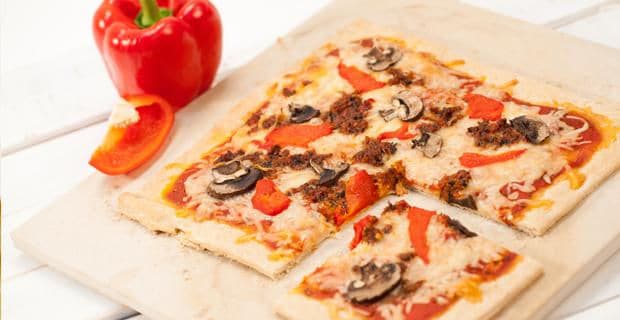 If you're looking for a way to make individual portions of delicious pizza dough, this is a post that should be of interest. It includes a few extra ingredients to give it a bit more flavor, and there's even a suggestion for turning it into a yummy dessert pizza too. The base is easy to make, so this is a recipe anyone will be able to copy, so why not give it a go and see how it turns out?
19. Personalized Pizza from The Mesechers
In this video, we get to watch as these kids make their own personal pizzas. We love the way they're super-excited about it at the beginning, and it looks like the fun kind of evening most families will enjoy. So if you have kids of about this age, perhaps this personal pizza party can give you a few ideas!
The list of ingredients for this pizza is perhaps the longest we've seen! It includes things like turkey sausage, vegan chorizo, clams, mushrooms and much more, so we're not quite sure how it's going to taste. However, it is a "personal" pizza, and if the person who made it loves it, that's the main thing. And if you think you might love it too, you can easily copy this recipe to make a version of your own!
If the pizza in #20 sounds a bit much for you, here's something a little more minimalist – because it's a simple cheese pizza topped with nothing more than a few basil leaves. Who doesn't love some classic cheesy pizza?
However, as this blogger writes, you can also liven it up a bit with seasonal vegetables – or anything you find leftover in your fridge – allowing you to create your own masterpiece.
Here's a great idea we love – it's a recipe for mini personal pizzas based on muffins instead of traditional pizza base. This is a fun idea that kids and adults alike will adore – so if you're looking for original suggestions, this one is well worth a look.
It's an excellent snack you can prepare in no time! Also, their small size can make this dish aside.
23. Top 10 Best Pizza Topping Combinations Ever
For anyone trying to make a personal customized pizza, choosing which toppings to go for can be the hardest part. If that's a dilemma you're currently facing, this video is a must-watch – because in it, this YouTuber gives you ten suggestions for things you can try. You'll still have a decision to make, but at least this will help you narrow down your options!
We've already mentioned that people don't tend to turn to pizza as a healthy option, but with the right ingredients, you can make it into something much better for you than a traditional version covered in melted cheese and greasy meat. This version, based on pita bread, incorporates garlic, spinach and mozzarella, so it's super-tasty – but also relatively healthy at the same time.
In this post, you'll learn how to make delicious pizza dough that will serve as the "canvas" for creating your own culinary work of art. Once you have the base, you can top it with whatever you like, and this blog shows you how to get started.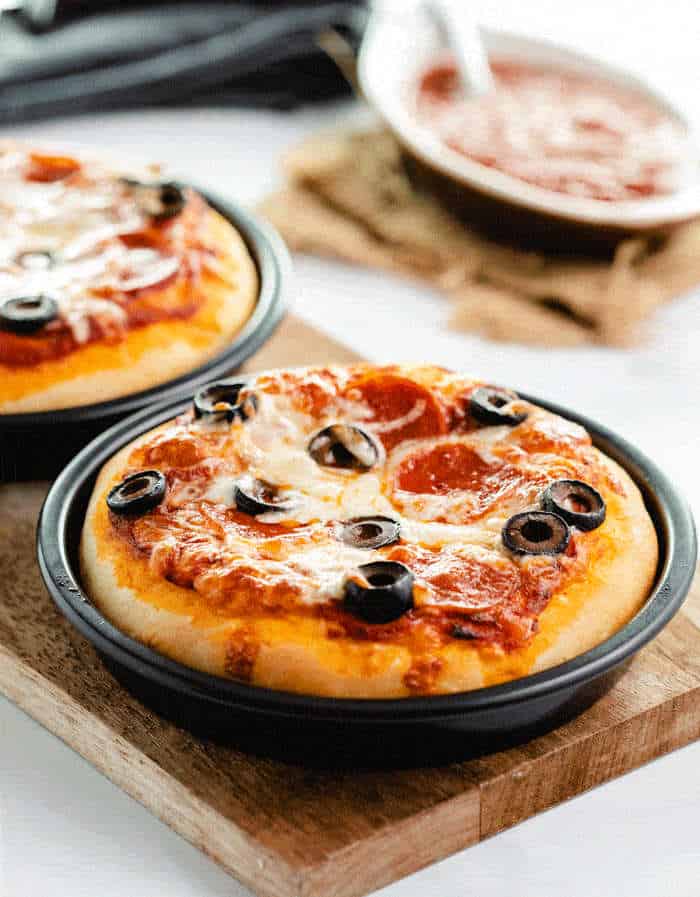 Craving that Pizza Hut twist on your personal pizza? Then this recipe by Stephanie from The Cozy Cook must be for you.
This guide shares useful tips on making that delicious dough! It even got the full scoop on freezing it and which pans taste best, plus a reward-worthy Copycat Pizza Hut Sauce recipe—you literally can't fail with this pizza if you have this in your corner!
Loads of great suggestions for personal pizzas
As you can see if you're making personal pizzas, the possibilities are endless, but at least with the recipes here, you have a source of inspiration.
We've enjoyed collecting these recipes for you, so we hope you've enjoyed reading and watching them too. And above all, we hope we've helped you find the ideas you needed for making delicious personal pizzas of your own.
27 Best Personal Pizza Recipes
Ingredients
How To Make A Lower Calorie Personal Pizza That Still Tastes Good

How To Make Easy Personal Pizzas At Home

Personalized Pepperoni Pizza From Aling Phe

Air-Fryer Personal Mini Pizza

Personalized Pizza With Susie Houston

Customized Pizza From Easy Kids Cooking

20-Step Personalized Pizza

Personalized Homemade Pizza

Personalized Pizza From The Mesechers

Top 10 Best Pizza Topping Combinations Ever

Copycat Pizza Hut Personal Pan Pizza
Directions
Select your favorite personal pizza recipe.
Organize all the required ingredients.
Prep the recipe in 30 minutes or less!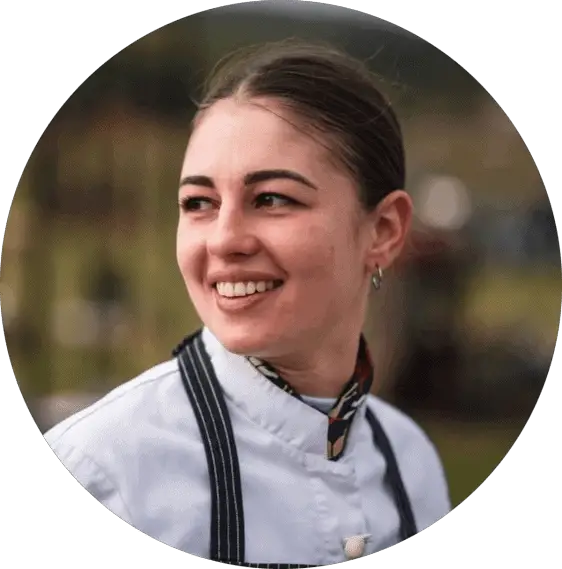 Julie has five years of experience in the restaurant industry, she decided to share her knowledge about her liking and fondness for food and pizza, of course, cooking as her love language. She's very passionate about what she's doing, making all the things she writes regarding pizza recipes, very amazing!