Christmas is coming, but maybe the idea of cooking is enough to send you running for the hills! Besides, you don't really like roast turkey. What would really make your Christmas dreams come true is pizza for lunch!
If that's the way you feel, you've come to the right place! Whether you're looking for pizza for your Christmas buffet or your festive family meal, we're here to help.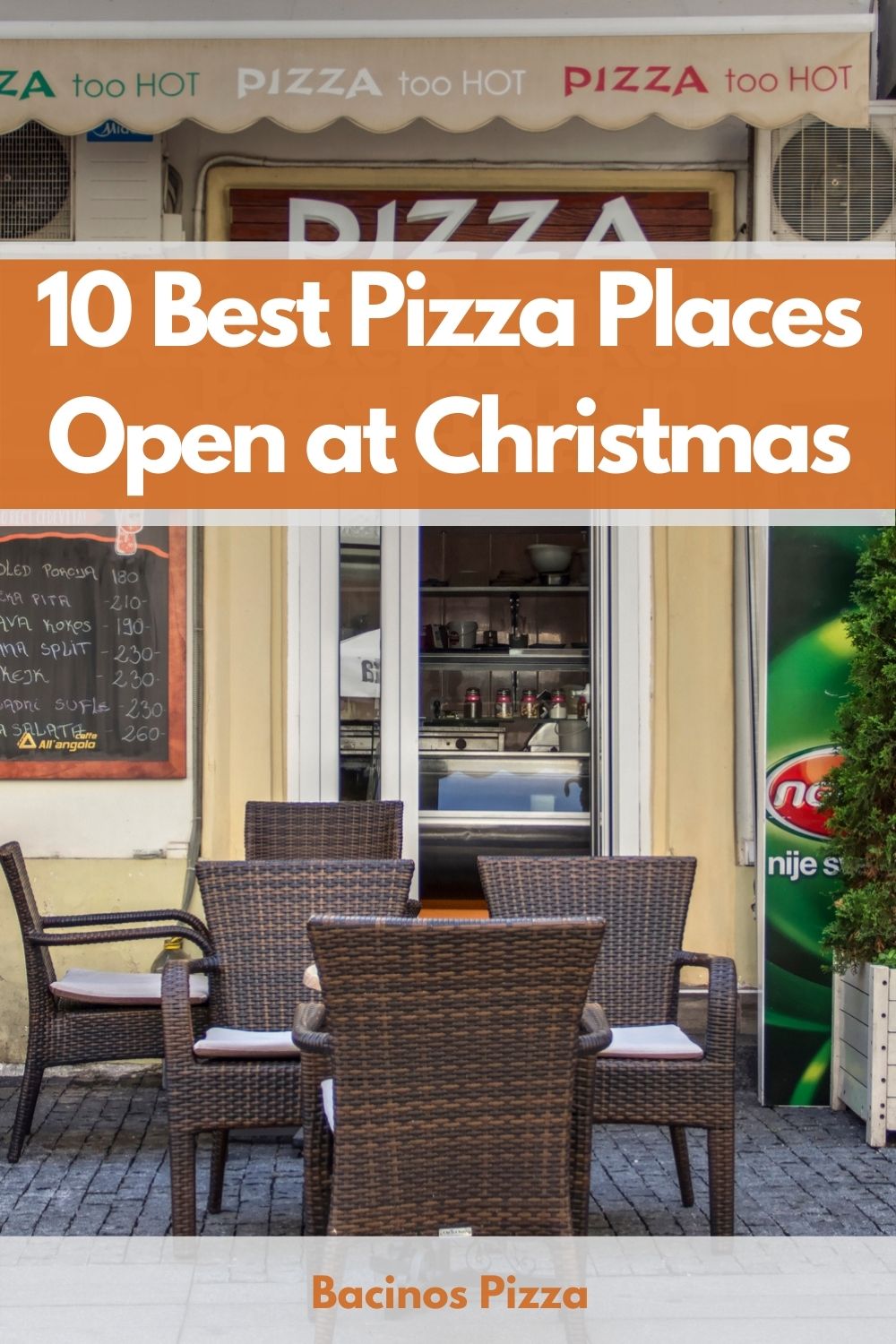 We're going to take you through some of the pizza places open at Christmas. Or at least, those pizza places that have opened over Christmas in previous years.
But bear in mind that plans can change from year to year. So if you're thinking of choosing Christmas pizza, especially on Christmas day, check in advance that your chosen pizzeria will be open. If you don't, you risk being left with a rumbling stomach!
So with that warning in place – let's take a look at some options …
Pizza Places Open at Christmas
Pizza Hut
Mountain Mike's Pizza
Buca di Beppo
Bravo! Italian Kitchen
Sbarro
Woodpecker by David Burke
Domino's
Carrabba's Italian Grill
Marco's Pizza
Papa John's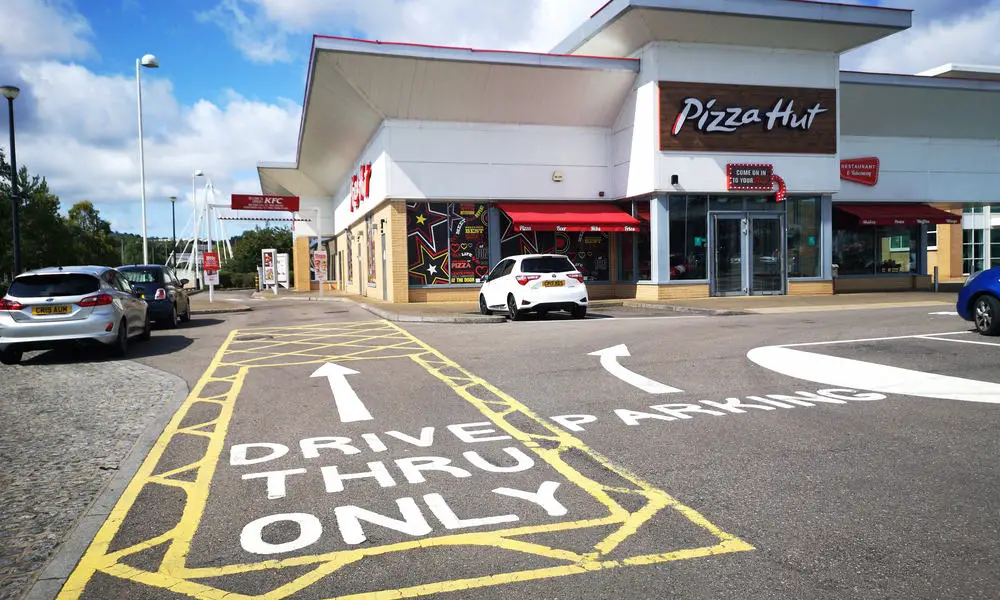 The iconic pizza chain has been a stalwart of Christmas opening in festive seasons past. And with hundreds of branches across the USA, it's well worth seeing if one is open near you.
In the past, the Hut has been open for both carry-out and collection over Christmas. But it's only selected locations that stay open through the whole holiday. So check in advance to see what the deal is where you live.
Speaking of deals, it's a good idea to check out the website for discounts and offers before you place your order. These can offer great value. If you've overdone it on your Christmas shopping, this could be one way to save a few dollars!
Mountain Mike's opened on Christmas Day in 2020, letting hundreds of diners celebrate the festive season with their favorite pizza.
Choose from classics like Everest, Pikes Peak or Mount Veggiemore. And you can pair your pizza with sides like garlic bread, chicken wings or mozzarella sticks.
You can even swap your Christmas pudding for a Mountain Mike's dessert. Options include mini churros, a pizza cookie and a cinnamon pizza. Why not skip the cooking altogether, and get Mike to cover every course?
Check out the website, and you can sign up to Mountain Mike's Coupon Club. That will give you access to discounts and news – so you can check if your local branch will be open this Christmas.
Buca di Beppo offers great value pizza as well as a selection of pastas, entrees, soups, sides and desserts. There's also a kids' menu to keep any little ones happy.
This is a great option for buying food that your whole group can share. Most dishes are served large, in the traditional Italian way, so everyone can dig in. Choose Buca Small, and you'll get enough for three people. Large will feed five comfortably.
And if you have a bigger crowd, their catering options will be ideal. A half-pan pizza will serve 10 people, and a full pan will feed 20. Check the website for delivery fees and minimum orders.
Buca di Beppo has 72 locations across the United States, and many have been open on Christmas Days past. Take a look at the website to find your nearest branch. Opening times and telephone numbers are there too.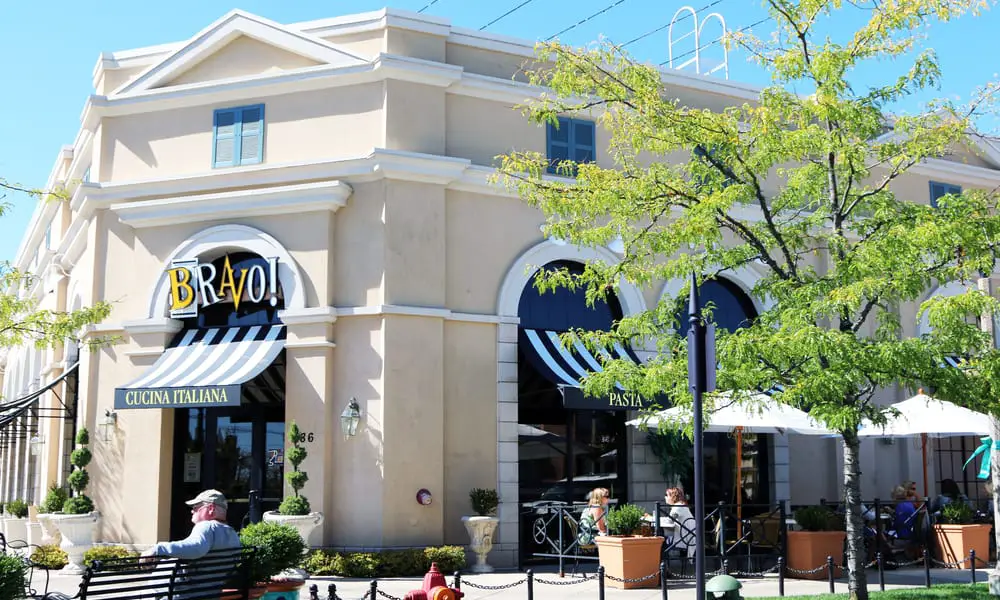 Bravo! Italian Kitchen can be found in 27 locations across the USA, from Alabama to Wisconsin. And they're another chain that's been known to open on Christmas day.
The precise menu varies between restaurants, but all the details are on the website. That means you won't have the disappointment of choosing a pizza, only to discover it's not available at your local branch.
The pizzas here are classic – margherita, sicilian, cheese and pepperoni. If you prefer, there are a wide range of pasta, salads and soups. And there are some great meat and fish dishes, like filet mignon, chicken caprese, New York strip and shrimp scampi.
Those with a sweet tooth are also well served. Desserts include favorites like tiramisu, gelato, crème brulée, cheesecake and chocolate cake.
And like Buca di Beppe, Bravo! offers a good catering option for bigger crowds. Check out the website for details and prices.
Sbarro is well known for their extra large New York style pizzas. So if you're looking for a serious pizza to celebrate Christmas Day, this could be the perfect choice.
Some, but not all, Sbarro branches have opened on Christmas Day in the past. Take a look at the website for up-to-date information on plans for the festive season.
Whether you fancy pepperoni, Stromboli or Roman pizza, Sbarro can deliver. They also offer delicious pasta and salads. The range isn't huge – spaghetti and meatballs or baked ziti, garden or Caesar salad – but everything is fresh and tasty.
If you want dessert, though, you'll have to look elsewhere. But if you've already bought or made a trifle, Christmas cake or Yule log, that won't be a problem!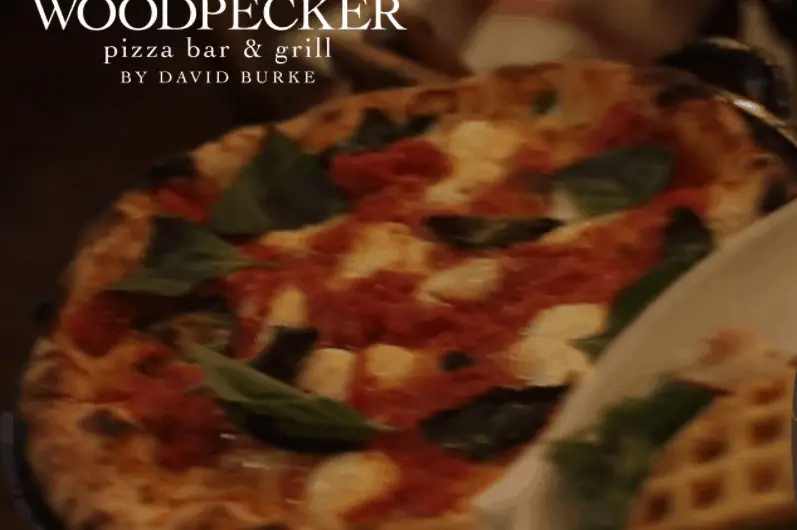 Woodpecker, the signature restaurant from renowned chef David Burke, is a New York institution. And in previous years, it's been open all day on Christmas Day. Just make sure you book well in advance to enjoy one of their delicious pizzas for Christmas lunch.
Choose a classic margherita or a classy prosciutto and honey topping. Vegetarians will love the artichoke and spinach pizza. And there's also a surprise "pie of the day". Alternatively, you can indulge in salads, a steak, cheeseburger, chicken sandwich or pasta of the day.
All in all, this is a great option if you're going to be in the Big Apple for Christmas. Just remember to check opening times and book well ahead of time.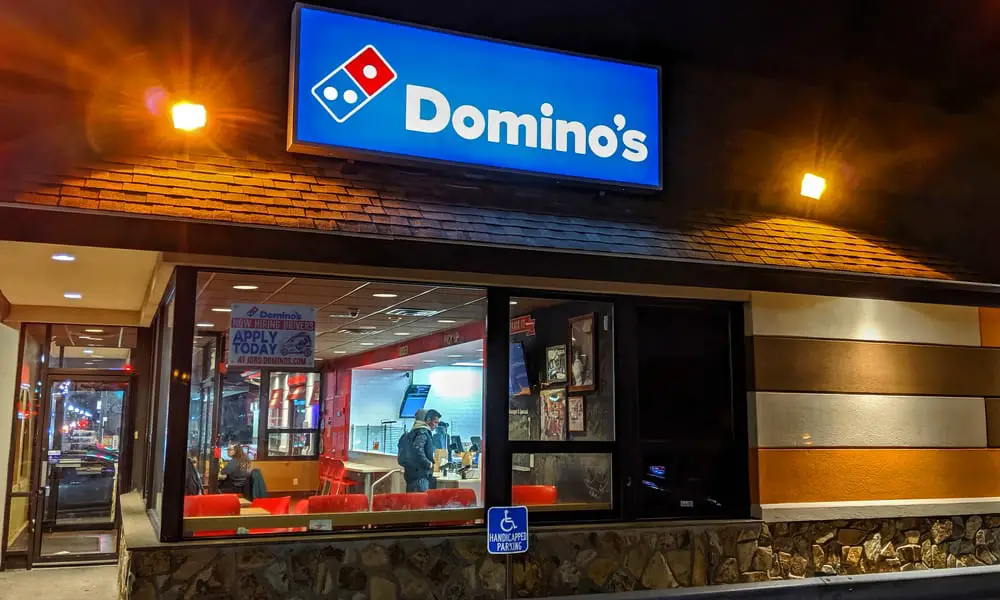 It's hard to think of pizza without thinking of Domino's! And your local pizza parlor might just be delivering on Christmas day. It all depends on the choice of the individual manager, so make sure you check with your local branch in advance.
When it comes to the choice of pizzas here, the world is your oyster. Deep pan or thin crust. Vegetarian, vegan or meat feast. And there's pretty much any combination of toppings your heart desires! You'll also get a great range of sides, plus soft drinks.
There's enough choice here to suit any group of people, no matter how fussy! So if you need to get in a range of pizzas to keep everyone happy, you won't go wrong here. And check the website to take advantage of deals and discounts.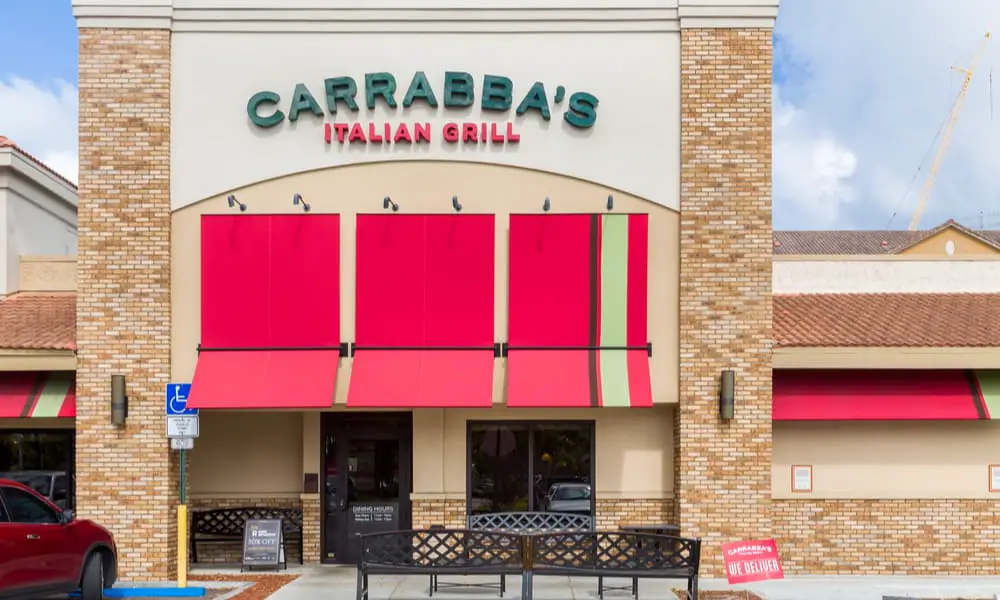 Carrabba's Italian Grill has its headquarters in Tampa, Florida. The first restaurant was opened in Houston, but today there are branches all over the US. More of them are in Florida than in any other state. And many of them open over the Christmas period – even on Christmas Day.
Here you can get a great selection of pizzas, as well as pasta dishes, chicken and seafood. Meat dishes include the renowned "Chicken Bryan". This comprises an eight-ounce chicken breast topped with goat's cheese, sun-dried tomatoes and a lemon, butter and basil sauce. A great alternative to the turkey roast!
This is another case where it's sensible to check your local restaurant's Christmas plans in advance. Not all of them will be open over the same hours. So plan ahead, and don't put your Christmas lunch at risk!
Marco's Pizza is another chain with a history of delivering pizza on Christmas Day. As ever, make sure you check with your local restaurant that it will be open on the big day.
You'll be able to choose from a wide selection of different pies, with enough variety to suit the pickiest pizza lover! Choose from one of the specialty combinations, or build your own pizza using the wide range of toppings.
There are no fewer than 714 different branches across the United States. So wherever you live, you're likely to find a Marco's close at hand.
With over 3,000 outlets across the USA, wherever you're located it's unlikely you'll be far from a Papa John's. In the past, most pizzerias have closed on Christmas day. But if you're looking for a pizza on Christmas Eve, they'll almost certainly be able to deliver.
In most cases, you'll need to order takeout, but a few branches do also offer a restaurant experience. The range of pizzas and sides on offer is genuinely enormous. If you can't find a pizza you like here, you're unlikely to find one anywhere!
There's also a good choice of desserts, including cinnamon knots, chocolate brownies and cookies.
Ready for a pizza-eating Christmas?
We hope you've enjoyed our guide to some of the best places to satisfy your pizza craving this Christmas! Just make sure you plan ahead and check with local outlets that they'll be open. Even big chains have different opening hours at different locations over the holidays.
Once you've done that, you can relax and put your feet up! There'll be no cooking for you this Christmas – just tasty pizza on demand.
Happy Christmas – and bon appetit!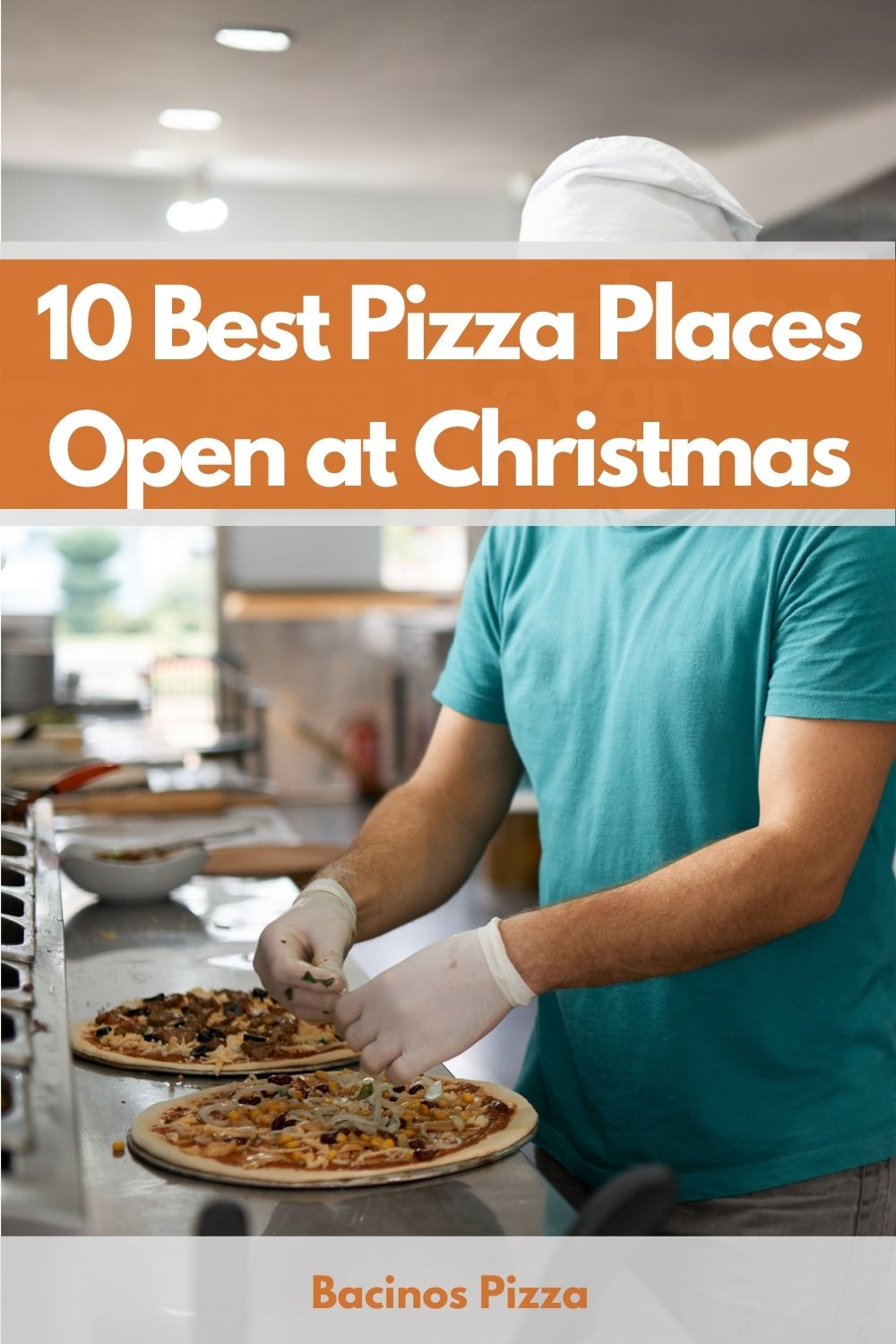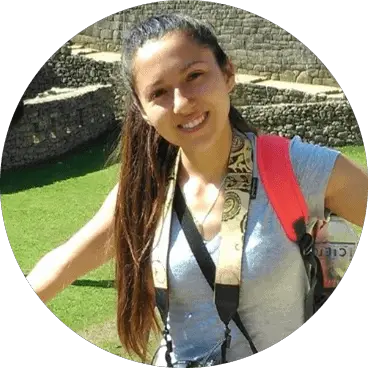 Kathryn's love for pizza started when she was still young. When she was young, she's been a picky eater–that's what her Mom used to say. The only food that she enjoyed and loved was pizza–until now! Her love for pizza turned into a passion!