Pizza pockets – sometimes called calzones or hot pockets – are usually the smallest size of pizza (6 to 8 inches). The pizza is topped as usual, folded over, pinched shut, and baked as a pie.
They differ from pizza pies because they don't generally have toppings on the outside. Also, they're smaller. So let's look at some popular pizza pocket recipes you can try at home.
1. Corrine's Pizza Balloon
Let's start with something light and fun. Usually, you dock pizza to get the air bubbles out. But when you're making pizza balloons, you'll use a strategically placed straw to blow air into the food. You can finish with pizza flambé … but only if you have the skills to do it without calling the fire department. So try out this inflated pizza pocket – but only blow your own!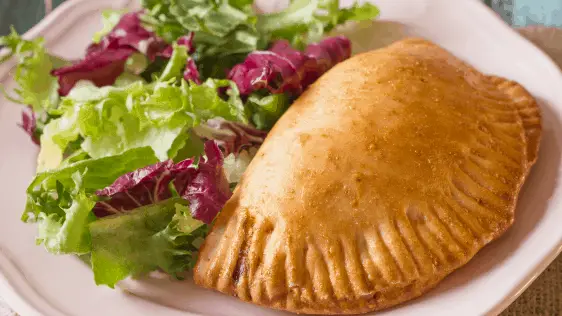 If the idea of someone breathing on your food freaks you out, you're not alone. It could be why pizza balloons haven't … blown up yet … you can only eat the one you made yourself! So let's try this airless pizza pocket recipe. It's less fun but more hygienic. The pizza pocket is filled with ham or pepperoni, onions, cheese, and green peppers. It's crimped with a fork.
3. Momables Pizza Pockets
At its most basic, a pizza pocket is a meat pie enhanced with pizza herbs. They sometimes have decorative shapes, but half-moon is the most common. Fill half the dough, leaving a margin for crimping. Fold it over, seal it shut with a fork or in a calzone press, brush with a shiny glaze like egg/milk wash, oil, or seasoned butter. Try broccoli + cheese or pepperoni.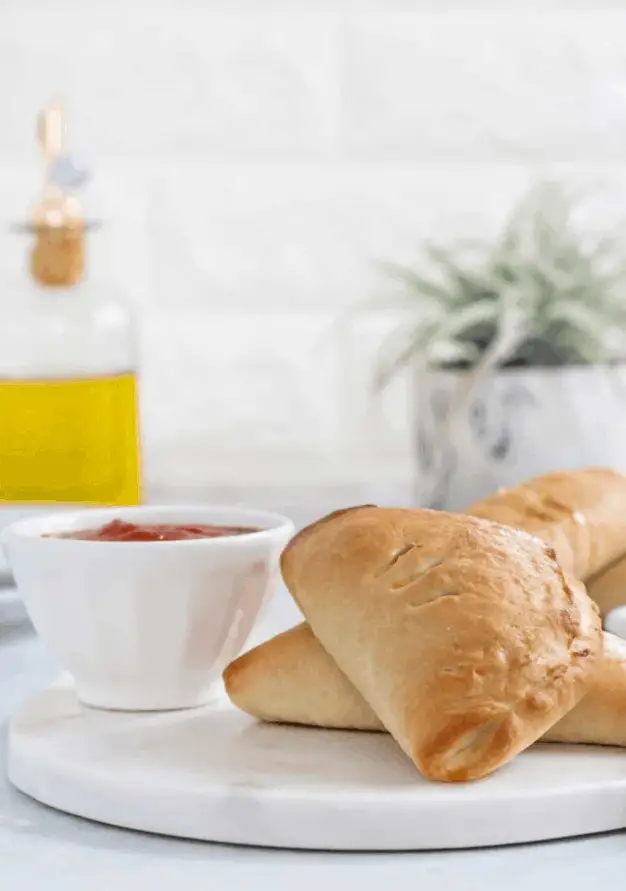 Homemade calzones can be as simple or complex as you like. The dough is rolled thicker than flat pizza so it can hold wetter toppings. But it's still a good idea to dry out your fillings and avoid soaking through the dough since this might split the pocket prematurely. This one is filled with ricotta, mozzarella, pepperoni, bacon, and pizza herbs. Use pizza sauce as a dip.
5. Homemade Pizza McPuff
Pizzeria calzones are low-fuss and convenient. But McDonald's can't tailor your toppings as much as you can at home. So check out Bhumika's fried veggie version. Hers is stuffed with carrots, tomatoes, chili, cream cheese, sweetcorn, garlic, onions, and capsicum (bell pepper). She uses her homemade ketchup recipe as a pizza sauce and makes her dough from scratch.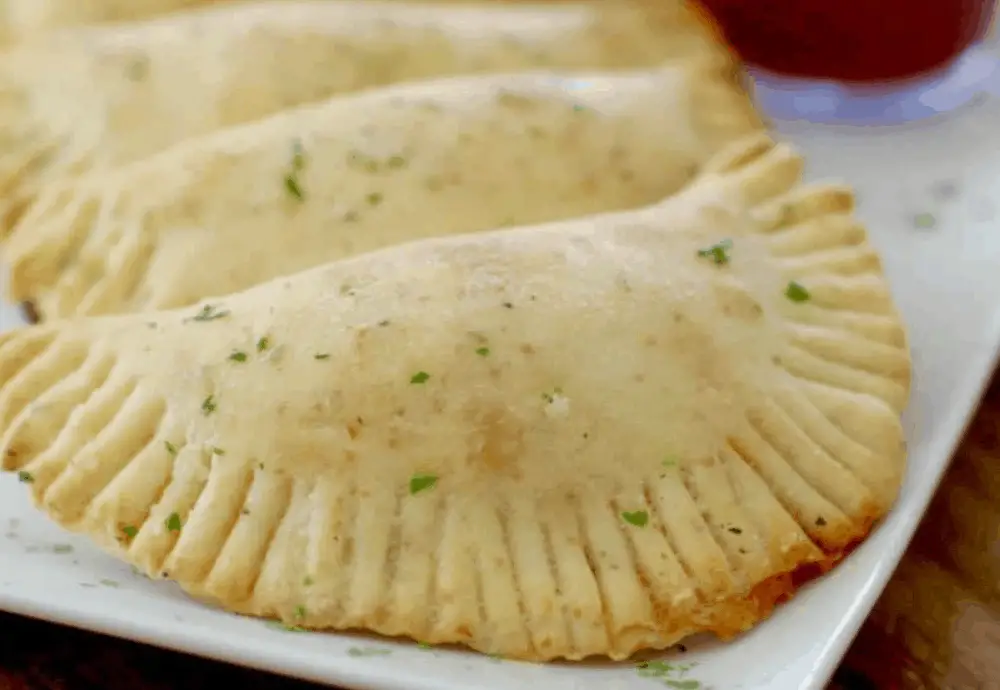 As Bhumika just showed us, calzones can be baked or fried, depending on your preference and lifestyle. Baked calzones need slits at the top to let out steam. And their cooking time is longer. Fried pizza pockets need a solid surface crust to avoid spilling the fillings into the oil. And they cook much faster. Brandie's version is stuffed with pepperoni, cheese, and sausage.
7. Naima's Pizza Pockets
What's your preferred texture for pizza pocket dough? Adding milk, yogurt, curds, and eggs makes your dough soft and cakey. If you want a flaky, puffy, pie-crust, use a dough with oil or butter and aim for breadcrumb consistency before you add water.  Naima's folds her eggless, milky pastry dough into shapely pizza pouches filled with olives, chicken chunks, and chili.
You might see pizza pockets described as pouches, parcels, balls, bites, wontons, or calzones, depending on their shape. They're a convenient snack for kids (or even a packed lunch for adults) because you can freeze them after baking and thaw on a pan or office microwave. Myra and Laurier's version is shaped into pretty baubles and served with pizza sauce for dipping.
9. Zingy Pizza Parcel
McDonald's offers oblong McPuffs. Dominos responds with cutely shaped veg parcels. This homemade pizza pocket recipe has a few South Asian tweaks though. So if you like that Indian flavor, follow the recipe as is. But if you need to, adjust to suit your tastes. The fillings here include paneer (Indian cottage cheese), sweetcorn, mayonnaise, and bell pepper.
With pizza pocket recipes, the visuals are half the fun. You might even swear they affect the taste. Giada's pizza pockets are cute, well-browned triangles filled with cream cheese, Italian turkey sausage, parmesan, and arugula. You can use Pillsbury dough as the base and brush with egg wash as a sealant and glaze. Serve the pizza pockets with marinara in a dipping dish.
11. Whole Wheat Chilli Cheese Pizza Pocket
A lot of us think whole wheat and semolina are healthier than refined flour. So if your diners are good with gluten, it makes a good pizza pocket dough. Dharmi's recipe is spicy, with chili, masala, and coriander, and oregano. The fillings include potatoes, carrots, capsicum, onions, mozzarella, and American cheese slices. It's not in English though, so mute it if you need to.
Sally's Baking Addiction is perfect for beginners because her recipes have style, and flare but are still simple enough for a (supervised) child to achieve. Start with her homemade dough if you have the time (and if you're ambitious enough to make dough from scratch). Otherwise, just buy pizza dough from the store and fill it with ham and a gooey cheese of your choice.
13. Hebbar's Bread Pizza Pockets
New shape alert! These pizza pockets are made with leftover bread slices, shaped like spring rolls, and fried. For the fillings, stir fry garlic, carrots, onions, sweetcorn, and capsicum in butter. Add pizza sauce to the pan, mix well, and cool completely. Add olives, cheese, and jalapenos to the cold stuffing. Use flattened bread slices as your dough and deep-fry them.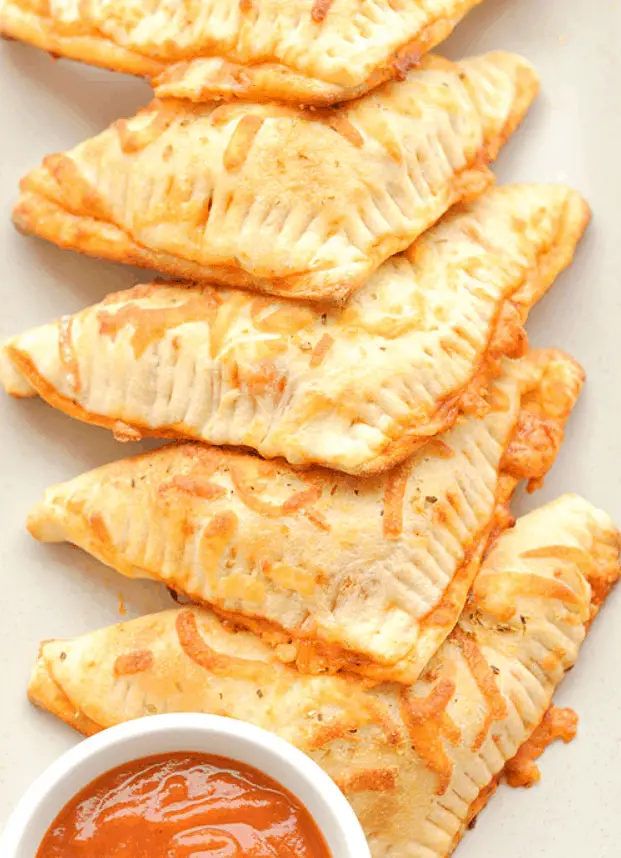 You've heard the argument. So you know cutting your sandwiches into triangles is more satisfying than eating them as rectangles or squares. They just seem … better. Is it the same for pizza pockets? Try this triangular pizza pocket recipe and let us know! It's so simple. Just grab some Pillsbury dough, cut it into squares, fill half the square, and fold it into a triangle.
15. Chicken Cheese Pizza Parcel
YouTube recipes expose you to a whole world of flavor. Foreign-language recipes are especially insightful. You'll spot ingredients and methods you'd never have considered. And you can always mute if the audio distracts you, or change your settings to get automated English captions. All set? Now try this magical cheesy chicken pizza parcel. You're welcome!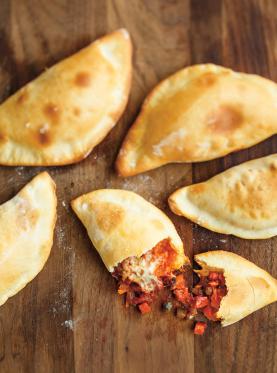 How do people make pizza pockets in other countries? We've seen fried recipes. And stovetop baking in a pan with salt, sand, and a metal microwave rack. Ricardo's pizza pocket recipe has some unexpected ingredients. The dough has honey and the sauce has chorizo, brown sugar, and red wine vinegar. The pocket is stuffed with mushrooms and bell pepper.
17. Tasty's 5-in-1 Calzone Recipe
What we love about Tasty Recipes is their diversity. So if you have a family with different pizza tastes, you can use this medley to suit every palate. And the video shows five ways to tweak your calzones. Fill them with deli meats, leftover meatballs, sausage, fruit, add coconut or parmesan to the dough, roll the edge, bake them, fry them, dip them … so many options!
Most hot pocket recipes use pizza dough or puff pastry. But here's a pizza pocket recipe you can make using Pillsbury crescents. It's a quickie recipe since all the ingredients are store-bought. Pop the can and cut the dough into squares. Spoon marinara onto the dough and follow with mozzarella and pepperoni. Fold, crimp to seal, and dust the top with parmesan.
19. Bon App's Gourmet Hot Pockets
We say 'hot pockets' as a generic phrase, but it's actually a brand of frozen microwave pizza parcels. So if you want to go gourmet, you have to tweak them. But with fifty flavors, can you outshine them? (Also, can you sit through a 40-minute recipe video?)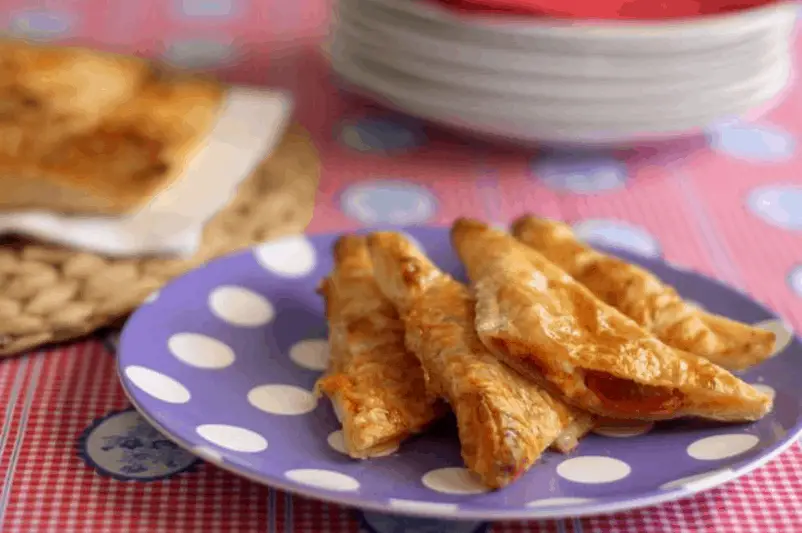 Food for kids needs to be quick and colorful. If it was fast, you won't feel as frustrated if they don't eat it. It also helps if it has interesting textures and is bite-sized, both for their small appetites and their tiny hands. These triangular pizza pockets use store-bought puff pastry filled with ham, cheese, and cherry tomatoes. Use pasta sauce as your pizza sauce.
21. Food Wishes Calzone
Crimped edges are the quickest way to seal calzones and pizza pockets – just press the borders with a fork. But if you want something more elaborate, you can roll and twist the edges into a pretty rope. But do it carefully so it doesn't unroll in the oven or frying pan, dropping the fillings out. This pizza pocket is filled with ham, ricotta, and mozzarella.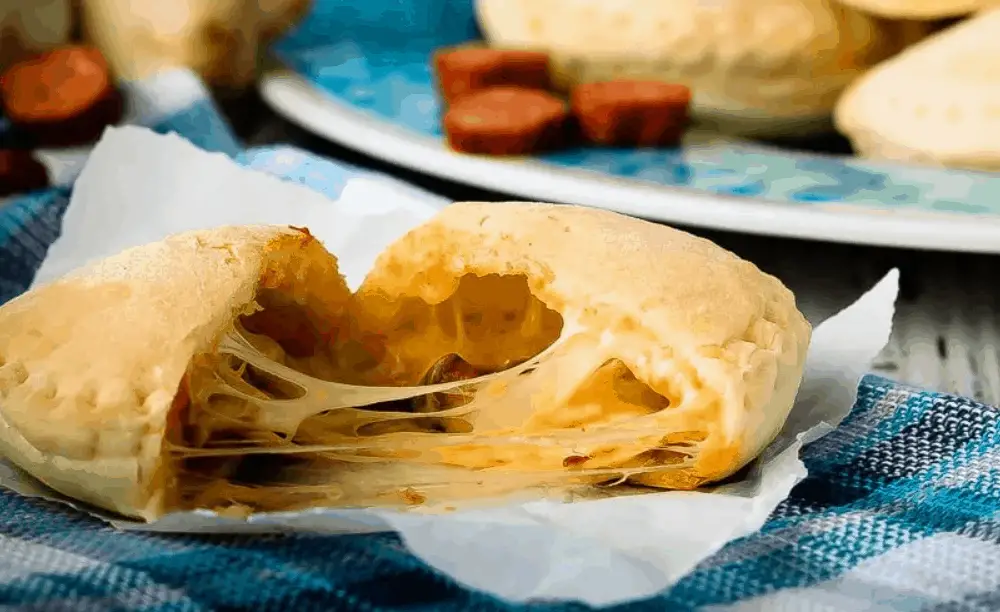 Your typical pizza pocket is flat on the bottom and puffy on the top. Stacey's version is fluffy on both sides. Her secret – ironically – is no-rise pizza dough that she makes from scratch. It only takes a few minutes to mix. Fill the dough with your preferred combination of ham, pineapple, mushroom, or pepperoni and mozzarella. Seal, bake, and serve or freeze for later.
23. Vito Lacopelli's Neapolitan Calzone
At first glance, you can see this calzone is different. How so? Pizza pockets are described as inside-out pizza. But this version has ricotta on the inside and red sauce on the outer crust. It's also larger than a typical pizza parcel. It has salami and three kinds of cheese – ricotta, mozzarella, and parmesan. Note that he uses fresh mozzarella, which many recipes refuse…
So far, we've seen oven-baked, stovetop baked, and deep-fried pizza pocket recipes. Now let's look at a skillet version. You may have noticed pizza pocket fillings are always pre-cooked because the dough is thicker than flat pizza and the cook-time is shorter. This set is 'baked' in a stovetop skillet without oil so the result is bready in texture with beautiful leopard spotting.
25. Crispy Chicken Pizza Pockets
Fusing foods is a big trend this decade. Especially comfort food fusions. So let's try this mash-up of KFC and pizza pies. You can use leftover chicken chunks. Start with samosa sheets. Fill, fold, and seal them into calzones. Then roll them in batter and breadcrumbs before baking or deep-frying. You could air-fry them but they won't stay crispy after cooling.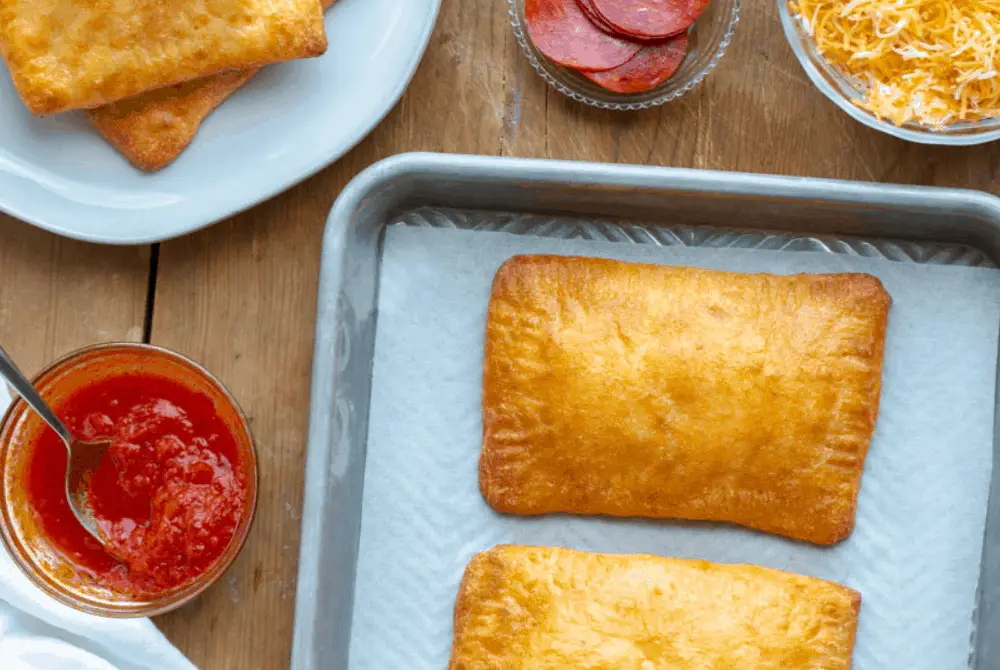 Keto recipes aim to cut out as many carbs as possible. So they often use nut flour, pork rind flour, cauliflower crusts, or chicken crusts. For this pizza pocket recipe, the dough is made from almond flour. Melt the mozzarella and beat the eggs before mixing them into the almond flour. The shape then fill with pepperoni, more cheese, and sugar-free keto pizza sauce.
27. Food Lust Homemade Hot Pockets
Hot pockets are intended as a quick, cheap, microwave snack. So even when you make them at home, you don't want to do too much work. Here's an easy pizza pocket recipe with filling options. For quickie cooking, use store-bought dough and bottled pizza sauce, ketchup, or canned tomatoes with pizza herbs. Fill the pockets with bacon, egg, pepperoni, or cheese.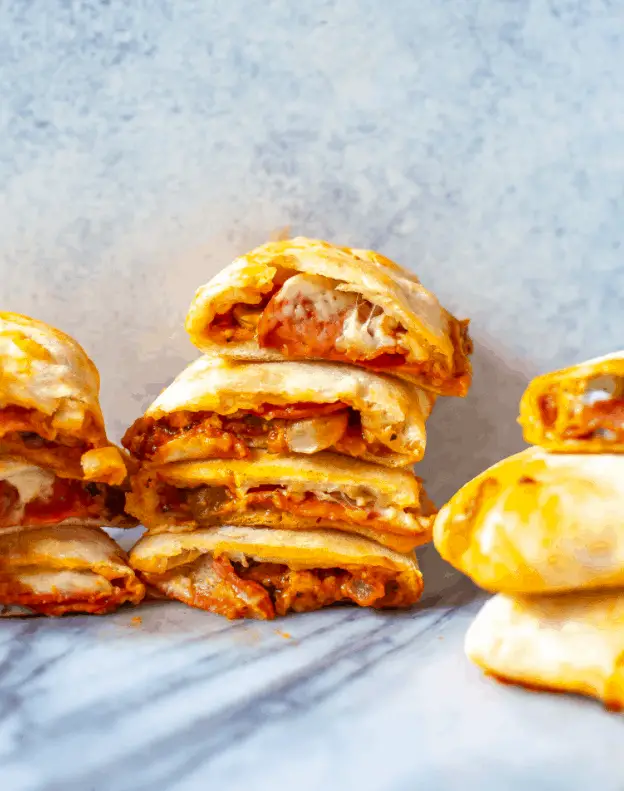 You may have heard of Canadian cheese singles. Or Canadian bacon. But Canadian pizza pockets? Are they really that different? Well, they have a wider selection of cheese. We stick to mozzarella or parmesan, or even ricotta. They sometimes extend to gouda, goat, sheep, provolone, or even Swiss. And you can fill the pizza pouch with broccoli and spinach too!
29. Shawarma Pizza Pocket
While it's not the standard recipe, shawarma is a dough-wrapped snack. So if you fold pizza toppings into your wrap and seal both sides, then yes, it counts as a pizza pocket. This recipe uses a premade tortilla, but you can use canned pizza dough. The white shawarma sauce has oregano and garlic. Add basil, olives, and Italian seasoning to enhance the pizza-like flavor.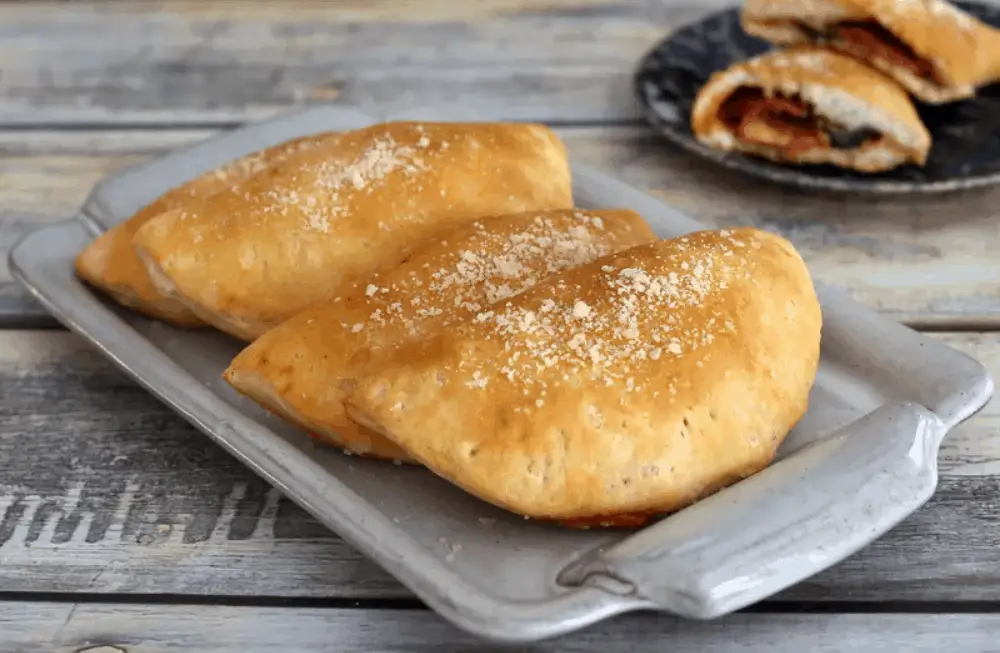 Pillsbury dough is the star of homemade pizza treats. This time, we're using their branded biscuit dough to make crunchy pizza pockets. The filling is simple – pepperoni, mozzarella, and olives. And the tomato-heavy pizza sauce has both tomato paste and tomato sauce with garlic and oregano. With pizza pockets, you want a cooked sauce to hold the fillings better.
31. Street-Style Pizza Pocket
Our last recipe is one you can quickly throw together by stuffing round flatbread. As usual, you can mute it or use English captions. But the ingredients are easily recognizable so you can follow along. This pizza pocket is soft and cake-like with cheese and chili flakes on top. Fill the pizza parcel with tomatoes, onion, sweetcorn, capsicum, more cheese, and more chili.
What's your favorite pizza pocket recipe? Tell us how you make it in the comments section!
31 Best Pizza Pocket Recipes
Ingredients
Corrine's Pizza Balloon

Momables Pizza Pockets

Homemade Pizza McPuff

Naima's Pizza Pockets

Zingy Pizza Parcel

Whole Wheat Chilli Cheese Pizza Pocket

Hebbar's Bread Pizza Pockets

Chicken Cheese Pizza Parcel

Tasty's 5-In-1 Calzone Recipe

Bon App's Gourmet Hot Pockets

Food Wishes Calzone

Vito Lacopelli's Neapolitan Calzone

Crispy Chicken Pizza Pockets

Food Lust Homemade Hot Pockets

Shawarma Pizza Pocket

Street-Style Pizza Pocket
Directions
Select your favorite recipe.
Organize all the required ingredients.
Prep the recipe in 30 minutes or less!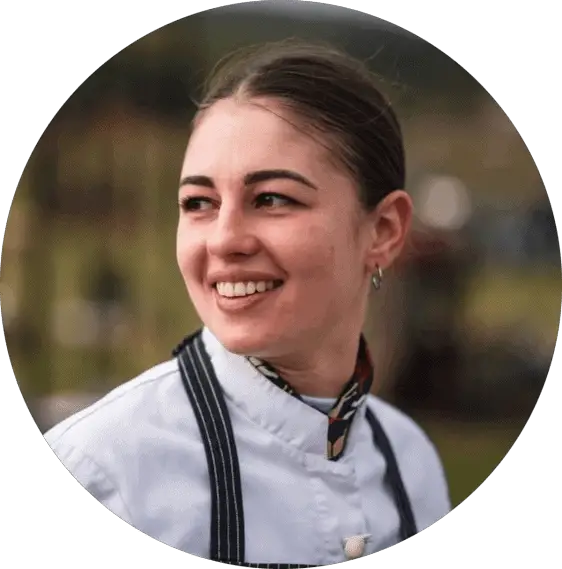 Julie has five years of experience in the restaurant industry, she decided to share her knowledge about her liking and fondness for food and pizza, of course, cooking as her love language. She's very passionate about what she's doing, making all the things she writes regarding pizza recipes, very amazing!