Turn pizza night into a cheese celebration with these 21 Best Ricotta Pizza Recipes. These pizzas are fantastic and satisfying enough for a grand celebration and delicious to be a classic, certified hit with your whole family. There won't be any single slice left!
There's just something so mouth-watering about ricotta pizza toppings. From its strong, tangy, but creamy feeling, there are a bunch of flavors to discover and explore. Pair them with different veggies such as arugula, kale, and spinach, there's no more need for meat toppings.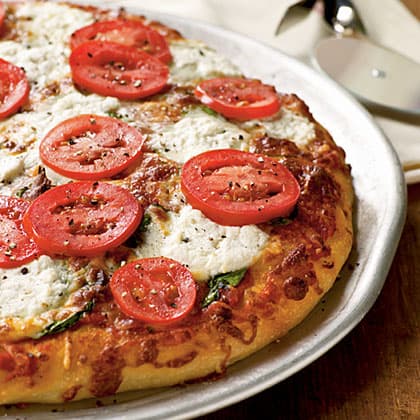 Are you awaiting a special family occasion? Well, whip up this delicious spinach and ricotta pizza brought to us by Diane Morgan. This pie is loaded with humble ingredients of plum tomatoes, baby spinach leaves, virgin olive oil, and garlic.
Its crunchy pizza crust is topped with a New-York-Style pizza sauce instead of the regular tomato one. Plus, lots and lots of parmesan, mozzarella, and ricotta cheese, Serve this delightful pizza with a potato salad or French fries for a fantastic meal. You can slice it up into six smaller squares and pass it as an appetizer!
2. Ricotta and Spinach Pizza – Italian Style
Treat your loved ones to this Italian-style ricotta and spinach pizza. It blends perfectly with a refreshing glass of red wine. A creamy tomato sauce acts as the solid base for the toppings of baby spinach leaves. Pecorino and mozzarella cheese kick every pizza slice to the highest level.
One of the best parts is that you can make use of a store-bought pizza dough making this ricotta pizza recipe much easier to prepare. Just spread the tomato sauce, lots of cheese, and spinach and you're ready to go!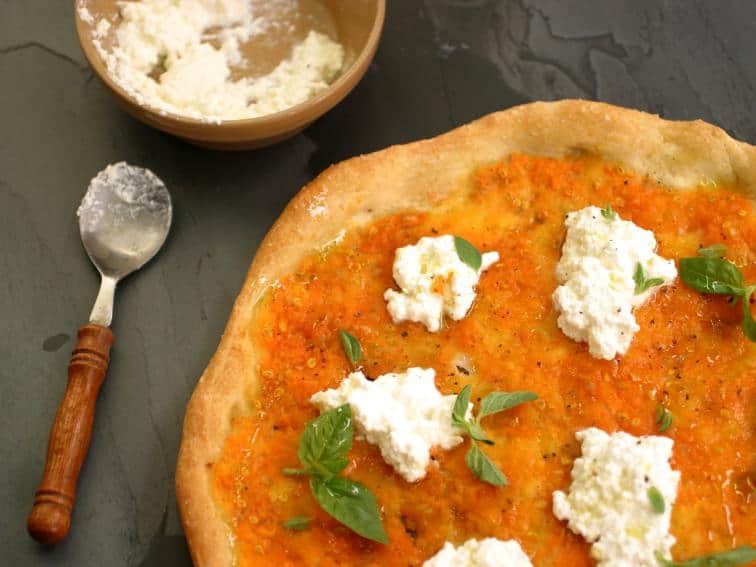 This ricotta and tomato pizza recipe is the ultimate option for the summer and spring seasons. It adds fresh summer veggies like yellow and red tomatoes and seasonal herbs of oregano, basil, and parsley on just a simple pizza dough. But the exciting part of this pizza is the ricotta cheese! Spooned generously, it's an awesome addition to your family menu, making sure that no one leaves the dining table hungry!
4. Simple & Easy Ricotta Pizza Recipe
Are you looking for a meal that's delicious, mouth-watering, picture-perfect, and easy to make? This simple ricotta pizza recipe is no doubt the ultimate answer. The fresh herbs and seasoning make it spicy and peppery. But of course, the real star of the show is the four-layered punch of cheese. Calling for ricotta, feta, parmesan, and mozzarella cheese, it's a cheese and pizza lover's dream come true!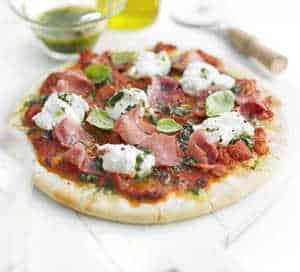 Ham lovers would not be able to get enough of this ham and ricotta pizza recipe! I must say it's literally drool-worthy. A homemade pizza crust is topped with ricotta cheese, tomato sauce, slices of ham, and fresh pesto. Finish off your pie with crushed pepper flakes and fresh parsley or basil. Perfection!
6. White Pizza Recipe With Garlic Sautéed Spinach & Ricotta Cheese
Now, this white ricotta and spinach pizza is a real, delightful treat. If you wish to be impressed, this pizza recipe is definitely the way to do it. The crisp pizza crust is topped with baby spinach, and three kinds of cheese-ricotta, parmesan, and mozzarella! Does it get any better than that? Just a warning: after one bite of this flavorful ricotta pizza, you would never want to share it!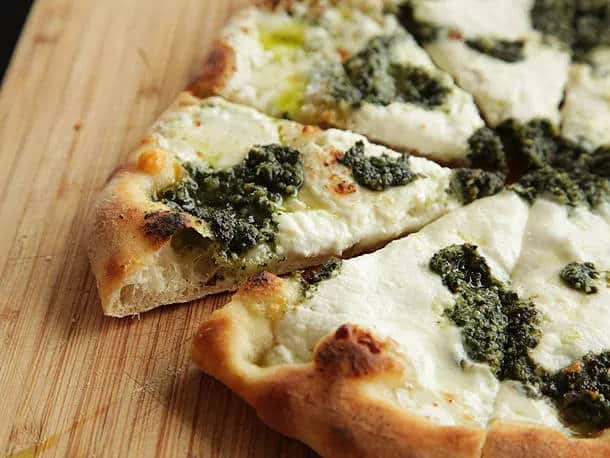 This ricotta, pesto, and mozzarella pizza breaks with traditional pizza conventions. It's amazingly rich and filled with pine nuts, fresh spinach, and basil leaves. Surprisingly, this ricotta pizza has no regular tomato sauce.
Instead, the fantastic flavors come from pesto, lemon zest, ricotta, and mozzarella cheese. And yes, don't hold back on using garlic. As the pizza cooks inside the oven, the garlic becomes more fragrant and delicious!
8. Ricotta Cheese Pizza Recipe
Do you have a fancy, romantic date night coming up? This ricotta cheese pizza is the perfect meal to savor and enjoy with a cool glass of dry white wine and your loved one, of course. This pizza is layered with ricotta and mozzarella cheese, fresh tomatoes, yellow pepper, oregano, and Turkey pepperoni. It's definitely packed with flavor. And in case you have few slices left, it's just as flavorful and delicious to save for the next day.
Are you in the mood for a mouth-watering, cheesy, and delightful pizza? This sausage and ricotta pizza definitely checks all boxes. It includes Castelvetrano olives and bell peppers paired with a bright tomato sauce and Italian sausage that's so hard to resist. And yes, don't be shy about the cheese. This recipe is piled with ricotta cheese for a creamy but sharp kick!
10. Keto Spinach Ricotta Pizza Recipe
If you're having a hard time reaching your daily green and veggie quota, try this fantastic keto spinach ricotta pizza! Instead of the regular pizza flour, this recipe uses almond flour that is much healthier, lower in carbs, and gluten-free. Better yet, it features different toppings of spinach pesto, ricotta cheese, and pine nuts. So go ahead and have a slice-this pie is basically good and healthy for your body!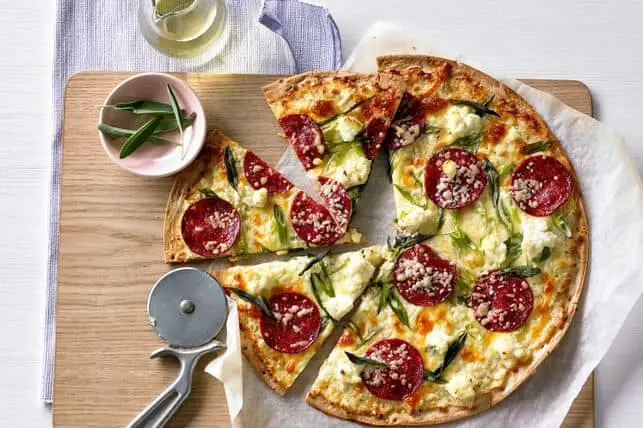 Gather round ricotta cheese lovers; this flavorful pizza is for you. The ricotta cheese has rich and bright flavors together with lemon zest and parmesan cheese giving a creamy texture that works so well on any pizza. Pair it with hearty salami, spring onions, and sage, and it's too delicious and good to resist!
12. Zucchini Flowers & Ricotta Pizza Recipe
Zucchini flowers and ricotta cheese on a pizza? Yes, you read that right! While it might sound a bit different from the usual, trust me, this pie is absolutely delicious! A handful spread of ricotta cheese makes the perfect base of this pizza.
Smother the chewy pizza crust with a generous amount because you will love it! Top this pie with Sicilian anchovies, zucchini flowers, and mozzarella cheese. Sprinkle it with salt and pepper for the final touch.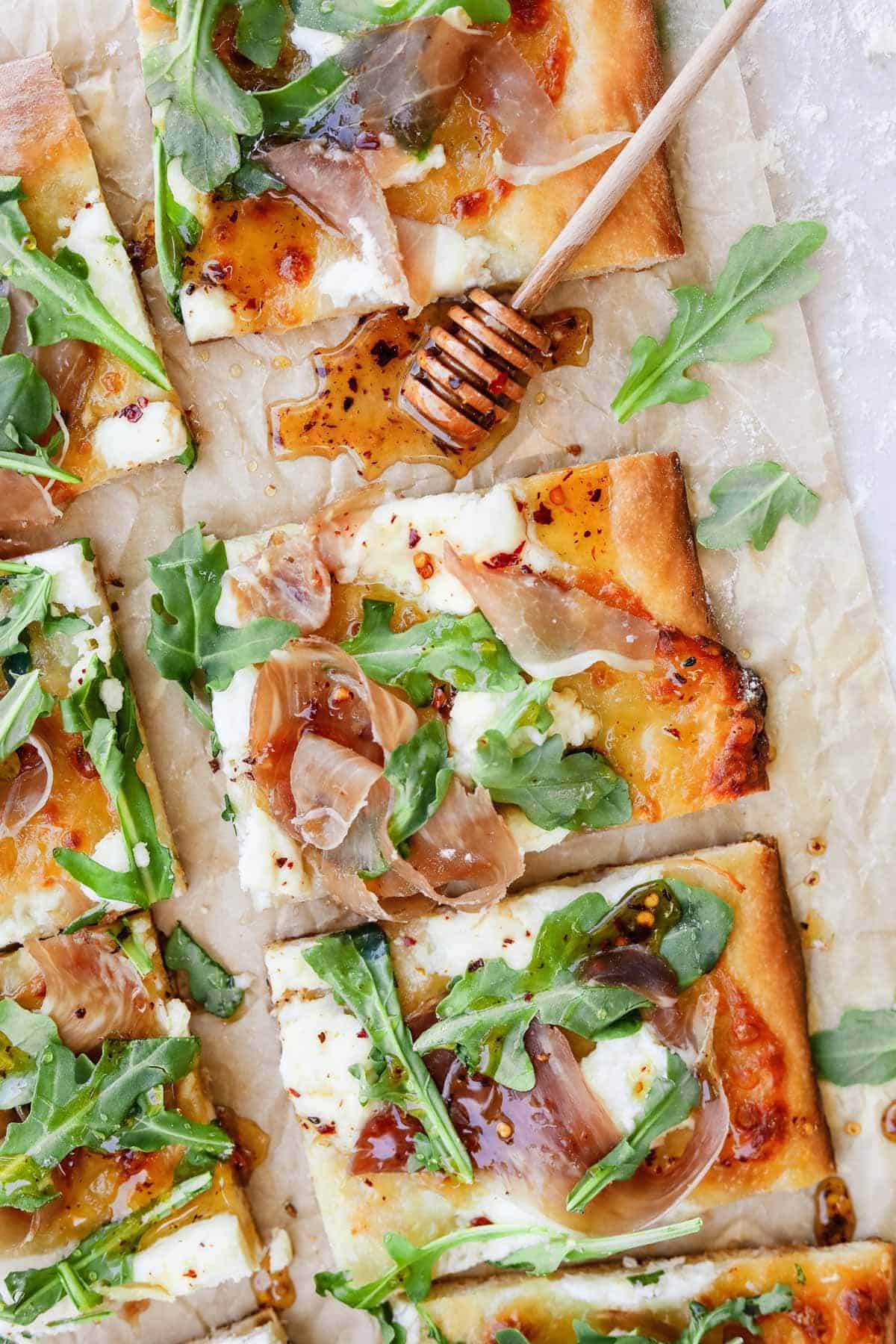 Are you running out of time? No worries because you can still dig into a mouth-watering ricotta pizza recipe! This Prosciutto pizza with ricotta is filled with so much goodness. And it only takes twenty-five minutes to prepare! The secret is to save yourself a lot of time by using a pre-made pizza crust! Garnish this classic white pizza with arugula, prosciutto, and ricotta, and drizzle it with hot honey. Enjoy!
14. Asparagus Ham Ricotta White Pizza Recipe
Do you get no ideas for lunch or dinner? Try out this ricotta white pizza! You only need a few kitchen ingredients and thirty minutes of your time. Making homemade pizza does not be so stressful and a hassle. Even the white pizza sauce in this recipe would only take a few minutes to make.
Load your pie with asparagus, red pepper, fresh herbs, white cheddar, and smoked ham for a delicious burst of flavor. Don't hesitate on the pizza toppings and fill the pie as much as you like!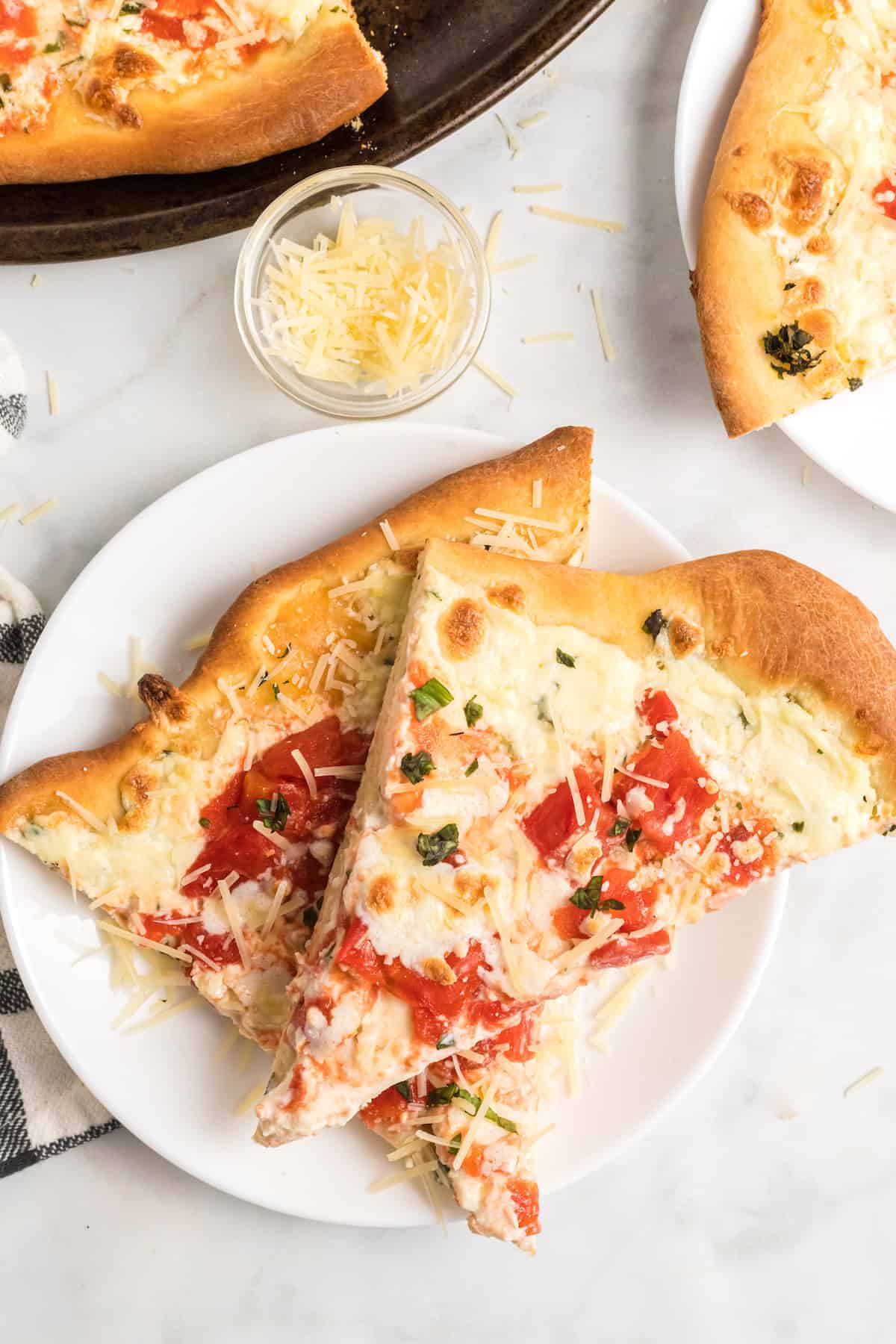 Admit it or not, you can't deny that tomato and basil are classic pizza toppings. If you are not the biggest fan of tomato and basil, maybe you have not tried this pizza recipe that tastes this good. In our opinion, tomatoes and basis are totally underrated!
They're rich, bright, and full of juicy flavor. They blend so well on any pie. So, give them a try. Finally, pair the tomato and basil with other delicious toppings such as basil leaves, mozzarella, and pecorino cheese. Now, that's the perfect pizza!
16. Lemon Ricotta Garlic Pizza Recipe
This recipe isn't the average pizza, guys. It includes a bunch of cheese such as ricotta, mozzarella, and pecorino that will surely melt in your mouth. Meanwhile, lemon, hot honey, and garlic add a strong hint of flavor to all those creamy cheeses. The flavors are so rich and delightful that you won't miss the taste of ricotta cheese even for one second.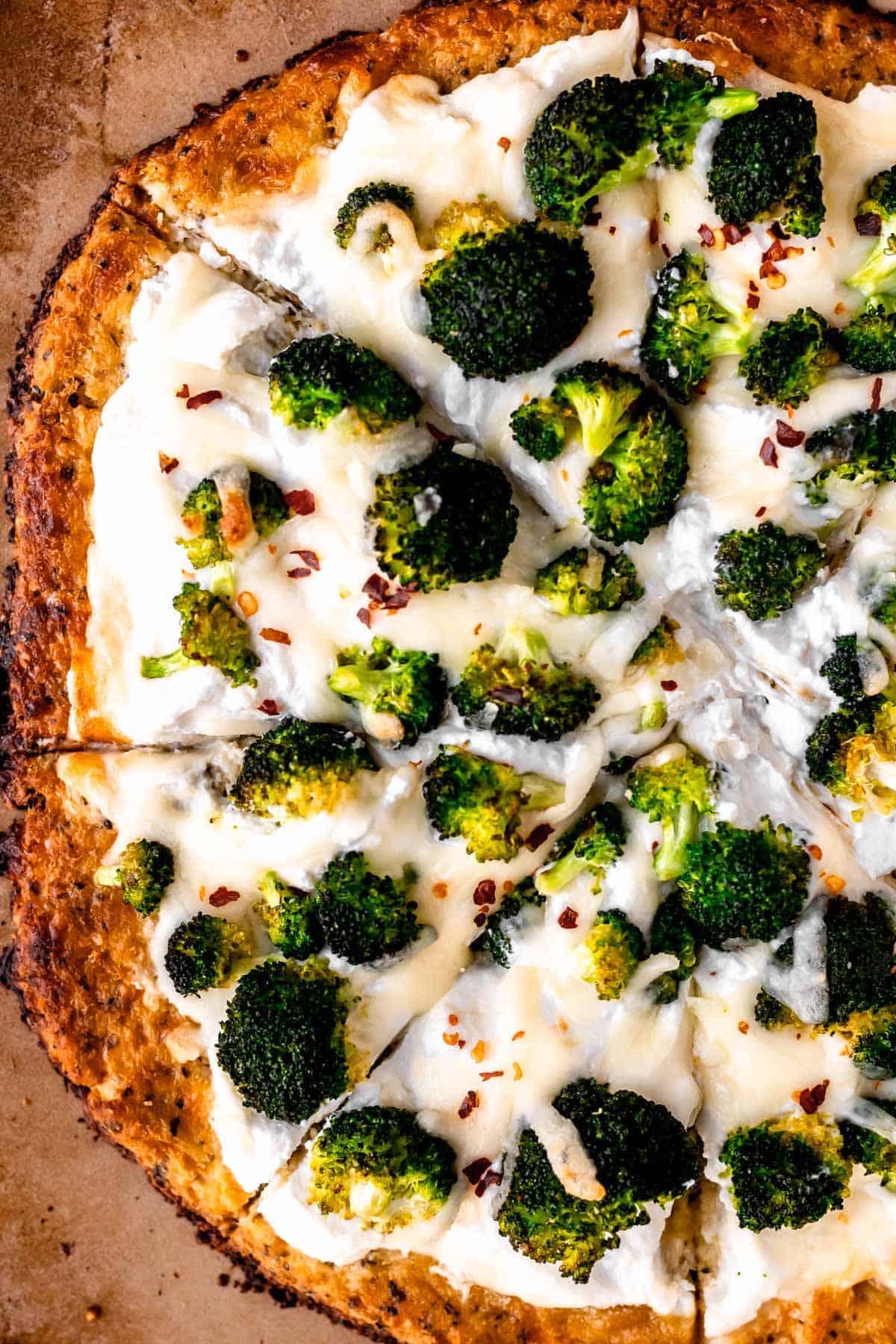 If you're looking for a vegan, gluten-free, and diet-friendly pizza, this recipe is simply sensational. The crispy and tender broccoli pairs perfectly with the creamy and tangy mozzarella cheese. They're especially delicious when topped on a crunchy pizza crust and wrapped in ricotta cheese. Serve this flavorful pizza with roasted veggies, soup, or salad, and that's dinner-ready!
18. Prosciutto Corn & Ricotta Pizza Recipe
Turn your favorite prosciutto into a fantastic and satisfying dinner meal. Bake up this prosciutto, corn, & ricotta pizza. Spread a tasty ricotta cheese mixture over the pizza dough, top it with fresh mozzarella cheese, and whole-kernel corn. Believe me, it's that easy. Finish this ricotta pizza with a drizzle of hot sauce and enjoy!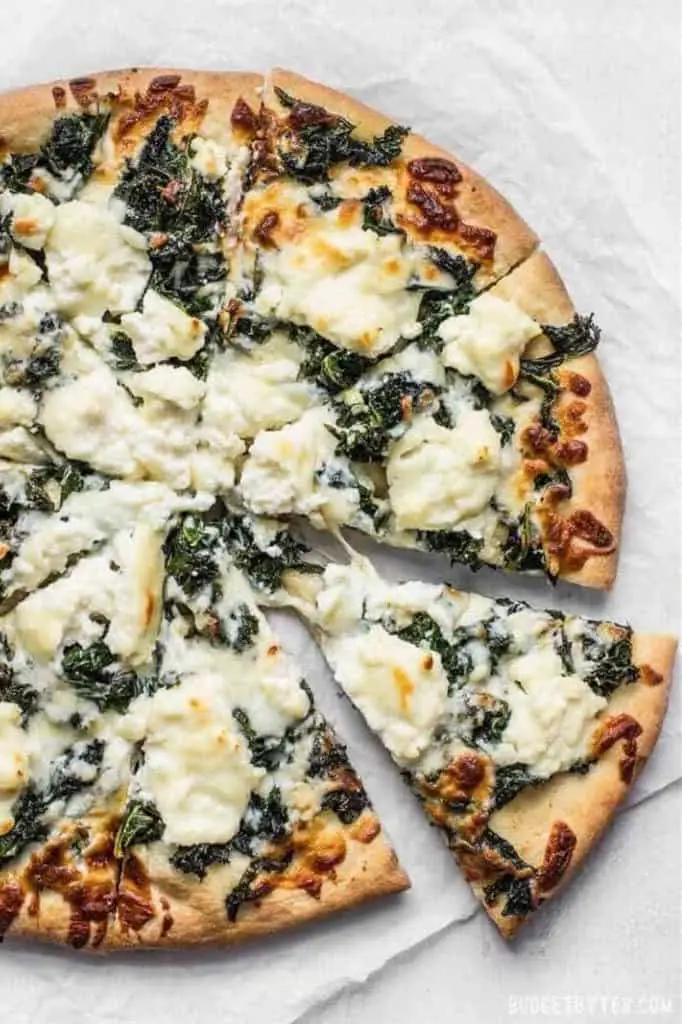 Pizza with kale and ricotta cheese makes the perfect summertime treat. It's hearty and delicious like a good pepperoni pizza. And the blend of kale leaves, shredded mozzarella, and whole milk ricotta are all the toppings you need. Top it with more cheese for creamy goodness. Yum!
20. Easy Ricotta & Arugula Pizza Recipe
Shake up family dinner night and bring something healthy but delicious and extra special to the table. Cook up this ricotta and arugula pizza recipe. Trying different toppings can be so thrilling and exciting.
And the blend of arugula, mozzarella, and ricotta cheese makes for an amazing combo. It just takes a little time to do your own pizza crust. But if you're short of time, you can always use a ready-made pizza crust available in your local grocery.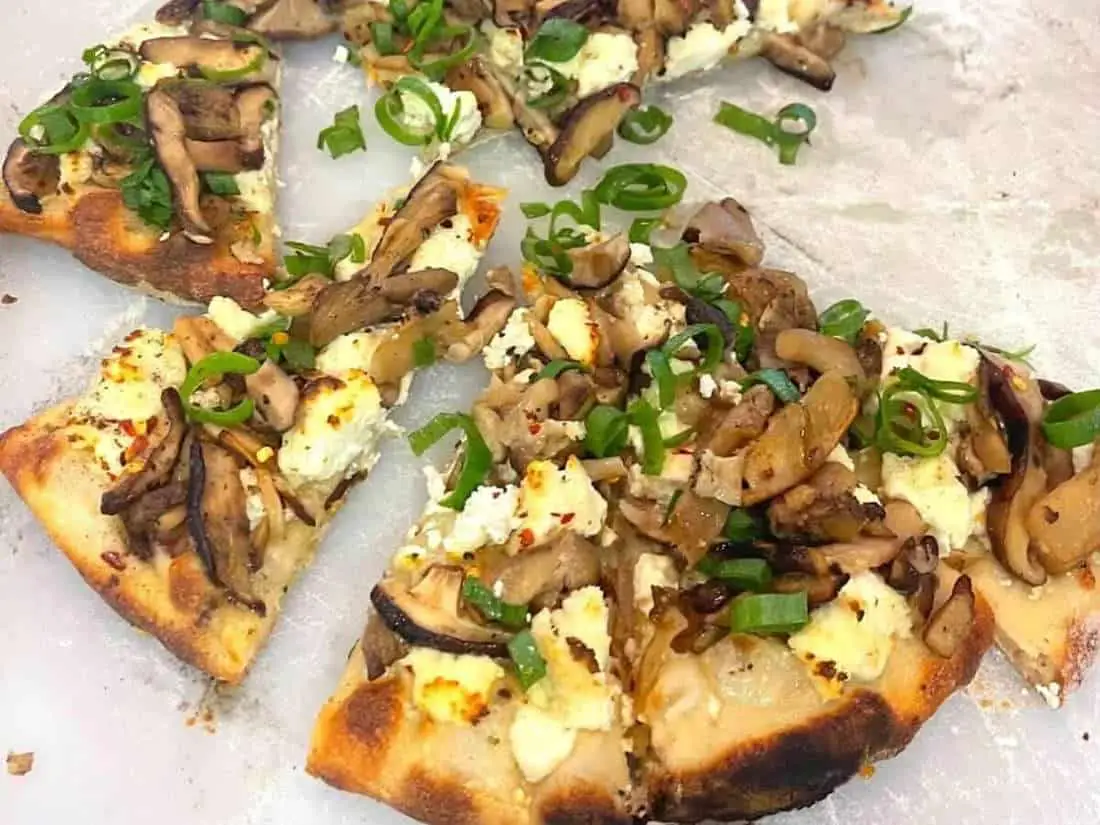 Serve this ricotta white pizza with oyster mushrooms at your next dinner party. To make this sensational pizza, fill the pizza dough with shredded mozzarella cheese and one cup of ricotta. Then, top it with gourmet or oyster mushrooms, fresh green onions, pepper flakes, and truffle salt. Your friends will absolutely love it!
Rounding up the 21 Best Ricotta Pizza Recipes
Indeed, while some of the recipes on this list fall under the heading of healthy and vegetarian pizza, others feature meat toppings such as ham and salami for a hearty twist. Still, if you're looking for something delicious but healthy and relatively easy to prepare, you can find a lot of options on these 21 Best Ricotta Pizza Recipes. Bon Appetit!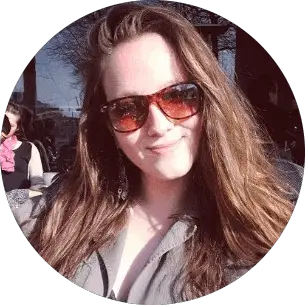 Barbara is an enthusiastic food-exploring person that goes through different culinary experiences. She got inspired by creating a pizza blog post after she tasted one of the best-selling pizzas in Toledo.