Do you ever feel tired and get bored of the same old pizza meals? If you're on a strict, healthy diet, adding delicious, creative, but healthy ingredients to your menu is the only way to spice things up in your kitchen.
With these 20 Delicious Spinach Pizza Recipes, not only can you enjoy mouthwatering flavors without breaking your keto or vegan diet, but they are also straightforward enough for the most beginner of home cooks and bakers. So, what are you waiting for? Pull out your baking trays, crank the oven, and let's bake some fantastic spinach pizza recipes.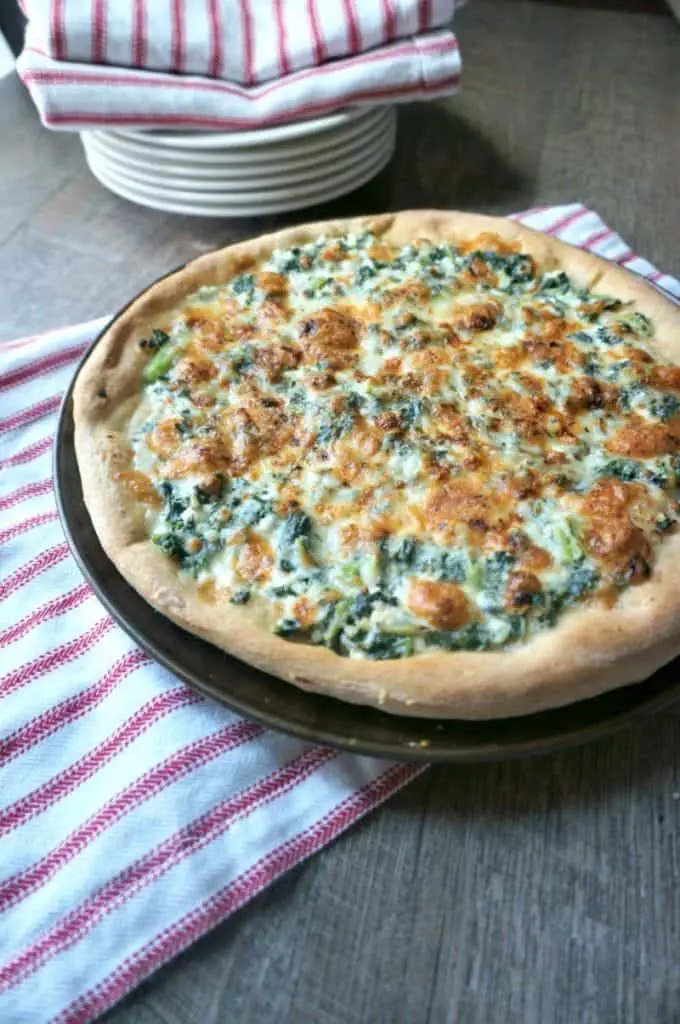 Whipping up something mouthwatering, delicious, but healthy for family dinner is made easy with this recipe from Kristen Chidsey. Say hello, White Spinach Pizza Recipe! This savory meal is made of spinach, Italian herbs, creamy ricotta, and a combination of Parmesan and mozzarella cheese that captures the traditional Florentine flavor.
Best of all, your kitchen oven will take care of everything so that you will have more time for cooking and hosting duties!
2. Easy Creamy Spinach Dip Pizza Recipe
The spinach dip in this pizza recipe is a combination of spinach, butter, cream cheese, and milk. Everything about it screams of delightful comfort food. On top of everything, the spinach pizza pairs perfectly with any side dish you want, such as tornado potatoes, onion rings, wintry fruit salad, stuffed dinner rolls, and tomato soup.
Rich and delicious, this easy-peasy recipe would make fantastic dinner meal or a lovely snack for your next pajama party that would not break your budget!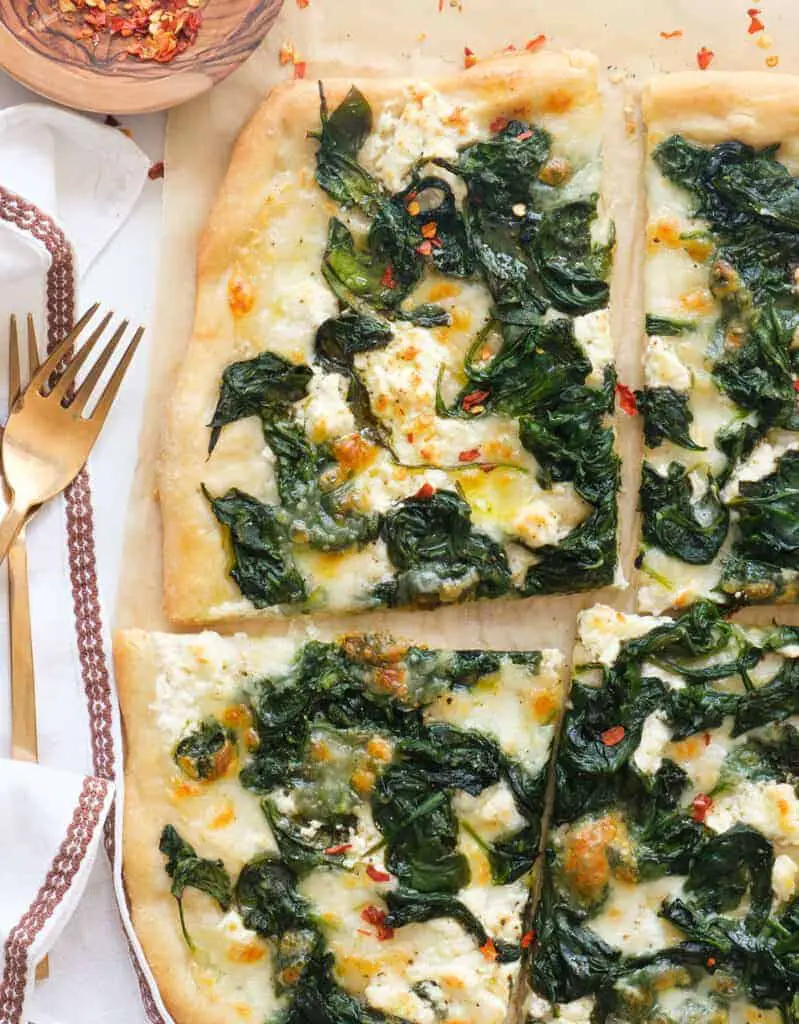 A merry mix of juicy garlicky spinach, tangy feta cheese, and creamy mozzarella, this pizza recipe is utter pure bliss! This traditional meal is ridiculously cheesy, crispy, and creamy, that it would definitely make vegetarians and meat lovers happy and satisfied!
And to top it all, the freshly ground black pepper, red pepper flakes, and extra drizzle of virgin oil gave it enough bold flavor to keep things more exciting and interesting. Serve this spinach pizza as an appetizer before lunch, and I'm telling you it will be gone in a snap!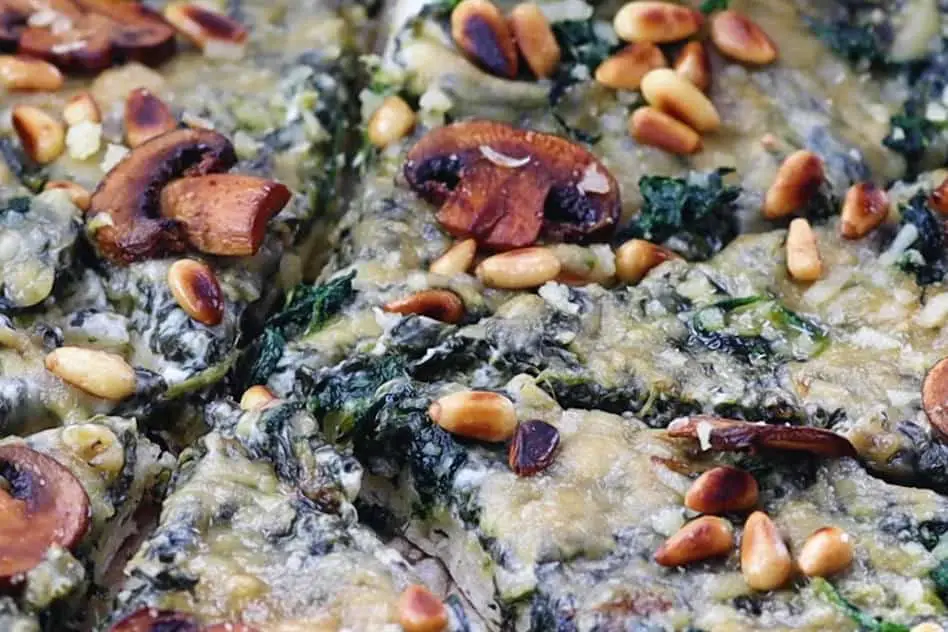 If you want to keep your strict food diet in check, but still wish to enjoy delicious holiday meals, try this vegan-inspired garlic mushroom and spinach pizza recipe.
Filled with plant-based ingredients such as dairy-free cream cheese, mushroom, fresh spinach, and even toasted pine nuts, one slice is a full, satisfying meal on its own. This spinach pizza recipe is 100% proof that you don't have to give up taste and flavor just to be slim and healthy!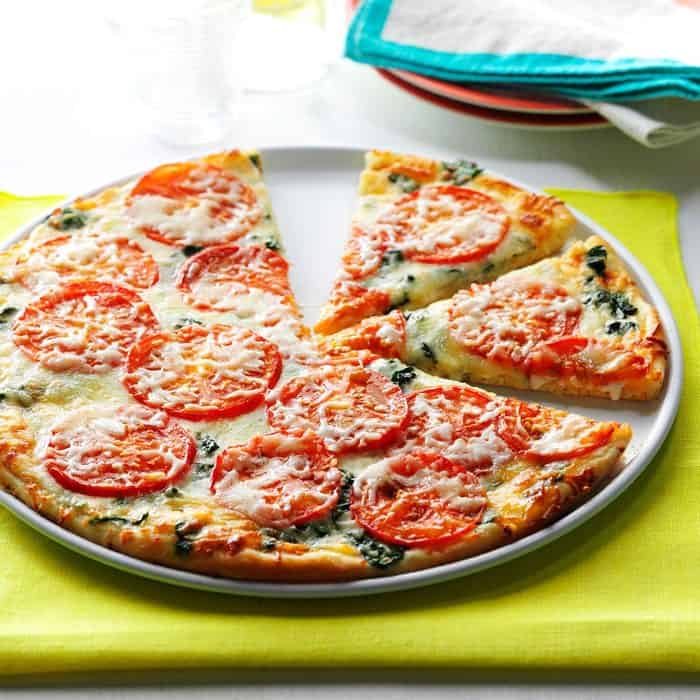 Give this spinach pizza recipe a whirl if you want a healthier and vegetarian alternative to your usual meat-based pepperoni and sausage pizza. It's fresh, beautiful, green, and bright, and the spinach flavor shines in every bite. Top it all with a shredded Italian cheese blend for a hint of tangy creaminess and tomatoes for more color!
6. Martha Stewart's Three Cheese Spinach Pizza Recipe
Weekend family dinners will be more memorable with this three-cheese spinach pizza recipe from Martha Stewart. This traditional pizza recipe would turn a familiar, homely dish into an irresistible, enticing meal. It's loaded with fresh spinach, young Pecorino cheese, buffalo mozzarella cheese, and Gruyere cheese. And yes, it's oozing with lemon wedges!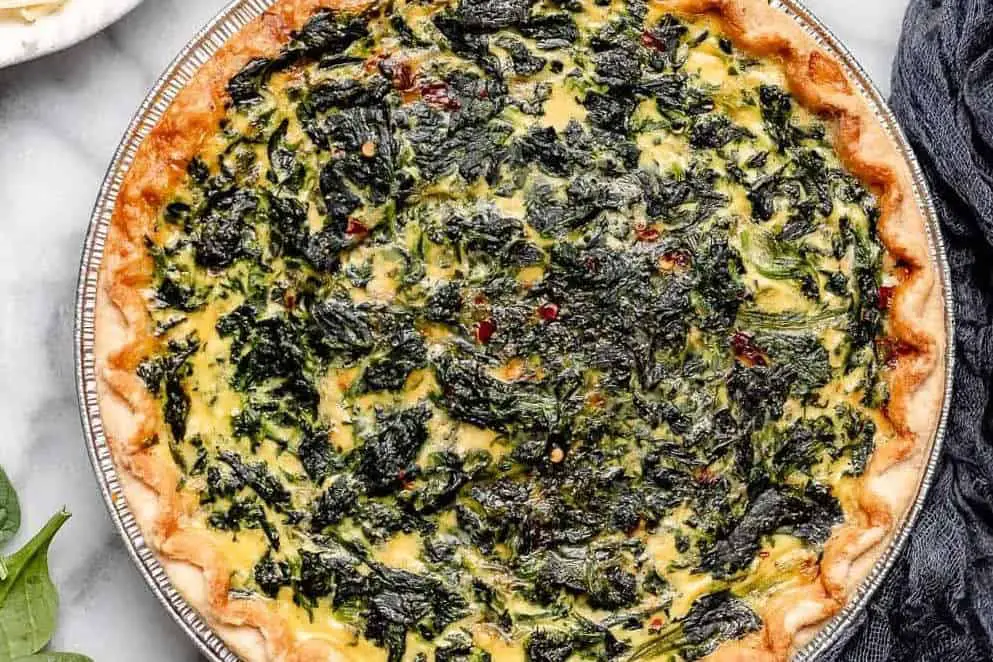 You do not really have to be an expert cook or experience baker in the kitchen to whip up this impressive recipe known as "The Best" spinach pizza ever. With layers of spinach, marinara sauce, herbs, grated Parmesan, and mozzarella cheese, this pizza meal has a lovely blend of flavors, aromas, and textures. On top of everything, it's so easy and convenient to make that you can do it even with your eyes closed!
8. Traditional White Spinach Pizza Recipe
Truly, there's nothing like crunchy and crispy pizza for a special treat to yourself especially when it's loaded with all the flavors of Christmas and Thanksgiving holiday. This homemade traditional white spinach pizza is definitely one meal you won't want to miss out on. Flavored with fresh spinach, warm herb spices, a dash of red pepper flakes, and bits of ricotta crease cheese, this pizza treat is divine!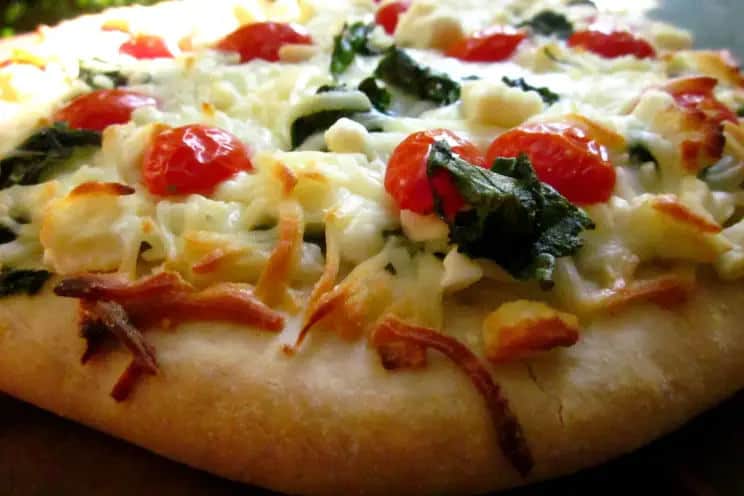 I've served this spinach garlic pizza at countless family, holiday, and birthday dinners, and yes, it's a certified hit. Combining chopped spinach, plum tomatoes, shredded mozzarella cheese, feta cheese, rosemary, garlic, and herbs truly makes a phenomenal spoonful.
It's perfect for grand celebrations and intimate family gatherings, but it's also basic and simple enough for the most novice cook in the kitchen.
10. Angel's Spinach Pizza Recipe
I have a little confession to make as much as I love traditional pizzas loaded with pineapples, sausage, pepperoni, ham, and bacon in the middle of the dining table, I much prefer a vegetarian-inspired pie. And this spinach pizza is my newest obsession! For the dough, you'll only need flour, milk, and butter to make it soft and fluffy.
You'll only need flour, milk, and butter to make the pizza dough soft and fluffy. From there, you must season it with garlic, pepper, and salt. Toss in the spinach and cheese, pop it in the kitchen oven, and voila – it's all set!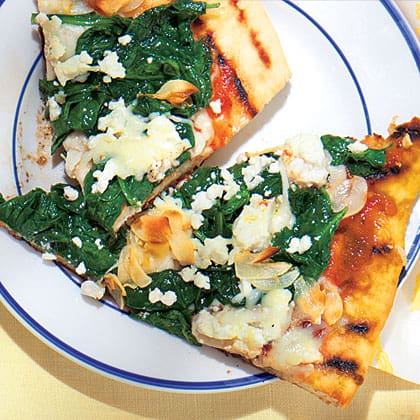 Please don't get me wrong: I love meat-based pizzas because they're the best. But sometimes, it can be a bit heavy, soggy, and mushy. So, if you're like me who has been craving all the amazing flavors of pepperoni and sausage pizza but with a bit of texture and a healthier version, this spinach-feta pizza is the way to go. Just look at it- the crunchy, crispy, and caramelized edges of the pizza crust are calling your name!
12. Spinach and Mozzarella Pizza Recipe
This foolproof spinach and mozzarella pizza recipe will definitely make you the star of holiday dinner. The texture of this spinach pizza is juicy, tender, and crispy every single time, making it a fantastic, crowd-pleasing sidekick for your favorite potato soup and Caesar salad.
Mix and match mozzarella cheese, cocktail tomatoes, and sweet paprika powder with spinach for a burst of flavor. And yes, if you're looking for a dish to impress your precious loved ones this season, this pizza recipe will surely get the job done!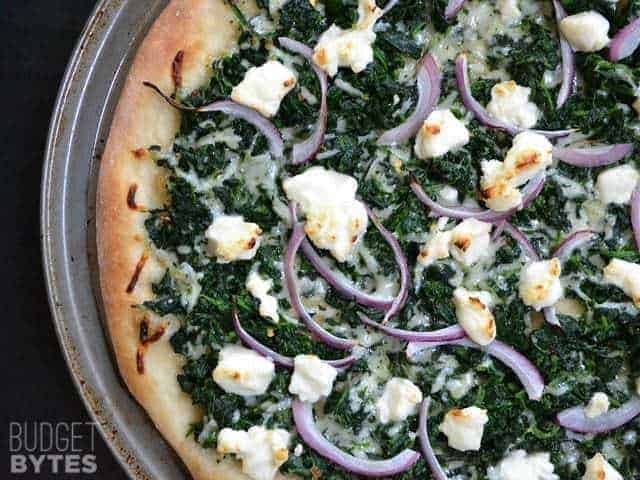 Vegetables like spinach are such an underrated entrée that rarely appear at the dining table. While often overshadowed by ham, chicken, and pepperoni, a spinach ingredient is something fantastic to include in a pizza recipe. And this white spinach pizza recipe from Beth just proves that.
Mix the spinach with goat cheese and mozzarella, then bake it with seasonings of crushed red pepper, garlic powder, and red pepper. After baking in the oven, the spinach pizza comes out creamy and delicious with a hint of sourness! This one-pan dish will save your time during the busy holidays, so why not try it this coming Thanksgiving?
14. Cheesy Sausage & Spinach Pizza Recipe
Meat and vegetables are such a winning combination. So, this spinach with juicy, crispy, and creamy sausage definitely fits the bill. At first sight, it may look fancy, but I swear it's a breeze to create! Sure, baking in the kitchen oven might take a little time, but you'll use frozen spinach to keep things fuss-free!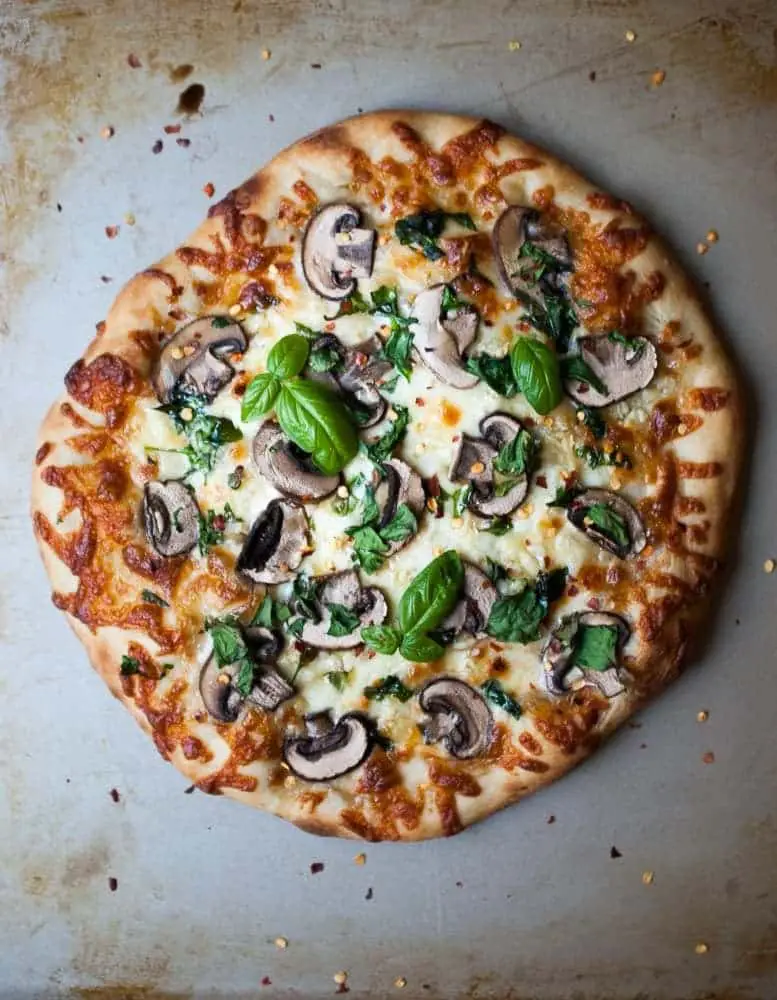 One of my favorite things about Christmas and Thanksgiving holiday cooking is all about the happiness and satisfaction that comes with it. This unique pizza recipe from Laney Schwartz includes fresh and bright vegetables of spinach, basil, red pepper flakes, mushrooms, and garlic, so the table feels bright and merry. And it doesn't get more fulfilling than this mushroom, garlic, and spinach pizza recipe that's perfect to pair with your favorite holiday side dishes!
16. Spinach Egg Pizza Recipe
This wholesome and mouthwatering dish will definitely give you a perfect solution for busy mornings. The creamy cheese combined with the egg gives a fantastic twist of salty richness. The spinach adds a healthy touch too. All the ingredients takes this classic pizza recipe up a notch, offering you a magical burst of flavor that is nothing short of delicious!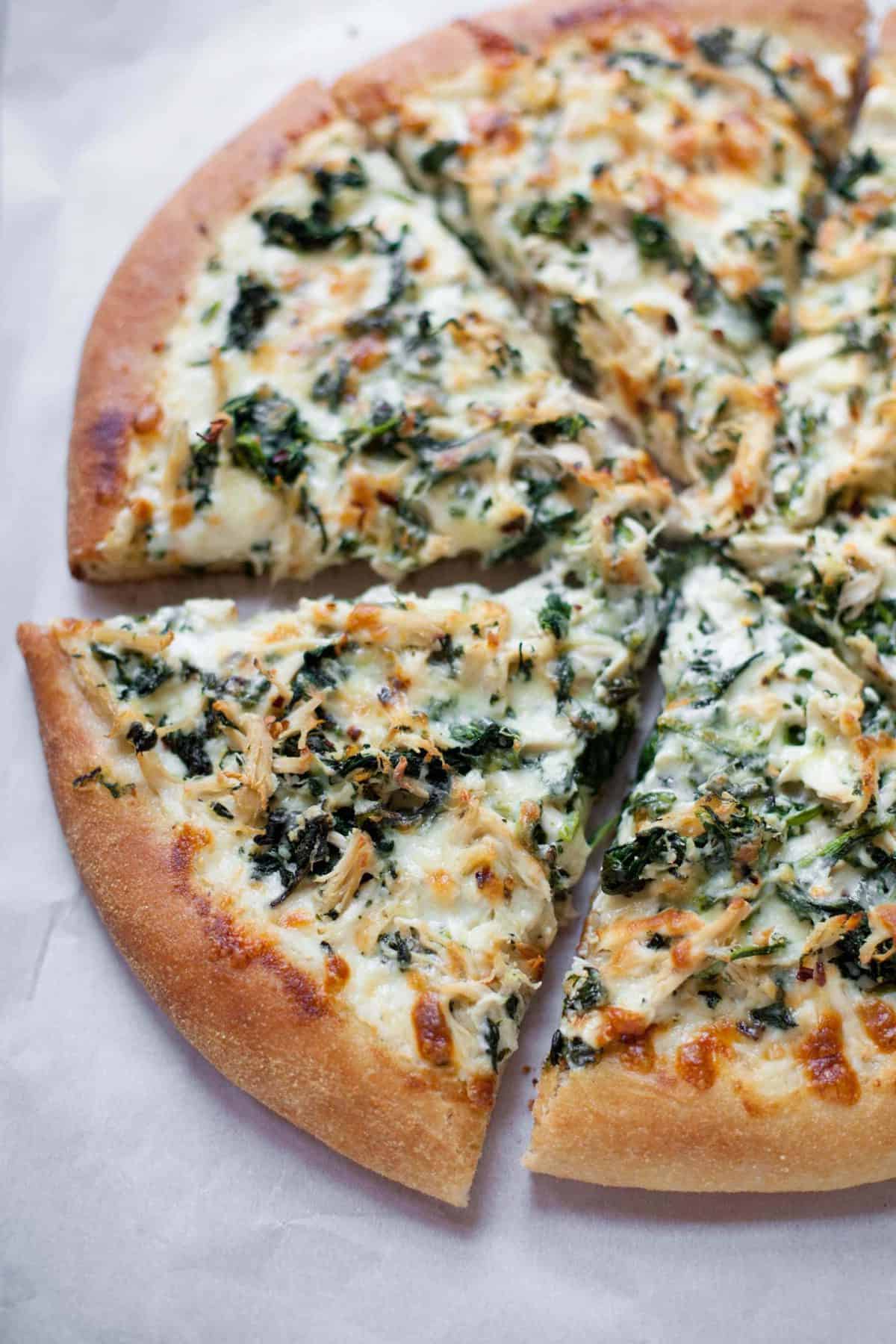 The vegetarian blue cheese, yogurt, flat mushrooms, and red onion on top of spinach produce an excellent balance of flavors. The delightful combination of these ingredients comes together and gives a memorable culinary experience.
On top of that, this dish can go really well with different sides like sweet potato curry, seasonal salads, and broccoli pasta. With just a few steps and little time in the kitchen oven, you can have a delicious lunch on the dining table in no time.
18. Spinach and Feta-Stuffed Pizza Recipe
Nothing will be much worse than having a slice of dry or bland pizza. What a total family dinner buzz kill! But don't worry because this spinach and feta-stuffed pizza recipe is designed to give you and your family a melt-in-the-mouth experience every single time. And yes, it is a "set it, cook it, and forget" kind of meal, and that's a double win!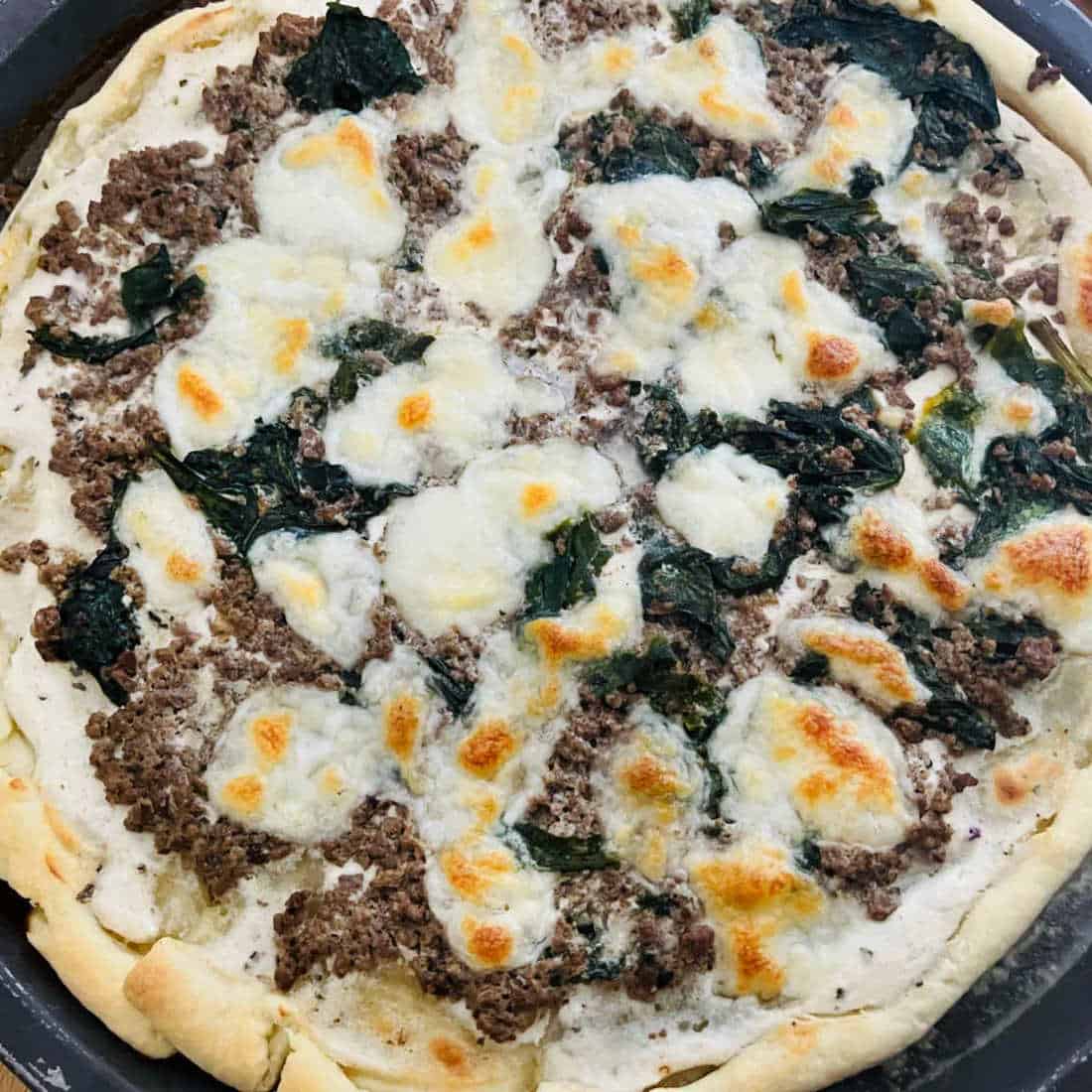 This flavorful recipe combines Italian beef, ricotta, and mozzarella cheese to make the most addictive pizza. It's rich, hearty, creamy, and healthy, all thanks to the fresh spinach! You'll also like that it blends and comes together in just half an hour-perfect if you are really pressed for time.
20. No-Bake Creamy Spinach Pizza Recipe
Make your life easier during parties by cooking this creamy spinach pizza recipe. Every bite is juicy and tender, with a crispy brown pizza crust that makes every palate swoon! To admit it, there's a culprit behind this pizza's recipe-certified hit and success.
Using Italian herbs combined with mozarrella cheese and cayenne powder brings out more the spinach's flavor. Serve this with your favorite salad and pasta to complete the ultimate dinner feast.
Wrapping Up the Best Spinach Pizza Recipes
Discover the one and only solution to indulge and crave in your pizza cravings while keeping it guilt-free and healthy with these 20 Best Spinach Pizza Recipes. Packed with freshly chopped spinach and definitely low in carbs, these pizza recipes give customizable options for everyone's taste buds, even vegans and meat lovers alike.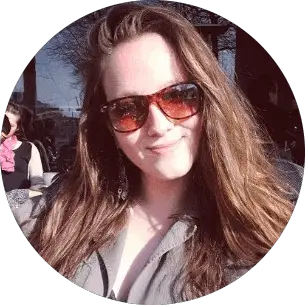 Barbara is an enthusiastic food-exploring person that goes through different culinary experiences. She got inspired by creating a pizza blog post after she tasted one of the best-selling pizzas in Toledo.