Are you tired of turkey sandwiches and looking for something new? Today is your lucky day. I created this list of the best turkey pizza recipes just for you.
One of the most exciting things about Thanksgiving is the thought of that delicious full turkey on the dining table. But this excitement might diminish when you realize just how many leftovers you'll have after Thanksgiving day.
Not to worry, we have got you covered. You no longer have to trash all those leftovers; instead, you can use them to try one of the fantastic turkey pizza recipes listed below.
First, we have the Margherita Pizza.
 It is an upgraded version of a cheese pizza. The significant difference is that the Margherita turkey pizza contains turkey, tomatoes, and virgin oil, unlike cheese pizza.
This pizza is perfect for those who appreciate a simpler, traditional pizza flavor. It is delicious and super easy to prepare.
2. BBQ Turkey Pizza
You are missing out on a lot if you have yet to try the BBQ sauce on turkey. It is similar to the BBQ chicken pizza, but you replace the chicken with a turkey here.
Always use small amounts of turkey for this pizza. You want the turkey flavor to be consistent with other ingredients.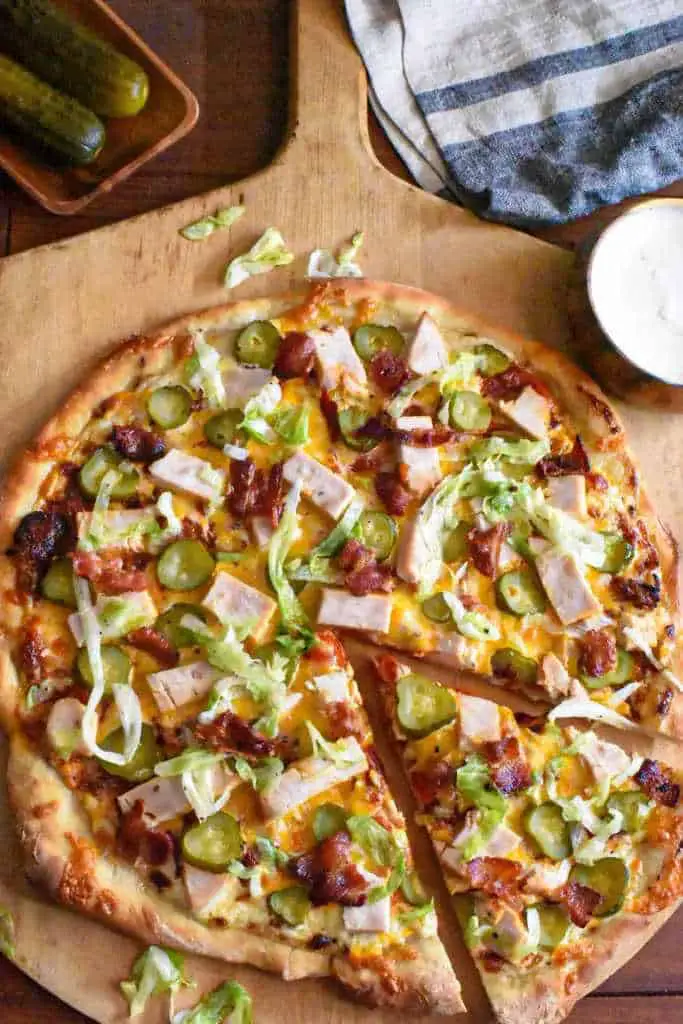 The idea of turkey club pizza may not sound so great. But if you ever try it, you won't be disappointed.
The ingredients used for this recipe are similar to the ones used for regular turkey sandwiches. After cooking the pizza, you can add salt and peppered lettuce to taste.
4. Collard Green and Smoked Turkey Pizza
Are you a fan of collard greens? Switch things up a bit and incorporate them into your favorite pizza.
This recipe is easy to make and consumes less time than most pizza recipes. You can use provolone or mozzarella as toppings and a little seasoning to taste.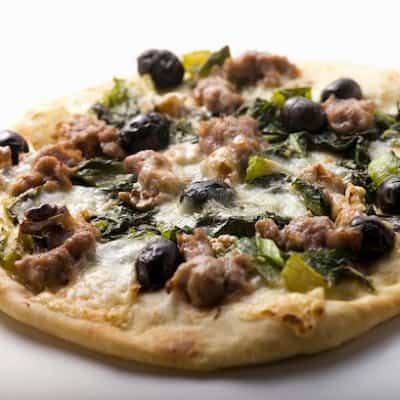 Are you conscious of your calorie intake? This one's for you. It contains a lot fewer calories compared to other turkey pizza recipes.
It is easy to cook, and in 10 minutes, you have your pan of freshly baked pizza. Put a baking sheet over the pan before transferring the pizza to achieve a crispy texture.
6. Thanksgiving Leftover Pizza
What is Thanksgiving without the delicious pile of leftovers ready to be consumed the day after?
These leftover turkeys can be rolled into pizza dough and topped with mashed potatoes, cheese, and turkey gravy.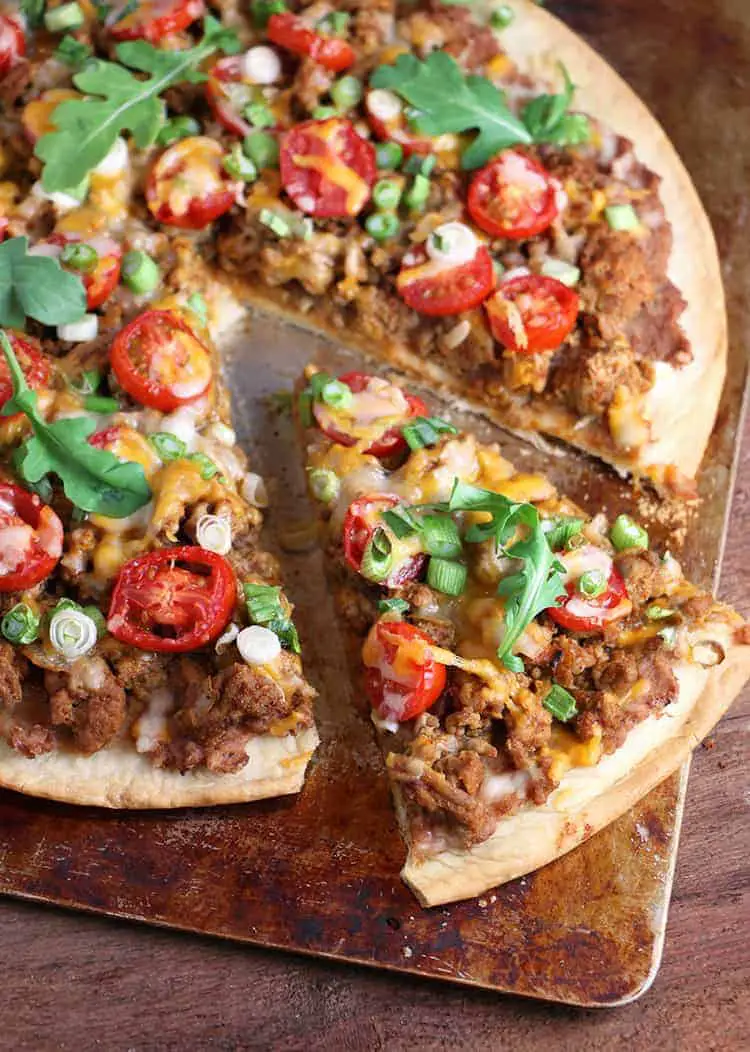 The Turkey Taco pizza is one of the best turkey pizza recipes. You can use it for lunch treats during the holidays and for special dinners too.
This recipe does not demand you follow any strict rules, and that is the most beautiful thing about it. You can make changes the way you wish.
This recipe is also suitable for kids as the turkey and refried beans contain protein essential for growth.
8. Artichoke Turkey Pizza
Try this recipe if you need a healthy turkey pizza with flavorred tomatoes. It is effortless to prepare and suitable for dinner dates.
What you need to get this done is an artichoke heart cooked till it is tender, a few garlic cloves and cheese. You can also add seasonings to make the pizza taste better.
9. Thai Turkey Pizza
This fancy recipe is for those who love Asian flavors.  The Thai turkey pizza is often grilled and not baked, leaving it with a distinctive taste.
You can further modify it by adding the spicy flavourful sauce to the pizza before grilling. You can top this pizza with fresh carrots and onions to improve the taste and make it more attractive.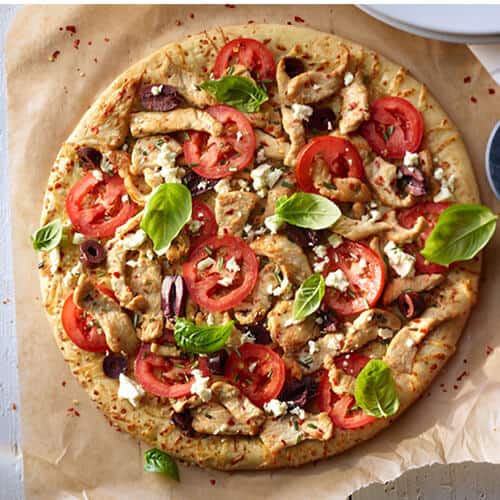 The Mediterranean turkey pizza contains little carbs. Its taste is something to look forward to. Plus, it's very filling. Consider making this pizza if you need a meal for a long time. This pizza recipe is not just tasty but also highly nutritious.
You can use basil leaves as toppings for this pizza.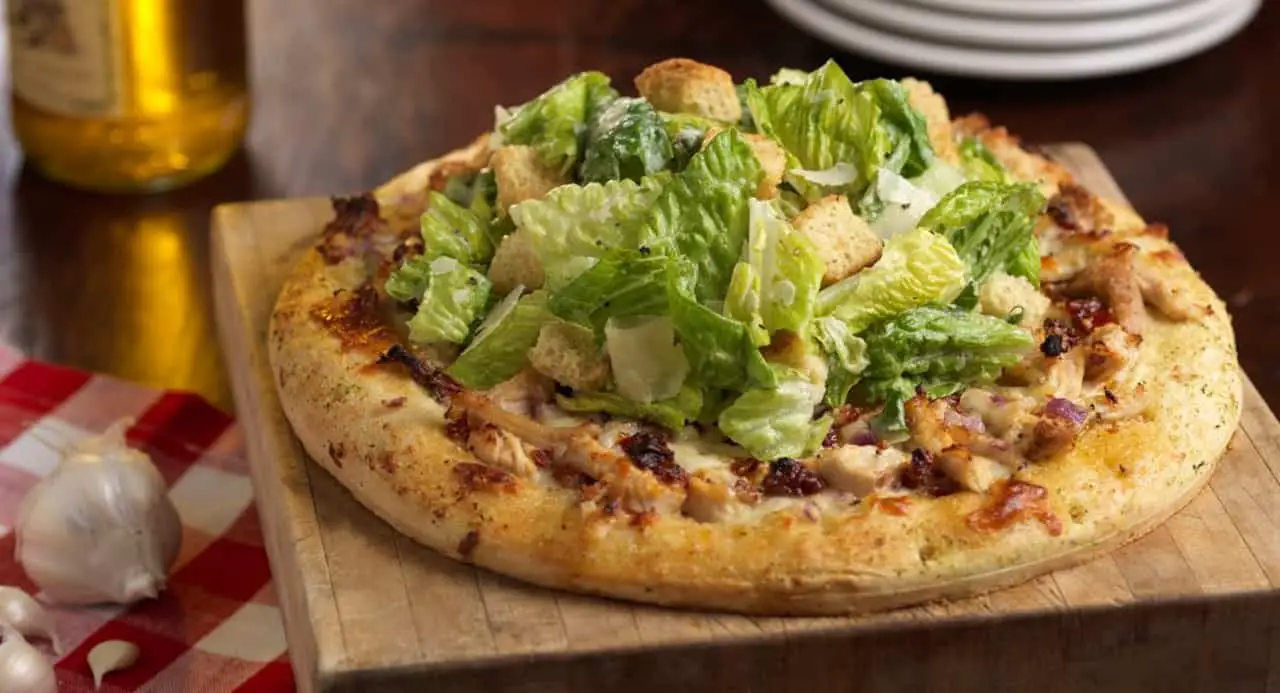 This pizza is also one of many homes' most popular turkey recipes.
Preparing the Turkey Caesar pizza consumes less time because you can use dough prepared the day before.  It is best served with a plate of steamed beans as a side dish. You can also use the green as a topping if you want.
12. Smoked Turkey Pizza
The best thing about this particular recipe is that it is made with different cheese, giving it a unique taste.
When preparing the smoked turkey pizza, it is better to use a fresh tomato than a tomato paste. Why? Fresh tomatoes make the pizza juicy and delicious.
This recipe is very similar to Buffalo chicken pizza.  The only difference here is that leftover turkey is used instead of chicken.
The Buffalo turkey pizza can serve many purposes. You can make it sophisticated by adding various ingredients. Keep it simple and neat; gather your chopped ingredients on top of the pizza crust and bake.
14. Turkey, Feta, Spinach pizza
This recipe is delicious and nutritious! It contains a large number of leafy vegetables. However, please note that it does contain turkey.
It is an easy recipe and cooks in less than one hour. This recipe is very suitable for various occasions, but the only disadvantage of this recipe is that its calorie level is high.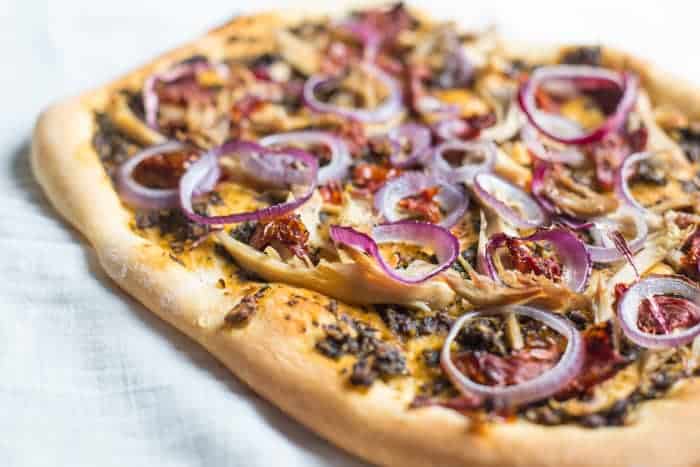 The Turkey pesto pizza is a fun way of putting all that heap of leftovers to good use. This recipe is fun because you can easily modify it to your taste.
There is no fixed rule about what you can or cannot add. Get your pesto base, add shreds of turkey, and top the pizza with whatever you have available in your refrigerator.
16. Cheesy Bite Turkey and Pineapple Pizza
This cheesy bite pizza was originally a Hawaiian dish, but people have recently modified it. These modifications give birth to several other recipes, including the cheesy bite turkey and pineapple pizza.
Like the traditional Hawaiian pizza, it has a variety of ingredients as toppings. Additionally, this version is designed to be low-carb and gluten-free.
You can make the fig and turkey pizza with butter, garlic, pizza dough, caramelized onion, and leftover turkey.
During preparation, bake only the pizza for about 20 minutes before adding the shredded roasted turkey. If you fail to do this, it will dry out and leave you with a burnt, less palatable and edible pizza.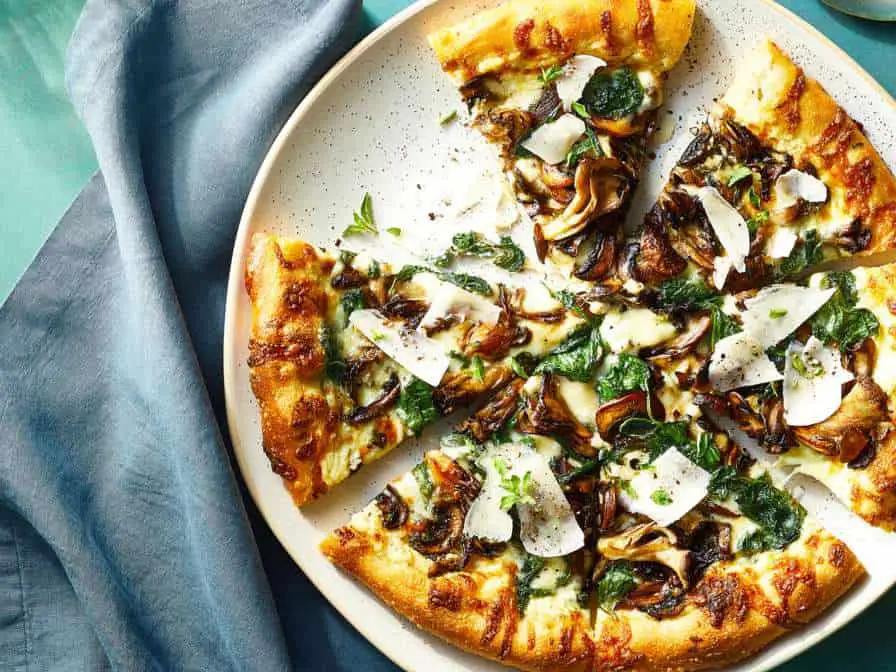 Finally, something spectacular for all our mushroom lovers!
This meal is highly nutritious and suitable for family dinners and special occasions. Although it takes a little longer to prepare, the wait is worth it. All you need to prepare this pan of goodness is your sliced turkey, mushrooms, pizza dough, tomatoes, oil, and your seasonings to taste.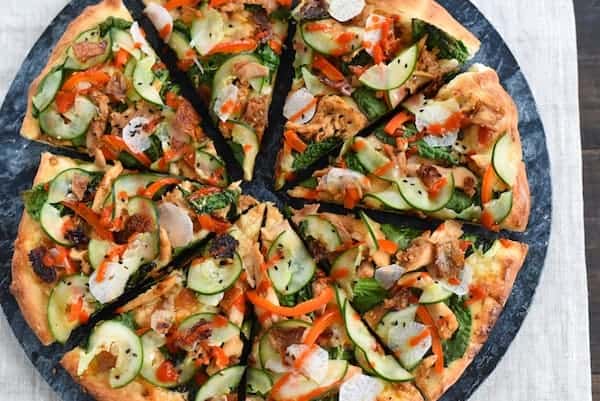 Whether you grill it in the summer or bake it in the winter, the Teriyaki turkey pizza always gives this unique taste.
You only need leftover turkey from the previous day, teriyaki sauce, and colorful vegetables. The most distinct feature of this recipe is the Asian ingredients which enhance the pizza's color, taste, and texture.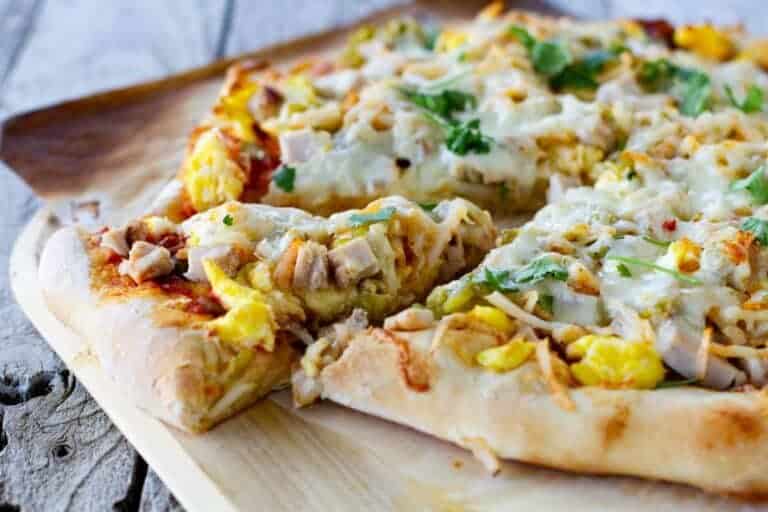 The Mexican turkey breakfast pizza is very suitable for breakfast because it is easy to prepare, very nutritious, and tastes on another level.
You start with pizza dough and top it with salsa, scrambled eggs, turkey, and a few diced green chiles. Making pizza doesn't get easier than this. You would hardly see a turkey pizza recipe that you can use for breakfast.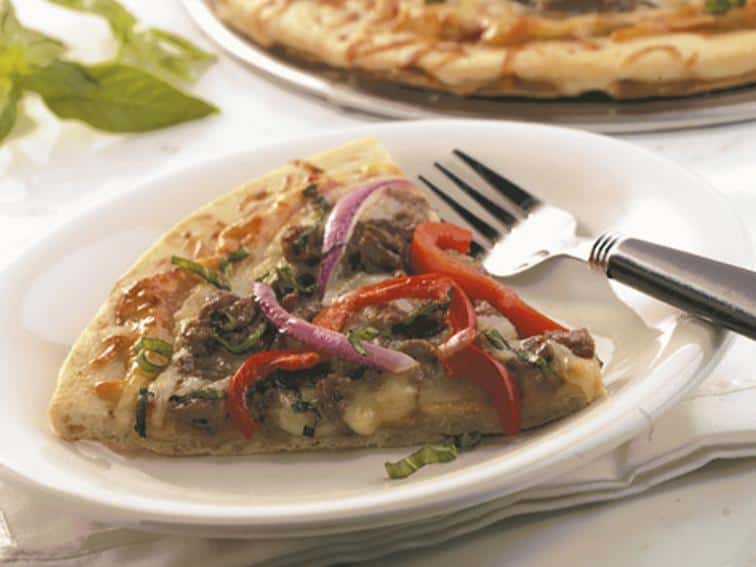 Like every other turkey pizza, spread the pizza dough across the pan and add your toppings: Sauce, turkey, cheese, onion, and bell pepper.
The distinct feature of this recipe is the Italian cheese blend which includes Parmigiano, mozzarella, Romano & Fontina.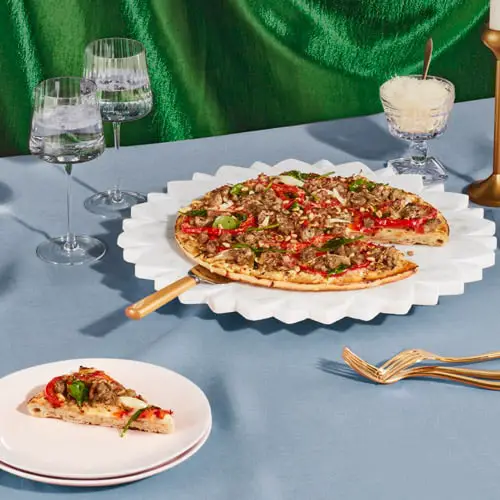 This one right here is a must-try for everyone. It is perfect for your dinner on weeknights because it takes little time to prepare.
All you need are turkey, spinach, olive oil, tomatoes, pizza mix, garlic, and soy sauce, and you are good to go.
While this dish is nutritious, its cooking time takes longer than 2 hours, so it might not be the best choice if you're in a hurry.
But if you have the time, get your ingredients ready, and get to work.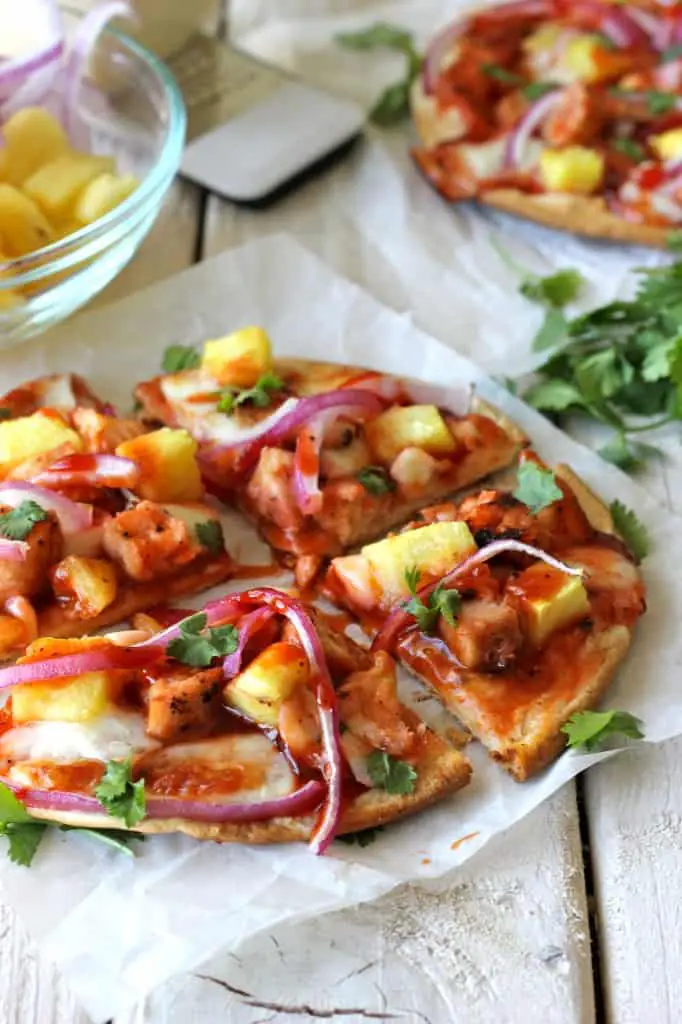 The idea of leftover turkey lying around is one of the many reasons to anticipate Thanksgiving.
In less than 20 minutes, you can fix a slice of Hawaiian BBQ turkey flatbread pizza using leftover turkey. This pizza recipe is tasty, easy to make, and a fantastic option for breakfast.
Conclusion
Now you know what to do with those leftover turkeys, right?
And if you are creative enough, you will not have to worry about food after Thanksgiving. Keep shuffling between these 24 turkey pizza recipes, and you will have a new exciting experience.
24 Turkey Pizza Recipes You Shouldn't Sleep On
Directions
Select your favorite turkey pizza recipe.
Organize all the required ingredients.
Prep the recipe in 30 minutes or less!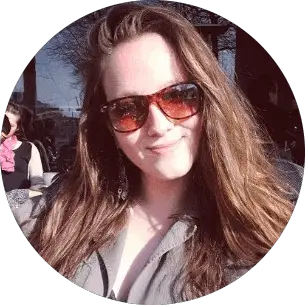 Barbara is an enthusiastic food-exploring person that goes through different culinary experiences. She got inspired by creating a pizza blog post after she tasted one of the best-selling pizzas in Toledo.