Where are my bacon lovers? You will surely love these 20 bacon pizza recipes.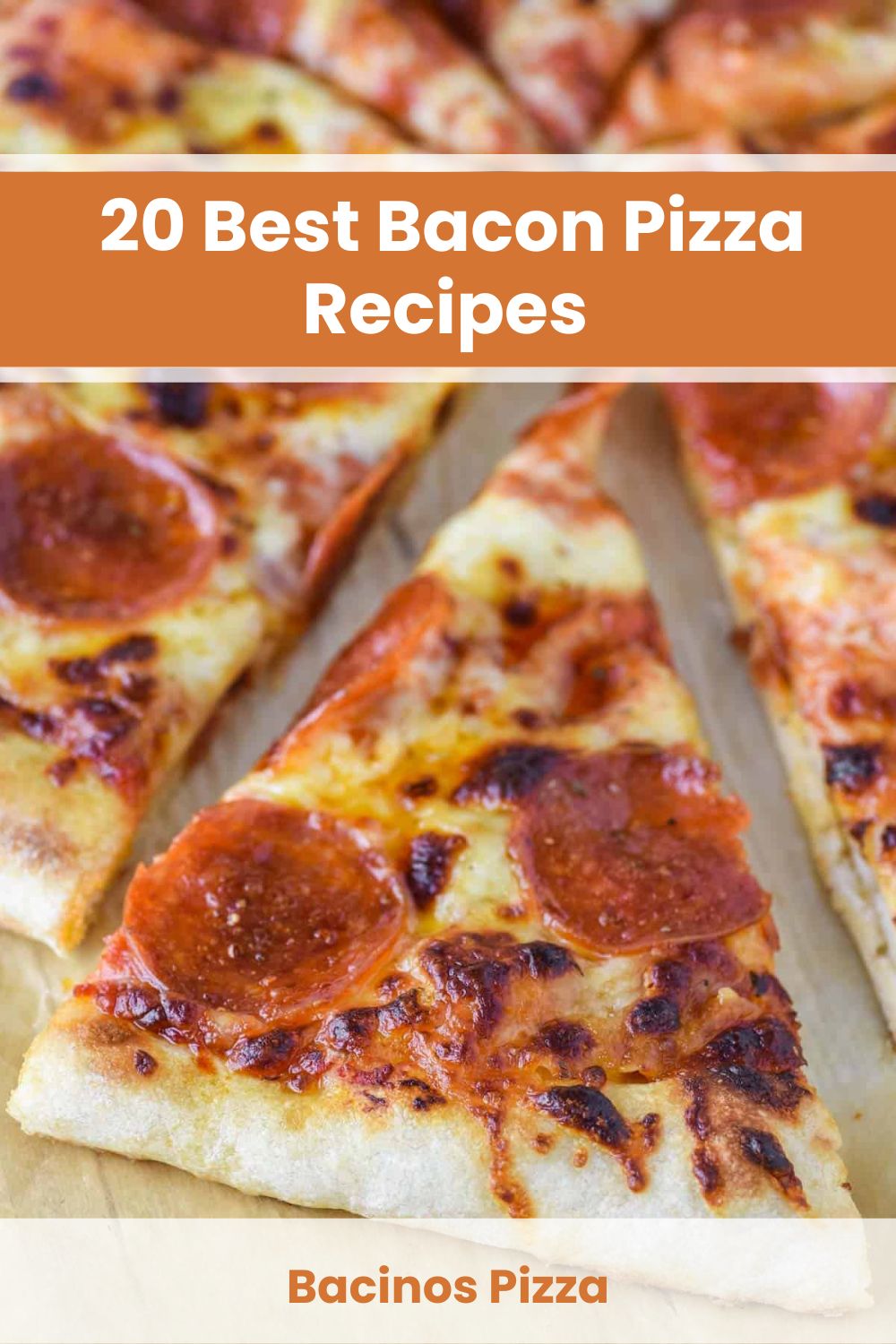 This list was carefully curated to include simple bacon pizza recipes that anybody can prepare and doesn't require a lot of ingredients. You don't have to be a professional cook. Everyone can use them regardless of their cooking prowess.
Let's delve in, shall we?
1. Bacon and Egg Breakfast Pizza
Looking for the best bacon pizza recipe for breakfast? Try this recipe.
People know bacon and egg as a conventional American dish. Little did they know that it can go Italian real quick in this recipe. On the other hand, pizzas were restricted to afternoon or evening delicacies. So this recipe has broken the norm.
This traditional breakfast dish can accompany other 'morning delicacies' like tea, scrambled eggs, and cheese.
We're beginning this list with this exquisite BBQ bacon recipe. It's, by far, one of the quickest pizza recipes you can find. Why?
The pizza can be ready in under thirty minutes.
If you're looking for a great pizza recipe to whip up something for your guests after a long day, this recipe is for you. It uses a tasty BBQ sauce and contains caramelized onions and glazed bacon.
3. Chicken Bacon Ranch Pizza
This recipe quickly falls into my top 10 bacon pizza recipes. If you like chicken and the smells of gooey chicken and smoked bacon, this recipe will be an absolute fave!
Close your eyes for a minute. Come on, do it!" Correction: This instruction seems unnecessary in written text, as it does not contribute to the clarity or information of the text. Corrected text: Remove these lines. For the chicken, it doesn't matter whether it's leftover or rotisserie chicken. Any chicken that's cooked can do the work.
Bacon pizzas are amazing. But when you add jalapeno and cheese, they become even more spectacular. If you like your pizzas hot and spicy, this is for you.
The jalapeno peppers create a balance by reducing the sweetness of the bacon, cheese, and pizza dough. You can have salty, spicy, and sweet all in one dish!
This Bacon and jalapeno recipe is commonly used for parties or semi-large gatherings, but who says it can't be a homemade dish?
5. Hawaiian Bacon Pizza
What can I say? I like my bacon pizza extra crunchy and bursting with flavours. This recipe understands the assignment!
This recipe should be your go-to if you like your pizza to mix everything, like bacon, cheese, pineapple chunks, jalapeno peppers, and tangy BBQ sauce. This Hawaiian bacon pizza recipe is one dish that blends ridiculously well, even with several components. You could make it at home or host a couple of friends.
Mushroom lovers, get in here!
This bacon mushroom pizza recipe is one of the most innovative pizza recipes I've ever encountered. Plus, it's surprisingly not as complex as others. It also doesn't require as many ingredients. Mushroom, creamy pizza sauce, and bacon will do the trick.
Once the dough is ready, you're done with your work. The other ingredients don't take forever to prepare. It's a fantastic choice for people making pizza dishes on a tight schedule.
7. Buffalo Bacon Chicken Recipe
Close your eyes for a minute.
Come on, do it!
Imagine eating a crunchy pizza filled with melty mozzarella cheese, drippy chicken and salty bacon. Did you salivate? Did your mouth water?
If you prepare this buffalo bacon chicken recipe, you will satisfy your cravings. Nothing beats buffalo sauce in pizza dishes. It has the right amount of everything. It's not too salty, sweet, or tangy. Just the right blend of flavours!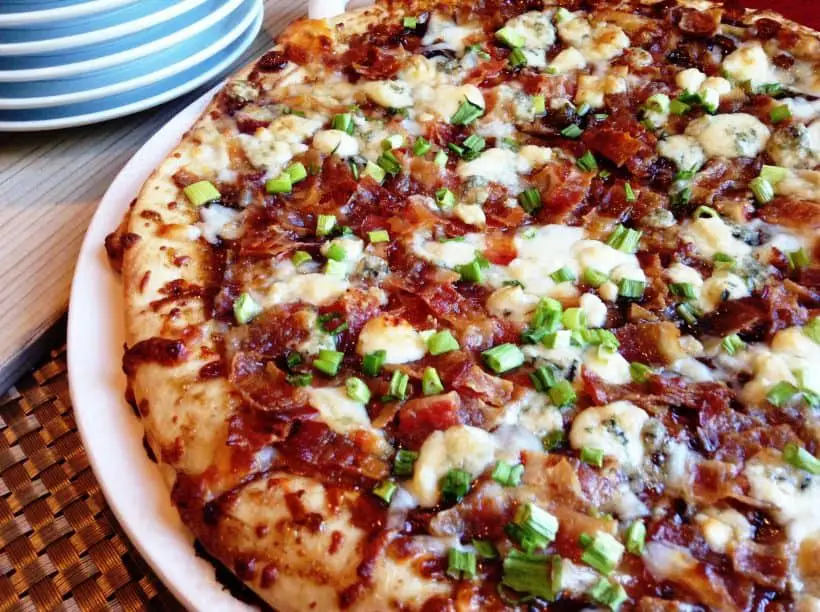 If you love blue cheese, you will love this pizza dish. It's packed with several contrasting flavours that balance each other out.
Bacon and blue cheese pizza is an exquisite recipe for homemade and party use. It gracefully combines the tangy blue cheese and the rich bacon taste. A tomato sauce base combines other ingredients and complimentary toppings to balance the individual taste out.
9. Bacon and Spinach Pizza
Are you adventurous and love to put an exciting spin on pizza recipes? Then, this is one recipe to try out.
The beauty of pizza is that you can always be innovative with the dish. There is no limit to what can be on the topping as long as it's tasty and/or healthy. Who knew bacon, spinach, and caramelized onions could go so well together? The bacon and spinach pizza recipe proves us wrong.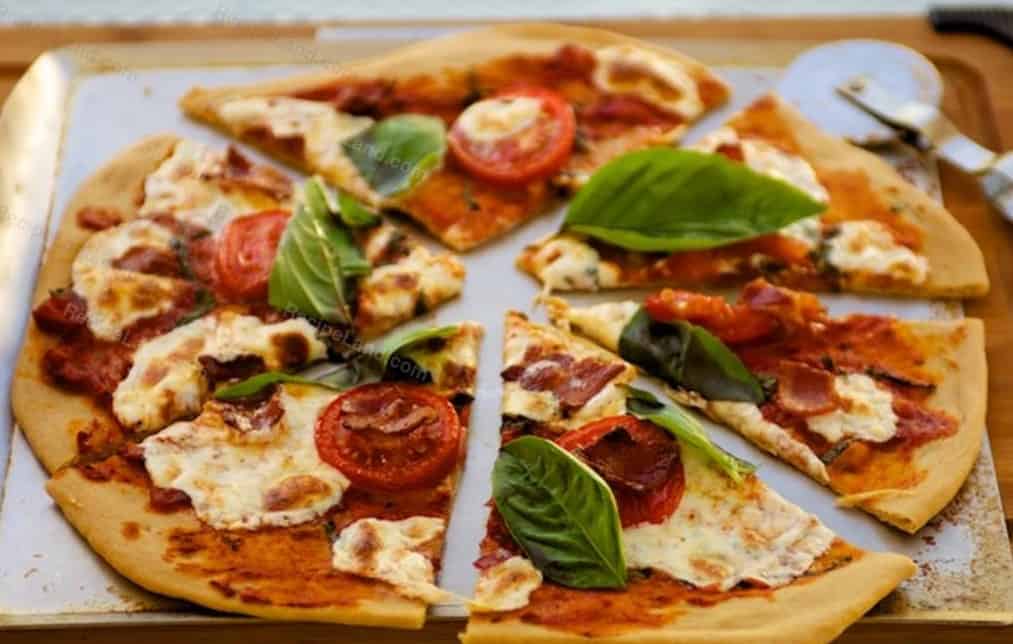 This modern bacon Margherita pizza has an interesting twist to the conventional Margherita pizza we're all used to. What's different?
You guessed right- Bacon! It boosts its deliciousness by double fold. It's easy to do, even if you haven't made any pizza. All you need are dough (you can buy this at a store or make this at home), basil, mozzarella cheese, tomatoes, and tomato sauce.
11. Bacon and Fig Pizza
If you've seen the name of this recipe and went, "Huh, what are figs doing here?"
Relax. It's one of the best pizza recipes you've ever tasted. After eating it, you will ask yourself if you've lived under the rock all these years. This recipe uses sweetened figs as a topping, combined with bacon and goat cheese. Truly savoury and mesmerizing!
The bacon and fig pizza recipe can be eaten at any time of the day.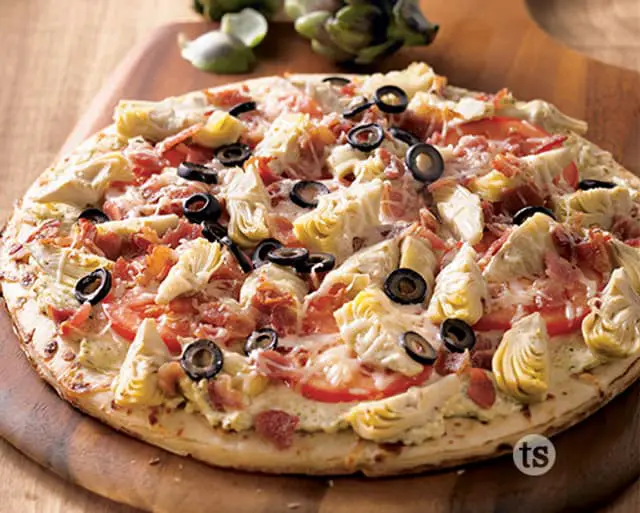 If you like artichokes and spinach in your food, don't sleep on this pizza recipe.
Many don't believe bacon and artichokes go well together because they cancel out their tastes. That's not true. Unlike what many people believe, this pizza recipe is absolutely gorgeous and creamy. It uses a lot of mozzarella, parmesan, and cream cheese to give the pizza that intense, rich flavour.
13. Bacon and Goat Cheese Pizza
You can never go wrong with bacon and goat cheese. In pizza, sign me up! Add caramelized ones that give an intense, aromatic smell. Put me at the top of the list!
The fantastic thing about the bacon and goat cheese recipe is that the caramelized onions complement the bacon and goat cheese. You'll be shocked at how well they pair when you simmer the onions in bacon grease and carefully align them on the pizza dough.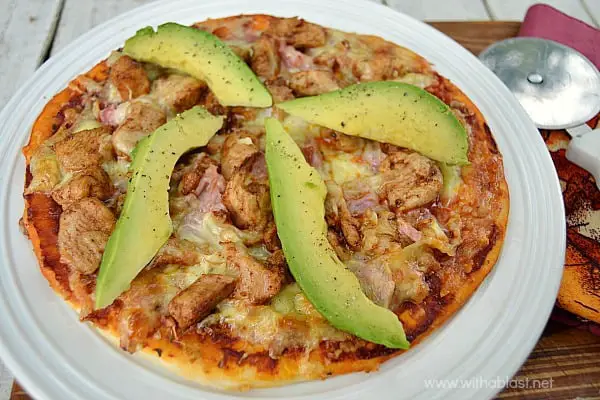 This is most certainly a fave pizza combination for me. Why? It has chicken.
If you need to lose weight and are looking for strategic ways to eat healthily and tastefully, this chicken bacon and avocado pizza recipe is for you. Who thought avocado, chicken, and bacon would be a fantastic combo?
The blend of avocado, cooked chicken, and smoked bacon meshed with mozzarella cheese, garlic, and extra-virgin olive oil makes this dish extra sumptuous and appetizing.
This recipe will be a favourite if you enjoy hosting friends around a bonfire with glasses of red wine, BBQ chicken, and steak.
This pizza recipe has all the makings of a staple party dish. It combines smoked bacon and BBQ sauce beautifully to create a fulfilling taste. You can go the extra mile to add cheddar cheese, red onion, and cooked chicken for the topping.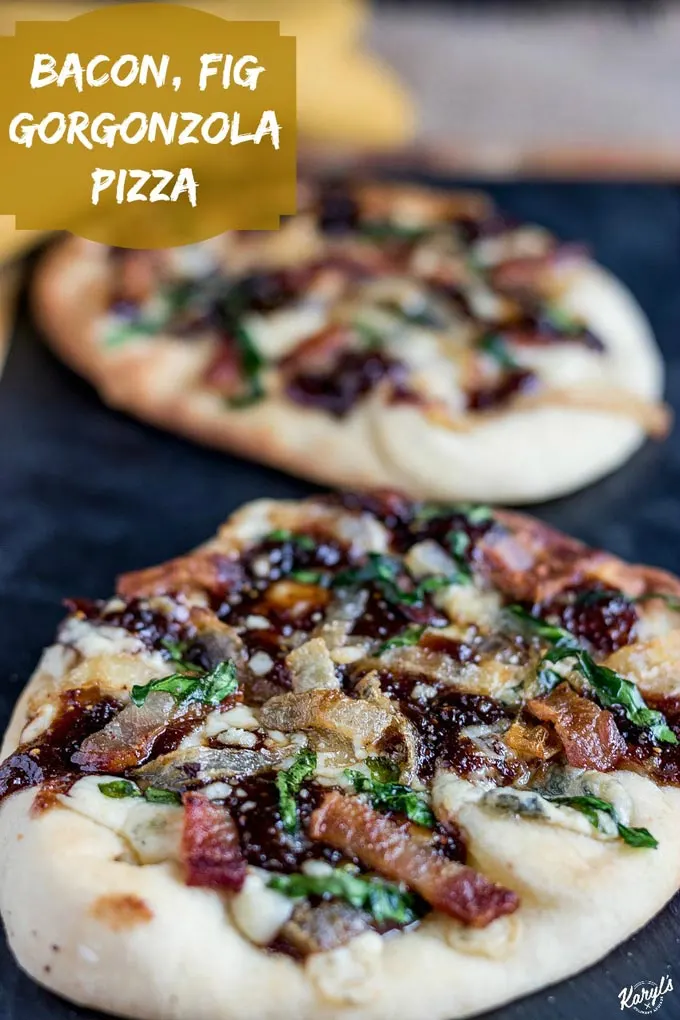 This pizza dish is extremely popular in Italy, especially around Desio and Brianza. It's not hard to see why.
Anybody that looks at the ingredients of this dish will most certainly ask interesting questions, like "How would all these ingredients work together? How would it taste?"
Let me burst your bubble: they work together exceptionally well. They're very savoury and blend well with each other. The figs add a distinct taste to the dish.
17. Bacon Pepperoni Pizza
If you like hot and spicy foods, this bacon pepperoni pizza recipe is for you. It also works excellently well for honey lovers.
I love this recipe because it's super easy to make at home. Kids particularly love such recipes because it's very bold, adventurous, and spicy. Adding some honey to the mix raises the intensity of the flavors so much and makes each bite very satisfactory and appetizing.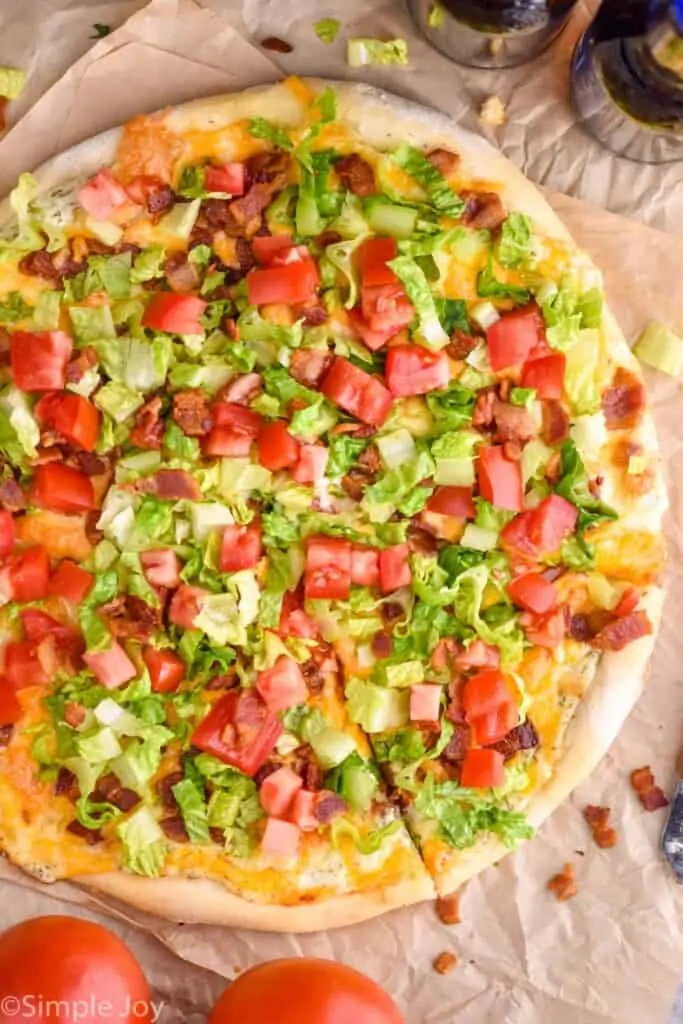 BLT sandwich lovers will most certainly like this pizza recipe. It's like the baked version.
This BLT Bacon Pizza recipe is a great way to try making homemade pizza. It's easy and straightforward to make. Once you get your pizza dough (homemade or purchased from a store), you've done 50% of the work. You can be done in less than 25 minutes.
19. Bacon and Smoked Salmon Pizza
Where are the fish lovers? This recipe is for you.
Incorporating fish into pizza isn't a common thing to do, but this recipe breaks the bar. It beautifully combines salty bacon and smoked salmon to create a clear-cut, well-defined taste. Aside from the salmon and bacon, you can also include prawns or shrimps to give this seafood feel.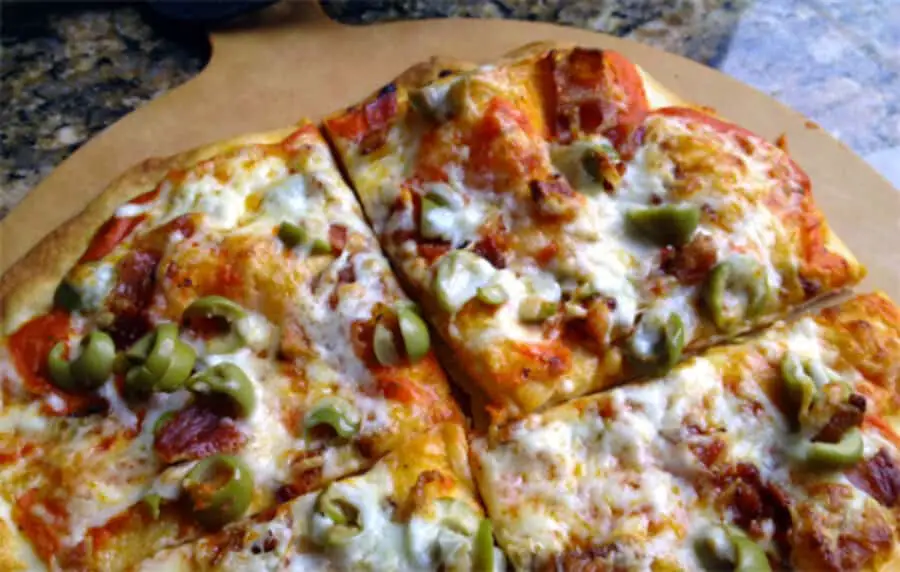 This is one of the best pizza recipes on this list for me. Why?
It's incredibly innovative. Did you ever think smoked bacon and flavour-filled green olives could go together so well? Be honest. Once you create a crunchy pizza base and tomato sauce, everything is set. This recipe is great for those looking for healthy pizza alternatives.
Even if you don't like green olives, you can't deny that this recipe bangs!
Conclusion
So there you have it! I carefully curated this list so that you always have elegant bacon pizza recipe choices to choose from. It doesn't matter if you're a newbie or have decades of experience in the culinary industry.
These recipes work for anybody, especially those testing their feet in pizza waters.
 20 Best Bacon Pizza Recipes You Must Try
Directions
Select your favorite bacon pizza recipe.
Organize all the required ingredients.
Prep the recipe in 30 minutes or less!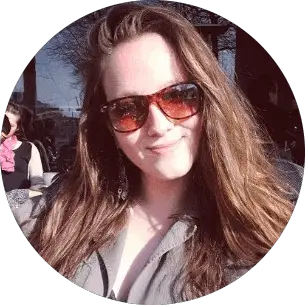 Barbara is an enthusiastic food-exploring person that goes through different culinary experiences. She got inspired by creating a pizza blog post after she tasted one of the best-selling pizzas in Toledo.