There are many famous places that claim to have the best pizzas in the US, but did you know that Beaverton, OR is also a really good place to get some high-level slices?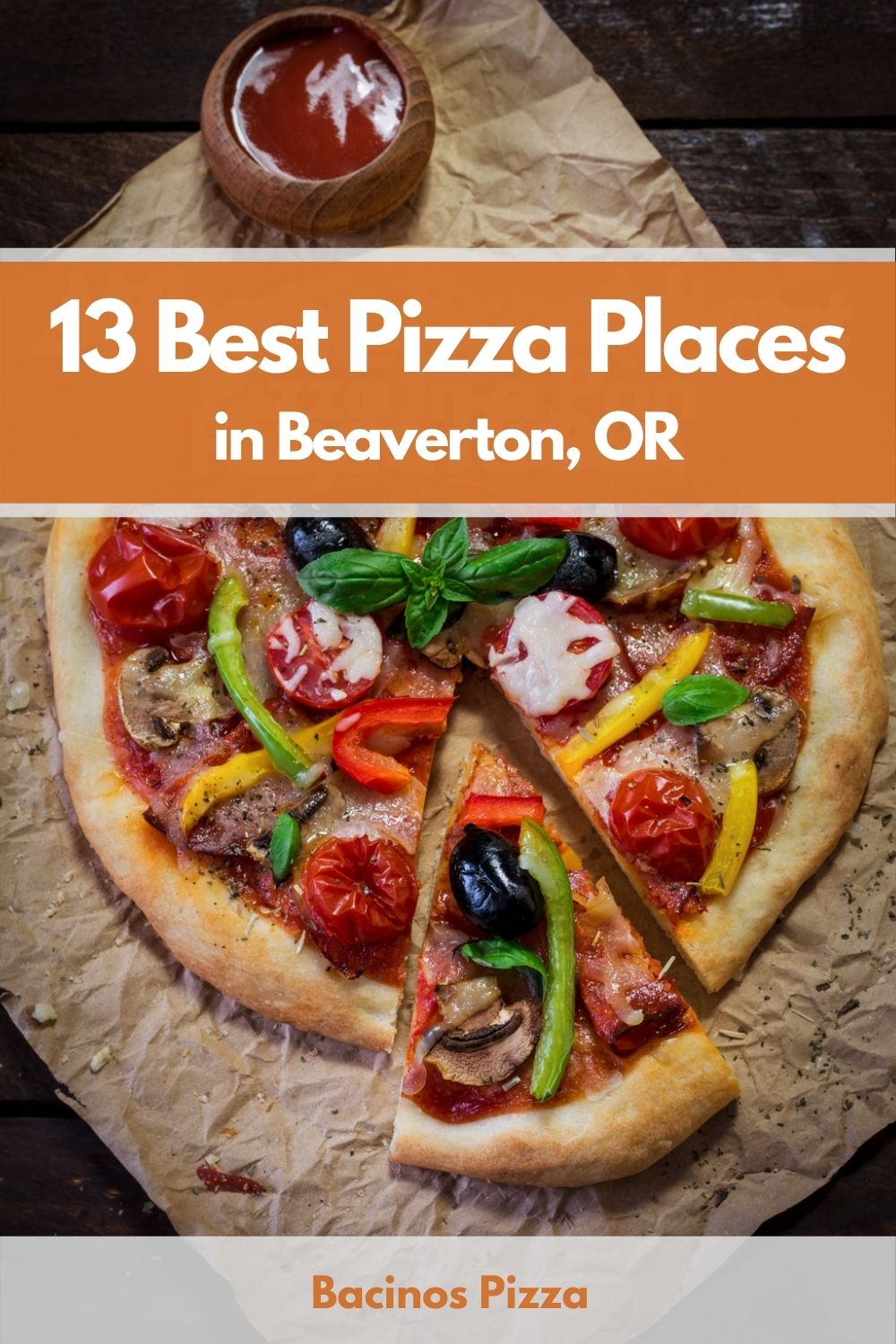 From classic Italian to Greek style and everything in between, Beaverton can fulfill everybody's taste and desires.
We know that sometimes it is hard to choose and even more if you are hungry for some delicious pizza! So without further ado, here is a list of the best 13 pizza places in Beaverton, OR!
Address: 8410 SW Nimbus Ave Suite 500, Beaverton, OR
Phone: (503) 747-4831
Google Rating: 4.9/5
TripAdvisor Rating: N/R
Yelp Rating: 4,5/5
If you are looking for a familiar hand-made like flavor, Society Pie is the perfect place for you. They combine their old-school mildly seasoned sauce with the best 100% Mozzarella Cheese to achieve success!
Visiting Society Pie and not having a try of their 18" whole Cheese Pie is not an option. You can opt from among a vast variety of toppings, including meat and veggie ones, so everybody in the family is happy.
In case you are not a big crust-lover, you can ask for their special thinner crust. They even have a gluten-free dough option for those who need it!
On top of that, Society offers some delicious house-made sides, such as their famous Garlic Knots or their Sweet Cinnamon Knots… Believe me, you cannot miss them!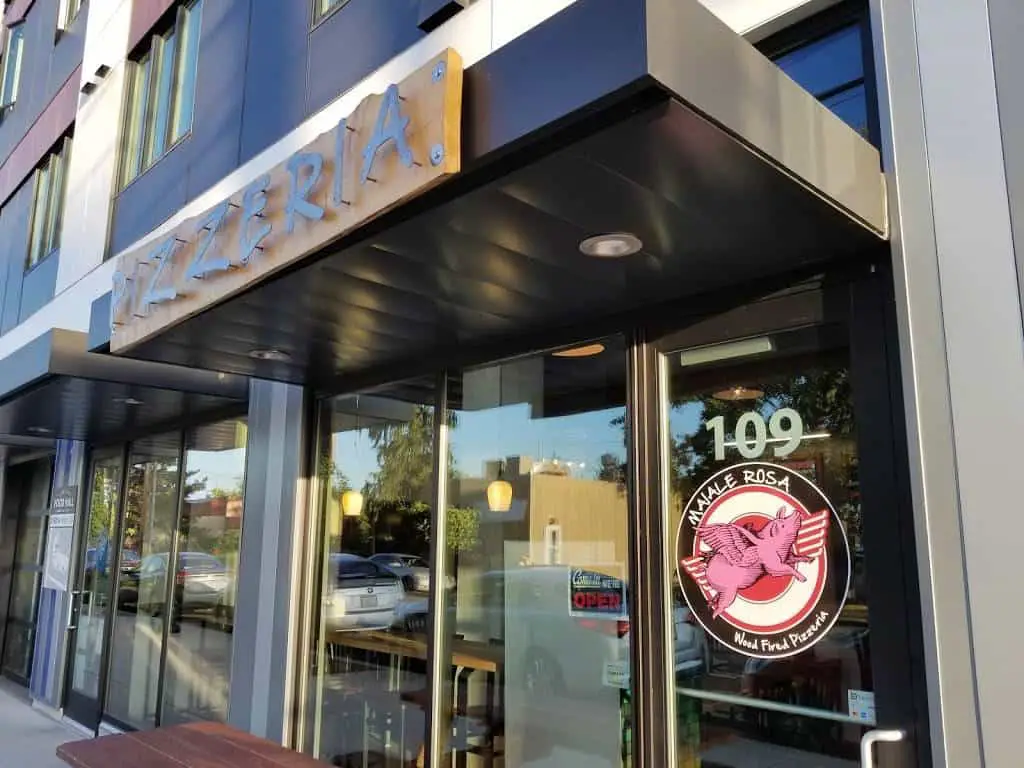 Address: 4725 SW Lombard Ave #109, Beaverton, OR
Phone: (971) 317-0646
Google Rating: 4.5/5
TripAdvisor Rating: 4.5/5
Yelp Rating: 4.5/5
Maiale Rosa pizzeria is known for combining healthy food with the traditional pizza we all want. It is a great option for those who want to satisfy a craving without saying "yes" to unwanted calories.
They put a big effort in carefully choosing the freshest organic products to ensure you a pizza you will not regret. And as if that was not enough, they add that special wood-fired flavor that every pizza lover wants.
They have traditional styles such as Margherita, or if you are into spicy food, their Salsiccia Piccante Italiana is definitely a must. They also have some gluten-free and vegan options!
If you are planning a big dinner with your work colleagues or you just want to throw a big pizza birthday party, Maiale Rosa offers you its famous "Pizza Palooza" for up to 150 guests. Just make sure you book a reservation in advance!
Address: 2695 SW Cedar Hills Blvd Suite 190, Beaverton, OR
Phone: (503) 596-3555
Google Rating: 4.5/5
TripAdvisor Rating: 4/5
Yelp Rating: 4/5
MOD pizza slogan is basically "fast and good". They claim to be pioneers in creating a super-fast experience where you can choose and make your pizza at your own desire. Best part? You can choose from 30 different toppings and the price stays the same!
This places fulfills everybody's tastes, if you are indecisive you can choose from one of their 10 Classic Pizzas and personalize it, or you can get creative and start from a blank page to create your own pie.
MOD also offers you different limited-time chef inspired creations every month, in case you feel like trying something new.
There is no doubt MOD Pizza is a safe choice to get a nice meal if you are in a hurry; or even if you don't!
Address: 12390 SW Broadway St, Beaverton, OR
Phone: (503) 644-8767
Google Rating: 4.3/5
TripAdvisor Rating: 4/5
Yelp Rating: 3.5/5
Giovanni's Restaurant is a local celebrity; has been family operated since 1975, and remains to be a cornerstone till now. You cannot talk about Beaverton pizzas without mentioning Giovanni's.
There is no better way to have an original Italian-style pizza than going to a good old-school Italian restaurant. You will love the familiar atmosphere, it is a great place to have a nice time with family and friends!
Giovanni's Restaurant is not only known for its famous thick crust pizza, but it is also well-reviewed for having a generous amount of topping in each pizza!
If you happen to choose this restaurant, make sure you try their Giovanni's Special, with salami, pepperoni, mushrooms and Italian sausage, don't you dare miss it!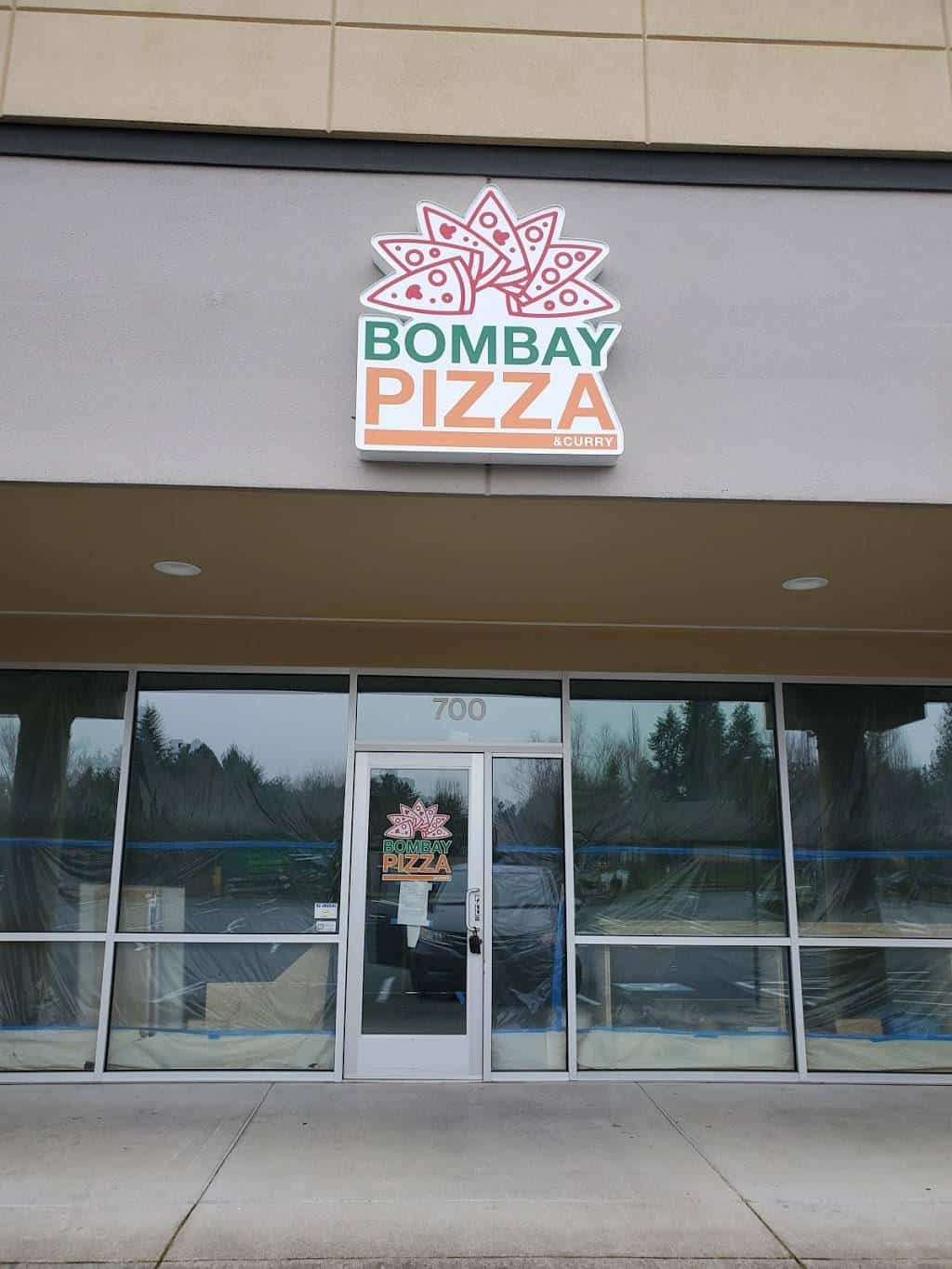 Address: 16165 SW Regatta Ln # 700, Beaverton, OR
Phone: (503) 746-5400
Google Rating: 4.7/5
TripAdvisor Rating: 4/5
Yelp Rating: 4.5/5
I know Indian food and pizza fusion seems a bit hard to imagine but let me tell you that it's a perfect mix between two worlds. This place combines both Indian and Italian flavors to come up with a great crispy pizza.
For those wanting a tingling of their taste buds this is an incredible spot. And if you are not that much into spicy things, you can always go for their classic thin-crust pizza.
Bombay offers you different pizza sizes for all desires, you can go from a small 12" one to an 18" extra-large one.
I suggest that you try their specialty "Butter Chicken" pizza. It comes with their homemade curry sauce, red onion, diced tomatoes and cheese and butter chicken. It is absolutely magnificent!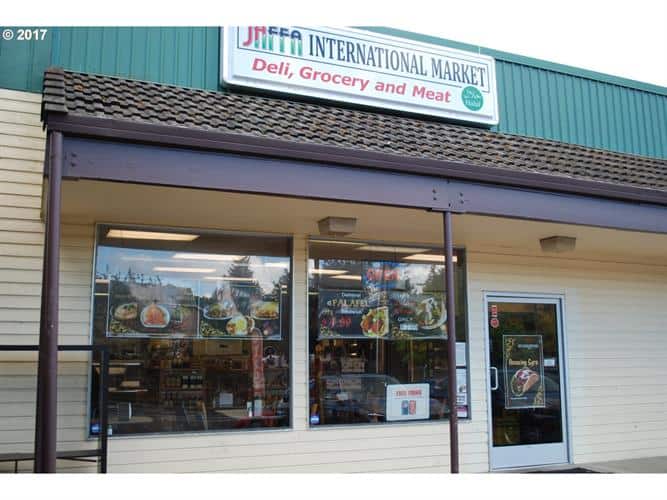 Address: 16300 SW Hart Rd # K, Beaverton, OR
Phone: (503) 848-0456
Google Rating: 4/5
TripAdvisor Rating: 3/R
Yelp Rating: 3/5
Looking for a place to hang out with your friends, have a beer and eat awesome pizza without your wallet getting broken? Here is the answer! Hart Road Pizza & Sports Bar has it all and more.
This place is perfect to get a nice pizza while you watch your favorite sports event. They have five screens and there is always a live event showing up! They even have karaoke nights on Thursday and Saturdays.
Our suggestion for this place is to try their Hawaiian pizza, but if you feel brave enough you should go for their ghost pepper chili chicken wings; it is said to be a spiritual experience if you are ready to handle them.
Address: 4545 SW Watson Ave, Beaverton, OR
Phone: (503) 641-3223
Google Rating: 4.6/5
TripAdvisor Rating: 4.5/5
Yelp Rating: 4/5
Established in 2007, Decarli is an ambitious restaurant created by Jana and Paul Decarli, a husband and wife team who along with their professional staff, are dedicated to food, wine, and providing an excellent dining experience.
For those who have a fine palate, want to enjoy an elegant experience and desire to try a high-level Italian pizza, Decarli is one of the best choices in town. With pizza this good you really don't need to overcomplicate the toppings. Thin and crispy, keeping it simple but good.
Our suggestion here is to try out their Oven Roasted Tomato pizza, which is seriously to die for. You can also try their house wine to match your food. Simply delicious.
Address: 13281 SW Canyon Rd, Beaverton, OR
Phone: (503) 536-7600
Google Rating: 4.1/5
TripAdvisor Rating: 4/5
Yelp Rating: 3.5/5
Pietro's pizza at Beaverton has a lot more to offer than just their great thin-crust pizza. Take a break and escape in this family-friendly restaurant; which features a pirate ship for an exciting ambiance.
In addition to their awesome slices, Pietro's Pizza party packages can include laser tag, arcade games, and mini-golf. Your kids will surely love it!
Pietro's has been around since 1957, and they have taken that time to learn what pizza lovers like most: quality food, reasonable prices, and kid-friendly options.
In this case, we suggest you try their "Bartender" pizza with Canadian-style bacon, beef and tomatoes. You can choose if you want thin or thick crust!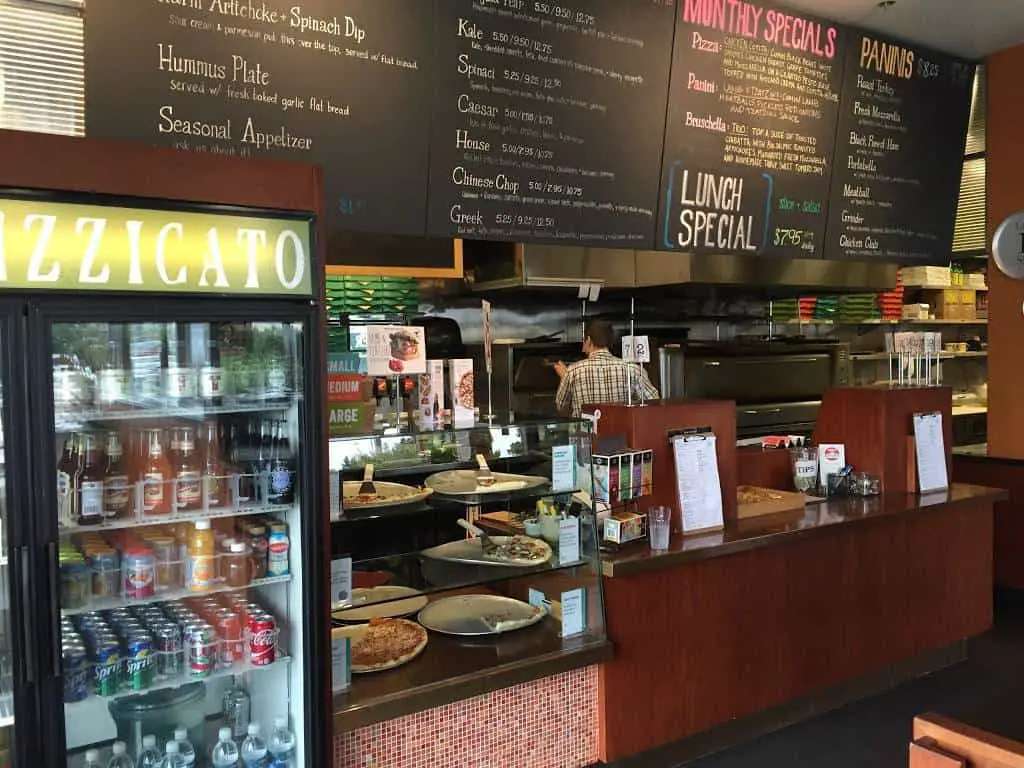 Address: 10719 SW Bvtn, SW Beaverton Hillsdale Hwy, Beaverton, OR
Phone: (503) 574-3115
Google Rating: 4.1/5
TripAdvisor Rating: 3.5/5
Yelp Rating: 4.5/5
What would any list of the must-eat pizzas in Beaverton be without this classic pizzeria that serves up bubbling cheese pies?
Pizzicato Pizza has been a go-to spot for some of the best pizza in Beaverton for over 30 years. Pizzicato likes to sit back and let their pizza do the talking. They carefully choose fresh ingredients and use old-school recipes to create their pies, which already have some loyal fans.
And if you do not know what to try, you can always opt to go with the Chef's selection. Enjoy with one of their spring-worthy sides, and let this delicious season swoop you away to your happy place.
Address: 4505 SW Watson Ave, Beaverton, OR
Phone: (503) 894-8251
Google Rating: 4.5/5
TripAdvisor Rating: 4/5
Yelp Rating: 3/5
Don't let the name confuse you, although Ex Novo is mainly a brewing company, they have one of the best Detroit-style pizzas in Beaverton, OR.
If you are a pizza lover and you think every good pizza needs to be accompanied by a good brew, this place is going to blow your mind.
Pizza here is known for being very thick and with lots of crust. They have a lot of topping options to choose from. Their "Querque Derk" is one of the best Detroit-style pizza I ever had in my life, believe me.
Want to know something interesting? Ex Novo donates 100% of his profits to charity; so is a nice way to get delicious pizza and make the world a better place!
Address: 12600 SW Crescent St, Beaverton, OR
Phone: (503) -646-6464
Google Rating: 4.4/5
TripAdvisor Rating: 4.5/5
Yelp Rating: 3.5/5
This popular restaurant in Beaverton is the place to go to when you want a classic Italian pie. It is proper old-school cooking focusing on quality ingredients and traditional techniques.
All pizzas are wood-fired and you can be sure you won't have to ask for a second plate, they are huge. Toppings are hearty and cheese is bubbling.
As Mingo's is not only a pizza place but a really nice restaurant, you can enjoy the house wine to accompany your pies. I ensure you that is a winning combination!
Address: 4250 SW Rose Biggi Ave, Beaverton, OR
Phone: (971) 297-8089
Google Rating: 4.2/5
TripAdvisor Rating: 3/5
Yelp Rating: N/R
Since moving from Brooklyn NY in 1989, the Forte family has been making pizza for friends and family on the west coast for over 30 years.
Using an Italian wood-fired oven, they churn out 10" personal sized pies with the perfect flavor. In addition, all of their dough and sauces, as well as their sausage, are house-made using family recipes for an authentic Italian taste.
They combine all their ingredients in an old-school fashioned way to make a pizza you will be dreaming about long after the last slice is gone.
If you are into meat toppings, "California" pizza is a must have here. It has a homemade barbecue, red onion, fried chicken and a smoked Gouda cheese on top to be the queen of the place.
Address: 3180 SW Cedar Hills Blvd, Beaverton, OR
Phone: (503) 924-5888
Google Rating: 4.3/5
TripAdvisor Rating: 4/5
Yelp Rating: 3.5/5
It hits you the moment you see it. This is not just another pizza place. There is a vibe, an ambiance, a feeling that you can't quite explain.
Schmizza doesn't only work hard to have an incredible pie, but they are also serious about the customer enjoying a memorable experience. Most reviews about this pizza place talk about how good their staff is. So, you can be sure that you are going to have a nice time if you choose them.
This place combines the classic pizzas we all know and also tries to innovate by mixing different toppings. You have more than 40 different options to choose from! They also have gluten-free options and veggie pies for those who are not meat lovers.
Starring their menu, you will see their specialty "Alligator Pie". Alligator sausage, red peppers, onions & tomatoes on a bed of noodles with cilantro, feta cheese & crushed red peppers. So if you are into trying something new, you cannot miss that opportunity.
Conclusion
To sum up, Beaverton is full of great pizza joints where you can go and have a good pie, but we are here to bring you the ones with the best reviews! You can choose between a nice and fast-serving place, an elaborated restaurant for a lovely evening or even a familiar place to go with your kids and have some fun, no matter what you choose, we are sure you will taste some great slices!
So go ahead and try out one of these places, and please let us know what you think! We would love to hear your opinion as much as we love pizza.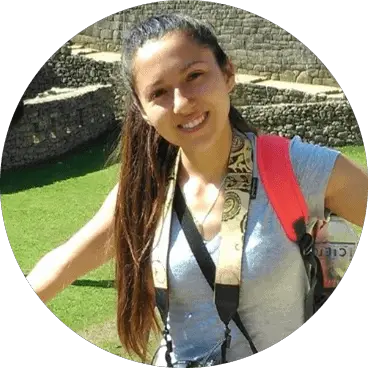 Kathryn's love for pizza started when she was still young. When she was young, she's been a picky eater–that's what her Mom used to say. The only food that she enjoyed and loved was pizza–until now! Her love for pizza turned into a passion!