Are you looking for the best pizza in Columbus, Ohio? Get ready to drool! This list highlights some of the most incredible pizzerias in the city to help you find pizza styles and flavors of your liking.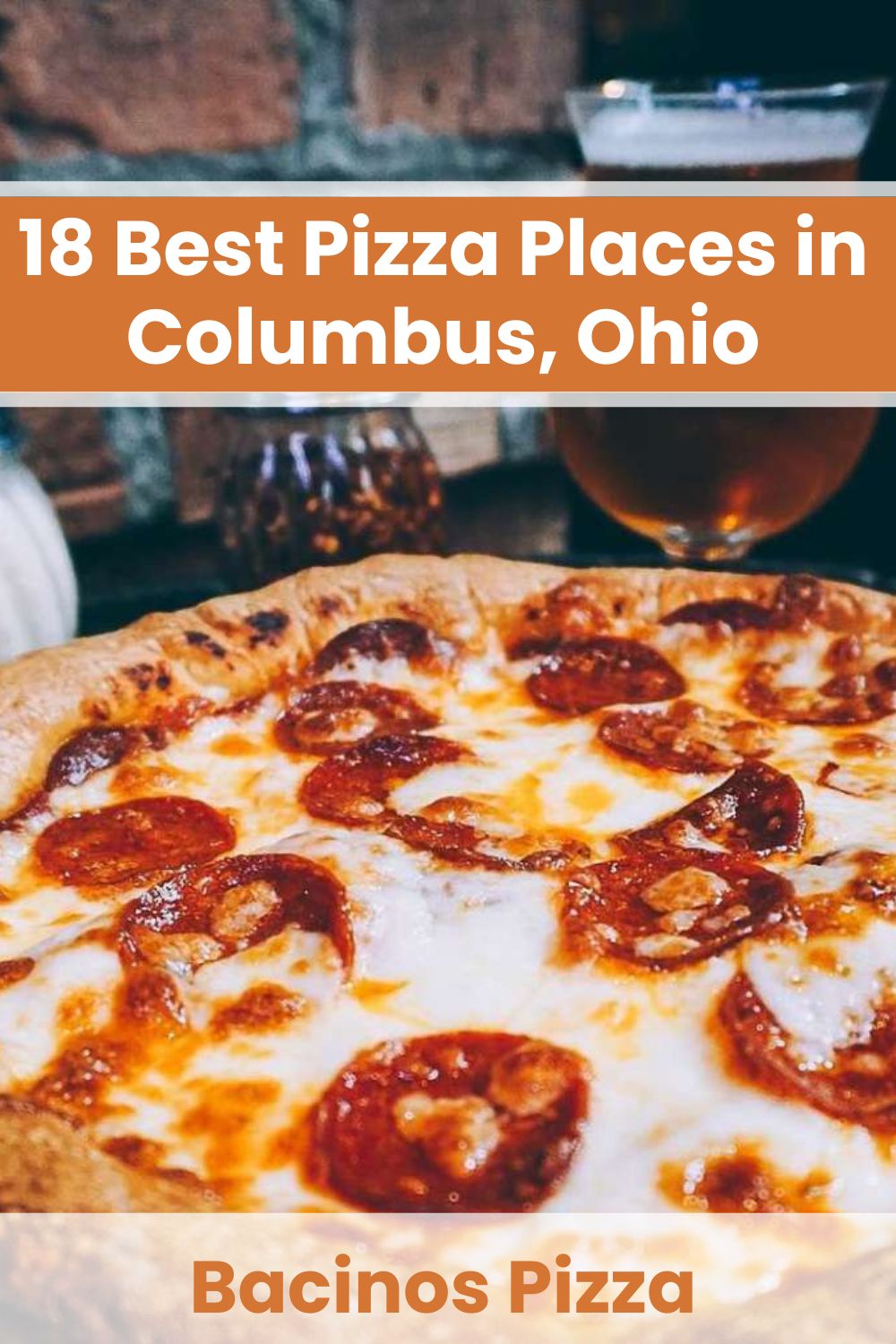 Whether you fancy thin, crispy crusts, deep dish crusts, or foldable New York-style crusts, the following restaurants have it all. So, bring your appetite and pick the one that matches your taste.
Address: 721 N High St Columbus, OH 43215
Contact: (614) 469-0053
First on our list is Forno, one of the best spots for pizza and drinks with friends. Their dough comes fresh daily by hand, and the rest of the ingredients are hand-selected to maintain the natural taste of the resulting pie.
You will love the wide selection of pizza flavors on the menu. But, Prosciutto is our favorite. The perfect blend of arugula, ricotta, olive oil, onion, and white balsamic reduction is something to die for. Check out their Pepperoni and Four Cheese as well—they're exceptional!
The restaurant is open from 4:00 pm to 11:00 pm, allowing customers to dine in or order online for takeout or delivery.
Franklinton
Address: 415 W Rich St Columbus, OH 43215
Contact: Tel: (614) 372-5983
East Market
Address: 212 Kelton Ave. Columbus, OH 43205
Contact: Tel: (614) 725-5482
Yellow Brick makes huge hand-tossed pizzas that keep your stomach full for hours. Try their Garbage Pizza. Well, the name may put you off, but there is nothing garbage about this pizza. It features some of the best savory meat and fresh veggie ingredients.
Also, Yello Brick has fascinating options you can explore, like Classico, Flying Pig, Eliott Smith, and Rhode Island. All of these are super delicious. But if you want something personalized, choose your crust and toppings and build your pie from scratch.
Place your order for carryout or delivery. You can do this any time between 11:00 am and 12:00 am.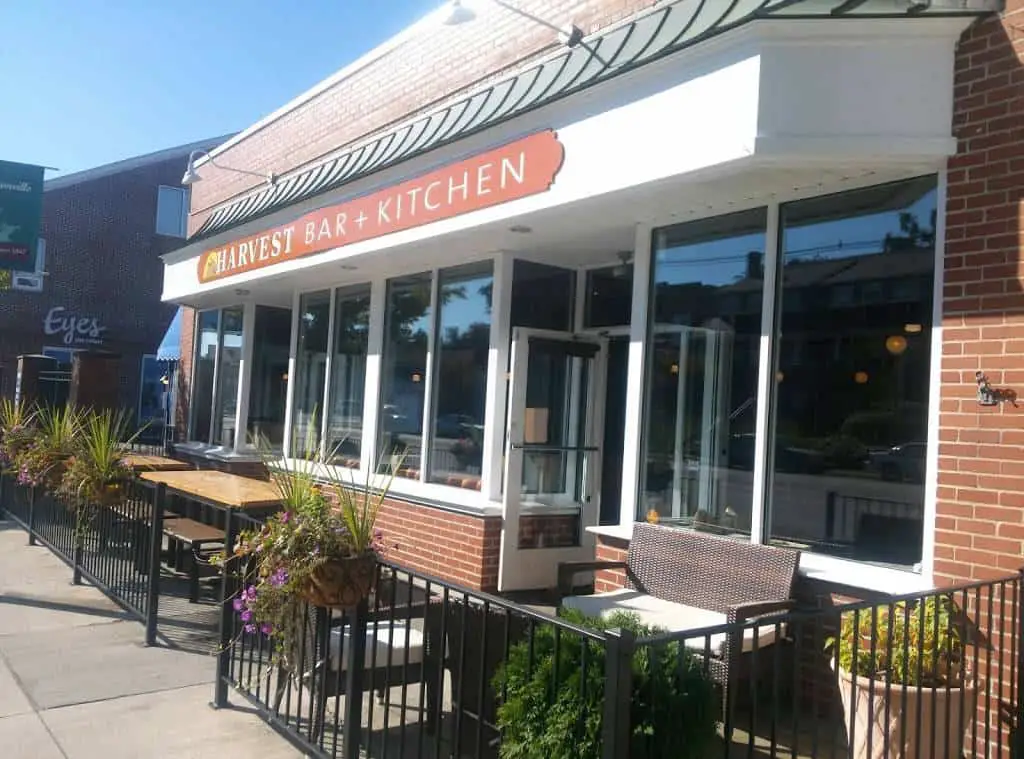 Harvest Clintonville
Address: 2885 N High St Columbus, OH 43202
Contact: (614) 947-7133
Harvest Brewery District
Address: 940 S. Front St. Columbus, OH 43206
Contact: (614) 947-7950
Your pizzeria trip in Columbus is incomplete if you haven't tried the Spicy Yuma from the famous Harvest Pizzeria. This magnificent pie boasts a generous topping like chorizo, spices, and cheese blends.
All the ingredients used to make pizzas are obtained from local farms, which ensures the pies are fresh. The crust is always crispy, never soggy. The sauce comes with lots of spices and fresh herbs, and the cheese comes in a ratio that matches the number of toppings.
Like Yellow Brick, you can get creative with your pies at Harvest Pizzeria. Pick a truffled mushroom or chipotle-spiked tomato base as a topping. You can visit the restaurant any time between 4:00 pm and 9:00 pm.
Address: 1618 Neil Ave Columbus, OH 43201
Contact: (614) 421-2300
Adriatico's is known for its delicious New York-style pizza and has been buzzing with activity for more than forty years now. The crust bakes to perfection, and the toppings are utterly tasty. The sauce is just how you would like pizza sauce to be; a little tangy and slightly sweet.
What we love most about this spot is that you can choose how thick you want your crust to be. You can get extra thin, regular, or thick Sicilian.
You can choose any dressing you please, but if you like a pizza with lots of toppings, consider the Inflation Fighter; it features ham, pepperoni, sausage, beef, black olives, green olives, mushrooms, onions, and peppers. And the best part? You will get all nine items for the price of five.
This pizzeria opens at 11:00 am and doesn't close until 1:30 am, which makes it perfect for late-night orders.
Figlio Grandview
Address: 1369 Grandview Ave Columbus, OH 43212
Contact: (614) 481-8850
Figlio Arlington
Address: 3712 Riverside Dr, Columbus, OH 43221
Contact: (614) 459-6575
Figlio attracts masses with woodfired pizzas that bake from traditional dough and flavorful ingredients. It is an excellent place for people who love chewy pies. Their pizzas are perfectly rubbery with just the right amount of dressing.
Don't know what to order? Get the Figlio Classic. It has pepperoni, mushrooms, banana peppers, onions, green peppers, and tomato sauce. But if you love seafood, try the Kung Pao Shrimp or Ahi Tuna Flatbread. The pizzeria opens from 5:00 pm to 9:00 pm, offering takeout and delivery services.
Address: 2657 N High St Columbus, OH 43202
Contact: (614) 261-4686
Located near the Ohio State campus, Hounddog's serves the locals with an extensive menu of Italian dishes, sandwiches, and wickedly delicious pizzas. You can request your pie with the house-made thin crust or hand-tossed garlic crust.
The sauce here ranges from mild to extremely hot. And they give you the option to replace the pesto base with marinara. Pizza options are phenomenal, but you can always have your pie custom-made.
If you want something to reduce a hangover, get the Bacon Cheeseburger Pizza. It consists of onions, ground beef, bacon, tomatoes, and a generous layer of cheddar cheese. Place your order between 4:00 pm and 10:00 pm for dine-in, carryout, or delivery.
Address: 5701 Parkville St Columbus, OH 43229
Contact: (614) 891-2345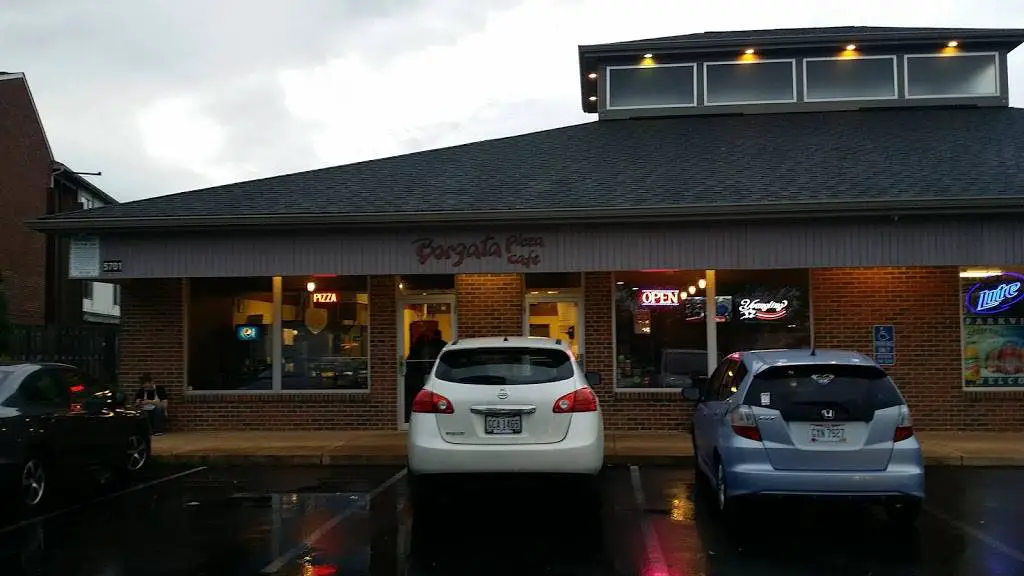 Borgata may not be as huge as some of the pizzerias listed here. But it sure does deliver some of the most unforgettable pies in the city. Most people come here for the special New York-style pizza served as a whole and by the slice.
Although you will be mesmerized by other pizza options sold here, like the Meat Combo and Pesto Chicken—try building your pizza to cater to your palate. Choose a thin, medium, or thick crust and dress it with your favorite toppings.
The restaurant opens from 4:00 pm to 10:00 pm (Monday to Thursday) and as early as 11:00 am on Friday and Saturday. It remains closed on Sunday.
Address: 615 N High St Columbus, OH 43215
Contact: (614) 223-2100
Open between 4:00 pm and 9:00 pm, Marcella's has been serving traditional Italian pizzas for generations and is a great place to stop by next time you crave pizza. They style their pies like a flatbread, which makes them look more appealing (good for the gram!)
Don't be afraid to try the many pizza options they have on the menu. You will love the Sicilian with a flavorful layer of salami, asiago, capicola, meatballs, and red onion. The crispy prosciutto on Chicken Florentine is also something to die for.
And for veggie lovers, the zucchini, tomato, olives, mushrooms, and mascarpone on the veggie pizza will not disappoint. Place your order for delivery, curbside pickup, takeout, or stay and eat in.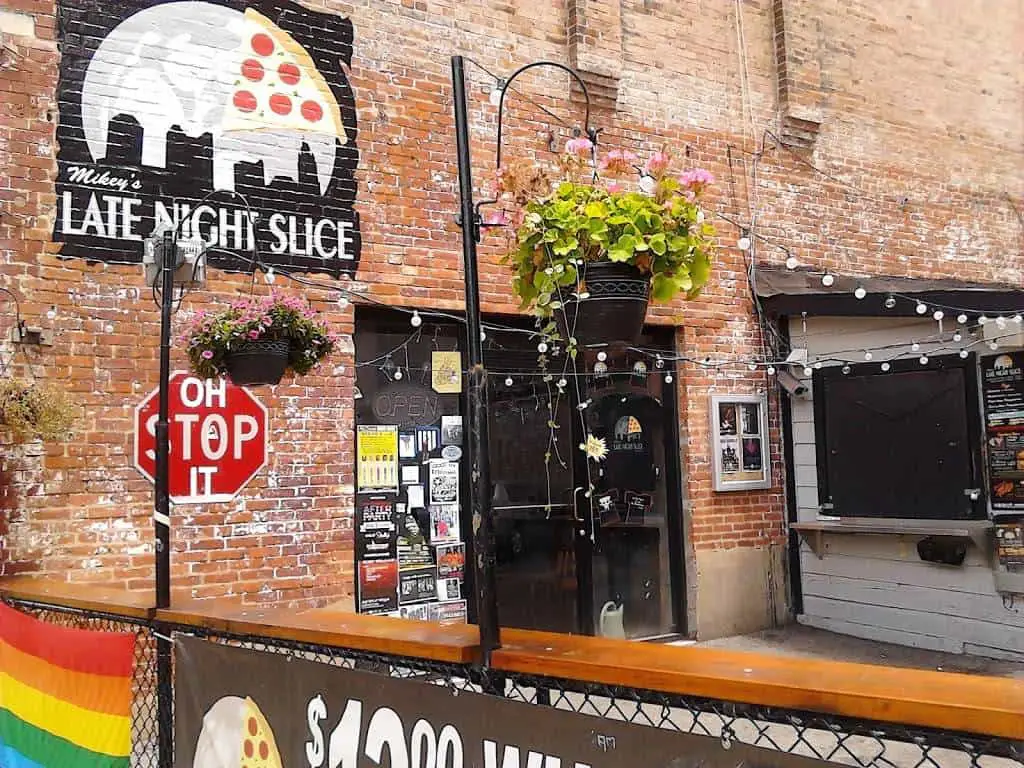 Address: 1030 N High St Columbus, OH 43201
Tel: (614) 737-3488
Aside from Adriatico's OSU, Mickey's is the perfect late-night destination. The restaurant stays open until 3:00 am (and 4:00 am on Saturdays). This eatery started as a tiny pizzeria and is now one of the most popular pizza joints in Columbia, with multiple restaurants across the city.
They keep things simple by selling pizzas by the slice. That way, you can try the different flavor combinations they have. But you can also get the pies in whole if you want; they are big enough to split with friends.
Even if you are a fan of thin crusts, you will fall in love with the thicker crusts sold here; they are crunchy and delectable. Try the one with sausage, mushroom, and extra-strength pepperoni. Yum!
Address: 88 E Broad St, Columbus, OH 43215
Contact: (614) 940-8687
Another joint that will hook you up with a pizza in the wee hours of the night is the Oh Pizza & Brew. Customers start streaming in as early as 11:00 am and don't stop until 2:00 am.
You will love the thin pizza crust. It is flavorful and comes with loads of toppings. The sauce has a lot of flavor too. You can even get their incredibly delicious garlic sauce on the side for crust dipping.
Spicy Ezzo Pizza and Kaua'i Pizza are some of our favorites. The Ezzo old-world pepperoni in the Spicy Ezzo is particularly outstanding. But don't come here just for the pizza; try their decorated tots and wings too. Have your order delivered home, or head out for carryout or dining-in.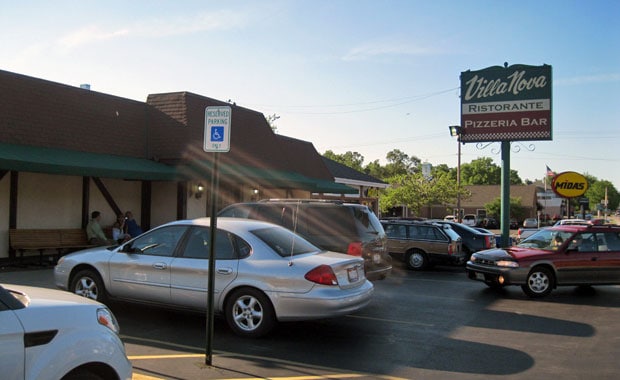 Address: 5545 N High St Columbus, OH 43214
Contact: (614) 846-5777
Don't drive outside Villa Nova Ristorante without taking a few minutes to try their pepperoni pizza. They serve it very hot with a crunchy crust and a mountain of toppings—like how you would expect a good pizza to be. Also, get a cheese pizza. It is one of the best in town!
The restaurant is small and intimate, and all meals have a reasonable price. The only downside? It can be very crowded, and orders may take a little longer. But honestly, what you get in the end is worth the wait.
Order online between 11:00 am and 11:00 pm and pick up the order at the curbside or have it delivered.
Address: 1327 W 5th Ave Columbus, OH 43212
Contact: (614) 487-8282
Dewey's is a successful pizzeria with a chain of restaurants reaching across Ohio and Kansas. Their extensive pizza options and favorable prices are the reasons crowds flock here.
Edgar Allen Poe is everyone's favorite. It features fontina, mozzarella, goat cheese, kalamata leaves, and roasted garlic. Porky Fig, Bronx Bomber, and Don Corleone are other fun varieties people love to explore.
Kids will love Dr. Dre. Add mushrooms and pineapples to the bacon and chicken. And the taste will be out of this world. Place your order for carryout or curbside pickup. You can do this any time between 11:00 am and 9:00 pm.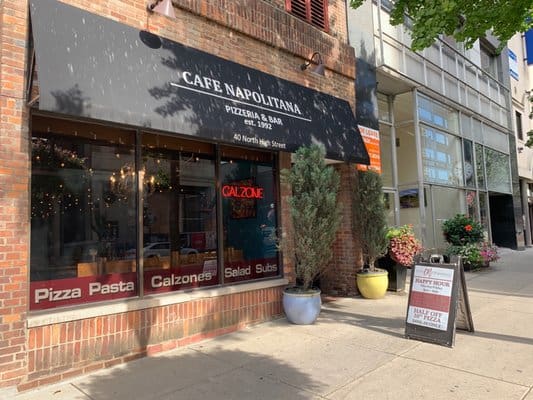 Address: 51 E Gay St, Columbus, OH 43215
Contact: (614)224-3013
Formerly known as Café Napolitana, Aracri elevated into a fancy pizza joint. But the signature pizza and classic Italian recipes remain. Plus, the personal note they leave inside the pizza box gives it such a homely touch.
All pizza ingredients are fresh and made from scratch, and the pizza itself comes piping hot. Get their specialty pizza like the Supreme or Buffalo Chicken or pick your toppings and have them make a pizza customized to your liking.
Visit the restaurant for the branch from 11:00 am to 9:00 pm or for dinner from 4:00 pm to 10:00 pm. You could also order takeout or have the pizza delivered to you.
Address: 2643 E Main St Columbus, OH 43209
Contact: (614) 235-0712
Rubino's is known for its unique, old-school Columbus-style pizza that has graced dinner tables for years. They make their dough from scratch and run it through a mechanical roller to produce that cracker-thin crust—that everybody loves.
Try the one with pepperoni—you will love the thick sauce covering the crust edge to edge. Rubino's vegetarian option is also pretty incredible if you are into that kind of thing. Come here any time from 4:00 pm to 9:00 pm.
Clintonville
Address: 2923 N High St Columbus, OH 43202
Contact: (614) 261-0080
Grandview
Address: 1565 King Avenue Columbus, OH 43212
Contact: (614) 485-9711
Want to bake your pizza at home? Have Mama Mimi set up the crust and ingredients for you. Just say how you want your pizza to look, and they will do the rest.
The dough comes new when you place the order, and so do the toppings, which helps keep things fresh. Choose from the available pizza styles and flavors, or select your favorite toppings and design your pie.
Address: 936 N 4th St, Columbus, OH 43201
Contact: (614) 725-2115
Like the play on their name, this brand offer gourmet wood-fired pie to the community. They offer Italian cuisine ranging from seasonal salads to specialty pizzas. But what we love about this brand is their support of the local food system. The company partners with local suppliers like Green Edge Green and Blue Jacket Dairy to ensure quality ingredients.
Many recommend their Clintonville pizza because of its simple yet elegant taste. It has roasted mushrooms, smoked salt, and grated cheese. And to cap off everything, they drizzle it with truffle oil.
Address: 17 S High St, Columbus, OH 43215
Contact: (614) 754-1459
Pizza Rustica has everything you're looking for! We're talking about over 40 topping selections and a long list of menus. It is so lengthy that you'll feel overwhelmed and excited at first. But calm your horses because they've categorized everything based on specialized diets.
If you want something savory, scan through their meat pizza. If you prefer healthy options, try their salad pizza with roasted chicken. Aside from this, they also offer gluten-free crust wherein you can choose your toppings.
And to end the hearty meal, check out their dessert section. It ranges from dessert calzones to chocolate pizza and tiramisu.
Address: 1350 W Lane Ave, Columbus, OH 43221
Contact: (614) 486-2969
Tommy's operated since 1952, making it the second oldest pizzeria in the city. And with that long-standing history, there is no doubt that they're also one of the best. You can offer a slice or pick from their three pizza sizes. The prices vary if it's a regular topping or a protein ingredient. Each has an increment of $0.30, but you can order their all-the-way pizza if you don't like to customize.
Take Away
Columbus, Ohio, has a long list of the best pizza places to be proud of. From gourmet-style pizzas to late-night craving runs—the city has it all. Aside from this, many of the listed pizzerias also serve catering services, so check that out for your next party!
Have you tried any of these pizzerias? Did they deliver to your expectations? Comment below and share your experience.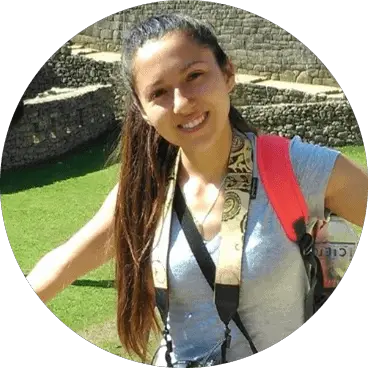 Kathryn's love for pizza started when she was still young. When she was young, she's been a picky eater–that's what her Mom used to say. The only food that she enjoyed and loved was pizza–until now! Her love for pizza turned into a passion!