What better way to elevate your pizza experience than with the right kind of wine? Pizza and wine can make the perfect combo. But the problem is, finding the best wine that goes well with pizza can be confusing.
Naturally, full-bodied wines go with sausage, pepperoni and cheese pizza. These wines have more than 13.5 percent alcohol. Common examples of full-bodied wines include Zinfandel, Cabernet Sauvignon, and Syrah. Usually, these wines have more complex flavors than light wines.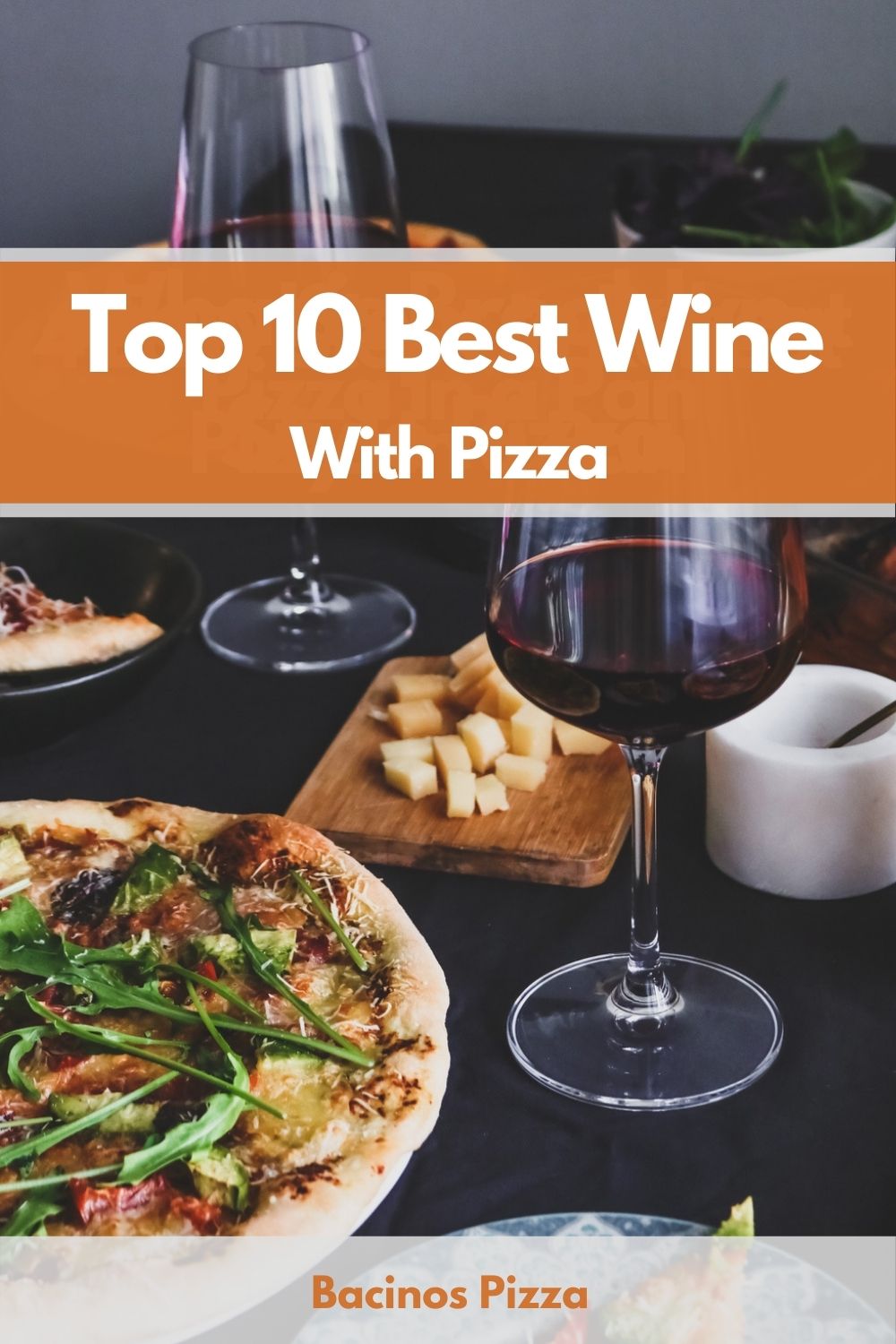 By contrast, light wines are best for White Pizza, Margherita, and Hawaiian. These wines have less than 12 percent alcohol, and their taste isn't as rich as medium or full-bodied wines. A few examples include Barbera, Grenache, and Beaujolais.
If you're looking for pizza and wine combo ideas, then keep reading. I had the privilege to experiment with different combinations of wine and pizza. Here's my list of the 10 best red and white wines to drink with pizza.
The Best Wine With Pizza
1. Grenache/Syrah Blend with Pepperoni Pizza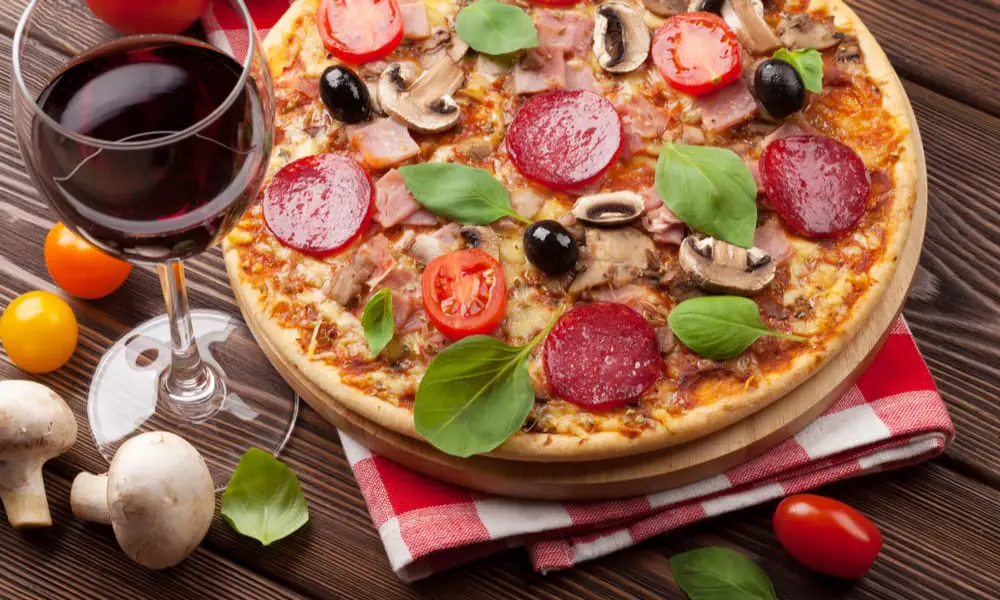 A spicier topping like pepperoni can stand up to a wine with a tad more attitude. Here, a juicy blend of Grenache and Syrah could be your magic bullet. You just need to be sure there's just enough tannin and oak to provide structure to your sips.
This red wine blend is often found in Cotes du Rhone wines from France. It's created by using blending techniques that balance Grenache and Syrah in proper proportions to produce a supple and delicious wine. If you pair this red wine blend with pizza, Grenache will add candied fruit, cinnamon, and raspberry flavors, while Syrah will add plum, blueberry, and savory flavors to the mix.
2. Pinot Noir with Mushroom Pizza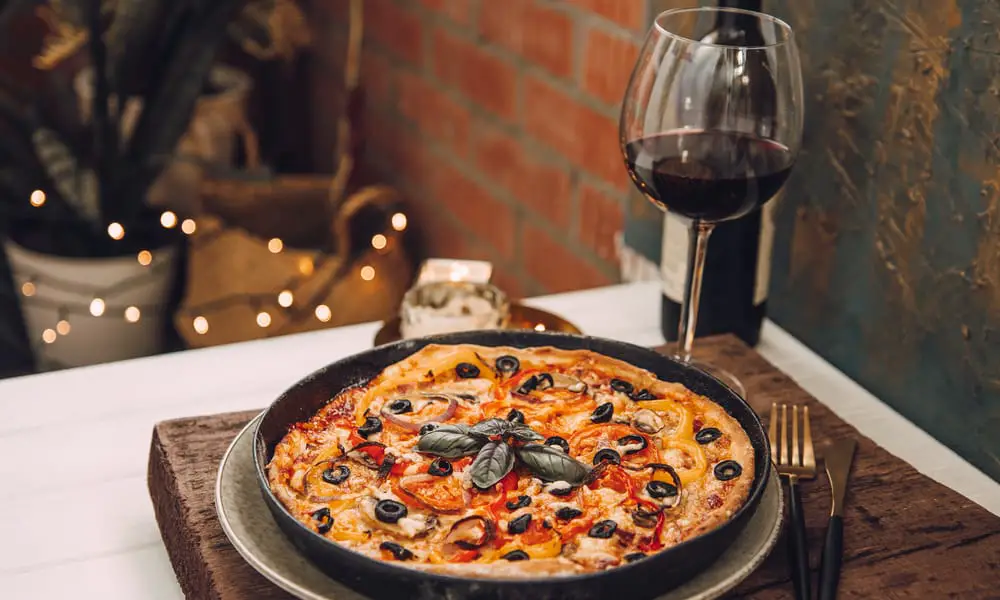 If you have a veggie pizza with plenty of mushrooms, Pinot Noir might be your best bet. This is one of the most prized red wines in the world. In fact, a bottle of good Pinot Noir is more expensive than most reds.
By pairing this wine with the mushrooms, it supports the creaminess with its earthy and herbaceous notes. This wine also performs well with all of the white pizza varieties. Pinot Noir is a nuance and subtle wine that won't overpower your pizza.
3. Chardonnay with White Pizza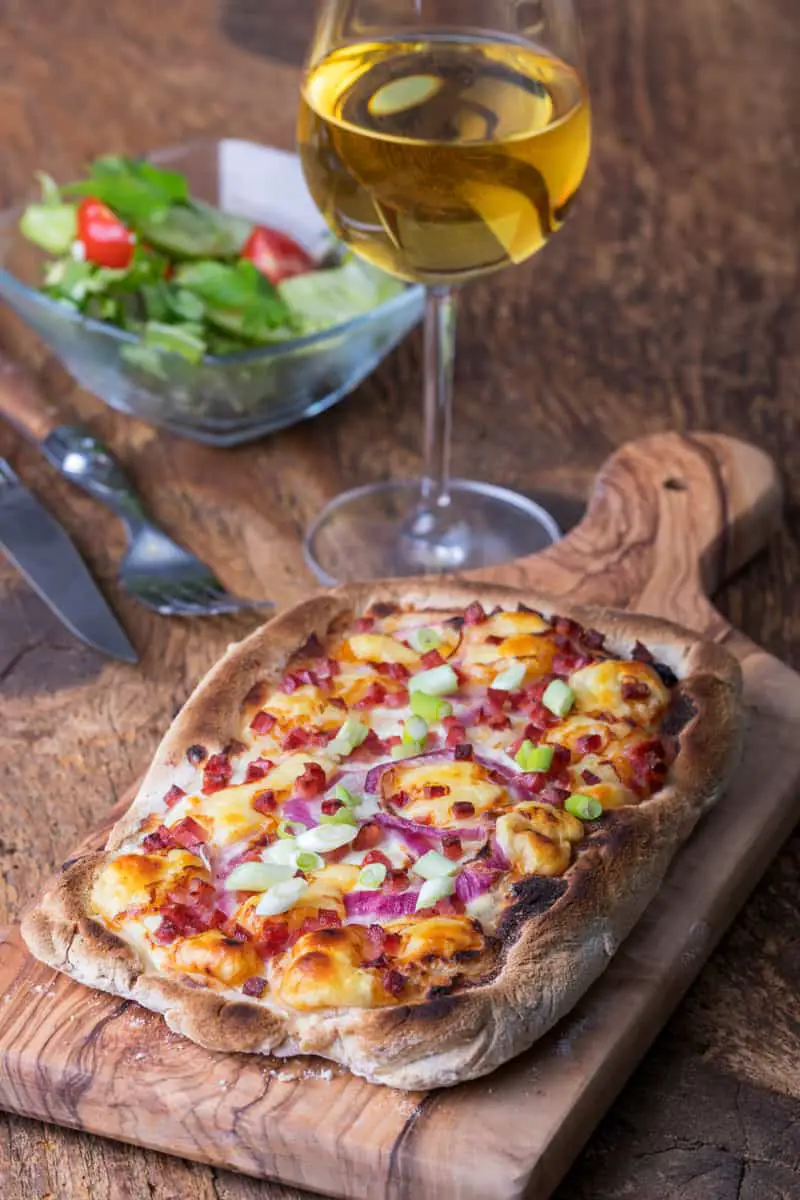 This is a full-bodied white wine that adds notes of pear, peach, pineapple, lemon, and passion fruit to your pizza. Typically, white pizza is made with a white cream sauce and is less acidic than a traditional red sauce. So you just want something that'll play into the creaminess of your pizza.
Although Pinot Noir may still go well with white pizza, there's something special about Chardonnay. A truly natural and organic Chardonnay imparts butter and cream flavors to your meal. While the malolactic fermentation process also contributes to the creamy notes, aging the wine in oak barrels can enhance these flavors.
4. Chianti with Veggie Pizza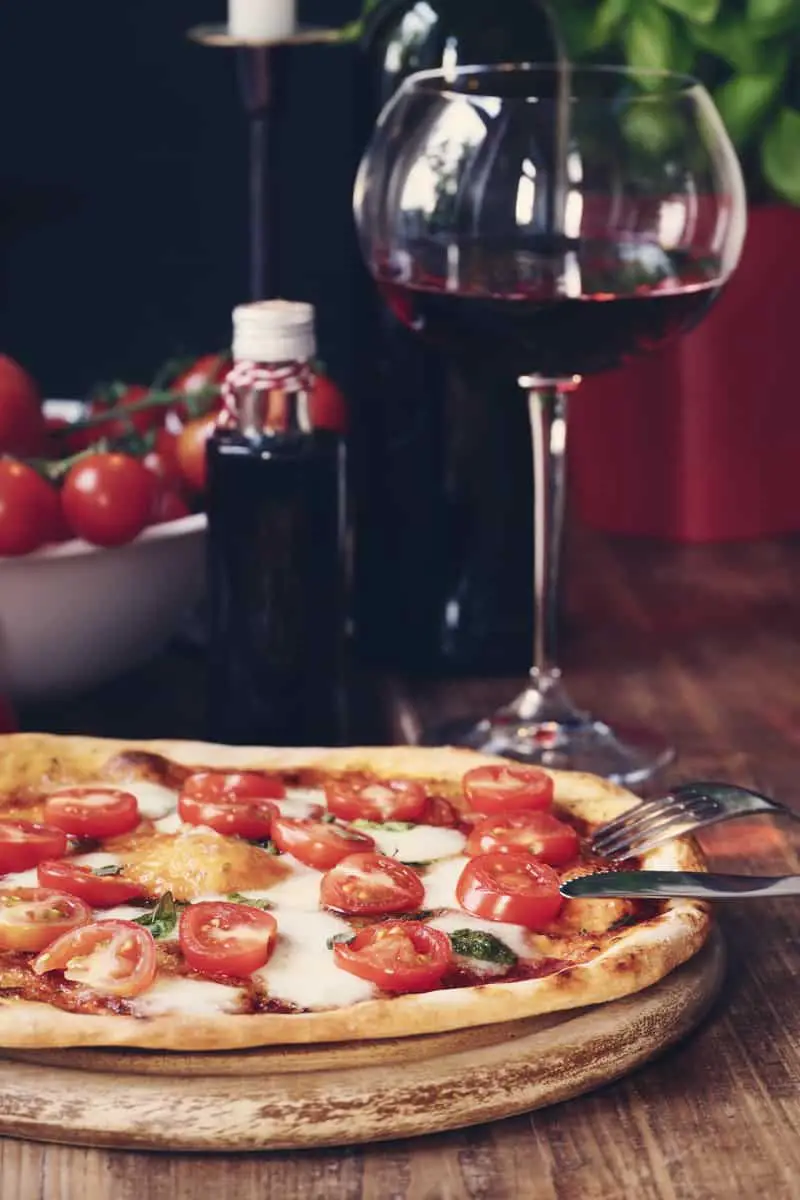 Chianti can go with almost every pizza out there. However, it tends to blend better with a vegetarian pizza type, especially one with savory, fresh herbs. Chianti is a classic red wine made from the Sangiovese grapes in Italy.
For the most divine pizza pairing, look for a Chianti Classico or a Brunello di Montalcino. Both of these are made from at least 80 percent Sangiovese grapes. And they go so well with veggie pizza because they're both savory and spicy, with bitter herbs, leather, and balsamic vinegar notes.
5. Sauvignon Blanc with Salad Pizza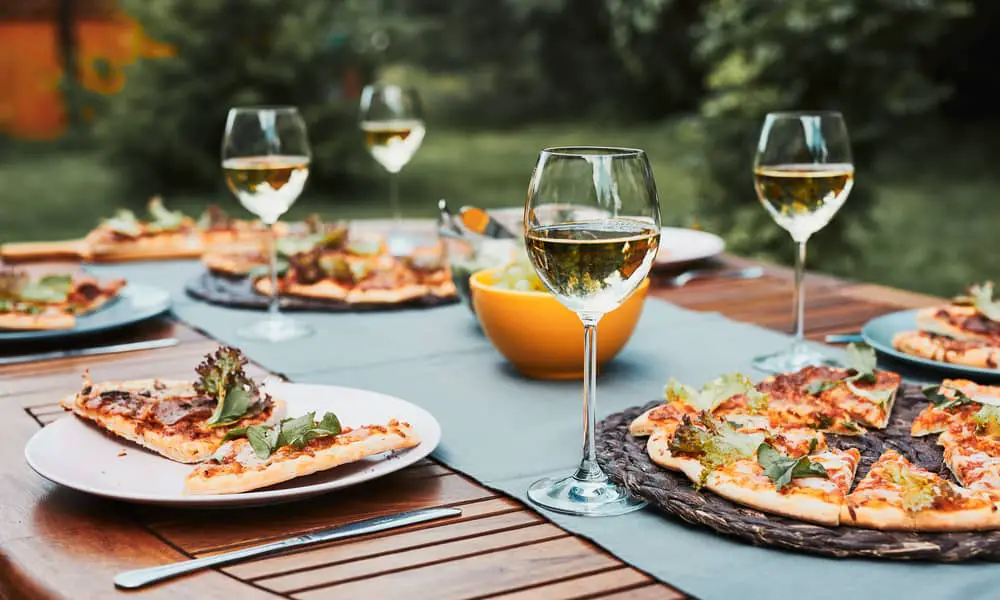 If you're in search for a white wine to pair with your salad pizza, Sauvignon Blanc is the real deal. Normally, a salad pizza is topped with leafy greens such as spinach and arugula. For that reason, you need a wine that can deal with the herbaceous qualities.
In this case, it's hard to go wrong with the Sauvignon Blanc. With its cool, crisp acidity and natural green flavors like green apple, kiwi, and lime, nothing's as refreshing as this white wine. I'd suggest you opt for either Groth Sauvignon Blanc or Cliff Lede Sauvignon Blanc to get the most out of the wine's tart acidity.
6. Cabernet Sauvignon with Margherita Pizza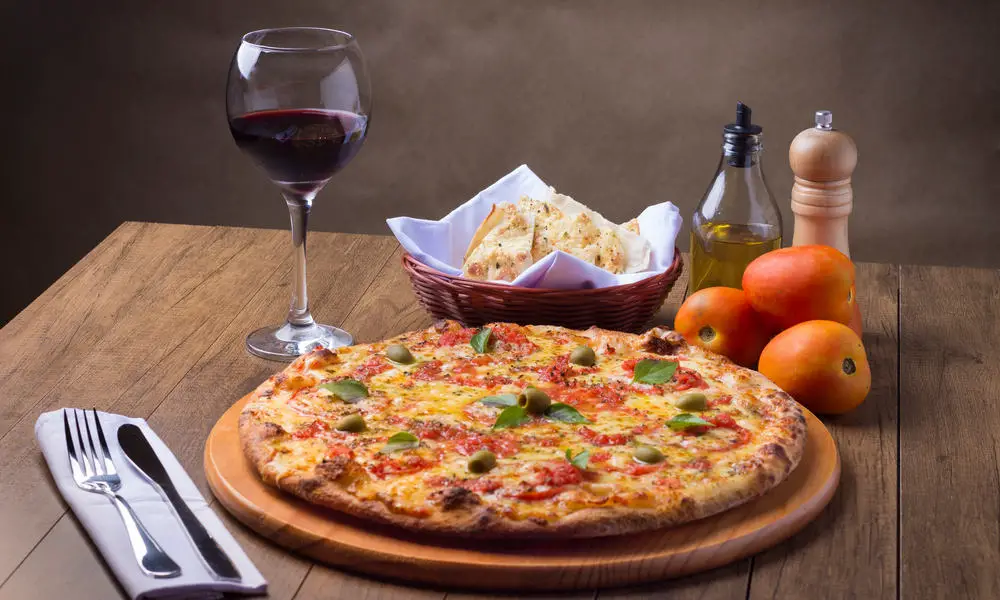 A Margherita pizza contains the classic flavors of creamy mozzarella, tangy tomato, and fragrant basil. As such, it lends itself well to a medium-bodied Cabernet Sauvignon. You'll want to go for a white wine without oak, such as an unoaked Chardonnay. This allows you to enjoy great flavors of fresh herbs and tomatoes.
If you'd like a red wine to pair with your Margherita pizza, a bottle of Chianti won't be a bad choice. This fruit-forward wine is loaded with aromas of citrus zest, green apple, and wildflowers. These zesty and juicy flavors combine to accentuate the Margherita pizza's unique sauce without overpowering it.
7. Tempranillo with Meat Pizza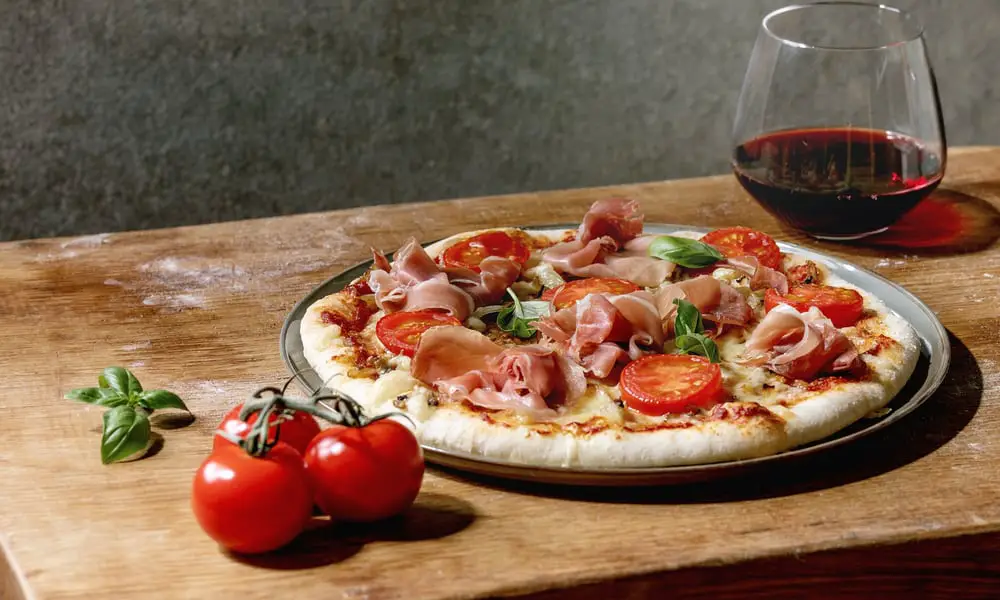 We all know a meat-topped pizza is choke-full of meaty flavors. So, you need a wine with some heft to handle the meat mega dose. One never-fail wine variety is Tempranillo. This red grape wine forms an integral part of some of the finest wines from Spain.
Deep ruby in color, this juicy and structured wine contains elevated tannins that cancel out the fattiness of the meat pizza. Remember, your mouth may feel dry if you drink red wine alone.
Because a fatty meat pizza creates a slippery sensation, combining it with red wine balances each other out. You might also want to try other full reds like Zinfandel, Merlot, or Shiraz. They all have rich fruity flavors that can complement the flavors of a meat pizza.
8. Riesling with Pineapple Pizza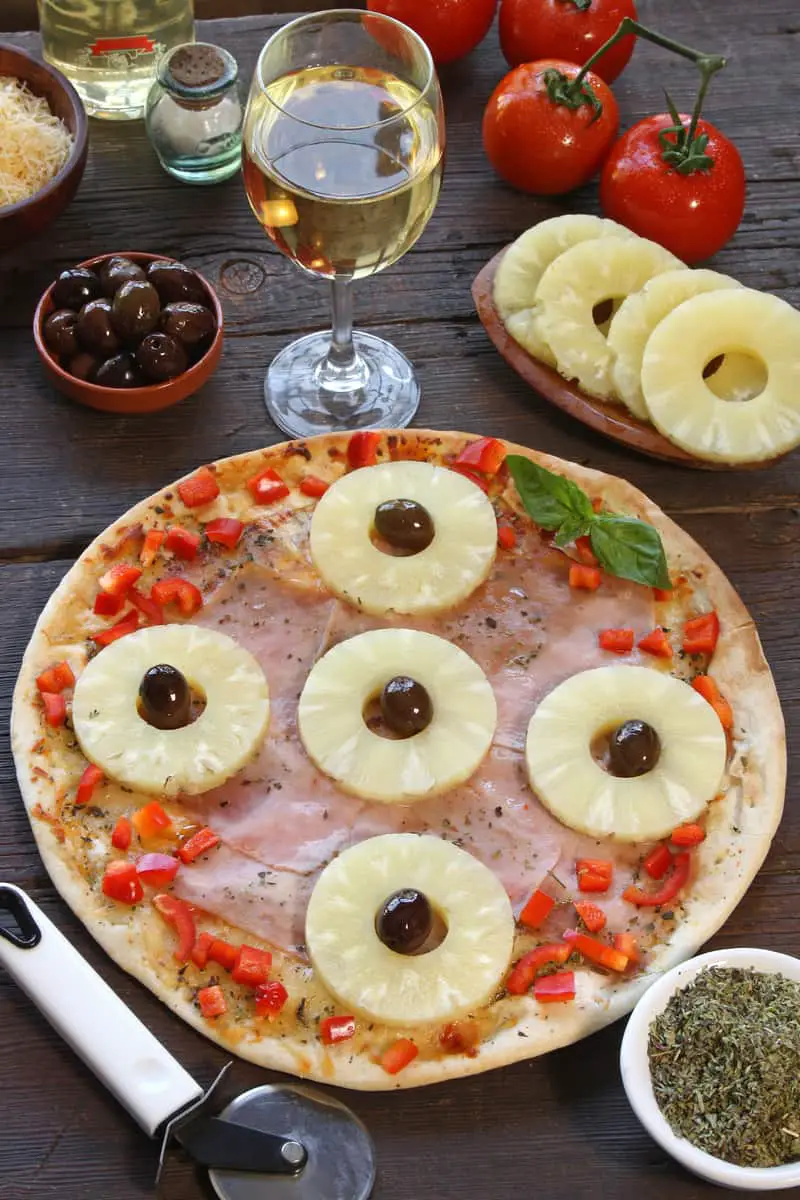 A versatile white wine, like Riesling or Vouvray, is the perfect match for fans of salty and sweet pizza combinations. When matching wine with sweet foods, you'll want to make sure the wine is sweeter than food. That way, every sip will taste delicious and not bitter.
Riesling is a semi-dry (demi-sec) wine with its own combination of acidity and sweetness.  Its sweetness pairs very nicely with the sweetness of the pineapple, while its acidity cuts through the richness of the pizza. Furthermore, Riesling is filled with aromas of tropical flowers, fruits, and minerals, making it a good pair.
9. Montepulciano with Cheese Pizza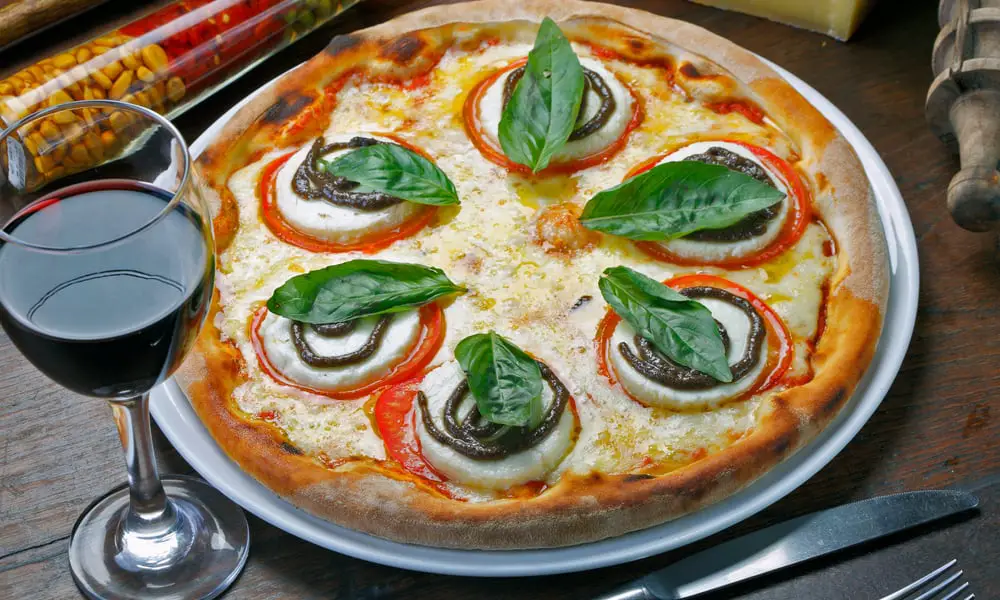 Cheese pizza may be considered a classic, but it can't go with just about any wine. You'll need a slightly acidic wine to bring out the delicious taste of cheese pizza slathered in a red sauce. Nothing pairs with a slice of cheese pizza than Montepulciano or Pinot Noir.
I prefer Montepulciano to Pinot Noir, though. This medium-bodied wine has a lower acidic level and lightly aromatic red flavors. Because the red sauce has an acidic taste, Montepulciano carries the fruity taste forward to counterbalance the sauce's acidity. This is my favorite combo, but you might want to try a medium-bodied Syrah, California Zinfandel, or Italian Chianti.
10. Beaujolais Cru with Potato Pizza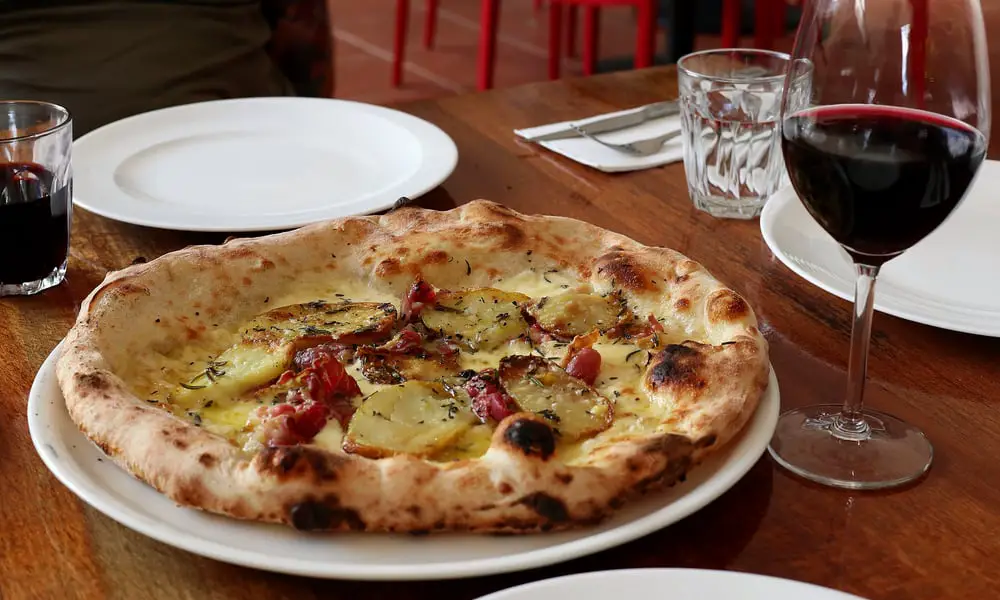 It won't be fair to wrap this list up without highlighting what goes with potato pizza. I'm a big fan of the Cru wines of Beaujolais. And their nice bottles are surprisingly affordable, usually costing around $20-$40 per bottle.
This light red wine is made from the Gamay grape and has an earthy and mushroomy flavor. The earthiness of the Beaujolais Cru is the perfect match for pizzas loaded with potatoes. It's also the perfect wine for pizza packed in mushrooms and veggies. If you pair this wine with your pizza, you get an earthy taste at a fraction of the cost of a Pinot Noir wine.
How to Pair Wine with Pizza
A great wine pairing is all about matching the flavors to make both wine and pizza taste better. Here's how to improve your pizza experience by pairing it with the best wine:
The easiest way to select the best wine is to match wine descriptions with pizza flavors. Ideally, a full-bodied red wine blends well with richer foods, such as hearty vegetable dishes and juicy red meats. White wine is ideal for lighter foods, including salads, grilled fish, or roast chicken.
Whether the pizza is acidic, sweet, fatty, or salty, pairing it with the right wine can balance out the taste. Bitter wines like Cabernet Sauvignon pair nicely with fatty pizzas, like those that are topped with ribeye steaks. Also, highly acidic wines with a higher alcoholic content pair well with fat. Sweet wines, like late-harvest Riesling, are great for salty and spicy pizza varieties.
No Pairing Bitter with Bitter
Matching bitter with bitter is a grave mistake you don't want to commit. If you're dealing with bitter foods, steer clear of wines that are high in tannins. Usually, these wines are bitter, and our taste buds have a striking sensitivity to bitterness. You want to cancel out the bitterness in food by using wines with lower tannin levels.
Match with a Slightly Sweet Wine
As a general rule of thumb, always make sure the wine is sweeter than the pizza. If the wine is less sweet than the pizza, the resulting taste may be overly sour and not so good. A slightly sweet wine pairs nicely with sweet foods. For example, sweet Sparkling Wine may be the best wine to pair with dessert pizza.
Final Thoughts
With so many choices of toppings, drinking wine with pizza is a great avenue to experiment and explore new pairing ideas. Whether you like thin, thick, or stuffed crust, you'll find the best wine to accentuate your pie.
In the end, there are no rights or wrongs when it comes to pairing wine with pizza. I suggest drinking what you like as long as it makes you happy.
Good luck choosing the best wine to pair with your pizza!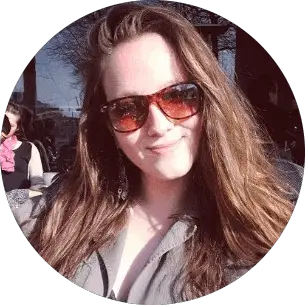 Barbara is an enthusiastic food-exploring person that goes through different culinary experiences. She got inspired by creating a pizza blog post after she tasted one of the best-selling pizzas in Toledo.