Two things that are almost universally adored are pizza and cookies – so why not combine the two and make a dessert that is guaranteed to be a huge success with kids and adults alike?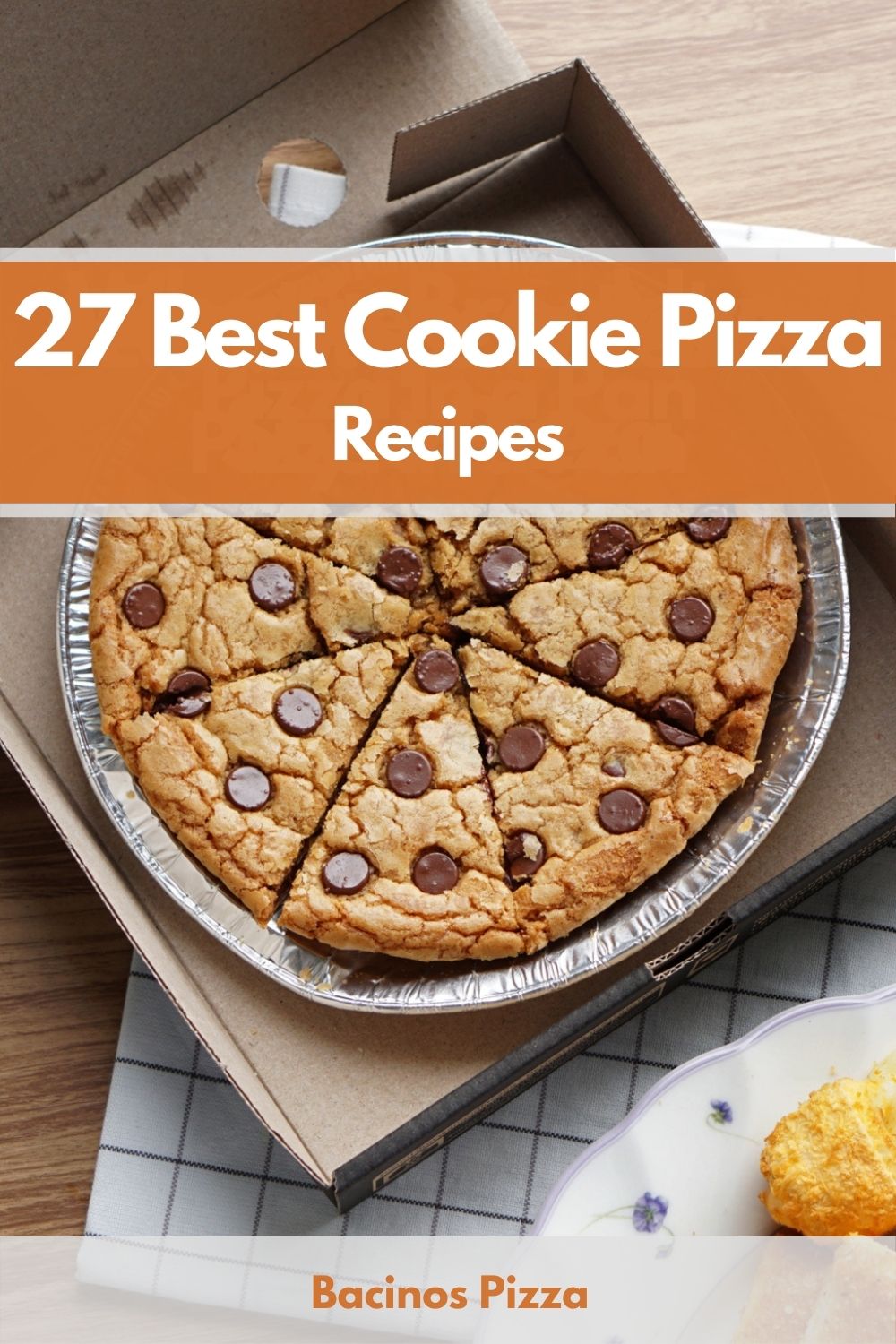 For anyone who thinks that sounds like an interesting idea, we've had a look online to see what other people have been trying – and as a result, here are 27 fantastic cookie pizza recipes you can try recreating yourself.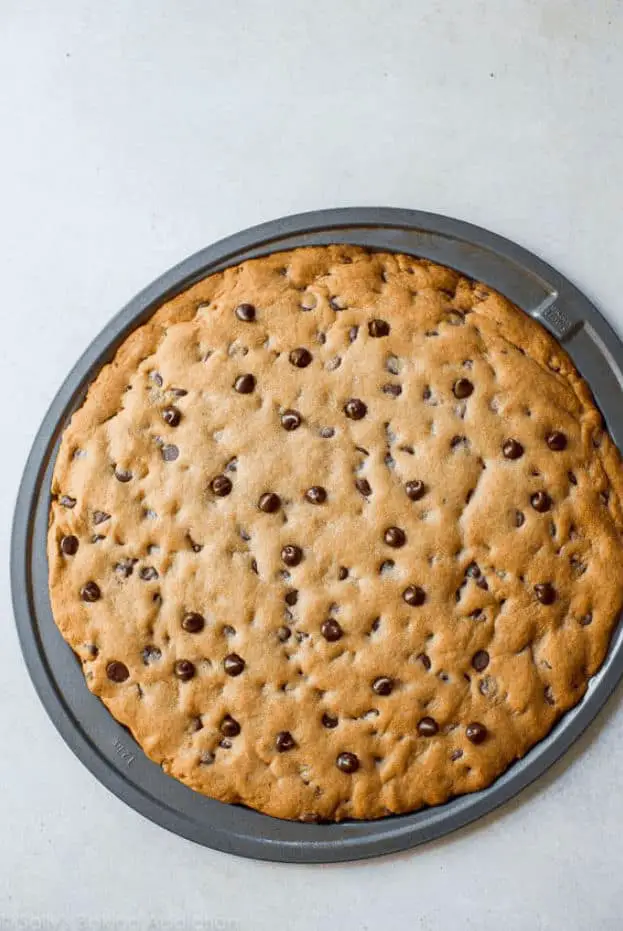 As this blog tells us, this recipe shows you how to make something that is part pizza, part cookie – and 100% delicious. This is a simple version of a well-loved classic, but when you see the photos delicious-looking cookie slices, it's not hard to understand why this dessert is so popular. If you want to make one, this recipe provides all the necessary details.
2. Cookie Pizza – Pizza Hut Style
For many, Pizza Hut's cookie pizza represents the pinnacle of this dessert. If you aim to recreate it at home, this Pizza Hut-style cookie pizza recipe is for you. It's such an easy recipe to copy, and the video is fun to watch too – so why not check it out and see if you can make something just like it yourself?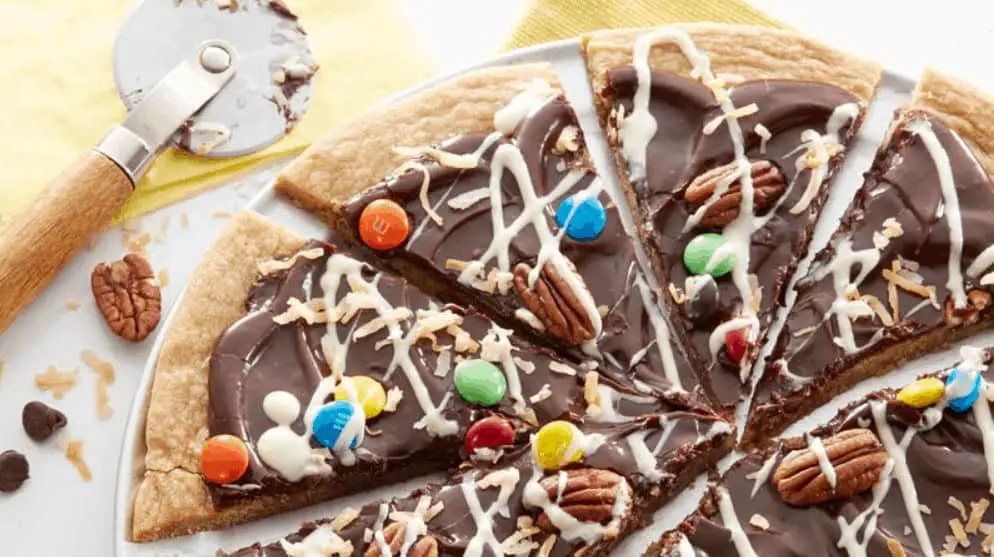 This blogger makes the valid point that almost everything seems better in pizza form – and that includes cookies. We like the way this recipe uses chocolate to replicate the pizza sauce, making it an even more authentic version. It looks irresistible too, and if you want to try making one of your own, this recipe will teach you how to do it.
4. Chocolate Chip Cookie Pizza Recipe from BakeLikeAPro
The pile of cookie pizza slices spinning on the plate at the beginning of this video looks amazing – and as this YouTuber explains in his intro, something like this is super-fun and easy to make. This recipe looks like it gives you more of a "deep dish" pizza than a "thin crust" version, and when we're talking about a cookie pizza, that equals extra layers of chocolatey deliciousness!
Making a cookie pizza is so simple that anyone can do it – as long as you have the right recipe to follow. However, coming up with creative and interesting toppings can be more of a challenge, so if you're looking for some inspiration, this post would be a great place to start. Peanut butter or marshmallow anyone? Which is your favorite?
6. Strawberry Dessert Pizza Recipe
Any time is a good time to make a cookie pizza, but if you're looking for something to surprise your special person with on Valentine's Day, this sweet treat could be the perfect option. This recipe includes a topping of fresh strawberries, which practically guarantees that this culinary creation will be well received. [27 Best Heart-Shaped Pizza Recipes]
Here's another cookie pizza we love the look of – this one has a base of chocolate sauce and is topped with pieces of chopped strawberry and marshmallows. It only requires 15 minutes of prep plus 25 more in the oven, and it's big enough to serve 15 people, making an ideal option if you need something quick and easy to serve at a party.
8. Cookie Pizza Recipe from Em's Kitchen
In case you didn't already realize, this video shows you just how easy it is to make cookie pizza – because the tutorial is only two minutes long. That's all the time it needs to show you everything you need to know, allowing you to spend less time watching and more time baking. So what are you waiting for?
With salted caramel and melted chocolate drizzled all over it, the cookie pizza in this blog looks like a work of contemporary art. Total cook time is a little longer than for some of the others we've seen, but it's still super-easy to make – and we're sure the taste will be worth the wait. Want to know how to make one just like it? Then check out this blog to find out!
The blogger responsible for this recipe tells us that a cookie pizza is the ultimate alternative to a birthday cake for a kids' birthday cake. With just one bowl and one pan, you can create a delicious dessert that everyone will love, especially if you also serve it with a spoonful of ice cream melting on top. This recipe is for a chocolate chip version, but there are also a couple of other ideas to make it more exciting. Check it out and see what you think!
11. Pizza cookies Recipe by Nazia Farhan
This is a video we enjoyed watching. In it, this YouTuber demonstrates how to make a delicious deep dish cookie pizza with a luxurious layer of chocolate sauce in the middle. As she recommends, serve each slice with a scoop of ice cream and you have a simple yet irresistible dessert that's sure to be a big hit.
Topped with peanut butter, mini marshmallows and a handful of chocolate chips, this cookie pizza is the kind of dessert nobody can turn down – and that will have everyone coming back for a second helping. It's incredibly easy to copy this recipe too, but just be sure to make enough!
13. Quest Cookie Pizza Recipe from The Protein Chef
If you're looking for the kind of dessert recipe that's packed with protein and fiber that will help your workout, this could be the ideal option. As the introduction explains, it's also a healthy choice that's low in sugar – so if you're watching your line but don't want to sacrifice tasty desserts, this is something that could be worth a try.
The dessert pizza in this recipe is such a good idea. As a topping, it uses a whole range of colorful fruits, so not only is it delicious, but it's also healthy too – and it looks stunning. This is a dessert that kids are sure to love, but you could also serve it at a grown-up party, so whoever you need an original dessert for, this is an option that's worth attempting.
15. Fresh Fruit Sugar Cookie Pizza from Lily Haberdashery
Cookie pizzas are probably easier than making regular pizzas, but if you don't want to make the cookie base yourself, you can cheat and buy one ready-made. If that sounds like the kind of shortcut you'd be interested in, this is the recipe for you – because it shows you how to make a cookie pizza using a store-bought cookie mix for the base.
The pizza in the photo at the top of this post is another stunning idea of the kind of thing you can make if you're feeling creative. Even better, this is another one that uses store-bought cookie dough – so all you really need to think about is arranging the toppings!
17. How to Make a Loaded Chocolate Chip Pizza
If you're looking for something extra-indulgent, the cookie pizza in this recipe should be the kind of thing that appeals – because the topping includes a layer of chocolate sauce along with a scattering of M&Ms and a range of chopped-up chocolate bars. It's probably not a great idea if you're on a diet, but if you want to give yourself a special treat, this extravagant option is sure to hit the spot.
One of the best things about making cookie pizzas is that the basic idea is so simple. But then, once you have your cookie pizza made, you can be as creative as you like covering it will all the delicious toppings of your choice. However, to get to that point, you still need a tutorial to show you how it's done – and that's exactly what this blog post provides.
19. Carol's Cookies Pizza Recipe
This is another great video to watch for anyone who wants to learn how to bake a cookie pizza without making their own cookie dough. As this YouTuber demonstrates, you simply take your bought dough from the container, spread it out into a pizza shape and put it in the oven to cook. She then serves hers just as it is – but of course, feel free to add any other extra toppings you think you'll enjoy.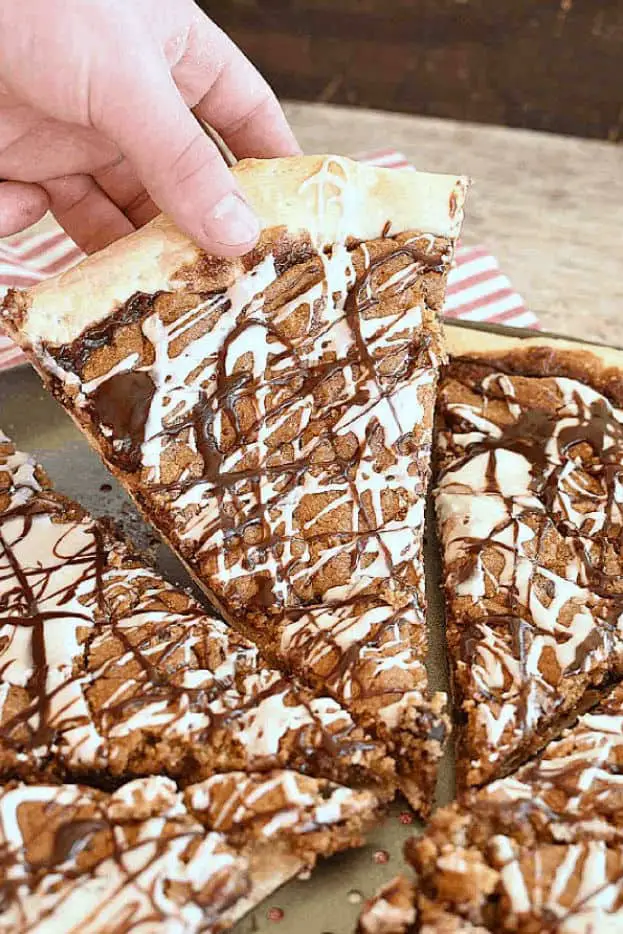 Most of the recipes we've seen for cookie pizzas use cookie dough as the crust. However, this is a far more original idea since it uses regular pizza dough and then adds cookies as the topping. This is finished off with a generous dose of fudge sauce – and the result is simply exquisite! Sound interesting? Then why not have a go at making one yourself?
21. Chocolate Chip Cookie Pizza from Rockin Robin Cooks
If you like your cookies soft and chewy, you're going to love this quick and easy recipe – because it gives you a delicious soft and chewy cookie the size of a pizza. As you can see in the video, those slices look like they'll just melt in your mouth, and all you have to do to make one of your own is follow the simple instructions in the video.
22. How to Make Cookie Fruit Pizza
The concept here is simple – it's a fruit-covered cookie crust that's shaped like a pizza. It sounds so simple, right? But then when you see the delectable morsels of kiwi, strawberry, banana and blueberries covered in an irresistible sugar glaze, you'll realize how sometimes the simplest creations are also the most delicious. And if you feel like trying to make one yourself, just keep watching for details.
The title of this recipe tells you everything you need to know. It's called a "loaded chocolate chip cookie pizza", and with M&Ms, Kit-Kat pieces, chocolate chips, peanut butter chips and – the secret ingredient – butterscotch chips, this is a rich and decadent version to savor. It might not be the kind of thing you want to eat every day, but for a special treat once in a while, it's hard to say no.
24. How To Make Cookie Dough Pizza from Get Curried
If you like chocolate, you'll love this recipe for cookie pizza – because it's a choco-explosion! It has chocolate chips in the dough, chocolate sauce and more chocolate chips on top – and to finish the job, crumbled Oreos for extra texture and taste. Cookie pizza perfection!
This quick and easy recipe teaches you how to make a simple but extra-tasty cookie pizza topped with chocolate sauce and chocolate chips. Prep and cooking time is minimal, which means you can have this fantastic dessert ready to serve in no time.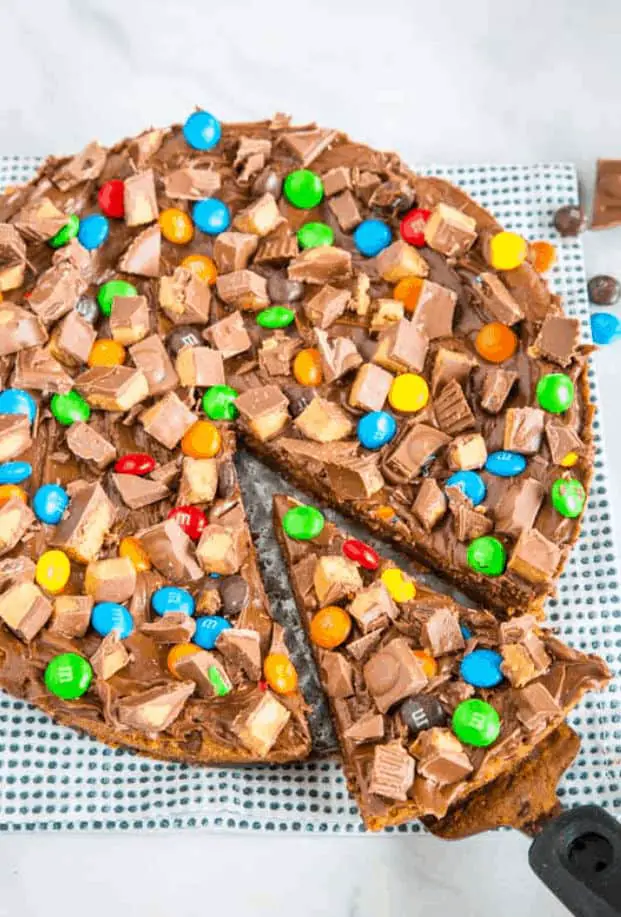 Here's another recipe for a "loaded" cookie pizza, and this one has so much stuff piled on top, we're having trouble identifying everything without checking the recipe. Have a look and see how many items you can count – and then why not have a go at making something similar if you like the idea?
27. Fruit Pizza Recipe Demonstration – Joy of Baking
The intro to this video describes this fruit cookie pizza as a casual dessert that's perfect for summer get-togethers. You might not want to serve it at a fancy soirée, but if you just want to enjoy an unpretentious gathering with a few friends, making something like this is the ideal solution – and something that all your guests are sure to adore!
Plenty of great ideas to inspire you
As you can see, when it comes to cookie pizza recipes, there's no shortage of ideas to inspire you to get into the kitchen and start cooking.
We've enjoyed collecting these recipes for you, so we hope you've enjoyed reading and watching them too. And above all, we hope we've helped you find the ideas you needed for making your own cookie pizza at home!
27 Best Cookie Pizza Recipes
Ingredients
Cookie Pizza – Pizza Hut Style

Chocolate Chip Cookie Pizza Recipe From BakeLikeAPro

Strawberry Dessert Pizza Recipe

Cookie Pizza Recipe From Em's Kitchen

Pizza Cookies Recipe By Nazia Farhan

Quest Cookie Pizza Recipe From The Protein Chef

Fresh Fruit Sugar Cookie Pizza From Lily Haberdashery

How To Make A Loaded Chocolate Chip Pizza

Carol's Cookies Pizza Recipe

Chocolate Chip Cookie Pizza From Rockin Robin Cooks

How To Make Cookie Fruit Pizza

How To Make Cookie Dough Pizza From Get Curried

Fruit Pizza Recipe Demonstration – Joy Of Baking
Directions
Select your favorite recipe.
Organize all the required ingredients.
Prep the recipe in 30 minutes or less!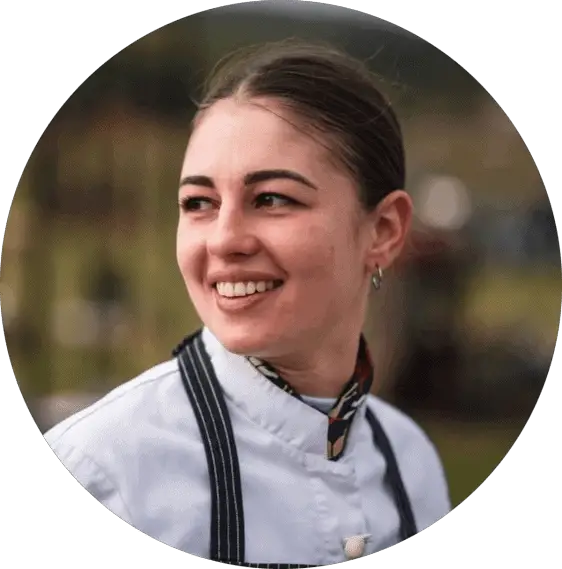 Julie has five years of experience in the restaurant industry, she decided to share her knowledge about her liking and fondness for food and pizza, of course, cooking as her love language. She's very passionate about what she's doing, making all the things she writes regarding pizza recipes, very amazing!