Summer season is coming near, and these fruits are starting to dominate again—including Figs! Eating raw figs is wonderful, but they could be roasted, which could somehow fill your tummies during movie nights or chill gaming session; but it does not just end there. As flexible as it could be, figs are now incorporated in pizzas as a substitute for tomato sauces.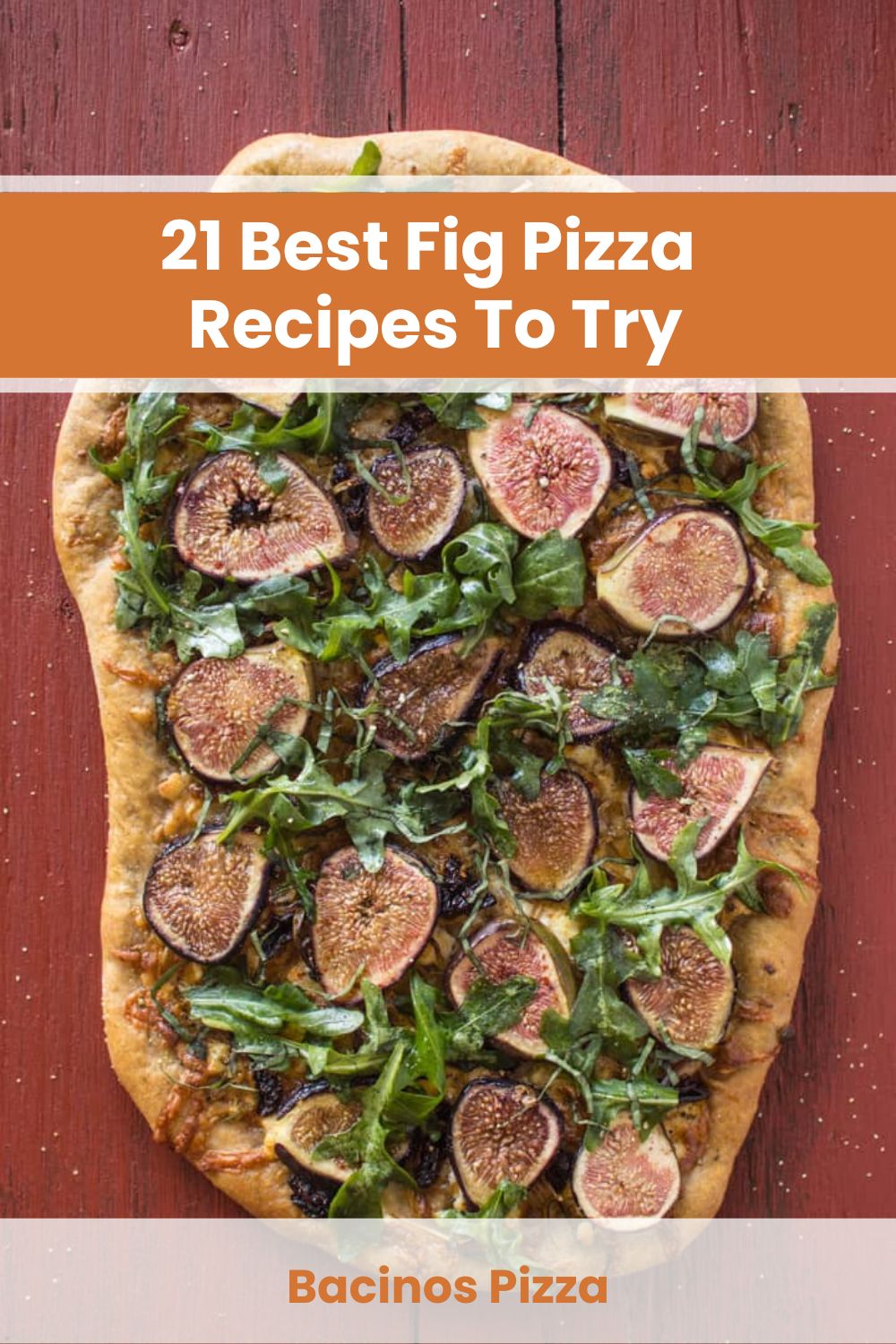 In this article, we are about to present 21 fig pizza recipes that are carefully curated, varying from flavor to flavor and ingredient to ingredient. This list of recipes will serve as a quick guide for everyone, including food smarts and healthy eaters!
Whether you like something new or want to level up your skills, this guide will help you fill that void. Pan down below to start your colorful fig pizza popping!
Nothing is more refined than a classic grilled fig pizza with a hint of sweetness from the fig itself and honey poured over on top. A simple recipe that only needs honey, cream cheese, ground cinnamon, and either fresh or dried figs will do for a delicate pizza dish that will surely be loved by many! The best part is that you will only need 30 minutes to serve a fresh pizza for your guests.
Fig Jam Pizza Bianca
They say less is more, just like in pizza! Goat cheese is perhaps one of the best cheeses for pizza, especially when mixed with sweet and flavorful Fig Jam spread in the dough. Pop it into the oven for 15 minutes, and once done, sprinkle arugula and truffle oil. Serve this with a glass of wine, and all the slices will be gone in no time.
Are you a fan of dishes with different flavors? How about a pizza with sweetness, savor, and pepper? If you answer yes, this Fig-Prosciutto Pizza with Arugula is for you.
An explosion of flavors at first bite made from scratch pizza dough, topped with fig spread, mozzarella, prosciutto, arugula, and of course, parmesan and mozzarella cheese to make it even gooey! It may take quite your time, but it will be worth it.
Mascarpone fig and Honey Wood Fired Pizza Recipe
If you think you have done the fanciest pizza, have you tried making Mascarpone fig and Honeywood fired pizza? This pizza requires a delicate preparation process as its crust needs 72 hours to make.
Glen carefully explained step-by-step procedures and techniques for making this authentic oven brick pizza with mascarpone and sliced figs. Depending on your desire and preference, you can also add some meat or pepperoni alongside it. If you have a brick oven, better try this one to pump up your dinners!
Only some people suit a regular crust pizza, and this recipe is for those who love thin crusts! Fig and goat cheese pizza is a simple and safe flavor for everyone, but it's time to level up its taste.
A fig pizza topped with goat cheese, caramelized onions, arugula, and maple balsamic reduction dribbled is a perfect combination to upgrade the fig and goat pizza we all used to love. Do not wait for any special occasion to try this one, and do it now!
Cauliflower Crust Pizza with Figs and Gorgonzola
Are you looking for a gluten-free pizza? Try this Cauliflower Crust Pizza recipe by Food, People, and Places for healthier alternatives.
Dietary toppings such as figs, gorgonzola, and walnuts are used to create a burst of flavor that people with strict diets can enjoy and also for people who want to try something new. It may take some time to prepare, but you'd never know; it might be your new fave!
Here's a dreamy, cheesy, and flavorful pizza recipe that may make you the star of the night if you served this tonight. With only 40 minutes, you can enjoy this flavor-packed fig caramelized onion pizza that, everyone will love. The intensity of the flavors is even more elevated if fresh figs are paired with arugula to combine the sweetness with a peppery flavor.
Fresh Fig Pizza Recipe
Alf's Kitchen introduced another fig pizza recipe with the most basic ingredients it could have. Kickstart the cooking by caramelizing some onions and frying pancetta; Afterwards, put the dough in cast iron, layered with mozzarella and figs, followed by the caramelized onions and fried pancetta. On top of everything, a simple and easy recipe that everyone would grab.
Who would not want an easy and quick pizza that can be prepared in case of emergency celebrations? This Grilled Pizza with Figs, Balsamic Onions, and Gorgonzola makes it possible to be on the table in only 30 minutes.
Its edge among the rest makes it possible to be done whether oven baked or pan-grilled on the stove. This grilled pizza is later brushed with olive oil and topped with figs, onions, gorgonzola cheese, and fresh arugula.
Sweet Fig Jam and Prosciutto Pizza in Blackstone
Have you tried a sweeter note of pizza jumbled with savory toppings? This recipe introduced by Blackstone Griddles will be a twist of fig pizza for you. With its thin-crust pizza, the toppings would definitely conquer all flavors. There is no need for any seasoning because everything comes in balance. Fig Jam, Gorgonzola Cheese, and Arugula; Perfection.
Three-cheese pizza, in general, gives us the cheesiest, gooiest, and most flavorful pizza that never go out of style. If you like it, why not make it better with fruits such as figs that you can have during summer?
Lisa Lin has provided a recipe to enjoy three cheese with fig and onion pizza in a snap! Jumpstart the cooking with mozzarella, cheddar, goat cheese, yellow onion, figs, and arugula, and let the magic begin!
Roasted Fig Summer Pizza
In this recipe, Lily Diamond shows how to prepare a roasted fig summer pizza that is easy, straightforward, and classic. To start the process, prepare your pizza dough by drizzling some olive oil, spreading it with caramelized onions, your preferred cheese, and finishing with rosemary and figs. Pop it in the oven for 15 minutes, and you are good to go.
A freshly cooked pizza with a simple and quick recipe will be your best friend if you have little time. A store-bought pizza dough would be fine if you are in a hurry, and spice it up with its sauce and toppings instead.
With the combination of artichokes, garlic, cheese, lemon, and walnuts, the sauce will complement the shallots and figs, creating a clash of sweet and savory flavors.
Fig and Pig Pizza
Have friends come over for dinner? Try this sweet and savory pizza recipe brought to you by BBQGaloreUSA. Five ingredients are all you need to make this flavorful combo, including pizza dough, olive oil, figs, prosciutto, and cheese of your choice. Let it sit in the oven for 10-15 minutes, and let it cool for a while. Serve this for your friends, and they might line up for two!
Here is another recipe for fig pizza involving prosciutto and purple baby spinach, which you will love. This may look similar to the latter recipe, but this one uses Stilton cheese and baby spinach, which creates green notes to the flavor.
Slice those figs into a quarter, chop garlic and shallots, and throw the stilton cheese evenly all over the dough to prep it into the oven for 15 minutes, and you're good to go.
Delicious Fig Walnut Pizza
As simple as it sounds, fig walnut pizza only requires you fig, walnut, and cheese! Homecooksworld presented a visualization of the process, which shows the most uncomplicated process you would ever do for a pizza. Low effort for a High flavor for a pizza? Sign me up!
This pizza recipe is delightful and straightforward; you would never know it only needs 15 ingredients! Gorgonzola and Spinach Pizza will be the new favorite of everyone; who would know it is just easy to make?
This recipe uses gorgonzola cheese and honey bechamel sauce to spread white sauce over the crust and topped with figs, spinach, and pistachios!
Fresh Fig and Pesto Pizza
Pesto Pizza is generally sided with savory, garlicky, and herby notes, but when fresh figs are added, it will surely add a hint of sweetness that perfectly matches.
Starting with a dough, spread fig jam unto it, then layer with pesto; Manchego cheese alongside mozzarella is then added for a creamier taste and topped with fresh figs before popping in the oven. Drizzle some balsamic sauce into the pizza, and everybody will love it!
Calling all the lovers of thick-crust pizza! Katie presented a recipe that matches your palate with fig, ham and ricotta cheese, having them all in one pizza.
Ricotta cheese mixed with sour cream makes it unique by spreading it into the dough and everything tastes like perfection as topped with figs, onion and ham.
Fig Prosciutto Gorgonzola and Arugula Pizza with Hot Honey
Olive and Mango brought us a recipe that we could make during summer, especially during fig season. The marriage of sweetness and savory prosciutto will be the head turner of the dining table, whether on a casual basis or a celebration.
Layered with fig jam, onions, gorgonzola cheese, arugula, and prosciutto, this recipe will surely be loved by many. Make sure to follow their procedure to create the perfect dish!
Feta Cheese is not only with a rich flavor but rich minerals for our muscles and bones. Having it in pizza makes it creamier and healthier, especially when matched with wheat honey pizza dough, making it more Mediterranean style.
Elevate the taste by having garlic-infused olive oil and honey to highlight the sweetness of the fig. With a prep time of 2 minutes and a cooking time of 20 minutes, a healthy, delicious pizza will have you making this again and again!
Wrapping it up
Indeed, figs are naturally sweet and could be paired with different dishes, especially with pizzas which are perfect for those who love sweet and savory! Fig pizzas are one of a kind since it disregards the stereotypical pizzas with tomato sauces, and figs outdid that! With the above 21 fig pizza recipes, we hope you gained knowledge and ideas on what to prepare for your next summer dinners!
Let us know how your experience went after you try these recipes!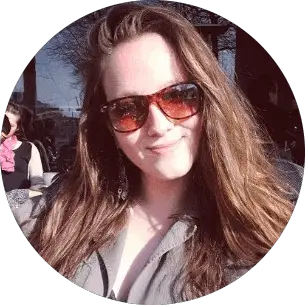 Barbara is an enthusiastic food-exploring person that goes through different culinary experiences. She got inspired by creating a pizza blog post after she tasted one of the best-selling pizzas in Toledo.