If you consider investing in a pizza franchise, then Blaze Pizza is a serious option. As of April 30, 2021, the company owns and runs 313 restaurants in the United States alone. Out of this, 306 are franchised, and 7 are corporate restaurants.
Blaze Pizza is emerging as a threat to industry leaders, including Pizza Hut, Domino's, and Little Caesar. For the most part, the company's popularity stems from the fact that it adopts the fast-fired, customizable pizza concept.
This made-to-order customer service approach is derived from the Chipotle, an American chain of fast-casual restaurants. Anyways, we'll have this discussion some other day.
In this article, I'll focus on how to invest in Blaze Pizza stock. This will come in handy if you're looking to invest in Blaze Pizza stock and grow your ROI.
What's Blaze Pizza?
Before we move any further, it would only be fair if you knew what Blaze Pizza is. This will be useful if you're interested in investing in Blaze Pizza stock but have no idea what it is or where to get started.
Blaze Pizza is the company that owns and operates a chain of fast-casual artisan pizza stores in the U.S and beyond. The first flagship store was opened by Elise Wetzel in 2011 and is based in Pasadena, California. As of now, there are 313 franchises in the United States and 12 outside the country.
In the U.S, you'll find Blaze Pizza stores in Colorado, Florida, Oklahoma, Arizona, Alabama, Wisconsin, Tennessee, and more. Outside America, there are stores in Canada, Kuwait, Bahrain, Saudi Arabia, and more. Keep in mind that Blaze Pizza serves customers using the made-to-order (MTO) strategy.
What's Blaze Pizza Stock?
Blaze Pizza requires franchise owners to buy 3-10 units within a 2-3-year period. Depending on your qualifications, you may be eligible to develop franchises for multiple restaurants in a given territory. Know that Blaze Pizza Restaurants typically mature after 18 months of operation.
When you invest in Blaze Pizza stock, you become a part of the Blaze Pizza family. Therefore, you get access to the company's recipes and procedures, training, vendors, and store build-out and trade dress. You also get access to the company's website, online ordering, social media, and gift card program.
In the video below, Jim Mizes, president & CEO of Blaze Pizza, explains how the company reaches customers:
Generally speaking, investing in Blaze Pizza stock allows you to secure everything you need to serve custom-built, artisanal pizza in a unique way. You'll be able to create delicious pizza at lightning-fast speed in front of your customers. Blaze Pizza's menu usually features gluten-free dough, signature salads, craft beer, fresh lemonades, and wine.
How to Invest in Blaze Pizza Stock?
There are things you need to figure out before investing in Blaze Pizza stock. Here's the process you should follow when putting up a Blaze Pizza franchise in your territory:
Step 1. Assess Your Finances
Before you invest in Blaze Pizza stock, you'll want to make sure you meet the required financial threshold. A single Blaze Pizza franchise will set you back $454,000 on the minimum and $1,150,500 on the maximum. This covers the initial franchise fee, royalty fee, marketing fee, and miscellaneous fees.
When assessing your finances, you'll want to factor in a slew of expenses. These include building and real estate costs, furniture and fixtures, licenses and permits, the cost of uniforms and signs, and insurance costs.
Usually, the total estimated initial franchise fee is about $30,000 per restaurant. If you run a certified training store, the estimated initial franchise fee will drop to $20,000. The cost of furniture and fixtures may range anywhere from $24,000 to $108,000.
Blaze Pizza imposes a 5-6% continuing royalty fee on gross sales and a 2% creative (advertising) fee on gross sales. So, if you plan to invest in Blaze Pizza stock in the United States, it would be best to have liquid cash of at least $500,000. This estimated investment fee should cover all expenses, including the first three months of operation.
Disclaimer: These are estimated initial expenses based on the historical costs to invest in Blaze Pizza stock. These figures are bound to change depending upon the current market conditions and location of your franchise. 
Step 2. Evaluate Your Strengths and Weaknesses
There is no secret that hard work, talent, and drive are crucial for good entrepreneurship. However, there's one critical factor that's often overlooked: experience. You must evaluate your prior experience, strengths, and weaknesses before applying to become a Blaze Pizza franchise owner.
The more experienced you are, the less you'll need to leverage others to enhance your business. For example, if you've worked as a multi-restaurant operator for a reasonable time, you'll probably be experienced enough to run a Blaze Pizza franchise.
This is because you already understand how the industry works, from scheduling to customer service and anything in between. Because you know the ins and outs of the food industry, you'll transfer that into your business plan. Having experience in a specific sector will help you make informed decisions.
Of course, you can still invest in Blaze Pizza stock even without prior experience. Nevertheless, it's unlikely that you'll have an upper edge over the competition. If you're starting a Blaze Pizza franchise without previous experience, hire people who've worked within the industry and learn the tricks of the trade.
Step 3. Do Some Market Research
The whole idea of starting a business is to make sales and profits. Once you know you're well-capitalized to meet the Blaze Pizza franchise's aggressive development plan, assess the market availability in your area. I recommend you do this before proceeding with your franchising application.
When assessing the target market, you'll want to ask yourself a few vital questions. For instance, what are the demographic elements of your location? What's the total number of households in your location? Do most people live in urban or suburban areas? What age group makes up the bigger portion of the population?
In most cases, pizza lovers are males and females aged between 10 and 50 years. They're often families from low and middle-income groups who associate fast food with affordability. Children also make the lion's share of the Cheese Pizza market, and they can inspire family dining decisions.
Generally, though, there is a good market for pizza everywhere, especially the Millennials and Gen Z. In fact, studies show that at least 90% of the U.S populace eats pizza. This means that if you put in place a robust combination of a superior product, effective marketing, and proper management, you'll reap big in no time.
Here's a video illustrating how to advertise pizza and amplify your sales in less time:
Step 4. Submit Your Application
With everything said and done, it's time to submit your application to the Blaze Pizza franchise team for review. You'll be required to fill out the Blaze Pizza franchise inquiry to start the evaluation process.
In approving or rejecting your franchise application, you'll be asked a couple of questions, including:
The region/market/country you are interested in developing.
The number of locations you would like to develop.
Your total liquid assets.
Information about yourself, your team, or your company.
Reasons Blaze Pizza should select you over other qualified candidates.
Ideally, the team is interested in knowing if you're capitalized enough to meet the aggressive development schedule. They would also like to know if you have Real Estate experience in the market you're planning to develop.
As a bonus, it would be best to have a total commitment to the development of the brand. To stand out from the competition, you need to have a passion for the Blaze Pizza brand. That way, your application will stand a chance to get approved.
Step 5. Receive Feedback
Upon reviewing your preliminary online application, the Blaze Pizza franchise team will email you the decision via [email protected] If you meet their initial selection criteria, the team will ask that you submit a formal franchise application before signing the confidentiality form.
Afterward, a conference call will be scheduled where you'll enter a QA session with one of the company's franchise representatives. Here, you'll be taught about Blaze and how to "blazify" your customers.
If you're a good fit for each other, you'll be emailed a Franchise Disclosure Document (FDD). This document provides a clear picture of the details of the business relationship between the franchisor and franchisee. As the final step, the team will schedule a face-to-face meeting where you'll finalize the Blaze Pizza stock investment deal.
A face-to-face meeting is necessary for the team to conduct your financial and background checks. Only applicants who meet all the criteria will have their applications approved. So, if you seriously want to open your Blaze Pizza franchise, be sure you check all the boxes before forging ahead.
Conclusion
Depending upon your finances, location, and other pertinent factors, Blaze Pizza might be the right franchise for you. The brand has a competitive edge over every chain pizza as well as a mom-and-pop pizzeria. One of the reasons for this massive success is that they serve their pizza at blazing speed, usually 2-3 minutes.
Another reason's that the brand gives intense focus on new products and ingredients to stay afloat in the market. This, in addition to paying close attention to franchisees and their profit, makes investing in Blaze Pizza stock attractive. As a polite reminder, though, you may succeed or fail in this endeavor depending on how you execute your business.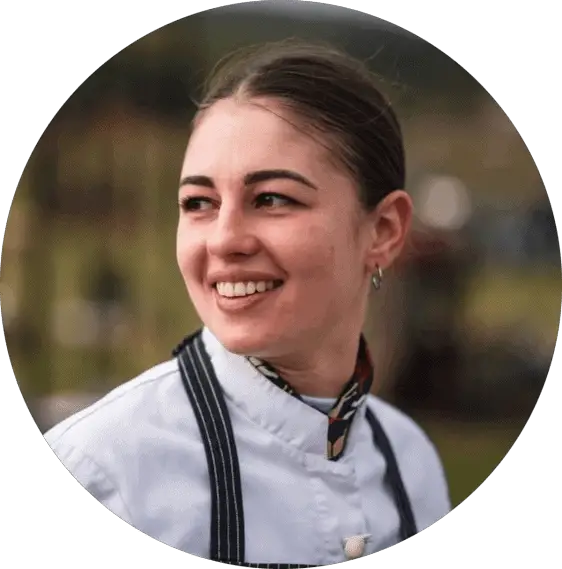 Julie has five years of experience in the restaurant industry, she decided to share her knowledge about her liking and fondness for food and pizza, of course, cooking as her love language. She's very passionate about what she's doing, making all the things she writes regarding pizza recipes, very amazing!