Pizza chains may not have the romance of your local neighborhood pizzeria. But they are a great way to get reliable, consistent pizza wherever you are in the country. And they usually offer good value for money too.
Here we look at the 11 best pizza chains in the USA. We'll find out what makes them so good. And we'll give you all the information you need to plan your next visit.
So without further ado, let's see what's out there!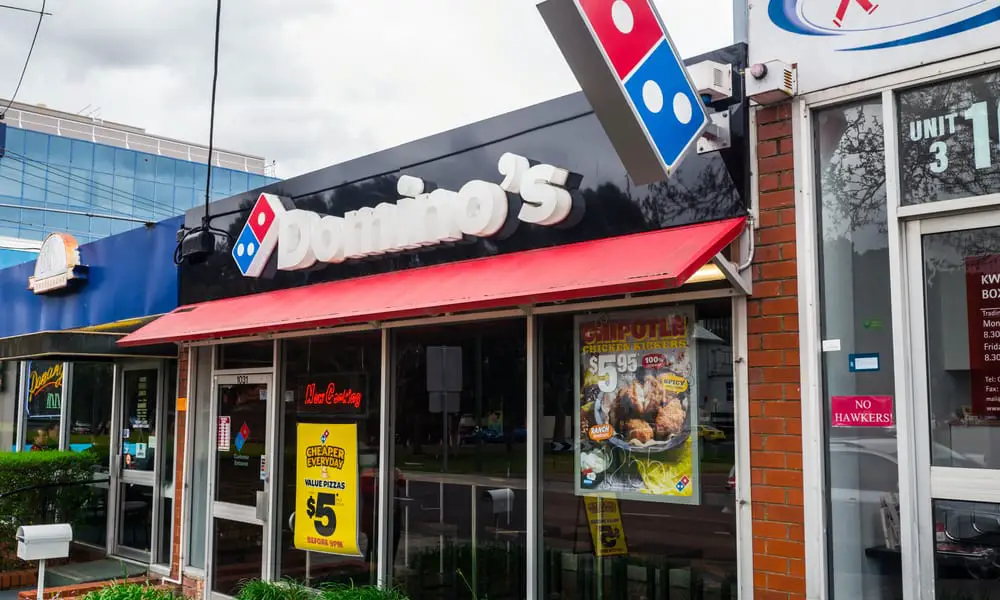 Domino's is the biggest pizza chain in the US, with annual sales of over $13.5 billion. That's a lot of pizza! With locations widespread in the country, you're unlikely to be far from a Domino's wherever you live.
It has a wide range of pizzas, with sizes, crusts, and toppings to suit all tastes and appetites. Also, there's a good variety of sides to choose from—from chicken wings to salads, bread, and sandwiches. And it all comes with no fewer than 14 different sauces and vinaigrettes.
Additionally, you'll find many bundles and coupons on offer, making it easy to feed a crowd without spending a fortune.
Like many pizza chains, however, Domino's doesn't have a great selection when it comes to dessert. What there is, though, is sweet and tasty. Choose between a cookie brownie, chocolate lava crunch cake, and the cinnamon-flavored Cinna Stix.
Check out the website for details of locations and your local restaurant's opening hours.
Next in size to Domino's is the chain giant Pizza Hut, with over $12 billion in sales yearly. It was founded in 1958 and is the only chain that comes close to Domino's Pizza in terms of market share. It has over 18,000 branches worldwide.
It has a massive range of pizzas, most of which are available in medium or large. Some also come in "personal" sizes, perfect for dining alone or a quick filler.
It's also an excellent choice for any wing lovers, with perhaps the widest selection of chicken wings of any pizza chain. They're available coated in breadcrumbs or without, bone in or out, and with an array of sauces. And you can choose from a serving of 8, 16, 24, or 48 pieces for gatherings of all sizes.
Desserts are tasty, if standard – cookies, brownies, cinnamon sticks, and apple pies. There may be better places to satisfy your sweet tooth, but overall, it's a convenient and good value choice.
There are over 800 Marco's pizzerias in 34 states. That made it America's seventh-biggest pizza chain in terms of sales in 2019.
You'll find a great range of pizzas here, including local specialties. You can also choose pizza bowls – all the pizza flavors (but without the crust). And all the menu options have the calorie content listed, so it's great for anyone watching their diet.
There's also a brilliant selection of subs, calzone, salads, and sides. Now moving on to the dessert tab, there are only two options – cinnamon squares or chocolate brownies. They're very flavorful, but the choice is undeniably narrow.
Marco's is worth checking out if you're catering to a crowd. There are different bundles for parties of up to 25 people. And as well as large pizzas and salads, there are catering trays of everything from chicken wings to cinnamon squares.
Parents catering for a children's party will find this an economical choice that's sure to go down well with kids.
Papa John's has grown from two guys making pizza in a broom closet in Indiana to a multi-billion dollar chain. Today there are over 3,000 branches across the United States. So what do you get if you visit one of their sites?
Well, the focus here is firmly on the pizza. Most are available in a choice of original or thin crust and sizes from small to extra-large. And whether you're a vegetarian, pescatarian, or committed carnivore, the range of toppings will give you plenty of choices.
Sides include chicken wings with a range of sauces, cheese sticks, breadsticks, and popcorn chicken. The dessert range is small but appealing, featuring brownies, cinnamon pie, and cookies.
Individual opening hours vary, but generally speaking—this is a good option for late-night pizza. On the weekend, branches offer delivery with a time period between 11 pm to 1 am.
If you're getting carryout, the shut-off time for orders is usually earlier. Check the website for details of your local branch.
The first California Pizza Kitchen opened in Beverly Hills in 1985. Since then, the chain has grown to more than 250 locations. And if you're not near a pizzeria, you can still enjoy the experience at home. You can pick up their pizza brand in the frozen aisle of supermarkets around the country.
But head to a restaurant, and you'll get a great range of food that pairs well beyond pizzas. Some of CPK's best-loved menu items are salads, pasta, and meat and fish dishes.
There are twenty different styles of pizza, but they're available only in a single size. Each is big enough for six good slices. And if you're being mindful of your diet, you'll find it helpful to see the calorie content per slice.
If you're in California, Arizona, or Nevada, you can also maximize the use of their mobile kitchen. You can hire it for a day to cater for your event, bringing fresh pizza on order to your guests.
Round Table Pizza was established over 60 years ago and has a devoted following. It has headquarters in Atlanta, Georgia, and 400 other branches spread throughout the country.
It's famous for its pizzas, which feature extending toppings up to the brim. The traditional restaurants focus on the food, but recently they've opened a Clubhouse brand. The strapline is "Pizza, Pub, Play," it also incorporates beer, big-screen sports, and children's entertainment.
If you want a destination for a family evening out that's fun and not too pricey, it's worth checking out.
Whether you go traditional or clubhouse, you'll find a massive range of pizzas in five different sizes. Wings and garlic parmesan twists are available as appetizers, and there's a choice of Caesar, garden, or spinach salad. Dessert, though, is more limited. You'll get an option of cinnamon twists – or cinnamon twists.
Outside of pizzas, the choice isn't as big as compared to other pizza chains. But everything is tasty and well presented. And there are three different catering packages, each serving between 10 and 12 people.
If you want the freshest possible pizza with the minimum hassle, Papa Murphy's could be the answer. Their pizzas are prepared from scratch to order, then delivered to your door for baking in your oven.
The result is a fresh, tasty pizza that's piping hot straight. What's not to love?
There are four different ranges of pizza: signature, gourmet delite, stuffed (two layers of crust), and crustless. And because everything comes from scratch to order, you can customize it based on your liking. Choose from a thin crust, original, pan, or stuffed. And there's even a gluten-free option too.
They also offer a great range of calzones and salads. And you can buy pasta dishes and breadsticks. Those with a sweet tooth will enjoy their dessert pizza, chocolate chip cookie, or cinnamon wheel.
Sbarro is the home of the extra-large New York pizza. And when you join the Slice Society, the chain's loyalty scheme, you'll get a free slice when you buy a beverage.
But there's more to Sbarro's than the New York slice—delicious, though that is. It also offers a thick-crust Sicilian-style pizza called the Roman. And there's a tasty range of Stromboli, plus a couple of pasta dishes and salads on the menu.
When it comes to sides, it's breadsticks or nothing. And there's no dessert on offer here, either. But while the range is more limited than other chains, the food here is of great quality. And there are some excellent catering options for larger gatherings too.
Mountain Mike's is a west coast chain with most of its pizzerias in California. If you're within reach of one, it's a good option for pizzas, salads, sides, and desserts. Although, the latter has limited options.
Here you'll get all the topping combinations you'd expect. The pepperoni, cheese, and create your options will be sure-fire hits. But there's also a wide range of specialty pizzas, many with their mountain-themed name.
Vegetarians can opt for the Mount Veggiemore, featuring black olives, artichokes, mushrooms, bell peppers, and sliced fresh tomatoes. Those who love their meat have more choices. The Pikes Peak, with pepperoni, Italian sausage, salami, beef, linguica, and ham, is a carnivore's delight.
There's also an excellent selection of wings, whether boneless or bone-in. And there are oven-baked sandwiches and salads too.
Uno started operating in Chicago in 1943 by Ike Sewell. Since then, their towering crust turned into the talk of the town because of its unmatched and exceptional texture. Each of their 100 branches still offers deep-dish pizza fresh every morning. Plus, their famous Chicago thin crust is oozing with flavors you'll crave.
Another thing to love about this pizza chain is its steak, seafood, and chicken menu. All of these are fitting to serve since Uno works with breweries for a selection of drafts and crafts.
For large groups of 6-8, you can head to their platters menu to accommodate everyone. It ranges from appetizers to salads and sandwiches, and of course, a party-sized pizza.
And like their enormous serving, the dessert tab does not fall short of other competitors. You'll find deep-dish treats topped with ice cream and a range of cakes for each craving.
Last but not least of our best pizza chains curated list is Little Caesars. Did you know that the chain springs from a blind date between the two owners of the pizzeria? And you know what it means! A great pizza made out of love and passion for great food.
Their menu options range from specialty pizza to Detroit-style deep-dish pies and some combo sides. You'll also find the nutritional facts of each variety on the menu board and the allergens present. Now, talk about a caring company that looks after the health and wellness of its customers!
Aside from their amazing pies, you also need to check out their Caesar wings with four flavors and five flavorful dips.
Ready For Pizza?
We hope you've enjoyed our round-up of 11 of the best pizza chains in the USA! Wherever you live and whatever your budget, there are some great options out there.
If you're all about the pizza, there's lots of variety to choose from. And if you're also looking for salads and sides, many chains have a good range. If you're dining alone, look for those that offer "personal" sized pizzas. And if you're throwing a party, check out their catering options.
We hope you enjoy your next pizza night!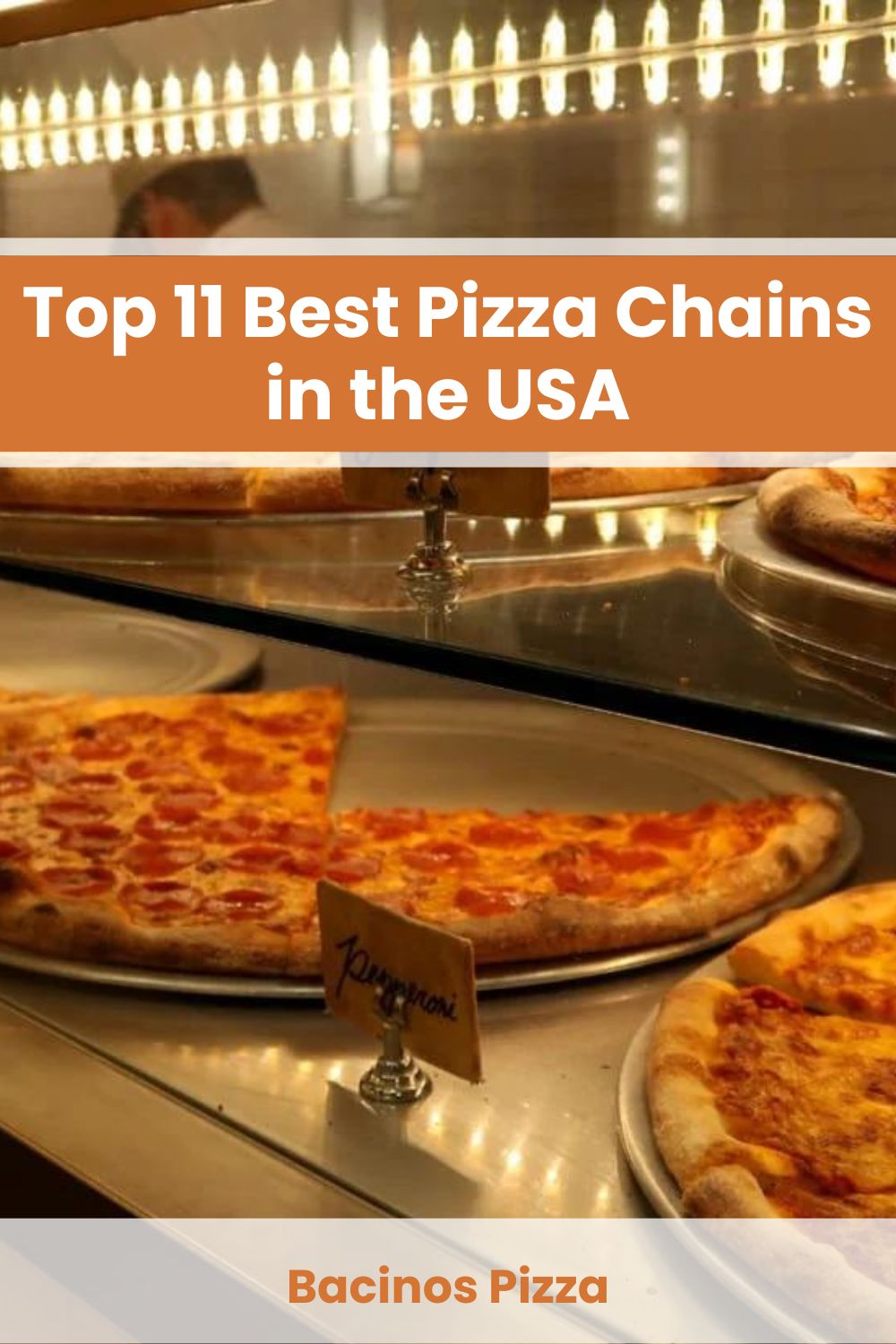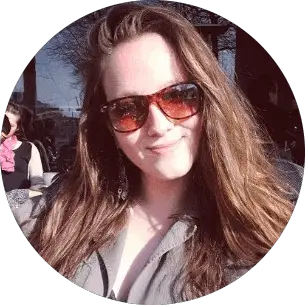 Barbara is an enthusiastic food-exploring person that goes through different culinary experiences. She got inspired by creating a pizza blog post after she tasted one of the best-selling pizzas in Toledo.