Nowadays, everybody pays for one or more insurance policies. You can insure your home, car, and even body parts. Still, not many people know you have pizza insurance at your disposal.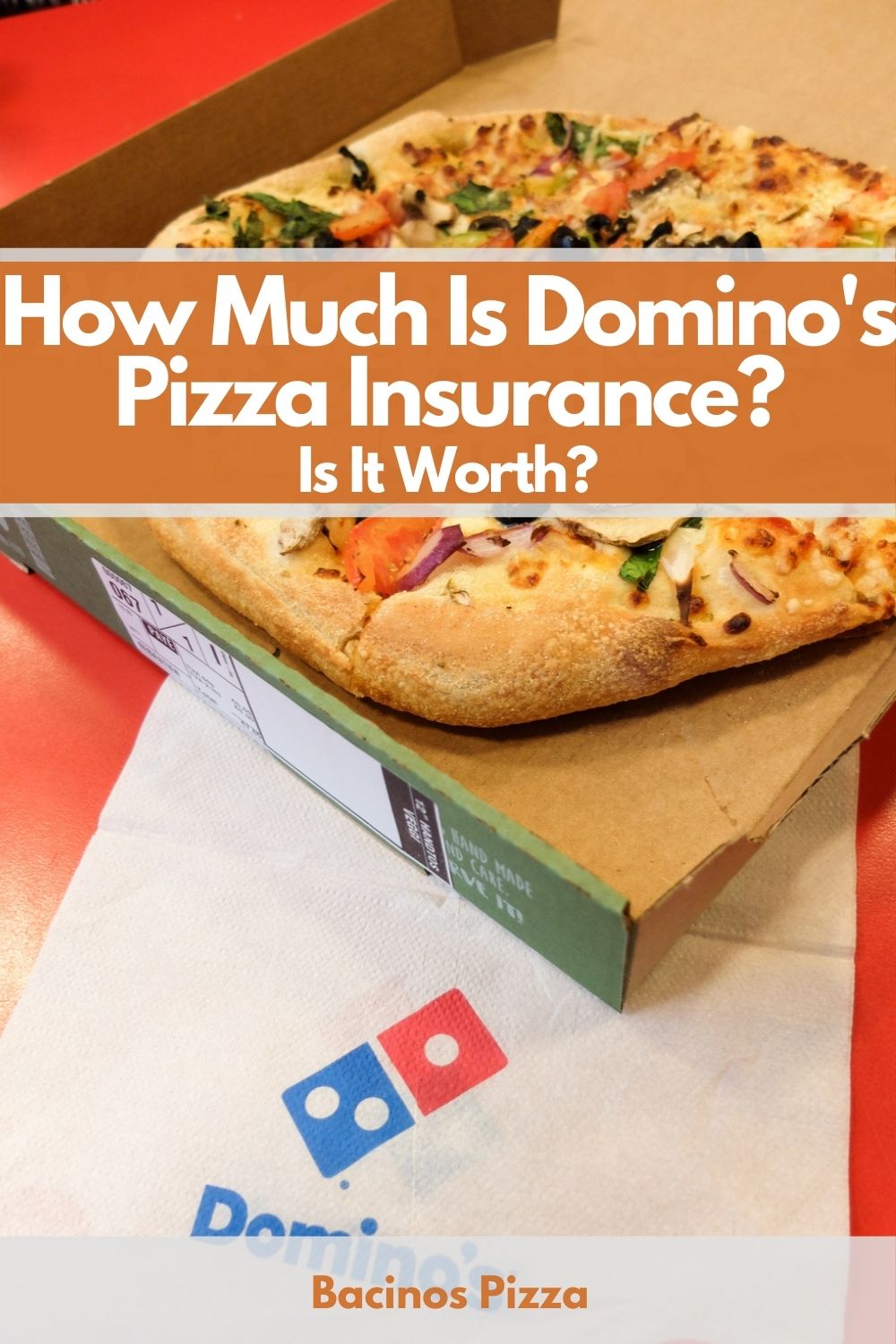 Let's face that accidents happen, no matter how careful you are. Luckily, Domino's primary goal is customer satisfaction, so the company guarantees you will get your pizza in perfect condition. Now, what do you think how much is Domino's pizza insurance? Let's find out.
About Domino's Pizza
Next to Pizza Hut and Papa John's Pizza, Domino's Pizza belongs to the most popular fast-food chains worldwide. They offer a wide choice of pizzas, bread, salads, and sandwiches. Prices on the menu vary from $5 to $20, depending on pizza type and size.
This brand is available in more than 90 countries with almost 18,000 pizza stores. The key to this success is innovative customer service, offering many perks, guarantees, and insurance.
Many times, the bill comes with a voucher, discount for the next purchase, or free delivery. You can also enlist for a Piece of the Pie, Domino's loyalty program that rewards you with points any time you place an order personally, online, or by phone. [Pizza Hut vs Dominos: Who Makes a Better Pizza?]
Carryout Pizza Insurance Program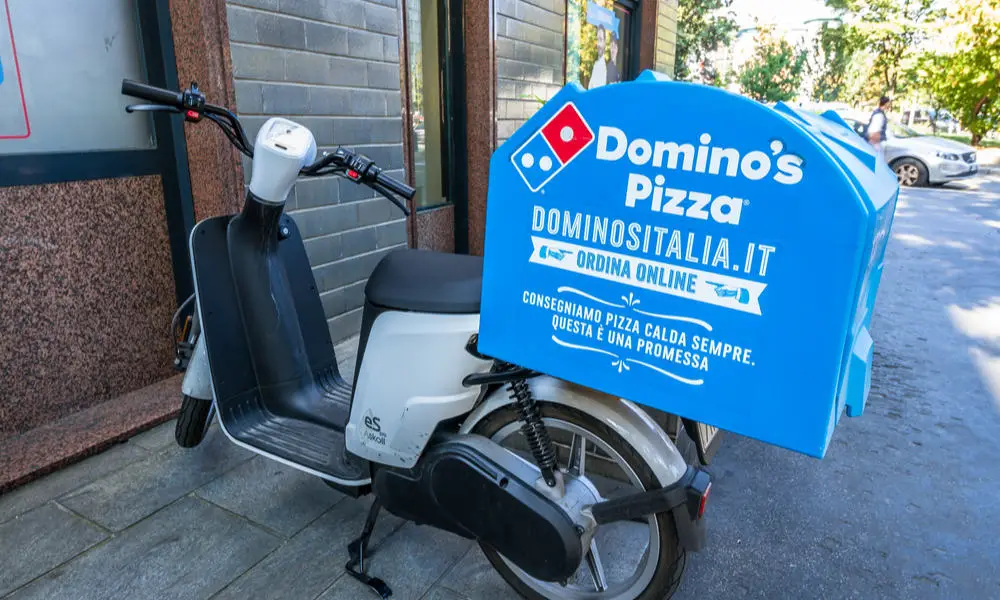 Domino's launched its Carryout Insurance program in 2018. You may see a TV commercial with a guy watching the large tree falling over his vehicle. He starts to panic and quickly checks his pizza condition in a recognizable Domino's pizza box, ignoring the car damage.
Since the precious pizza is undamaged, the man heads towards the house. Unfortunately, he slips on the ice along the way, falls, and destroys the food. Fortunately, Carryout Insurance will cover that problem.
Another commercial shows a guy forgetting his pizza on the car top while taking a call. He drives away, resulting in pizza falling in the middle of the street and ending ruined.
There are also potential scenarios of cooling pizza down due to traffic jams, accidental dropping it to the floor, or a case when your dog grabs a bite before you.
If any of these unplanned misfortunes ever happens to you, Domino's guarantees to replace the pizza with a new one without additional charges. Plus, the Carryout Insurance is free, although some critics point out that it is actually included in the pizza price.
Logic says that you probably won't suffer too much if you lose pizza since you can afford to order this popular dish. Nevertheless, it is nice to know Domino's will resolve this issue for you.
Domino's pizza prices with insurance included
Pizza type
Small
Medium
Large
Extra large
Hand tossed
$5.99
$7.99
$9.99
$12.99
Spinach and feta
$11.99
$13.99
$15.99
$17.99
Wisconsin 6 cheese
$11.99
$13.99
$15.99
$17.99
Honolulu Hawaiian
$11.99
$13.99
$15.99
$17.99
Buffalo chicken
$11.99
$13.99
$15.99
$17.99
America's favorite feast
$11.99
$13.99
$15.99
$17.99
Prices on Domino's menu vary, depending on the pizza size, style, and additional toppings you request. There is also an option to order hand-tossed pizza, handmade pan pizza, or the one with a crunchy thin crust.
If you are on a gluten-free diet, you will find that Domino's offers an adequate pizza type for you, as well.
Conditions to Getting Free Pizza
If you want Domino's to free remake your pizza, there are several things to keep in mind. For example, you won't get a replacement pizza just because you have changed your mind about toppings. The way to qualify for Carryout Pizza Insurance, you need to:
Return an uneaten pizza. That means you can't eat a slice or two and return the rest of it, claiming it is damaged.
Bring along the order label that you received with the pizza.
You need to return the pizza in the original packaging. You can't return the pizza on the plate or in another random box claiming that the original packaging is destroyed.
Return the damaged pizza to the same store. You can't replace it in any other Domino's restaurant.
Keep in mind that replacement should occur in a maximum of two hours after ordering pizza. So, you can't return pizza four hours later, complaining that you got it cold. If you have met all the conditions, you will get the same pizza type without topping changing.
Keep in mind that Domino's is a franchise business model, so it may happen that some stores don't provide this insurance policy. Still, you can always ask for it when you place an order, just in case something goes wrong.
The Carryout Pizza Insurance is more the promotional limited-time perks the pizza store can choose to accept or not. However, there are other benefits you can count on, like a Delivery Guarantee.
Domino's Delivery Guarantee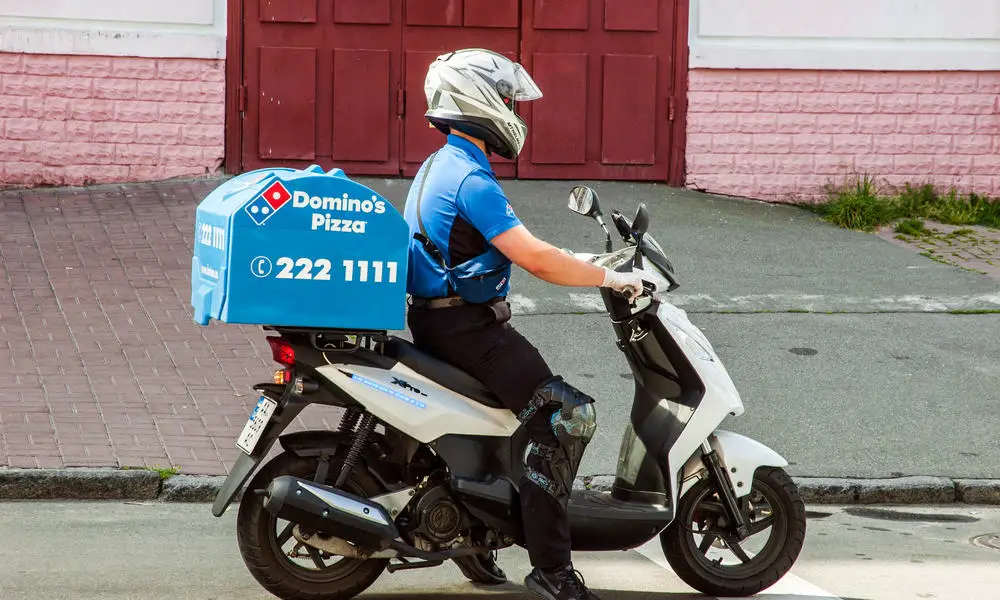 If you don't get your pizza delivered in 20 or 30 minutes, you will get a voucher for free pizza the next time you place an order. This guarantee typically costs around $3. However, you can only get this service in case:
The store offers this possibility at the moment, depending on the number of pending orders
You live in an area that is a maximum of 15 minutes' drive from the pizza store
You order not more than four pizzas since Domino's can't guarantee delivery time for bulk ordering
Remember that the delivery time count starts when you receive a confirmation email from Domino's, not from the moment you place an order. There is also no Delivery Guarantee on holidays and special days, such as New Year's Eve, Christmas, the 4th of July, and the Ganesh festival.
So, the Delivery guarantee is not something you can count on every time you order. It is only a limited-time offer from some of Domino's franchisees. Plus, some pizza stores can send a free pie instead of a pizza voucher.
Be aware that Domino's won't consider a delivery driver responsible for delays caused by traffic jams or accidents. In case that happens, you won't get your voucher.
Domino's Delivery Insurance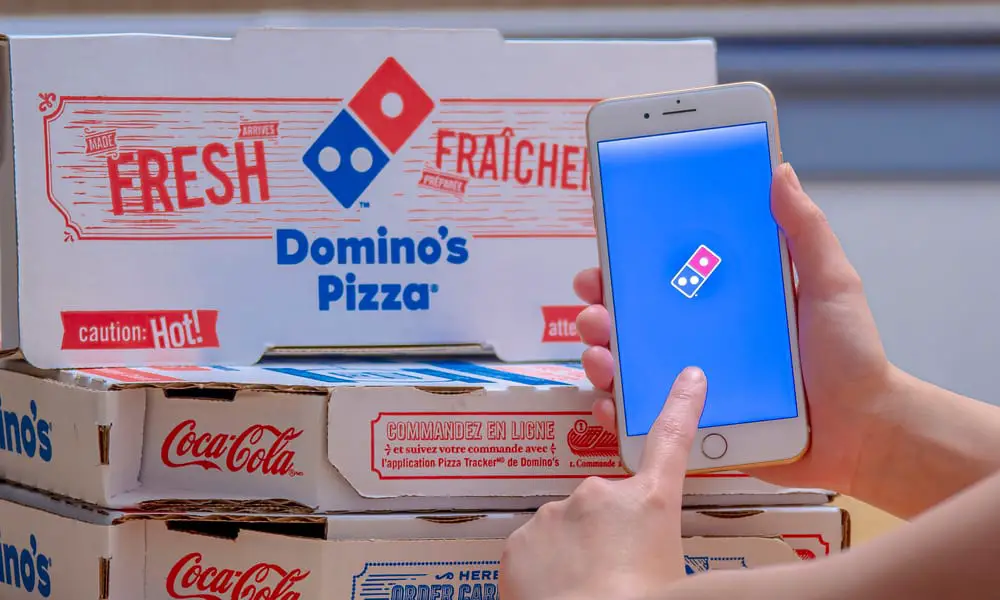 No matter what the company does and how good it is, there is always room for mistakes. That is why Domino's provides Delivery Insurance. If you are not satisfied, you can report a problem on the Domino's tracker page.
Enter your order number, email, and delivery address, and you will receive a confirmation in the mail whether your claim has been accepted.
For example, you can get a small pizza instead of medium, topping you haven't ordered, or a gluten-free crust when you wanted regular. Either way, you can choose from one of two compensations:
20% off coupon for your next order
60 points on Domino's Piece of the Pie Rewards program
If you are a Piece of the Pie program member, you will get ten points every time you order from Domino's. Once you collect enough points, you can exchange them for free pizza, pasta, or any other dish on the Domino's menu.
Unlike Delivery Guarantee, Delivery Insurance is free and comes with any order you place, no questions asked. You can even complain if your pizza is delivered cold.
Domino's Pizza Delivery Auto Insurance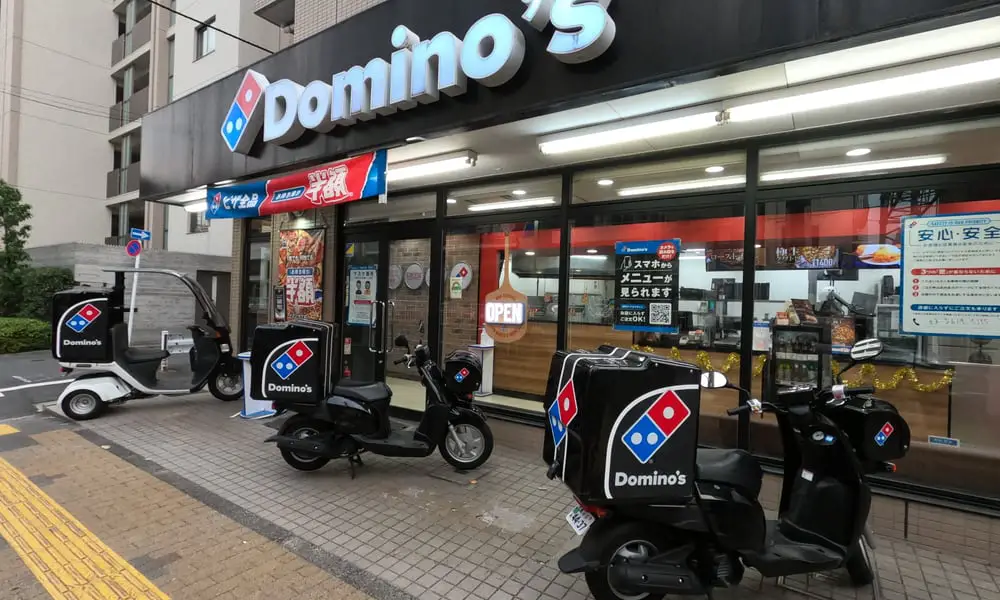 One of Domino's keys to success is fast delivery, dating back to 1960 when the company was founded. Delivery drivers are often in a rush, trying to get pizza to your door in under 30 minutes. Unfortunately, that means a traffic accident can happen.
If you work as a delivery driver, it is vital to have proper insurance. You can use your car during non-working hours, but its insurance doesn't cover any damage incurred during food delivery. Instead, you need to switch to business insurance provided for this particular purpose.
Domino's Pizza Delivery Auto Insurance
Auto insurance type
Minimal monthly fee
Rate increase from personal insurance
Personal, no delivery
$106
Non-applicable
Personal, for delivery
Non applicable
Non-applicable
Business and personal, food delivery
$297
180%
Business only, food delivery
$273
158%
There is a specific Domino's Pizza Delivery Insurance for drivers that the company provides. However, this service is created as liability insurance, and it protects the company's interest rather than yours.
Plus, the company requires that you take a proper commercial insurance policy before hiring you. Even the job application form states that you need to show proof of adequate auto liability insurance.
If you only show up for a job interview with a personal car inclusion policy, you won't be hired. In the best-case scenario, you may get a week or so to change the policy and prepare all necessary paperwork.
If you want to use the same car for all purposes, you can change it to business and personal insurance, with food delivery coverage. Insurance policy cost depends on several factors, including:
Car's purpose, including personal, business, or both
Car age and history, including previous repairs and mileage
Current car condition
Your Zip code
Your age, gender, and driving experience
Credit score
Previous claim history
Type of business you use the car for
Summary
If you destroy your pizza on the way home, Domino offers Carryout Insurance and will remake your pizza for free. However, your demand needs to fulfill specific criteria to get a replacement free of charge. Domino's also has Delivery Guarantee and Insurance, making sure customer satisfaction is on the highest level possible.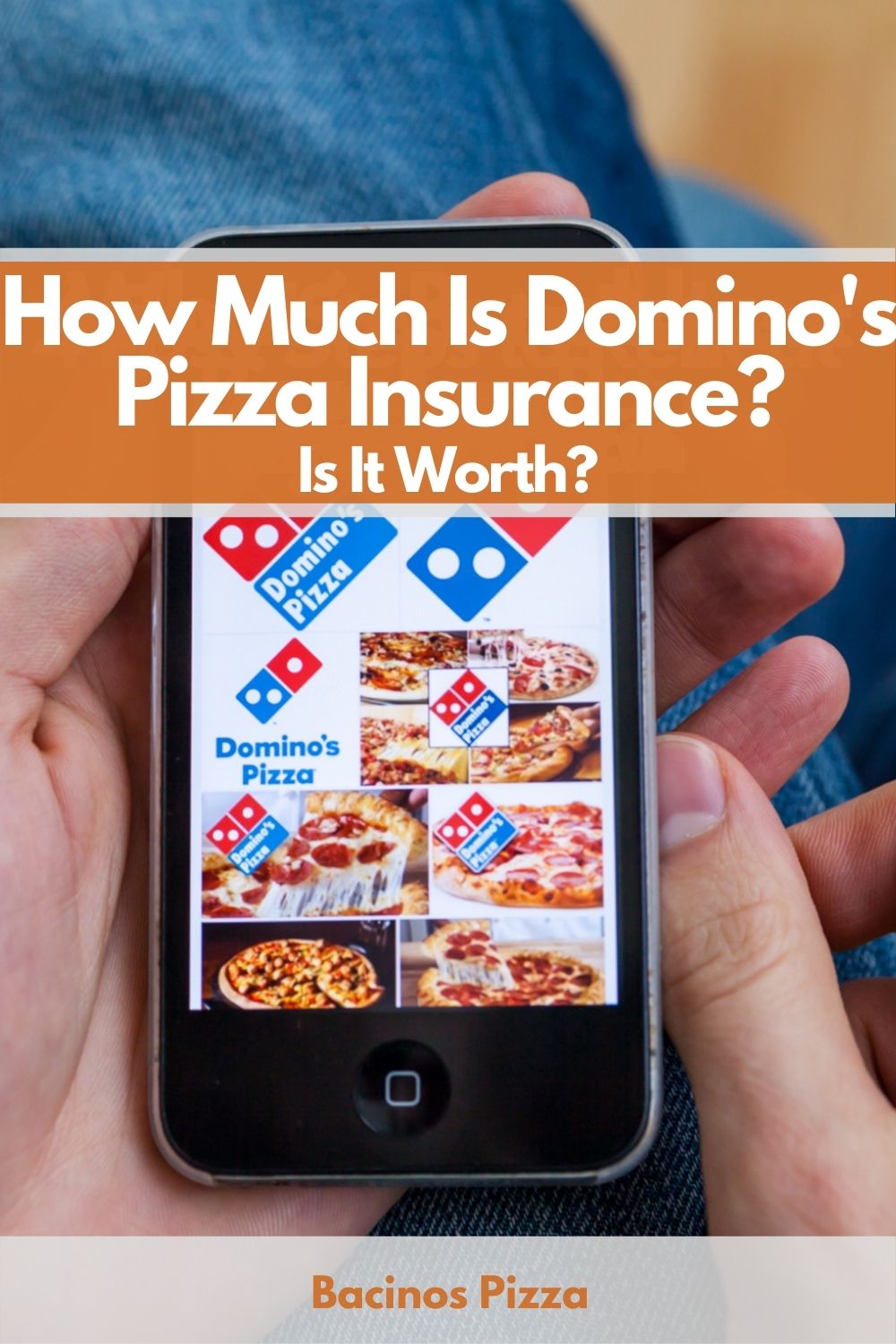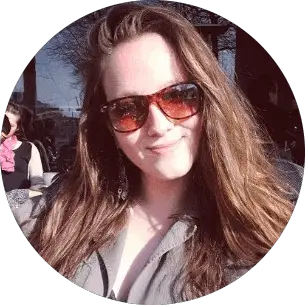 Barbara is an enthusiastic food-exploring person that goes through different culinary experiences. She got inspired by creating a pizza blog post after she tasted one of the best-selling pizzas in Toledo.