Are you looking for a new way to spice up your seafood cooking game? Why not try adding lobster to your pizza? Lobsters have a rich, sweet flavor that offers a less fishy taste, unlike other crustaceans. The meaty texture also gives a satisfying feel to the mouth that'll make you want more.
So today, we're sharing 23 spectacular lobster pizza recipes you can make at home. The list ranges from creamy to spicy, beginner to expert, and some for the health-conscious.
Also, don't miss out on one recipe that even famous stars swoon over! It's perfectly divine and is worth trying. Now if you have a lobster waiting in the fridge, let's start turning it into a delectable pie.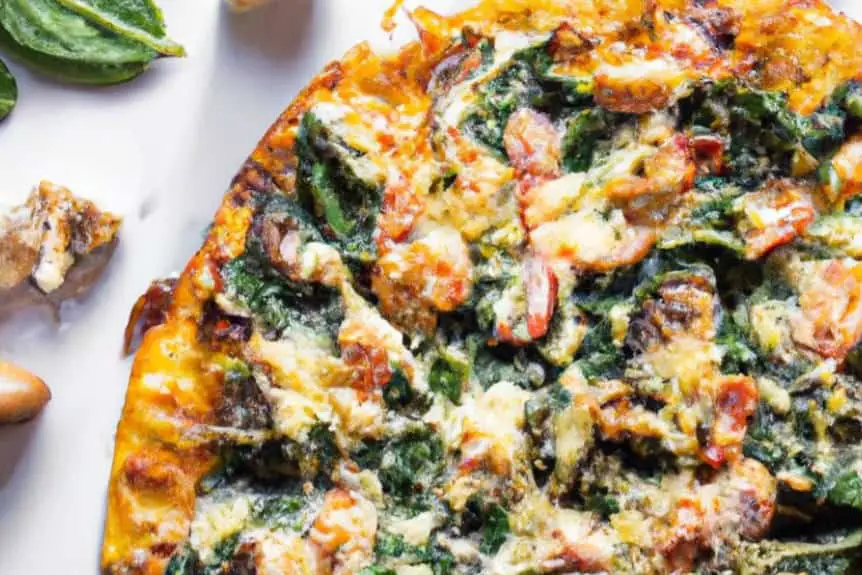 Take your palate on a flavor journey with this heavenly cheesy lobster pizza. First up are the caramelized onions and mushrooms to add sweetness and earthy notes. Then followed the baby spinach leaves for a nutritious green delight to the pie.
And for the final act, you can expect a generous amount of cheese and lobsters. Perfect for special occasions or even a regular weekend dinner.
2. New England-Inspired Lobster Pizza
There's no such thing as too much lobster on a beautifully made pie. In this recipe, you'll find a reduced sauce made from champagne, cooked lobster shells, and many more!
The sauce itself is already brimming with flavors. But wait until you add meaty chunks of lobsters to it. We're sure it's a fun twist many would not expect to be as incredible as it looks.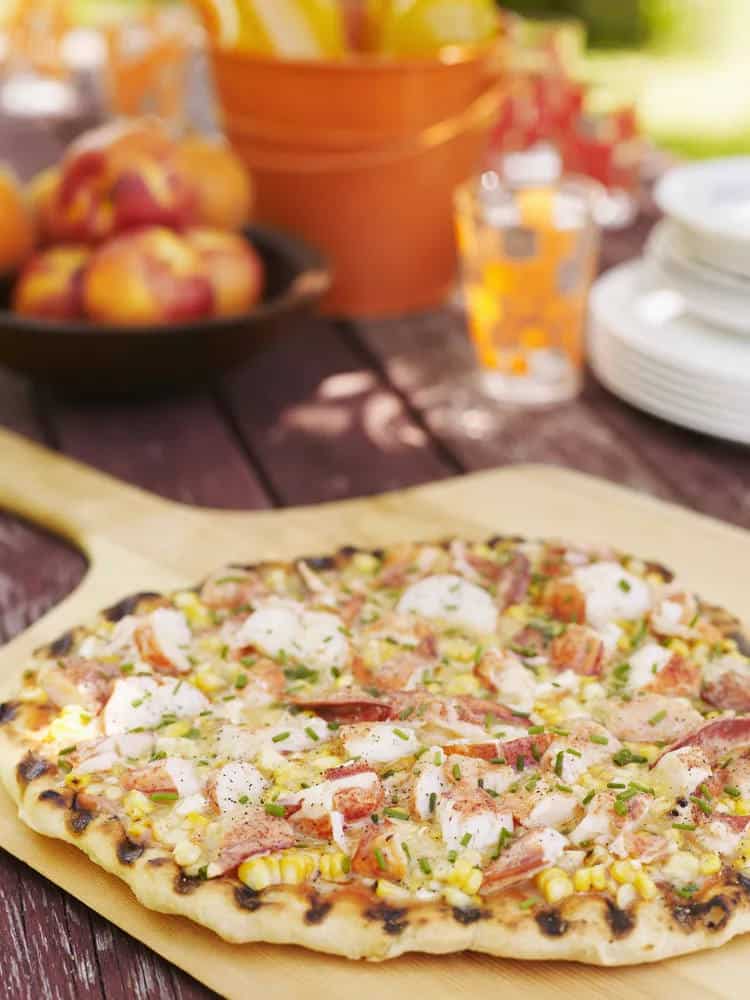 Are you looking for a gourmet lobster pizza for a casual dinner night? Try recreating this recipe and give everyone a taste of the ocean with a slice.
The garlic-olive oil sauce enhances the flavors and compliments well with the lobster. But you can also try it with a cream-based sauce or add some veggies to it as well. Other toppings you can try are artichoke hearts or asparagus.
Seafood pizza with freshly caught lobsters and shrimp makes a perfect party menu on the beach. Here you can expect a four-ingredient white sauce with a mellow taste to avoid overpowering the light meats.
For the toppings, you'll find mozzarella and well-seasoned grilled lobsters and shrimp. Now imagine the savory and juicy taste in every bite. Undoubtedly this pie will be gone in a snap!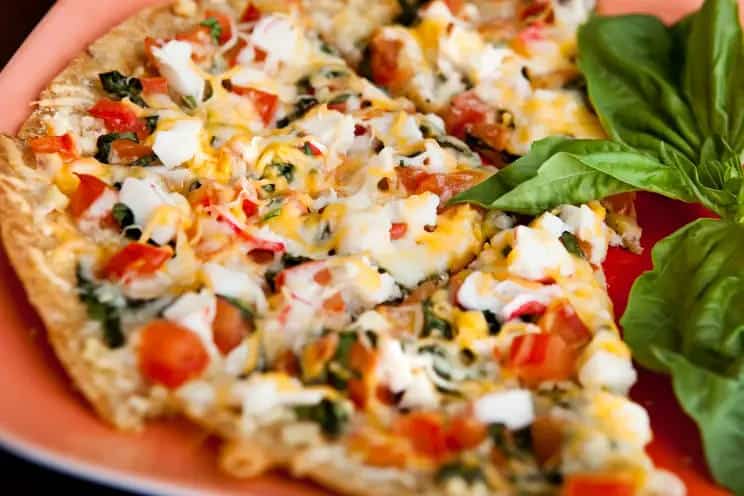 Are you looking to recreate the lobster pizza from Red Lobster? If you do, this recipe is the answer to it! You can source all the ingredients from any local grocery store. So, there is no excuse not to make this tasty pizza.
And did we mention the base is not your typical pizza dough? Instead, you'll find flour tortillas coated with garlic butter for a crispy crust.
6. Lobster Pizza with Pepper Sauce
Lobster pizza with Trinidad pepper sauce offers a bit of heat but mostly great flavors. It has organic red sauce topped with a blend of Monterey Jack, mozzarella, and cheddar cheese.
The dish also features lobster seasoned with store-bought seafood spices. Plus, a garlic butter crust for a chewy texture. Yum!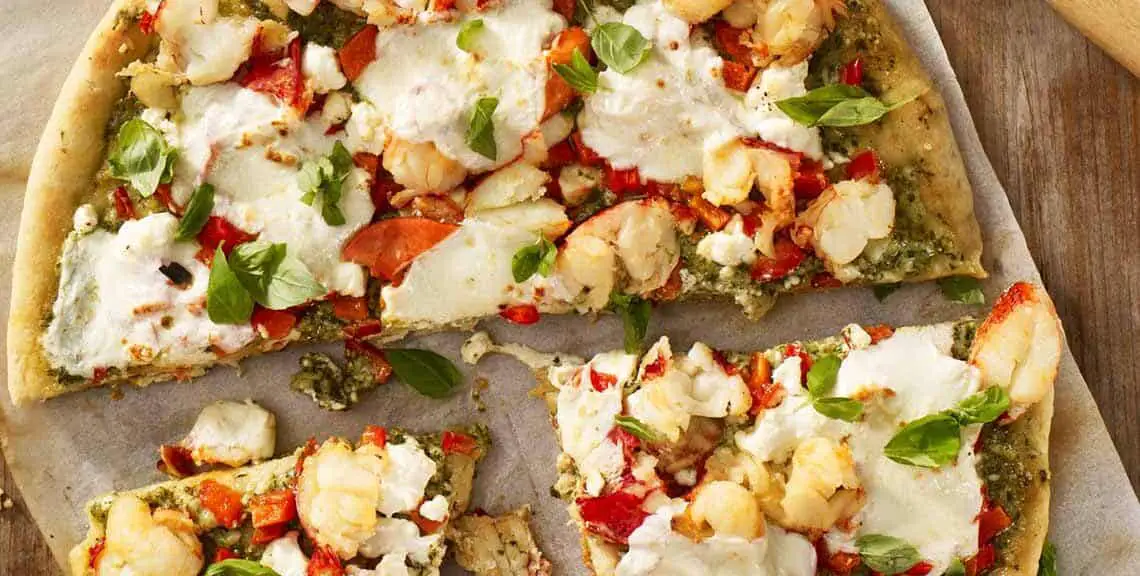 Aside from the usual Alfredo and tomato sauce, garlic pesto also makes an excellent base for your lobster pizza. You can buy it pre-made or create your own by following the recipe with only six ingredients.
It also uses a different type of cheese atypical to a regular lobster pizza recipe. Aside from the mozzarella, you'll also find chevre cheese, which has a mild, buttery flavor.
8. Lobster Kilpatrick Pizza
You know you'll never go wrong with a pizza recipe made by a former world pizza champion! John Lanzafame shares the step-by-step guide on how to make the ultimate lobster pizza.
This recipe features a lobster marinated in a Worcestershire mixture; and a handful of bacon. Cooked for three minutes, you'll end up with crispy toppings with a savory taste in every bite.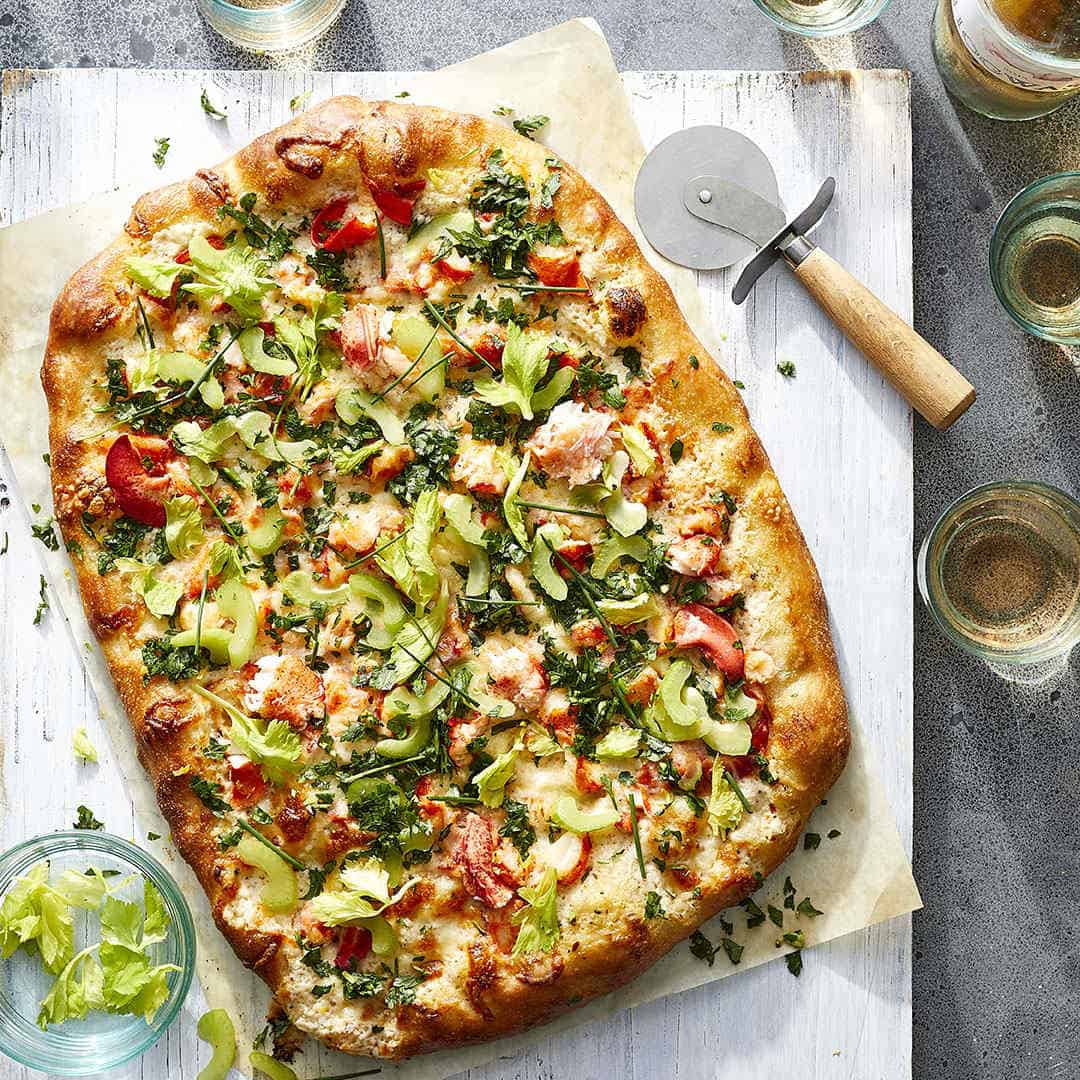 Without a doubt, this lobster roll pizza makes the perfect centerpiece for a family gathering. It features vibrant colors coming from tomatoes, tarragon, and celery stalk.
Aside from this, you'll also love the mascarpone mixture that has a sweet, tangy, and a bit of acidic taste. Top it with Harvati cheese, mozzarella, and lobster, and you're all set!
10. Seasons 52 Lobster Flatbread Pizza
Add a tangy lemon cream drizzle to your lobster pizza. This dish offers a sophisticated restaurant concept that'll elevate your dinner.
The tender lobster chunks and the Brooklyn Bred flatbread make a texture combination you'll look forward to. Also, adding grilled red peppers adds a flavor balance that'll make you rush back for more.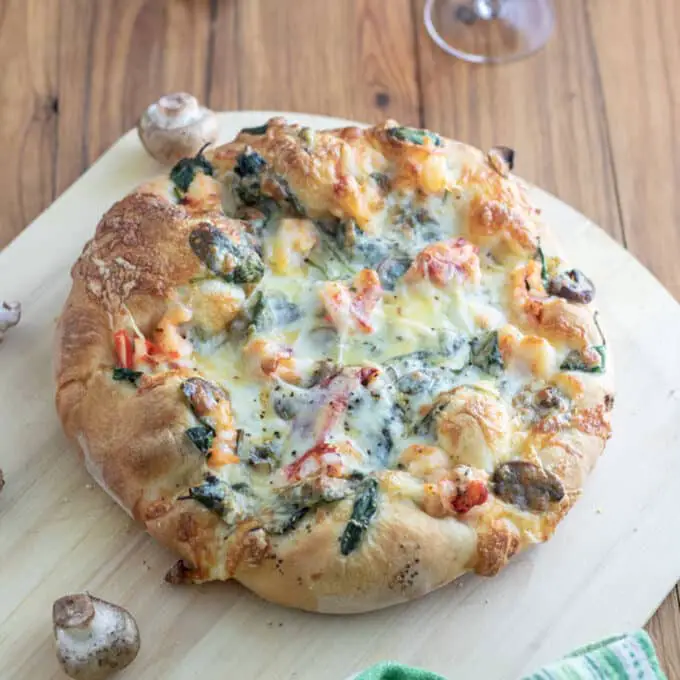 Lobster with generous portions of cheese and healthy greens has to be one of the best weeknight dinners for the family. It's tough to argue with its decadent taste that packs a savory punch.
Best of all, this recipe cooks in less than an hour. That also means plenty of time to savor those pizza slices!
Pair your meaty lobsters with a cauliflower crust for a healthy combination that fits your diet. This dish features a pre-made cheesy cauliflower pizza dough for easier prep for beginners.
But the best part about this recipe is its zesty and garlicky marinara aioli sauce. It is super easy to make with a few staple ingredients to combine.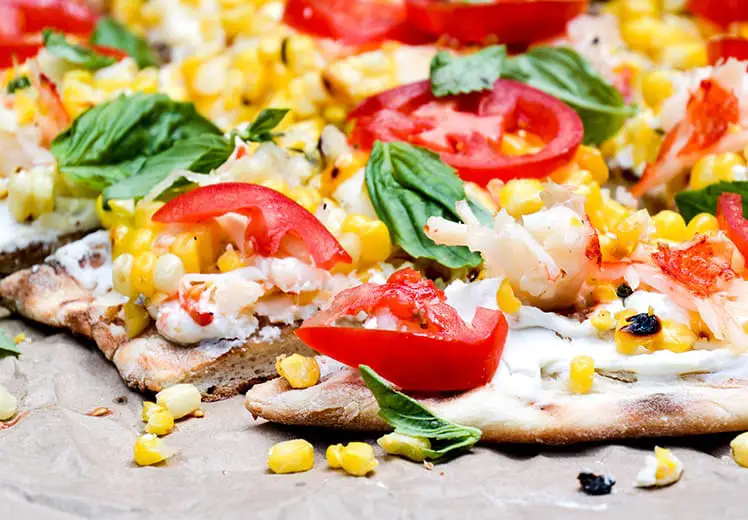 This grilled lobster and corn pizza recipe is a must-bring dish to beach picnics. It has the lively colors of summer but got the refreshing taste of Spring. It features fresh corn, red tomatoes, and basil, complementing the sweet taste of lobster.
Also, you don't need any sauce for this, as the creamy goat cheese is enough to cover everything.
14. Easy Lobster Pizza
If you're a beginner in pizza-making but ready to get adventurous, this one is for you. In this video, you'll learn how to make a simple pizza dough recipe to complement the seafood.
The toppings are also pre-cooked with white sauce, so the cooking time is much shorter, unlike regular pizza. Although, make sure that your base is not too thick to prevent an undercooked crust.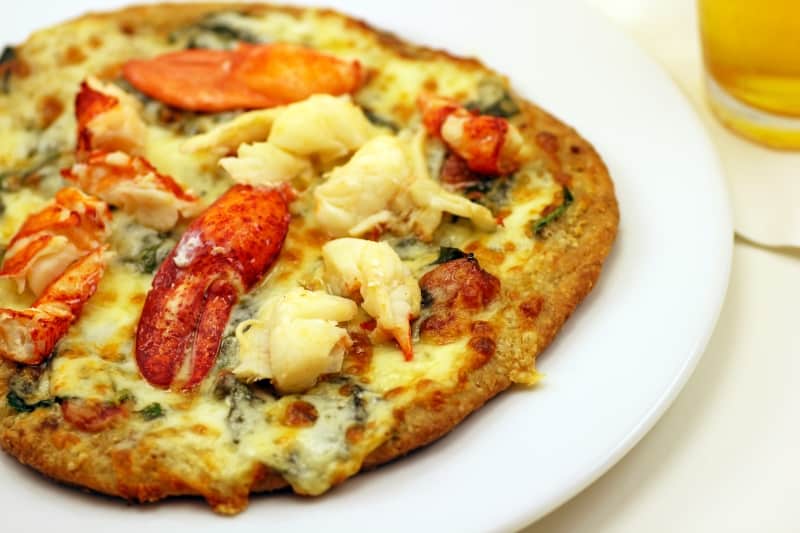 This Maine lobster-white-truffle pizza is the exact recipe that became the favorite of many stars. That includes Oprah Winfrey herself calling it the real deal after a bite.
This dish has reduced herb cream made from heavy cream, six types of herbs, and grated parmesan cheese. It also features baby spinach and roasted tomatoes for added flavor depth.
16. Lobster with Garlic Cheese Pizza
Garlic cheese pizza is one of the most common flavors you can order in a pizza menu. But have you thought of adding lobster to it?
This recipe offers a garlic and cheese bechamel sauce, serving as a bed for the lobster chunks. Lastly, a sprinkle of mozzarella covers everything for a bubbly browned top. And that's it! Simple ingredients for a spectacular treat.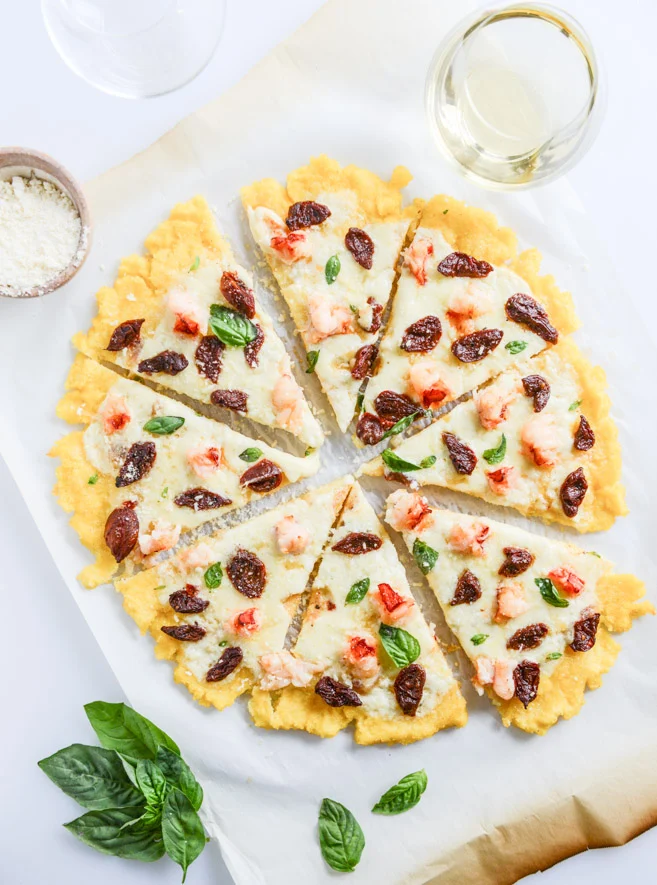 Polenta originated from the land of pizzas and is served as a hot porridge or a loaf. But while often used as a side dish, it also works well as a pizza base.
This recipe uses an instant polenta spread evenly until a thin layer forms. While for the sauce, you can expect a garlicky mascarpone made with roasted garlic cloves and seasonings.
18. Blackened Lobster Pizza with Alfredo Sauce
Get a flavor-bomb explosion with this lobster pizza recipe. This dish features three simple components that are easy to form.
First is the creamy white sauce assembled from heavy cream, salted butter, and cheese. Then followed by a generous amount of shredded fresh mozzarella. And lastly, the blackened lobster pan-seared in butter.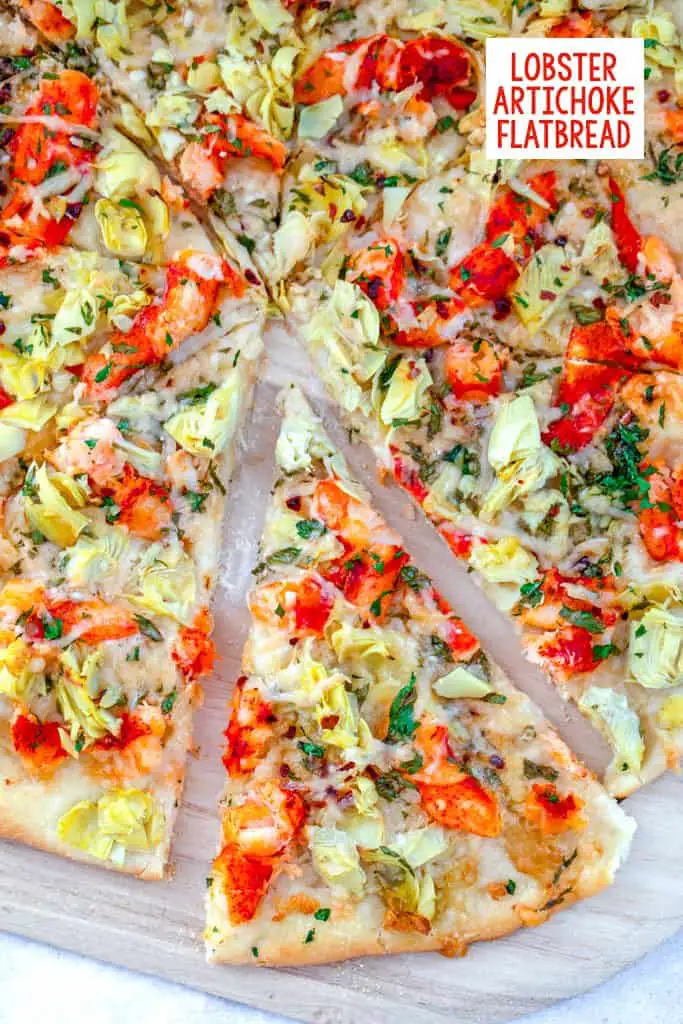 There is one rule in this recipe, and that is to let the lobster shine! This flatbread pizza does not involve many ingredients and focuses mainly on the meat.
It got the light flavors of artichoke and parsley with little cheese sprinkled on top. Squeezing in some lemon juice also brightens up the flavors of the lobsters to make them stand out.
20. Bloody Mary Lobster Pizza
What happens when you combine a Bloody Mary drink with lobster pizza? The result – a royal dish fit for Kings and Queens!
This recipe has a savory and spicy taste from the sauce with notes of almond from the Beemster Royaal cheese. Once cooked, it is topped with arugula for a refreshing taste.
Take Away
When we hear seafood pizza, it's usually shrimp and crabs that automatically register in our brains. And true enough, pairing them with other ingredients makes a seafood feast exciting. But sometimes, venturing out of the horizon can make you feel like you bagged a pot of gold.
Just like these lobster pizza recipes, it can give a satisfying feel no other flavor combination can bring. Not to mention the texture plays it brings to our palate. It's purely enjoyable to eat and fun to make!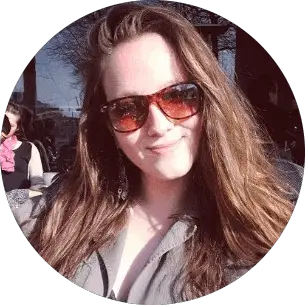 Barbara is an enthusiastic food-exploring person that goes through different culinary experiences. She got inspired by creating a pizza blog post after she tasted one of the best-selling pizzas in Toledo.