Many studies show the Mediterranean diet is good for you. It improves mental health, lowers bad cholesterol, and is good for your heart. It even reduced the risk of Parkinson's, Type 2 Diabetes, and Alzheimer's. Plus, unlike other diets, it's non-restrictive and tastes amazing!
The Mediterranean diet isn't a psychologically punitive platform like keto or paleo. It's a loosely descriptive term for food typically enjoyed in Italy, Crete, Spain, and Greece during Swinging Sixties. So let's explore 31 Mediterranean pizza recipes you can make at home.
Mediterranean pizza recipes echo the local lifestyle. Meaning they're fresh, laid back, and easy-going. They're intended for leisurely eating, often accompanied with wine and followed by a nap. This siesta-inducing recipe is a vegetarian version topped with artichokes, parsley, minimal mozzarella, red onion, kalamata olives, cherry + sun-dried tomatoes, and olive oil.
2. Spain on a Fork's Mediterranean Pizza
Albert's recipe only takes half an hour, including pizza dough. His pizza sauce is cooked with smooth tomato puree, garlic, olive oil, dried herbs (oregano + parsley), white sugar, and sea salt. For toppings, he uses olives, red + green bell peppers, and sautéed mushrooms. The cheese is buffalo mozzarella and queso manchego. The dough has sugar and baking powder.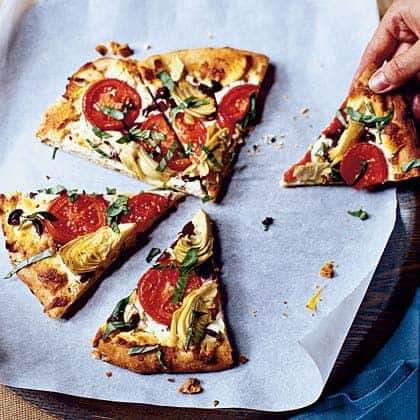 Most pizzas play with parmesan, mozzarella, or cheddar. But a Mediterranean pizza recipe is often more exploratory with its dairy. This recipe uses goat cheese, which is generally higher in moisture and lower in lactose. Other pizza toppings in this recipe include kalamata olives, artichoke hearts, crushed red peppers, and plum tomatoes. For spice, use Italian seasoning.
4. Authentic Homemade Greek Pizza
You've heard of Greek yogurt – now try this Greek pizza. It uses a homemade pizza dough in the rustic Italian style – with sun-dried tomatoes baked into it. The pizza has a thick crust around the rim. The red sauce is tomato paste and toppings include shredded chicken, red peppers, red onions, cherry tomatoes, Greek seasoning, basil, garlic salt, olives, and feta.
This Mediterranean pizza has a rich red sauce and colorful toppings. They include feta cheese, sun-dried tomatoes, black olives, red onions, and fresh basil. Most recipes use dried basil for flavor or fresh basil for garnish. But in this recipe, the greenery is enhanced with lightly cooked spinach. And the pizza has both crumbled feta and shredded mozzarella.
6. Greek-Inspired Canadian Pizza
John Syskakis claims to serve the original Canadian pizza. His Surrey shop has a secret red sauce that he learned from 'The Original Canadian Pizza guy' who started the first-ever pizzeria in Canada. But while he won't dish the dirt, we can take a sneak peek and copy-paste his toppings. They include black olives, Canadian ham, mushrooms, black olives, and cheese.
Margherita is the original red-white-and-green pizza. It's anecdotally modeled off the Italian flag, so you have white cheese, red tomatoes, and green basil. But everyone puts a slight regional touch in their variant. For this Mediterranean version, sliced Roma tomatoes are slipped between a dozen basil leaves on a bed of perfectly melted mozzarella and olive oil.
8. Kosher Mediterranean Pizza
This faith-friendly Mediterranean pizza recipe has roasted eggplant (aka aubergine). The pizza is prepped directly on the pizza stone so it's ready to shove into the oven. Preheat the stone with semolina. The pizza has an unexpected mix of flavors like red chili, balsamic vinegar, brie cheese, and mint. Instead of red sauce, use a pack of roasted eggplant puree.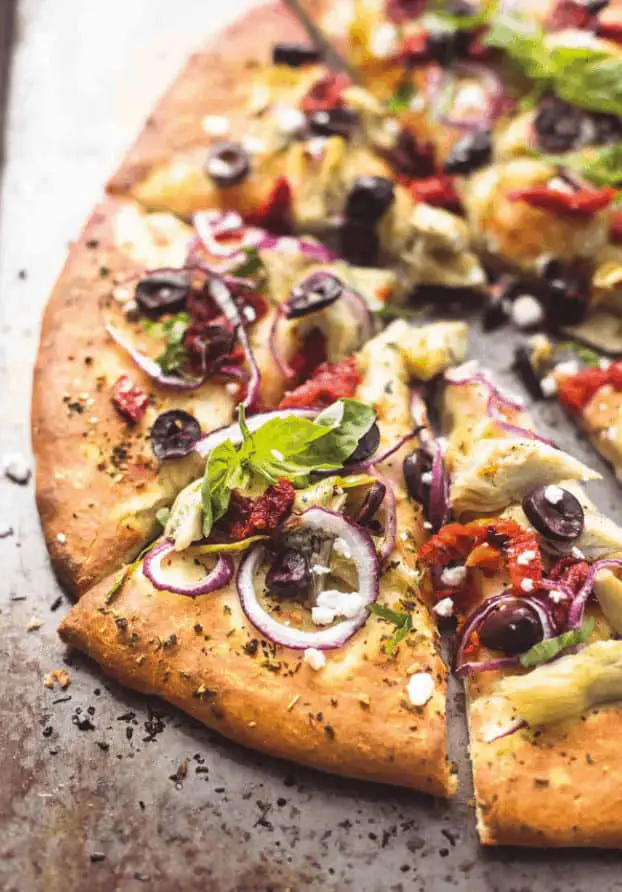 Not all Mediterranean pizza recipes are vegetarian, but this one is. If you can, get fresh, whole vegetables rather than pickled or canned ones. Veggie pizzas are colorful and visually exciting. It psychologically counters the assumption that vegetarian food is bland and boring. The rainbow of toppings include olives, red onions, artichokes, and sun-dried tomatoes.
10. News Café Mediterranean Pizza
This particular News Café is located in Bangalore, India. So the chef's take is likely to be spicy. The yeasty pizza dough is enriched with sugar and butter. Dock the dough with a fork and bake it for a minute before adding toppings. The recipe uses a Pomodoro sauce and toppings include mozzarella, zucchini, bell peppers, olives, cherry tomatoes, and mushrooms.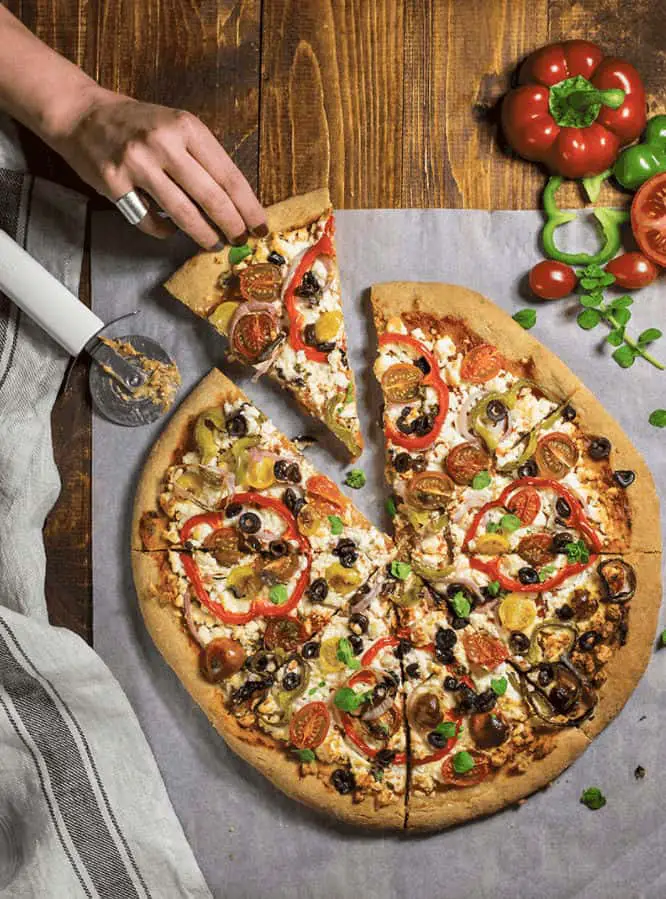 The secret to good pizza is contentious. Some say it's the base, or the sauce, or the cheese. Maybe even the toppings. This Mediterranean pizza has a whole wheat base mixed with milk, olive oil, baking powder, and all-purpose flour. For the toppings, use feta cheese, black olives, sun-dried tomatoes, red + yellow cherry tomatoes, and red + green bell peppers.
12. Momables Greek Pizza
Greek pizza is measurably Mediterranean, though local pizzerias often add loukaniko sausage slices (instead of pepperoni) and use local saganaki cheese variants like kefalotiri, graviera, or kasseri. If you're outside Greece and can't find authentic ingredients, feta cheese will do. Toppings include the standard fare – olives, bell peppers, and cherry tomatoes.
What makes this Mediterranean pizza recipe so different from the rest? The sauces are a huge factor. Instead of red sauce, this pizza has pesto and alfredo on the pizza base, followed by veggies and cheese. For color, use mushroom, cherry tomatoes, bell peppers, olives, bay leaves, artichokes, and onions. The primary cheese is crumbled feta on frozen pizza dough.
14. Turkish Mediterranean Pizza
Street food slaps different. This Turkish street version of Mediterranean pizza is baked on an elongated oval base rather than a round one. The dough has yogurt and sits 48 hours before baking. Sauces include pesto and green tahini garnished with green leafy herbs like rocket. Toppings include cheese, chicken, tiger prawns, roast bell peppers, and spiced sausage.
Marinara makes the quickest and simplest pizza sauce. But you can also use white cheese-based sauces or green chili ones. This recipe uses a basil pesto sauce on the pizza base and tops it with meatballs made from ground lamb. Mozzarella cubes, crumbled feta, sun-dried tomatoes, and kalamata olives complete the recipe. Throw on some spinach for garnish.
16. Spelt Based Mediterranean Pizza
Spelt (Triticum spelta) is a type of wheat that was popular in the 19th century, fell out of use, and is now reappearing everywhere. It's the base flour for this vegan pizza dough with coconut nectar or maple syrup. The pizza is topped with olives, cherry tomatoes, red pepper sauce, mushrooms, and vegan cheese (made with coconut oil and nuts instead of dairy).
If you're looking for a Mediterranean recipe that's heavy on spice, try this gorgeous gem. It'll have you seeing red in the best possible way. The heat (and color) comes from the peppadew piquante peppers. And that chili flavor sets off the pepperoni. The mushrooms marinated in hot pepper add even more spice to the pizza. Mozzarella cheese holds everything together.
18. Modern Mediterranean Pizza
This pizza uses dough made from scratch, two types of cheese (mozzarella slices and shredded cheddar), mixed herbs, bell peppers, tomatoes, and red onions (which look closer to purple). The red sauce is a heavily herbed mix that's cooked with garlic, bell peppers, red chilies, paprika, tomatoes, onions, barbeque sauce, olive oil … and red food dye for drama.
Pizza can be grilled in the oven, on an open grate, in a BGE (Big Green Egg), or some similar device. But in the recipe, it's the chicken topping that's grilled, not the pizza itself. And it's a McCormick recipe so use their branded oregano and their Grill Mates seasoning. The grilled chicken topping goes with feta, mozzarella, red onions, and black olives.
20. Mediterranean Lebanese Pizza
Modified recipes are fabulous because they retain the template but elevate it with clever substitutions. Tarla's take on Mediterranean pizza gives it a Lebanese touch. She uses chili garlic hummus instead of red sauce, Indian cottage cheese (paneer), and a pita bread base. The recipe also has processed cheese. The hummus is made from white chickpeas and curds.
The human brain likes to find patterns. And based on this list of Mediterranean pizza recipes, you could conclude that chicken pizzas go well with pesto sauce. Here's another example. Start with pesto on the pizza base then add artichoke hearts, sliced tomatoes, feta cheese, and olives. If you want an extra herbal element, add fennel, dill, or sliced cucumbers.
22. Greek Mediterranean Homemade Pizza
For those who like to make their own pizza dough, try this tutorial. Bloom the yeast with sugar before adding it to your dough. Your resulting pizza base should be soft and stretchy. Proof the dough at least two hours before pressing it on a parchment sheet. Poke with a fork and add marinara, capsicum (aka bell peppers), tomatoes, olives, oregano, and feta cheese.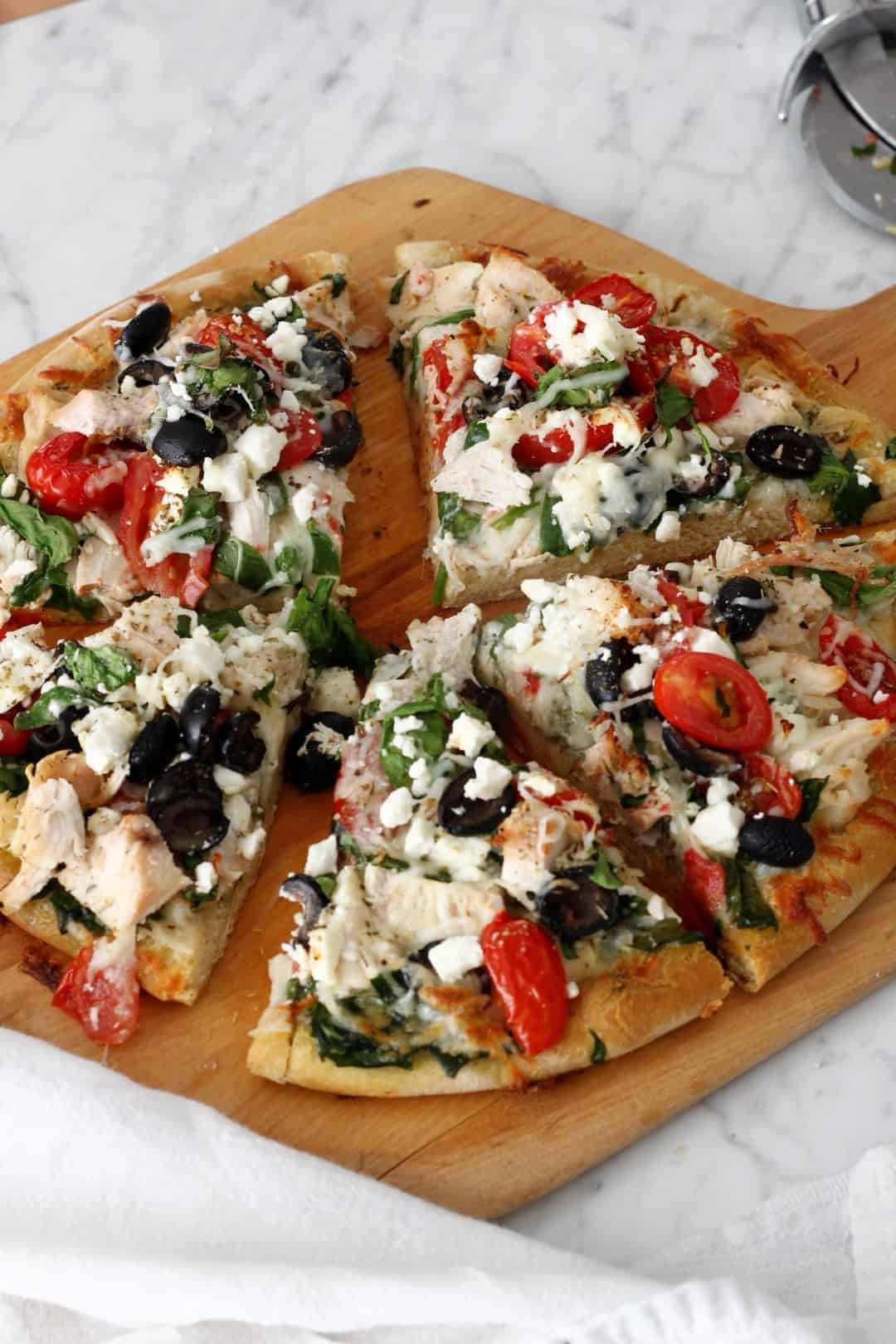 You can't always access an oven. And you may not necessarily want to. That's where pan pizza recipes come in handy. This version has chicken and is fried on a skillet. The skillet still ends up in the oven for this version, but you can cover the pan and bake it on the stovetop. Its pizza base has olive oil sauce followed by cheese, chicken, spinach, tomatoes, and olives.
24. Average Guy Gourmet Mediterranean Pizza
To make pizza like Tony Rican, start with frozen pizza crust. It's a Mediterranean pizza recipe though, so you'll need to use some 'girly' ingredients like baby spinach, marinated artichokes, balsamic vinegar, and feta cheese. This is a feisty pizza though, so it uses two kinds of red peppers (fire-roasted + crushed). Also, garlic powder, olives, and oregano.
It's not just kids that get excited by food in odd shapes. This starry ring-shaped pizza will delight your adults too! The Mediterranean part is easy – just use lots of cherry tomatoes, black olives, zucchini slices, mozzarella balls, and ricotta on the topping. Prep the dough, spread pesto sauce, make some slits in the middle, and fold it into a hollow star shape.
26. Daddy Jack's Mediterranean-Style Pizza
What makes this a stylized pizza rather than an original Mediterranean recipe? It has the right look and color, but the toppings aren't as strict. This Connecticut pizzeria uses a watery red sauce and raw baby spinach that cooks on the crust. The pizza also has parmesan, mozzarella, feta, fried eggplant strips, and hot Italian sausage. Dribble green pesto on top.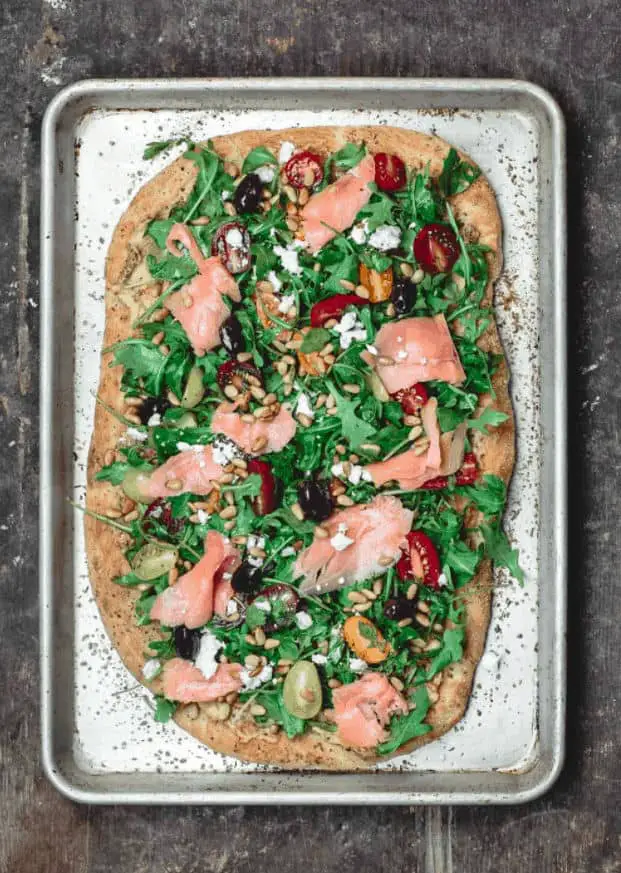 The line between Mediterranean pizza and Mediterranean flatbread is remarkably thin. Some say it's about the base sauce. Others say it's down to the thickness of the base. This variant has the usual Mediterranean toppings. That's olives, greens, cherry tomatoes, and hummus as a sauce. Plus smoked salmon and arugula on store-bought flatbread pizza dough.
28. No Recipe Required Mediterranean Pizza
The previous Mediterranean pizza recipe was pretty detailed. It had substitution options for everything from hummus/pesto/ganoush sauce to arugula/spinach and cucumber/radish. This version is 'so simple you don't need a recipe'. Brush store-bought pita bread with olive oil and add tomatoes, chili, and Mediterranean toppings. Use lots of oil and minimal gruyère.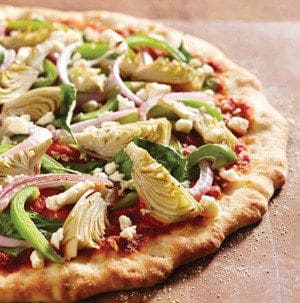 It's not just pizza dough that you can make from scratch. You can make your own pesto as well. This veggie pizza recipe shows you how to craft one using sun-dried tomatoes, parsley, basil, parmesan, and garlic. Use this in place of pizza sauce and chase it with Mediterranean toppings. These could include olives, onions, bell peppers, artichoke, spinach, and feta.
30. Tevony Tachbisha Mediterranean Pizza
Let's wind down with the simplest Mediterranean pizza we've seen so far. Grab a jar of Tachbisha, a popular Mediterranean garlic spread, and slather it on your pizza dough. It makes the perfect pizza sauce for regional recipes. Add some globs of fresh mozzarella, a can of artichokes, diced red onions, dried basil, and sliced black olives. Bake until bubbly.
Making a pizza on pita bread is quicker because the bread is pre-baked. But you do need to pre-cook the toppings because the pita pizza will only heat up long enough for the cheese to melt, which could take a minute or two. The toppings for this pizza include feta, olives, tomatoes, and onions. Blend ketchup, a tomato, basil, chili, oregano, and passata juice.
What's your favorite Mediterranean pizza recipe? Show us how to make it in the comments!
31 Best Mediterranean Pizza Recipes
Ingredients
Spain On A Fork's Mediterranean Pizza

Authentic Homemade Greek Pizza

Greek-Inspired Canadian Pizza

Kosher Mediterranean Pizza

News Café Mediterranean Pizza

Momables Greek Pizza

Turkish Mediterranean Pizza

Spelt Based Mediterranean Pizza

Modern Mediterranean Pizza

Mediterranean Lebanese Pizza

Greek Mediterranean Homemade Pizza

Average Guy Gourmet Mediterranean Pizza

Daddy Jack's Mediterranean-Style Pizza

No Recipe Required Mediterranean Pizza

Tevony Tachbisha Mediterranean Pizza
Directions
Select your favorite recipe.
Organize all the required ingredients.
Prep the recipe in 30 minutes or less!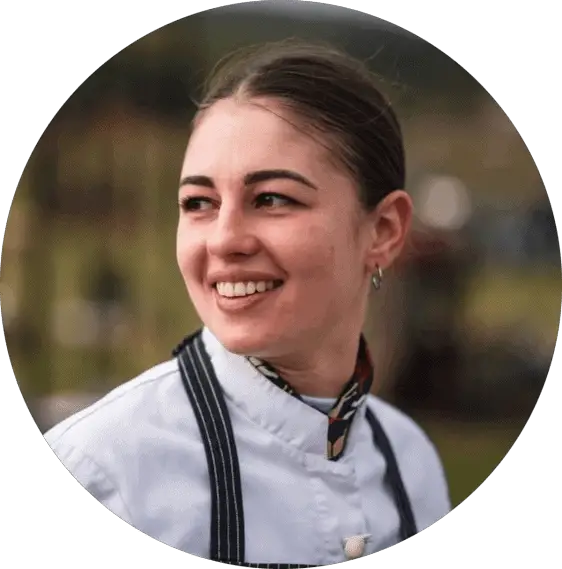 Julie has five years of experience in the restaurant industry, she decided to share her knowledge about her liking and fondness for food and pizza, of course, cooking as her love language. She's very passionate about what she's doing, making all the things she writes regarding pizza recipes, very amazing!